Can you do keto without dairy? Absolutely! In this post, I have assembled over 50 delicious dairy free keto recipes, from appetizers to main courses to snacks and desserts.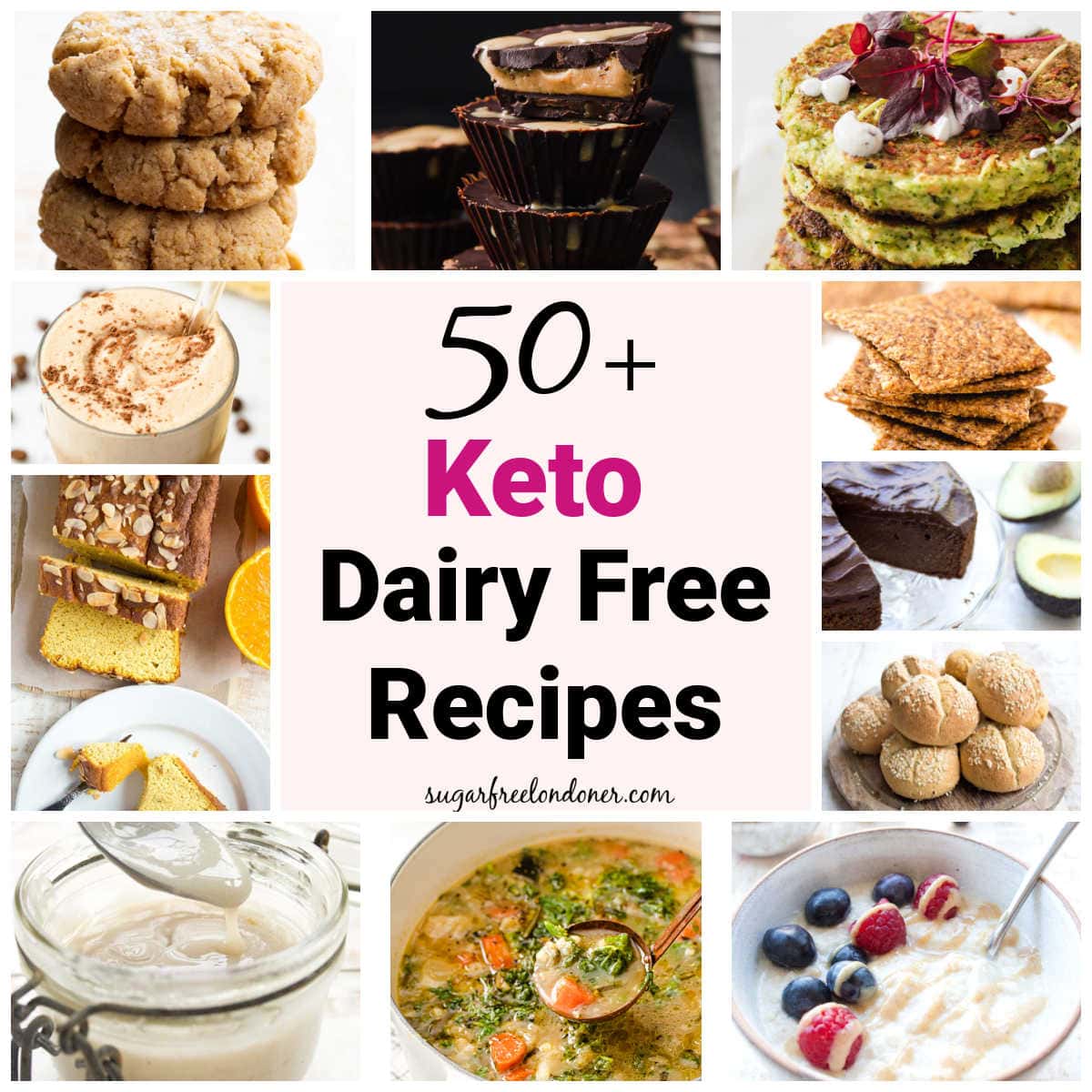 Many people think that following a low carb or keto diet means eating cheese and cream on a daily basis. This is just not true!
It's super simple to do dairy free keto. And you won't be feeling like you're missing out at all.
I have a lot of low carb dairy free recipes on my website. This is not because I have a sensitivity to dairy. I actually tolerate it well. But I know many of you feel better when eating dairy free.
And I also think that many recipes actually TASTE just as good when using dairy substitutes.
Jump to:
Dairy Free Swaps
Here are the dairy-free alternatives I use regularly. When you make a recipe containing dairy, swap them out for the following:
Butter: In sweet recipes, simply replace it with coconut oil. When a recipe is savoury, use either coconut oil or other keto-friendly oils such as olive oil or avocado oil.
Heavy cream: The alternative is coconut cream. This is the firm part from a can of coconut milk. When you store the can in the fridge, the firm and liquid parts separate and you can easily scoop it out. You can even whip coconut cream just like whipping cream!
Milk: Instead of dairy milk, opt for nut milk. My personal favourite is almond milk, which is very low in carbs. Coconut milk, cashew milk, hazelnut milk or even soy milk will work as well.
Yoghurt and cheese. Keto dairy-free recipes use coconut yoghurt or almond yoghurt instead. You can find both in health food stores. The same goes for soy and nut-based versions of cream cheese and cheese.
Now, let's get straight to the recipes! From breakfast all the way through to dessert, here's how to do keto without dairy - and lovin' it.
Keto Dairy Free Breakfast
Here are my very best dairy free keto breakfast recipes.
Dairy Free Keto Meals
Need ideas for dairy free keto lunch or dinner?
Keto Dairy Free Sides
Let's add dairy free sides to your meal.
Dairy Free Keto Dessert
And on to my favourite meal of the day - dessert! From frozen treats to mousses, take your pick.
Dairy Free Keto Cake And Brownies
Life is better with a moist, fluffy cake to enjoy.
Dairy Free Keto Drinks
You can make delicious low carb smoothies and drinks without dairy - even hot chocolate
Dairy Free Keto Snacks
From cookies to candy, here is a selection of dairy-free keto snacks.
Keto Dairy Free Bread
Here is a selection of low carb bread and cracker recipes without dairy.