This keto avocado ice cream is so creamy! My easy chocolate avocado ice cream recipe contains 5 ingredients and it is only 4.9 net carbs per serving. No ice cream maker necessary.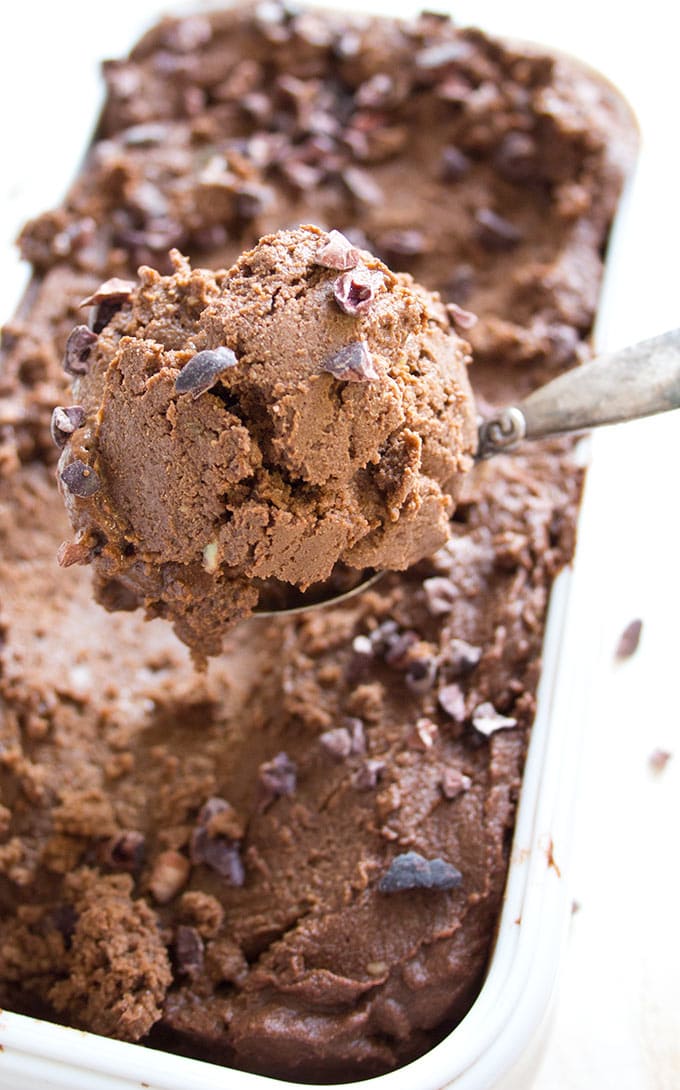 Do you hide vegetables in meals? If you have children, I'd say that's a yes. Kids are notorious for refusing dishes that look too obviously healthy/too green. When they are very small, they can still be fooled ("have another of the green French fries!"), but as they grow, the discussion about why veggies are important can become quite a bore. The easy route out of the dilemma is to "healthify" their favourite food. If you chop finely enough, there will be no complaints!
I never tire of the moment after the meal when they tell you the food was nice (you do have to ask them for this information, it is rarely offers on its own accord) and you list exactly how many vegetables they have just eaten. Eventually they WILL stop announcing they do not like beans/carrots/*add their most despised vegetable*. Well, maybe this stops at Brussels sprouts.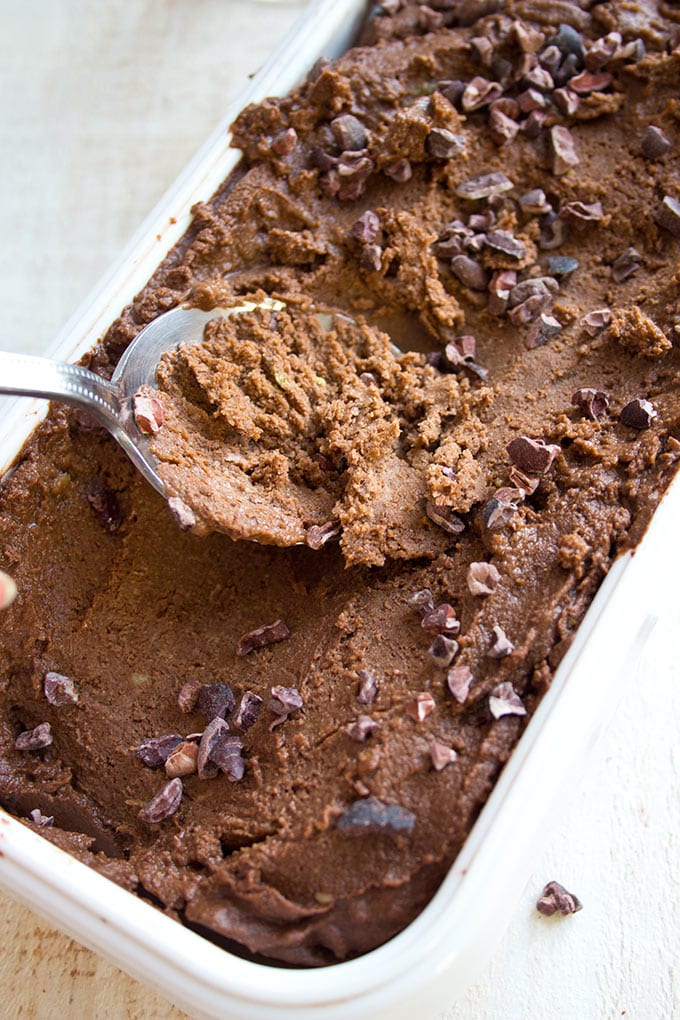 Over the years, I have perfected my Bolognese sauce by adding an insane amount of vegetables from zucchini to red pepper. Zucchini with its mild, unimposing taste is a real chameleon - it works perfectly in any tomato-based dish, but can also be used in baking (watch that space!). Another great candidate for hidden veggie overload are meaty stews. Especially the rich flavour of beef successfully masks the taste of celery, carrots or mushrooms. And in turn, it's the vegetables that take the broth to the next level. And when you round it off with a veggie dessert such as these pumpkin brownies or some low carb zucchini muffins, you can bask in feeling like a super-mom.
Enter chocolate avocado ice cream.
Avocado with its rich, creamy texture is the ideal candidate for no-bake desserts. On top of that, it has a insane amount of health benefits. Avocado is...
packed with more potassium than bananas
loaded with healthy fatty acids
full of fibre
brimming with antioxidants.
A study has even found that people who eat avocado tend to be healthier. Have I convinced you now?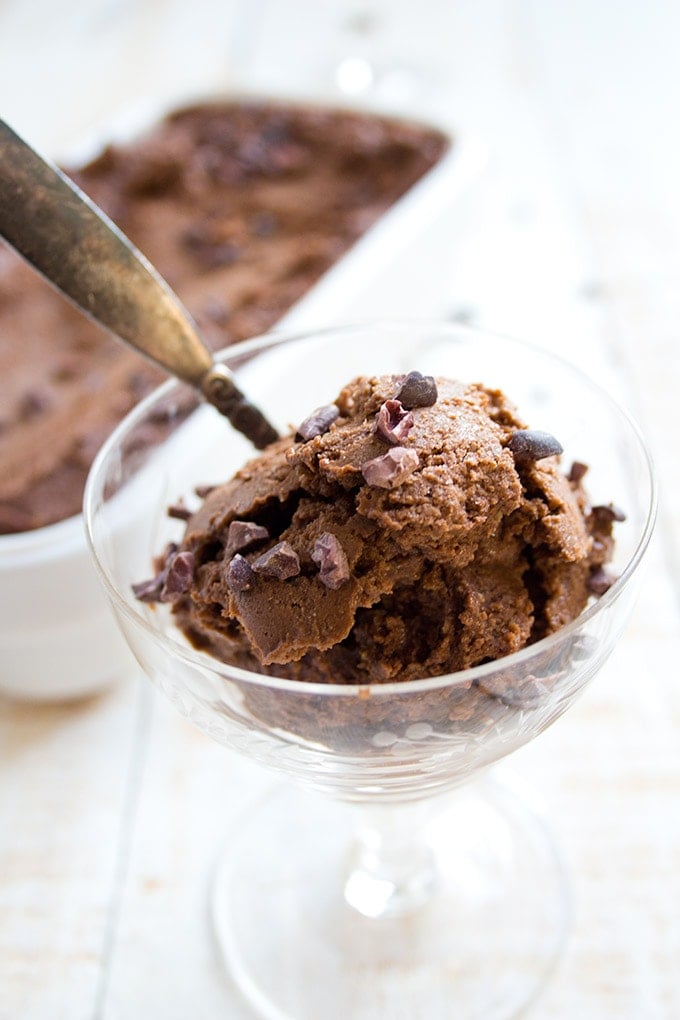 I have posted this chocolate avocado mousse already, which is a ridiculously easy dessert. Avocado and chocolate work just so well together. Combined they are rich and indulgent, yet with a pleasingly fresh note. Chocolate avocado ice cream seemed the next natural step, even though it's February. Or maybe because it's February. Don't we all need something to look forward to?
I don't have an ice-cream maker - if you do, you can still use this recipe and probably get an impossibly silky result. But it works just as well without. All you need is a little more planning and patience. Enjoy!
More Healthy Ice Cream Recipes
★ STAY IN TOUCH on FACEBOOK, PINTEREST and INSTAGRAM for more great food and join my NEWSLETTER for the latest updates and a FREE EBOOK.★
Recipe
Low Carb Chocolate Avocado Ice Cream (No Churn)
from Sugar Free Londoner
Enjoy this rich and creamy chocolate avocado ice cream as a sugar free, low carb and keto treat.
Note: The servings slider only changes the first amount in each line and not any subsequent amounts. Please make your own calculations where necessary.
Instructions
Place all ingredients in a food processor or mix with a hand blender until smooth.

Check and adjust sweetener if necessary.

Stir in the cocoa nibs, if using.

Place in a container lined with baking paper. Cover and freeze for 4-6 hours. If frozen overnight, you'll have to let the ice-cream defrost for 20 minutes before attempting to scoop.
Nutrition
Serving:
134
g
Calories:
323
kcal
Total Carbohydrates:
12.3
g
Protein:
3.9
g
Fat:
32
g
Saturated Fat:
16.4
g
Cholesterol:
41
mg
Sodium:
21
mg
Potassium:
613
mg
Fiber:
7.4
g
Sugar:
1.5
g