Soft, chewy, fluffy Keto Cinnamon Rolls, made with the famous fat head dough. They are sugar free, grain free, gluten free and only 1.3 net carbs per roll.
Find the recipe card with ingredients and instructions at the bottom of the page. But don't miss the extra tips in the post!
How much do I love cinnamon rolls?
Where to begin.
MY LATEST VIDEOS
First, the smell.
This beautiful warm smell of cinnamon and baked goodness that fills the house and wraps itself around you like a fluffy warm duvet. Smelling cinnamon rolls releases my happy hormones, just like stroking kittens does, sleeping in during the week or settling down to watch Outlander on Amazon Prime.
Then, the swirl.
Can it be that the swirl in a cinnamon roll has hypnotic properties? Think about it. Remember how Kaa the snake from the Jungle Book did this swirly-eye-thing to Mowgli and he would be at her mercy? That's what a cinnamon roll does to me. Somehow, I feel magically drawn towards it! Cinnamon rolls lure me in in, like a wonderful psychedelic maelstrom of promising pleasure. This swirl, it shuts off the logical thinking part of my brain. It has secret come-hither-powers that should never be underestimated.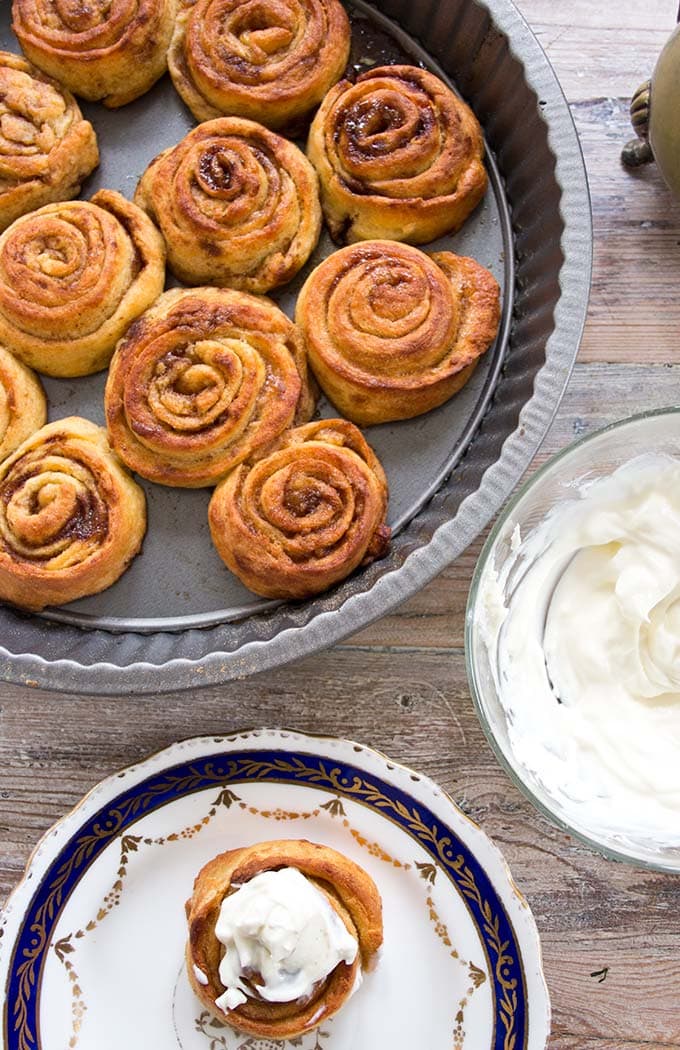 And lastly, the taste.
The taste! Can you picture biting into a freshly baked cinnamon roll right now? Sinking your teeth into that fluffy, gooey goodness? I bite into a cinnamon roll and it's like I have arrived IN THE NOW. There are people that meditate for years to achieve this state of enlightenment. I am telling you. There's absolutely no need to travel to India and checking into the silent Ashram. No need to grow a beard or stop cutting your nails.
Bake cinnamon rolls.
Eat them.
Experience their certain je ne sais quoi.
Feel complete. Hallelujah!
My dear sugar free and low carb friends, I have tried many versions of healthified (meaning: no-wheat, no-yeast, no-grains, no-sugar) cinnamon rolls using grain free flours such as almond or coconut flour. They all taste great, but their texture is either too cakey or crumbly to truly resemble the original, badass cinnamon rolls of my youth.
Then I tried this recipe.
And I have to say.
Keto Cinnamon Rolls win by miles.
Just looking at the close-up above is making me salivate again. Keto cinnamon rolls are made using the Holy Grail of Keto dough, which is a truly genius invention using mozzarella cheese. It was conceived as a pizza base (I am talking about it in detail in my Genius Grain Free Pretzels post – I've traced the origins of the recipe as far back as I could). With a few tweaks it makes a brilliant dough for sweet pastry as well.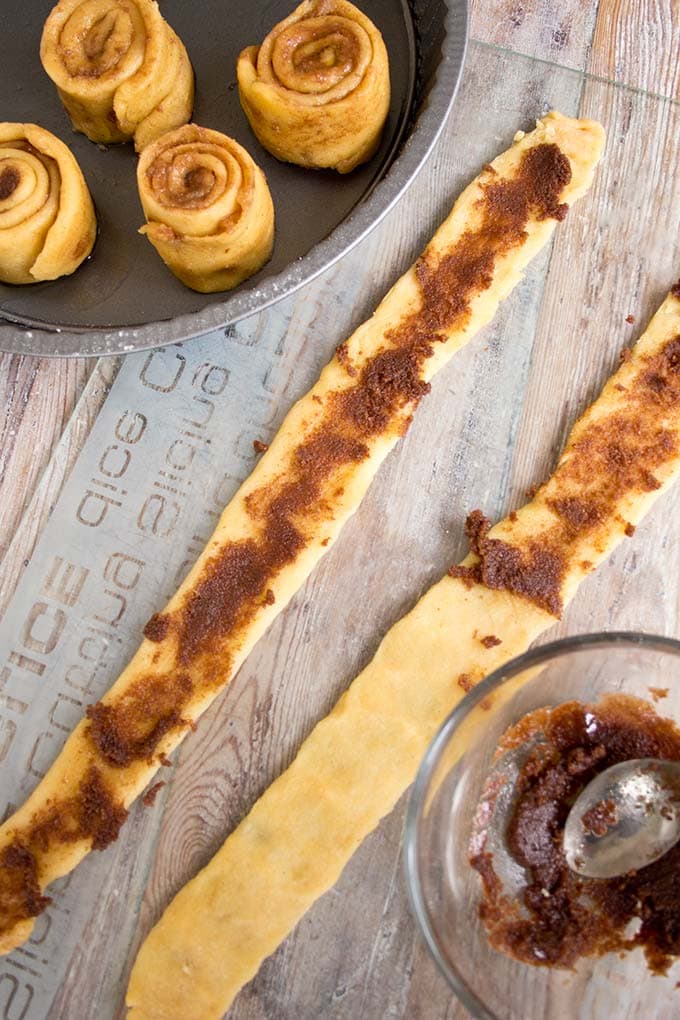 I'd go as far as saying this: Holy Grail dough (which has become famous as Fat Head dough) is the cleverest brainwave since the conception of low carb eating. I want to hug the person who thought of combining an Italian cheese with almond flour to create a dough that actually mimics the taste of wheat dough. How could you possibly come up with an idea like this? Was it a coincidence? Someone accidentally dropping flour into melted mozzarella? It's a bit like that person who banged two stones together and created fire. Boom, and the world is a better place.
The dough is a little tricky to handle – thanks to the inherent gooey-ness of mozzarella – but if you follow the instructions in the recipe section below, you should have no problems.
These Keto cinnamon rolls are best enjoyed warm, when they are soft on the inside and with the most tender crunch on the outside.
Should you have any leftovers, keep them in an airtight container in the fridge and do make the effort to heat them up again before eating.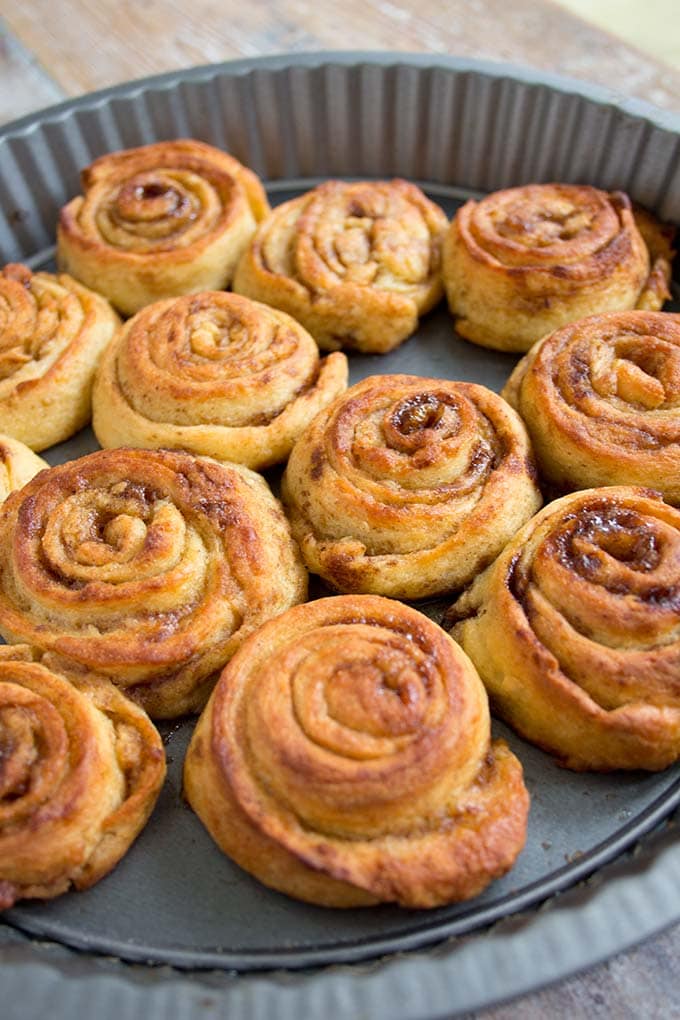 Not likely there will be any leftovers though. One look at that swirl…
★ STAY IN TOUCH on FACEBOOK, PINTEREST and INSTAGRAM for more great food and join my NEWSLETTER for the latest updates and a FREE EBOOK.★
Starting out on low carb? Find out all about my top 10 essential low carb kitchen gadgets!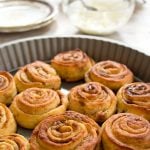 Keto Cinnamon Rolls
Soft, chewy, fluffy Keto Cinnamon Rolls! A delicious tea-time treat, these rolls are made with the famous fat head dough. They are sugar free, grain free, gluten free and only 1.3 net carbs per roll.

Ingredients
For the filling:
2

tbsp

water

2

tbsp

Sukrin Gold

or another granulated sweetener

2

tsp

cinnamon
For the frosting:
2

tbsp

cream cheese

1

tbsp

greek/full fat yoghurt

2

drops

vanilla stevia
Instructions
Pre-heat oven to 180 Celsius/360 Fahrenheit.

Melt the mozzarella and cream cheese in a non-stick pot over a low heat or in a microwave (1 1/2 minutes, stirring half way through). Take off the stove and/or make sure the cheese is melted, but not bubbling.

Stir in the egg.

Now add the almond flour and baking powder. Start to combine using a fork, then use your hands to make a ball of smooth dough. This can be easier if you lightly oil your hands first.

Divide the dough into 6 balls of ca 50g each.

Form long rolls (ca 40cm), then flatten out with your hands. Make the dough as thin as you can.

Prepare your cinnamon filling: boil water, then stir in the sweetener and cinnamon.

Spread the cinnamon paste over the flattened dough rolls.

Roll each into a bun and cut sideways in half.

Now you have 12 buns which you place on a non-stick baking sheet or in a pie dish.

Bake for ca 20 minutes.

While the rolls are in the oven, prepare the frosting: Mix cream cheese, yoghurt and stevia.

Spread over the warm rolls and serve
Recipe Notes
This recipe works best with pre-shredded mozzarella from the supermarket. Fresh mozzarella contains too much liquid and is too runny.
The dough is a bit tricky to work with. Do oil your hands if you find it too sticky. If it cools down too much, just warm it back up to make it easier to handle.
Don't be fooled by the size of the rolls - they may be small, but are quite filling! I would recommend using Sukrin Gold to make the filling - it has a taste very similar to brown sugar that works great with cinnamon.
You can use butter instead of the water, which gives the rolls a nice buttery taste. I made a few using butter, then decided to just dissolve the sweetener in water as the rolls are very high in fat already. The choice is yours!
If you do not have vanilla-flavoured stevia, you could add a bit of vanilla extract to your frosting.
Nutrition Facts
Keto Cinnamon Rolls
Amount Per Serving
Calories 94
Calories from Fat 65
% Daily Value*
Total Fat 7.2g 11%
Cholesterol 25mg 8%
Sodium 98mg 4%
Potassium 9mg 0%
Total Carbohydrates 2.1g 1%
Protein 6.2g 12%
* Percent Daily Values are based on a 2000 calorie diet.
This post contains Amazon Affiliate links. If you click on one of these links and purchase a product as a result, I may make a small commission. This money goes towards the running costs of the site. Thank you for supporting Sugar Free Londoner.