Here's a keto milkshake for you that you'll literally want to drink every day! I know this because that's exactly what I do. This low carb milkshake is thick, chocolatey and frothy. Enjoy it as a meal replacement for breakfast or as a generous snack. Sugar free.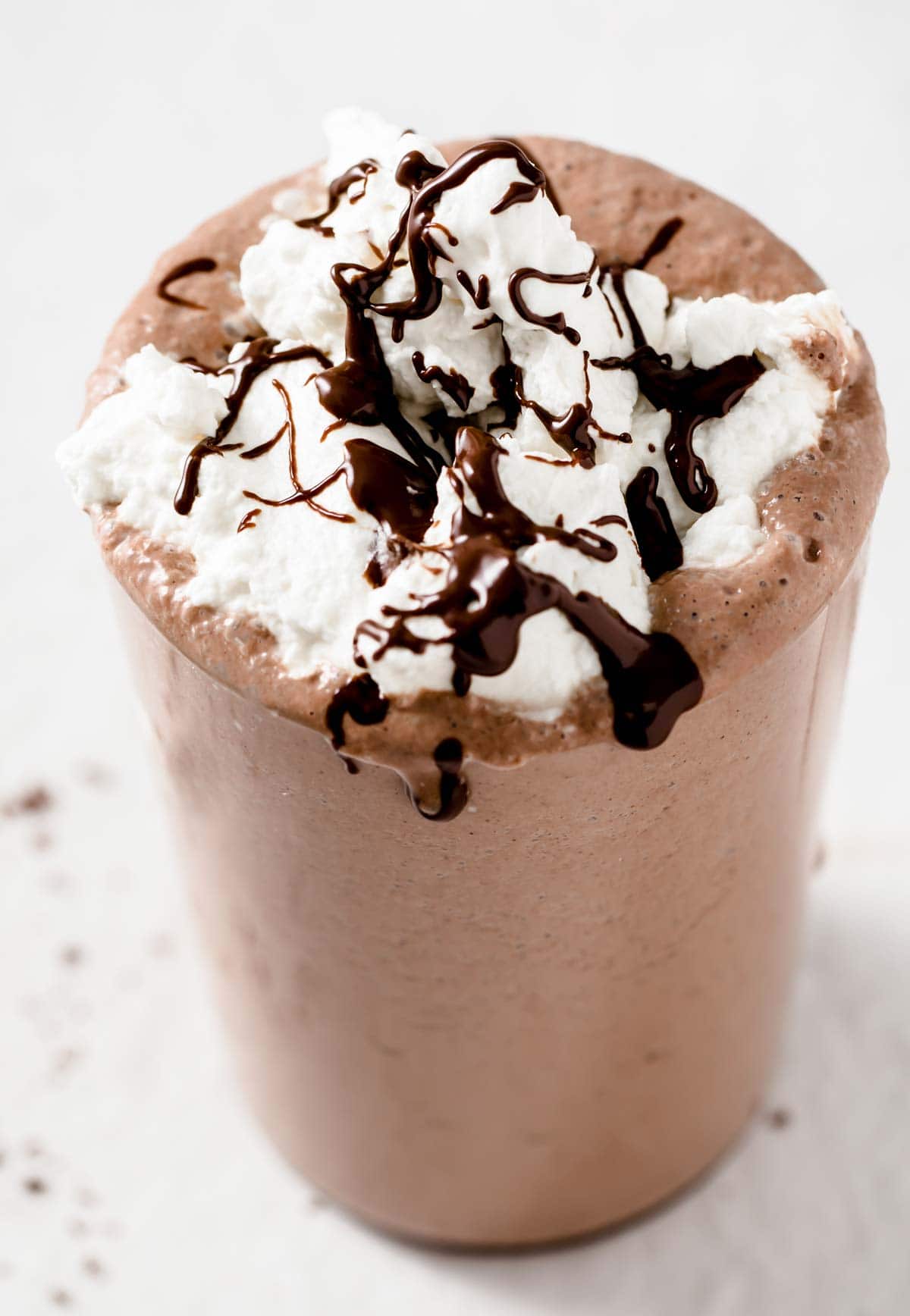 Do you have a (healthy) obsession? I do. It's this keto milkshake. It's so good that I want to lick the inside of the glass when it's empty!
I regularly drink it at some point in the afternoon when I feel like a bit of a treat - sometimes with a naughty slice of my sugar free banana bread. But I've also had it for breakfast. It's high in protein and healthy fats, which makes it quite filling. It's a great meal replacement!
Keto chocolate milkshake ingredients
A lot of keto shake recipes include double cream (that's heavy cream in the US) as a main ingredient. This means the milkshake becomes more of a sugar free dessert than a refreshing drink.
On a regular basis, that's just too much dairy fat for me. I prefer my low carb shake to be nourishing and not essentially a liquid sugar free ice cream! (If you like the sound of ice cream, don't miss my keto chocolate ice cream. It's creamy like a dream!)
Disclosure: I have included melted sugar free chocolate and whipped cream as a topping for all of you who want to add a bit of extra wow. But this is entirely optional. When I don't photograph my keto milkshake I don't add it 🙂
Here are the essential ingredients I'm using for this recipe: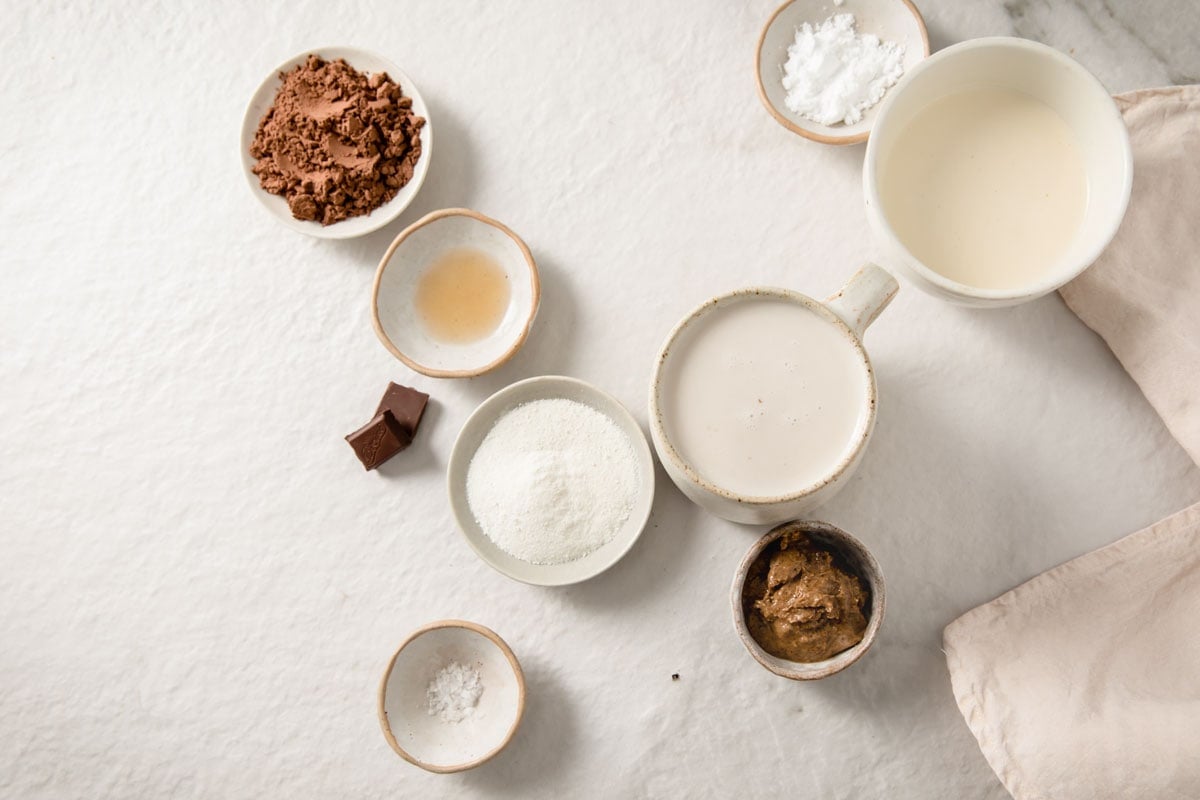 Almond milk 
I like unsweetened almond milk as a base (I'm a big fan of the Plenish brand here in the UK). However, you can also use other nut milks or coconut milk. Choose the coconut milk from a carton, not from a can.
Collagen powder 
I love to add grass-fed collagen to my milkshakes as it makes them thicker. It also is a healthy protein boost and just great for gut health, joints, hair, skin and nails. Read all about the benefits of collagen here.
Cacao or cocoa powder
Both work well in this recipe. Cacao is raw and packed with antioxidants. Cocoa powder is darker in colour, because it's roasted. Whichever you choose, make sure it's unsweetened.
Almond butter
Almond butter helps to thicken the keto milkshake and provides healthy fats. You can also use peanut butter - we all know that peanut butter and chocolate are a match in heaven!
Whey protein powder
Protein powder adds an extra protein boost and also thickens this low carb shake. Protein powder is a useful ingredient in a low carb gluten free kitchen. I love to use it for baking, for example in my Peanut Butter Protein Bars. I'll also post a keto focaccia bread this month which I know you are going to LOVE.
Vanilla extract, cinnamon and salt 
All three are add-ins that make the difference. Definitely don't miss out on a good pinch of sea salt. It really takes the flavour to the next level.
Ice cubes
Use between 3 and 4 ice cubes, depending on size. If you don't have a high speed blender such as a Vitamix, you may prefer to choose crushed ice instead. Leaving out the ice cubes will make the shake slightly less thick.
Sugar free sweetener  
I don't actually feel the need for any sweetener here, but some of you may prefer to add a little. As ever, there is no right or wrong. Just be sure you powdered sweetener over granulated so it does not taste crunchy. Alternatively, use stevia.
How to make a low carb chocolate milkshake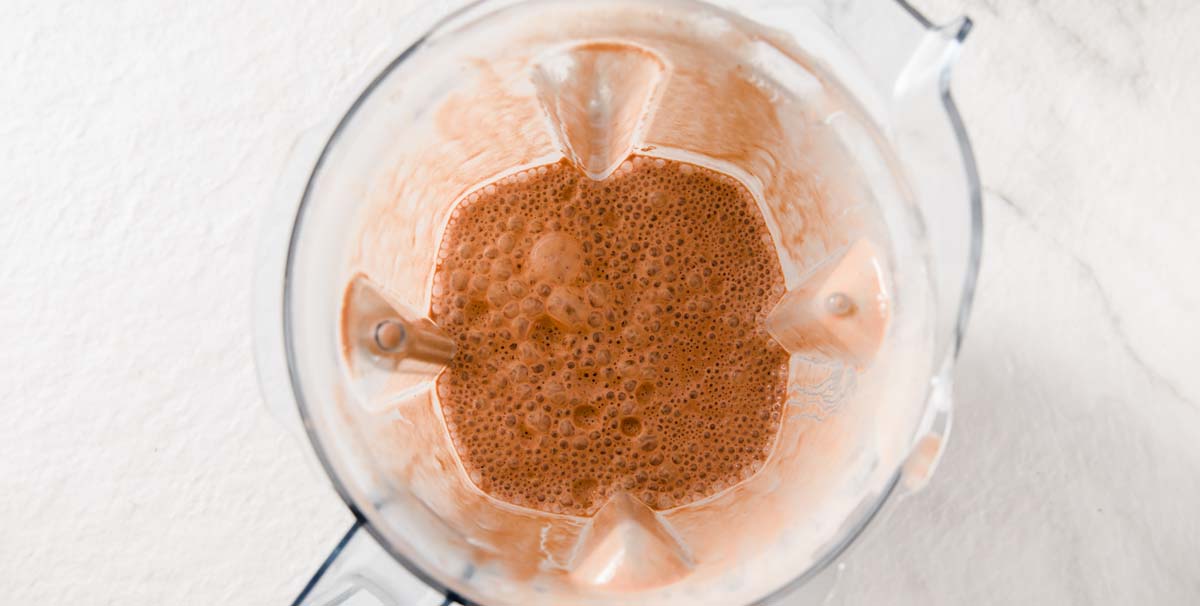 Just like you thought - simply put all ingredients in a high speed blender like a Vitamix or NutriBullet and blitz until smooth and frothy. Use a hand blender and tall jug as an alternative. That's it!
If you're in the mood for a topping, whisk the double cream until stiff and melt the chocolate so you can drizzle it over the cream.
Keto Milkshake Variations 
There are many ways to make a yummy keto milkshake, and I do like to mix my shake up now and then. Here are a few ideas how you can play around with flavour and texture:
Avocado. For more healthy fats, fibre and thickness, consider throwing in about ¼ - ½ avocado, depending on size. Avocado adds thickness especially if you want to leave out either the collagen powder or the protein powder.
Maca Powder. I sometimes add 1-2 tsp. It adds a lovely earthy caramel taste. Of course, it's also a superfood.
Cardamom. A great addition for colder days. I use the seeds of 1-2 cardamom pods. The taste reminds me of Christmas.
Drink it hot. Yup, also a possibility. Not sure if it's technically a milkshake any more in this case, but certainly delicious. Obviously, no need for the ie cubes in this case. Or check out my Keto Sugar Free Hot Chocolate Recipe.
MCT oil. Add 1 tablespoon if you want to boost your healthy fats intake for the day.
Coconut Cream. If you opt for the cream topping and prefer to stay dairy free and paleo, use whipped coconut cream instead of dairy cream.
Keto shake portion size
You may have noticed that the portion size of this keto shake is LARGE. That's why it makes a decent breakfast replacement, especially if you were to add a spoonful of mct oil.
However, it's totally feasible to serve this drink in two regular size glasses and share.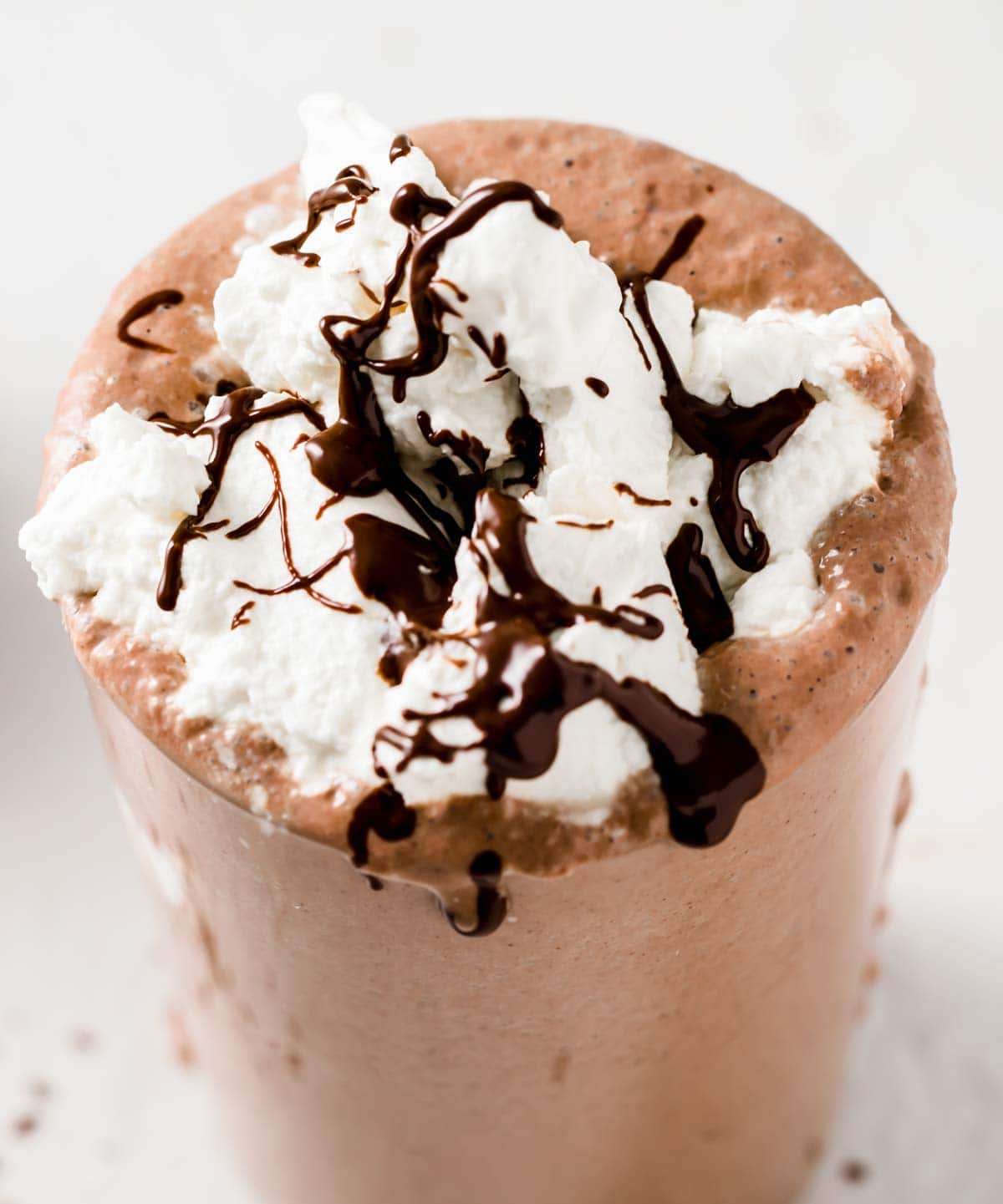 Can you store this sugar free milkshake?
Theoretically, it is possible to store your sugar free milkshake, but I do not recommend it. The shake is lovely and frothy when it's just been whipped. It's best enjoyed straight away.
Check out my other low carb gluten free drinks recipes: 
And here's another idea for cooling down - these Sugar Free Peanut Butter Chocolate Ice Pops should be right up your street!
★ STAY IN TOUCH on FACEBOOK, PINTEREST and INSTAGRAM  for more great food and join my NEWSLETTER for the latest updates and a FREE EBOOK.★ 
Recipe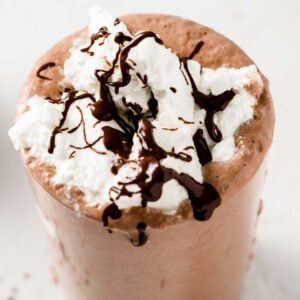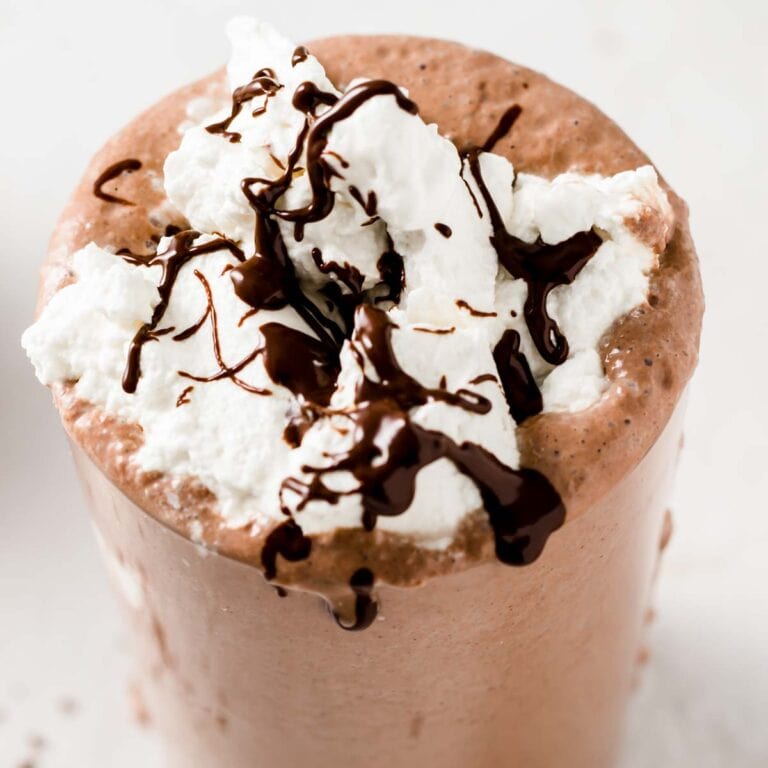 Keto Chocolate Milkshake
from Sugar Free Londoner
This keto chocolate milkshake is refreshing and super satisfying! It has the same wonderful texture as a traditional milkshake. But instead of ice cream, my low carb shake is made with almond milk. Check out the post to see which secret ingredients I'm using to make it creamy and thick!
Note: The servings slider only changes the first amount in each line and not any subsequent amounts. Please make your own calculations where necessary.
Ingredients
1.5

cup / 400ml

almond or coconut milk

carton, or other nut or seed milk of choice

2

tablespoon

cacao powder

or cocoa powder

1.5

teaspoon

vanilla extract and/or 1 teaspoon cinnamon

2

tablespoon

grass-fed collagen powder

1

tablespoon

almond or peanut butter

1

tablespoon

whey protein powder

unflavoured

2-4

ice cubes

optional

Good pinch of salt to taste

optional
Instructions
Place all the base ingredients in a high speed blender like a Vitamix or NutriBullet and blitz until smooth and frothy. Option to put in a jug and froth using a hand blender.

Pour the Keto Chocolate Milkshake into a 500ml glass or share between two 250 ml glasses. Optional: top with 2 tablespoon whipped cream / coconut cream and 1 square melted or grated sugar free chocolate (or 90% chocolate).
Notes
Net Carbs: 5 g excluding topping for 1 large 500 ml glass.
7.1 g net carbs with topping of 2 tablespoon whipped cream and 1 square 90% dark chocolate.   
2.5 g net carbs each if you serve this recipe as 2 regular size 250 ml portions. 
Optional: add up to ½ tablespoon powdered low carb sweetener or 3 - 5 drops liquid stevia. 
Check out the post for plenty of keto chocolate milkshake variations! 
Storage: Best enjoyed fresh
Nutrition
Serving:
500
ml
Calories:
328
kcal
Total Carbohydrates:
13.8
g
Protein:
16.1
g
Fat:
21.8
g
Saturated Fat:
2.2
g
Fiber:
8.8
g
Sugar:
2.1
g
This post contains affiliate links. If you click on one of these links and purchase a product, I may earn a small commission, at no extra cost to you. Thank you for supporting Sugar Free Londoner.