This super fluffy and moist diabetic chocolate cake tastes as delicious as it looks. With its luscious ganache frosting it makes the perfect sugar free birthday cake recipe. You won't believe how easy it is!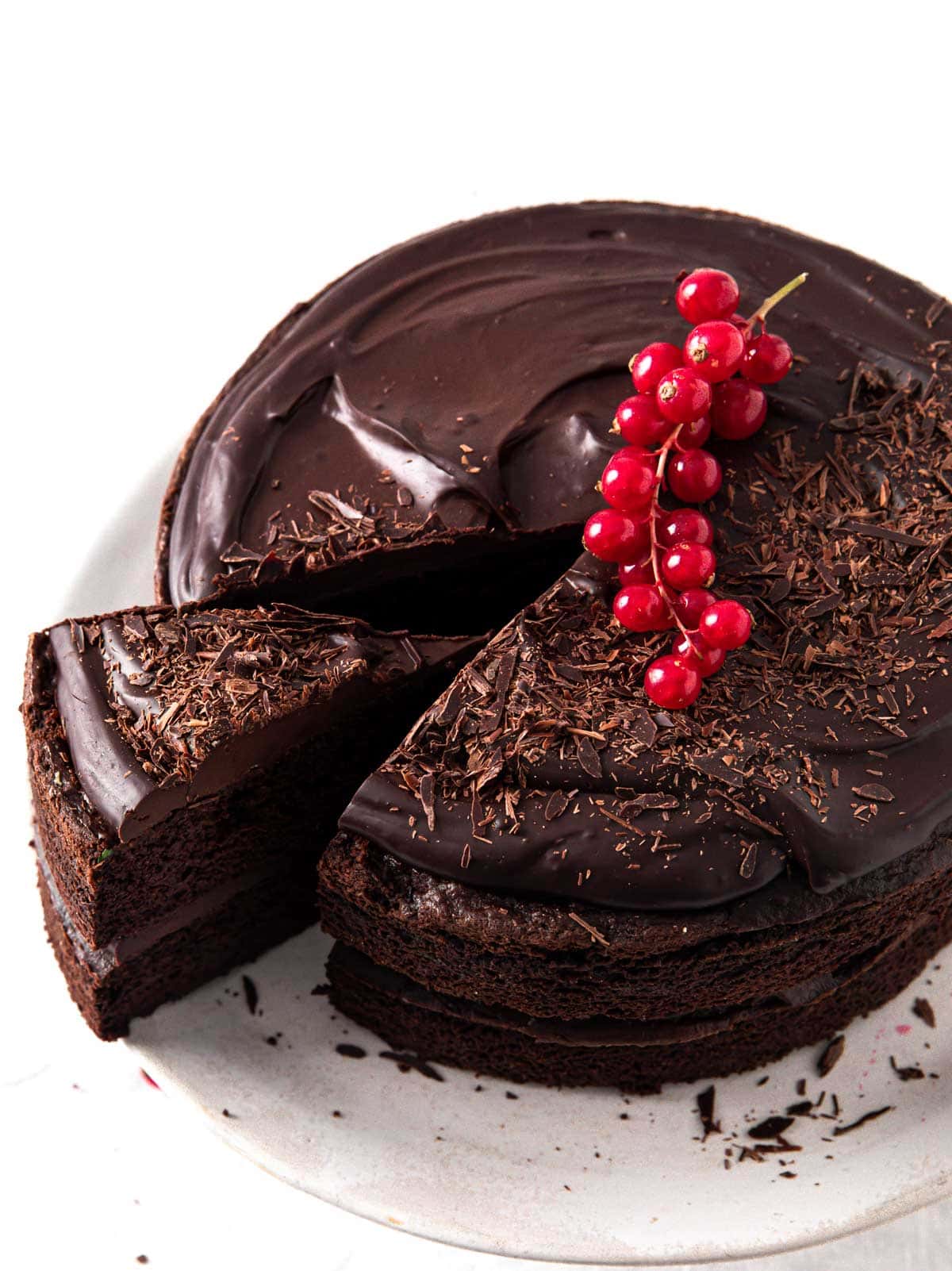 Jump to:
You guys, this sugar free cake is incredible! It is so soft and moist, and it has the deepest of deep chocolate flavor!
I made it for my mother-in-law's 87th. She LOVES chocolate and she is a type 2 diabetic. A diabetic birthday cake was the perfect way to mark the occasion. Happy birthday, Marigold!
It was not until I started eating a low carb diet that I got interested in baking. When there was a birthday, I just bought a cake. They always looked incredible, but even then I used to think they were way too sweet.
After I changed to a sugar-free diet, I started reading labels - and was just shocked at just how BAD those ready-made cakes are for you. The amounts of sugar they contained was just insane!
A Sugar Free Birthday Cake
It's actually quite simple to make a sugar-free cake, whether you want to enjoy it for dessert, for a birthday or any other celebration.
All I did is replace the wheat flour with a mix of grain free, gluten-free flours - almond flour and coconut flour. And I replaced the sugar with powdered low carb sweetener.
I swear, you will not taste AT ALL that this cake is sugar free. The reason is that chocolate has such a strong, deep flavour. By making a chocolate ganache instead of a regular sugar-free frosting with butter, cocoa and sweetener (especially a vanilla frosting), any aftertaste you may normally detect from the sweetener is just not noticeable.
One thing worth noting is that this is definitely a celebration cake for a more grown-up audience. Unless you have kids who are totally into dark chocolate!
I'm going to post a sugar free vanilla birthday cake with cream cheese frosting soon, so watch that space. I have so many ideas for low carb cakes... it's gonna be a celebration year!
Ingredients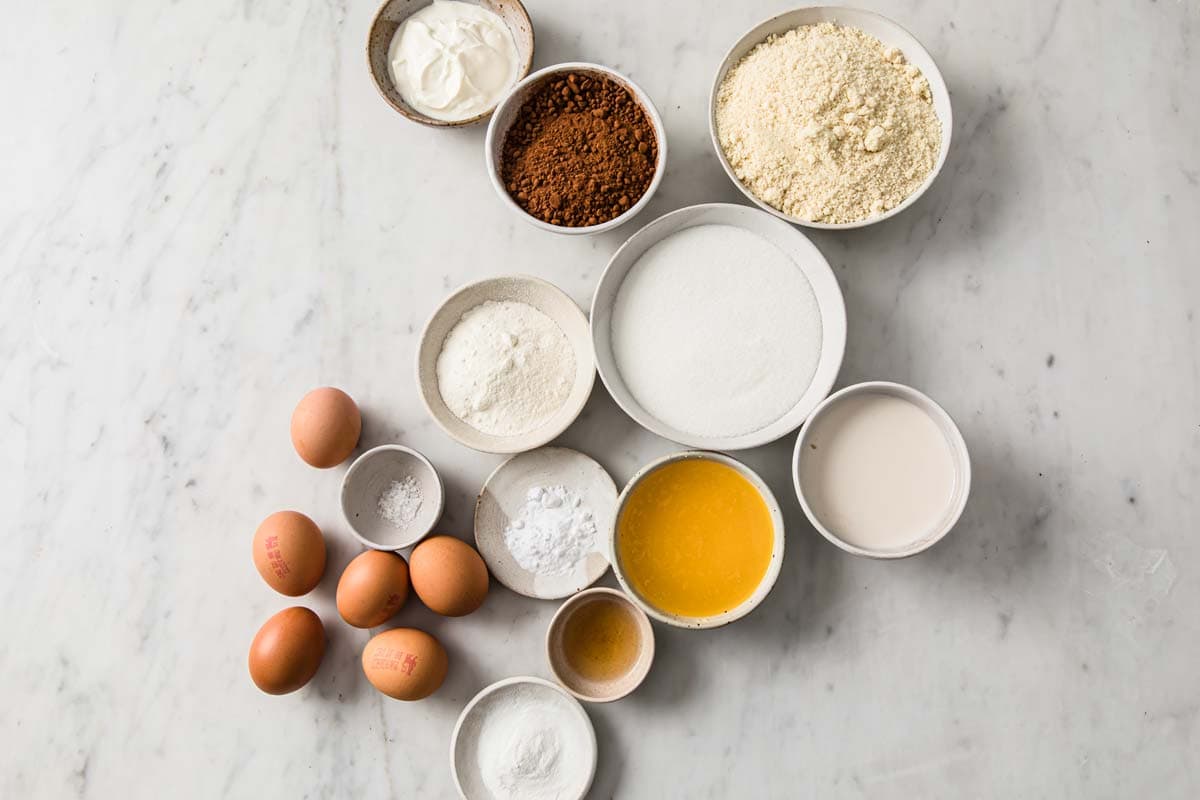 Here are the ingredients! We have all the usual suspects, from blanched almond flour to coconut flour to almond milk, butter, cocoa powder and vanilla extract, baking soda and baking powder to plenty of eggs. (Note - ground almonds / almond meal will work as well).
It may seem like a lot but don't forget we are essentially making a layer cake with two sponge cakes, which we stack on top of another.
The secret ingredient for fabulous fluffiness
The secret ingredient that makes this recipe extra fluffy without the need to whisk the egg whites separately is - yoghurt! It is just AMAZING for getting that rise we all want in a really good gluten free cake.
How To Make A Chocolate Cake For Diabetics
This section contains step-by-step instructions and photos that show how to make this recipe. See the recipe card for full information on ingredients and quantities.
Sugar free Chocolate Sponge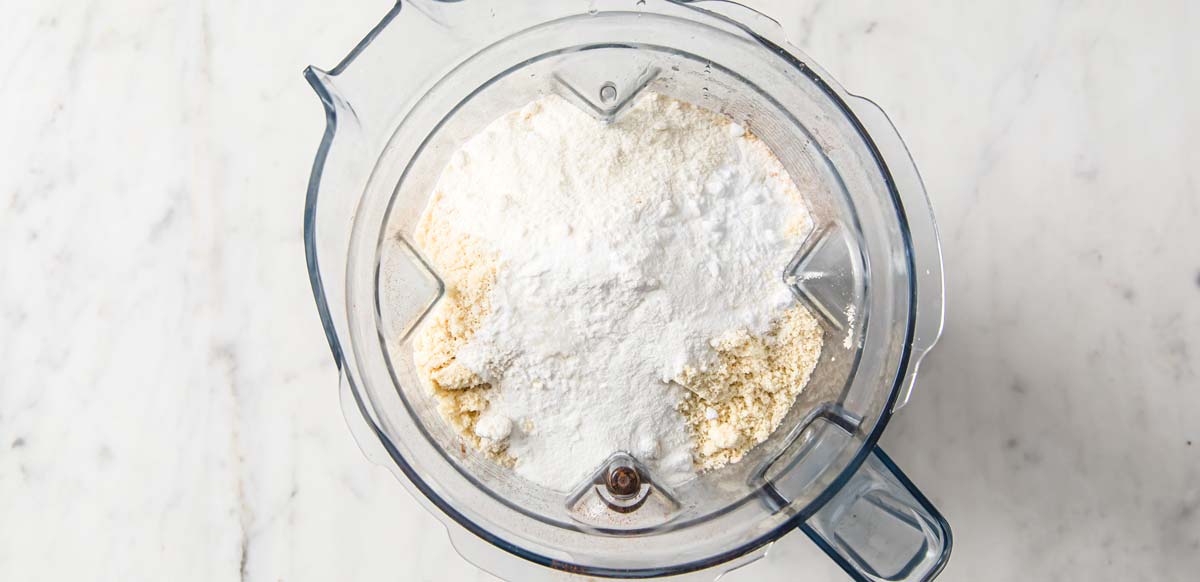 STEP 1
Add all ingredients to a blender.
Tip: By adding the wet ingredients FIRST and the dry ingredients SECOND, you avoid the flours sticking to the bottom.
Also, don't forget the salt. It adds depth of flavor to the recipe.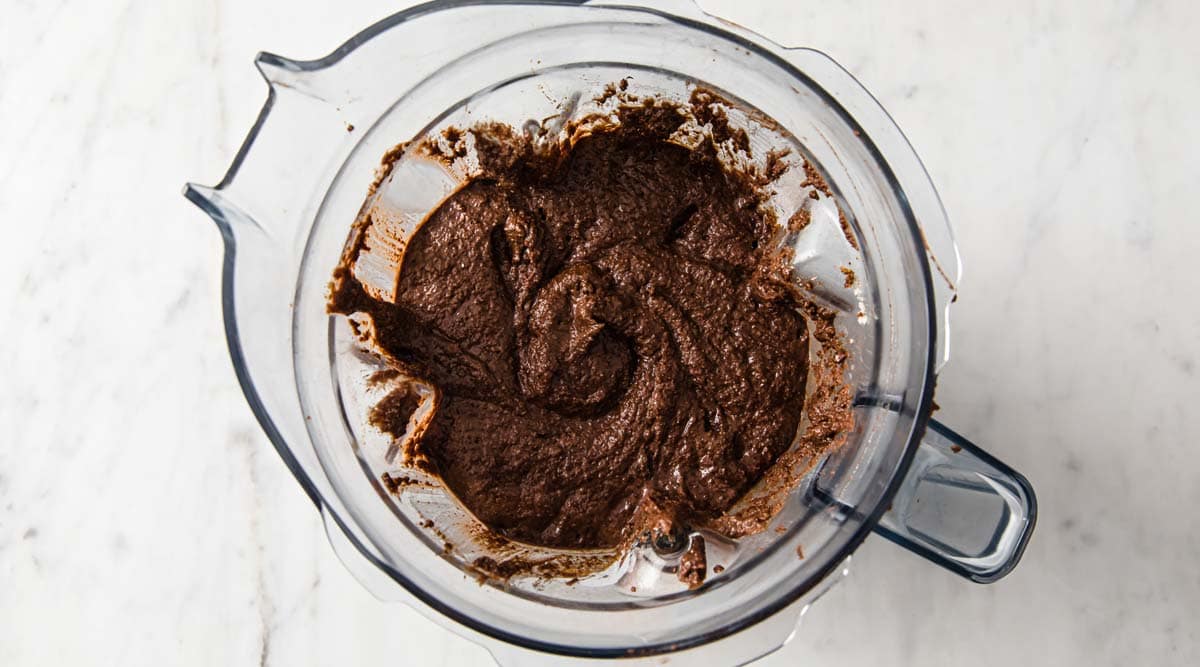 STEP 2
Blend until smooth! You may need to scrape the sides a couple of times and blend again until you have a smooth batter.
Note: If you don't have a blender, use a large bowl and an electric mixer.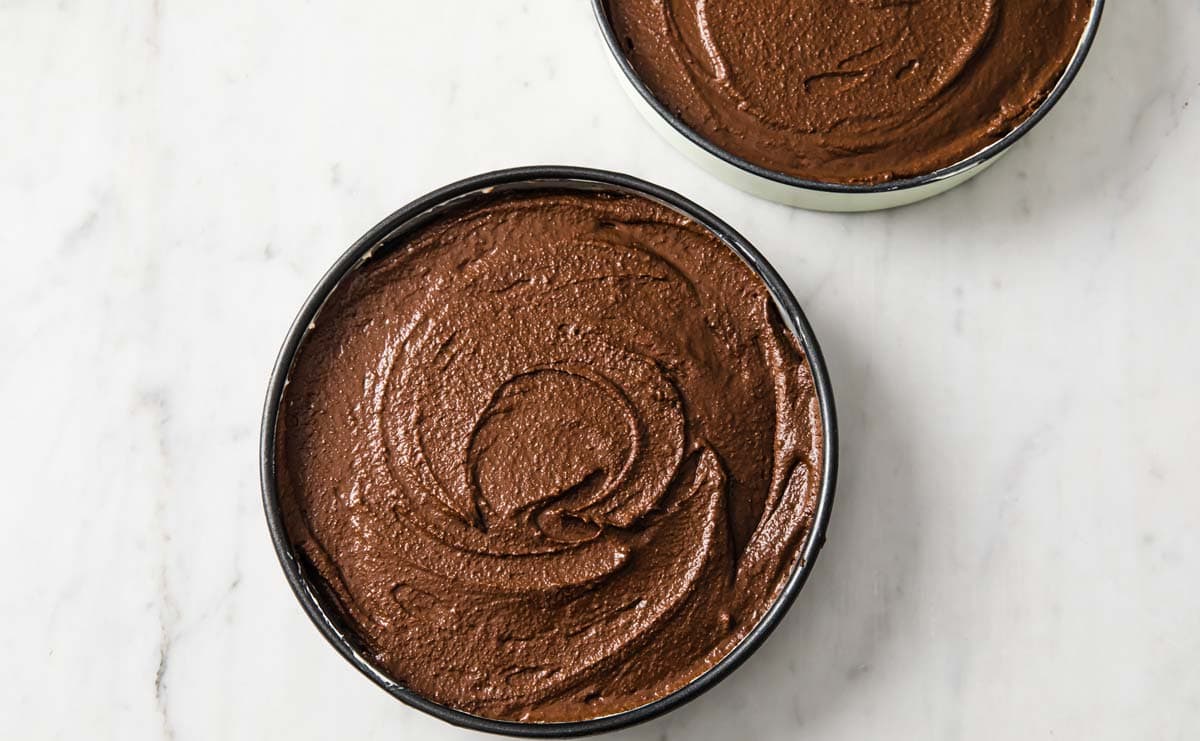 STEP 3
Pour the batter into two generously greased non stick baking tins (I used butter to grease the sides).
You can also line the sides with baking paper if you worry about the batter sticking!
STEP 4
Bake in the oven for about 35 minutes or until you can insert and remove a toothpick without any crumbs sticking.
Do not over-bake as the sponge will firm up as it cools.
Chocolate Ganache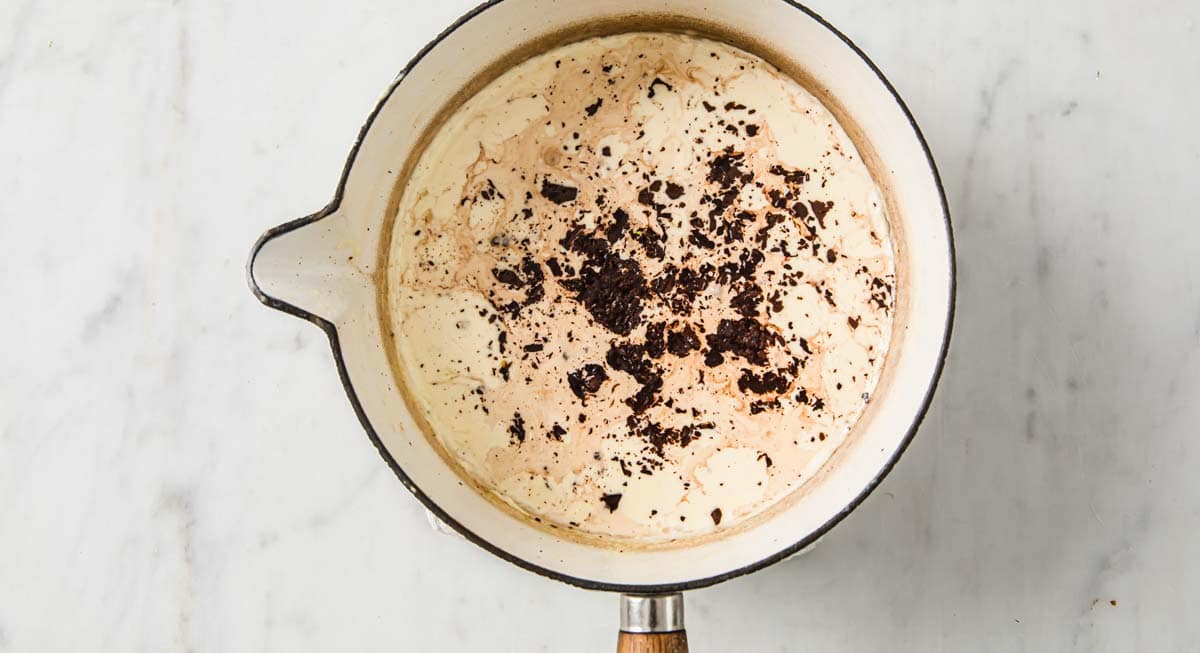 Now on to the sugar free frosting! I decided on a rich ganache instead of a chocolate buttercream frosting, because when you're making a grown-up cake, you may as well pull out all the stops.
STEP 5
Warm the heavy whipping cream in a pan and heat it, but do not boil.
Then, turn off the heat and add finely chopped dark chocolate (85% cocoa solids minimum, or 90% as it's very low sugar) or sugar-free chocolate chips such as Lily's to the cream.
DO NOT STIR! This can cause the mix to split, because it cools down too quickly. First, let the mixture sit for 5 minutes.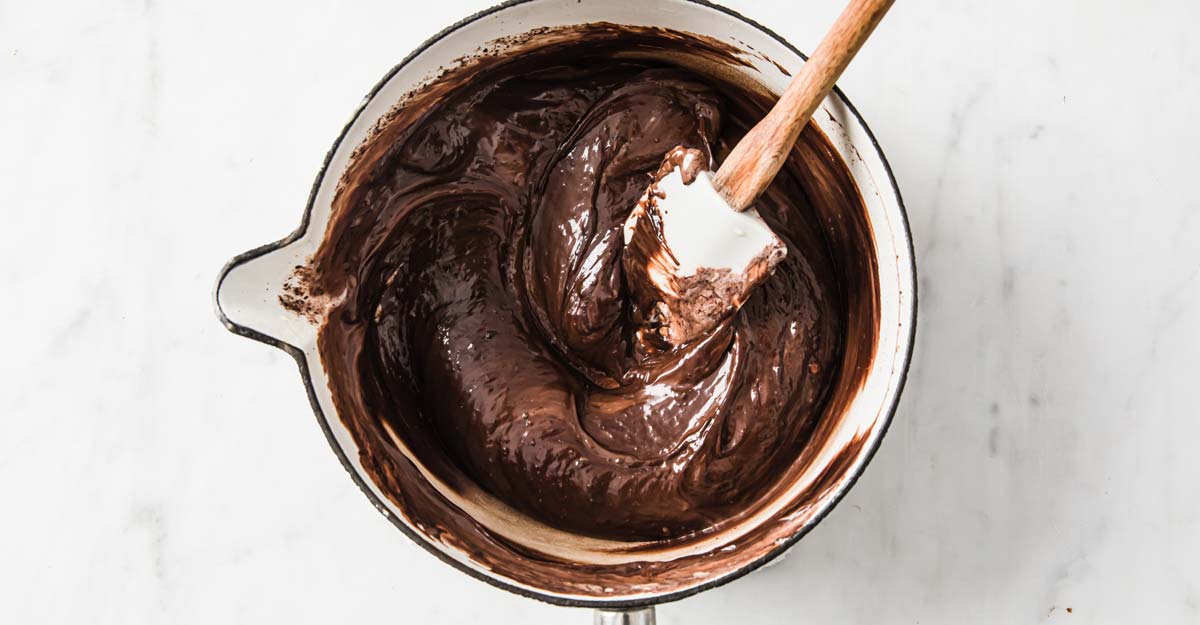 STEP 6
Now, stir with a spatula until the chocolate is fully melted and combined with the cream.
STEP 7
As soon as the the chocolate frosting has cooled a little so it's not boiling but still easily spreadable, spread it over both (fully cooled) cakes.
STEP 8
Wait until the ganache has set, then stack the cakes on top of one another to make one gorgeous sugar free birthday cake!
Expert Tip
If your ganache does split, don't panic! Just put it in a food processor and blend until smooth and it will right itself.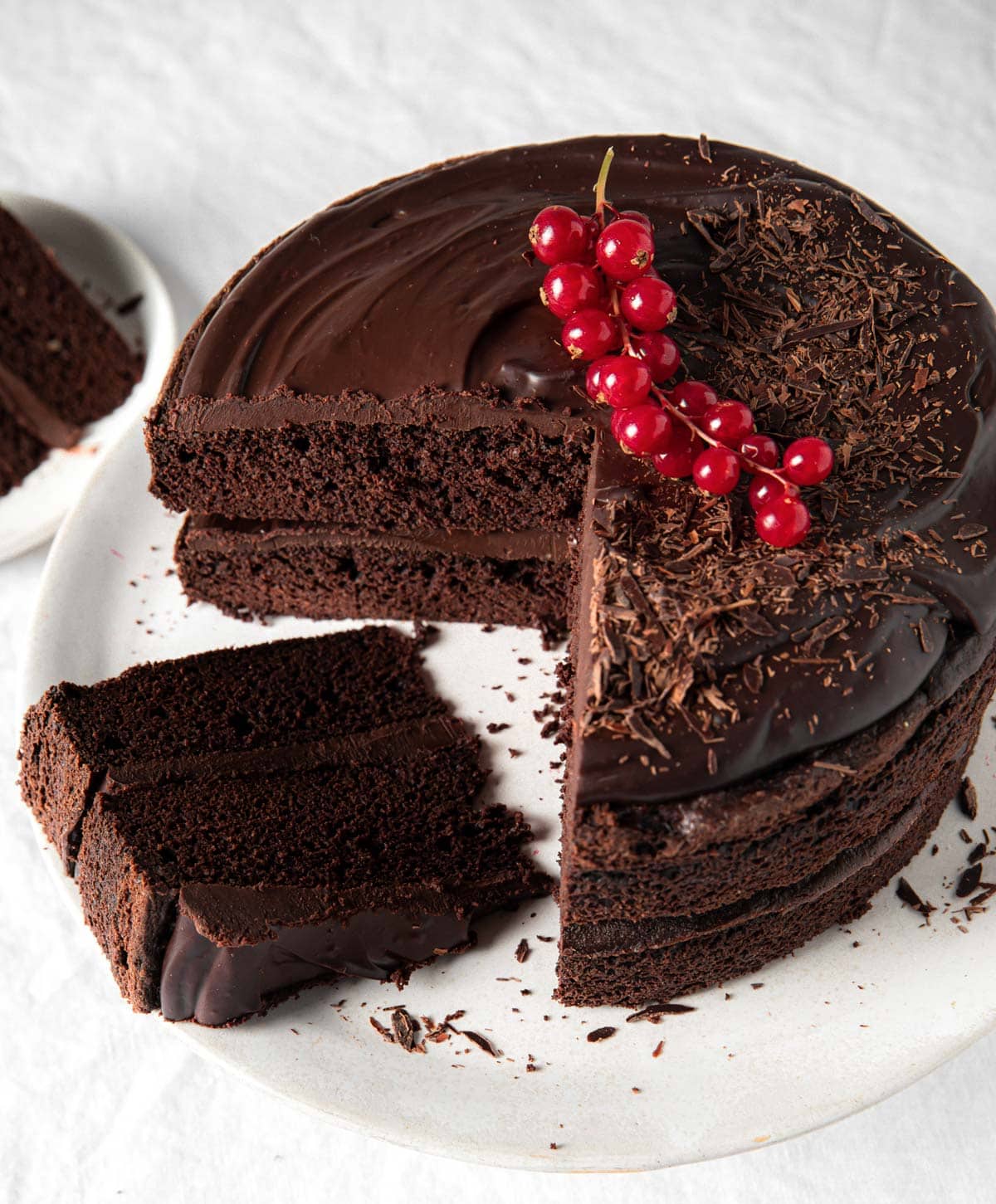 Variations
Flavor tweak:
Add 1 teaspoon of orange extract and the zest of 1 orange or 1 tablespoon of peanut butter to the ganache.
Making A Small Birthday Cake:
If you don't want to make a HUGE cake, simply halve the recipe and make a single layer of sugar-free cake topped with ganache.
All ingredients can be halved easily - except for the 7 eggs. I recommend that instead of large eggs, simply use 4 medium eggs.
Serving Suggestion
The cake is great with whipped cream or a scoop of sugar free ice cream. I just added some grated chocolate on top and a few red currants.
Recipe FAQs
Can I use just almond flour?
You can replace the coconut flour with an additional 1 ¼ cup or 125g of almond flour (use only 1 cup if your almond flour is super fine).
Can I just use coconut flour?
No. This is not the ideal recipe to experiment with because of the amount and cost of ingredients. As a rule of thumb, I would use ⅓ the amount of coconut flour stated for almond flour - about 80 grams / a scant ⅔ cup. But I think you would also need to add about 2 additional eggs to achieve the same fluffiness.
How to make this cake dairy free?
It's easy to create a dairy-free version of this diabetic birthday cake. Just replace the butter with coconut oil and the yoghurt with coconut yoghurt.
The ganache works equally well if you replace the heavy cream with coconut cream.
Which sugar free sweeteners are best for a diabetic cake?
I used a powdered erythritol and monk fruit sweetener mix. But allulose or xylitol will work equally well. I like natural sweeteners - no sucralose, no maltitol, no artificial flavor.
Powdered sweetener does work best in this cake because it will give a smoother texture. If you only have granulated sweetener, simply blend it first in the food processor to powder it.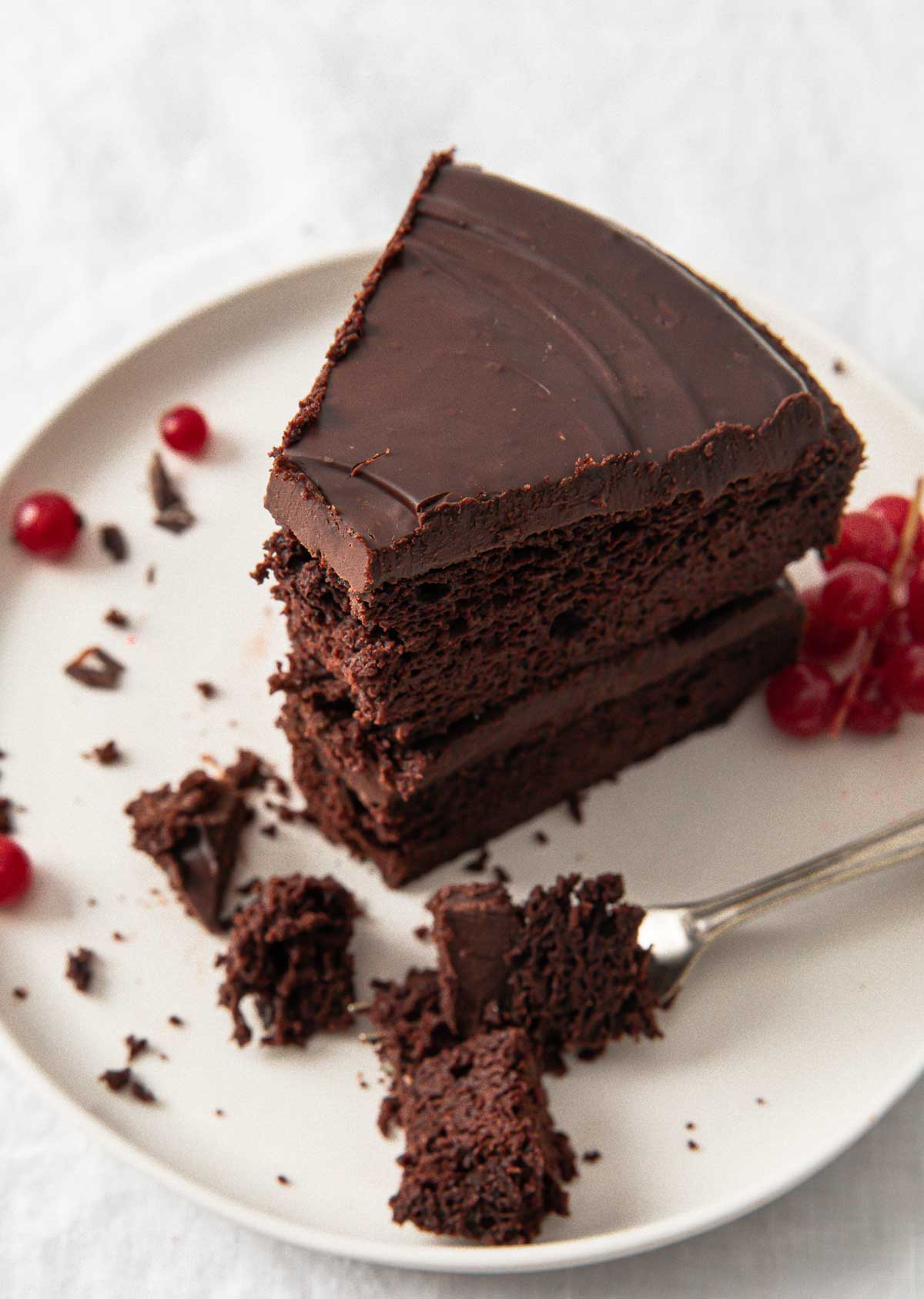 Cake Pan Sizes
I used two 8-inch cake pans. 9-inch rounds also work, just note that the cake will be flatter.
You can use a rectangular cake pan or even a bundt pan to make one large cake. The baking time will increase to around 60-70 minutes, depending on the pan size.
It's also possible to make cupcakes with the batter. Baking time will be around 25-30 minutes.
Storage
This cake tastes best at room temperature, because then the ganache is lovely and soft.
I would, however, store it in the fridge. It will stay fresh for up to 4 days.
Freezer Tips
Chocolate ganache cake freezes really well. There are two different methods:
Freezing the sponge separately
If you know that you are making the cake ahead you can freeze the two chocolate sponge cakes separately and make the frosting after you defrost them.
Freezing the entire cake
I you freeze cake low carb birthday cake leftovers, I recommend that you make enough room in the freezer to freeze the cake on a plate. Only after it is fully frozen, carefully place it in freezer bags or containers. This way, the ganache won't be damaged.
Freeze for up to 3 months.
More Chocolate Cake Recipes
Tried this recipe? Give it a star rating below!
★ STAY IN TOUCH on FACEBOOK, PINTEREST and INSTAGRAM  for more great food and join my NEWSLETTER for the latest updates and a FREE EBOOK.★ 
Recipe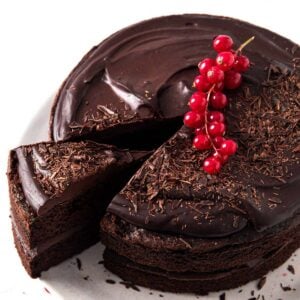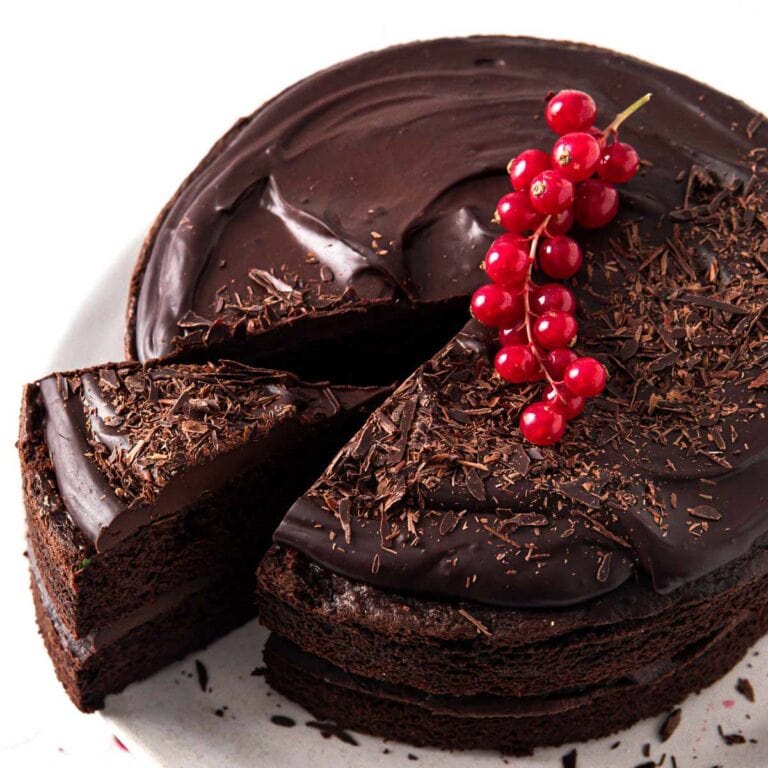 Sugar Free Chocolate Birthday Cake
from Sugar Free Londoner
Need a sugar free birthday cake for someone who is on keto or diabetic? Or do you simply LOVE chocolate cake? This chocolate ganache layer cake is the perfect celebration cake for chocolate lovers. The amazing thing is that you make the cake in a BLENDER - there's only 10 minutes prep!
Note: The servings slider only changes the first amount in each line and not any subsequent amounts. Please make your own calculations where necessary.
Instructions
Chocolate Sponge
Preheat the oven to 180C / 350 Fahrenheit. Generously grease two 21 x 4 cm round non-stick baking tins with butter.

Add all ingredients to blender, starting with the wet, and blend until smooth. You may need to scrape the sides a couple of times and blitz again.

Spoon the mix into your greased baking tins and bake for about 35 minutes or until you can insert and remove a skewer without any crumbs sticking. Do not over bake as it will firm up as it cools.

Allow to fully cool.
Ganache
Place the cream in a pan on med/ low and heat until hot, just as it starts to simmer. Do not boil. Turn off the heat.

Chop the chocolate quite fine. Add to the hot cream. Do not stir. Let the mixture sit for 5 minutes. Stirring will cool down the mix too quickly and may result in splitting.

Stir with a spatula until melted. If your ganache splits, don't panic, just put in a food processor and blend until smooth and it will right itself. Allow to cool for a couple of minutes so not boiling but still easily spreadable.
Assembly
Spread the ganache on the top of both cakes. Allow to set and then stack the cakes one on top of the other.
Notes
Makes 16 servings. Net carbs: 5.5g per slice. 
Optional topping:  melt 2 squares of dark chocolate and spread on a marble slab. Allow to cool and use a scraper to make chocolate scrapes for decoration, or simply grate if you prefer.
Add the wet ingredients to the blender first so all the dry ingredients do not get stuck at the bottom. 
If your ganache splits, don't panic! Just put it in a food processor and blend until smooth and it will right itself. 
You can make half the recipe if you don't want a huge cake and just use 1 springform. In this case, use 4 medium eggs. 
Store in the fridge for up to 4 days or in the freezer for up to 3 months. 
Nutrition
Calories:
302
kcal
Total Carbohydrates:
13.1
g
Protein:
9.3
g
Fat:
26.1
g
Saturated Fat:
11.3
g
Fiber:
7.6
g
Sugar:
1.7
g