This homemade chocolate yogurt is rich and creamy. I think it tastes just like a chocolate pudding. With only 2 essential ingredients, it is a high-protein breakfast treat or an easy, healthy dessert.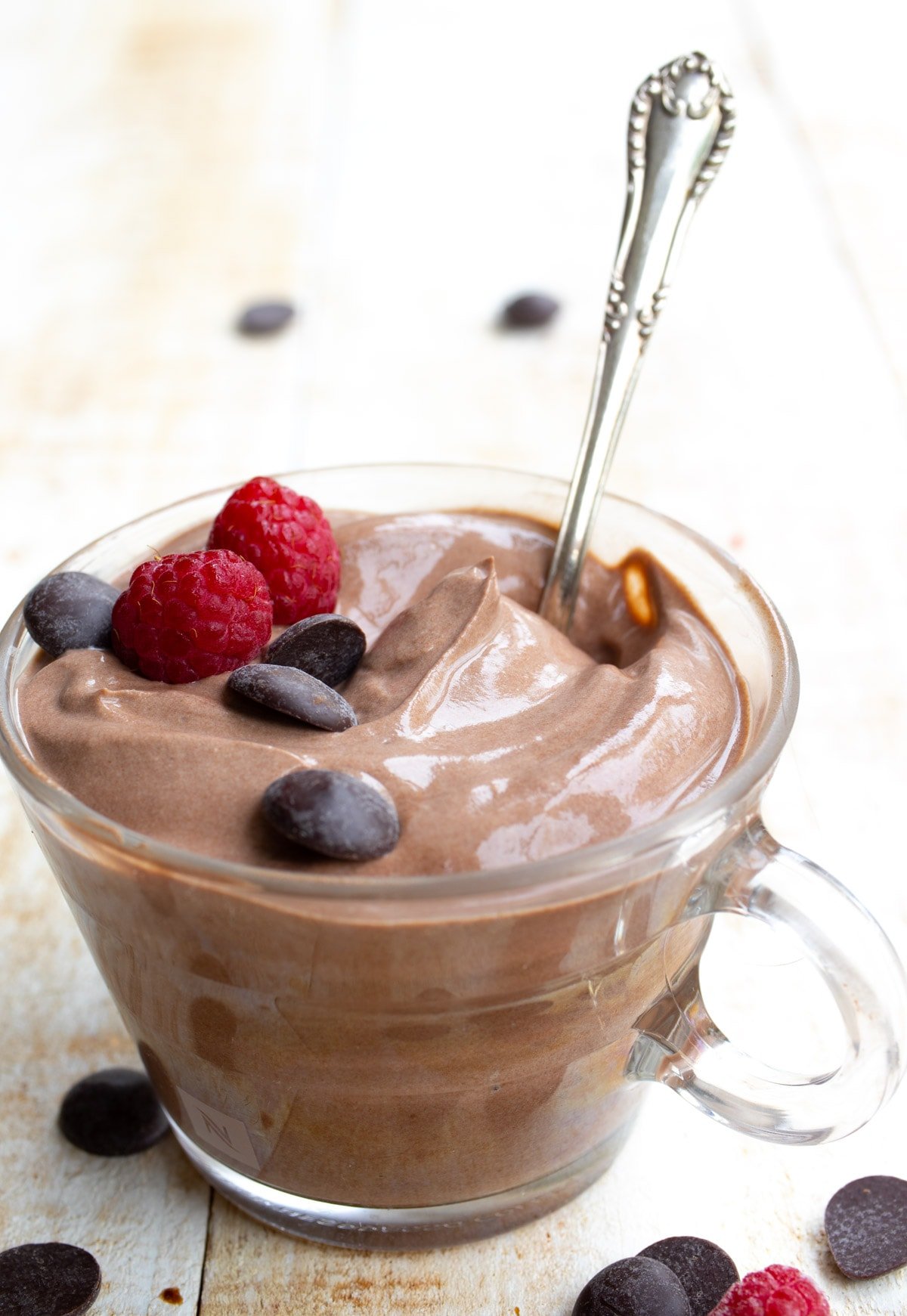 I often eat a portion of yogurt in the morning, topped with a handful of berries, nuts and seeds. Today I decided to change things up and added cocoa powder.
What a game-changer. It turns out that chocolate-flavored yogurt tastes delicious. It is like a fresher, lighter version of chocolate avocado mousse.
There are so many ways to customise this recipe and it fits into any diet.
Jump to:
🌟 Why You'll Love This Recipe
Easy and Quick - Chocolate yogurt is ready to eat in minutes. All you need is a bowl and a fork to stir the ingredients together.
Many Variations - The recipe works for any diet, from keto to dairy-free. You can keep it super simple or add a wide variety of toppings.
Breakfast or Dessert - By adding a little extra sweetness, it tastes similar to a rich chocolate pudding.
Great for Meal Prep - It is easy to scale the recipe and make multiple portions. These can be stored in the fridge for several days.
Family-Friendly - Show me a kid that does not like chocolate! My teens love this recipe. And as a mother, I love giving them food that is secretly healthy.
Ingredients
There are only two essential ingredients in a chocolate yogurt recipe: yogurt and cocoa powder.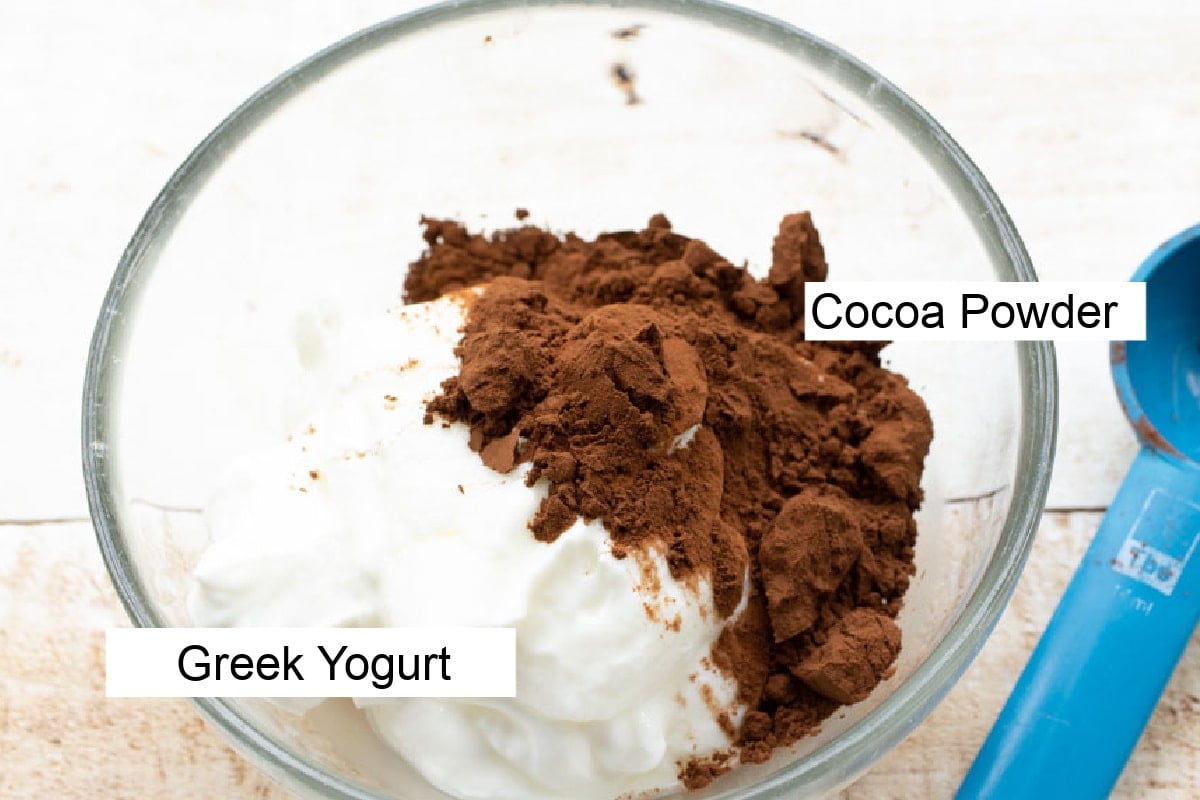 Let's chat about the details:
Yogurt: The best choice is Greek. It is nice and thick because the whey has been removed.
I like to use full-fat Greek yogurt as it has a milder and creamier taste than low-fat yogurt. My go-to is the Fage brand.
Cocoa powder: I use regular unsweetened cocoa powder. This is something I always have in my house because I adore sugar-free hot chocolate!
See the recipe card for full information on ingredients and quantities.
What about a sweetener?
I'm glad you asked! I don't use a sweetener in this recipe because I don't have much of a sweet tooth. Most of the time, I simply add a few berries.
However, there are many options if you would like to sweeten chocolate yogurt.
It is possible to use anything from honey to maple syrup or coconut sugar or agave.
If you are on a low-carb, sugar-free or keto diet, a powdered sweetener is the best choice. This could be allulose, erythritol or xylitol.
I am recommending a powdered sweetener over a granulated sweetener because the yogurt will be smoother. Low-carb sweeteners do not dissolve well and a granulated sweetener would create a gritty texture.
You can also consider using stevia glycerite drops or sugar-free syrup.
Anything from 1 teaspoon to 1 tablespoon of sweetness would work. For the stevia drops, start with 4-5 and see if you need more.
Instructions
Homemade chocolate yogurt is so simple to make. Here are the basic steps.
For detailed instructions, scroll down to the recipe card.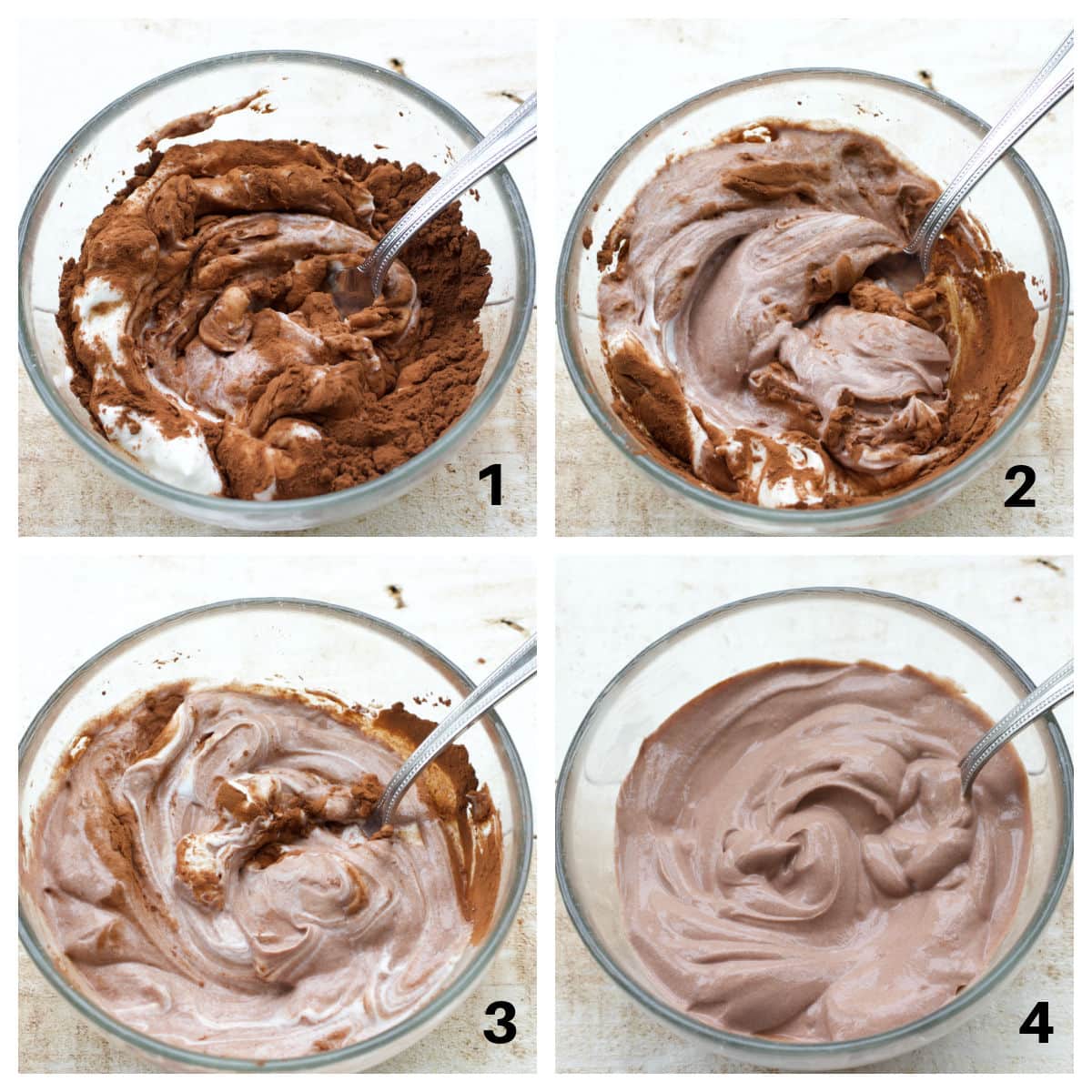 We start by putting Greek yogurt into a small mixing bowl.
Then, add the cocoa powder.
Using a spoon, slowly stir the ingredients until they come together.
I love watching the pretty brown and white swirls that then slowly disappear. It is the most satisfying part - apart from eating, of course!
Now, taste the mixture and decide whether you would like to add a sweetener of your choice.
Depending on your sweet tooth, anything between 1 teaspoon and 1 tablespoon should do the trick.
Enjoy the yogurt straight away or store it in the fridge until you are ready to eat it.
Expert Tip
Some Greek yogurt brands are very firm. In this case, feel free to add a splash of water or milk to loosen the mixture.
Ingredient Swaps
Even though Greek is the best option, all types of plain yogurt can be used. This includes dairy-free yogurt made from oats, almonds, coconut or soy.
Sometimes, I make the recipe with vanilla coconut yogurt by The Coconut Collab. This is unsweetened and made from coconut. It contains vanilla bean, which gives it a lovely vanilla flavor.
Some people prefer cacao powder to cocoa because of its additional health benefits.
Cacao powder is the raw, unprocessed version of cocoa. It contains more minerals and antioxidants than cocoa powder because the cacao beans have not been roasted or heated.
Cacao does taste a little stronger than natural cocoa powder. It is also a bit lighter in colour.
Last but not least, it is possible to use chocolate protein powder instead of cocoa powder. This increases the protein content of the recipe.
Variations
Most of the time, I make the recipe exactly as written. However, I have experimented with different flavors.
As I mentioned above, using vanilla-flavored yogurt adds an interesting new dimension.
You can get the same taste by adding ¼ teaspoon of vanilla extract. Orange or almond extract would also work well.
Another option is to increase the protein content of the recipe and add ½ tablespoon of protein powder or collagen powder.
Or, consider adding ½ teaspoon of cinnamon.
Want to mix things up even more? I also have a recipe for peanut butter yogurt on my website.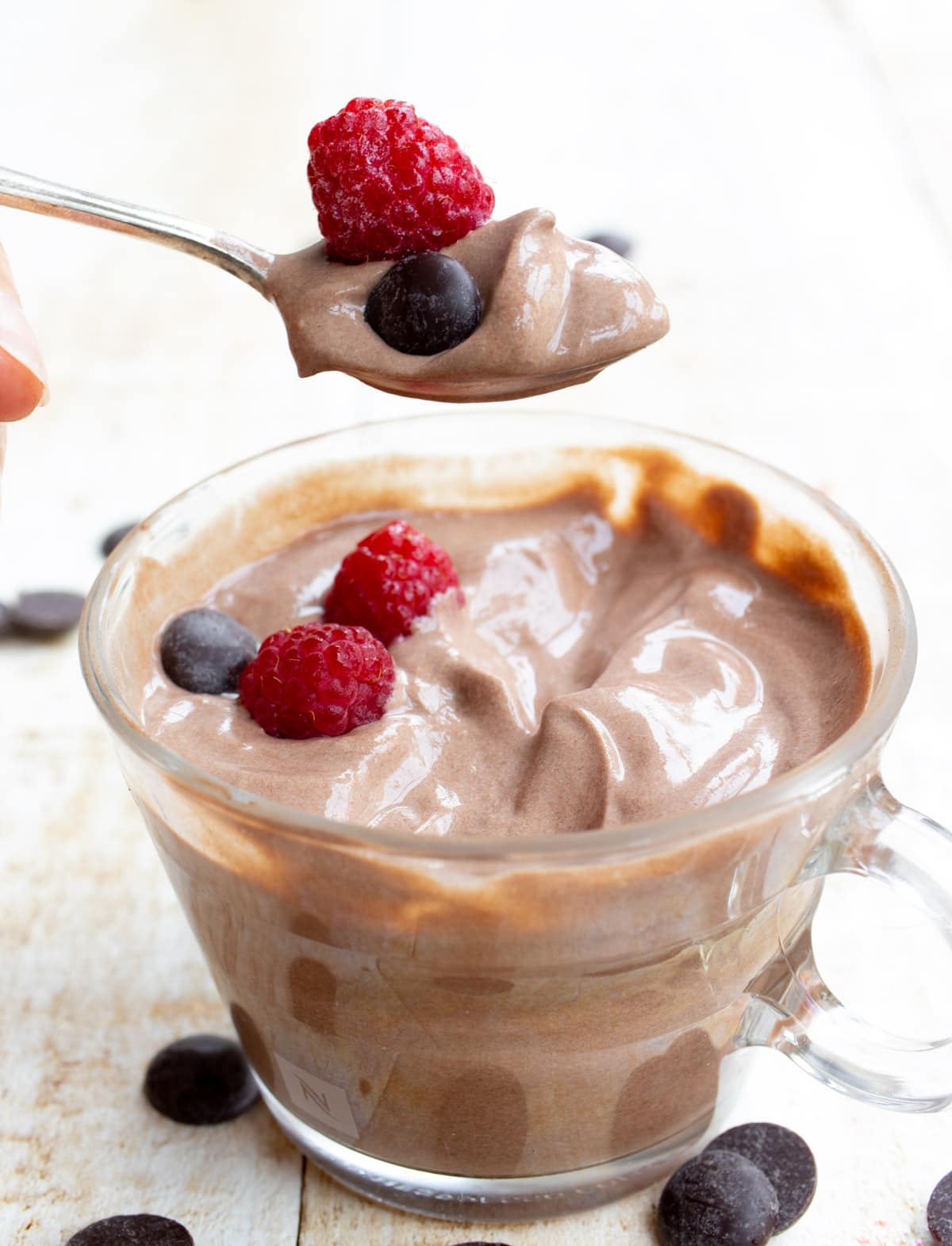 Toppings
This is the fun part.
Here are the toppings that I have tried:
Fresh fruit - Try ¼ cup fresh or frozen berries such as strawberries or raspberries as a low-carb option. Or, add chopped banana or pear.
Drizzle of peanut butter - or almond butter
Chocolate chips - This is how my teenager daughter likes the recipe.
Desiccated coconut or coconut flakes - These taste even better when you toast them first.
Chopped nuts - Anything goes, from almonds to hazelnuts, pecans or walnuts.
Peanut butter granola or keto granola - adds a lovely crunch to the dish.
Recipe FAQs
Is chocolate yogurt healthy?
Homemade chocolate yogurt is very healthy because it is made with simple, natural ingredients. Shop-bought chocolate yogurt, on the other hand, is not healthy. Brands add sugar, additives and gums to enhance flavor and extend shelf life. Even the diet versions are not healthy. They contain artificial sweeteners.
Does chocolate taste good with yogurt?
Yes, it is a surprisingly delicious combination. The yogurt adds an interesting fresh note. It is a similar combination to avocado and chocolate.
Why is Greek yogurt best in this recipe?
It is the best option because it is thick and creamy. This means the recipe will have a similar texture and consistency to a chocolate pudding. Other yogurts are more liquid and the end result will be softer.
Can you make it ahead?
Yes, this is a great recipe for meal prep. In fact, if you put the chocolate yogurt in the fridge for an hour or so before eating, the cocoa powder can dissolve fully. This means the texture will be even smoother.
Using a Blender
I don't recommend using a blender for this recipe if you only make one serving of chocolate yogurt. The amount is too small to blend properly and a bowl and stirring with a spoon instead will work just fine.
However, it is a good idea to use a blender if you would like to scale the recipe and make two, four or even more portions. It will speed up the process and ensure there are no cocoa powder lumps.
Storage
The recipe makes a single serving and I normally eat it straight away. But you can keep it in an airtight container in the fridge for up to 4 days.
It is also possible to freeze the mixture for up to 3 months. If you spread it out in a parchment paper-lined baking pan, you'll end up with delicious yogurt bark.
Alternatively, freeze in ice cube trays. Once frozen, blend the cubes with a little milk of your choice to make frozen yogurt ice cream. Or add a little more liquid for a chocolate yogurt smoothie.
More Healthy Yogurt Recipes
Tried this recipe? Give it a star rating below!
★ STAY IN TOUCH on FACEBOOK, PINTEREST and INSTAGRAM  for more great food and join my NEWSLETTER for the latest updates and a FREE EBOOK.★ 
Recipe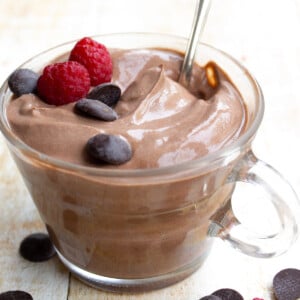 Homemade Chocolate Yogurt
from Sugar Free Londoner
This homemade chocolate yogurt is a feast for your taste buds! It is a filling, high-protein breakfast. Even better, it also doubles up as a healthy dessert. Ready in minutes and only 2 main ingredients.
Note: The servings slider only changes the first amount in each line and not any subsequent amounts. Please make your own calculations where necessary.
Instructions
Put the Greek yogurt into a small mixing bowl and add the cocoa powder.

Using a spoon, slowly stir the ingredients until they come together. The mixture should be creamy and uniform, without any cocoa powder lumps.

Taste and decide whether you would like to add a sweetener of your choice.

Enjoy the yogurt straight away or store it in the fridge until you are ready to eat it. Option to add one or more of the toppings mentioned in the recipe notes below.
Notes
If the mixture is too thick, add a splash of water or milk to thin it out.
Greek yogurt works best in the recipe because it is thick and creamy. However, any plain yogurt can be used, including dairy-free yogurt. 
*** Sweetness: For low carb, use a powdered sugar substitute or stevia. If carbs are not a concern, use honey, maple syrup or coconut sugar.  
Optional: Cooling the yogurt in the fridge for 30-60 minutes will allow the cocoa powder to dissolve fully and makes it even creamier.
4.7g net carbs per serving. Makes 1 serving.
For an additional protein boost, add ½ tablespoon protein powder or collagen powder. 
Optional toppings:
Raspberries, strawberries, banana or pear
Chocolate chips
Peanut butter
Desiccated coconut or coconut flakes
Chopped nuts (almonds, hazelnuts, pecans, walnuts)
Nutrition
Serving:
125
g
Calories:
124
kcal
Total Carbohydrates:
6.7
g
Protein:
11.9
g
Fat:
6.7
g
Saturated Fat:
4.8
g
Sodium:
13
mg
Potassium:
82
mg
Fiber:
2
g
Sugar:
3.7
g