Almost too good to share: These keto chocolate chip cookies are the perfect combination of soft chewiness with a crunchy edge. You'll never guess they are sugar free! Perfect for gluten free and low carb diets.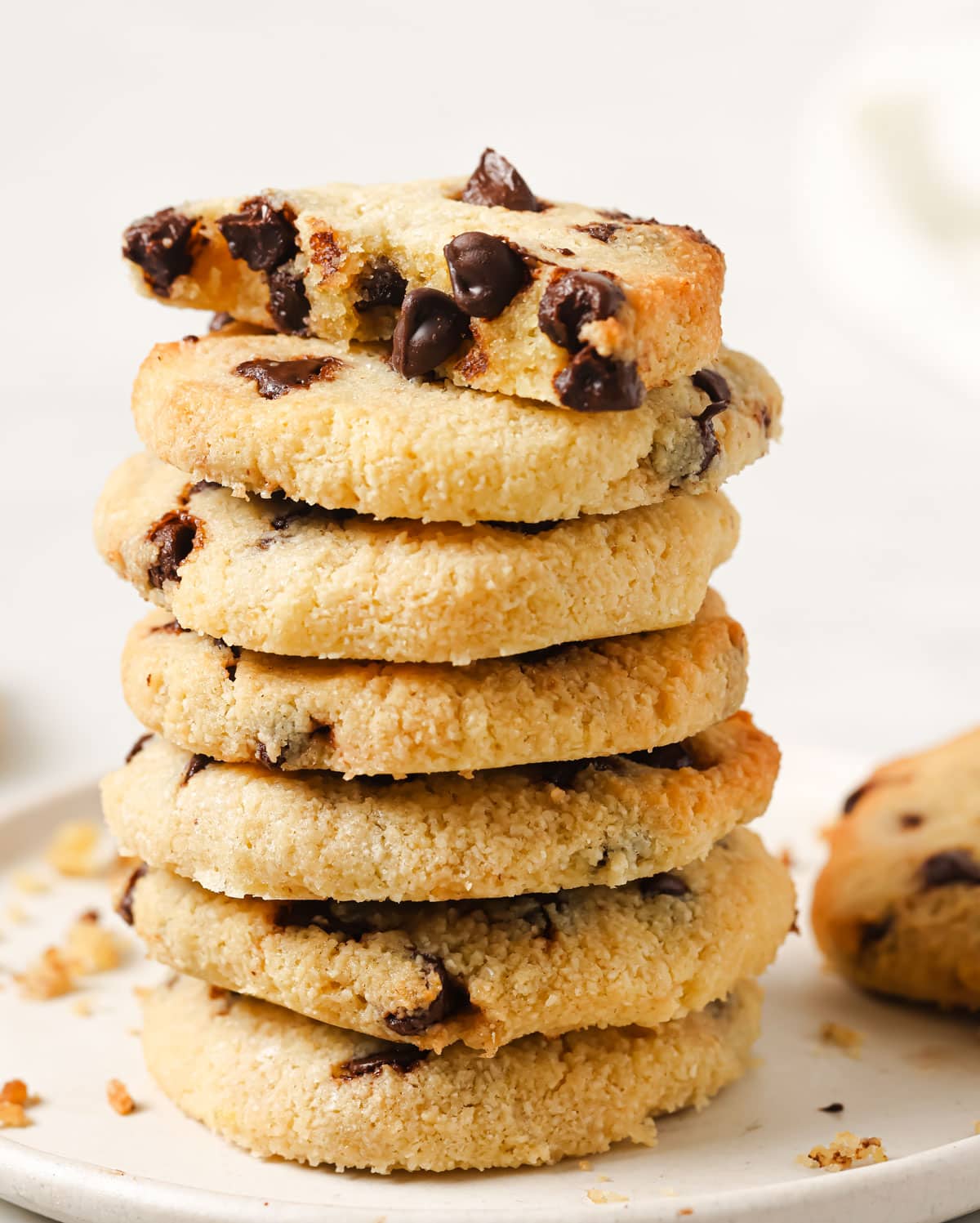 "These cookies kept me on the straight and narrow when I needed something sweet. Best of all, they didn't spike my blood sugar. Will definitely be making more." (Jo)
I first published this keto cookie recipe in September 2016, and it has been a reader favourite ever since, with tons of 5 star reviews.
It is also a recipe that I make regularly at home because my whole family loves it. My husband jokingly calls it the lovechild of my keto sugar cookies and these keto chocolate cookies!
I have just republished the post with new details to bring it up-to-date and help you make the best low carb chocolate chip cookies EVER. I have also shot new images to show you how they turn out with various ingredient tweaks.
The basic recipe remains the same because it was perfect the way it was.
Here is one of the original images, where I used chopped dark chocolate instead of chocolate chips: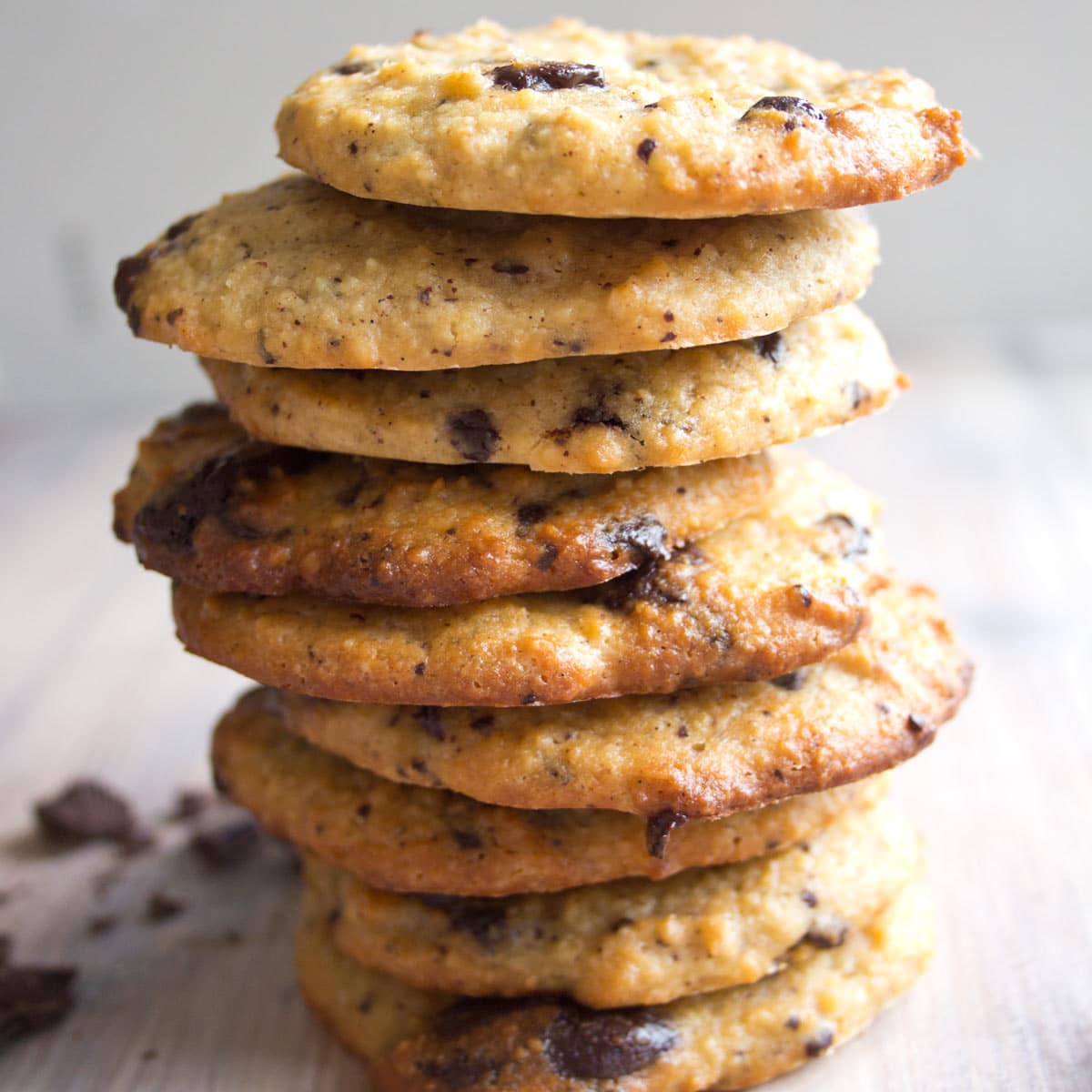 Jump to:
Why These Are The Best
Easy and quick: This is an incredibly easy recipe that you can make without a blender. All you need is a fork, a bowl and 5 minutes prep time.
Rich and delicious: The recipe contains a secret ingredient that makes the taste and texture richer, creamier and infinitely more yummy: cream! This is a trick I learned from my mum (who learned it from her mum!)
Versatile: I have made this recipe so many times that I have tried and tested all variations possible - from dairy-free to egg free, from soft to crispy. Whatever your requirements are, I've got the solution.
Low carb: One cookie contains just 1.7g net carbs. It is the perfect sweet treat to enjoy while keeping blood sugar levels stable.
Ingredients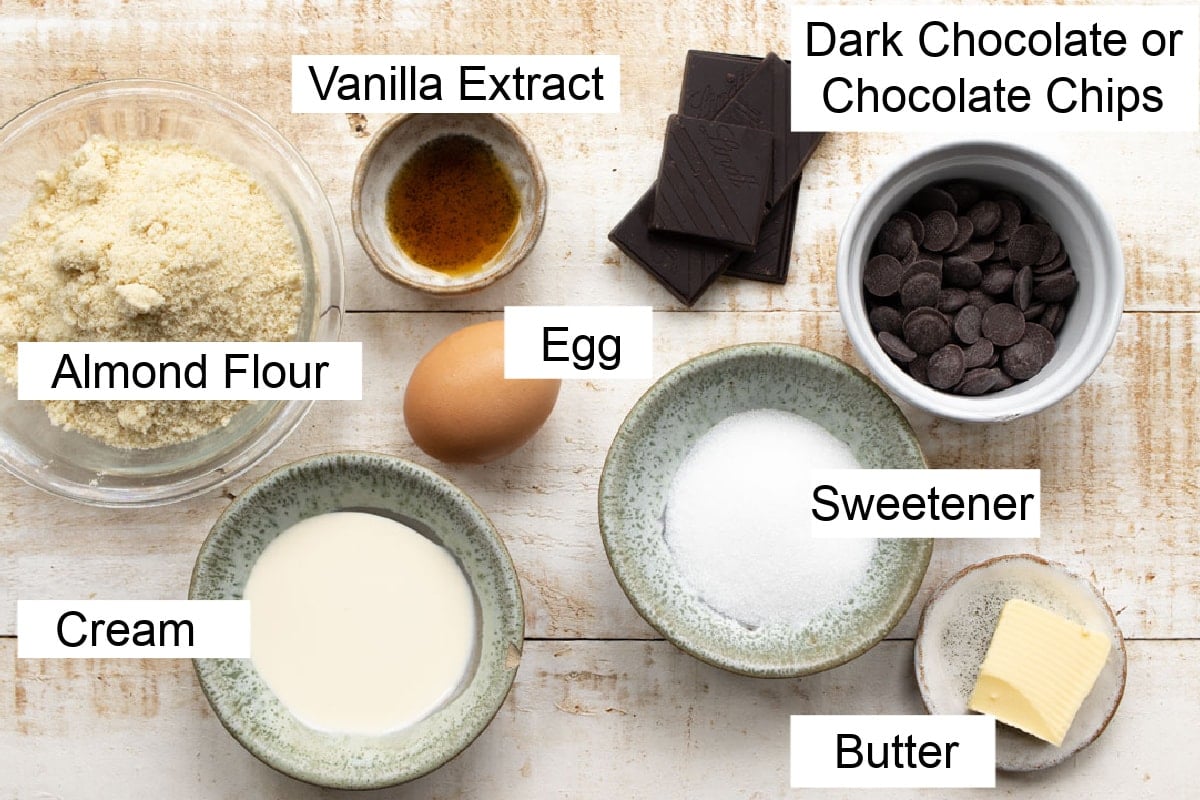 Here are the ingredients you'll need to make low carb chocolate chip cookies:
Almond flour - I used a super-fine almond flour. If you're using ground almonds, just add an additional 2 tablespoons.
Butter. This must be very, very soft so you can mix it easily. It is also possible to melt the butter and cool it.
Egg. I used a medium egg in this recipe.
Heavy cream - That's double cream in the UK. It is my secret ingredient!
Sugar substitute- I used a granulated erythritol monk fruit sweetener blend.
Vanilla extract
Sugar-free chocolate chips or chopped dark chocolate. When I first made this recipe, I used chopped 90% dark chocolate by Lindt. As you can see in the current images for the post, they look even prettier with sugar-free chocolate chips. ChocZero or Lily's are good options and are easily available in the US. Another possibility is to make your own sugar free chocolate chips.
See the recipe card for full information on ingredients and quantities.
Instructions
It is super easy to make keto chocolate chip cookies. Here are the basic steps, illustrated with images.
For detailed instructions, scroll down to the recipe card.
Preparations
Start by preheating the oven to 180C / 350F electric or 160C / 320F fan-assisted.
Next, line a cookie sheet with parchment paper. This is the best way to prevent cookies from sticking to the baking sheet. It works much better than greasing the sheet with butter or oil.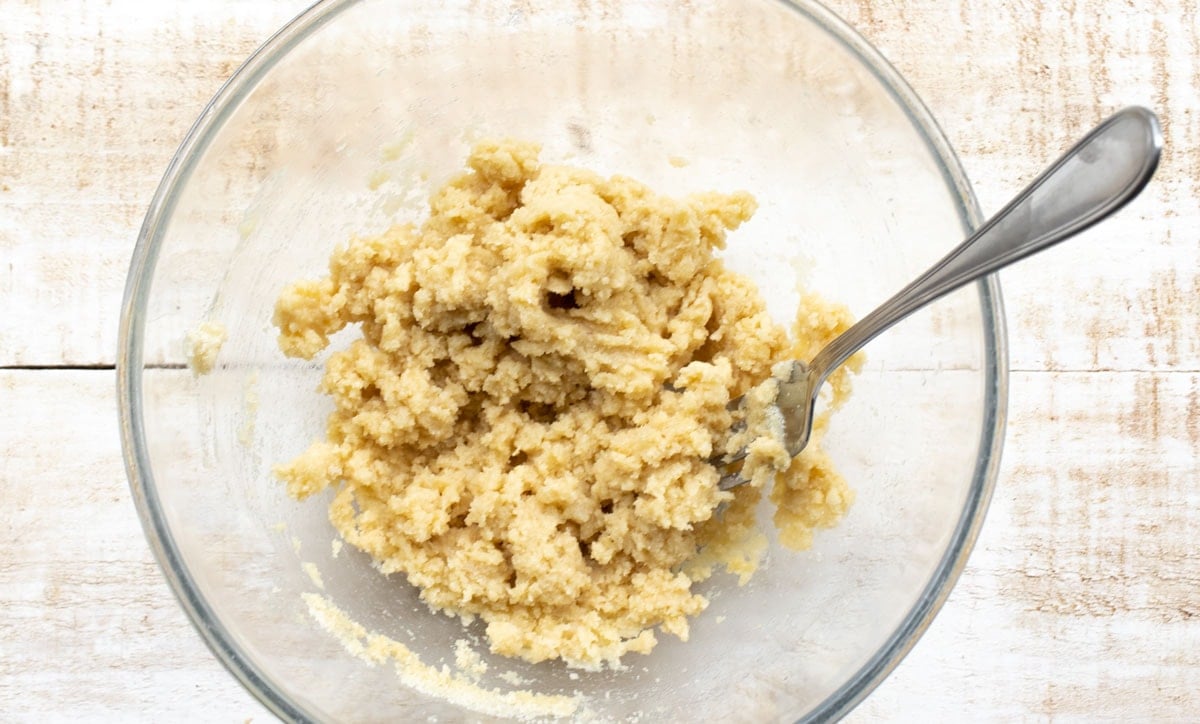 Make The Dough
STEP 1: Add the almond flour, egg, cream, butter, vanilla extract and granulated sweetener into a large mixing bowl.
Mix everything with a fork - it comes together really easily.
Let the batter sit for a few minutes for the flour to absorb the moisture.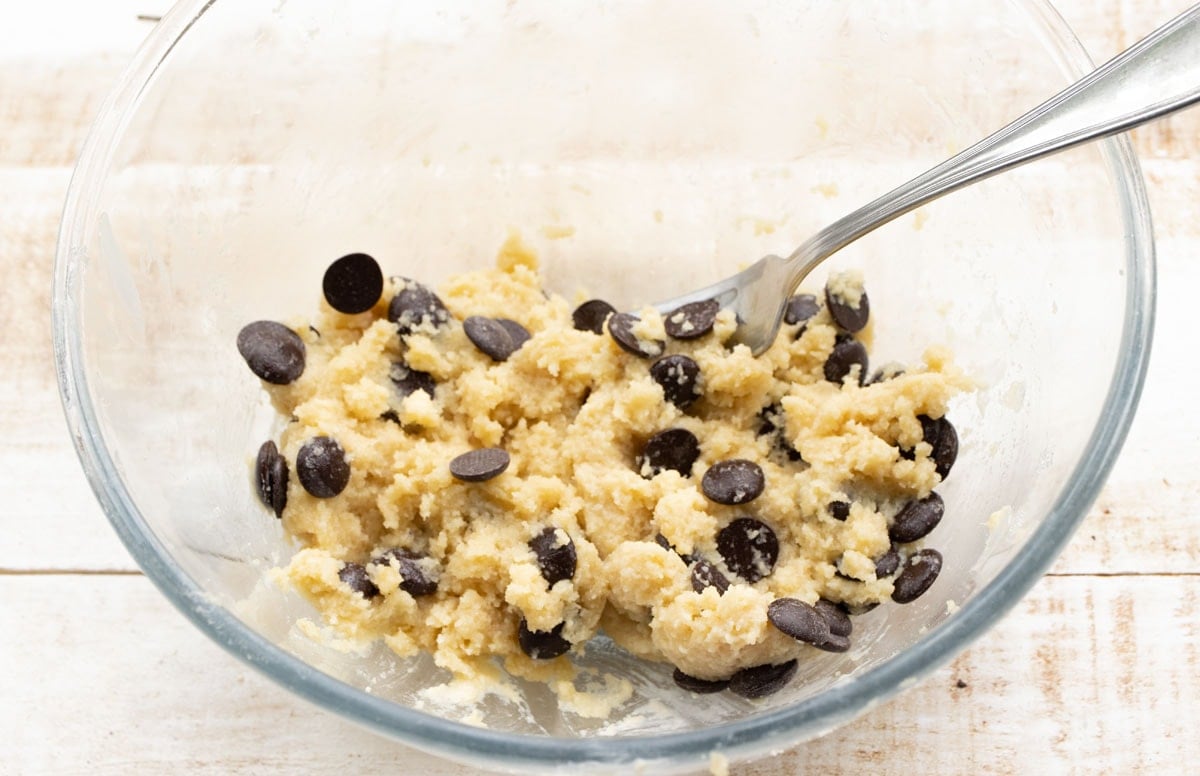 STEP 2: Fold in sugar-free chocolate chips or chopped dark chocolate.
Now's a good moment for a little taste - adjust your sweetener if you wish 🙂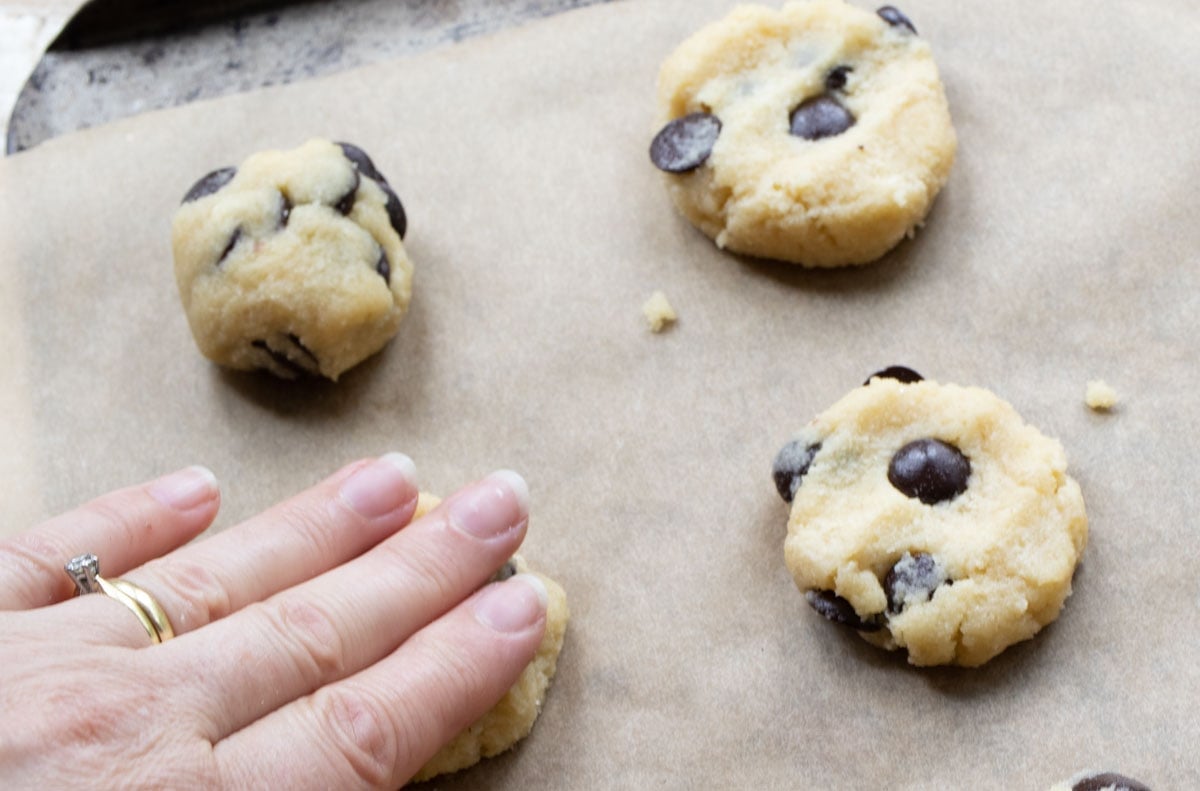 STEP 3: Roll the batter into cookie dough balls (or portion them with a cookie scoop) and place them on the baking sheet. The dough will still be a tad soft and sticky.
The mixture makes 10 cookies with a diameter of around 6 centimetres. (I tried so much of the dough we only ended up with 9!)
STEP 4: Flatten the low carb chocolate chip cookies with your hand. They should be about ½ centimetres thick.
Bake
STEP 5: Bake the cookies in the oven for around 13 minutes or until the edges are golden brown.
Let them cool on the baking sheet for 10 minutes. After that, you have the option to carefully transfer them onto a cooling rack to cool fully.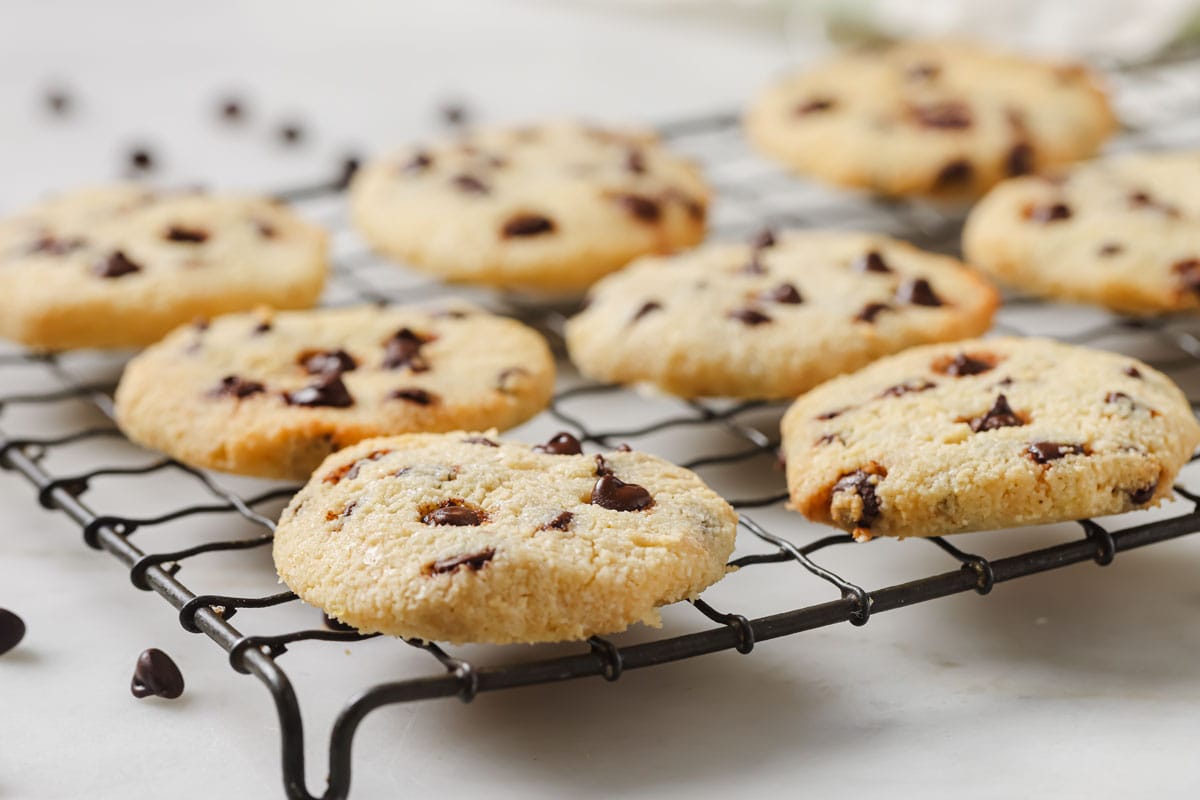 Expert Tip
Keto cookies are really soft and fragile when fresh out of the oven. Let them cool fully before eating them. They firm up as they cool down.
As almond flour does not contain gluten, low carb cookies are always softer than their wheaten counterparts. The browned edges still have a lovely crunch though.
Crispy Cookies
There are a few options to make keto chocolate chip cookies crispier:
1. Replace the cream with more butter.
2. Flatten them more! The thinner your cookies are, the crispier they will end up.
3. Bake them for longer. You want the edges to be golden-brown. Consider placing aluminium foil over the cookies so they don't burn and add another few minutes to the oven time.
4. Turn off the oven when they are done and prop the door open with a wooden spoon. Then you leave the cookies in for longer. The air circulating around them will help them to continue crisping up.
Chewy Cookies
1. Don't miss out on the cream! It helps with the chewiness.
2. Make the cookies larger and thicker. This way, the centre stays lovely and chewy.
3. Watch out that your cookies do not brown much. Take them out as soon as the edges start to turn golden!
4. Consider replacing the erythritol with xylitol or allulose. Especially allulose is great for soft baked goods.
Cream Vs Butter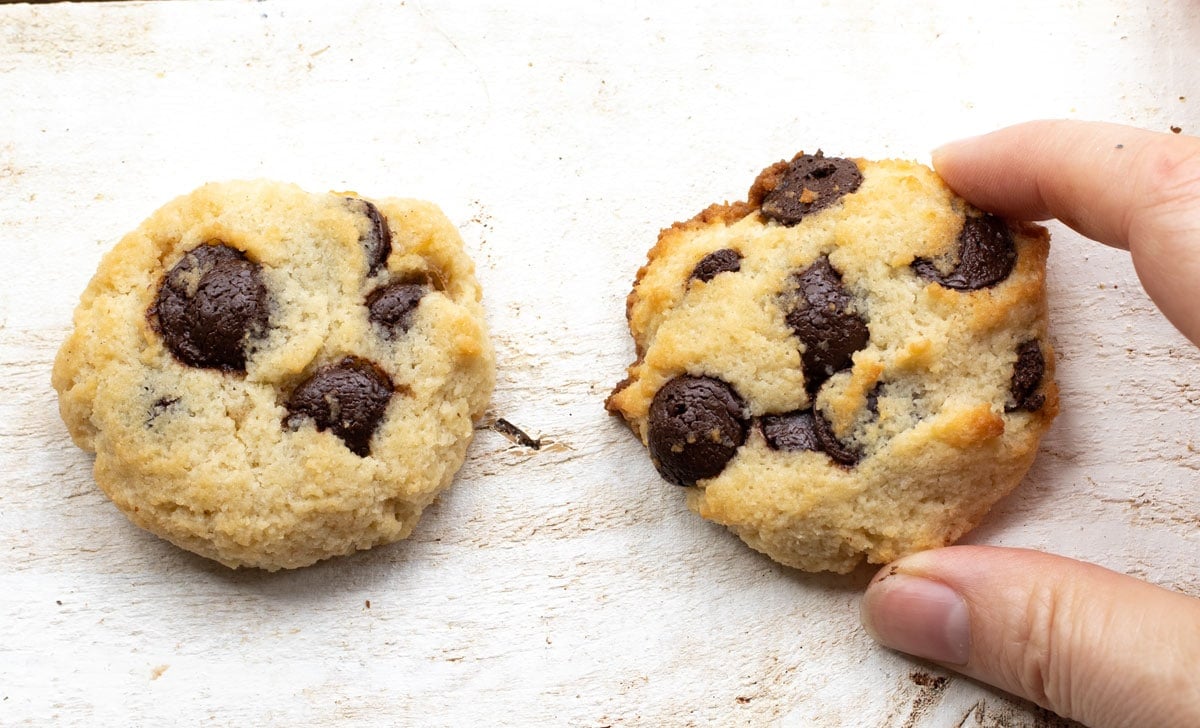 In the image above you can see the difference between a cookie made with cream and butter (on the left) versus one where I have replaced the cream with more butter.
I had them both in the oven for exactly the same time (13 minutes). The butter-only cookie browned more than the one that also contained cream. It also spread more.
More Variations
Here are more ideas on how you can change up the recipe. All tweaks have been tested by myself over the years.
Coconut flour chocolate chip cookies: Use 40 grams or ⅓ cup of coconut flour instead of almond flour. Coconut flour absorbs a lot more moisture than almond flour, that's why you need less of it. You may want to add ½ a teaspoon of xanthan gum to make them a little firmer.
Extra fluffy cookies: Add ½ teaspoon of baking powder or ¼ teaspoon of baking soda.
Dairy-free: Use coconut oil instead of the butter.
No egg: This low carb chocolate chip cookies recipe also works without the egg! The end result is crispier (but also more fragile when hot). Add an extra splash of cream to loosen the dough.
Pinch of sea salt: Adds even more flavor to the cookie dough.
Make them nutty: Add ¼ cup of chopped walnuts, pecans or hazelnuts to the dough. If you decide to do this, keep the cookies larger and thicker so they don't fall apart.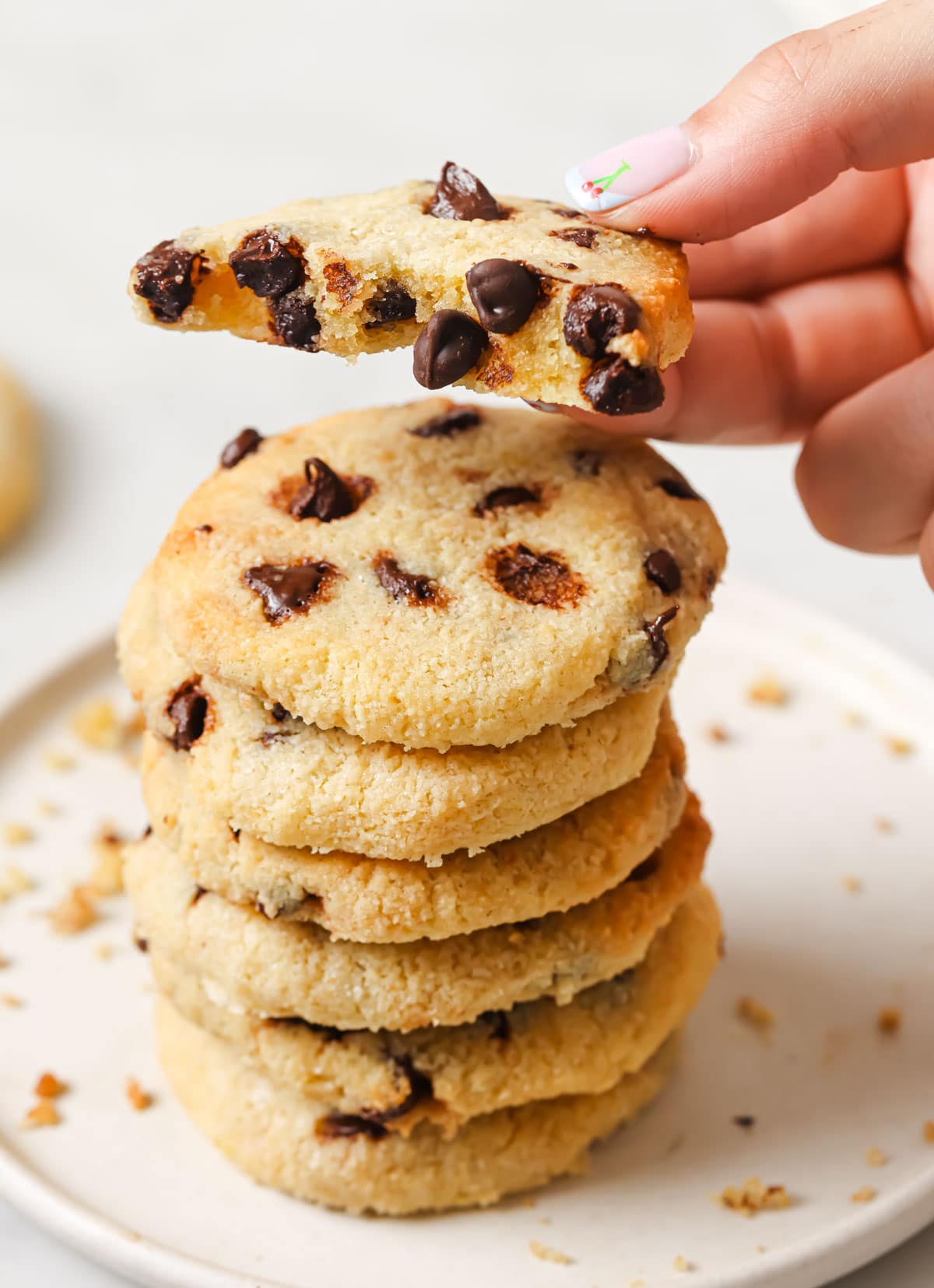 Recipe FAQs
How do I fix a soft cookie dough?
If the cookie dough is too soft, simply put it in the fridge for 10 minutes to let it firm up. This helps the butter to solidify.
Can I use a large egg?
The recipe works best with a medium egg. If your egg is large, increase the amount of extra fine almond flour by 2 tablespoons.
What sweetener is best for keto chocolate chip cookies?
For crispy cookies, always use erythritol-based sweeteners. This can be either pure erythritol or erythritol blends that also include monk fruit or stevia. I also recommend trying golden erythritol in the recipe. This is a brown sugar alternative. It adds a lovely caramel flavor.
How can I make a nut-free version?
Use coconut flour as mentioned in the Recipe Variations above, or replace the almond flour with a 50/50 blend of sunflower seed and sesame seed flour.
How do you store these cookies?
I recommend storing the cookies in a cookie jar at room temperature for up to 5 days or in an airtight container in the fridge for 7-10 days.
Can you freeze them?
Yes, you can freeze almond flour chocolate chip cookies! They stay fresh for up to 3 months. I freeze them in a single layer and then transfer them to a freezer bag. This way, they don't stick together.
Related Recipes
Here are more keto-friendly cookie recipes to try:
Tried this recipe? Give it a star rating below!
★ STAY IN TOUCH on FACEBOOK, PINTEREST and INSTAGRAM  for more great food and join my NEWSLETTER for the latest updates and a FREE EBOOK.★ 
Recipe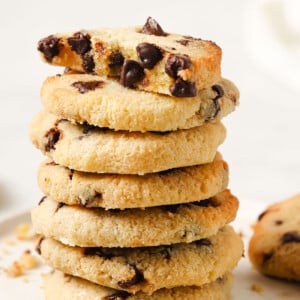 Low Carb Keto Chocolate Chip Cookies
from Sugar Free Londoner
This recipe for keto chocolate chip cookies has the approval of my 3 resident cookie monsters! We think they are the perfect combination of soft chewiness with a crunchy edge and I get regular requests to make them. The recipe is super simple and quick, I'm sure you'll love it!
Note: The servings slider only changes the first amount in each line and not any subsequent amounts. Please make your own calculations where necessary.
Ingredients
1

cup

almond flour

100g (to my UK readers - ground almonds work well here, just add another 2 tbsp)

1

medium egg

not large

2

tablespoon

double/heavy cream

2

tablespoon

butter

unsalted, VERY soft

3

tablespoon

granulated sweetener

1

teaspoon

vanilla extract

⅓

cup

chopped dark chocolate

50g (85% cocoa solids minimum or sugar free), or sugar free chocolate chips
Instructions
Preheat the oven to 180 Celsius/350 Fahrenheit.

Combine all ingredients apart from the chocolate with a fork. Let the dough sit for a few minutes so the flour can absorb the moisture.

Chop your chocolate and stir into the dough.

Form dough balls with your hand or spoon the mixture on a baking sheet lined with baking paper. Press down into the desired shape (cira ½ cm thick).

Bake for circa 13 minutes or until the edges are golden. The cookies are soft when straight out of the oven but firm up as they cool down.
Notes
1.7g net carbs per cookie. Makes 10 cookies with a diameter of around 6 cm. 
I have made the recipe with both sugar free chocolate chips and with chopped 90% dark chocolate. 
If you like chewier cookies, make them thicker than ½ cm and reduce the baking time to 10 minutes. For crispier cookies, flatten them further.
This low carb chocolate chip cookies recipe also works WITHOUT the egg! The end result is crispier (but also more fragile when hot). Add an extra splash of cream to loosen the dough. 
Nutrition
Calories:
125
kcal
Total Carbohydrates:
3
g
Protein:
3.3
g
Fat:
11.9
g
Saturated Fat:
4.2
g
Cholesterol:
12
mg
Sodium:
10
mg
Potassium:
10
mg
Fiber:
1.3
g
Sugar:
0.9
g