This rustic Paleo bread is nutrient-dense, grain free and packed with seeds. It's perfect for gluten free, sugar free and low carb diets.
Find the recipe card with ingredients and instructions at the bottom of the page. Don't miss the extra tips in the post! 
Have you ever been to Ibiza?
Many people think it's the kind of place where you go to party with your shirt off, drink 3 litre-buckets of sangria and fall asleep on the beach in a drunken stupor whilst turning the colour of a lobster.
You CAN do that in Ibiza.
But you can do so much more.
For me, Ibiza is my secret haven. The nature is beautiful. It's so peaceful, if you stay away from the hotspots. Coming from a place like London, you'll notice immediately how clean the air is. You just don't even want to breathe out any more – just fill your lungs with as much of that beautiful sweet air as possible.
Life slows down.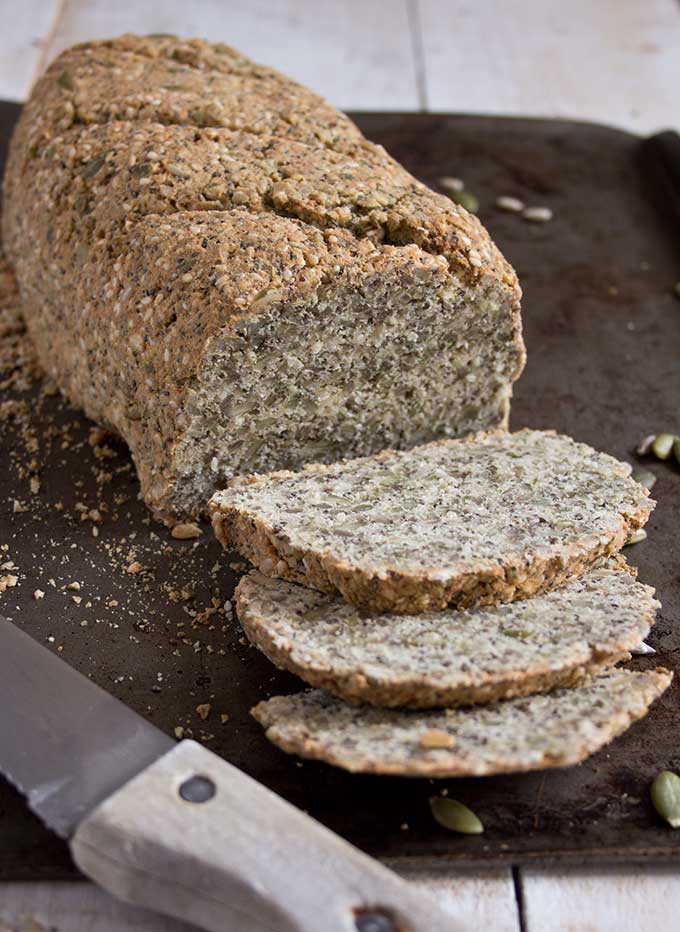 Do you know that wonderful feeling of just living in the moment? Enjoying the here and then, not regretting the past or worrying about the future? When you feel like you've shaken off the stresses of daily life? Gone all those little niggly things that make you shoulders feel tense and cause the lines of worry in your face. And you realise – they weren't really that important in the first place.
That's the feeling I get when I'm in Ibiza.
Why I am talking about a random island in the Med?
Naturally, because of this Rustic Paleo bread.
I went to Ibiza recently and was leafing through this cookbook at a friend's house. I don't know about you, but for me reading cookbooks is one of the most relaxing things I can think of. I'm a total recipe nerd – when I see something that looks yummy, I'll read through the ingredients, the method, the lot. For me, this is as relaxing as an Indian head massage. Or stroking your favourite pet. You get the picture.
This rustic Paleo bread is an adaptation from a recipe in the aforementioned cookbook.
It is so good!
If you want to eat sugar free and low carb, you want to stay away from wheat and switch away from a grain-based diet. A couple of slices of "healthy wholegrain bread" will send your blood sugar levels as high as sucking on a sugar cube does.
I used to eat large amounts of bread – toast with jam for breakfast, a wrap for lunch, a sandwich for dinner. Bread makes for a quick and easy meal. But it does not fill you up for long. Your body is sent on a blood sugar rollercoaster – after feeling satisfied for a couple of hours, your blood sugar levels drop and you end up feeling exhausted and hungy again.
Enter this rustic Paleo bread. It is made with almond flour, eggs, olive oil and MASSES of seeds. Not a grain in sight!
It's….
dense
satisfying
gluten free and low carb
packed with nutrients
easy to freeze
delicious when toasted
perfect with some sugar free jam, such as my raw raspberry vanilla chia jam or sugar free blueberry jam. If you don't feel like making your own (and are in the UK), check out the stevia-sweetened jams from The Jam Goddess.
a great base for fried eggs. Just let that egg yolk run all over your slice of toasted paleo bread and you'll know exactly what I'm talking about.
(This post may contain affiliate links. When you click on a link like this and purchase a product, I receive a small commission – at no extra cost to you. This money helps me with the running costs of my site.)
Rustic Paleo Bread With Seeds
This rustic Paleo bread is nutrient-dense, grain free and packed with seeds. It's perfect for gluten free, sugar free and low carb diets.
Ingredients
150

g / 1 1/2 cup

almond flour

80

g / 1/2 cup

chia seeds

70

g / 1/2 cup

sesame seeds

140

g / 1 cup

pumpkin seeds

140

g / 1 cup

sunflower seeds

5

eggs

2

tbsp

olive oil

1

tsp

salt
Instructions
Preheat your oven to 170 Celsius/ 340 Fahrenheit

Place the almond flour and eggs in a food processor and mix. You can also do this in a big bowl with a stick blender.

Add the rest of the ingredients and blitz briefly until the seeds are broken down a bit. You want to keep a decent crunch.

Form your dough into a loaf and place on a baking sheet lined with baking paper.

Bake for ca 45-50 minutes or until lightly browned on top

Cool completely before cutting.
Recipe Notes
As this bread is very dense and filling, I cut my slices fairly thin. One slice weighed just over 40g (yes, I actually weighed one for you, so I could calculate the nutrition per slice).
For me, 1 slice was enough, although my teenage son wanted 2 for breakfast. How many you need will all depend on your personal needs for that day.
Nutrition Facts
Rustic Paleo Bread With Seeds
Amount Per Serving
Calories 161
Calories from Fat 114
% Daily Value*
Total Fat 12.7g 20%
Cholesterol 46mg 15%
Sodium 18mg 1%
Total Carbohydrates 7.3g 2%
Protein 6.5g 13%
* Percent Daily Values are based on a 2000 calorie diet.