This keto stuffing recipe is packed with flavor. It is the perfect low carb side dish for your Christmas turkey or Thanksgiving dinner.
In my opinion, stuffing is one of the most delicious parts of a turkey dinner. So much more exciting that the bird itself!
We used to make traditional bread stuffing, but when we started eating a low carb diet, I had to find a suitable substitution.
This keto stuffing recipe with cauliflower and sausage has all the festive flavours that make it taste just like the real deal: herbs such as sage, thyme and rosemary plus onion and garlic, nuts and chestnuts.
In fact, it tastes so good that I regularly make it as a main meal!
My stuffing is quick and simple to make and can prepare it a day ahead. This way, there's less to think about on the day you're cooking the big turkey!
Ingredients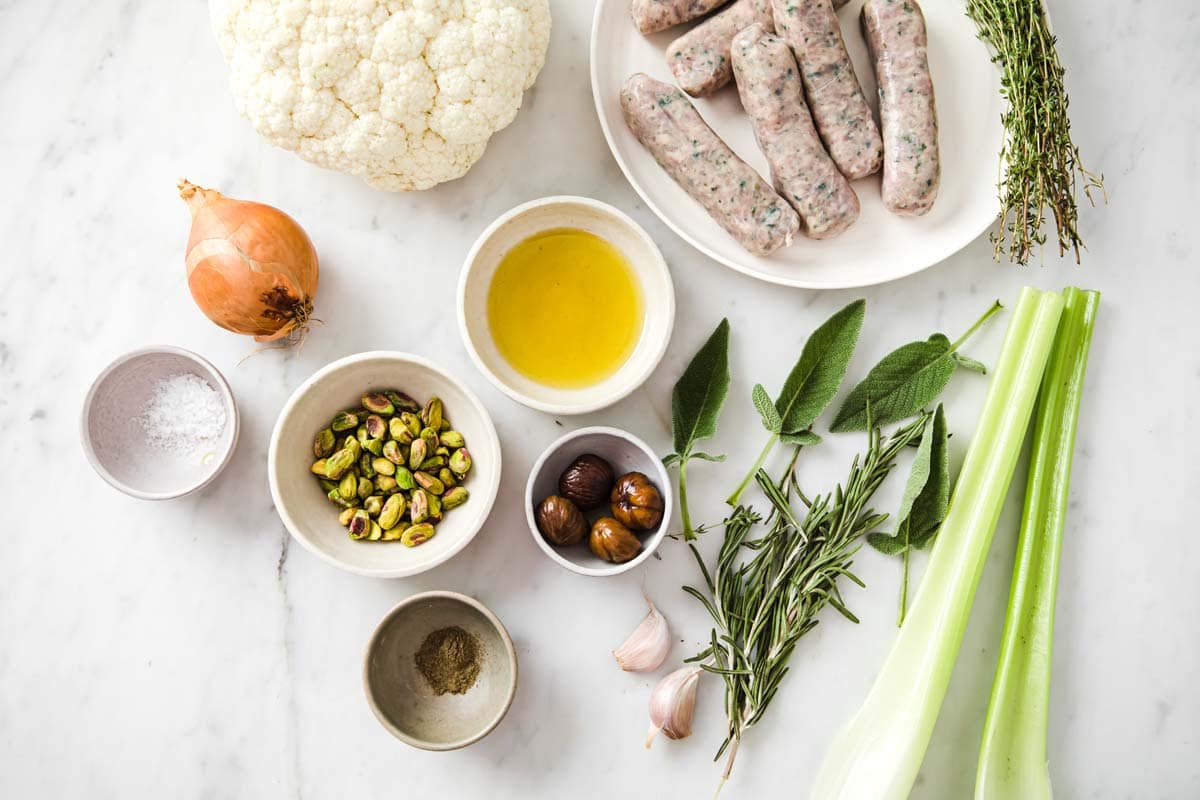 Here are all our ingredients:
Cauliflower. This needs to be fresh and chopped into small florets. Don't leave them too large or they won't go soft enough.
Onion and celery. Must also be chopped finely.
Sausage. I recommend Italian or Toulouse pork sausages.
Garlic. Fresh always tastes best, although you can use frozen or garlic puree.
Pistachios and chestnuts. Go for 100% vacuum packed chestnuts. The brand I used is Merchant Gourmet. They give a wonderful festive flavour.
Herbs. Using dried herbs is an option, however fresh herbs will make all the difference
Olive oil. This can be substituted with butter.
Salt & pepper. I used coarse sea salt.
Instructions
This section contains step-by-step instructions and photos that show how to make this recipe. See the recipe card for full information on ingredients and quantities.
The most work intense part of the dish is to chop all the vegetables. Once that is done, the keto stuffing is very easy. Here are the basic steps:
Step 1: Toss the vegetables in olive oil, spread in a single layer and roast.
Step 2: Add the herbs, pistachios and chestnuts. Stir to combine and continue to roast.
Step 3: While the vegetables are cooking, fry the sausage meat until cooked through and browned.
Step 4: Combine all ingredients in a casserole dish. Return to the oven and cook a little more until everything is golden brown.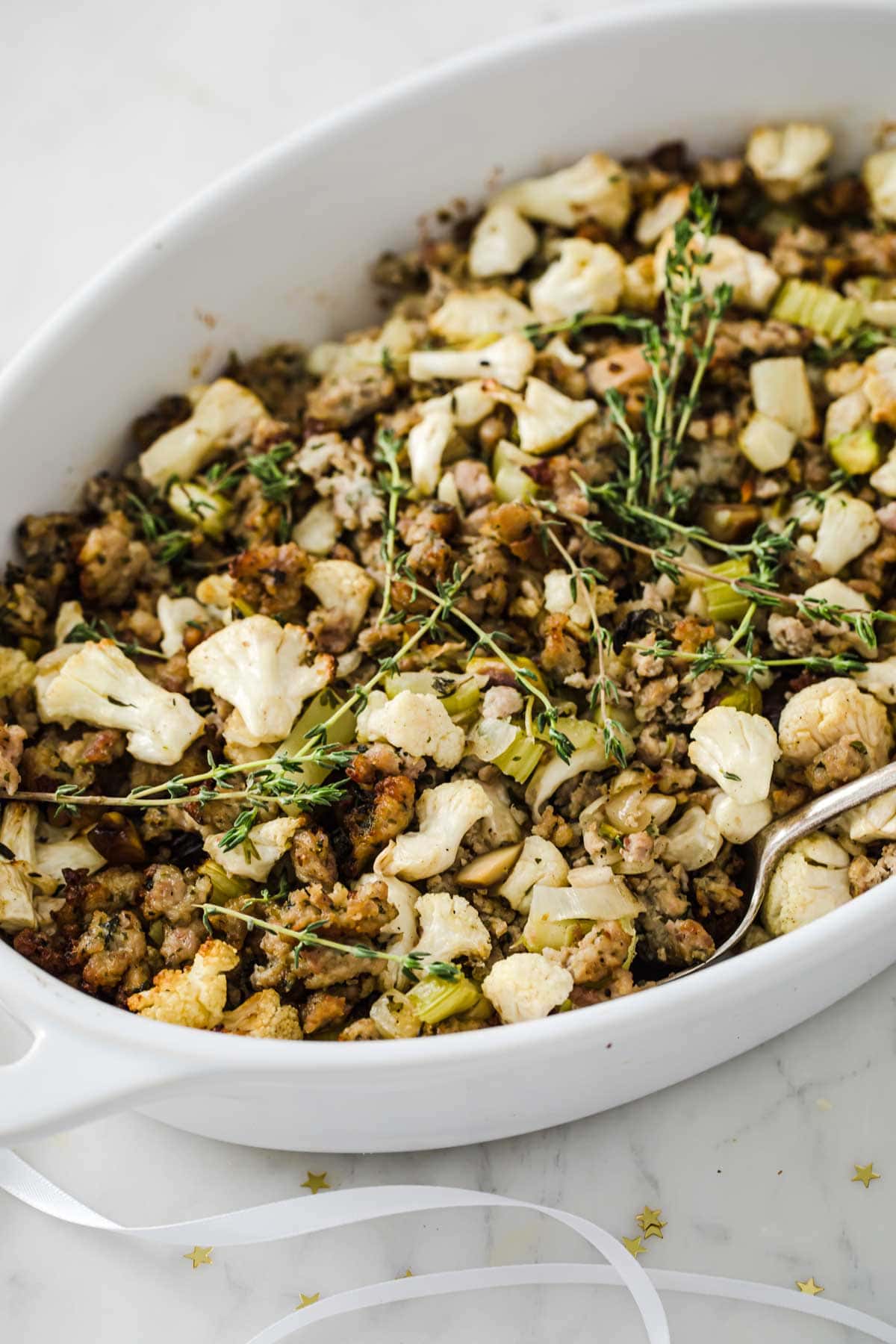 Serving Suggestion
Of course, the traditional way of serving this keto stuffing is alongside a turkey.
However, as mentioned in the beginning, it also shines as a standalone meal. If you wanted to add additional protein, add a fried egg on top!
Variations
Vegetarian: Simply omit the sausage and replace it with chopped portobello mushrooms.
Keto bread stuffing: Again, leave out the sausage. During the last part of cooking, add my Low Carb Keto Croutons or any chopped low carb bread.
FAQs
Are chestnuts keto friendly?
Chestnuts are high in carbs and on their own are not considered keto friendly. However, the total amount of chestnuts in this recipe is low which means this recipe is keto friendly. Don't leave them out - they take this stuffing to the next level.
Can you make this stuffing inside the turkey?
Traditionally, you roast your stuffing INSIDE the turkey. This does not work with cauliflower stuffing because it would become WAY too soft and soggy.
Can you make keto stuffing in a frying pan?
To make this dish on the stove, first fry the onions over a low heat, then add the garlic and celery. Remove from the pan and add the sausage. Fry it until browned. Then add all the ingredients together into the pan and cook until done.
Is it possible to use frozen cauliflower?
It should be possible, but I have not tried it yet. Fresh cauliflower always tastes better as frozen tends to be watery.
Storage
In the refrigerator: Store in the fridge for up to 3 days.
In the freezer: You can freeze keto stuffing for up to 3 months.
To reheat: Reheat in the microwave or in a preheated oven for 5-7 minutes.
Related recipes
Tried this recipe? Give it a star rating below!
★ STAY IN TOUCH on FACEBOOK, PINTEREST and INSTAGRAM  for more great food and join my NEWSLETTER for the latest updates and a FREE EBOOK.★ 
Recipe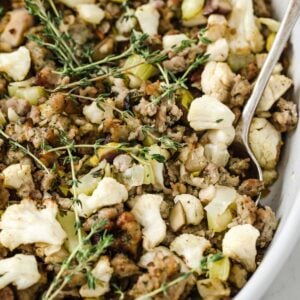 Keto Stuffing Recipe
from Sugar Free Londoner
This is the BEST keto stuffing recipe... full of festive flavor and low in carbs. Perfect as a side to your turkey or serve as a delicious low carb winter dinner.
Note: The servings slider only changes the first amount in each line and not any subsequent amounts. Please make your own calculations where necessary.
Ingredients
1

medium head cauliflower

florets only, chopped small (500g)

1

onion

finely diced (40g)

2

garlic cloves

minced

2

sticks celery

finely diced (150g)

3

tablespoon

olive oil

or ghee/butter, melted

½ - 1

teaspoon

salt

or to taste (depends on the quality of your sausages)

¼

teaspoon

pepper

4

cooked vacuum packed chestnuts

chopped (35g)

1

tablespoon

rosemary

chopped (3g)

1.5

teaspoon

fresh sage

chopped (1.5g)

1

teaspoon

thyme

chopped (0.5g)

¼

cup

shelled pistachios

chopped (35g)

400

g / 0.88 pounds

sausages
Instructions
Preheat oven to 220C / 200 fan. Line a baking tray with greaseproof paper.

Mix the cauliflower florets, onion, celery, and garlic. Toss with 2 tablespoon the olive oil, ghee or butter and seasoning.

Spread in a single later and roast for 15 minutes. Add the herbs, pistachios and chestnuts. Stir to combine and roast for a further 15 minutes until the cauliflower is browned and the onion caramelized.

Meanwhile add the remaining oil, ghee or butter to a pan. You may choose to omit this and dry fry depending on how fatty your sausages are. Remove the sausage meat from the skin using a sharp knife to slice the skin. Crumble the sausage meat into a non stick frying pan and break with a wooden spatula. Cook for approximately 7 minutes on a medium heat until it is browned.

Combine all ingredients in a large roasting pan and cook in the oven for about a further 10 minutes, or until the sausage is slightly crisp on top. Option to scatter with fresh thyme to serve.
Notes
Makes 8 portions (circa ½ cup). 4.8 net carbs per portion. 
The chestnuts really make this stuffing. They are high in carbs but you only need a few for flavour. If you prefer to leave them out, net carbs reduce to 3.7g per portion. 
You can make this Keto Cauliflower Stuffing ahead of the big day and simply reheat. The day before is ideal or 2 days prior is fine too.
Store in the fridge for up to 3 days or in the freezer for up to 3 months. 
Nutrition
Calories:
212
kcal
Total Carbohydrates:
7.4
g
Protein:
10.7
g
Fat:
16.2
g
Saturated Fat:
4.4
g
Fiber:
2.6
g
Sugar:
2.4
g