Enjoy the flavor of autumn with this easy sugar free pumpkin pie! This holiday classic has a gluten-free pie crust and a deliciously spiced dairy-free pumpkin filling. Only 15 minutes of prep!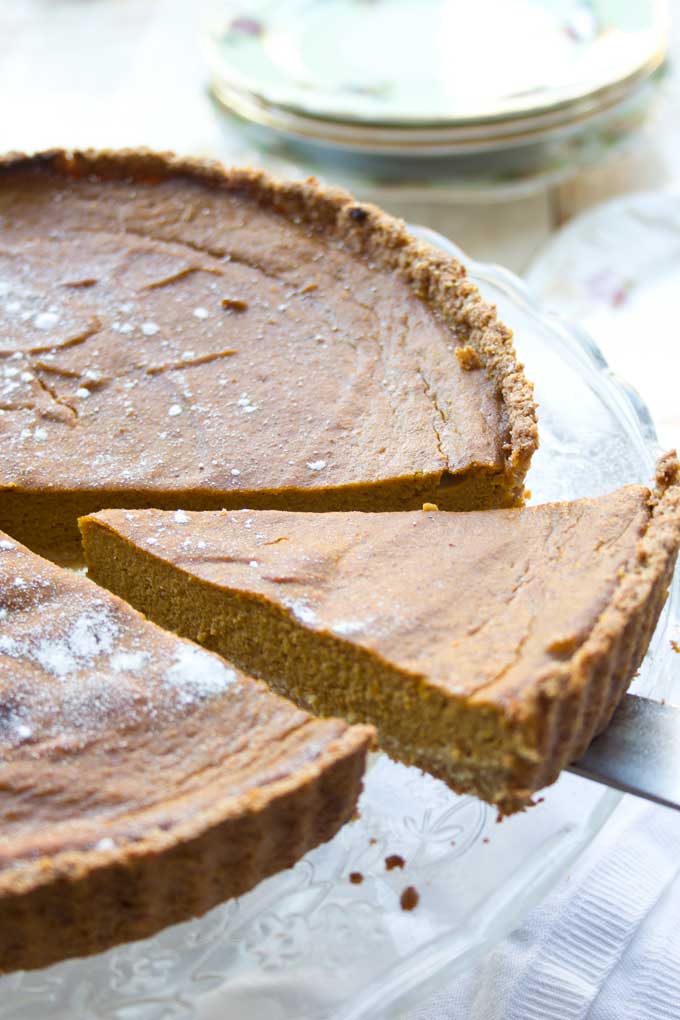 Autumn is here and with it one of my favourite vegetables - pumpkin!
I've bought a bumper stash of canned pumpkin from the supermarket this week and have been making pumpkin porridge, pumpkin coconut flour muffins, these pumpkin brownies aaaaaand..... this rather amazing sugar-free pumpkin pie.
With a few simple swaps, you can create a healthy dessert that tastes just as delicious as the sugary original.
I made a crispy crust with almond flour and desiccated coconut.
In place of the evaporated milk I'm using coconut cream.
I replaced the sugar with erythritol, a zero carb sugar substitute.
This pie is a wonderful Thanksgiving dessert and perfect for any celebration in autumn or winter.
Jump to:
Why you'll love it
The flavor. The recipe contains all the warm spices that take pumpkin pie to the next level, from cinnamon and cloves to ginger and nutmeg. And of course, you can taste the sweet mellow flavor of pumpkin.
The texture. We've got a crispy pie crust and a silky, creamy pie filling.
Easy and quick. This recipe is really simple and suitable even for baking beginners. Only 15 minutes prep!
Healthy dessert. Your guests are never going to believe this pie is low in carbs, dairy free and keto friendly. One slice is only 3.8g net carbs.
Ingredients
Let't take a closer look at the ingredients you'll need for a low carb pumpkin pie: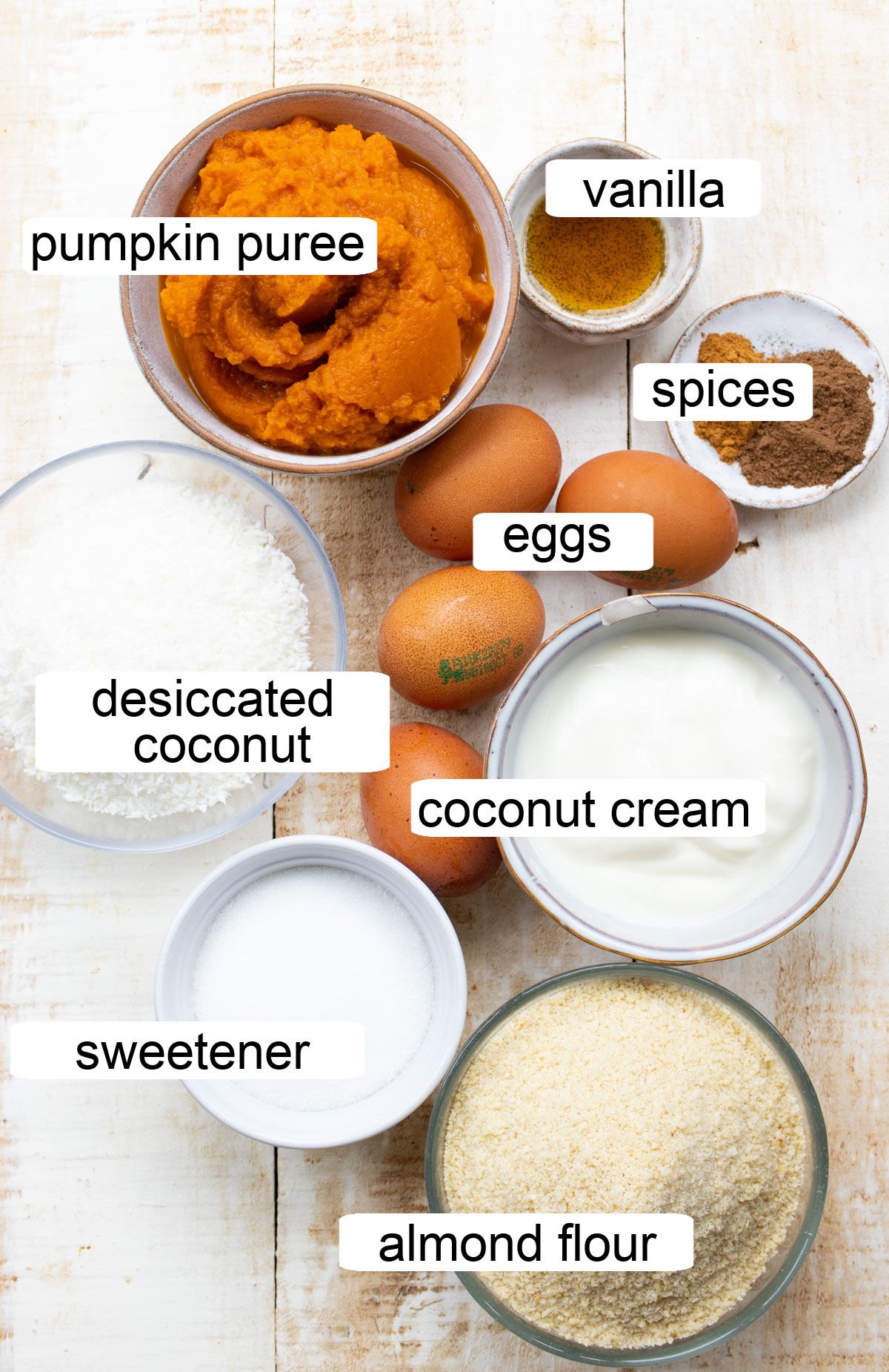 Almond flour. I used ground almonds, but super-fine almond flour also works well.
Desiccated coconut. This addition is the secret of my extra crispy pie crust. Make sure it is unsweetened.
Egg. We need 1 egg for the crust and the rest for the filling. They need to be room temperature for best results.
Pumpkin puree. It's easiest to use canned pumpkin puree. Look out for unsweetened pumpkin puree. This is different from pumpkin pie mix, which contains lots of sugar.
Coconut cream. This is the firm part from a can of coconut milk. If you put a can of coconut milk in the fridge, the cream will separate from the liquid and you can easily scoop it out. Can be replaced with heavy cream (double cream).
Sweetener. I used a granulated erythritol monk fruit sweetener blend. You can also use pure erythritol, xylitol, allulose or any other 1:1 sugar substitute of your choice. Even sugar free syrup works in this recipe, especially a maple-flavoured version.
Pumpkin spice mix. This is a blend of cinnamon, nutmeg, ginger, cloves and allspice.
Cinnamon
Vanilla extract
Method
This section contains step-by-step instructions and photos that show how to make this recipe. See the recipe card for full information on ingredients and quantities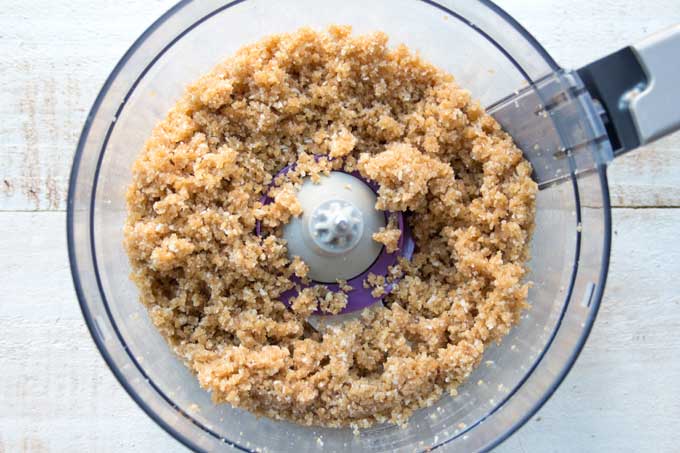 1.) First, blend the almond flour, desiccated coconut, cinnamon and 1 egg until a crumbly dough forms.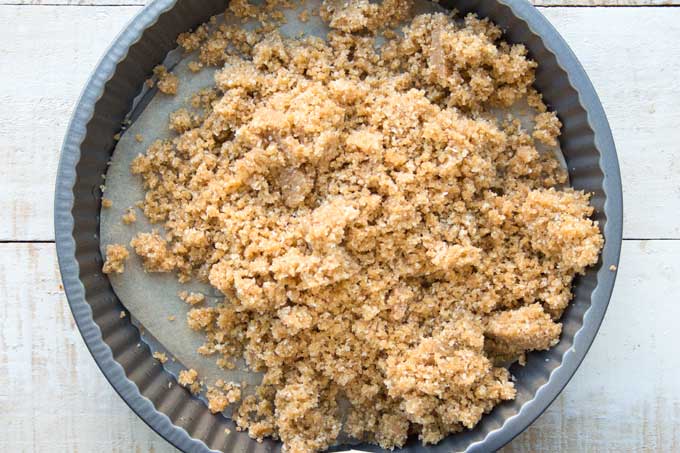 2.) Line the bottom of a loose bottom pie pan with parchment paper and grease the sides.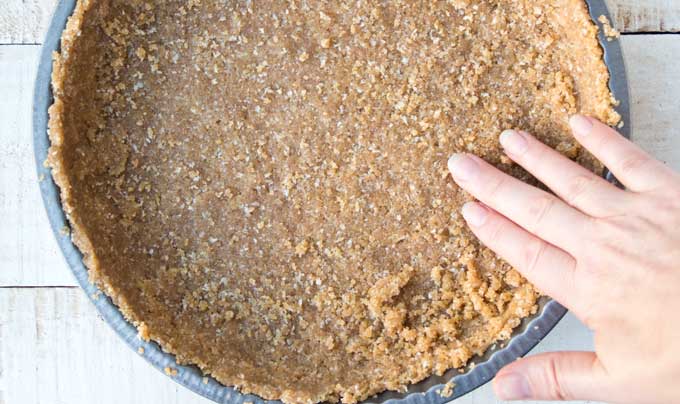 3.) Press down the pie crust with your fingers until it is smooth and evenly distributed.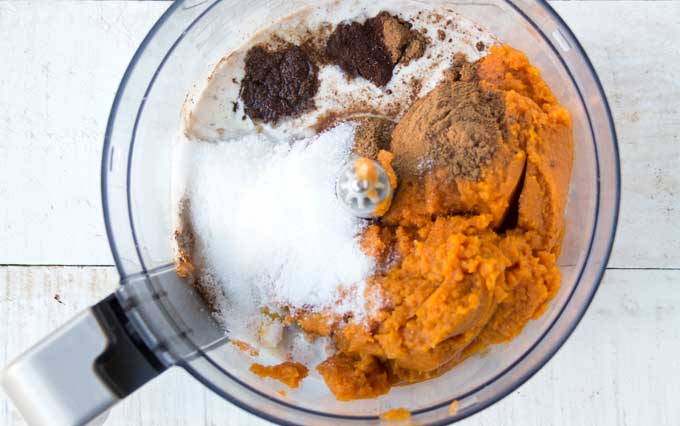 4.) Time to make your filling! Blend the pumpkin with the coconut cream, granulated sweetener, vanilla extract and the pumpkin pie spice mix.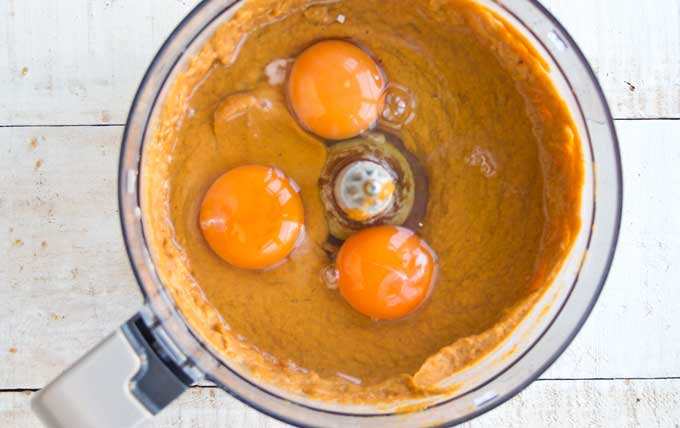 5.) Add 3 eggs and blend until you have a smooth mixture.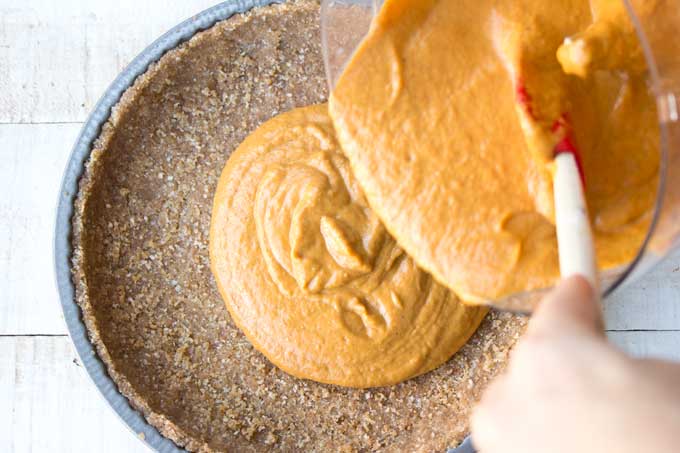 6.) ...aaaaand fill it into pie dish!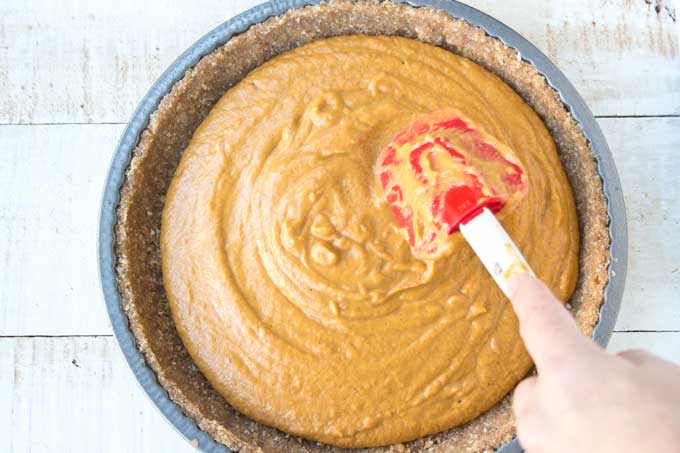 7.) Smooth the filling with a spatula and bake until golden and the filling has set.
Serving suggestion
Serve with keto whipped cream or a dollop of whipped coconut cream.
Option to dust with powdered sweetener before serving. Make sure the pie is fully cooled before dusting!
Top tips
Blend the crust thoroughly. The coconut shreds need to be much smaller than in the beginning and start to release their natural oils. The dough should look crumbly - check the image and the video for reference.
Compact the crust well. When you press the crust into the pie pan, really get into the sides and press firmly. This way, the pie won't crumble later.
Taste the filling. I don't have much of a sweet tooth and you may want to increase the sweetener to taste.
Cover the crust. Almond flour browns easily and you don't want the crust getting too dark. Cover the crust edges after 30 minutes of baking so it does not burn. For this you can use a pie protector shield or make your own shield by cutting a "halo" out of aluminium foil.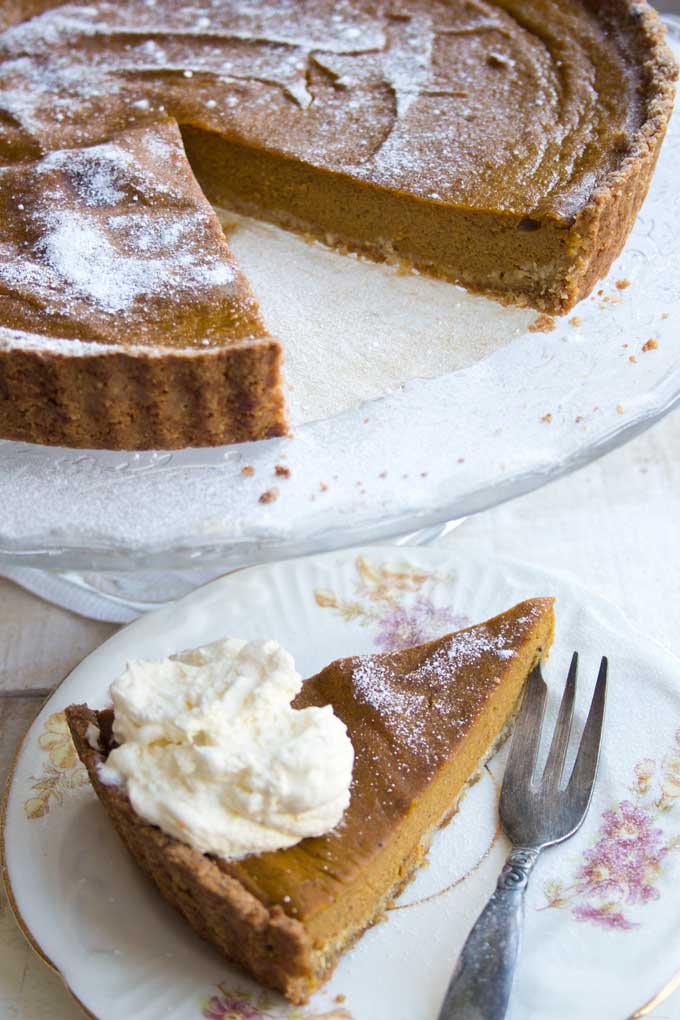 Substitutions
Nut Free. For a nut free crust, simply replace the almond flour with a blend of sesame seed flour and sunflower seed flour or with ½ cup / 60g coconut flour.
No Crust. You can also make this pie without the crust. Simply pour the pumpkin filling into individual ramekins and bake in a water bath just like my Dairy Free Sugar Free Custard. You could also pour the filling into one large pie pan. Just be sure you grease it really well so you can release the crustless pie easily later.
Homemade pumpkin puree. If you cannot get hold of canned pumpkin puree when you feel in the mood for sugar free pumpkin pie, simply roast a pumpkin!
Heat the oven to 200 Celsius / 400 Fahrenheit.
Halve the pumpkin, remove the seeds and lay the halves flesh-side down on a baking tray lined with parchment paper.
Bake for 30-45 minutes (this will depend on the size of your pumpkin).
Once the pumpkin has cooled, scoop out the flesh, discard the skins and puree until smooth.
Storage
Refrigerator: Store in the fridge for up to 5 days.
Freezer: Alternatively, freeze for up to 3 months.
Recipe FAQs
How many carbs are in pumpkin pie?
One slice of regular pumpkin pie can easily clock up as much as 35 total carbs (source: USDA). There are two reason for the high carb count. First, regular pie filling contains evaporated milk and secondly, the crust is based on wheat flour. However, my sugar free pumpkin pie is low in carbs at just 3.8g net carbs per slice.
How many carbs for a crustless pumpkin pie?
If you omit the crust, the net carbs for this sugar free pumpkin pie are even lower - only 2.5g net carbs per slice.
Can I make this pumpkin pie ahead?
Yes! There's always so much to prepare for Thanksgiving, so you'll be glad to hear that you can you can make this recipe a day or two in advance. Simply store it in the fridge until ready to serve. Just be sure to take it our of the refrigerator an hour before serving so it can come to room temperature. Just before serving, dust it with powdered sweetener.
Can I make this pie with heavy cream?
Yes, you can swap the coconut cream for heavy whipping cream if dairy is not an issue for you.
More Pumpkin Recipes
Tried this recipe? Give it a star rating below 🙂
★ STAY IN TOUCH on FACEBOOK, PINTEREST and INSTAGRAM for more great food and join my NEWSLETTER for the latest updates and a FREE EBOOK.★
Recipe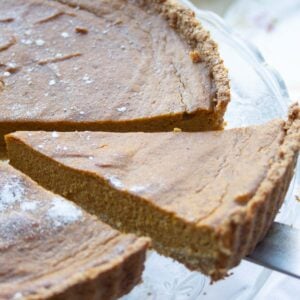 Sugar Free Pumpkin Pie
from Sugar Free Londoner
This easy sugar free pumpkin pie features all the warm flavours of autumn without the carb load. It has a gluten free crust and a deliciously spiced dairy-free pumpkin filling. Enjoy the classic American holiday dessert the low carb way!
Note: The servings slider only changes the first amount in each line and not any subsequent amounts. Please make your own calculations where necessary.
Instructions
Pre-heat your oven to 180 Celsius / 350 Fahrenheit. Line the bottom of a 9 inch pie dish with parchment paper. Grease the sides. 
Crust
In a food processor or with a hand mixer, blend the ingredients for the crust. Blend until dough resembles sticky crumbles and the coconut is starting to release its oils.

Press the dough into the pie dish with your hands.
Filling
In a food processor or with a hand mixer, blend the pumpkin, coconut cream, sweetener, vanilla, pumpkin spice and cinnamon.  

Now add your eggs and blend until fully combined.

Pour the filling into the pie dish and bake for 30 minutes.

Remove from the oven and cover the crust with aluminium foil so the edges do not burn. Simply cut out a shape like a halo and gently lay it over the edges. Return to the oven for another 30 minutes.

Let the pie cool to room temperature. Dust with powdered sweetener and serve with coconut whipped cream or whipped cream. 
Notes
3.8g net carbs per slice. Makes 12 slices.
Store in the fridge for up to 5 days or freeze for up to 3 months. Serve with whipped coconut cream or whipped cream. 
The coconut cream in the filling can be replaced with dairy heavy cream. 
Homemade pumpkin spice:  In place of the 2 teaspoon pumpkin spice, use 1 ¼ teaspoon cinnamon, ¼ teaspoon each nutmeg and ginger and ⅛ teaspoon each cloves and allspice.
You can also make your own pumpkin puree - see instructions in the post! 
Nutrition
Calories:
174
kcal
Total Carbohydrates:
6.8
g
Protein:
6.5
g
Fat:
13.9
g
Saturated Fat:
5.8
g
Sodium:
27
mg
Potassium:
157
mg
Fiber:
3
g
Sugar:
2.5
g