A soft, pillowy flaxseed bread that can be baked as a loaf, Focaccia-style or even as muffins. This bread uses coconut flour as a base and is great toasted. Great for low carb, gluten free and Paleo diets. No eggy taste!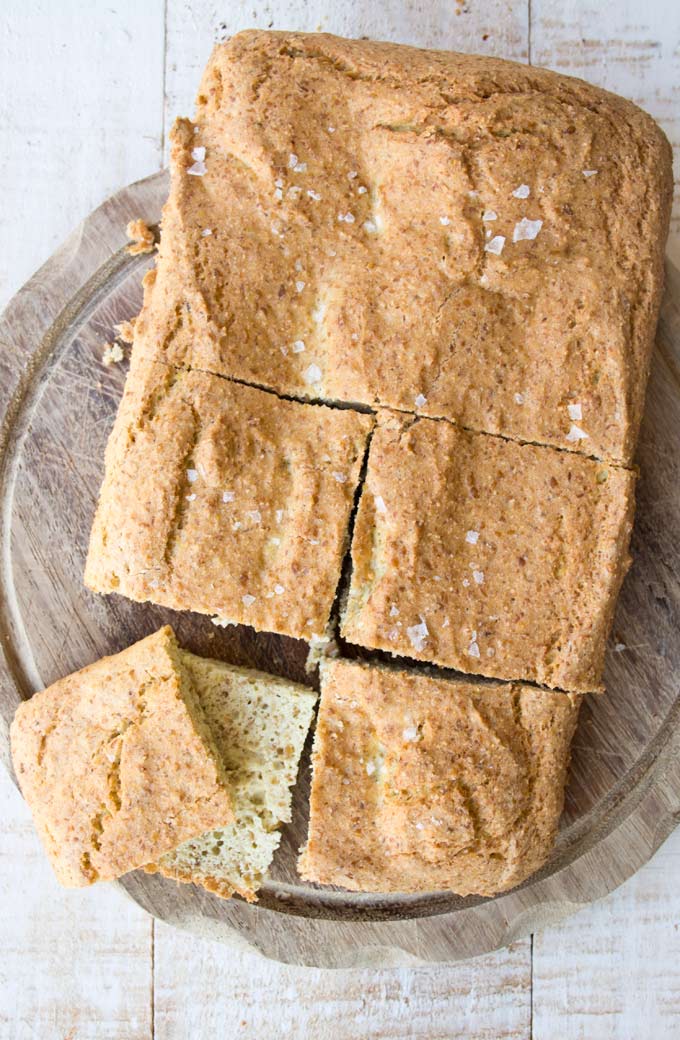 FIND THE RECIPE CARD WITH INGREDIENTS AND INSTRUCTIONS AT THE BOTTOM OF THE PAGE. DON'T MISS THE EXTRA TIPS IN THE POST! 
Who loves bread? Well, who doesn't love bread??
For many people, bread is one of those things that is impossible to give up. It's not only delicious in a comforting kind of way (I'm thinking buttered warm toast here), it is also such an easy and transportable meal staple.
Unfortunately, two slices of wholegrain wheat bread will raise your blood sugar levels higher than eating 6 teaspoons of table sugar. You can test this yourself with a simple glucose meter – check your blood sugar between 30 to 60 minutes afterwards.
It really is astonishing that we are still being told by our governments that the bulk of your diet should come from carbs and grains.
All that's definitely going to happen when you eat according to the food pyramid is that you end up looking like the food pyramid.
Our bodies cannot process all the excess glucose we're consuming on a regular carb-heavy diet. It gets stored as fat around our waists and around our organs. There are predictions that by 2050 up to 90 percent of the population in the UK will be obese (today it's 60% of the adult population, 1/3 of the children), and Type 2 Diabetes continues to be on the rise.
With wheat and other grains off the table, there still are many ways of enjoying bread when you're on a low carb diet.
Low carb breads are generally made with either coconut flour or almond flour as a base. I have quite a few recipes on my website using either or both in combination. Try my easy low carb rolls, these low carb English muffins or this really rustic Paleo bread, which is packed with seeds.
I wanted to create a bread recipe using flaxseed, which is super-low in carbs and a brilliant source of fibre. I decided to base it on my low carb roll recipe and after a bit of experimenting I'm excited to share the result with you here.
This flaxseed bread recipe is delicious, easy and really versatile.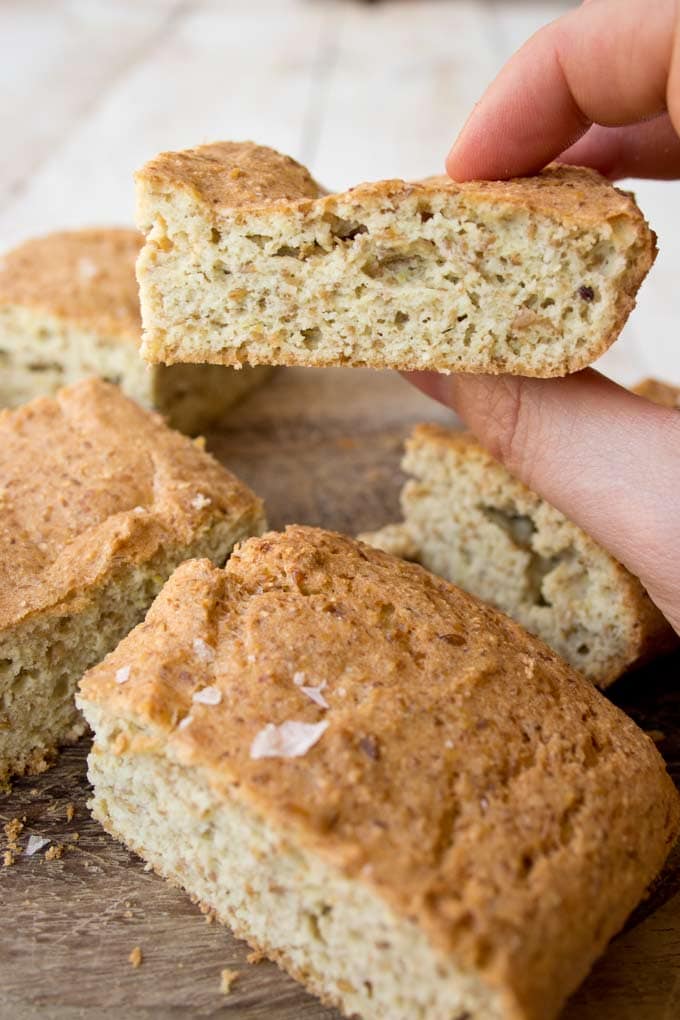 Here's the inside scoop:
First of all, there's no need to whisk the egg whites until they're stiff. You could do it if that's your thing – it might make the bread even fluffier – but it's pillowy and soft even without.
I used olive oil in the recipe because I was after a "bread" taste. I think it masks the taste of the coconut flour well, especially in combination with the salt. This way, the bread is perfect for savoury toppings. If you wanted, you could use melted butter instead and have more of a muffin-type taste, which would be good for sweet toppings.
You CAN make this flax bread with almond flour instead of coconut flour. I'd think you would have to use twice the amount of almond flour as it's less absorbent and leave out one of the eggs.
Talking about eggs – one of the great things about this bread is that it DOEA NOT TASTE EGGY. This is because I've left out 3 of the egg yolks and used only the whites.
The first time round, I made this bread as a Focaccia-style flatbread. Just before I started writing this post I made it again in a silicone loaf mould (yes, I do double-check these recipes work!!). Both work well – as a loaf the bread needs 10 minutes longer in the oven.
I calculated the recipe as 8 portions. These portions are GENEROUS! Flax is very filling.
You could top your flaxseed bread with seeds (I tried sesame seeds, which worked well) or even mix some seeds into the dough. Or you go full-out Focaccia by adding rosemary and garlic on top.
(This post may contain affiliate links. When you click on a link like this and purchase a product, I receive a small commission – at no extra cost to you. This money helps me with the running costs of my site.)
Flaxseed Bread with Coconut Flour
A soft, pillowy flaxseed bread that can be baked as a loaf, Focaccia-style or even as muffins. This bread uses coconut flour as a base and is great toasted.
Instructions
Preheat the oven to 180 Celsius / 356 Fahrenheit.

Whisk the eggs and egg whites with an electric mixer or in a food processor until foamy.

Add the rest of the ingredients and blend until you have a smooth dough.

Let the dough sit for a few minutes so the coconut flour and flax can absorb the moisture.

Pour the mix into a well-oiled pan (alternatively, line a pan with baking paper) and bake at 180 Celsius / 356 Fahrenheit for 35 minutes or until browned on top. It's ready when a knife inserted comes out clean.

If you prefer to bake as a loaf, increase the time in the oven by 10 minutes.
Recipe Notes
I baked my bread Focaccia-style in a 25x15 cm casserole dish. Next time, I will line it with baking paper to be able to take it out easier. 
When you make flaxseed muffins with this recipe, the oven time will probably have to be reduced. My guess would be 25-30 minutes.  
Nutrition is calculated on the basis of 8 portions (when I cut the focaccia flaxseed bread into squares).
These portions are generous! The loaf I made on day 2 yielded 20 slices. 
When I made the loaf, I used a silicone loaf mould - they are brilliant! SO much better than the regular tin pans. Nothing EVER gets stuck in a silicone mould. It will change your (bread baking) life!! 
The bread freezes well. 
Nutrition Facts
Flaxseed Bread with Coconut Flour
Amount Per Serving
Calories 183
Calories from Fat 126
% Daily Value*
Total Fat 14g 22%
Total Carbohydrates 9.7g 3%
* Percent Daily Values are based on a 2000 calorie diet.