You only need 4 ingredients to make this incredibly creamy and delicious sugar free custard! My secret ingredient is coconut cream, which makes this easy keto custard recipe dairy-free.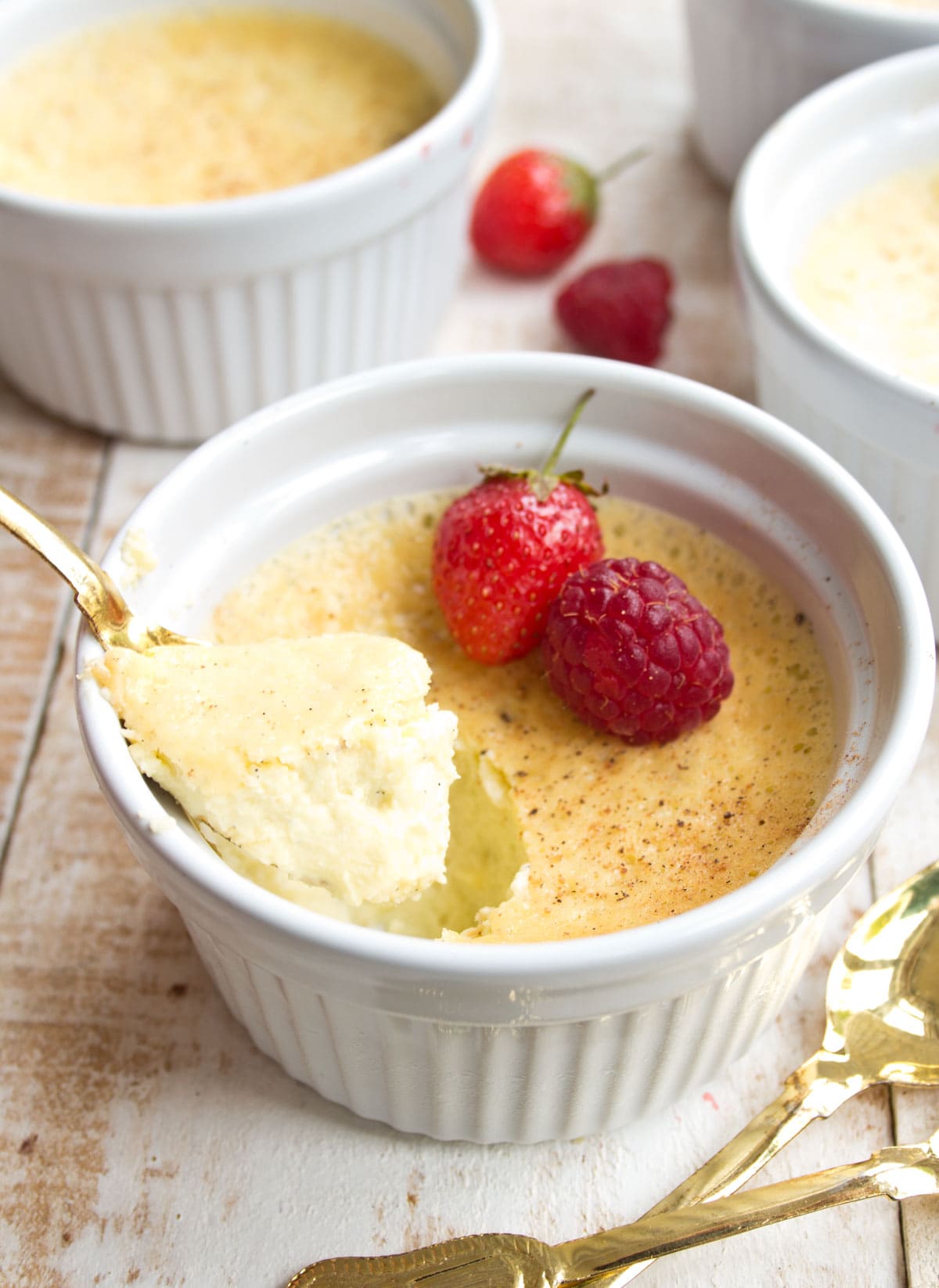 Most good things in life are simple, and this recipe is no exception. It's hard to believe that combining 3 basic ingredients - cream, egg yolks and sweetener - can turn into something so beautiful.
It'll make you sigh with pleasure, close your eyes and lick the ramekin.
But it has happened in this house, and I recommend trying it out in yours as soon as possible!
Alongside keto flan, custard is my happy food. Creamy, satisfying and so, so smooth.
Even better, one portion is only 4.1g net carbs.
Jump to:
🌟 Why You'll Love This Recipe
Smooth and creamy texture
Delicate vanilla flavor. No eggy taste
Dairy-free (with dairy option)
Sugar-free, low carb and keto-friendly
Only 4 ingredients!
Ingredients
Here are the ingredients you'll need:
Cream - I used coconut cream. You can also use heavy cream if dairy is not an issue.
Egg yolks - large
Powdered sweetener - When I first posted this recipe, I made it with powdered erythritol. Now I use powdered allulose, because the taste is better and it melts just like sugar. Stevia drops or monk fruit sweetener are another option.
Vanilla - Use a vanilla bean pod for a luxury version or 2 teaspoon vanilla extract. An alternative could be vanilla bean powder.
See the recipe card for full information on ingredients and quantities.
Ingredient Tips
I used cartons of coconut cream. But you can also use cans of coconut milk and refrigerate them so the liquid and the firm parts separate. 2 cans should yield enough coconut cream.
I implore you to use fresh vanilla bean pods. The flavour they lend is out of this world and you get those lovely little brown vanilla specks inside your custard.
Instructions
This section contains step by step instructions and photos that show how to make the recipe.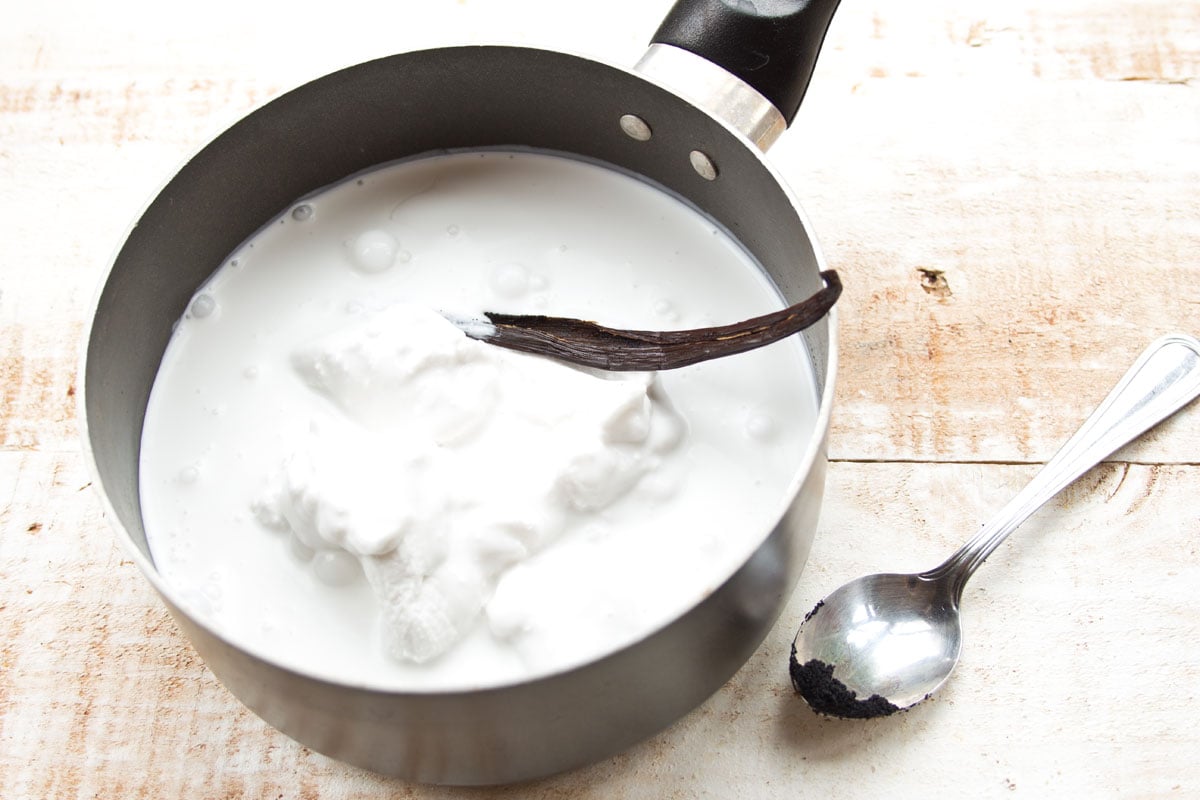 Step 1: Cut open the vanilla bean and scrape out the seeds. The spoon in the pic shows how many seeds my bean yielded.
Step 2: Heat the coconut cream and the scraped vanilla bean pod in a saucepan over a medium heat. Wait until the coconut cream simmers and the first bubbles form. Do not boil!
Step 3: Take off the heat and let cool for about 15 minutes. This allows the coconut cream to cool and infuses it with more vanilla flavour.
Note: If you are using vanilla extract instead of the vanilla bean, add it after you take the saucepan off the heat.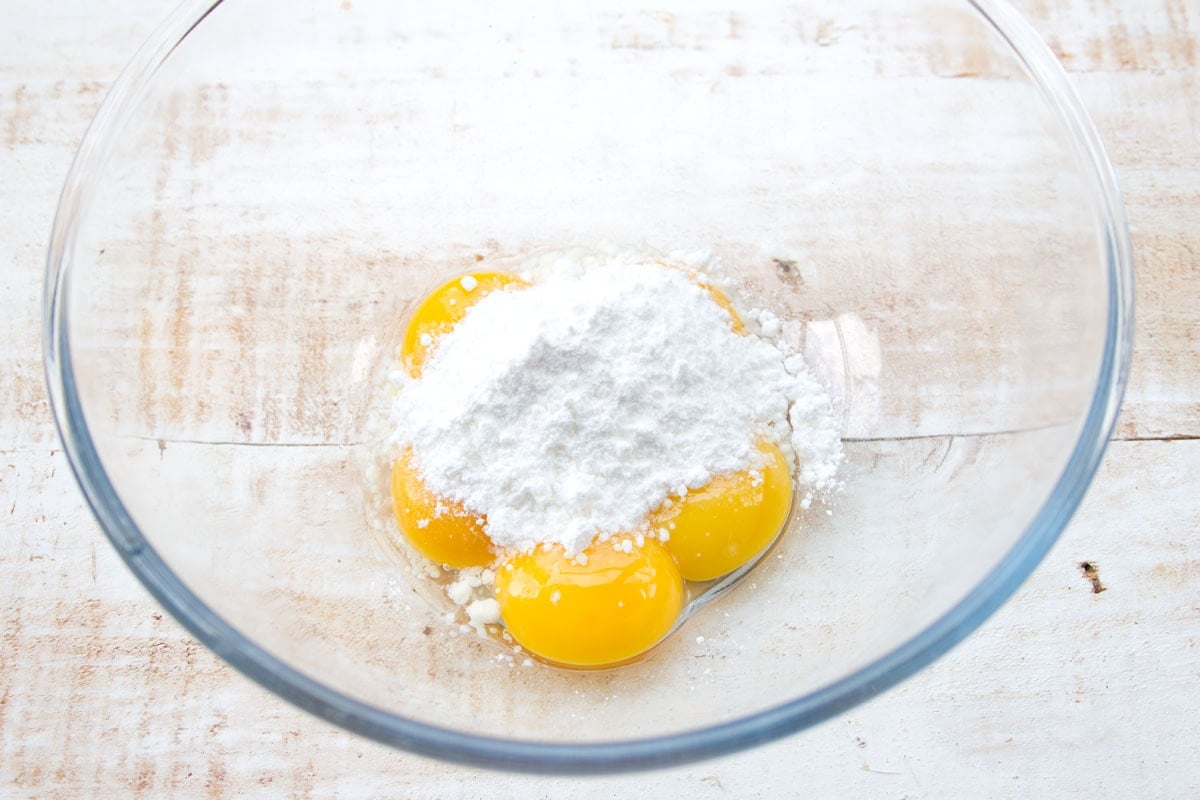 Step 4: Add the vanilla seeds to a mixing bowl, together with your egg yolks and powdered erythritol.
Step 5: Blend with an electric mixer until the yolks are pale in colour, frothy and there's so much air whisked into the mix that it has doubled in size.
Step 6: Slowly add the (lukewarm) coconut cream to the egg yolk mixture. Whisk continuously.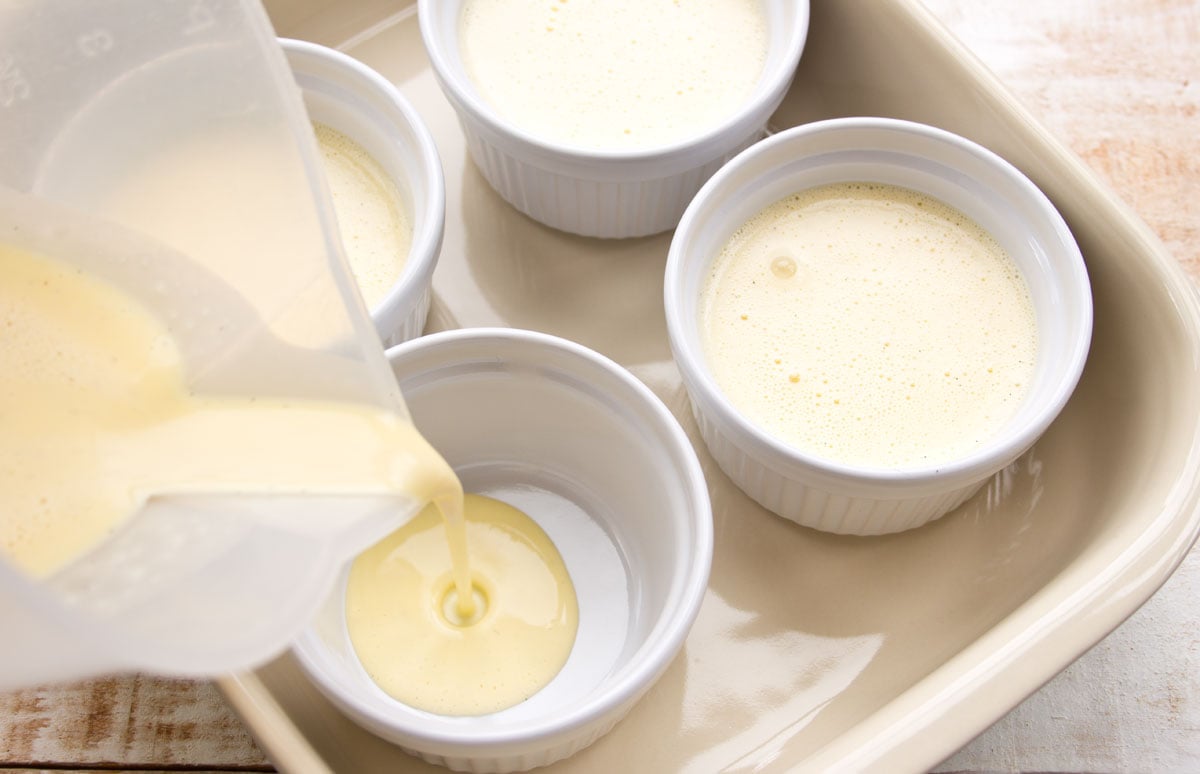 Step 7: Fill the custard mixture into ramekins which you have placed into a large baking dish. Depending on the size of the ramekins, you'll end up with 4-6 portions.
Step 8: Boil water and fill the casserole dish with hot water that reaches half way up the sides of the casserole dish. The water bath helps the keto custard to bake more evenly.
Tip: If your dish is very large, put a paper towel at the bottom to prevent the ramekins from sliding around when you carry it.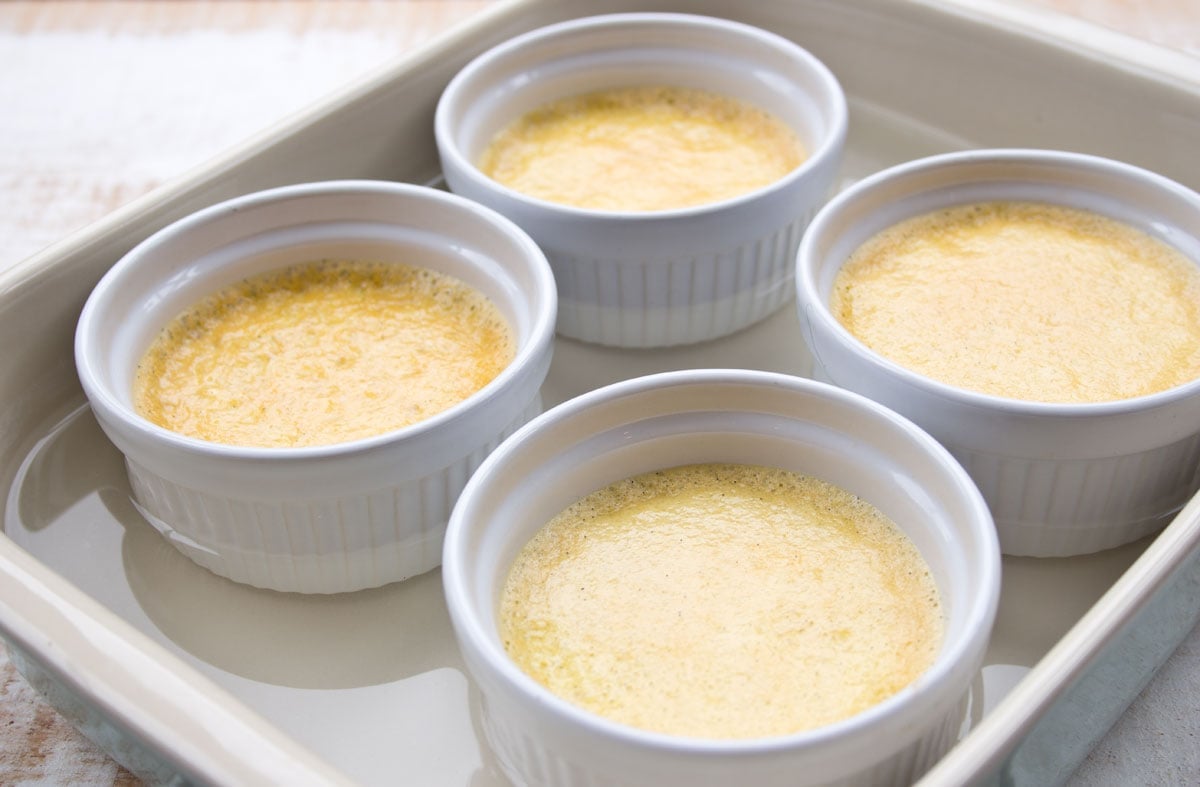 Step 9: Bake in the oven until the tops are lightly browned, the top is set, but the inside remains jiggly.
Cool them on the counter to room temperature, then place them in the fridge until serving.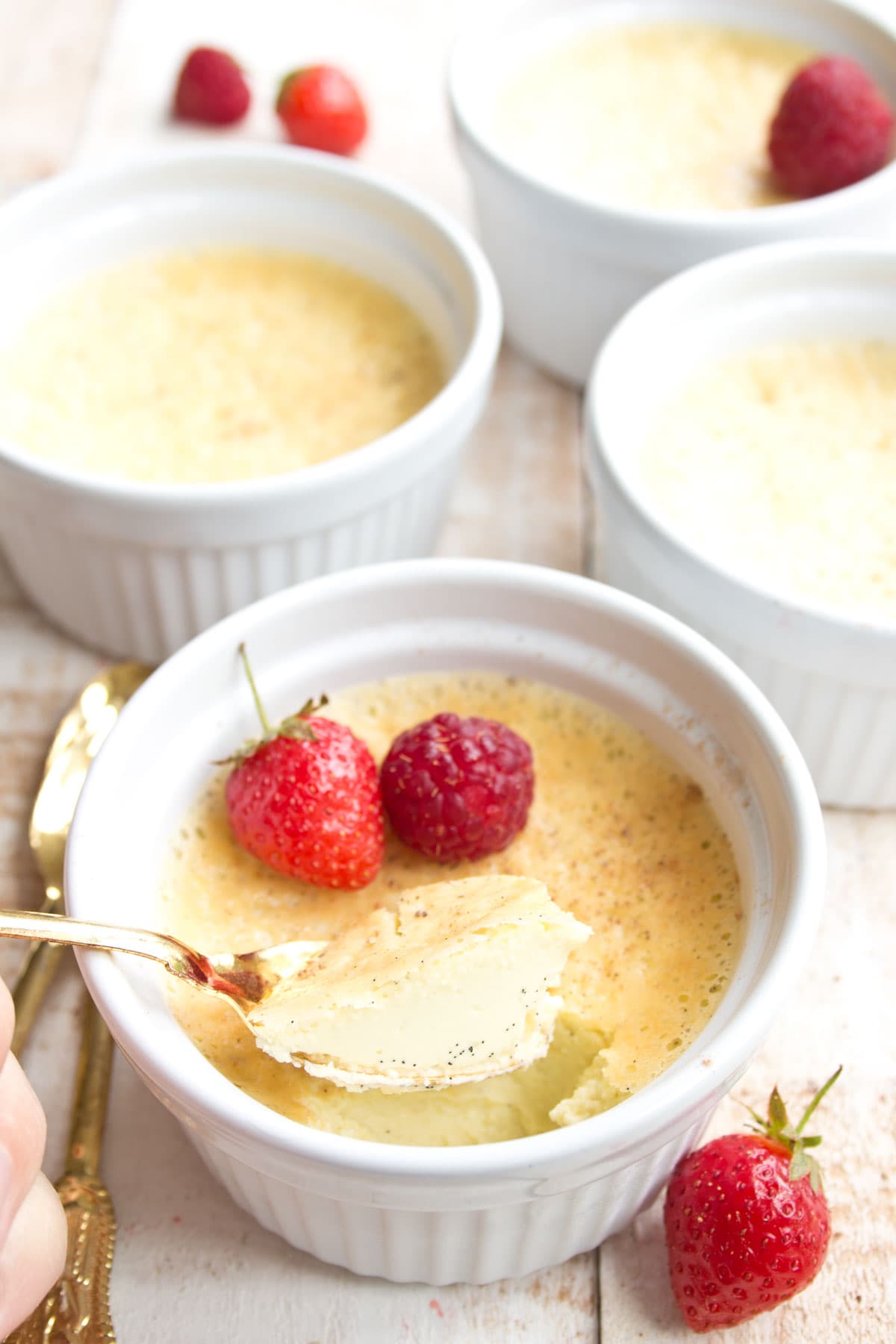 Serving suggestion
The custards taste lovely with a sprinkle of ground nutmeg. I imagine cinnamon would also work well here.
Option to top with berries such as strawberries, blueberries or raspberries. Or, decorate with sugar free whipped cream and chocolate shavings.
Want to turn this custard recipe into a keto crème brûlée?
First of all, cool it in the fridge for at least 2 hours so it's nice and cold. Then add granulated erythritol (a brown sugar alternative would be delicious here) over the tops and use a kitchen torch to caramelise it.
It you don't have a culinary torch, place the ramekins under the grill / broiler. Place them quite close to the top and watch them closely to ensure the custard does not go liquid.
Recipe FAQs
Can I make the recipe with whole eggs?
Yes. You can use 4 large eggs, yolks and whites. A keto egg custard like this will set more and be firmer.
Is is possible to replace some of the cream with milk?
Yes. You can replace up to ½ of the cream with almond milk for a lighter custard. Use 4 whole eggs so the mixture sets firm.
How long does keto custard keep in the fridge?
Sugar-free custard keeps well in the fridge for up to 5 days. Cover the ramekins well or store in an airtight container.
Can I freeze sugar-free custard?
No. Custard is not suitable for freezing.
How do I make a cooked custard?
To make a sugar-free custard on the stovetop in a saucepan, use the custard recipe in my keto coconut cream pie.
Related recipes
Below are more sugar free pudding recipes and mousses:
Tried this recipe? Give it a star rating below!
★ STAY IN TOUCH on FACEBOOK, PINTEREST and INSTAGRAM  for more great food and join my NEWSLETTER for the latest updates and a FREE EBOOK.★ 
Recipe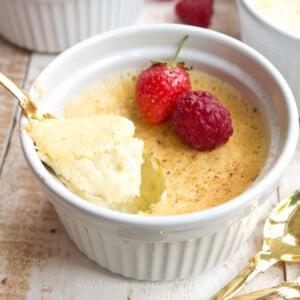 Sugar Free Keto Custard (Dairy Free)
from Sugar Free Londoner
If you're looking for a comforting sugar free dessert, you're in for a treat! Here's a dairy-free keto custard that will make you swoon. Light, airy and silky-smooth!
Note: The servings slider only changes the first amount in each line and not any subsequent amounts. Please make your own calculations where necessary.
Instructions
Split the vanilla bean in half and scrape out the seeds. Place the seeds in a mixing bowl and set aside.

Heat the coconut cream and the vanilla bean pod in a saucepan over a medium heat. Wait until the coconut cream simmers and the first bubbles begin to form on the top. Do not boil! Take off the heat and let cool for about 15 minutes. (If you are using vanilla extract instead of the vanilla bean, add it now.)

Add the egg yolks and the powdered erythritol to the mixing bowl with the vanilla bean seeds. Blend with an electric mixer for 2-3 minutes until the eggs are pale, frothy and double the size.

Slowly add the (lukewarm) coconut cream to the egg yolk mix, stirring continuously.

Heat the oven to 160 Celsius / 325 Fahrenheit.

Pour the custard mix into ramekins and place the ramekins into a casserole dish. Fill the casserole with boiled water that should reach half-way up the ramekins. This helps the custard to bake evenly and prevents splitting.

Bake for about 40 minutes until the tops are set and very lightly browned, but the centres are still jiggly.

Remove from the oven and cool to room temperature, then chill in the fridge until serving.
Notes
4.1g net carbs using coconut cream, 2.6g net carbs if using regular heavy cream (double cream).  
Best served cold! Keeps in the fridge for 5 days. 
I sprinkled my custards with ground nutmeg, but this is optional. Cinnamon could also be good here!  
I made this batch with 6-ounce ramekins and found my portion to be VERY FILLING. Use smaller ramekins if you can.  
Nutrition for 5 5-ounce ramekins: 4.9 g net carbs per portion
Nutrition for 4 6-ounce ramekins: 6.1 g net carbs per portion 
Nutrition
Calories:
310
kcal
Total Carbohydrates:
5.8
g
Protein:
5.2
g
Fat:
31.5
g
Saturated Fat:
26
g
Sodium:
10
mg
Potassium:
275
mg
Fiber:
1.8
g
Sugar:
0.1
g