Refreshing and creamy! These easy sugar free ice pops have a peanut butter and a chocolate layer. Perfect as a low carb dessert or as a sweet dairy free treat to cool down in summer. Only 4 ingredients!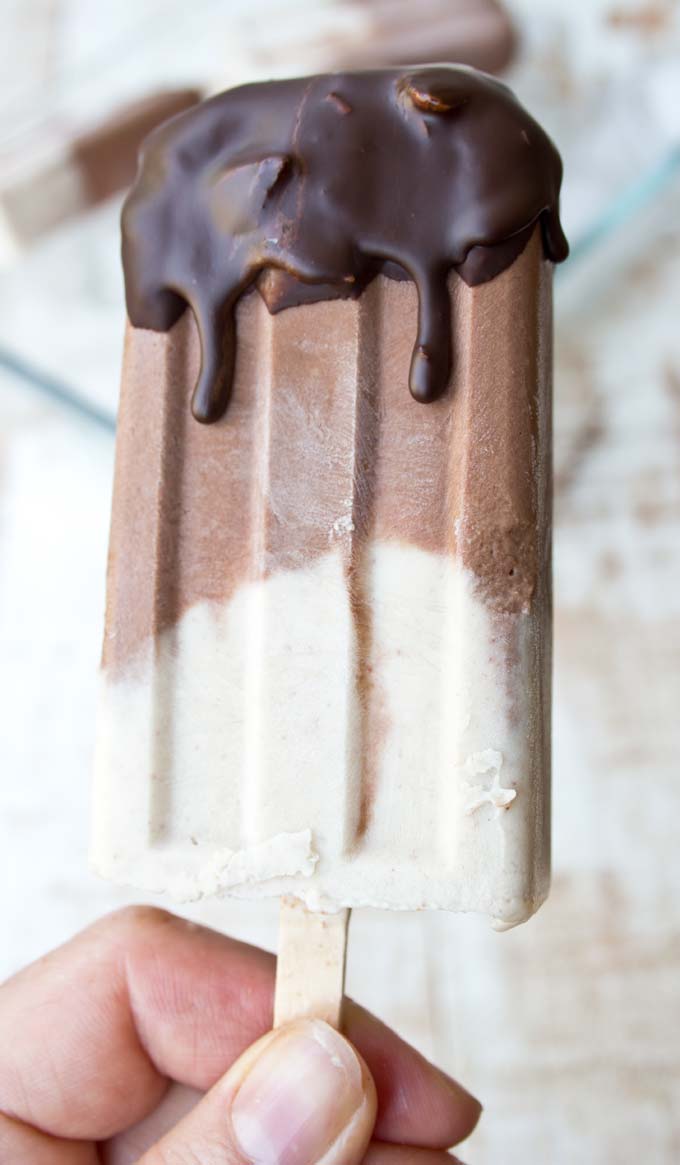 We all know that peanut butter and chocolate is an irresistible combo, right? That's why these sugar free popsicles taste so good, my friends. They are silky-smooth and delightfully creamy yet surprisingly light. Pure pleasure!
And boy, this recipe is EASY. It requires only 4 simple ingredients that you might already have in your cupboard. All you need is a popsicle mould, five minutes of hands-on work and...let the freezer do the magic. Minimal effort, massive result.
I do love ice cream made the classic way, with dairy cream and egg yolks. Check out this awesome sugar free vanilla ice cream! Give me a scoop, and I'm happy.
But when I attempted to make popsicles with whipped cream, I found them to be too rich. To me, ice pops need to be lighter, more refreshing. That's why I opted for coconut milk instead. The peanut butter adds satisfying richness without coating your tongue in grease!
How to make sugar free ice pops - step by step: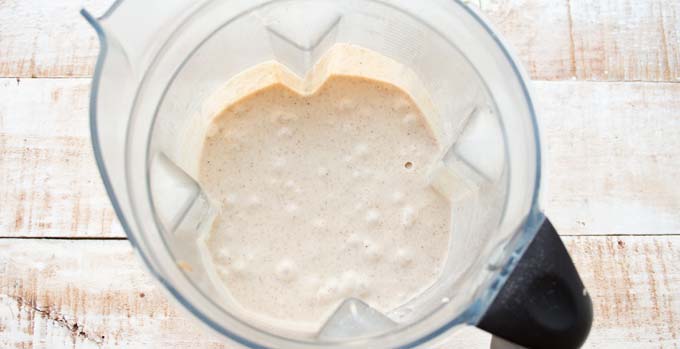 1.) Empty 2 cans of coconut milk - both liquid and firm parts - into a food processor or bowl. Add smooth peanut butter and powdered sweetener.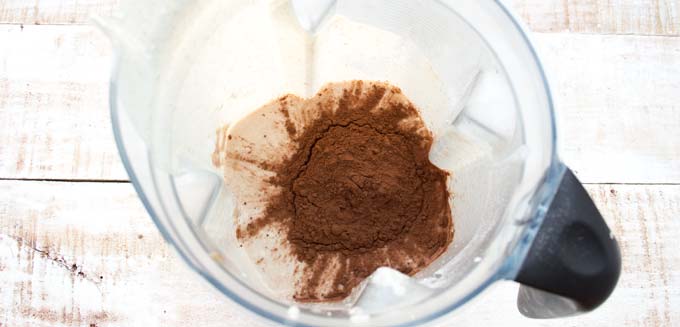 2. Blend until well-combined!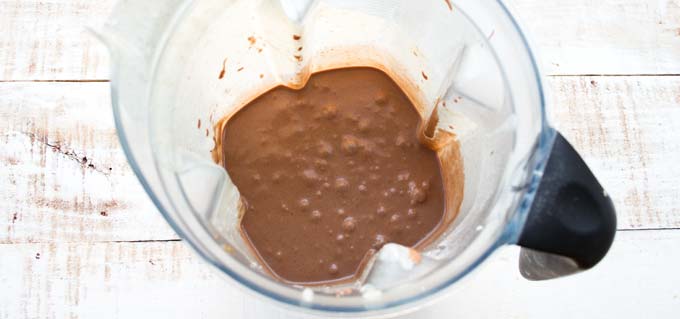 3. Pour out half of the mix. Add unsweetened cocoa powder to the remaining half in the blender.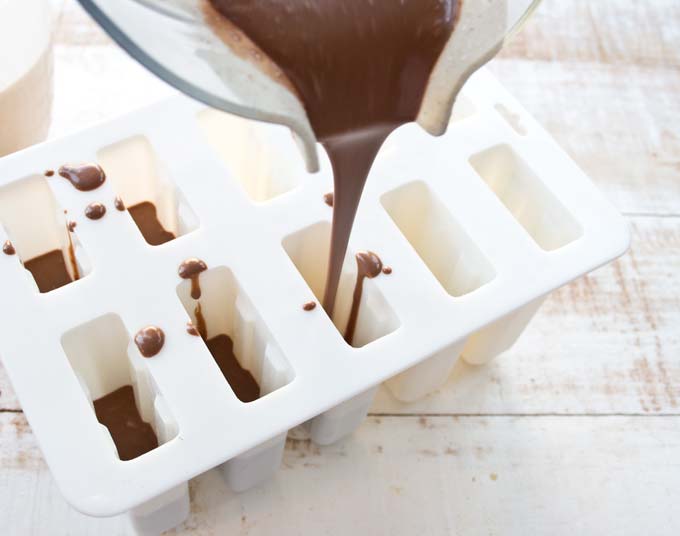 4.) You guessed it - blend again!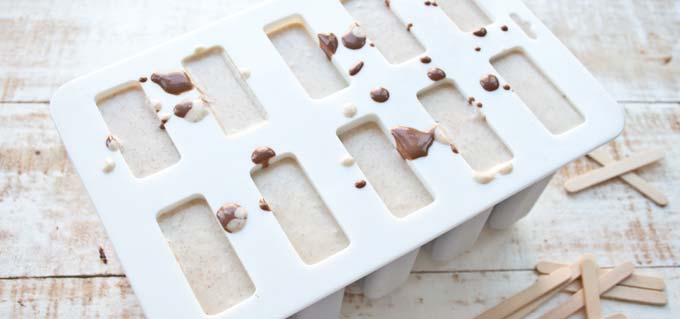 5.) Get yourself an ice cream mould. This is the one I use. First pour in the chocolate mix....
6.) ... then follow with the peanut butter mix. Add your ice lolly sticks and freeze until set - about 4 hours.
Sugar free popsicles - tips and recipe variations
I use the coconut milk in a can - both the cream and the liquid. You could use the coconut cream only, but this would increase the fat and the calorie content. Also, I find that using the liquid part as well makes the ice pops lighter and more "summery".
Try and source peanut butter that does not contain any nasties such as added sugar. A little salt is ok. But apart from that, peanut butter should only contain one ingredient - peanuts. If you have a high speed blender, you could even make your own.
These popsicles are not particularly sweet. To me, they are perfect. But my taste buds have adjusted since going sugar free and then low carb. Make sure you taste your mix. And if you think you'd like a touch more sweetness, add up to ¼ cup of powdered sweetener.
Powdered sweetener will work the best in this recipe as the mix is fairly liquid. If you used granulated sweetener, which is heavier, it could sink to the bottom before the popsicles are frozen. You don't want to end up with an ice cream that's super sweet at the top and not sweet at all at the bottom!
For an optional chocolate coating, melt 2 oz / 57g dark chocolate (85% - 90% cocoa solids) or sugar free chocolate such as Lily's together with 1 tablespoon coconut oil. Cover the tops of the popsicles with the melted chocolate. (My chocolate had almonds in them, that's why you see bumps on my chocolate coating in the picture at the beginning!) You could even sprinkle crushed peanuts over the coating.
Last but not least - pour the peanut butter mix in slowly so you get a two-tone popsicle!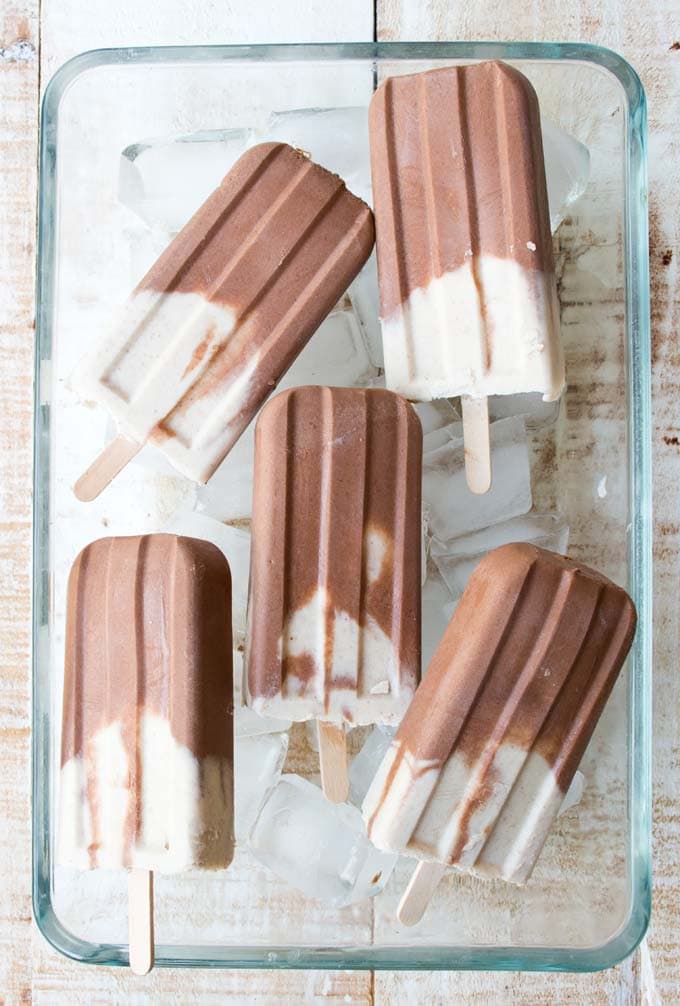 Here are some of my other ice cream recipes:
Tried this recipe? Give it a star rating below!
★ STAY IN TOUCH on FACEBOOK, PINTEREST and INSTAGRAM for more great food and join my NEWSLETTER for the latest updates and a FREE EBOOK.★
Recipe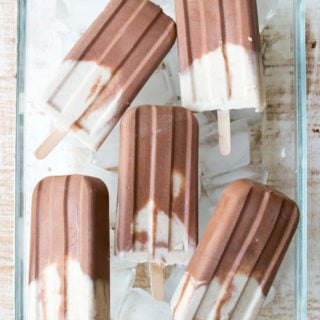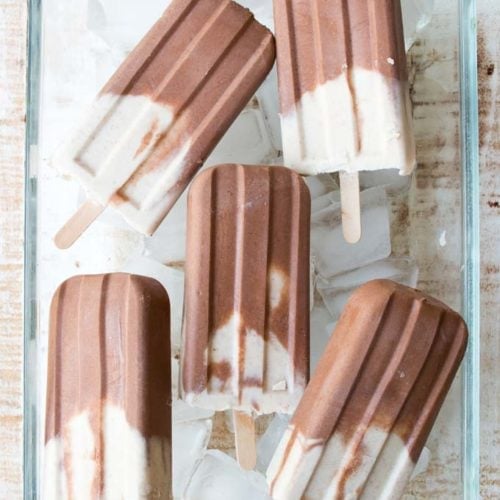 Sugar Free Peanut Butter Chocolate Ice Pops
from Sugar Free Londoner
Want a refreshing yet creamy dessert? Cool down with these sugar free ice pops. They are made with coconut milk, which makes them dairy free. The flavour? Peanut butter and chocolate!
Note: The servings slider only changes the first amount in each line and not any subsequent amounts. Please make your own calculations where necessary.
Instructions
Empty your cans of coconut milk (both firm and liquid parts) into a blender or bowl. Add the powdered sweetener and peanut butter. Blend until smooth.

Pour half of the mix into a separate bowl. Add the cocoa powder to the remaining half and blend until well-combined.

Pour the cocoa peanut mix into the bottom halves of the popsicle moulds. Follow with the peanut butter half of the mix.

Add the ice lolly sticks and freeze for 4 hours or until set.
Notes
For an optional chocolate coating, melt 2 oz / 57g dark chocolate (85% - 90% cocoa solids) or sugar free chocolate such as Lily's together with 1 tablespoon coconut oil. Cover the tops of the popsicles with the melted chocolate. 
Nutrition is calculated per 1 popsicle. My mix made 10 ice lollies (weighing circa 90g each) and I had a little mix left over. 
Nutrition
Calories:
222
kcal
Total Carbohydrates:
6.7
g
Protein:
4.7
g
Fat:
20.9
g
Fiber:
1.5
g
Sugar:
2.4
g
This post contains affiliate links. If you click on one of these links and purchase a product, I may earn a small commission, at no extra cost to you. Thank you for supporting Sugar Free Londoner.