These 5 ingredient chia seed crackers are crazy crispy crunchy! They are easy to make low carb crackers that are naturally gluten free and vegan, keto friendly and paleo. Wonderful with dips, alongside a cheese board and equally delicious all on their own!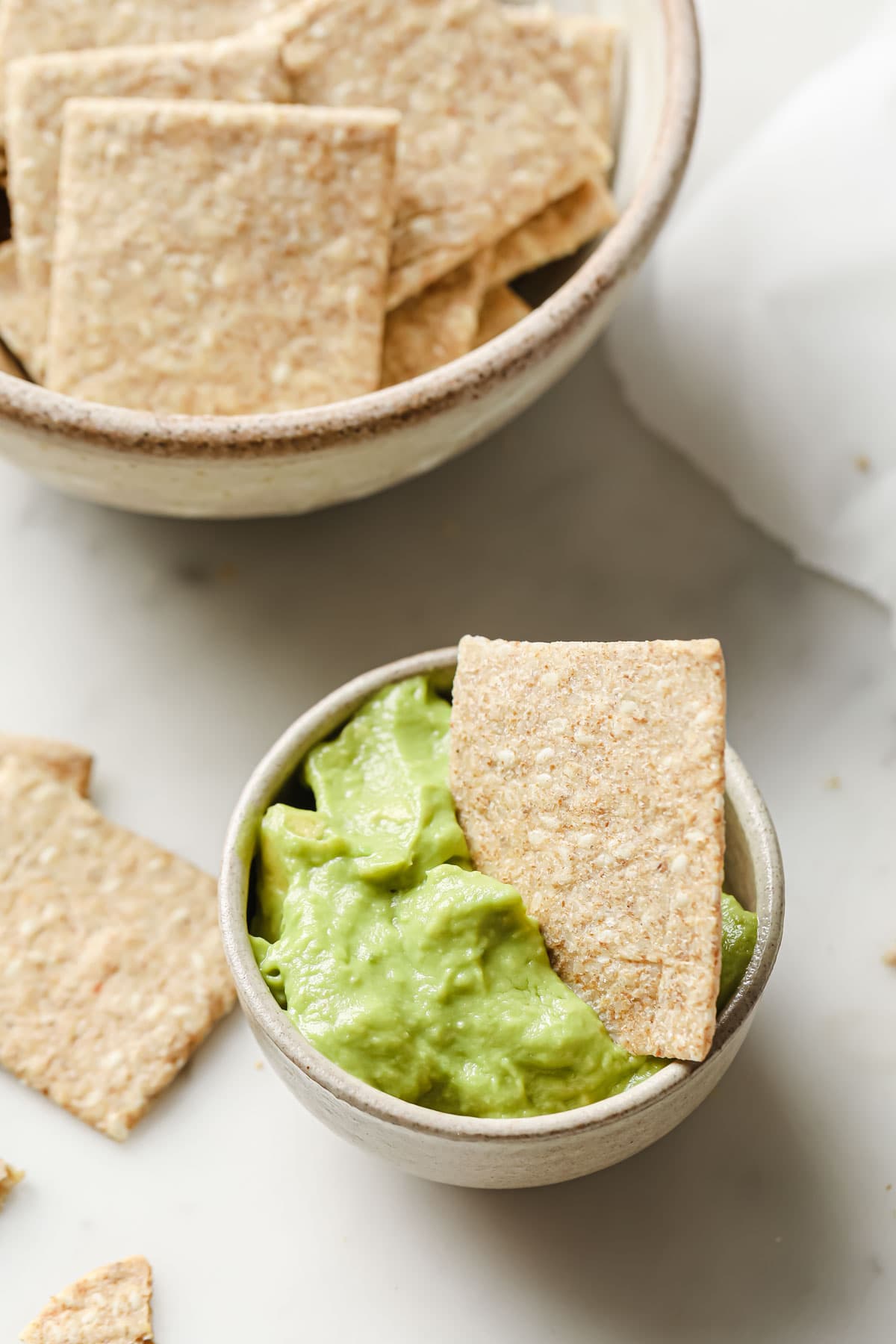 Why you'll love it
I adore a crispy snack, and this chia seed cracker recipe ticks all the boxes. It
is ready in 20 minutes
gluten-free
contains easy to source, wholesome ingredients
stays crunchy for weeks
has only 1.3g net carbs per portion of 5 crackers!
Loaded with fiber and healthy fats, my keto chia crackers are good for your gut AND will satisfy all your savoury snack cravings.
Enjoy them with dips, load them up with any toppings of your choice or eat them as a side to your soups or salads. They are a proper all-rounder!
What are chia seeds
Chia seeds are the small seeds from the Salvia Hispanica plant, which is native in South and Central America.
There are black and white chia seeds. Apart from the colour, there is no difference between the two.
Are chia allowed on a keto diet?
Yes, chia is a great low carb ingredient. The seeds are low in carbs and high in fiber, which makes them filling and satisfying.
They are also incredibly nutritious. Read more about the health benefits of chia seeds here.
Chia in low carb recipes
Chia is a versatile ingredient. It has the ability to absorb liquid and form a gel.
This means it lends stability to low carb bread. You can also use it to thicken sauces and jams.
Last but not least, it is a popular egg replacer, as an alternative to ground flax.
Here are some recipes using chia on Sugar Free Londoner:
I eat chia regularly and always keep a jar of home-ground chia seeds in my larder.
Ingredients for chia seed crackers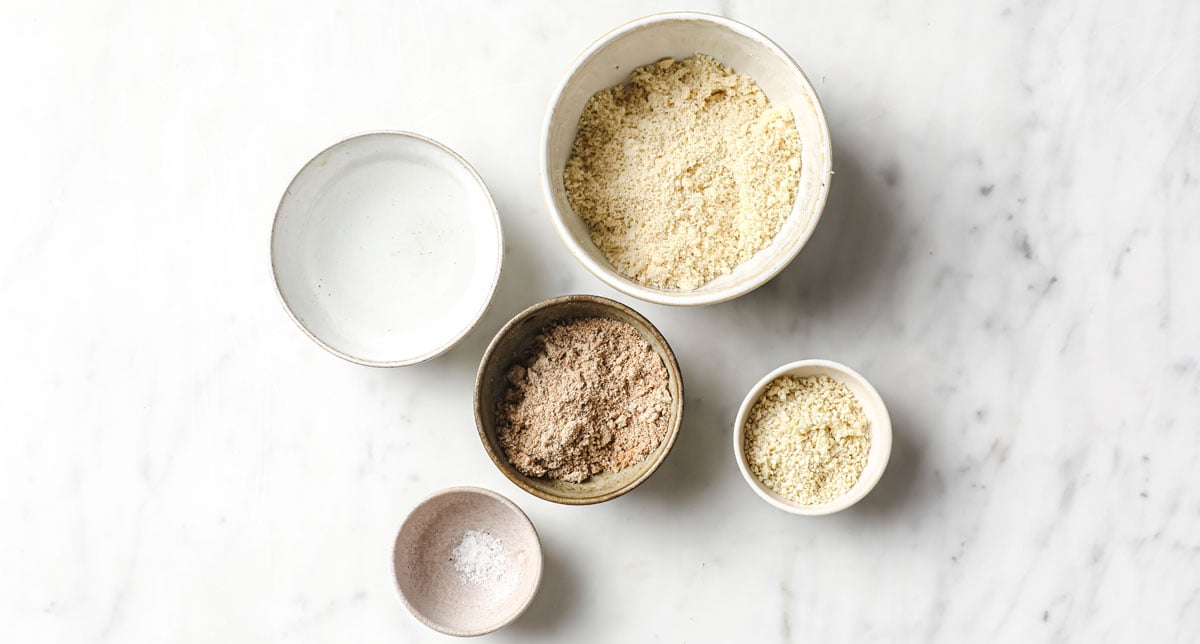 I love that this recipe requires just 5 ingredients:
Chia seeds - I used ground white chia seeds
Almond flour - ground almonds work fine here
Sesame seeds - for more flavour and crunch
Water
Sea salt
How to make chia crackers
It's just 4 easy steps!
Stir all ingredients together in a mixing bowl with a spatula or fork. Wait to let the chia soak up the liquid to form a dough.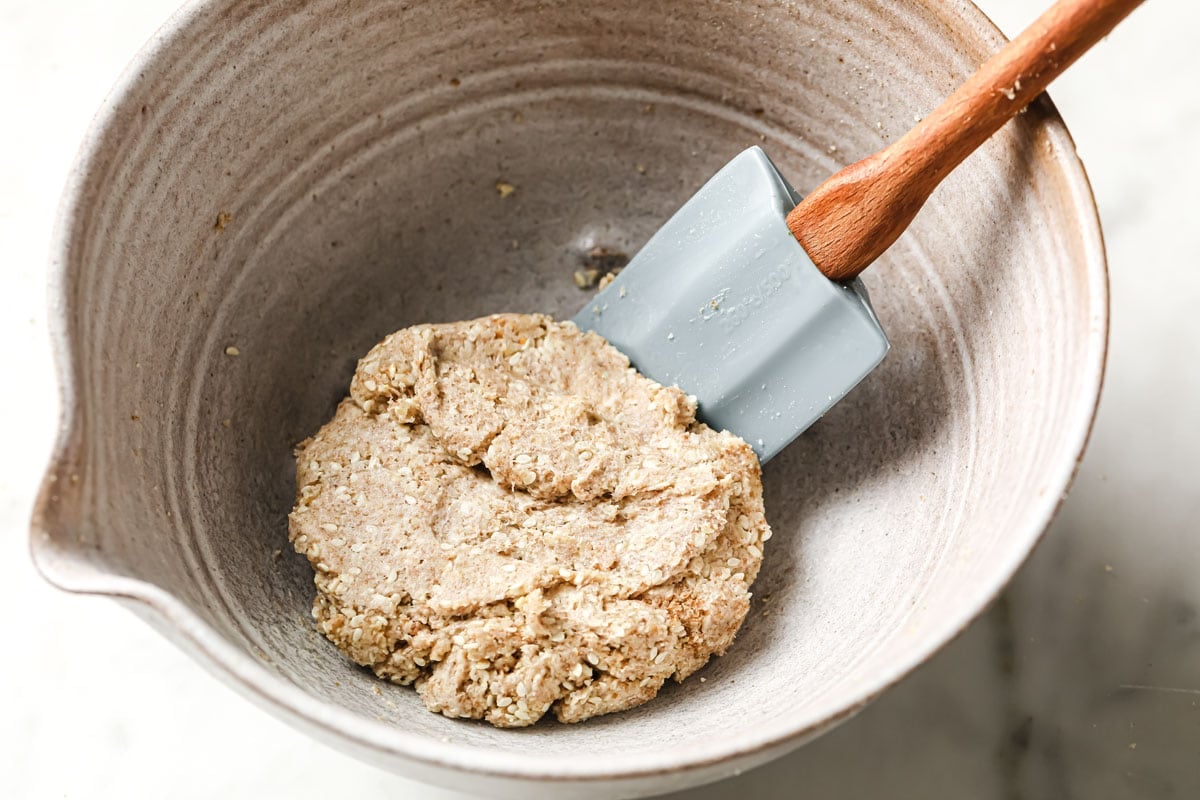 2. Roll the mixture out thinly between two pieces of parchment paper. To get a rectangular shape, fold over the edges to form a rectangle. Then, place the greaseproof sheet back on top and re-roll.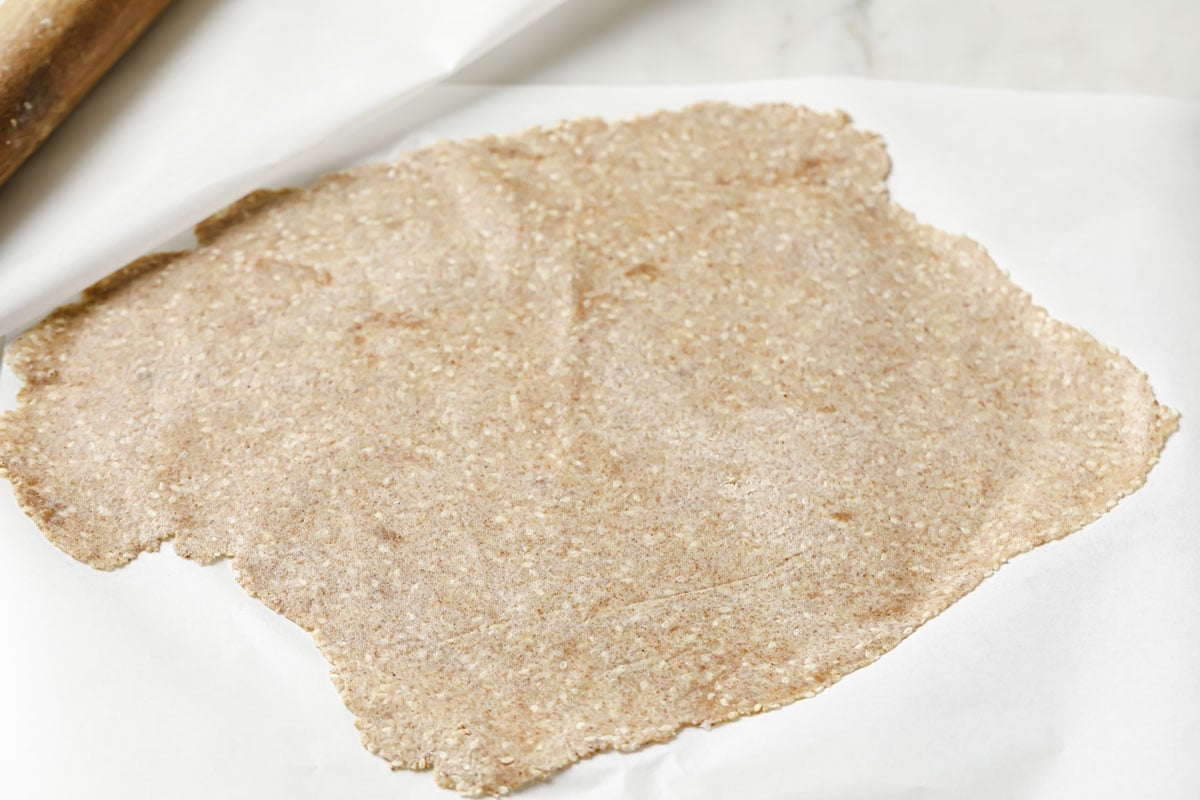 3. Remove the top sheet of greaseproof paper. Pre-cut the dough into squares using knife or pizza cutter and place on a large baking sheet.
4. Bake for 15 minutes or until golden. Allow to cool and firm up, then break into crackers!
Recipe Variations
Nut free: Swap out the almond flour for a blend of sesame seed and sunflower seed flour. You could also add a little ground flax for even more fibre.
Change up the seeds: Top the crackers with a sprinkle of seeds of your choice. Think poppy seeds, sunflower seeds, flaxseeds or black sesame seeds.
Add herbs or spices: Za'atar, rosemary, thyme, oregano, paprika, cumin, Herbes de Provence, garlic powder, onion powder... all great for extra flavor!
Make it cheesy: Grate parmesan over the crackers before baking.
Make it "Japanesy" (I couldn't resist the rhyme): Mix 2 tablespoon chopped nori seaweed into the dough.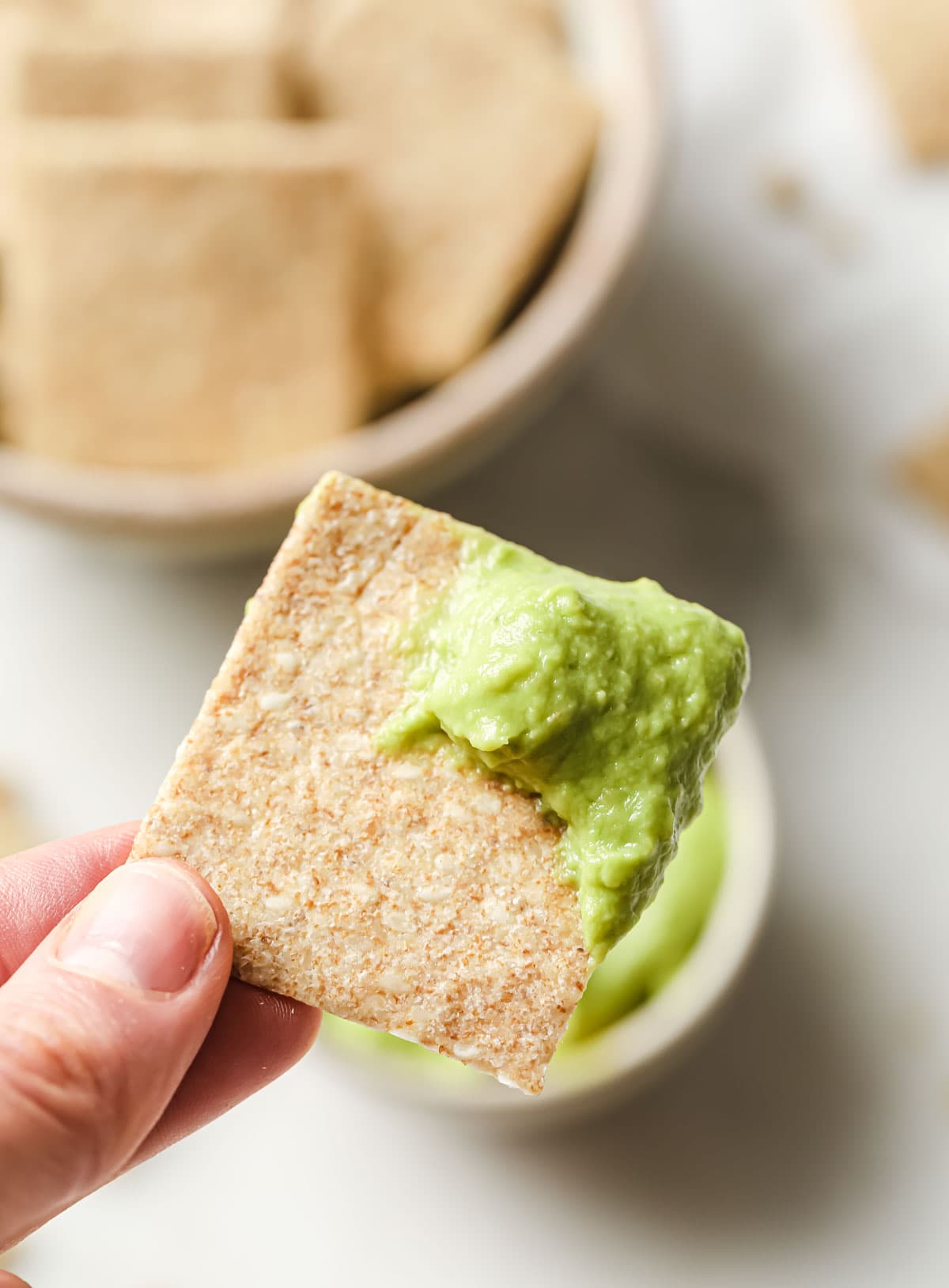 Serving suggestions
1. Enjoy them with a dip such as guacamole or keto hummus.
2. Add them to a mezze sharing platter or cheese board.
3. Make a mini sandwich: Fill with ham and cheese, smoked salmon and cream cheese or peanut butter and raspberry jam!
4. Spread with butter and eat as a side to soups and salads.
How to store low carb crackers
Keto crackers stay crispy for weeks if stored in an airtight container.
My guess is yours won't last that long though because they are quite irresistible.
These crackers stay crispy in a Tupperware for weeks.
If you store them in the fridge and they do become limp, simply reheat them in the oven for 5-7 minutes. Once they cool, they will be crisp again.
More keto cracker recipes
I love crackers and make big batches on a regular basis. Here are more easy cracker recipes to try: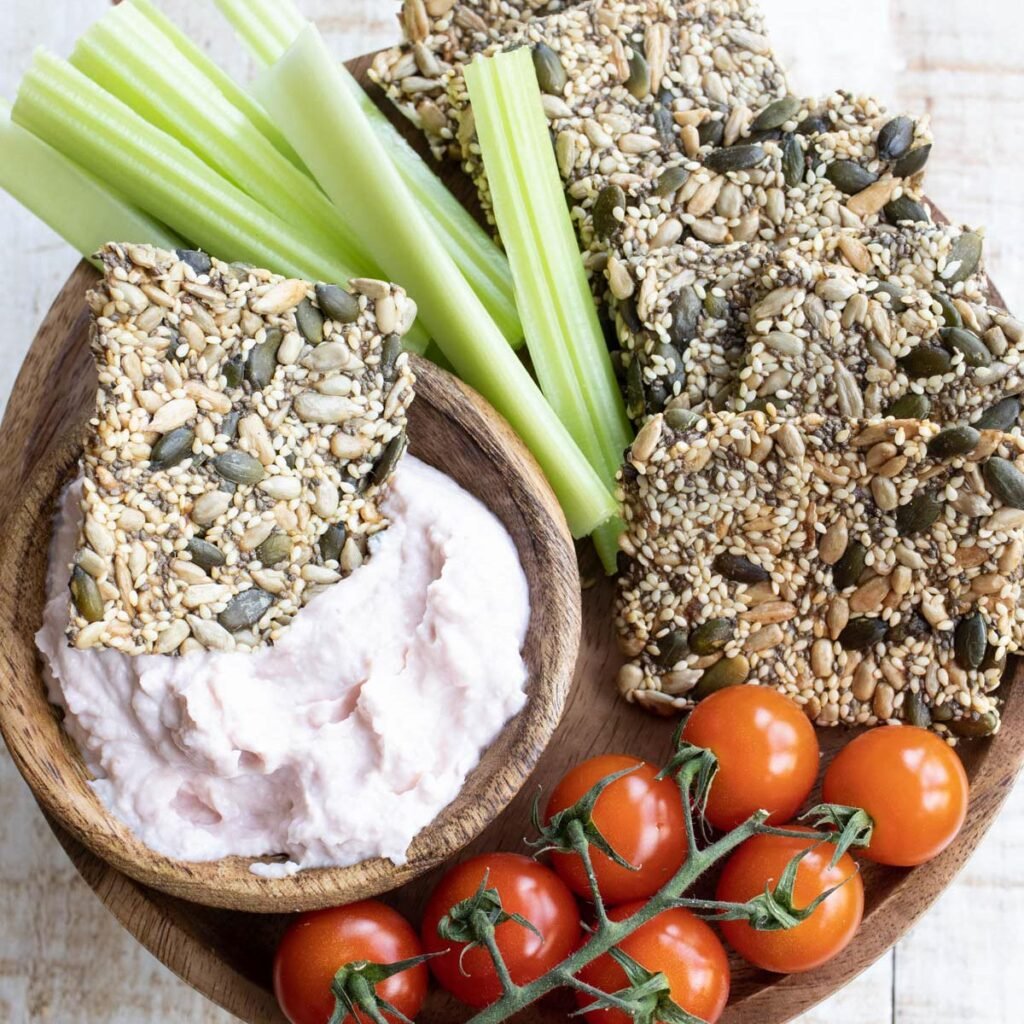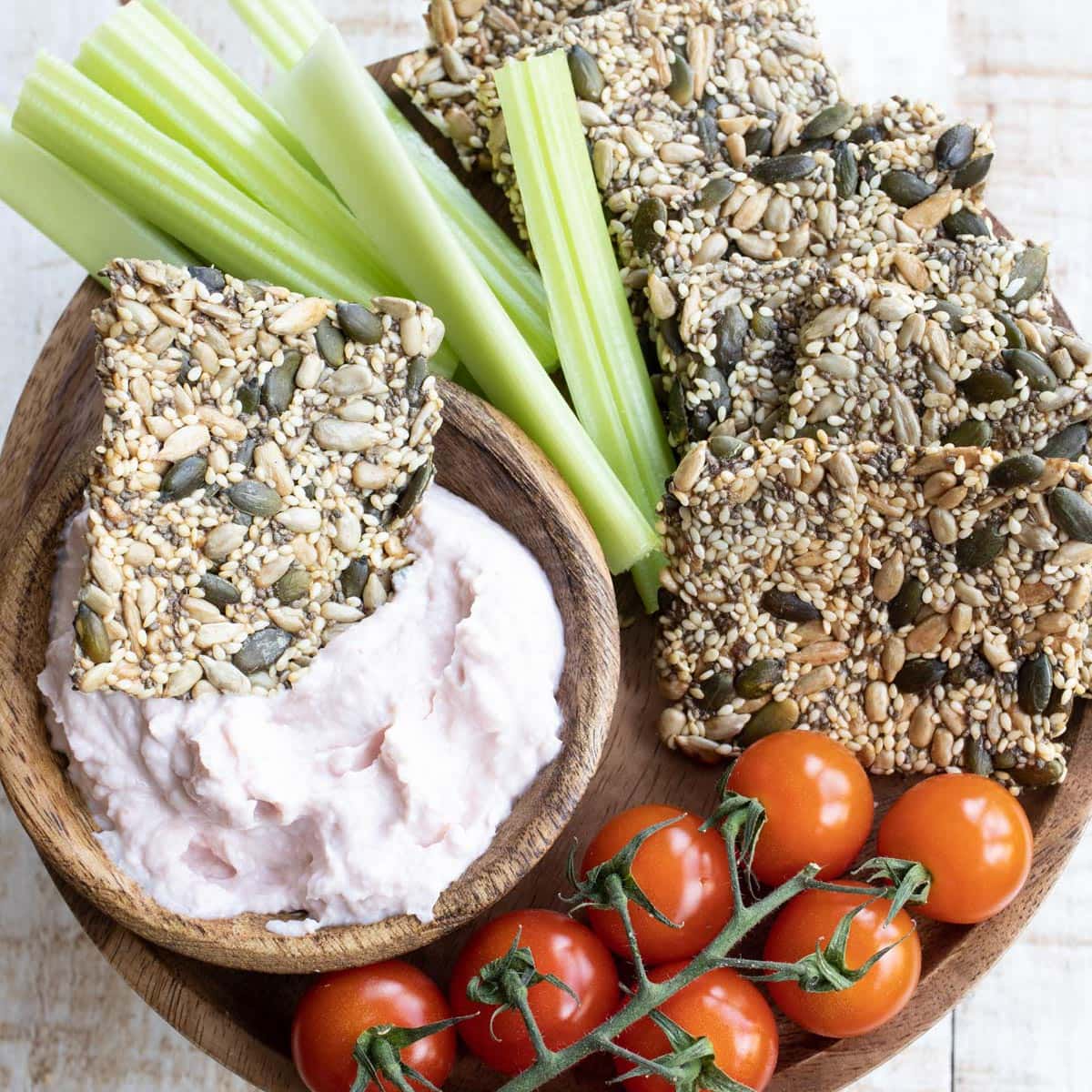 Keto seed crackers are packed with seeds and are not only gluten free, but also nut free. A staple for your keto diet.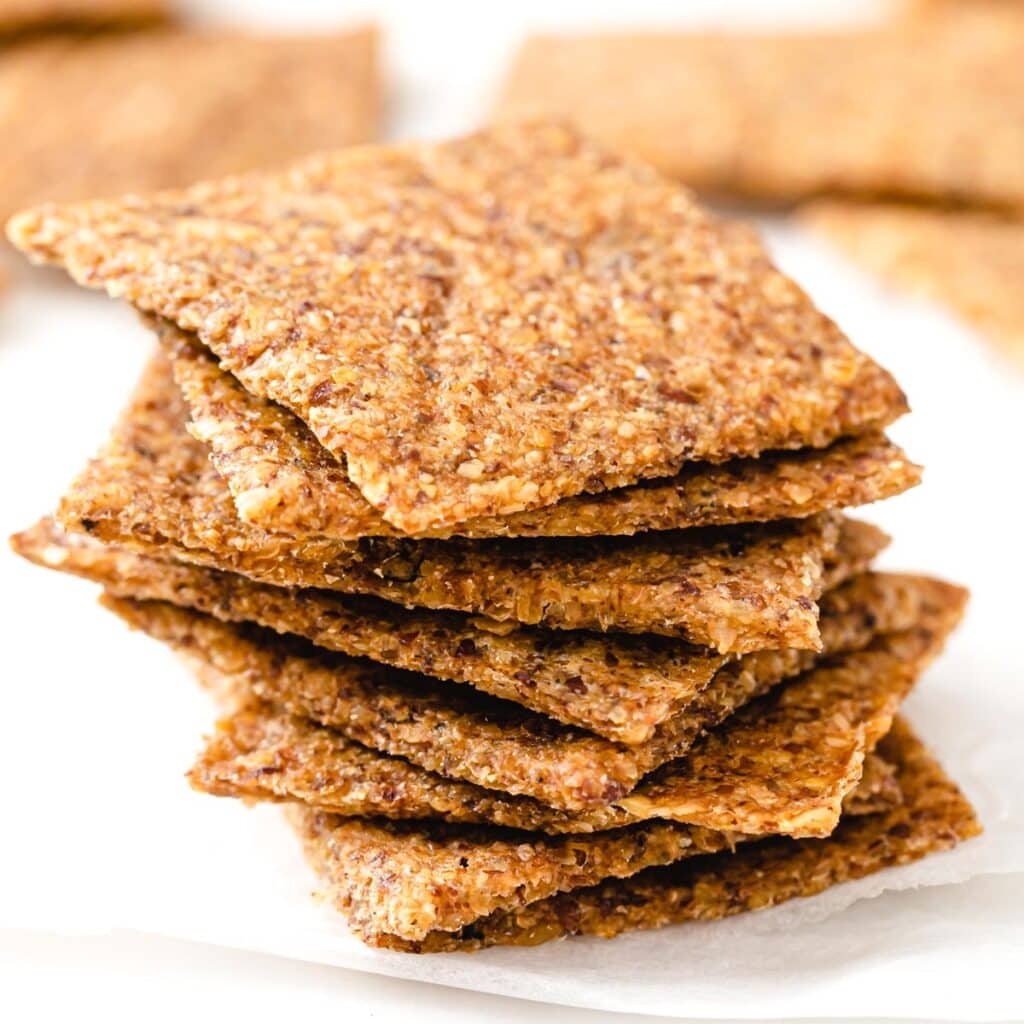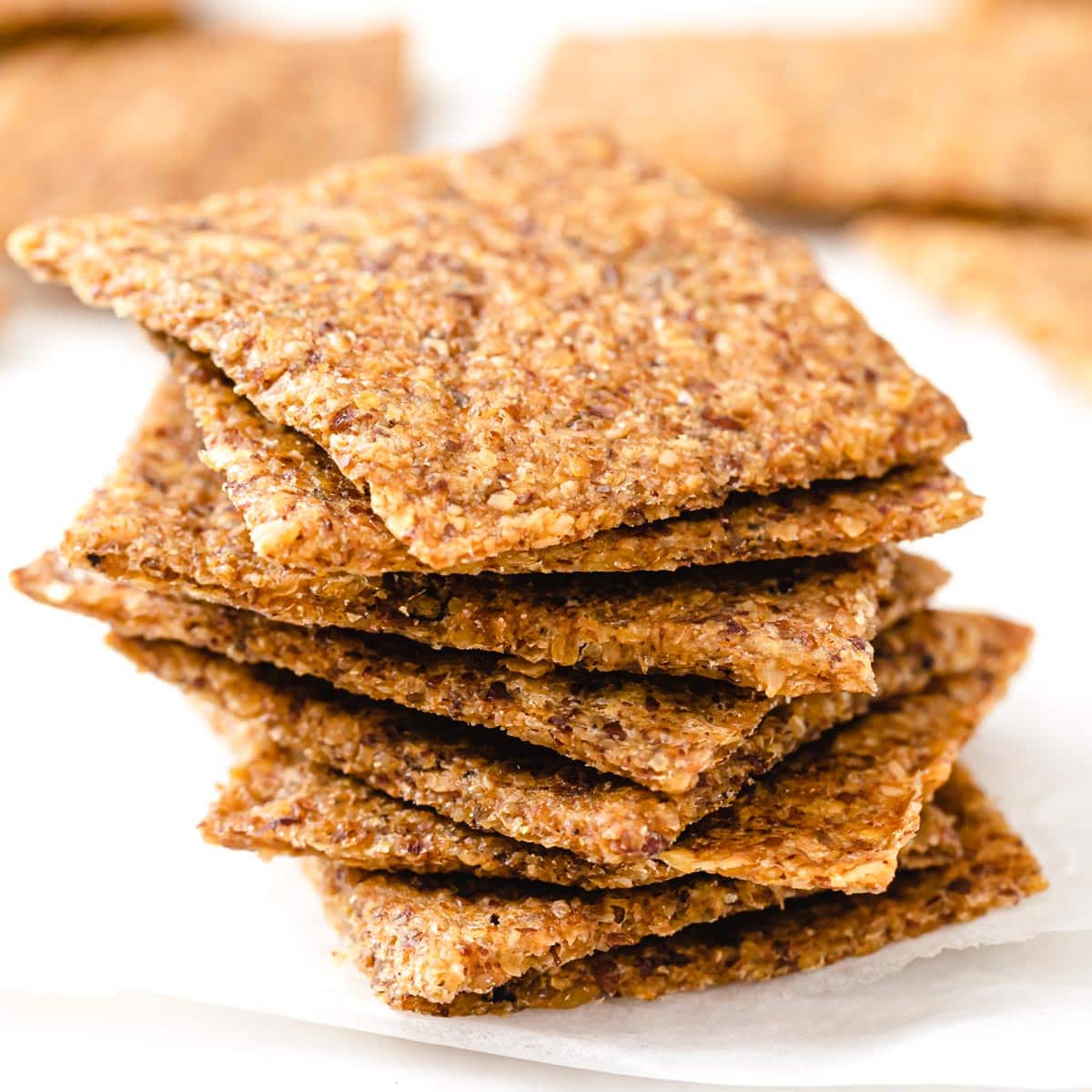 I try to eat flax seeds every day because of its amazing health benefits. My keto flaxseed crackers are only 0.3g net carbs!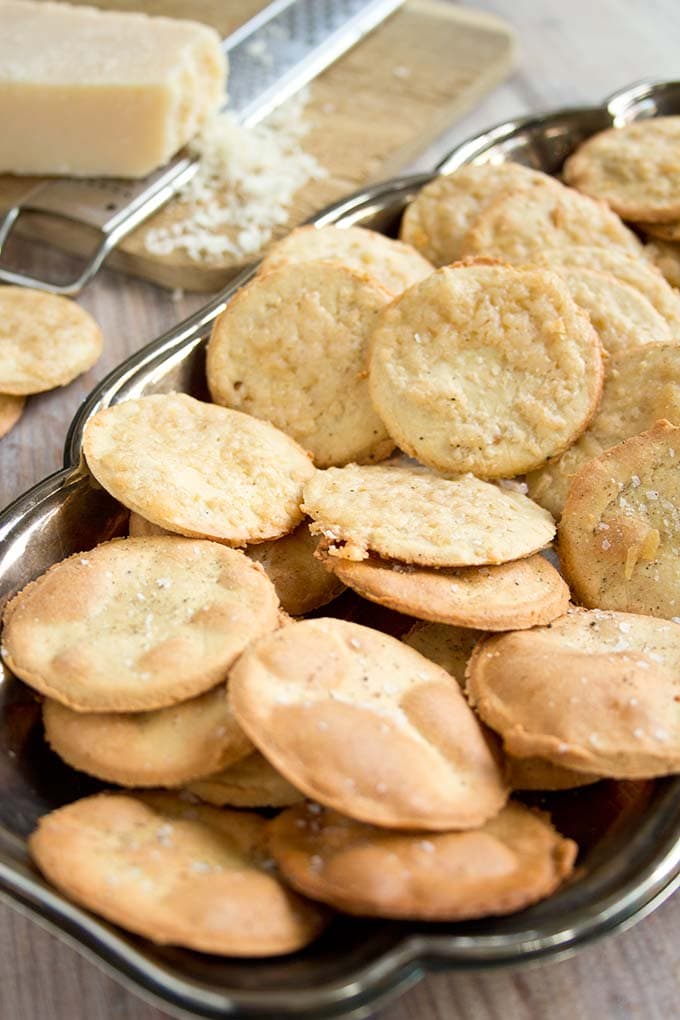 This low carb crackers recipe is super popular. You can add parmesan or pepper and salt.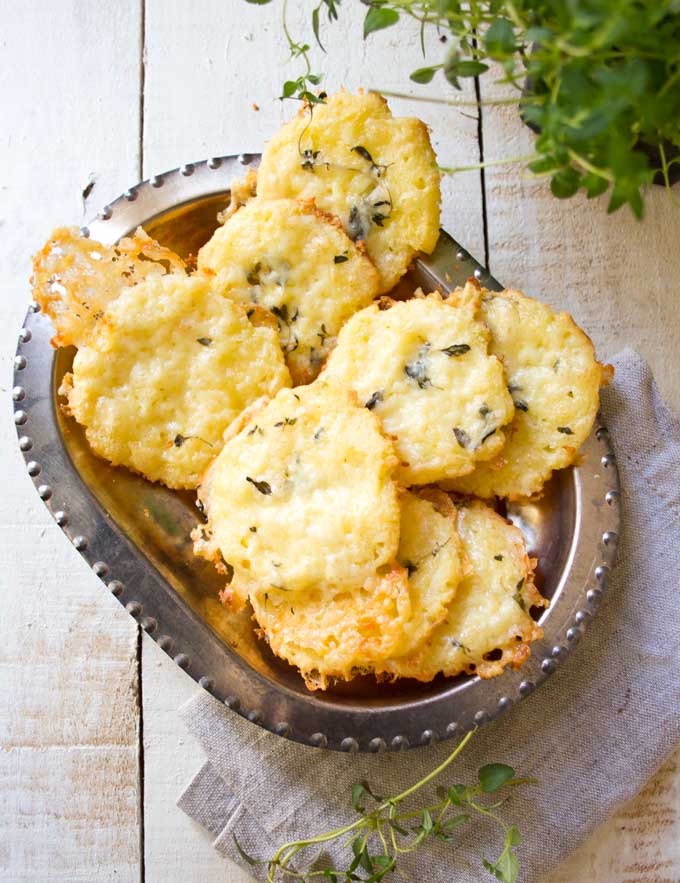 These coconut flour crackers are topped with an extra portion of cheese and fragrant thyme.
It's 2 ingredients only for my low carb chips. The secret to their crunchiness? Pork rinds!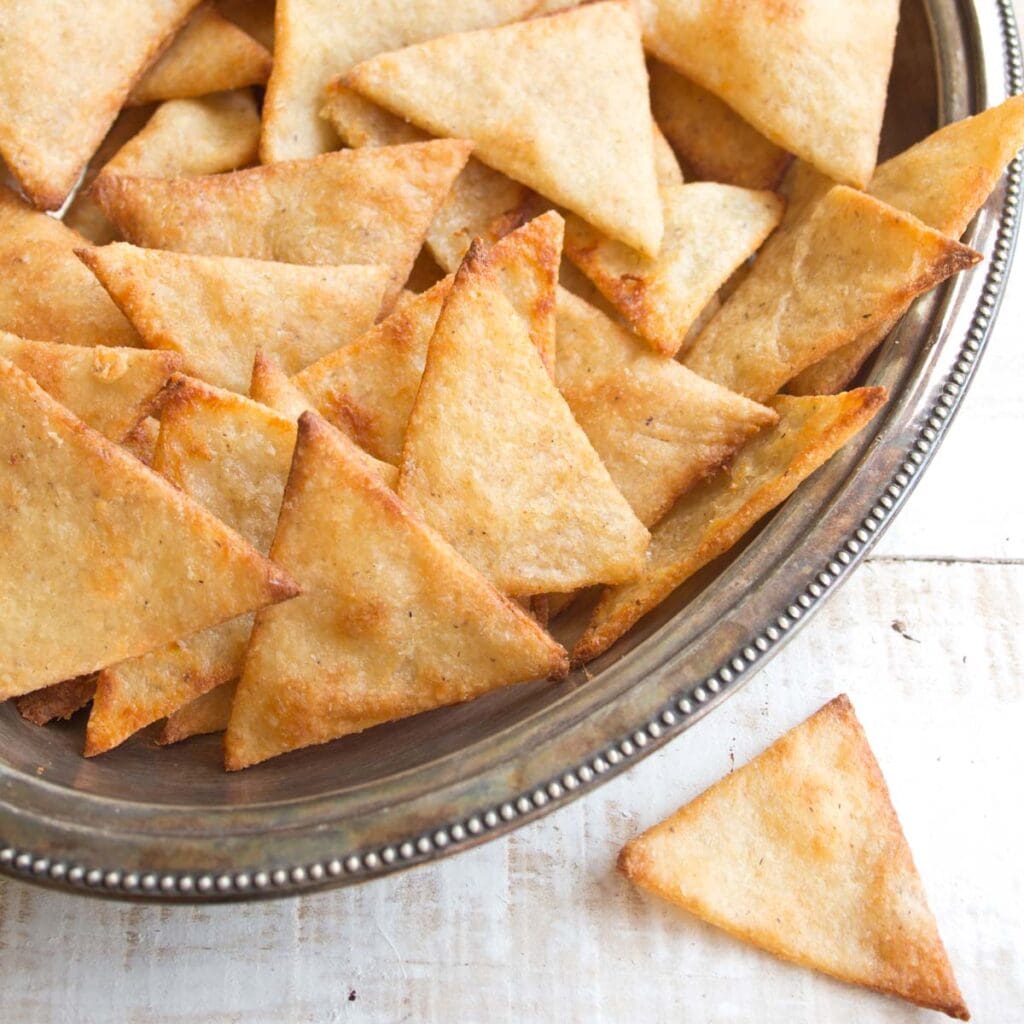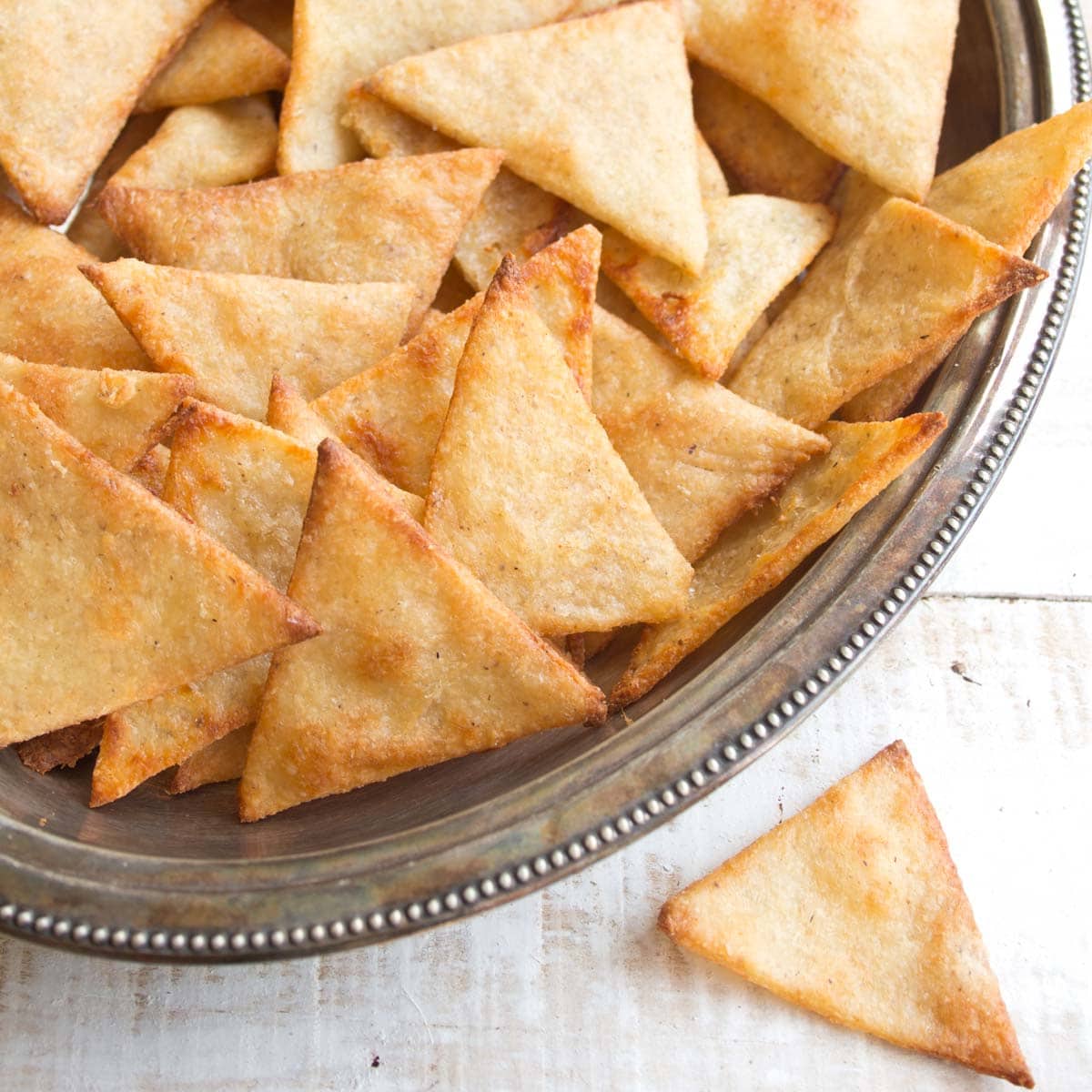 My keto tortilla chips are made with a fathead mozzarella dough. They are a brilliant low carb alternative to Doritos.
Tried this recipe? Give it a star rating below!
★ STAY IN TOUCH on FACEBOOK, PINTEREST and INSTAGRAM  for more great food and join my NEWSLETTER for the latest updates and a FREE EBOOK.★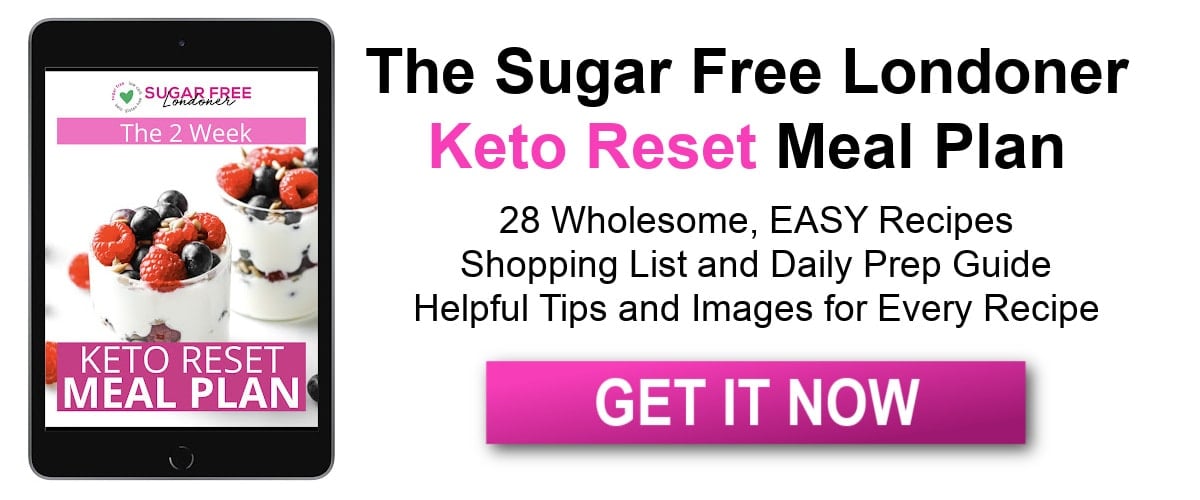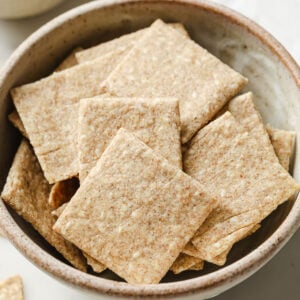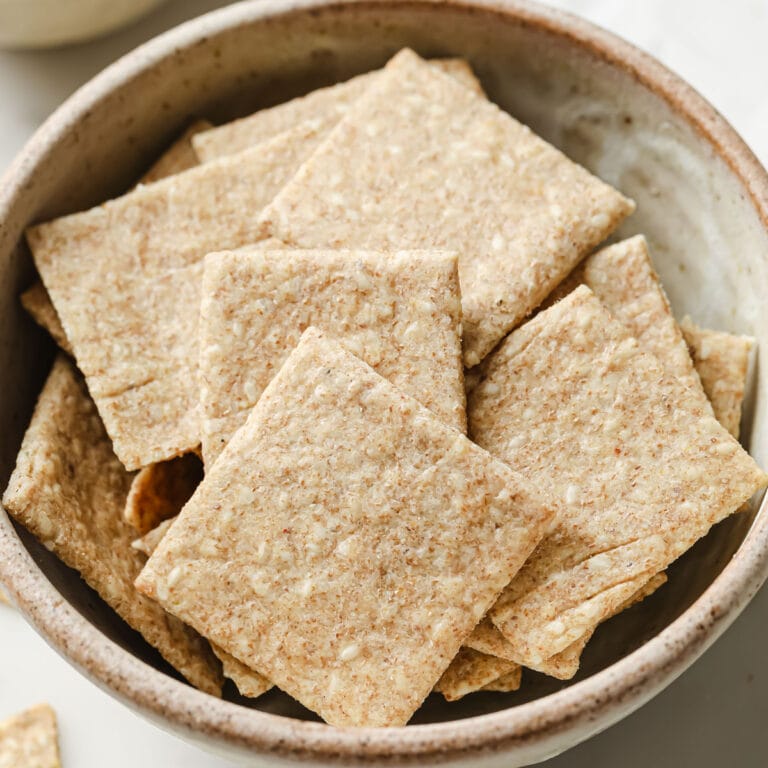 Extra Crispy Chia Seed Crackers
from Sugar Free Londoner
A low carb and gluten free staple that's ready in 20 minutes! Chia crackers are sturdy enough for any dip, easy to customise and simply a very useful, fiber filled staple.
Note: The servings slider only changes the first amount in each line and not any subsequent amounts. Please make your own calculations where necessary. ***As an Amazon Associate I earn from qualifying purchases.
Ingredients
½

cup / 50g

almond flour

¼

cup / 30g

chia seeds

ground

2

tablespoon

sesame seeds

Good pinch of flaked sea salt

3

tablespoon

water
Instructions
Preheat the oven to 175C / 350F (electric) or 155C / 310F (fan assisted).

Stir together the dry ingredients in a mixing bowl, then add the water. Stir with a spatula or fork until a dough forms.

Roll the dough out thinly between two sheets of parchment paper. Fold over the edges to form a rectangle. Place the parchment sheet back on top and re-roll.

Remove the top sheet of parchment. Pre-cut into 30 squares (I used a pizza cutter) and lift the parchment paper with the cracker dough onto a baking sheet.

Bake for 15 minutes or until slightly golden. Oven time will depend on how thick or think the dough is rolled out.

Allow to cool and firm up before breaking into crackers.
Notes
1.3g net carbs per serving. Makes 6 servings.
30 crackers in total = 5 crackers per serve. 
I always have a large jar of pre-ground chia seeds in the larder (see post for various uses). The chia in the ingredients list is measured ground. If you're grinding the seeds fresh, use 3 generous tablespoons, then measure ¼ cup. 
Option to rotate the baking sheet during baking if the back crackers brown quicker than the front. 
The crackers stay crispy in a Tupperware for weeks. 
If you store them in the fridge and they do become limp, simply reheat them in the oven for 5-7 minutes. Once they cool, they will be crisp again. 
Nutrition
Calories:
86
kcal
Total Carbohydrates:
4.1
g
Protein:
3.2
g
Fat:
7
g
Saturated Fat:
0.6
g
Fiber:
2.7
g
Sugar:
0.4
g
This post contains affiliate links. If you click on one of these links and purchase a product, I may earn a small commission, at no extra cost to you. Thank you for supporting Sugar Free Londoner.