These flourless keto peanut butter cookies are so easy to make! They require only 4 ingredients and you simply stir them together with a fork. Perfect for low carb and keto diets. Gluten free and sugar free!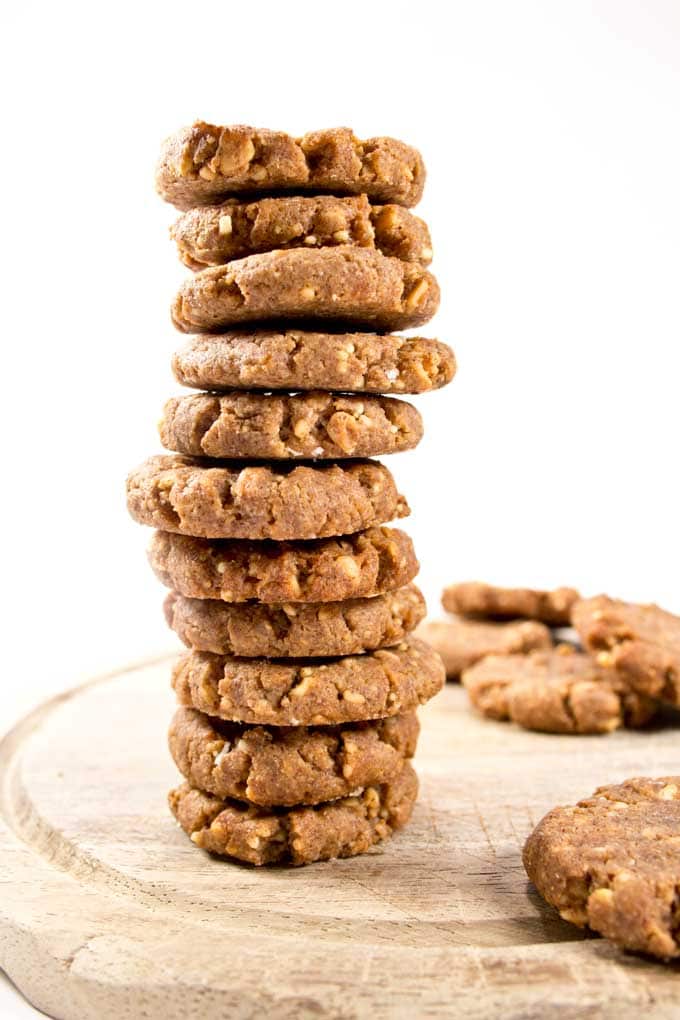 We're all about back to basics today with this fabulous 4 ingredient low carb peanut butter cookies recipe!
There are a number of reasons why you've got to try these keto friendly cookies ASAP:
NO SPECIAL EQUIPMENT
To make keto peanut butter cookies, you need NO SPECIAL EQUIPMENT. In fact, you can mix the dough in a bowl with a fork. And then lick it (the fork). See? No labour-intensive cleaning of blenders/food processors = more fun!
QUICK ASSEMBLY
All ingredients go in as-is, and in any order you like. The only thing I would recommend that you keep your ingredients at room temperature.
Some cookie recipes require that you beat egg whites stiff, or that you mix your dry ingredients before adding the wet and if you don't - you might as well start again.
Here, you throw in your 4 ingredients (or 5, if you want to add cinnamon) in any order you like. YOU JUST CAN'T GO WRONG. Guys, this recipe is easy on the brain.
SUPER SATISFYING TASTE
You'll love these absolutely delicious, chewy-crunchy Keto peanut butter cookies - and your family will never guess they're low carb and sugar free!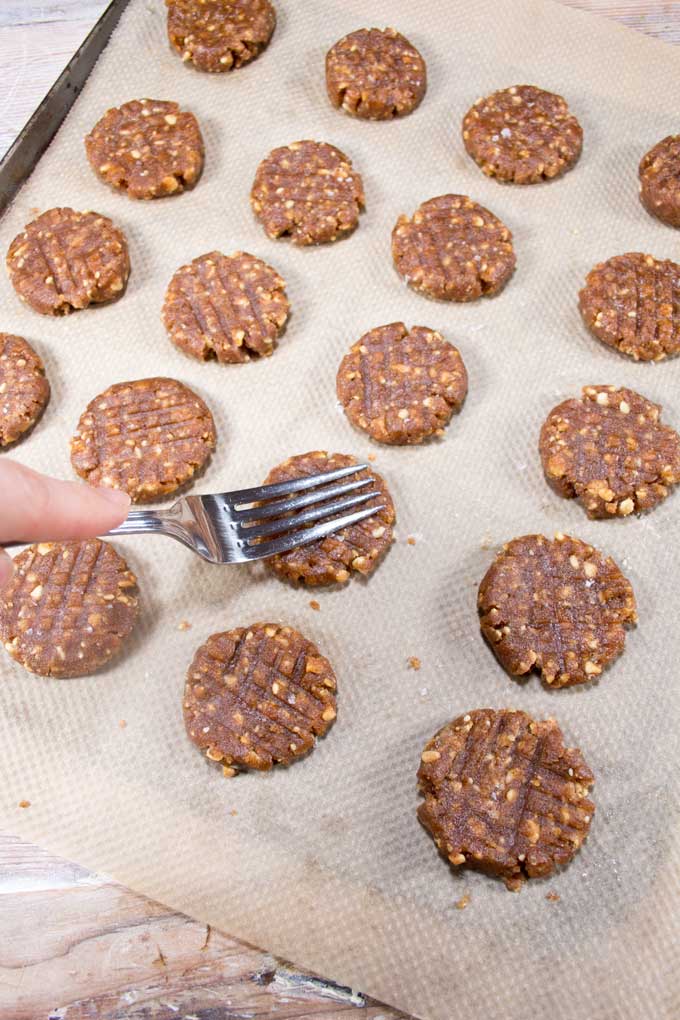 The ONLY ever-so-slightly challenging part of this recipe is the creation of those pretty criss-cross markings on top of the cookie.
Naturally they are not essential at all, so if you cannot be bothered, by all means, don't.
But if you want to post your cookies on Instagram, wow your crowd or just feel up to it, wet your fork before you get going and clean/wet again as you work your way through the batch. This prevents the cookie dough from sticking to the fork.
BAKER'S TOP TIP: If you want a cookie that's soft in the centre, bake for around 8 minutes. If you prefer a crunchy one, leave it in the oven for 10 minutes. The cookies will be soft when freshly out of the oven. Patience!!!!!!!! They firm up as they cool down.
And don't forget to use parchment paper or a silicone baking mat. This prevents the cookies from sticking to the baking tray.
What to look out for when buying peanut butter:
Always check the label! Often, brands add palm oil and sugar. Here in the UK there are several brands that sell natural peanut butter that contain only one ingredient - peanuts. Try the Meridian brand in the UK or Whole Earth in the US.
If you have a food processor, you could even make your own peanut butter. Simply blend the peanuts for a few minutes on high speed until the peanuts release their natural oils and you have a smooth butter. Add in some crushed peanuts for crunchy peanut butter.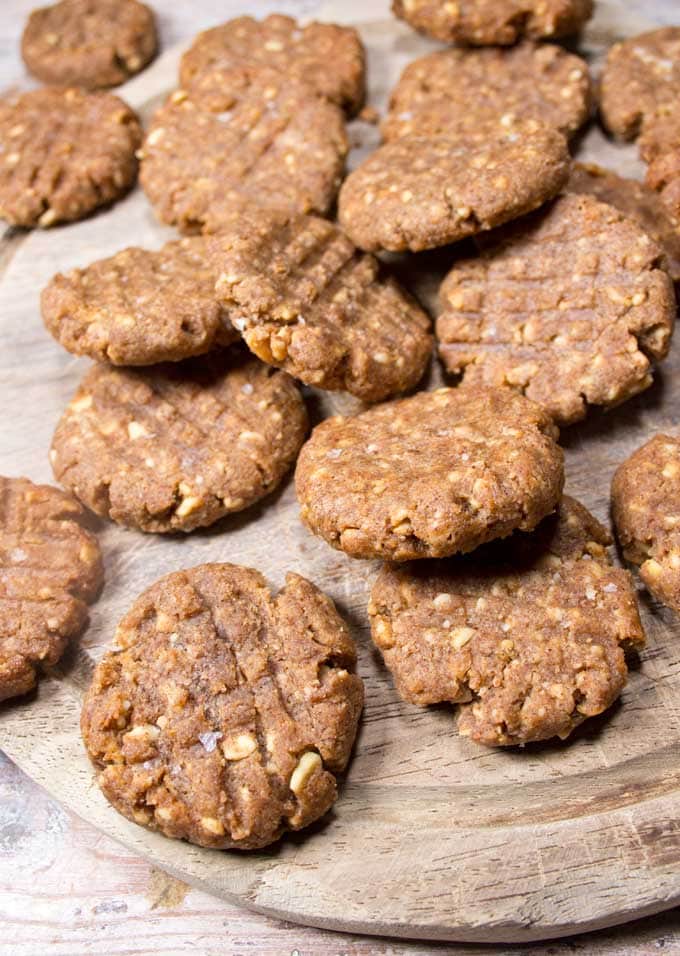 How to customize keto peanut butter cookies
You could add sugar free chocolate chips, for example. Dip one half in melted chocolate. Or use smooth peanut butter instead of crunchy.
If you love peanut butter as much as I do, you should definitely also check out this chocolate peanut butter freezer fudge or these yummy Low Carb Peanut Butter Protein Bars. Equally simple and equally delicious.
Here are some of my other Keto cookie recipes:
Fun fact - did you know a peanut is not a nut but a legume? True story, but really. In my book, peanuts are welcome to live alongside almonds, pecans and the like. Let a nut be a nut.
Tried this recipe? Give it a star rating below!
★ STAY IN TOUCH on FACEBOOK, PINTEREST and INSTAGRAM for more great food and join my NEWSLETTER for the latest updates.★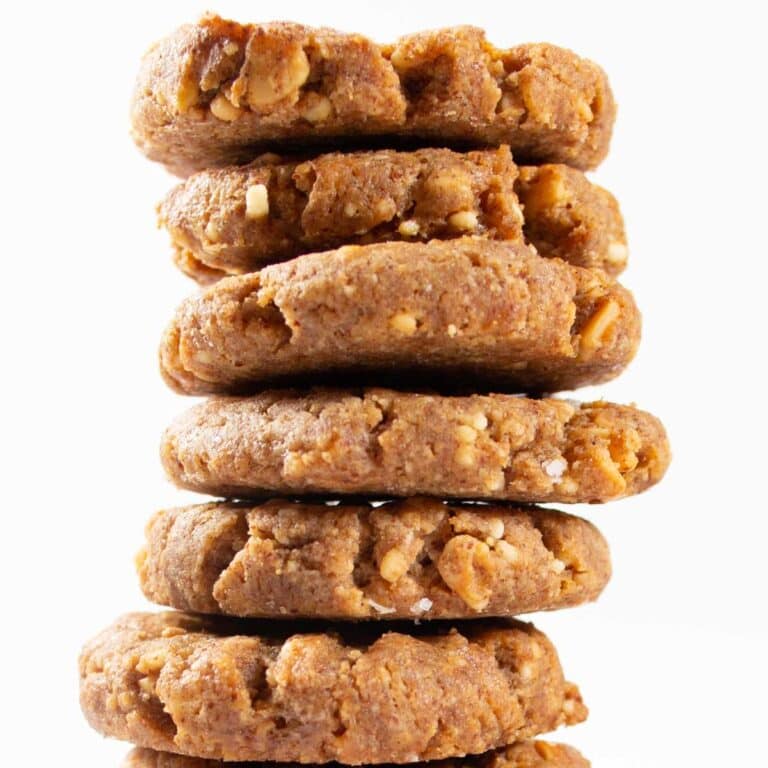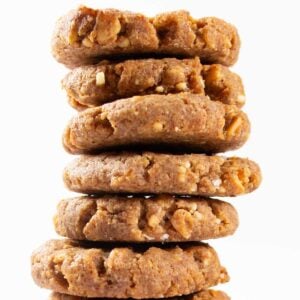 Low Carb Keto Peanut Butter Cookies
from sugarfreelondoner.com
These flourless Keto peanut butter cookies are ready in no time at all! All you need for this super simple low carb cookie recipe are 4 ingredients.
Note: The servings slider only changes the first amount in each line and not any subsequent amounts. Please make your own calculations where necessary. ***As an Amazon Associate I earn from qualifying purchases.
Instructions
Preheat oven to 180 Celsius / 350 Fahrenheit.

Put all ingredients in a bowl and mix with a fork.

Roll small balls of dough (ca 15g each) with your hands (or use a small cookie scoop) and flatten them on a baking sheet.

Wet a fork and press on cookies to create a criss cross pattern.

Bake 8 -10 minutes, until the edges are firm. (8 minutes = soft centre, 10 minutes = overall crunchy)

Let cool completely before eating. They are very soft when just out of the oven, but will become crunchy once cooled.

Store in an airtight container.
Notes
Try getting hold of a peanut butter that contains 100% peanuts and nothing else. If you have a food processor, you can even make your own. I mixed a bit of sea salt into the dough and sprinkled a bit more on top. It's the salted caramel effect - sweet and salty together are just crazy good.
1.6 g net carbs per cookie. 
Nutrition
Calories:
78
kcal
Total Carbohydrates:
2.3
g
Protein:
3.7
g
Fat:
6.9
g
Saturated Fat:
1.1
g
Fiber:
0.7
g
Sugar:
1.4
g
(This post contains Amazon Affiliate links. If you click on one of these links, I may earn a small commission which helps me with the running costs of the site. Thank you for supporting Sugar Free Londoner.)