Coffee lovers, you've got to try this easy keto coffee smoothie! This creamy, filling keto frappuccino is ready in just 3 minutes and the perfect low carb breakfast drink for everyone who prefers dairy free.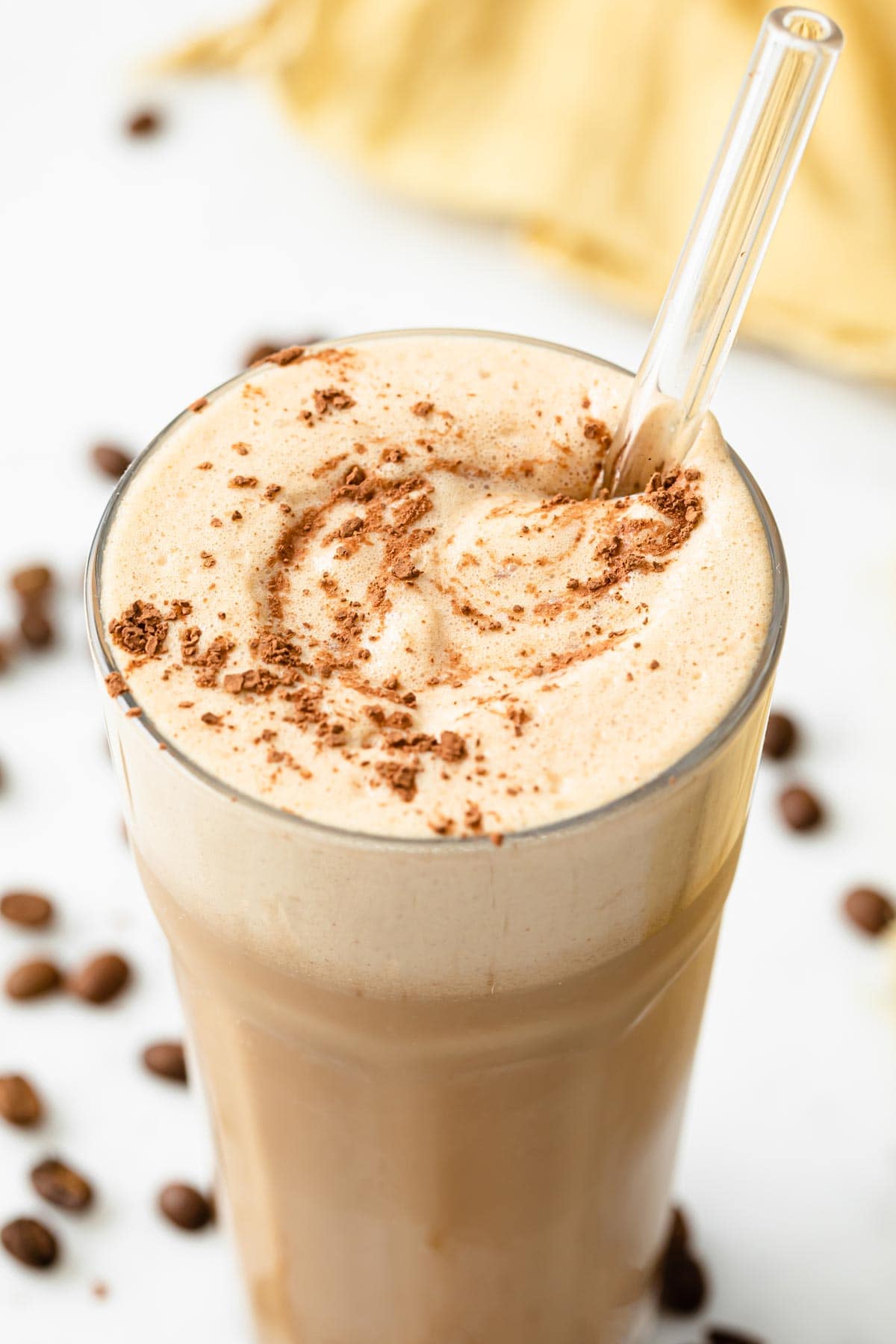 I love coffee so much that I look forward to it every night I go to sleep. Seriously, coffee makes me THAT happy! The aromatic smell and the flavor are impossible to replace with a cup of tea... I was probably Italian in a former life.
This dairy-free keto coffee smoothie is one of my go-to quick breakfasts. It is brilliant when you've got some leftover cold brew coffee from the day before.
My keto frappuccino is dairy free, because I'm not a fan of filling up on heavy cream first thing in the morning. It contains coconut cream (which doesn't coat the mouth like cream does), as well as peanut butter and collagen, which make it super thick and satisfying.
And can I just point out that it tastes better than the Starbucks frappuccino? You're going to love the creamy texture.
What can I add to coffee on keto?
Regular cappuccinos and lattes are made with milk. Due to its high lactose and carb content, milk is not a good option on keto.
The ultimate keto coffee is the so called bulletproof coffee, which contains butter or ghee and MTC oil. It tastes like an extremely creamy latte and is very filling thanks to the high fat content.
You can also use coconut oil, coconut cream or heavy cream like I did in this Keto Iced Coffee.
Ingredients for keto coffee smoothie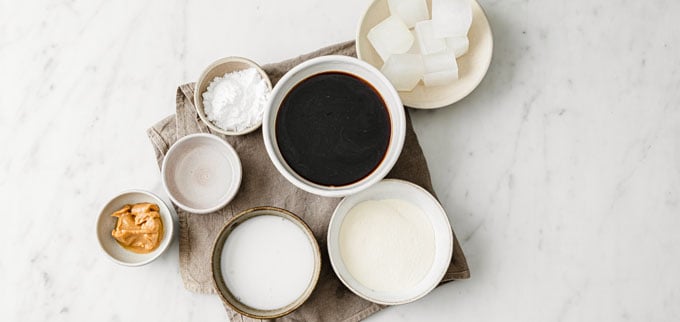 Brewed coffee - Make it to your preferences. I have a Nespresso machine, but using a cafetiere, coffee machine or even instant coffee made with granules works. Make sure it's cold!
Collagen powder - Collagen helps to make the keto frappuccino super creamy and it's also amazing for your gut health, skin, hair and nails. I often use collagen peptides to thicken milkshakes - such as this Keto Chocolate Milkshake.
Coconut milk - Needs to be full fat (about 20g fat per 100ml) from a can. Coconut milk is rich in healthy saturated fats called medium chain triglycerides (MCTs). Read more about the benefits of coconut milk here.
Peanut butter - Adds healthy fat and because almost everything in life is better with peanut butter!
Ice cubes - Help make your keto coffee shake thick and frothy.
Vanilla extract and powdered sweetener - Totally optional. Vanilla adds a lovely flavor. If you like a sweet sugar free coffee smoothie, use powdered and not granulated sweetener. Erythritol, monk fruit blends, stevia or allulose - you choose.
How to make a keto frappuccino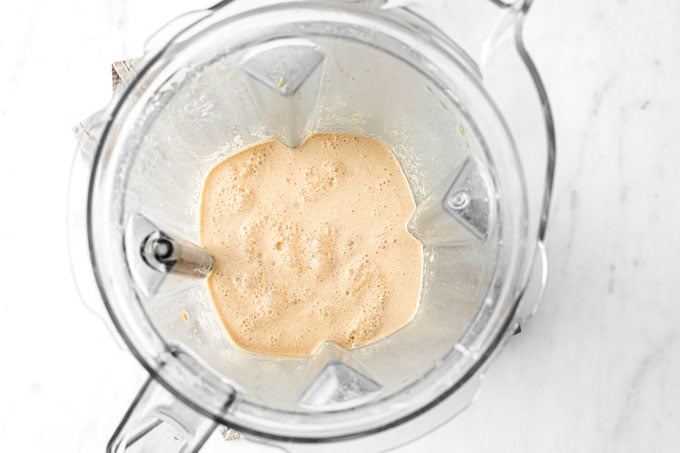 Put all ingredients in a high speed blender and whizz until smooth. Pour into a cup.
That's it - your keto breakfast shake is sorted!
Variations and add-ins
You can swap the peanut butter for almond butter or any other nut butter or seed butter.
If you don't have collagen protein powder, use unflavoured or vanilla whey protein powder instead. It also helps to thicken smoothies. Or how about using chocolate protein powder to make a chocolate coffee protein shake?
For additional fat, add 1 tablespoon of MCT oil.
If you love chocolate, upgrade to a keto mocha smoothie by adding 1 tablespoon of cocoa powder. You could even drizzle sugar free chocolate sauce over the top.
Don't have any hang-ups about heavy cream (that's double cream in the UK)? Use it in place of the coconut milk! This also lowers the net carbs slightly. You can even add whipped cream on top to make a proper coffee milkshake.
If you don't have a high speed blender, just make a keto iced coffee! Simply whizz all ingredients apart from the ice cubes with an immersion blender and add the ice cubes last.
If you use instant coffee, consider making it with unsweetened almond milk instead of water to make the coffee keto shake even creamier.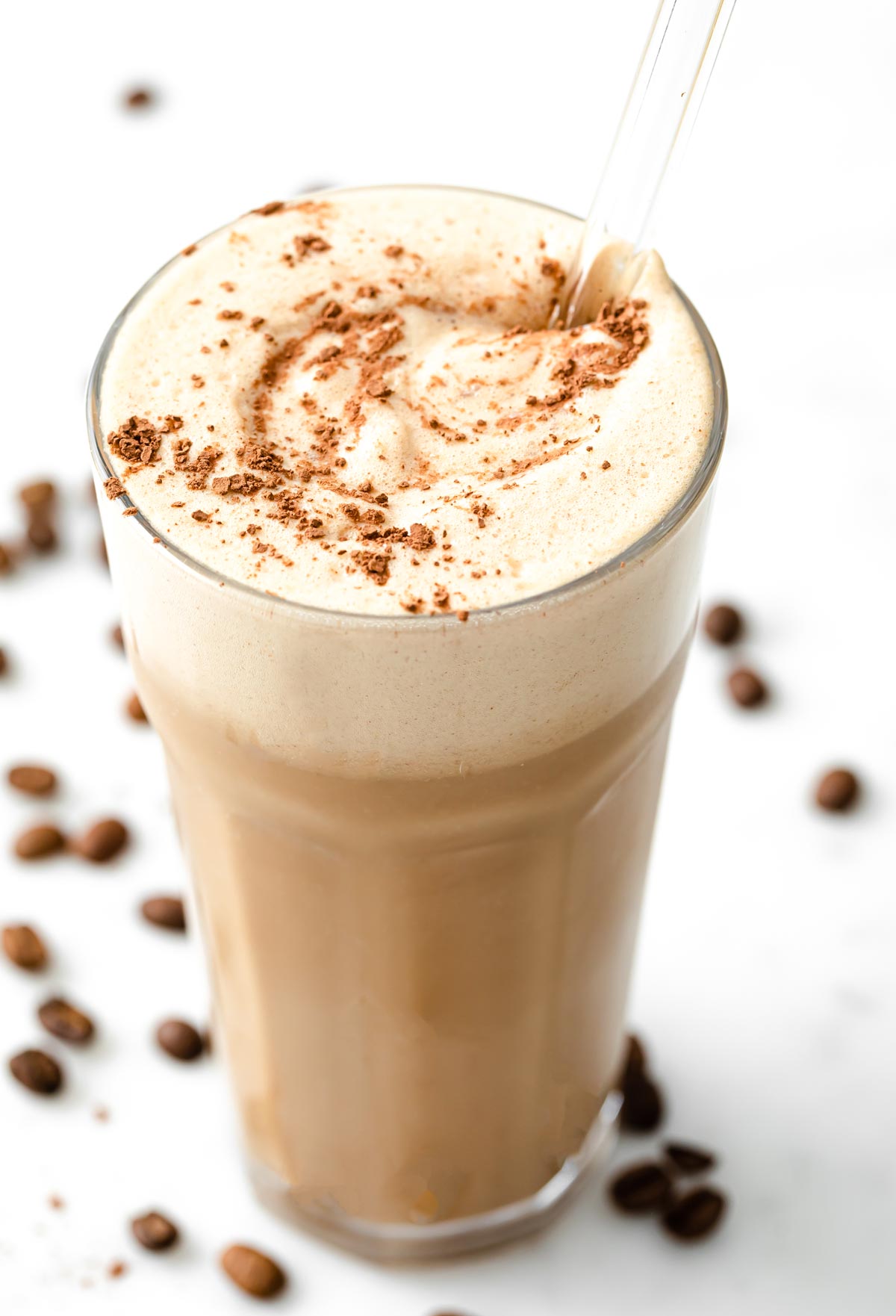 Can I use hot coffee?
I do test my recipes extensively, and I HAVE made this low carb coffee smoothie using hot coffee once, just to see what would happen.
Basically, it turns out cold and frothy, but simply less thick. My advice is to plan ahead and cool the coffee properly before using.
Using coffee ice cubes
Another way to make a keto frappuccino is to freeze the brewed coffee in ice cube trays. Then, you put the coffee ice cubes straight into the blender and add the rest of the ingredients.
More drinkable keto recipes
Here are more delicious shake recipes, fruity keto smoothies and milkshakes.
Tried this recipe? Give it a star rating below!
★ STAY IN TOUCH on FACEBOOK, PINTEREST and INSTAGRAM for more great food and join my NEWSLETTER for the latest updates and a FREE EBOOK.★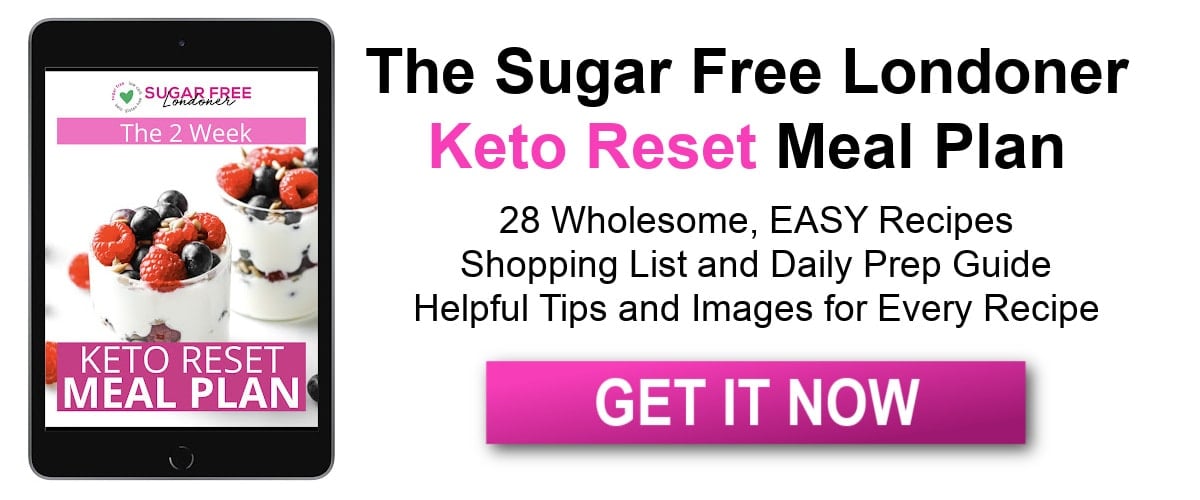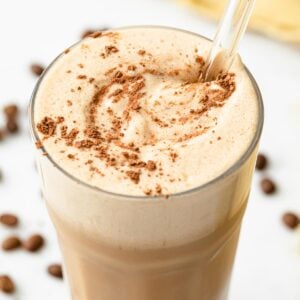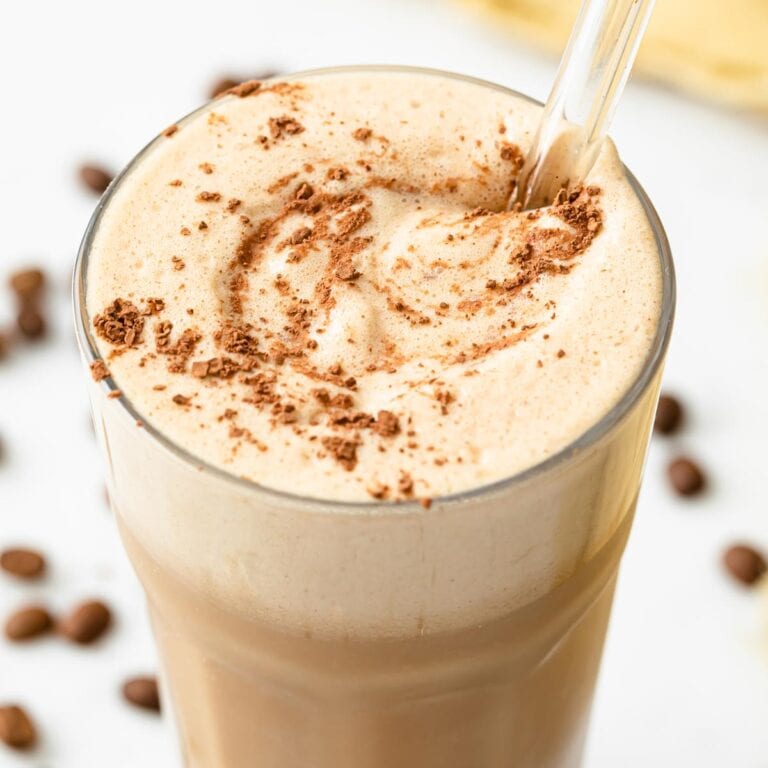 Keto Coffee Smoothie
from Sugar Free Londoner
This keto coffee smoothie is one of my favourite breakfast treats and tastes so much better than anything Starbucks could ever come up with! Frothy, thick and creamy, it's a great fat-fuelled kickstart to the day.
Note: The servings slider only changes the first amount in each line and not any subsequent amounts. Please make your own calculations where necessary. ***As an Amazon Associate I earn from qualifying purchases.
Instructions
Place all ingredients in a high speed blender and blitz until smooth.

Option to sprinkle with a little cacao before serving.
Notes
4.8g net carbs per portion. Makes one large 300 ml smoothie. 
If you swap out the coconut milk for heavy cream, the net carbs reduce to 4.1g.  
I prefer my coffee unsweetened, but do add powdered sweetener to taste. The vanilla extract also adds a mellow sweet flavour. 
Nutrition
Serving:
300
ml
Calories:
350
kcal
Total Carbohydrates:
7
g
Protein:
21.2
g
Fat:
28.4
g
Fiber:
2.3
g
Sugar:
1.2
g
This post contains affiliate links. If you click on one of these links and purchase a product, I may earn a small commission, at no extra cost to you. Thank you for supporting Sugar Free Londoner.
First published in April 2021.