This keto peanut butter smoothie is thick, satisfying and so tasty! It's a really simple recipe that uses only natural ingredients - no fancy powders needed. A dairy-free low carb shake that works as a quick breakfast or as a treat throughout the day. Only 3.8g net carbs per smoothie.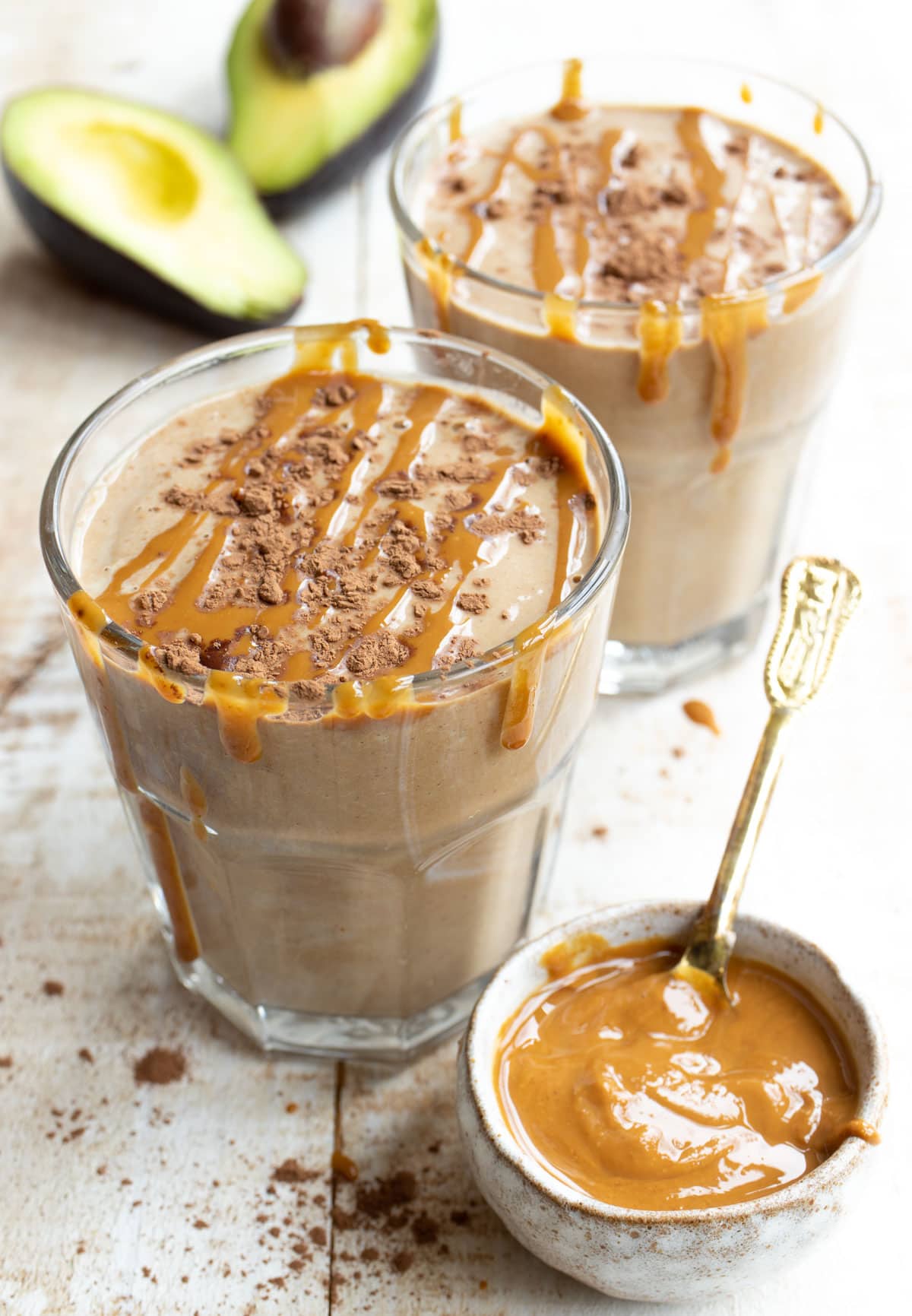 It's no secret that I have an enduring love for peanut butter. I actually didn't realise HOW MANY peanut butter recipes I already have on my website until I posted this peanut butter roundup! From cakes to blondies to the classic peanut butter cups, I've got all bases covered.
When I wrote the roundup, I realised that I was missing a low carb peanut butter smoothie recipe on my website.
This is officially being fixed with this post!
I have tried many keto peanut butter shake recipes over the years, and this is my favourite because it isn't loaded with heavy cream.
In fact, it's packed with nutrients from my secret ingredient: avocado! You cannot taste the avocado at all. It just helps to make it thick whilst adding extra nutrients.
Jump to:
Is peanut butter keto?
This is a question that comes up again and again. My answer is: absolutely! Even though peanuts are technically legumes, they are high in fat and low in carbs. In terms of nutrition, they are very similar to almonds. Peanuts are also gluten-free.
Ingredients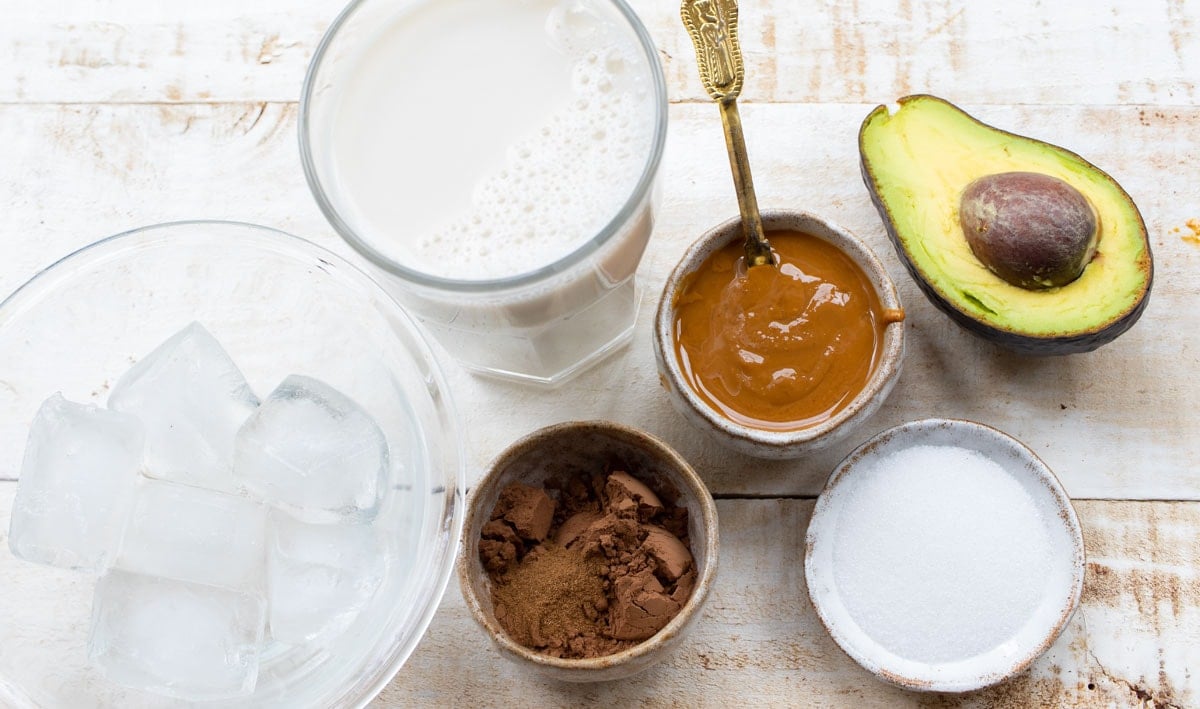 Here's what you'll need:
Peanut butter - Check that has no added sugar. I like Meridian, PipNuts and ManiLife. They have a "deep roast" peanut butter flavor that is insanely good. Or, make your own peanut butter.
Almond milk - Or coconut milk. Unsweetened almond milk is very low in carbs.
Avocado - Use a ripe, small avocado.
Unsweetened cocoa powder - Both cacao and cocoa powder work here. It gives a touch of chocolate flavor without being overpowering.
Ice cubes
Sweetener - Add as much or as little sweetener as you like. I thought that 1 tablespoon shared between two smoothies was just right.
Cinnamon and vanilla extract - Add flavour but are not essential.
Instructions
It's very simple! I put all ingredients in a high speed blender and process until the shake is silky-smooth. Pour into a tall glass and enjoy.
Check and make adjustments according to your preferences. If you like a thicker smoothie, add more avocado or ice cubes. If you like it more liquid, add more nut milk.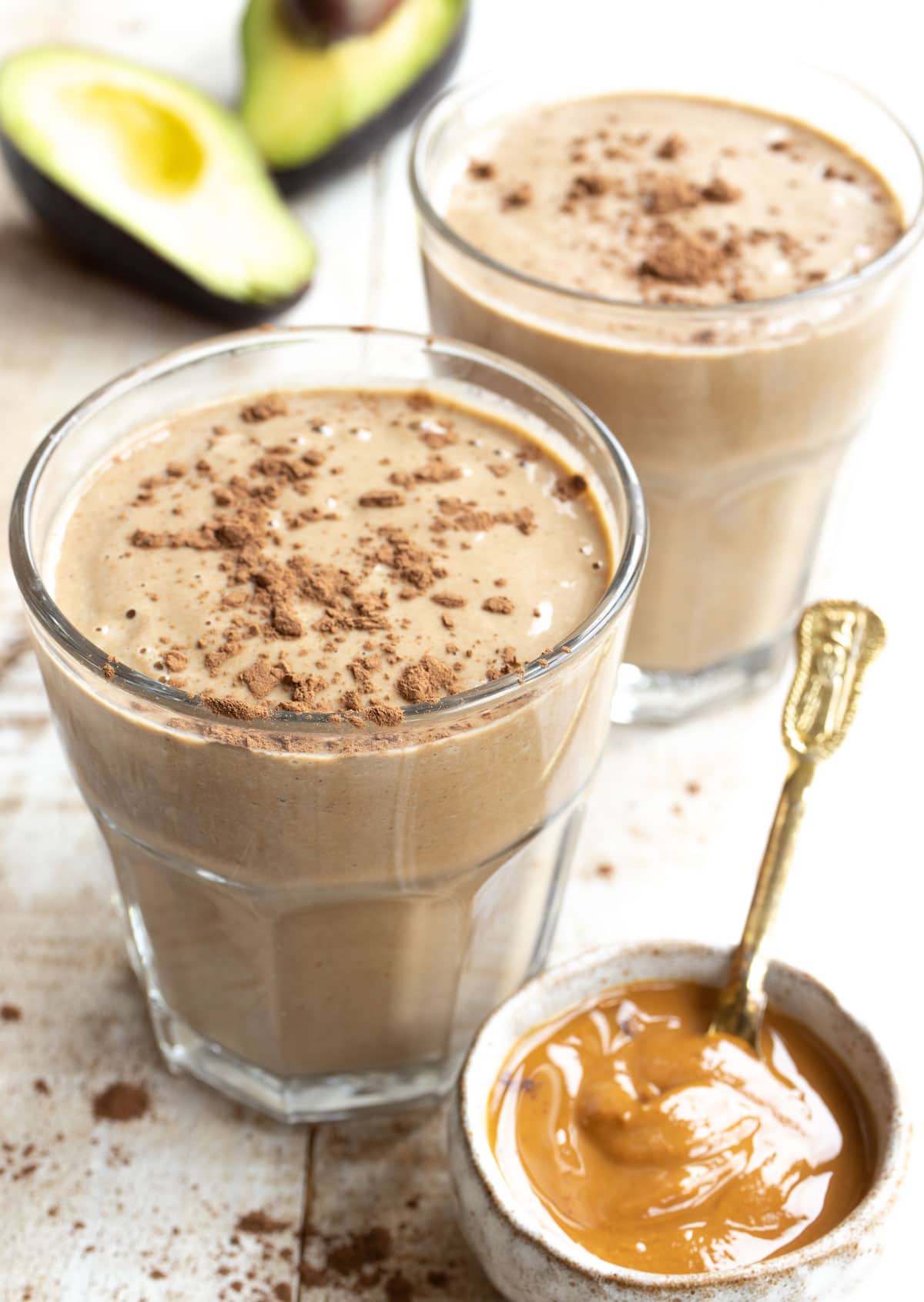 Toppings and recipe variations
I topped my smoothie with a dusting of cocoa powder and a drizzle of peanut butter. Another idea would be to add whipped coconut cream.
I intentionally did not use a lot of cocoa powder because I wanted the peanut butter to take centre stage. However, it's easy to turn this recipe into a chocolate peanut butter smoothie. Simply add an additional 1-2 tablespoons of cocoa.
Don't have any avocado? You can replace the avocado with coconut cream or even heavy whipping cream and add an additional tablespoon of peanut butter powder.
Add a scoop of protein powder to increase the protein content.
Storage
I find that smoothies taste best straight away. You can store it in the fridge for a day if necessary and you don't mind it becoming more liquid as the ice melts.
Just give it a good stir before drinking.
Related recipes
Keto Coffee Smoothie - The ultimate sugar free smoothie recipe for coffee lovers! This version is also dairy-free.
Strawberry Smoothie - A creamy low carb smoothie with just 4 ingredients.
Detox Green Keto Smoothie - Zingy and so refreshing, this smoothie is a super sized antioxidant boost. Loaded with vitamins and healthy fats.
Keto Chocolate Milkshake - Thick and delicious, it's a must for chocolate lovers.
Tried this recipe? Give it a star rating below!
★ STAY IN TOUCH on FACEBOOK, PINTEREST and INSTAGRAM  for more great food and join my NEWSLETTER for the latest updates and a FREE EBOOK.★ 
Recipe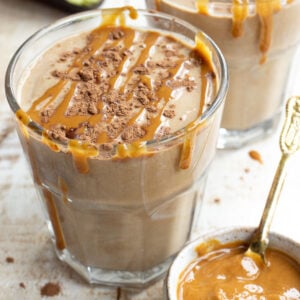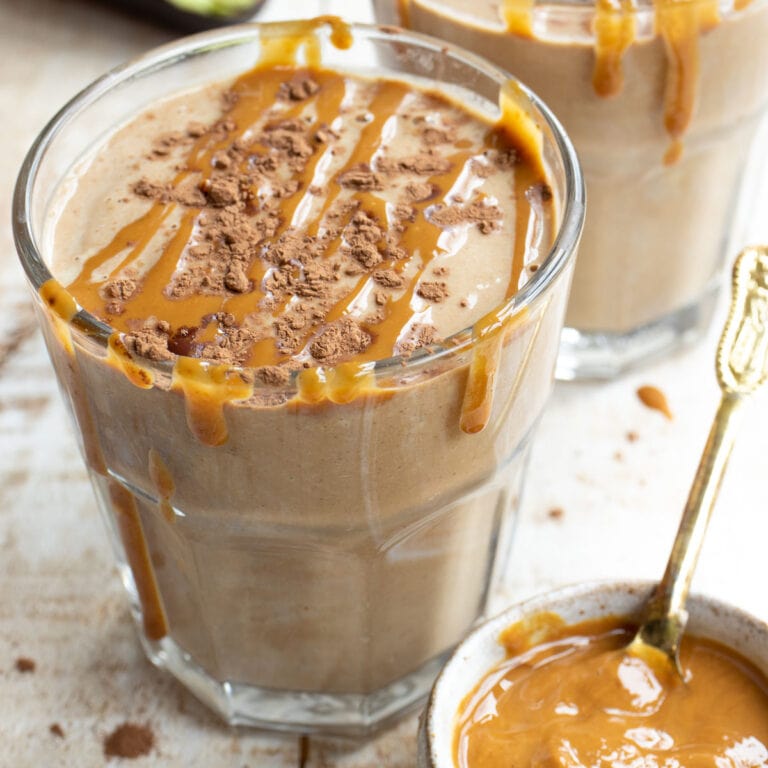 Keto Peanut Butter Smoothie (Dairy Free)
from Sugar Free Londoner
You don't need heavy cream to make a delicious keto peanut butter smoothie! In this recipe, I used avocado to make the shake thick and sumptuous. This low carb smoothie is a must for peanut butter lovers - and it's just 3.8g net carbs per portion!
Note: The servings slider only changes the first amount in each line and not any subsequent amounts. Please make your own calculations where necessary.
Instructions
Put all ingredients in a high speed blender.

Blend until smooth. Serve immediately.
Notes
3.8g net carbs per smoothie. Makes 2 smoothies at 250ml each.
Top with a dusting of cocoa powder and a drizzle of peanut butter. Option to top with whipped coconut cream. 
Adjust sweetener to taste. Best enjoyed straight away. 
Nutrition
Serving:
250
ml
Calories:
193
kcal
Total Carbohydrates:
8.7
g
Protein:
6.7
g
Fat:
16
g
Saturated Fat:
2.7
g
Fiber:
4.9
g
Sugar:
1.1
g