Homemade keto marzipan with only 4 ingredients! This recipe for sugar free marzipan is not only super easy, but absolutely delicious. The perfect low carb treat - enjoy as is, or dip in chocolate or roll in cocoa powder.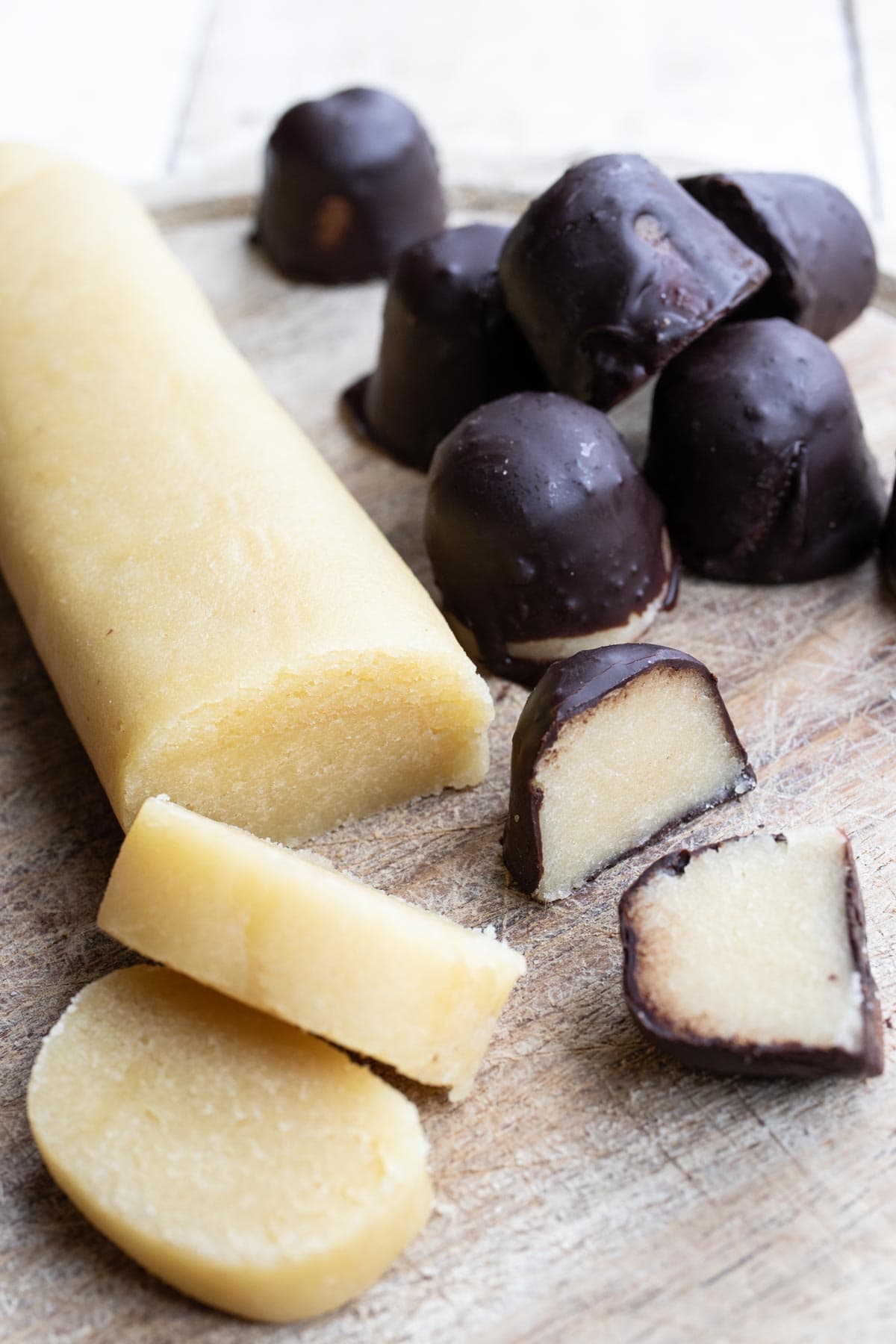 Germans are crazy about marzipan, and I am no exception. About an hour from where I grew up in Hamburg is the medieval town of Lübeck, world-famous for its "Niederegger Marzipan". My mum always bought it on special occasions like Easter or Christmas, because it is not cheap - but delicious.
I've had a soft spot for marzipan ever since. So when a reader emailed me this morning about how to create a keto marzipan recipe, I decided I just had to post it on the blog. It is so easy, healthy and addictive in all the best ways!
You can enjoy this sugar free marzipan on its own or covered in chocolate, like I mention in this recipe. I have also used it as a filling in my low carb Christmas stollen. Or, roll it out to cover a simnel cake for Easter.
Jump to:
Ingredients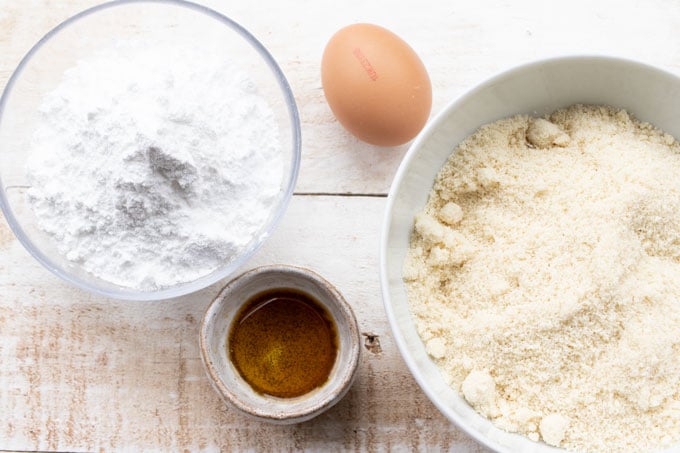 You only need 4 ingredients to make sugar free marzipan:
Almond Flour
Powdered Sweetener
Water or Egg
Almond Extract
Let's talk about these in detail!
#1 Ground Almonds
The main ingredient for low carb marzipan are almonds. I'm using ground almonds, which is the same as regular almond flour in the US. And of course - totally gluten-free!
You could use extra fine almond flour, but you may find you need to add a little water to keep the marzipan nice and moist. Don't use deoiled almond flour in this recipe. It is too dry.
You could even opt to make your own finely ground almond flour from blanched almonds. Only attempt this if you own a powerful food processor to ensure the paste becomes fine and smooth.
#2 Powdered Sweetener
Instead of sugar we are using powdered sweetener for our keto marzipan. I used a powdered erythritol and monk fruit blend, but powdered Swerve or allulose would work just as well. It is important that your sweetener is powdered so you're not getting any grittiness.
#3 Water Or Egg
There are 2 ways to get moisture into marzipan. You can either use 1 beaten egg or just water (or rose water, which is a very traditional way of making marzipan).
I made one version with a beaten egg and one with water as I don't use rose water enough to warrant buying a whole bottle.
Both variations tasted great - the difference is that the egg version was a little sturdier and richer in taste than the water version. The benefit of the water version is that your sugar free marzipan will last longer.
In terms of net carbs or nutrition, there's very little difference between the egg and the water version. Both came out at 0.9g net carbs for a portion of 15 grams (which is a generous mouthful or 1 praline-sized piece).
Note - For everyone who is worried about using raw egg in a recipe, just replace the whole egg with pasteurised egg whites instead. Personally, I'm not worried abut eating raw egg at all. In the UK the vast majority of eggs comply with the Lion Standard, which certifies that raw eggs are salmonella free and safe to eat.
#4 Almond Extract
Now it's time for a bit of almond flavor! I used 2 teaspoons of almond extract and 1 teaspoon of vanilla extract in my first batch and 1 teaspoon of vanilla extract and 2 teaspoons of orange extract in my second batch. Both were delicious, so just use what you have at home and according to your personal preference!
See the recipe card for full information on ingredients and quantities.
Instructions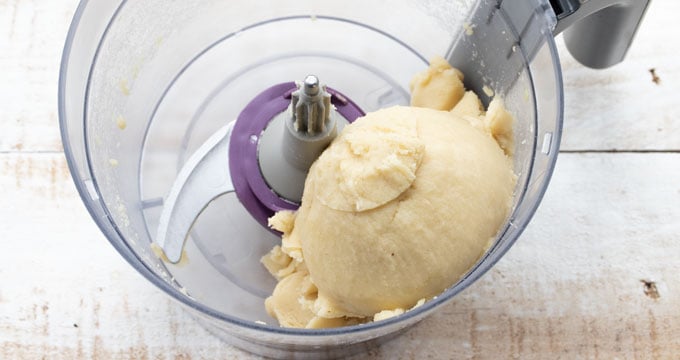 Seriously, there's only one main step: Put the lot in a food processor and blend until the marzipan forms a ball.
Alternatively, knead with your hands until smooth!
Then comes the fun part: Turning your sugar free marzipan into pretty goodies!
Uses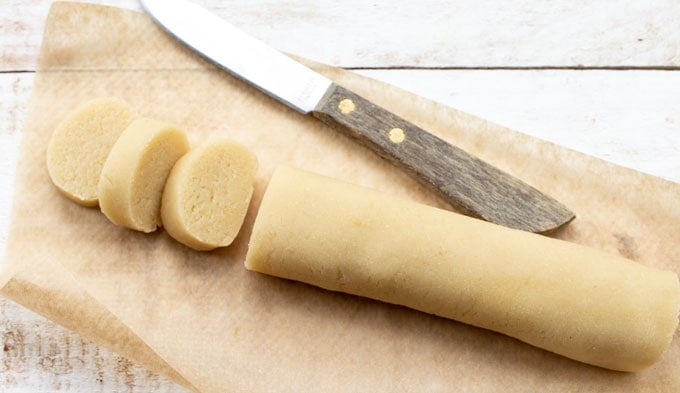 Marzipan Log
One possibility is to simply roll the paste into a log and cut into slices as I've done in the image above.
Marzipankartoffel
Another easy thing to do is roll little balls in your hands and dust them in unsweetened cocoa powder. This is actually a really popular way to eat marzipan in Germany, called Marzipankartoffeln (marzipan potatoes).
Basically, the cocoa powder represents the earth the potato is covered with. I always loved this idea.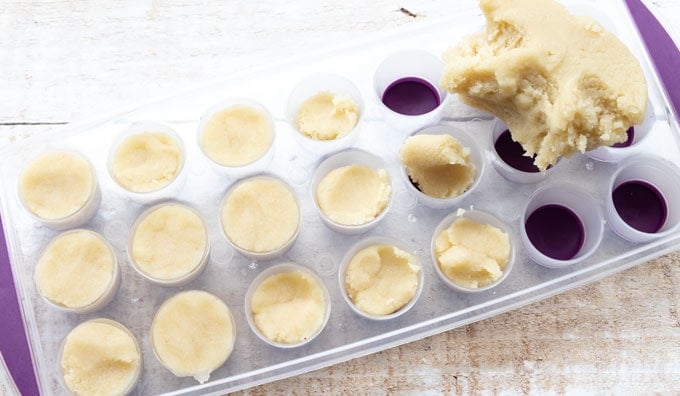 Marzipan Praline
And here is a third thing I tried - I pressed the paste into my silicone ice cube tray and froze it for about 15 minutes so it would harden. Then, I melted 50 grams / 1.7oz 90% dark chocolate (I used Lindt).
Once the marzipan had firmed up, I released them from the mould and dipped them in the chocolate.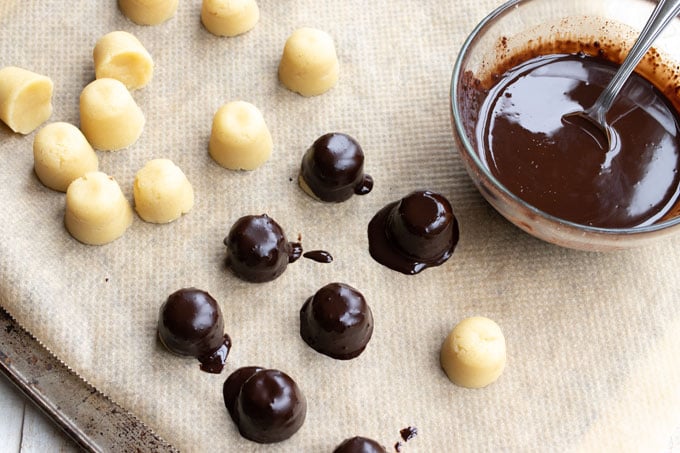 You can do this with any mold - think Easter eggs, little hearts etc.
You could even roll out the marzipan like you would cookie dough and use cookie cutters to cut out shapes!
Recipe FAQs
What is the difference between almond paste and marzipan?
As a rule of thumb, almond paste is softer than marzipan and is used as filling in almond croissants, for example, or in cakes or cookies. Marzipan, on the other hand, is a little firmer and exclusively used in pralines and candies.
Can you use this to cover a cake?
Yes, you can roll this marzipan out and coat a cake with it, for example a sugar-free simnel cake. You need to bake the cake first. Once it has cooled, add the marzipan. It is nice to spread the cake with a sugar-free jam first.
Can you use this as a filling for an almond croissant?
Yes, I have used it as a filling for my keto croissant recipe. Make sure you use the water version of the recipe.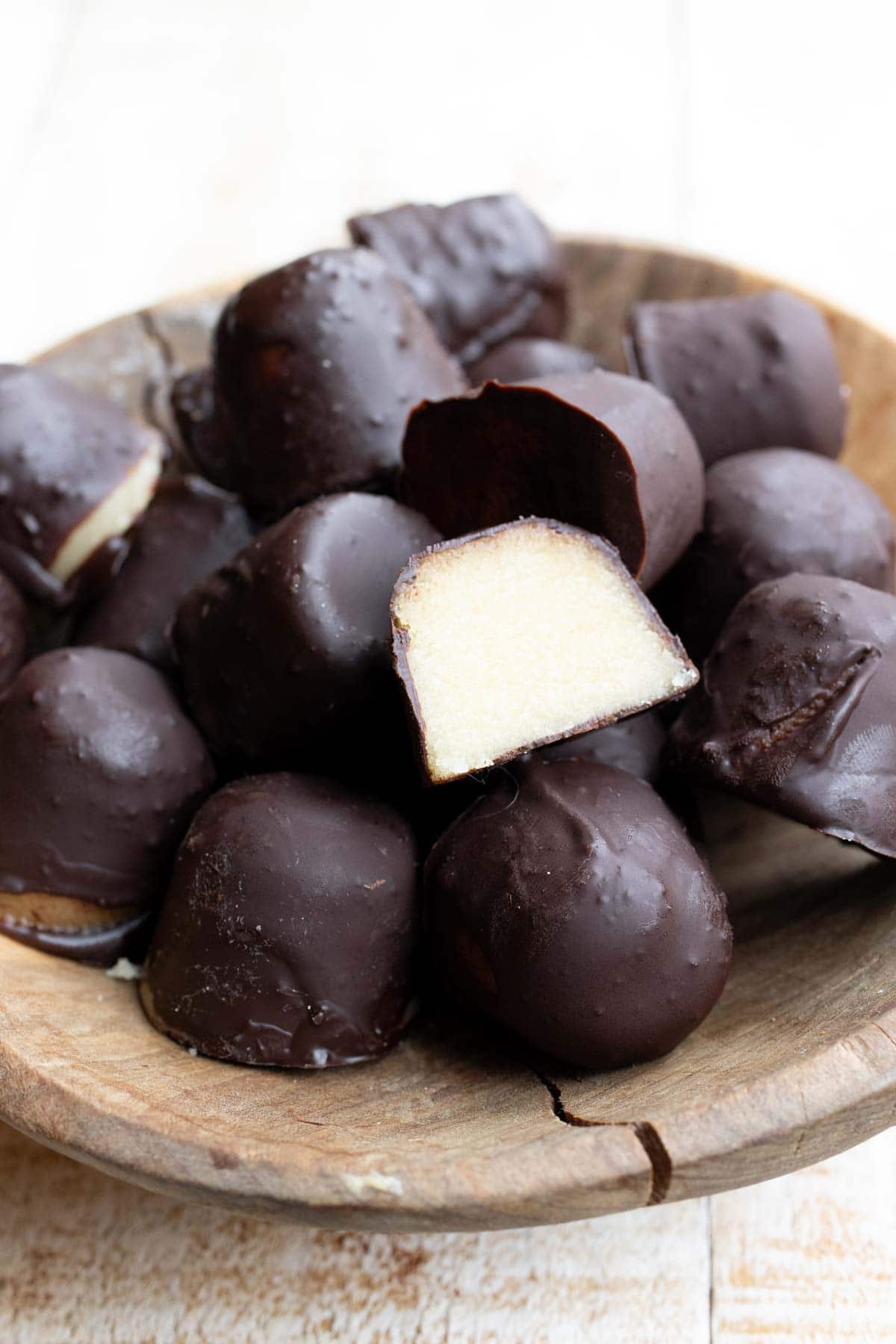 How To Store Marzipan
If you make marzipan with egg, store it in the fridge for up to 1 week or freeze for up to 3 months.
Marzipan made with water will last longer and can be stored at room temperature as well (especially if it's coated in chocolate).
Marzipan that is not coated in chocolate is best stored as a log which you have snugly wrapped in cling film. This way it does not dry out.
More Keto Candy Recipes
Tried this recipe? Give it a star rating below!
★ STAY IN TOUCH on FACEBOOK, PINTEREST and INSTAGRAM  for more great food and join my NEWSLETTER for the latest updates and a FREE EBOOK.★ 
Recipe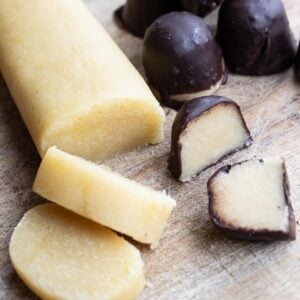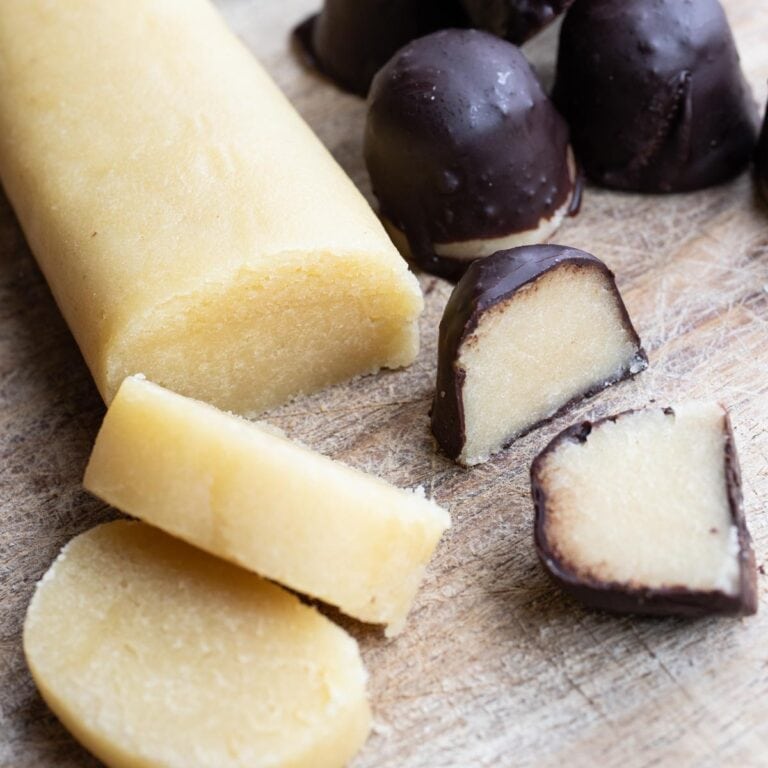 Sugar Free Keto Marzipan
from Sugar Free Londoner
Learn how to make homemade keto marzipan in 5 minutes from start to finish! This sugar free marzipan is soft, smooth and tastes just like the real deal - but without the carbs! There's plenty of ideas in the post how you can customise and enjoy this recipe.
Note: The servings slider only changes the first amount in each line and not any subsequent amounts. Please make your own calculations where necessary.
Ingredients
2

cup / 200g

almond flour

or ground almonds

1

egg (beaten) OR 2 tablespoon water / rose water

⅔

cup / 107g

powdered sweetener

(use up to ¾ cup / 120g or even 1 cup / 160g if you prefer a sweet marzipan)

2

teaspoon

almond extract

1

teaspoon

vanilla extract

optional, but recommended
Instructions
Put all ingredients in a food processor and blend until a dough ball forms. Alternatively, knead with your hands until smooth.

Taste and increase sweetener if required.

Roll into 15 g balls and roll in cocoa powder or coat in melted sugar free chocolate or shape into a log and cut into slices.
Notes
0.9g net carbs for a 15g serving (with egg OR without egg). Makes 20 servings. 
Almond flour differs in texture, which means you may have to adapt the recipe a little. If your mix is a little dry, add more water - 1 teaspoon at a time. If it is wet, add a little more almonds. 
Option to add 1 teaspoon of rum or brandy for a boozy version. 
To store, roll into a log and wrap in clingfilm. Store in the fridge for up to 1 week (if using egg) or freeze for up to 3 months. If you make keto marzipan with water or rose water, you can also store it at room temperature.
Nutrition
Serving:
15
g
Calories:
64
kcal
Total Carbohydrates:
1.9
g
Protein:
2.5
g
Fat:
5.5
g
Saturated Fat:
0.5
g
Fiber:
1
g
Sugar:
0.5
g