Keto almond flour peanut butter cookies are incredibly easy to make and just so delicious! Soft and moist, these dairy free, sugar free cookies are a hit with the whole family, whether they are on a low carb diet or not. Only 6 ingredients and ready in 15 minutes.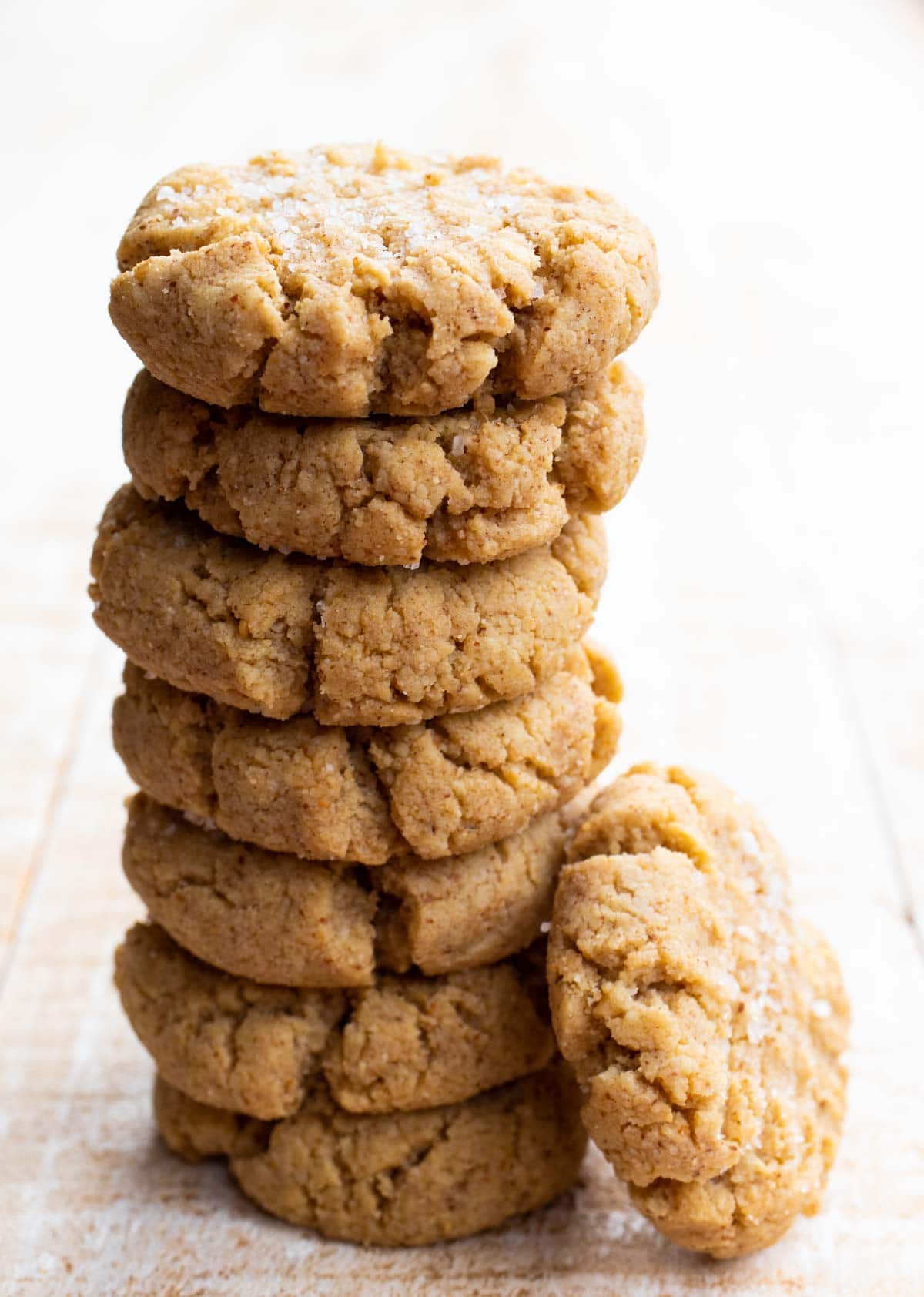 If you've been following this blog, you know that I LOVE cookies. I love them so much that I have written a whole book about them! (It's called the Keto Cookies Cookbook if you'd like to check it out).
These keto almond flour cookies are the latest addition to my long list of favourite cookies. They are everything I want in a keto friendly sweet: They are
easy
quick to make
gluten-free
low in net carbs (1.4g per cookie!)
and totally scrumptious!
I tweaked my keto peanut butter cookies recipe which uses just 4 ingredients - peanut butter, sweetener, egg and cinnamon.
As a food blogger, I always try new variations of trusted favourites. And that's how this recipe came about. They taste lighter than the original because of the additional almond flour, and I've also added baking powder to fluff them up more.
I served these cookies to my daughter and her teenage girlfriends and they were gone so quickly that I vowed to make a double portion next time!
Jump to:
Ingredients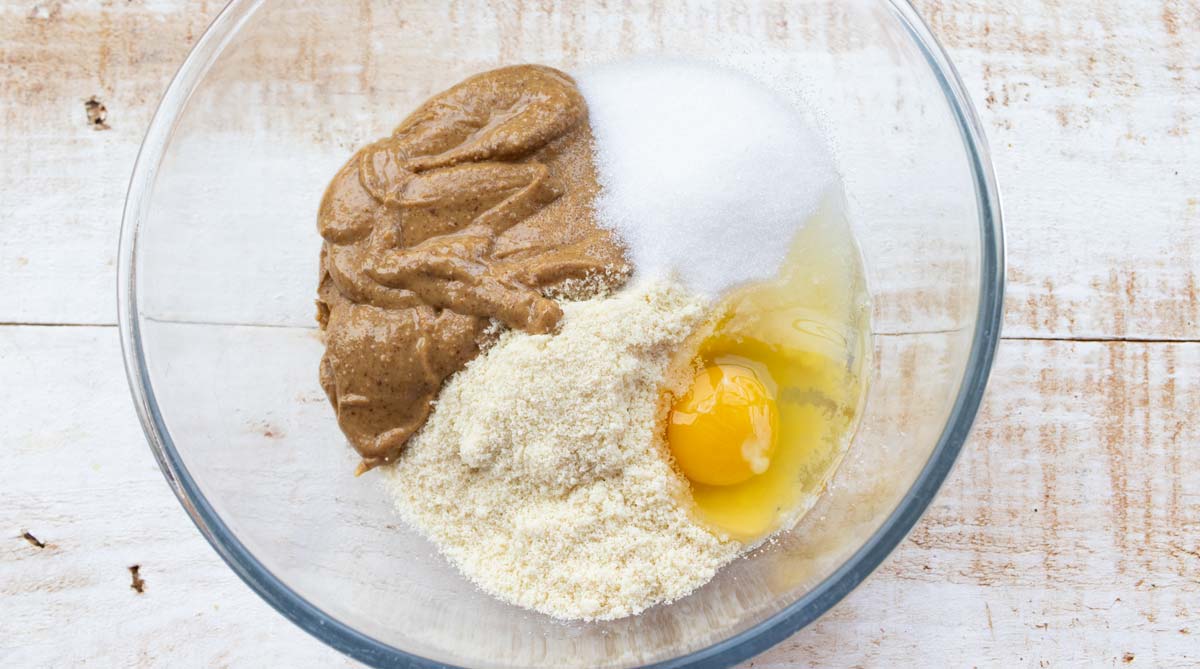 Almond flour - I'm using blanched ground almonds in this recipe. This is equivalent to regular almond flour in the US. Almond meal will also work. For super fine almond flour reduce the amount to ¾ cup plus 2 tablespoon as it absorbs more moisture.
Peanut butter - It should only contain one single ingredient - peanuts. Check the label when you shop for it, not all brands are keto. Some sneak in sugar and other nasties. Or simply make your own!
Granulated sweetener - I used a granulated erythritol / monk fruit sweetener which is a 1:1 sugar replacement. The great thing about erythritol is that it helps cookies become crunchy around the edges
Baking powder - can be replaced with ¼ teaspoon baking soda
Vanilla extract and sea salt.
Instructions
This section contains step-by-step instructions and photos that show how to make this recipe. See the recipe card for full information on ingredients and quantities
It's so simple! You just put all ingredients in a bowl...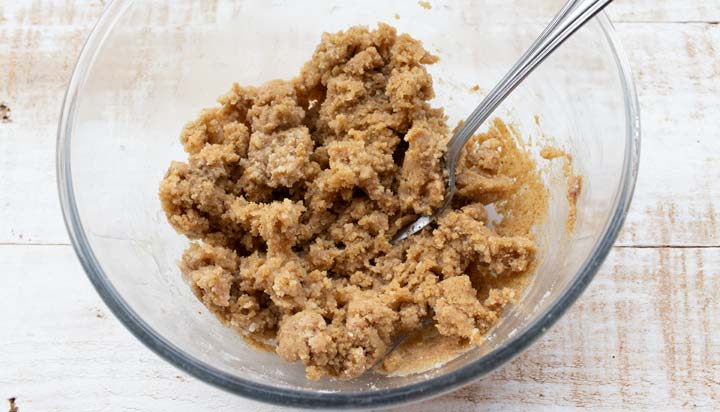 ...and stir until you have a sticky cookie dough.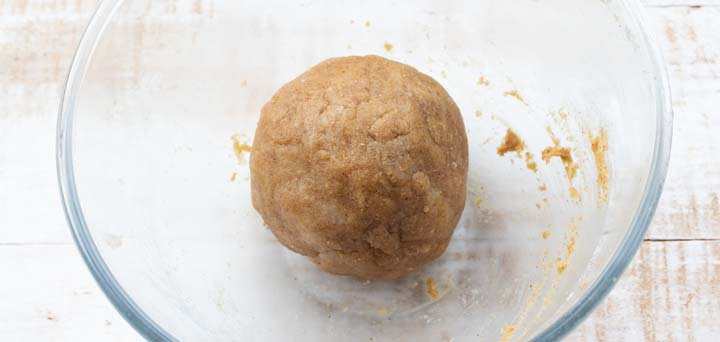 Then you form a ball...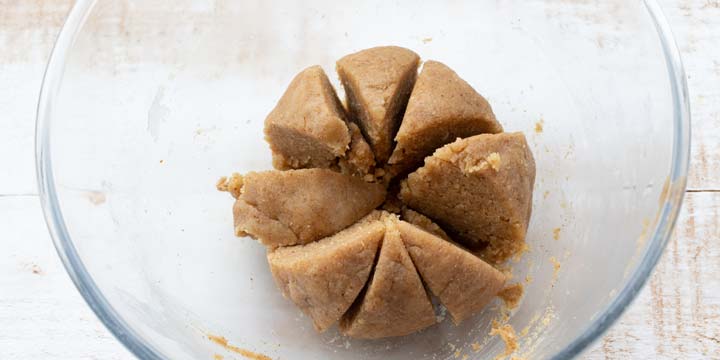 ...and cut it into 8 slices.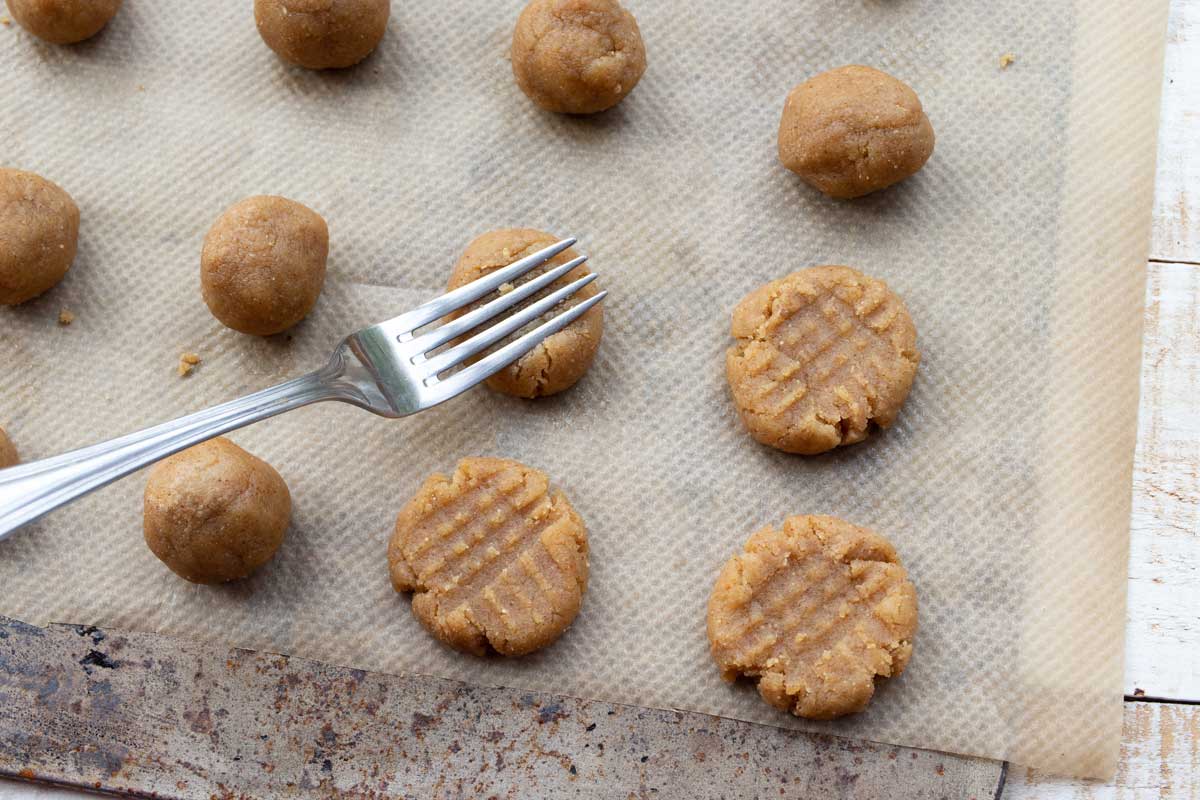 Roll 2 balls out of each slice and place them onto a baking sheet lined with parchment paper.
Then flatten each cookie ball into a fat disc shape using a fork. This also makes a pretty criss cross pattern onto the tops.
If the sides break open too much for your liking, simply press them together a little with your fingers. Sprinkle with sea salt and off into the oven they go!
Top tips
Stir the peanut butter well before you use it. It's important that it is soft and runny. Don't use the last hard dregs from the bottom of the tin, they don't work for this recipe. If your peanut butter is quite firm and you still want to make the cookies, I suggest that you add 1 tablespoon melted coconut oil or butter to make the sough smoother.
Don't touch the cookies until they are fully cooled. All keto almond flour cookies are super soft and fragile when they are hot. They firm up as they cool.
FAQ
How do I make soft cookies?
For soft cookies, bake 8-10 minutes. Thicker cookies stay softer. I love these nice and moist in the middle, so my advice would be - keep them thick and don't be tempted to over-bake!
Can I make these crunchy?
For crunchy cookies, keep in the oven for about 12 minutes (or until the tops are golden brown). As a rule of thumb, the thinner you make your cookies, the crunchier they will become.
Do I have to use the egg?
The egg helps to bind the cookies. However, it is possible to leave it out and make them egg free. I recommend that you add ½ tsp xanthan gum as they will be a lot more fragile and brittle.
Can I use other nut butters?
This recipe will work with any other nut butter or seed butter as well, for example almond butter.
Do other sweeteners work?
Xylitol or allulose would work as well, but you will lose that crunch on the outside of the peanut butter cookies. They will be much softer all over.
You could also make low carb peanut butter cookies with almond flour and stevia - I would use about 16 stevia drops. Make sure you mix them in well!
Variations
Coconut flour cookies - Use ¼ cup coconut flour / 30g coconut flour instead of almond flour.
Chocolate chips - Add my sugar free chocolate chips to the recipe and make almond flour peanut butter chocolate chip cookies!
Spices - Instead of the vanilla extract, add 1 teaspoon cinnamon. Or how about giving them a wintery note by adding 1 teaspoon pumpkin spice mix?
Chocolate - For a chocolate version, reduce the amount of almond flour to ¾ cup / 75g and add 2-3 tablespoons unsweetened cocoa powder.
Storage
You can keep these cookies on the counter in a cookie jar. They are good for about 1 week.
If you want better portion control you can also freeze these cookies for up to 3 months.
Related recipes
Here are more keto almond flour cookies to try:
Tried this recipe? Give it a star rating below!
★ STAY IN TOUCH on FACEBOOK, PINTEREST and INSTAGRAM  for more great food and join my NEWSLETTER for the latest updates and a FREE EBOOK.★ 
Recipe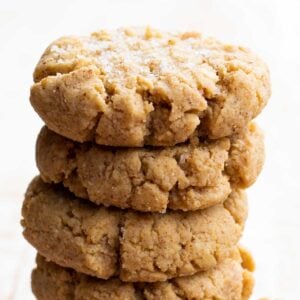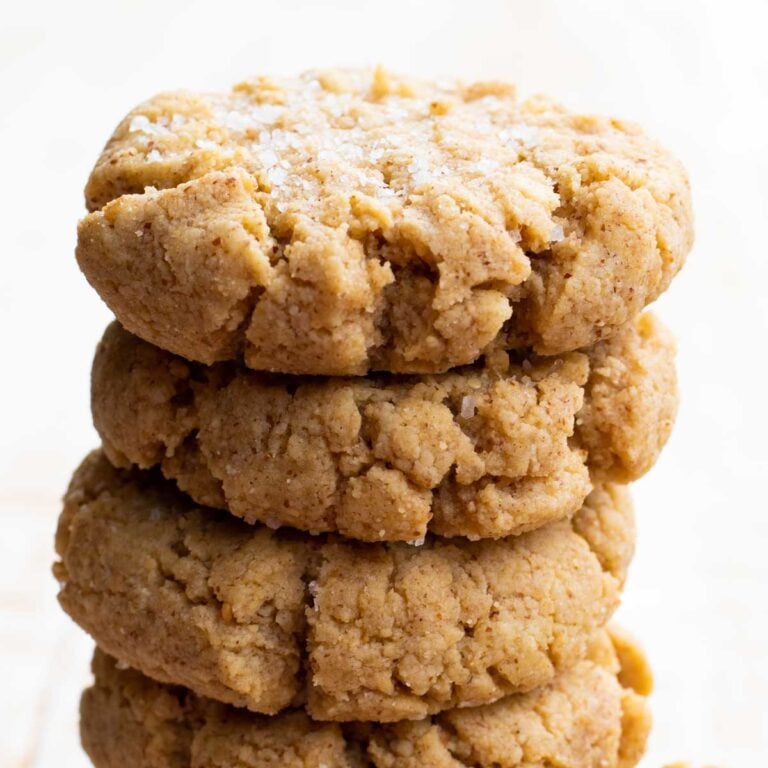 Almond Flour Peanut Butter Cookies (Keto)
from Sugar Free Londoner
With just 6 ingredients and 1.4g of net carbs per cookie, these peanut butter almond flour cookies are the perfect keto treat! This super easy recipe is going to make it on your regulars list!
Note: The servings slider only changes the first amount in each line and not any subsequent amounts. Please make your own calculations where necessary.
Instructions
Preheat the oven to 180 Celsius / 350 Fahrenheit.

Put all ingredients in a bowl and stir together with a fork until a dough forms.

Form a large ball and cut into 8 slices.

Make 2 dough balls from each slice (20 grams each) and put on a baking sheet lined with parchment paper.

Flatten each cookie dough ball into 1 cm thick / 5 cm diameter disks using a fork, making a criss cross pattern. Sprinkle with sea salt.

Bake for 8-10 minutes (I baked for 9). Remove from the oven and let cool completely before touching.
Notes
Net carbs: 1.4g per cookie. Makes 16 cookies. 
Cookie weight: 20 grams, diameter: 5 cm.  
***For super fine almond flour reduce the amount to ¾ cup plus 2 tablespoon as it absorbs more moisture.
For cookies with a soft centre, bake 8-10 minutes. For crunchy cookies, bake up to 12 minutes.
Make sure the peanut butter is soft and runny and contains plenty of oils. Old, hard peanut butter is not suitable for this recipe. 
Nutrition
Serving:
26
g
Calories:
90
kcal
Total Carbohydrates:
2.6
g
Protein:
3.7
g
Fat:
7.7
g
Saturated Fat:
1.1
g
Fiber:
1.2
g
Sugar:
0.6
g