This creamy keto strawberry smoothie is such a refreshing low carb breakfast or snack. You only need 4 simple ingredients to make it. It's an avocado strawberry smoothie with almond milk - whizz it up in just a couple of minutes and enjoy!
When you google ' keto strawberry smoothie recipe ', you'll find plenty of recipes using lots of heavy cream or even cream cheese.
Whilst this may taste good, it's essentially a liquid dessert. You could call it a strawberry cheesecake smoothie dessert, perhaps. Nice, but not my idea of a healthy keto breakfast!
In my opinion, this strawberry avocado smoothie is the perfect solution if you want a nourishing, dairy-free kickstart to the day.
Jump to:
🌟 Why You'll Love This Recipe
Creamy, silky texture
Fruity strawberry flavor
Only 4 basic ingredients
Dairy-free
Filling and nourishing
Just 5.3g net carbs
No expensive powders or mct oils, just pure plant based goodness!
Keto berry smoothies
Berries are actually a great choice of fruit when you're on a keto diet. Together with melon, berries contain the lowest amounts of carbs among all fruits. I eat a few berries almost every day and always have a bag or two in my freezer.
Strawberries are naturally sweeter than raspberries, blackberries and blueberries, which makes them a great choice for a keto berry smoothie.
But of course, all berries make awesome keto smoothies - be sure to check out my perfect keto blueberry smoothie!
Ingredients
Let's take a look at the ingredients. You can always experiment with the amounts and vary your ingredients a little.
But I think I have found the perfect combination, so do try my version first!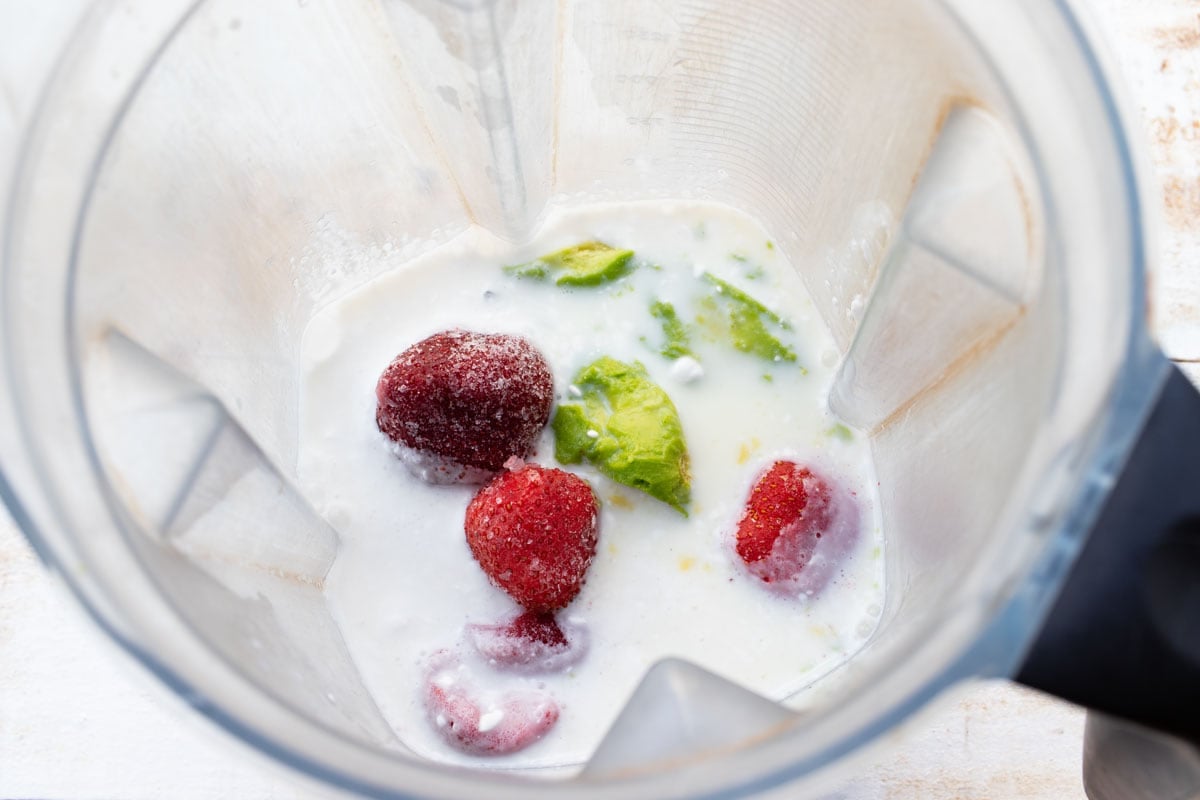 Strawberries
I'm using frozen strawberries to make the smoothie instantly cold, but also nice and thick. ⅓ cup or 50 grams of frozen berries are the perfect amount. Any less and the smoothie won't taste very fruity and you'll definitely need to use sweetener. Trust me, I've tried it!
It's possible to use fresh strawberries as well. But as you're lacking the ice, the smoothie will be more liquid. You could add a little more avocado to thicken it. Or add either 1 tablespoon whey protein powder or collagen peptides.
I don't recommend adding additional ice cubes - this would make the smoothie taste watery.
Avocado
To all doubters out there: avocado in smoothies just WORKS. You cannot taste it. But it thickens your low carb strawberry smoothie like a dream. In my opinion, a much better solution than heavy whipping cream!
I added 30 grams, which is about ¼ small avocado. Apart from adding creaminess, avocado is incredibly nutrient-rich. In fact, it contains nearly 20 vitamins and minerals, plus plenty of healthy fats.
Coconut cream
We're talking the firm parts from a can of coconut milk here. If you put a can in the fridge, the liquid and the cream will separate and you can just scoop out the cream.
Coconut cream is keto friendly because it adds more good fats, which helps you feel fuller for longer. It is also gently sweet, but not overpowering. Plus, it's dairy free!
Almond milk
Unsweetened almond milk is my go to milk. I love it in anything from porridge to sugar free hot chocolate. It is very, very low in carbs (but do make sure yours is unsweetened!).
If you wish, replace the almond milk with another nut or seed milk of choice. Unsweetened coconut milk would be a good option here.
Sweetener & vanilla extract
Both of these are optional ingredients. Vanilla and strawberry do work very well together, and the extract will also add a mellow sweetness. When I have it around, I do add it.
As for the sweetener, I recommend that you use either powdered erythritol or allulose.
Allulose is great for anything liquid because it dissolves just like sugar. Erythritol does not, which is why you need to use it powdered to avoid grittiness.
I've mentioned above that I did not find it necessary to add any sweetener. However, we all have different ideas of how sweet things should be. If you've been used to drinking smoothies with banana, you may find that this easy keto strawberry smoothie will be better with a teaspoon of sweetener.
You taste and decide!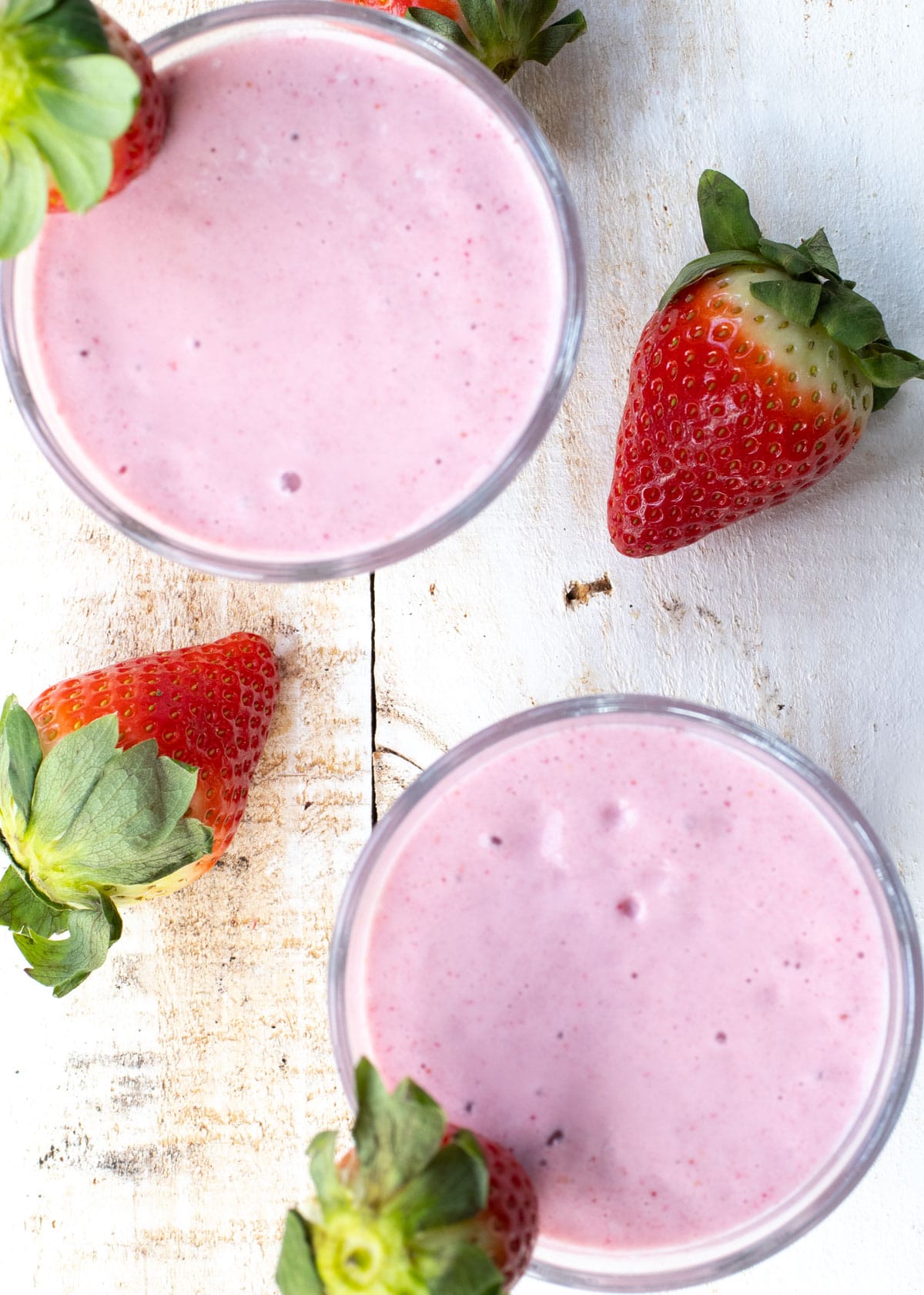 Variations
I think this smoothie is perfect as it is, and I love that I can enjoy a large glass of it at only 5.3g net carbs per serving. But life is more fun when you can experiment a little, right?
I've mentioned a few substitutes above already. Here are some more ideas:
1. Add a tablespoon of MCT oil to up your fats intake.
2. Still not sure about the idea of avocado? Use collagen powder (aff link). I love adding collagen peptides to my diet because it's great for gut health, skin elasticity pus healthy hair and nails.
3. Protein powder will also thicken it nicely, with the benefit of adding a protein boost. For both powders (without the avocado), I'd go with 2 tbsp.
4. You could also use Greek yogurt instead of the coconut cream. Or add a squeeze of lemon or lime! Both of these subs will add more zinginess, which means a little powdered sweetener may be needed.
5. Almond butter - nut butter works in any smoothie!
6. Add a handful of spinach leaves. Tastes great, but you'll have to handle the colour!
7. Add 1 scoop of vanilla ice cream to turn this smoothie into a delicious keto dessert.
Instructions
Now you've made it through this long post, I'm sure you're ready to run to your kitchen and get out your blender, right? So - how do you make a low carb strawberry smoothie?
Well, you throw all ingredients in your blender and blend. Done!
Storage
This avocado strawberry smoothie is best enjoyed fresh. However, you can store leftovers in the fridge for up to 1 day. After that, it will start to separate.
You can freeze smoothies in ice cube trays for up to 3 months. Then, throw the cubes straight into a high speed blender and blend until smooth.
Related recipes
Here are more keto smoothies to try:
Tried this recipe? Give it a star rating below!
★ STAY IN TOUCH on FACEBOOK, PINTEREST and INSTAGRAM for more great food and join my NEWSLETTER for the latest updates and a FREE EBOOK.★
Recipe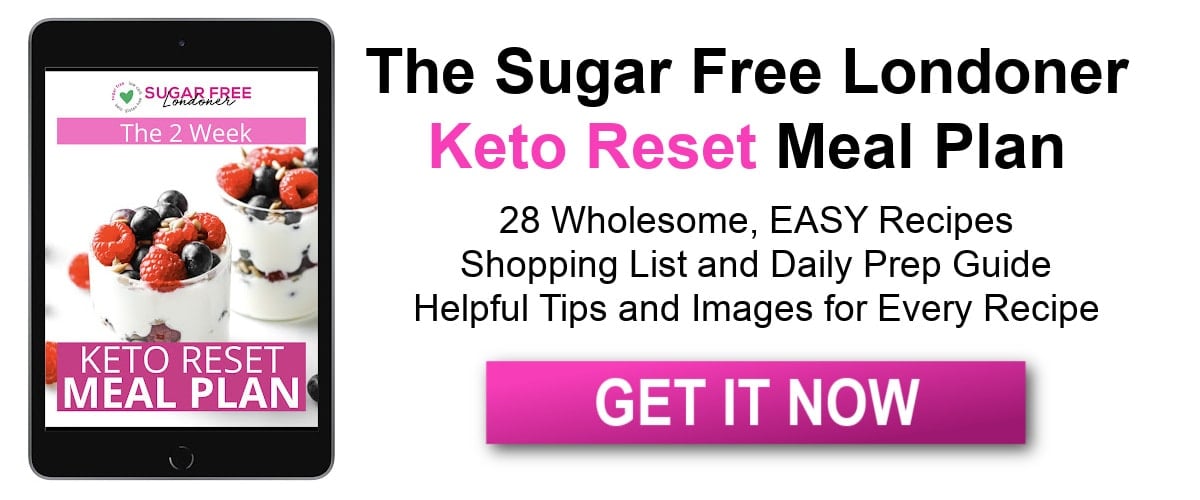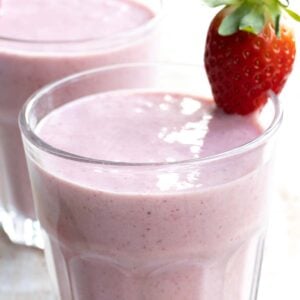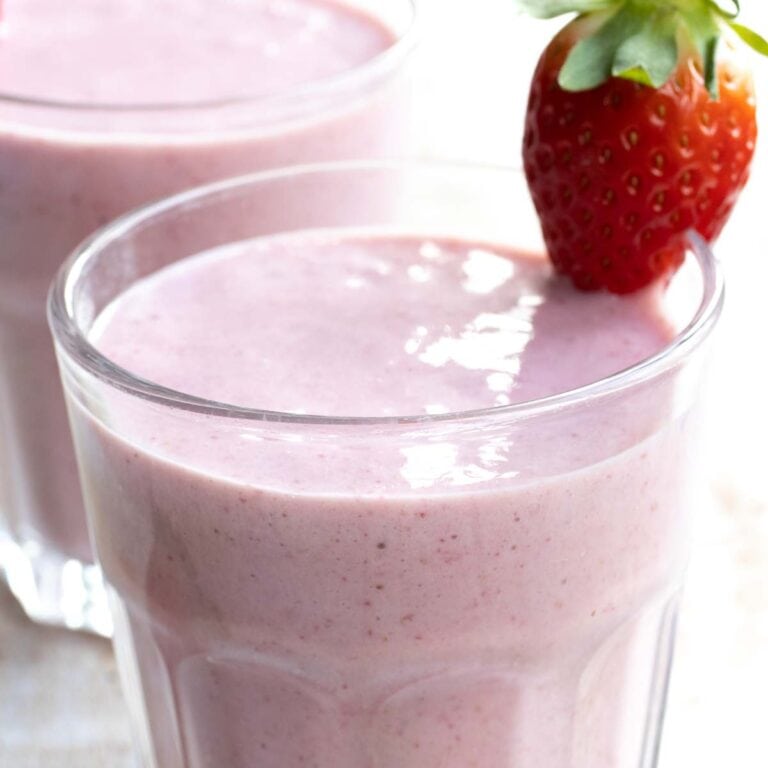 Best Ever Keto Strawberry Smoothie
from Sugar Free Londoner
You only need 4 ingredients to make this keto strawberry smoothie with almond milk. Fruity and satisfying, it's the perfect dairy free low carb smoothie to start your day. The avocado makes it extra creamy.
Note: The servings slider only changes the first amount in each line and not any subsequent amounts. Please make your own calculations where necessary. ***As an Amazon Associate I earn from qualifying purchases.
Instructions
Add all ingredients to a blender and blend until smooth.

Taste and add optional sweetener and vanilla extract if required.
Notes
Makes 290 ml / 9.8 fl oz. of strawberry avocado smoothie. Net carbs: 5.3g.
The vanilla extract and sweetener are optional - whether you want to add them really depends on your sweet tooth. You can swap the vanilla extract for a squeeze of lemon or lime juice for a zingy smoothie.
You can use coconut milk or any nut or seed milk of choice in place of the almond milk. 
It's possible to use fresh strawberries instead of frozen, but this will make the smoothie more liquid. You could add 1 tablespoon pf whey protein powder or collagen peptides to thicken it.  
Nutrition
Serving:
290
ml
Calories:
187
kcal
Total Carbohydrates:
9.4
g
Protein:
3
g
Fat:
17
g
Saturated Fat:
10
g
Fiber:
4.1
g
Sugar:
2.9
g
This post contains affiliate links. If you click on one of these links and purchase a product, I may earn a small commission, at no extra cost to you. Thank you for supporting Sugar Free Londoner.