Moist and super simple to make: this keto banana bread is perfect for breakfast or as an afternoon snack. It is gluten free, grain free and only 4.4g net carbs per slice. A low carb banana bread that's a hit with the whole family, low carb or not!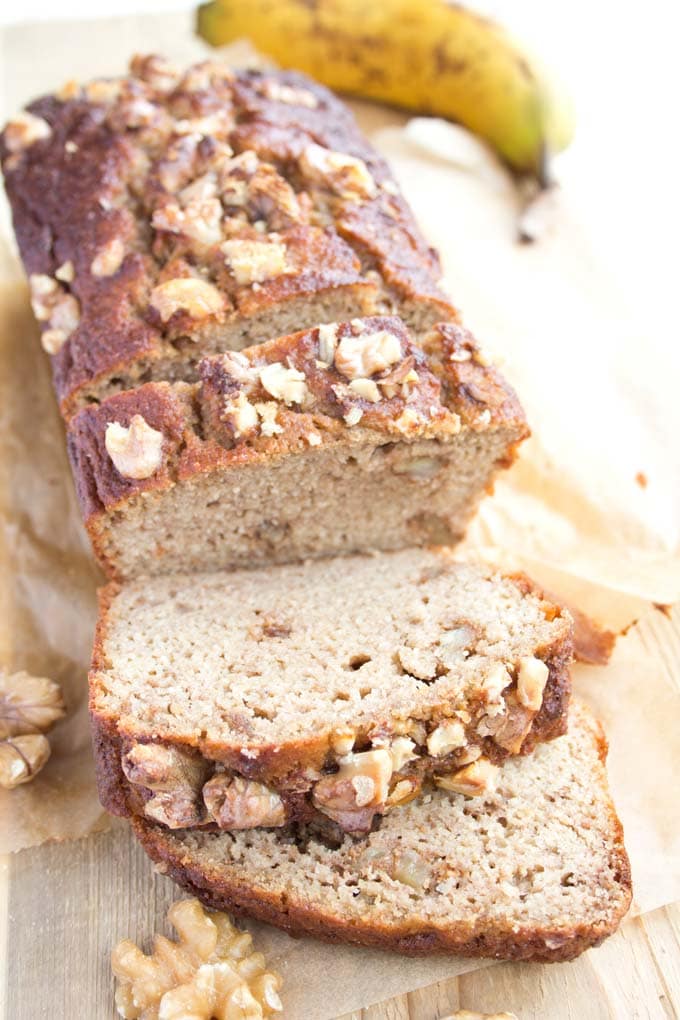 There's lots of people around who will tell you bananas are "not allowed" when you're eating low carb. Here's what I think: A banana is high in sugar and carbs. But if you're choosing your recipe wisely, you can enjoy all the banana taste without actually letting your blood sugar rocket sky-high.
Most low carb banana bread recipes use banana extract instead of a real banana. This obviously keeps the carb count really low. But I think you'll never get close to the taste of a proper banana flavor with extracts, not to mention the wonderful moist texture of real banana bread.
Carbs in banana bread
Bananas have a very intense flavour. ½ a cup of mashed banana - that's one large banana or 2 small ones - is enough to create a bread that's low in carbs and low in sugars. This keto banana bread recipe contains ⅛ of a banana (I'd say that is about 1 bite) and 4.4 grams of net carbs per slice.
Quick note - I'm calling this recipe "sugar free banana bread" because I'm using erythritol instead of added sugar, honey or maple syrup. It comes in at 2.7 grams of (natural) sugars per slice, which is equivalent to just over ½ teaspoon.
This delicious bread has just the right amount of sweetness and only 4.4g net carbs per portion.
How to make sugar free banana bread - step by step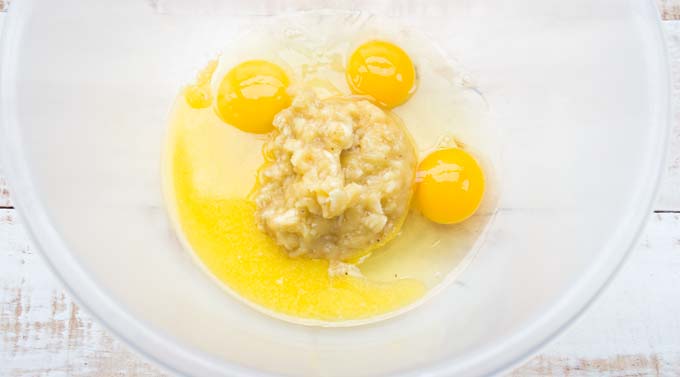 1.) Put the eggs, mashed banana and melted butter in a large mixing bowl. Blend until smooth and frothy with an electric mixer.
TIP: It is ABSOLUTELY ESSENTIAL to use an overripe banana in this recipe. It should have lingered in your fruit basket forever and have brown specks on the skin.
2.) Stir together the dry ingredients - almond flour, erythritol, cinnamon and baking powder - in a separate bowl. Then add to the egg mix.
I used a golden erythritol monk fruit sweetener in the images, which is a brown sugar replacement. But any granulated sweetener will work, from Splenda to stevia.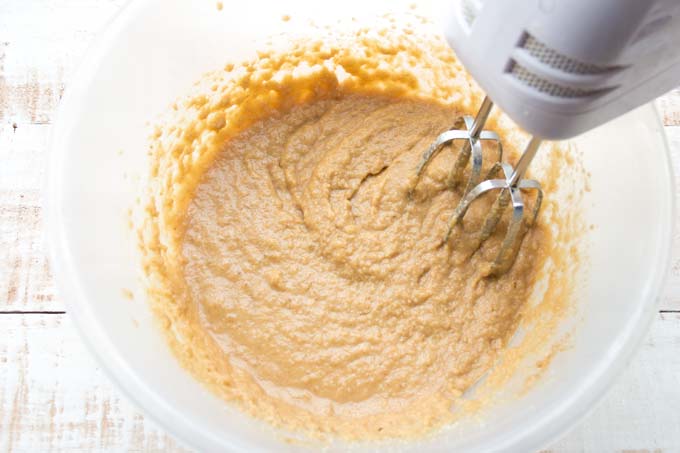 3.) Blend!
4.) Last, stir in the chopped walnuts, keeping some back for decorating.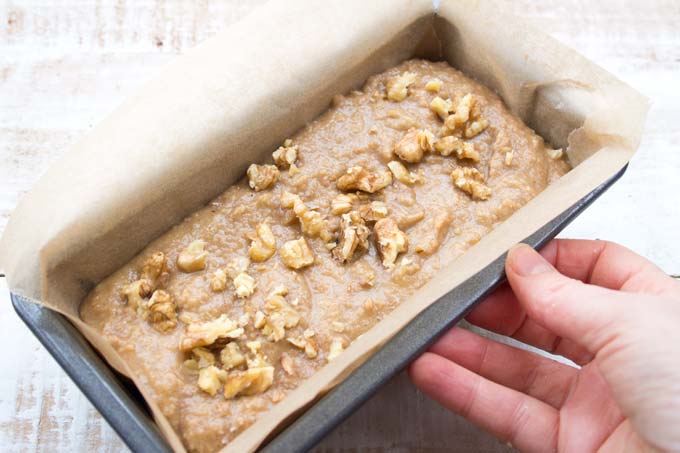 5.) Fill into a bread tin lined with parchment paper and bake in the oven for 40 minutes. It's done if a toothpick inserted comes out without crumbs sticking. Cool on a wire rack.
Tip: Check after 30 minutes to see if the banana bread is browned already. If so, cover loosely with aluminium foil for the last 10 minutes to prevent burning. (I covered my bread at minute 35 and found that it was browned a little much for my liking.)
Low Carb Banana Bread - tips and recipe variations
Don't have chopped walnuts? You can use any nuts in this recipe. I think pecans or hazelnuts would work particularly well.
Instead of nuts, you could add sugar free chocolate chips instead. It's easy to make your own. Alternatively, use chopped dark chocolate with a cocoa content of at least 85 % or a brand like Lily's.
I used a small 7.5 x 3 inch loaf tin (1 lb volume) for this recipe. It's the perfect size for low carb bread because it's nutrient dense and filling and servings need to be smaller. If you use a loaf pan like this, your bread will be taller than wide.
If you only have a full size bread pan, you can double the recipe. In this case, increase the baking time to about 1 hour. Be sure to insert a knife to test the inside is baked (if it comes out with dough sticking to it keep your bread in a bit longer). Again, cover the top loosely with aluminium foil once the top is browned to prevent burning.
To make this recipe dairy-free, replace the butter with coconut oil.
For even more flavor, consider adding a pinch of salt or 1 tsp vanilla extract.
I used ground almonds in this recipe. This is equivalent to regular blanched almond flour in the US. Almond meal (essentially almonds ground up including skins) would also work well and give a more rustic texture.
If you're using super fine almond flour, I recommend to reduce the amount to 1 ¼ cup as it is more absorbent.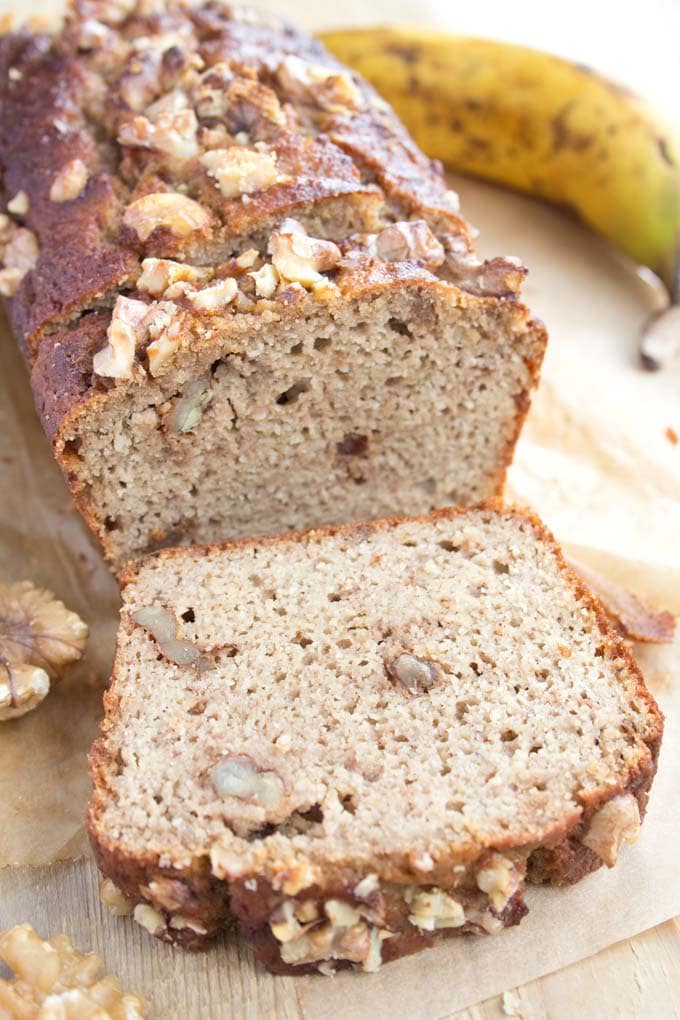 I have not tried this myself, but it should be possible to replace the almond flour with ½ cup of coconut flour. In this case, you may also want to add ¼ teaspoon of xanthan gum.
To make this banana bread egg free, sub with flax eggs: mix 3 tablespoon of ground flaxseed and 9 tablespoon of water, let sit for 10 minutes so the flax can absorb the liquid. Then add to the batter.
Can I make muffins with this batter?
Yes, I often use this recipe to make low-carb banana muffins. They are a great grab and go breakfast or snack!
Simply prepare a muffin pan with nonstick spray or line it with paper cups. Prepare the batter as per recipe - remember, the most important thing is to use a ripe banana - and fill into the prepared baking dish.
Preheat the oven to the same temperature and bake for 25 minutes.
For a heartier, rustic muffin recipe, try these low carb banana muffins. They contain flax meal, which adds additional fiber.
How to store Keto Banana Bread
I tend to keep the bread in a cake tin on the counter for a couple of days. Then I store it in the fridge. It stays fresh for about 1 week.
You can also freeze it! I do this with all my almond flour cake recipes. I slice the bread before freezing. That way, I can simply take out one slice when I feel like a treat.
Similar recipes you might also enjoy
Tried this recipe? Give it a star rating below!
★ STAY IN TOUCH on FACEBOOK, PINTEREST and INSTAGRAM for more great food and join my NEWSLETTER for the latest updates and a FREE EBOOK.★
Recipe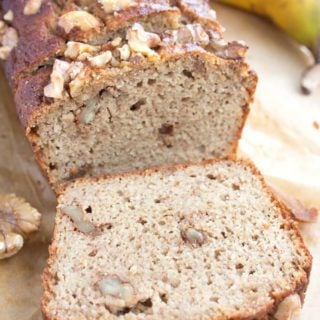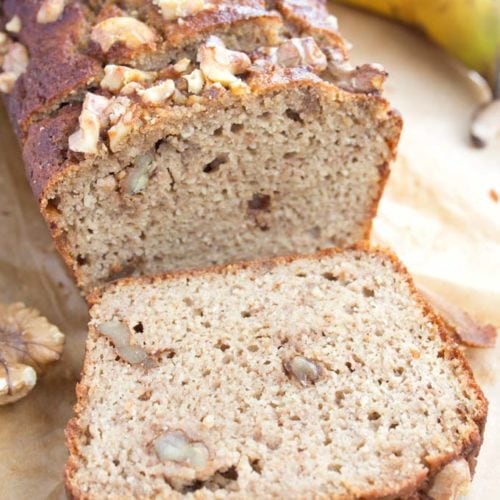 Low Carb Keto Banana Bread
from Sugar Free Londoner
It is possible to make moist and delicious low carb banana bread with REAL banana and still keep the carb count low! Check out this almond flour banana bread recipe - it has gorgeous notes of cinnamon and is studded with crunchy walnuts. Find plenty of tips and recipe variations in the post!
Note: The servings slider only changes the first amount in each line and not any subsequent amounts. Please make your own calculations where necessary.
Ingredients
1 ½

cup

almond flour

or ground almonds, 150g

½

cup

mashed banana

2 small or 1 large, very ripe, 120g

3

eggs

large

2

tablespoon

butter, melted

¼

cup

granulated sweetener

50g

2

teaspoon

cinnamon

1

teaspoon

baking powder

¼

cup

walnuts, crushed

30g
Instructions
Preheat the oven to 180 Celsius / 356 Fahrenheit.

Using an electric mixer, beat the eggs together with the mashed banana and melted butter until smooth.

In another bowl, stir together the dry ingredients - almond flour, erythritol or sweetener of choice, cinnamon and baking powder. Add to the bowl with the egg/banana/butter mix and blend until well-combined.

Last, stir in the crushed walnuts, reserving some to sprinkle over the top of the bread.

Line a small (7 x 3.5 inch / 1 lb) loaf tin with parchment paper and fill in the dough. Sprinkle the leftover walnuts on the top.

Bake for approximately 40 minutes or until a knife inserted comes out clean. Check the cake at minute 30. If the top is already brown enough, loosely place aluminium foil over it so it does not burn.

Let the banana bread cool completely before slicing.
Notes
4.4g net carbs per slice. 
The walnuts are optional. You can use any other nuts in this recipe or even replace them with sugar free chocolate chips. 
A pinch of nutmeg would also work well. 
If you only have a regular size 9 x 5 inch loaf tin, you can double the recipe. In this case, increase the baking time to about 55-60 minutes. 
One slice of keto banana bread weighs around 60 grams.  
Nutrition
Calories:
205
kcal
Total Carbohydrates:
6.4
g
Protein:
8
g
Fat:
17.2
g
Saturated Fat:
3.4
g
Polyunsaturated Fat:
2.3
g
Monounsaturated Fat:
1.8
g
Fiber:
2
g
Sugar:
2.7
g
This post contains affiliate links. If you click on one of these links and purchase a product, I may earn a small commission, at no extra cost to you. Thank you for supporting Sugar Free Londoner.
The post keto banana bread was first published June 2019 and updated with more details in January 2021.