The perfect quick dessert for one! Here's an easy sugar free coconut flour mug cake you stir together with a fork straight in the cup. Zap it in the microwave - job done! This cake is moist and fluffy, with a hint of vanilla and a luscious cinnamon swirl.
You've gotta love microwaves for their ability to produce perfectly formed mini cakes in less than 2 minutes.
Mug cakes are so ridiculously easy to put together. All you need is a couple of spoonfuls of almond or coconut flour, an egg, some liquid/fat, a bit of sweetness and flavouring. Zap it for 90 seconds, and boom - instant pleasure. And sugar free mug cakes... instant guilt-free pleasure!
Now that it's getting colder outside, I find myself reviving my passion for mug cakes in a big way. I've had peanut butter mug cakes, chocolate mug cakes, lemon mug cakes.... and it's not even winter yet 😉
This coconut flour mug cake is so delicious that I had to share it here on the blog. It reminds me of a fluffy cinnamon roll, nestled all easy-going and cosy in your favourite mug.
I love baking with coconut flour - I like its slightly sweet taste and I like the fact that little goes a long way, which makes it more economical than almond flour. And then there are the numerous health benefits - coconut flour is a nutritious powerhouse!
Time to get to the recipe - time is precious and there's a sugar-free cake to microwave!
How to make a cinnamon swirl coconut flour mug cake - step by step: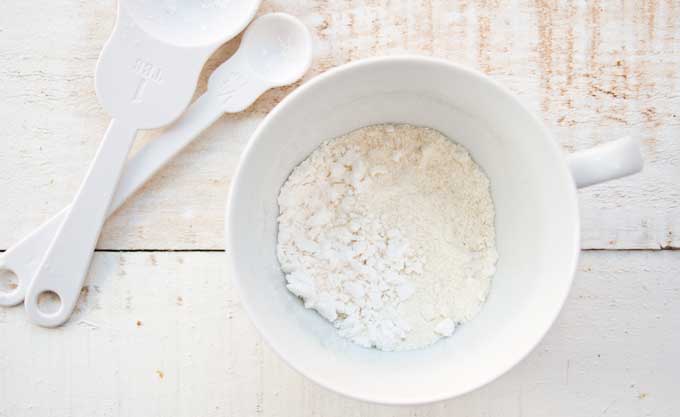 1.) Measure coconut flour, powdered sweetener and baking powder into a mug. Make sure you break down any lumps.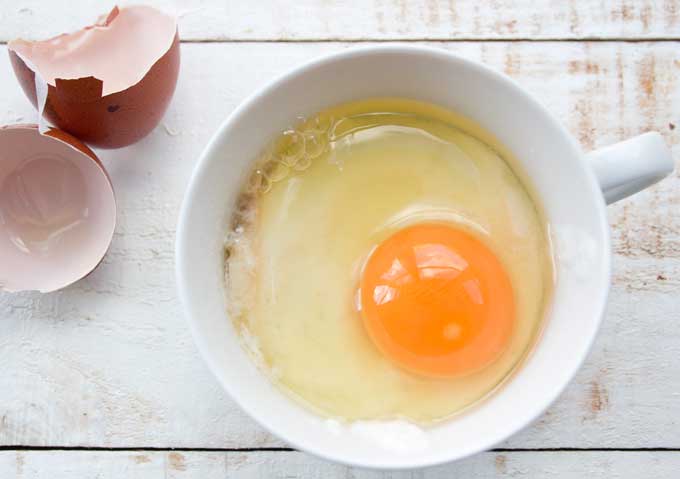 2.) Add your wet ingredients - coconut cream, a medium egg and vanilla extract.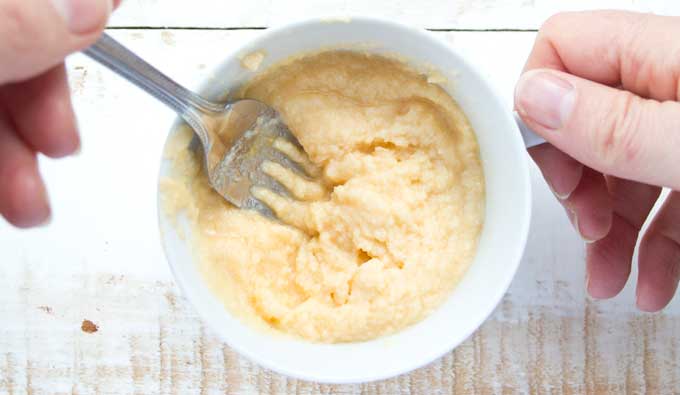 3.) Stir with a fork until you have a smooth batter.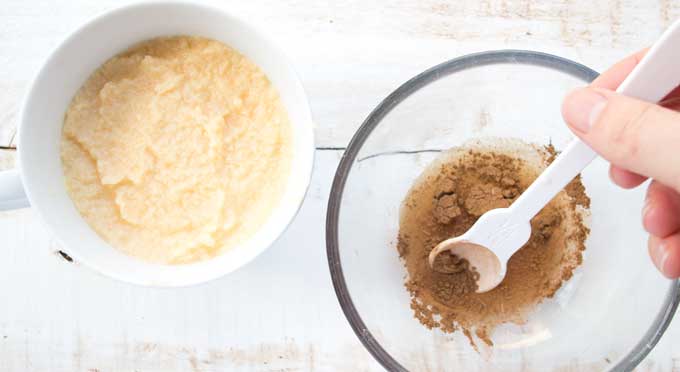 4.) While the coconut flour absorbs the liquid, prepare the cinnamon syrup. Simply mix some sugar free syrup and cinnamon.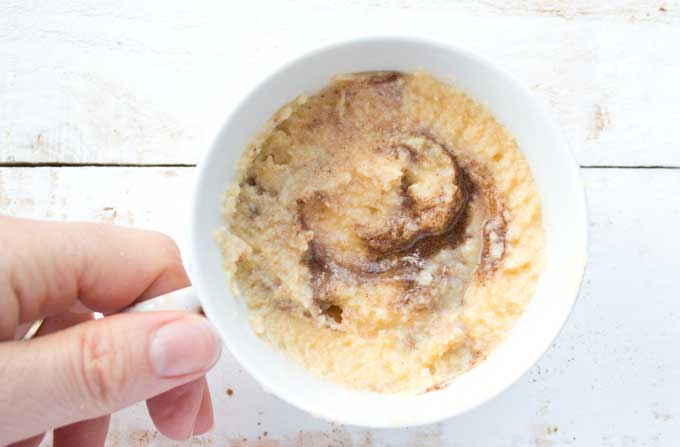 5.) Swirl the cinnamon syrup into the cake batter and microwave on high for 90 -100 seconds.
Recipe Notes
- Coconut flour is super absorbent. Make sure that the flour in your spoon is levelled off when you measure it. If you were to use 2 heaped spoonfuls your cake will end up dry.
- I used powdered sweetener in this recipe to make the end result smoother, but granulated sweetener would also work.
- My eggs come from a local farm and tend to be on the smaller side / medium size. If you use a very large egg, I recommend reducing the amount of coconut cream to 3 tbsp. Wait a couple of minutes for the coconut flour to absorb the liquid and see if the consistency looks like in the images above. Add another teaspoon of coconut cream if you feel the batter needs it.
- Microwaves can vary in terms of zapping power. I made 3 different versions of this coconut flour mug cake and found that for me, 100 seconds was perfect. Start off with 90 seconds and see if you need to tag on another 10 seconds yourself. I'd say that 2 minutes is the maximum though. Any more and your cake will dry out too much.
- As the cake cools it releases itself from the edges of the mug and you'll be able to turn it out onto a plate. Don't attempt to do this while it's still hot - it's still fragile then and might break. I ate mine straight from the cup.
The cinnamon swirl - tips and tricks
I used the Lakanto maple flavoured syrup, which is made with erythritol and monkfruit and gives the mug cake a lovely mellow maple flavour. You can check it out here. I have negotiated a special discount for my readers - use the code SUGARFREE at checkout and get 20% off! (US addresses only). Of course, any sugar free syrup will work.
If you don't have a sugar free syrup to hand, melt 1 tablespoon of butter and add 1 teaspoon of powdered sweetener plus 1 teaspoon of cinnamon. For a dairy free version, use coconut oil instead of the butter.
What about toppings?
To push the boat out, you can top the cake with a cream cheese frosting (cream cheese or mascarpone plus a bit of powdered sweetener).
Can you bake this coconut flour mug cake in the oven?
Sure! Try 170 Celsius / 350 Fahrenheit for around 12-15 minutes. (NOTE - I have not tried this myself, but that's the temperature and time I would go for.)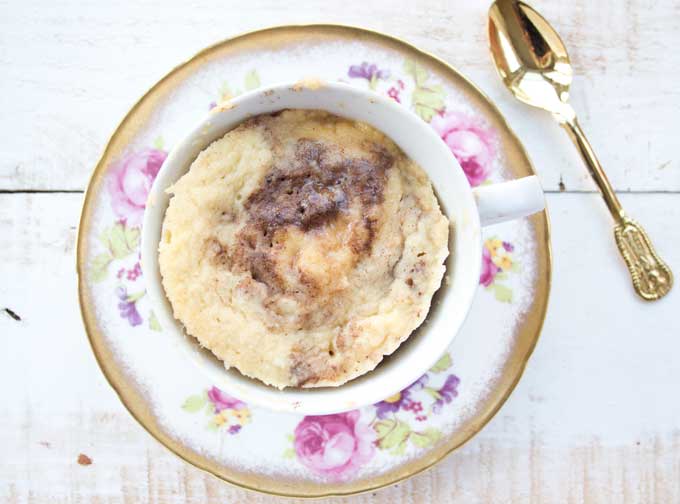 See my other microwave and mug cake recipes:
Tried this recipe? Give it a star rating below!
★ STAY IN TOUCH on FACEBOOK, PINTEREST and INSTAGRAM for more great food and join my NEWSLETTER for the latest updates and a FREE EBOOK.★
Recipe
Cinnamon Swirl Coconut Flour Mug Cake
from Sugar Free Londoner
Need a treat? This moist coconut flour mug cake has a delicious cinnamon swirl and is ready in minutes. The recipe is low carb, keto, gluten and sugar free.
Note: The servings slider only changes the first amount in each line and not any subsequent amounts. Please make your own calculations where necessary.
Instructions
Mix the coconut flour, powdered sweetener and baking flour in a mug (200 ml volume) with a fork. Make sure there are no lumps.

Add the coconut cream, vanilla extract and egg and mix until smooth. Flatten the top. 

In a separate bowl, combine the sugar free syrup and cinnamon. Swirl the cinnamon syrup into the mug cake batter with a spoon.

Microwave on high for 90 - 100 seconds.
Notes
I microwaved my mug cake for 90 seconds. It still looked a little soft at the top so I zapped it for another 10 seconds. 
The cake will rise in the mug and collapse again as it cools.
Use a mug that holds 200 ml of liquid - any smaller and the mix will overflow.
Once the mug cake has cooled, you can turn it our onto a plate if you wish. 
Nutrition
Calories:
247
kcal
Total Carbohydrates:
8.1
g
Protein:
9.4
g
Fat:
18.2
g
Fiber:
5.6
g
Sugar:
2.3
g
This post contains affiliate links. If you click on one of these links and purchase a product, I may earn a small commission, at no extra cost to you. Thank you for supporting Sugar Free Londoner.