You'd never guess these silky-smooth sugar free truffles are made with avocado! Treat yourself to glorious chocolatey goodness without the carb count. Even better, keto chocolate truffles are ready to eat in 10 minutes.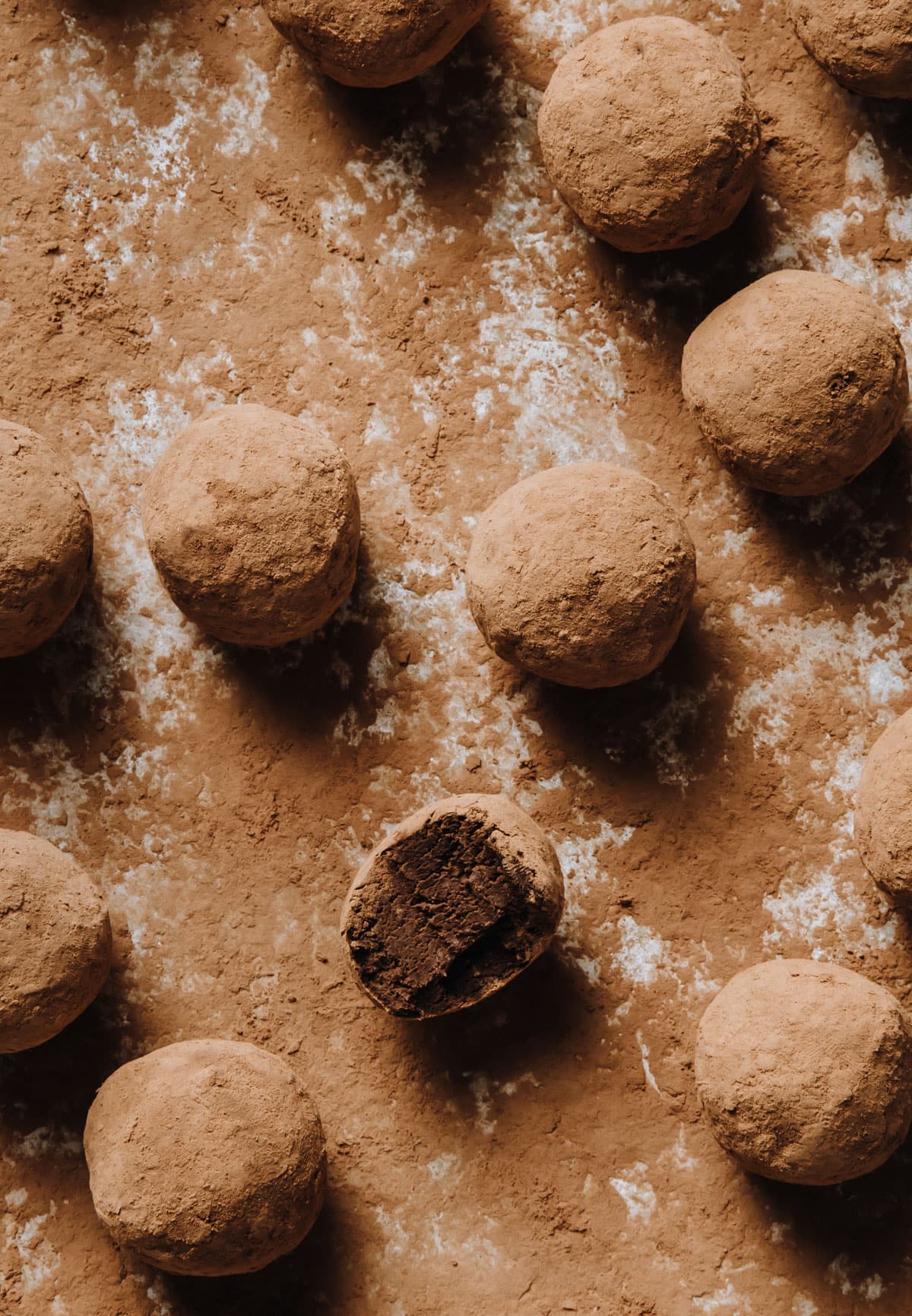 Truffles have been my secret passion since I was a teenager. I remember buying a little bag of 3-4 artisan handmade chocolates from the department store every time I made it into the centre of Hamburg, where I grew up. They cost a fortune, but tasted just so good.
These days, I make my own sugar free truffles at home. They are the perfect mini dessert! I love almond butter truffles, and my keto Ferrero Rocher are famous in the neighbourhood.
These sugar free chocolate truffles come together in minutes, and they are even secretly healthy - not just because they don't contain sugar!
Jump to:
🌟 Why You'll Love This Recipe
Easy - Only 4 ingredients
Quick - Ready in 10 minutes
Healthy - my secret ingredient is - avocado! Much healthier than butter and packed with nutrients.
Creamy, chocolatey and satisfying
Dairy-free
Sugar free and keto friendly - 1.1g net carbs per truffle
My avocado chocolate truffles are perfect for Valentine's day or any other day when you feel like a small yet decadent treat. And with a low carb count like this, you can definitely have seconds!
Ingredients
Let's talk about the ingredients you need:
Avocado. The avocado replaces the butter and heavy cream in the recipe. It must be perfectly ripe and without brown spots.
Chocolate. I used Vivani 92% cocoa solids, but I also like Lindt 90% and Montezuma's Absolute Black, which is unsweetened (Amazon aff links). If you're in the US, you can use Lily's dark chocolate chips, which are sweetened with stevia. Or make your own low carb chocolate with this popular & easy recipe!
Sugar substitute. I sweetened my truffles with powdered erythritol. Using 92% dark chocolate, 2 tablespoons was just right. If you use an unsweetened chocolate, you may need to up it to 3 tablespoons. The Lily's chocolate chips are sweet already, so 1 tablespoon may be sufficient.
Cacao powder - To coat. Or use unsweetened cocoa powder. I prefer the lighter colour of the cacao and also its nutritional benefits
Sea salt. This is optional, but enhances the taste.
Instructions
(This section contains step by step instructions and photos that show how to make this recipe. Find the recipe card with ingredient amounts and nutritional information at the bottom of the post.)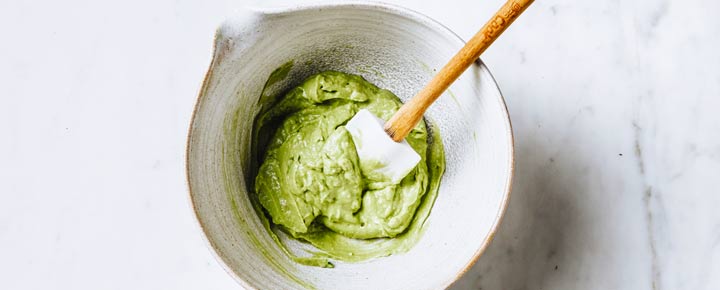 Step 1: Remove the stone and peel from the avocado. Place the avocado meat in a mixing bowl, add the salt and blend until smooth.
TIP: As this is not a huge amount of avocado, a stick blender with attachment works best (the little one you blitz spices and sauces in). I think you won't have enough avocado for a full-sized food processor to do its job properly.
The alternative is to mash the avocado with a fork. I've tested it - it's fine if your avocado is PERFECTLY RIPE. Just make sure you mash really well.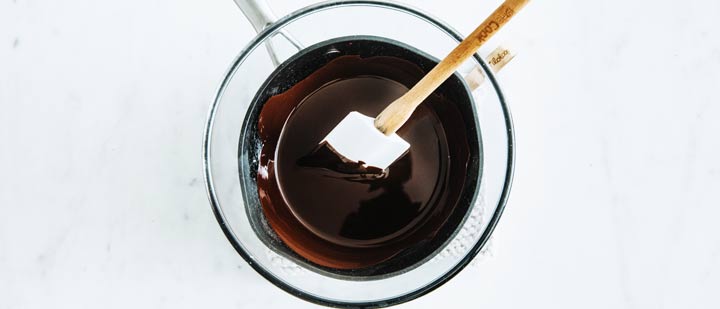 Step 2: Break the chocolate into small pieces and melt in a bain-marie over medium heat. Alternatively, melt in the microwave.
Add the powdered erythritol (and any extracts, if using) to taste and mix well.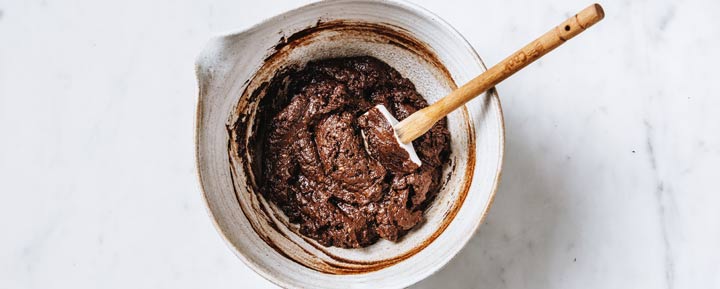 Step 3: Add the melted chocolate to the avocado and stir through with a spatula or fork.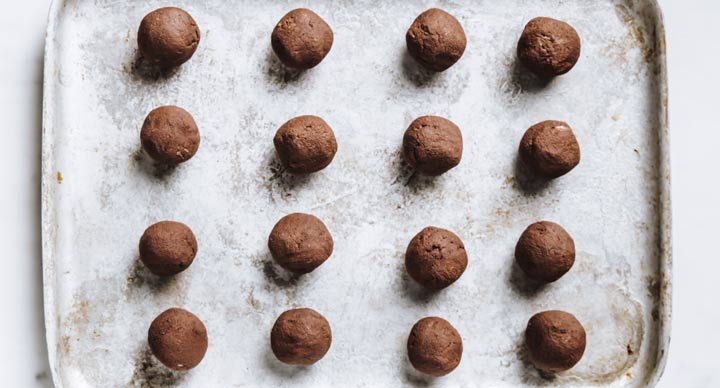 Step 4: Take roughly 1 tablespoon - or use a small cookie scoop - and roll the mixture into truffles using your hands. Place on a baking sheet lined with parchment paper.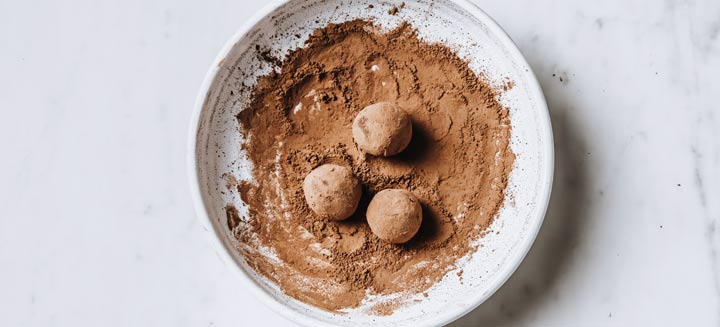 Step 5: Roll through a bowl with cacao powder to coat.
FAQ
What do I do when my mix is too soft?
The mix firms up as the avocado cools down the chocolate. I was able to work with mine straight away. If it's too soft to work with, place it in the fridge for a bit.
How do I loosen a mixture that's too firm?
Add a little coconut milk or heavy whipping cream.
Can I make these with cocoa powder?
I recommend to use a good quality chocolate over cocoa powder. Why? Because chocolate contains cacao butter as well, which helps firming up the truffles. If you wanted to try using cocoa powder instead, I would go for 4 tablespoon cocoa PLUS around 3 tablespoons cacao butter or coconut oil to increase the fat content. Taste and adjust if necessary. If you use coconut oil, the end result will be softer.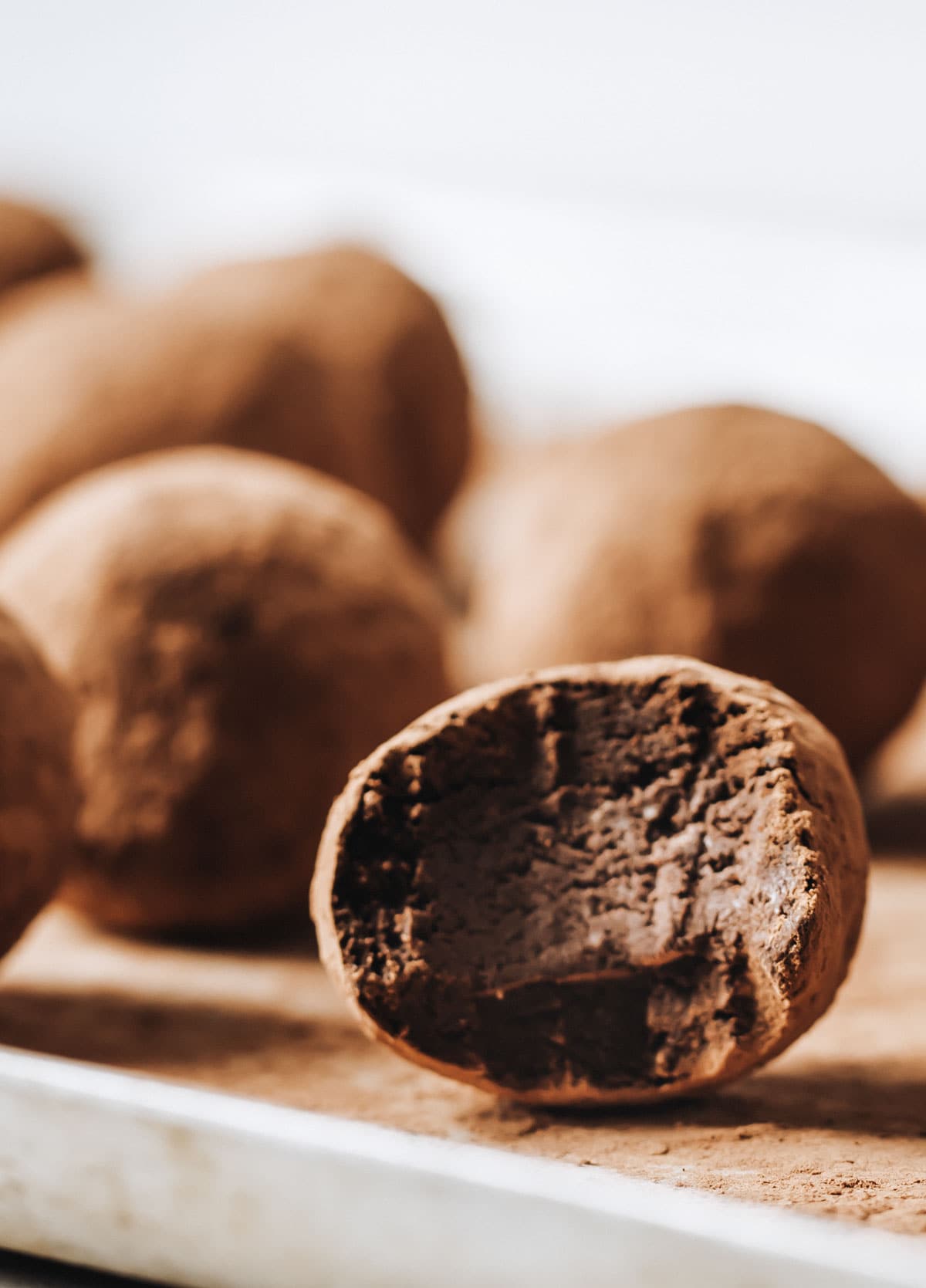 Flavour variations
Orange: 1 teaspoon orange extract and 1 tablespoon grated orange zest.
Nutty: 2 tablespoon almond butter or peanut butter and roll in ¼ cup chopped toasted almonds or hazelnuts
OR: 1 teaspoon vanilla extract/maple extract/mint extract/coffee extract/ground cinnamon/cardamom.
Coating ideas
Apart from coating your low-carb chocolate truffles with cocoa powder, you could also coat them in:
Melted chocolate coating - use a dark chocolate with 90% cocoa solids or sugar free chocolate.
Shredded coconut
Sugar free cookie crumbs - my ginger cookies or the keto sugar cookies are perfect for this.
Any chopped nuts!
Storage
Refrigerator: These keto truffles stay firm and taste great at room temperature. But if you want to store them, I recommend to put them in the fridge. They last around 1 week.
Freezer: And yes, you can freeze them, too! Freeze in a single layer, not touching each other. After that, transfer them into a freezer bag or container, layered between pieces or parchment paper.
Related recipes
Tried these keto chocolate truffles? Give them a star rating below!
★ STAY IN TOUCH on FACEBOOK, PINTEREST and INSTAGRAM for more great food ideas.
Recipe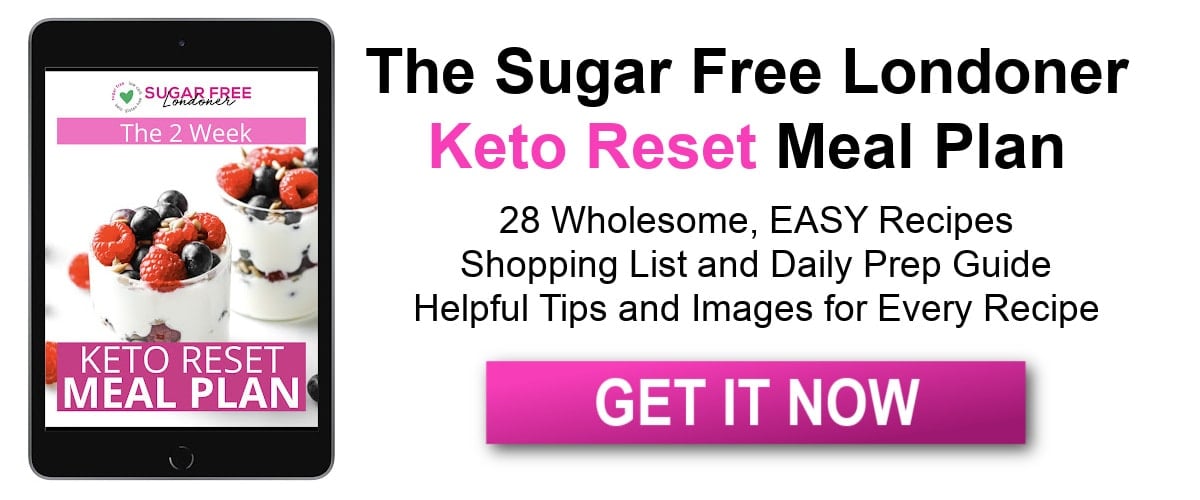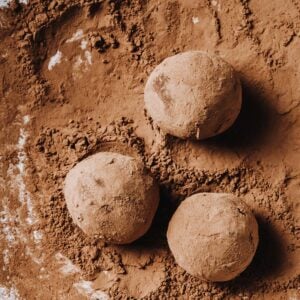 Sugar Free Truffles
from Sugar Free Londoner
The perfect recipe if you want a chocolatey quick treat. These sugar free truffles have the wow factor, are supremely satisfying AND are actually HEALTHY. Only 4 ingredients and 10 minutes prep! They make a wonderful edible gift, too.
Note: The servings slider only changes the first amount in each line and not any subsequent amounts. Please make your own calculations where necessary. ***As an Amazon Associate I earn from qualifying purchases.
Instructions
Remove the stone and peel from the avocado. Place the avocado meat and salt in a mixing bowl and blitz with a stick blender until smooth. Alternatively, mash REALLY WELL with a fork.

Melt the chocolate (***see notes) and stir in the powdered erythritol. Add to the avocado and mix well.

Take roughly 1 tablespoon and roll into truffles. Place the cacao powder in a bowl and roll the truffles through it to coat.
Notes
Net carbs: 1.1g per truffle (weighing 15g each)
Store in the fridge for 1 week. Suitable for freezing.
***How to melt chocolate without it seizing/curdling:
Bain-marie (AKA water bath): Place the chocolate pieces into a bowl. Place into bowl into another bowl or pot with boiled water. The heat from the water will slowly melt the chocolate. Make sure you stir continuously. 
Microwave: Microwave the chocolate 1 minute on high. Check. Microwave up to another 30 seconds, until your chocolate is half-melted. Remove and stir until fully melted. If necessary, microwave again in 10 second intervals.
Flavour suggestions
Orange: 1 teaspoon orange extract and 1 tablespoon grated orange zest.
Nutty: 2 tablespoon almond butter and roll in ¼ cup chopped toasted almonds or hazelnuts
OR: 1 teaspoon maple extract/mint extract/coffee extract/ground cinnamon 
Nutrition
Serving:
15
g
Calories:
58
kcal
Total Carbohydrates:
1.9
g
Protein:
0.8
g
Fat:
5.3
g
Saturated Fat:
2.6
g
Fiber:
0.8
g
Sugar:
0.5
g
This post contains affiliate links. If you click on one of these links and purchase a product, I may earn a small commission, at no extra cost to you. Thank you for supporting Sugar Free Londoner.