Chocolate avocado mousse is not only a super-easy dessert that comes together in minutes, it's also impossibly delicious! This low carb and sugar free Keto chocolate pudding is creamy, silky and nutritionally dense. You cannot taste the avocado AT ALL!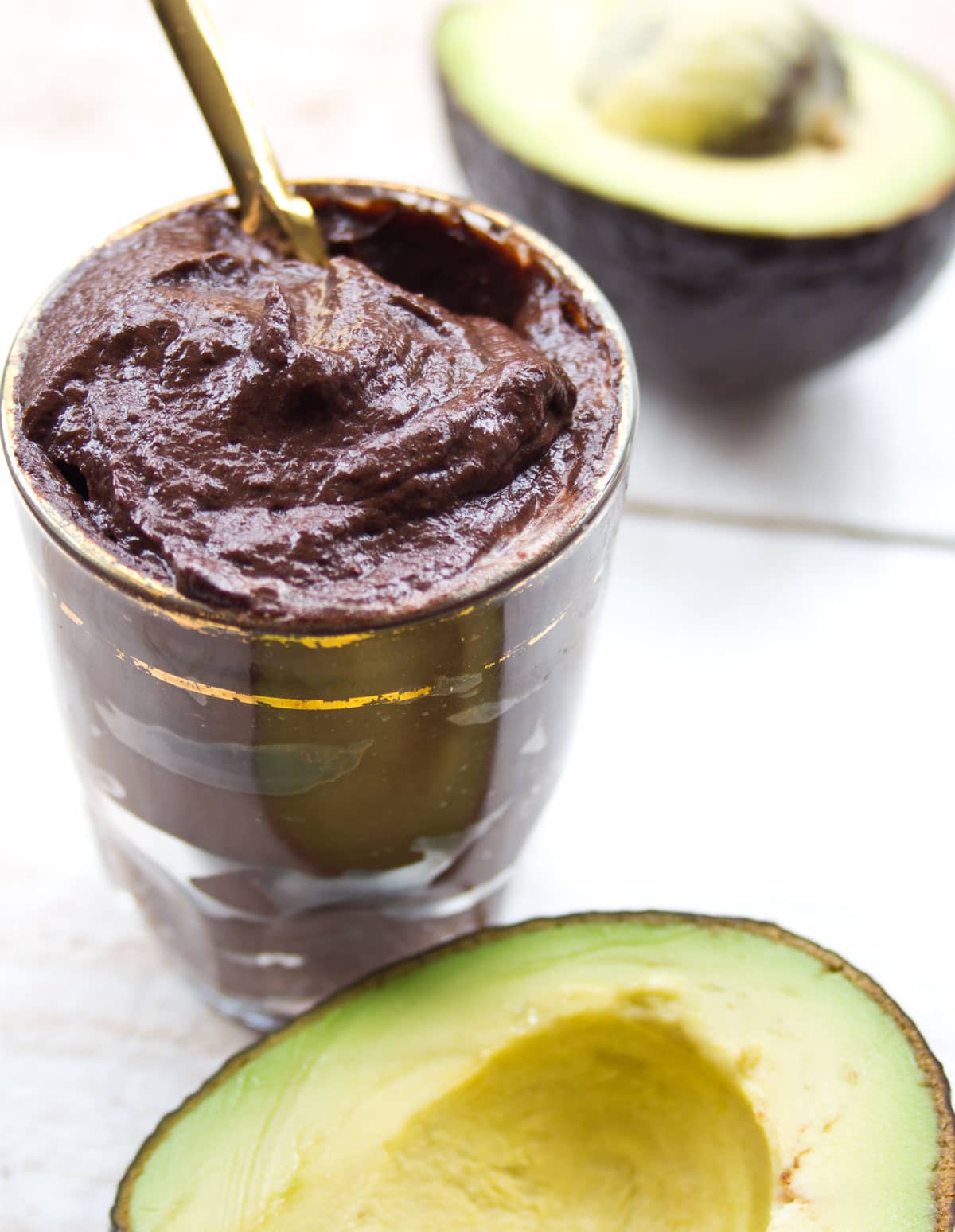 Say hello to the easiest and yummiest dessert ever!
This avocado chocolate mousse is just so silky and creamy and chocolatey that it's actually hard to believe it's also super healthy.
Traditional chocolate mousse is made with whipped egg whites, chocolate and plenty of sugar. Because many people are worried about raw egg, the other option is to use whipped cream instead of the egg whites.
Using avocado in place of the egg or cream works incredibly well. It provides the same creamy texture, but with the added benefit of heart-healthy fats, folate and carotenoids. 
My daughter is always sceptical when it comes to new healthy food recipes. "What does chocolate avocado mousse taste like? Does it taste..... of avocado?" she asked. She tasted a spoonful - and loved it.
The answer to her question? A sound NO! Because of the strong chocolate flavor of the cocoa powder you cannot detect the avocado taste at all. This is also true for my fudgy chocolate avocado cake recipe, by the way!
Jump to: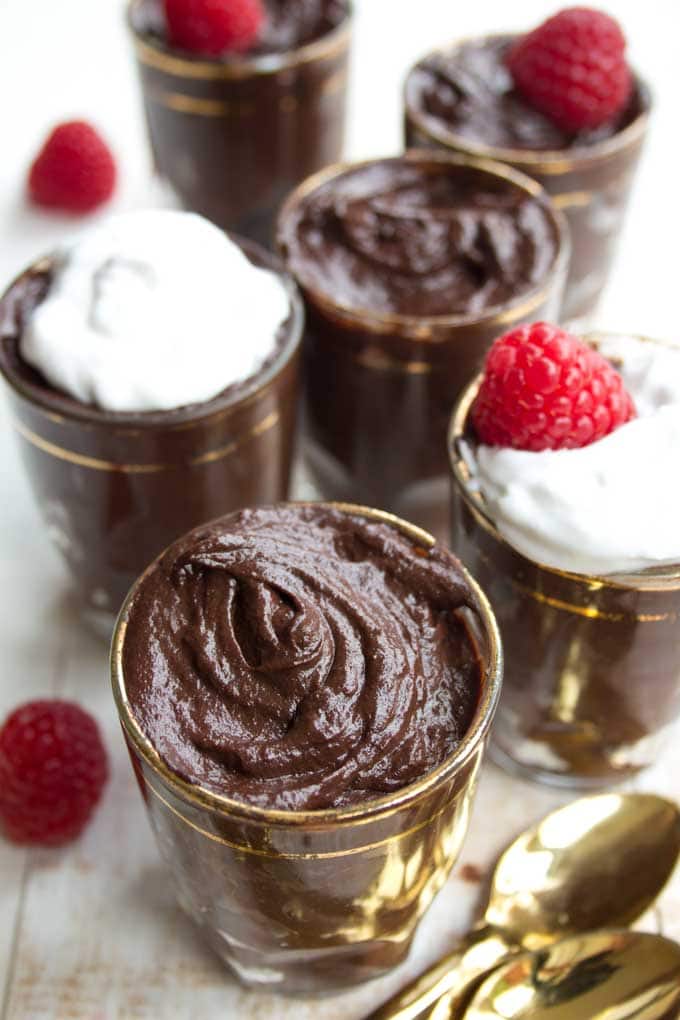 My original chocolate avocado pudding recipe, one of the first posts on this blog, contained one banana. Whilst one sixth of a banana per portion is not a lot, it still contains sugar that can be avoided without losing out on taste.
Therefore, I decided it was time to re-write this recipe to make it more suitable for low carb and Keto diets. Are you ready?
Ingredients
Here are the ingredients you'll need:
Avocados: Make sure they are good quality and ripe. I recommend buying them ripe and ready in the shop - those ripen-at-home ones tend to go from hard to mouldy. Hass avocados are the best (though not cheap).
Chocolate: You can use either cocoa or cacao powder in this recipe - just make sure it is unsweetened. Cacao powder has a milder taste as it is not roasted, so you might need a little more of it.
Sweetener: Powdered sweetener works best in this recipe. You don't want to end up with a crunchy mousse! If you only have granular sweetener to hand, blend it in your food processor or with the attachment of a stick blender until it is powdered. You could also use stevia drops if you prefer. And, if carbs are not a concern, use honey, agave or maple syrup.
Coconut Cream: If you cannot source coconut cream in a tin, buy a can of coconut milk and cool it in the fridge overnight. This causes the cream and the liquid to separate. The  next day spoon out the coconut cream for your chocolate avocado mousse and use the leftover liquid for your next smoothie or curry.
Spices: Vanilla extract, cinnamon, a pinch of nutmeg and a pinch of sea salt. I love the flavour of cinnamon and nutmeg in chocolate. I first tasted it when I made these Mexican Chocolate Fudgesicles! However, they are not absolutely essential. You could also use mixed spice / pumpkin spice or even a glug of Brandy!
How to make chocolate avocado mousse  
This section contains step-by-step instructions and photos that show how to make this recipe. See the recipe card for full information on ingredients and quantities.
1.) Put all ingredients for your chocolate avocado pudding in a food processor or blender.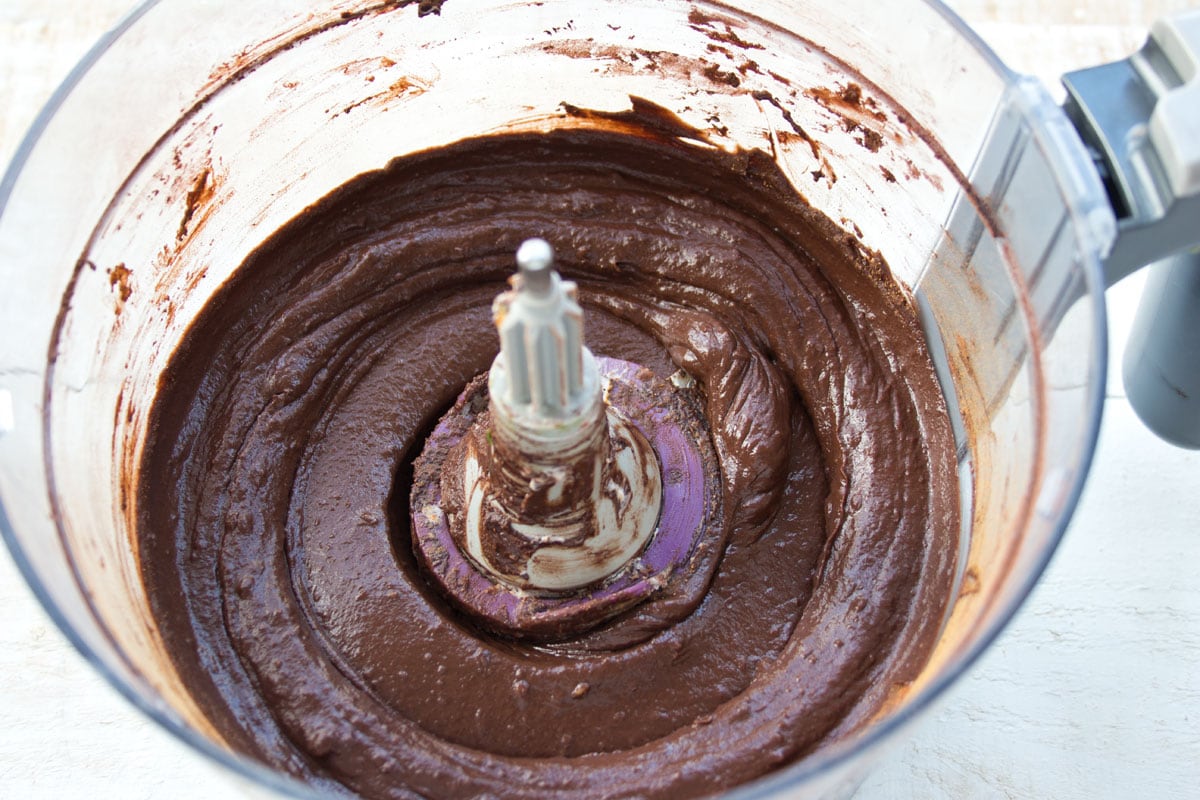 2.) Blend until you have a really smooth mousse. That's it, folks!
Top Tip
It's really important to blend your avocado mousse until it is super silky and smooth. If you don't have a food processor or a power blender, simply take your time. You don't want to find any green bits!
Serving suggestion
You don't need to add anything else - the mousse is perfect all on its own. But you can serve it with a few raspberries, a drizzle of peanut butter or whipped coconut cream.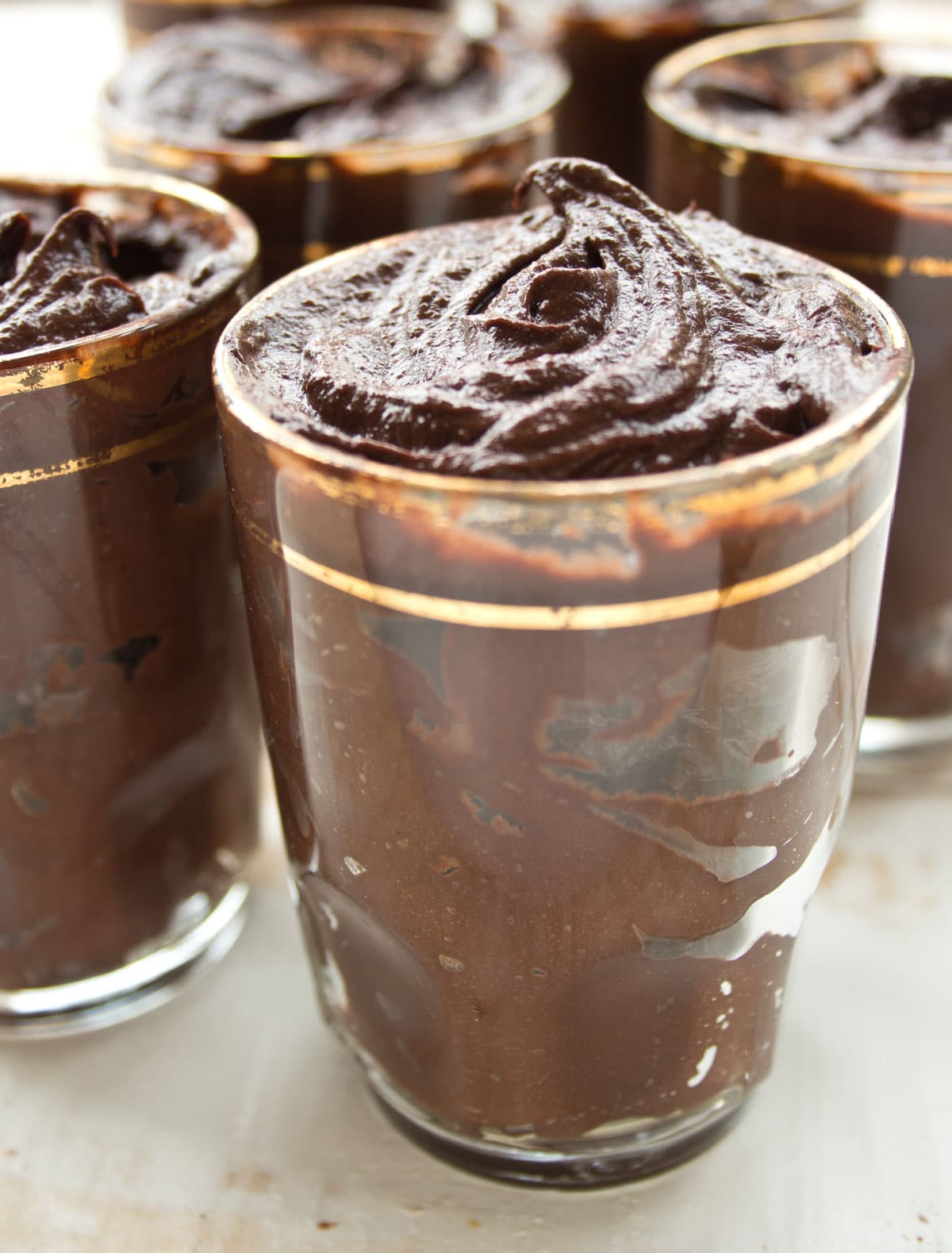 FAQ
Does it taste of avocado?
No, it does not. The avocado just adds creaminess. The dominant flavor here is chocolate.
Does it taste like real chocolate mousse?
It tastes as good as real chocolate mousse. But of course, it's a little different. Perhaps if you used heavy whipping cream instead of the coconut cream you would get very close.
What can I use instead of the coconut cream?
Heavy whipping cream or cream cheese. Or, use half the amount unsweetened almond milk.
Storage
Refrigerator: You can store the pudding in the fridge for up to 3 days.
Freezer: Avocado chocolate mousse freezes well. Simply put it in an ice cube tray and freeze it for up to 3 months.
Defrosting: When you're ready to eat it, either defrost it of throw the cubes straight into a power blender and enjoy half-frozen! It'll taste a little like my chocolate avocado ice cream!
Related recipes
Take a look at my other mousse recipes:
And here are more recipes that combine chocolate and avocado:
....and for a bit of vanilla, check out this dairy free Keto custard!
Tried this recipe? Give it a star rating below!
★ STAY IN TOUCH on FACEBOOK, PINTEREST and INSTAGRAM  for more great food and join my NEWSLETTER for the latest updates and a FREE EBOOK.★ 
Recipe
Avocado Chocolate Mousse
from Sugar Free Londoner
Creamy, thick and super simple chocolate avocado mousse - the ultimate healthy Keto dessert. Try this sugar free and vegan chocolate avocado pudding packed with nutrients!
Note: The servings slider only changes the first amount in each line and not any subsequent amounts. Please make your own calculations where necessary.
Instructions
Add all ingredients into a food processor and blend until creamy and smooth.

Divide between 6 shot glasses or small serving bowls and chill until ready to serve.
Notes
3.8g net carbs per serving. Makes 6 servings. 
The cinnamon, nutmeg and vanilla extract are not essential, but make the pudding taste better. 
Make sure you use really ripe avocados and blend the mousse until it is very smooth.
For a boozy pudding add a tablespoon of Brandy. 
You can decorate your chocolate avocado mousse with a spoonful of whipped coconut cream (sweeten it with a bit of powdered sweetener) and berries or grated dark chocolate. 
Nutrition
Serving:
80
g
Calories:
157
kcal
Total Carbohydrates:
10.5
g
Protein:
2.8
g
Fat:
14
g
Fiber:
6.7
g
Sugar:
0.8
g
This post contains affiliate links. If you click on one of these links and purchase a product, I may earn a small commission, at no extra cost to you. Thank you for supporting Sugar Free Londoner.