Warm up with a luxuriously creamy sugar free hot chocolate! This easy keto hot chocolate recipe has a deep chocolate flavour and contains only 2.5g net carbs. Suitable for low carb diets. Dairy free!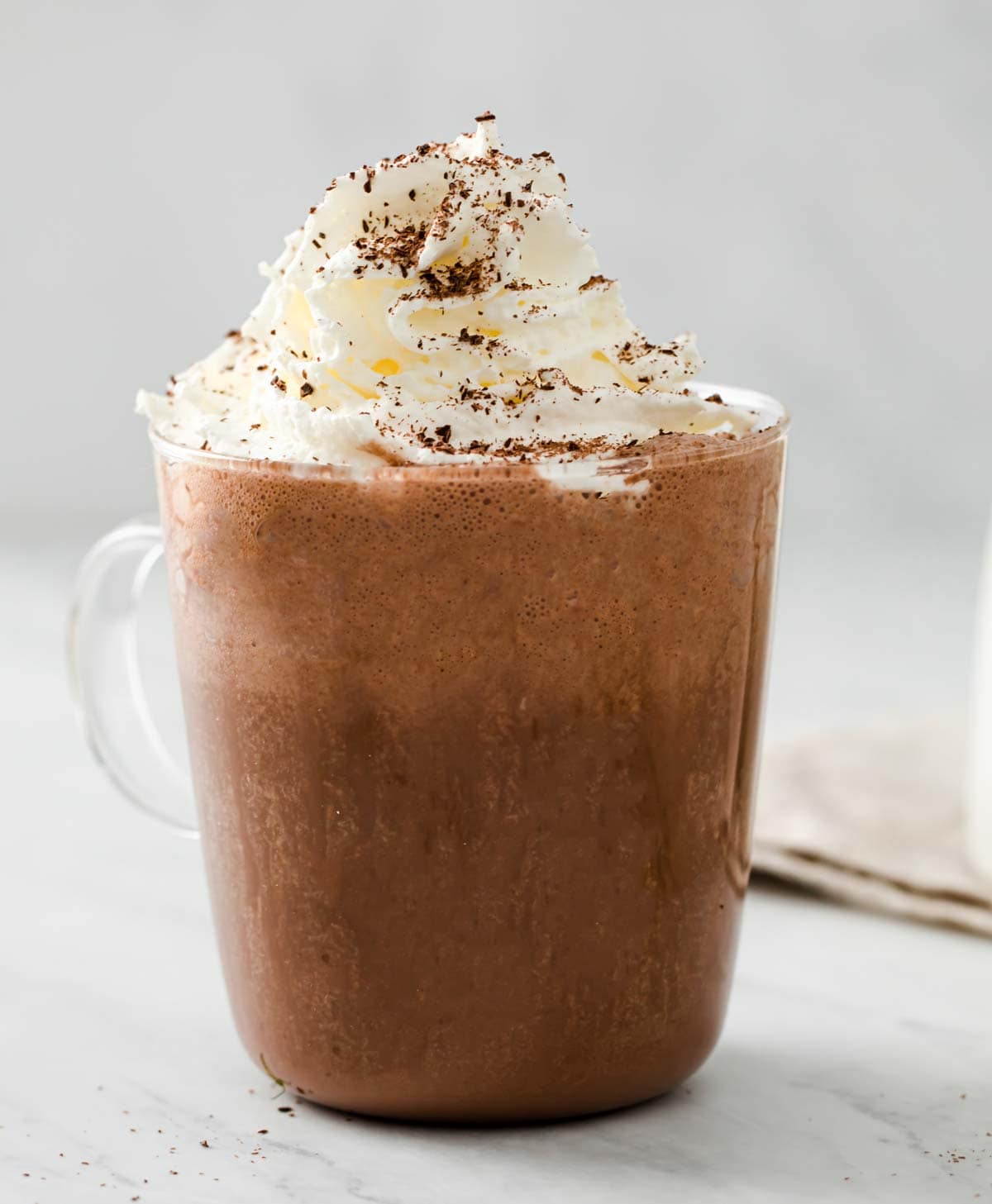 It's getting cold outside guys and I've started to swap out my (almost daily) treat of keto chocolate milkshake for this properly amazing sugar free hot cocoa recipe.
Can I just take a moment to tell you HOW MUCH I love hot chocolate? When I was a kid, we always had a box of Nesquik at home. Ready-made hot chocolate mixes like this are packed with milk powders and scary amounts of sugar, but back then I thought any cocoa mix tasted amazing.
As an adult, I graduated to hot chocolate made with real chocolate that was melted into milk. I have a memory of one particular cocoa I ordered in a wonderfully grand cafe in Barcelona. It was so thick and rich I ended up eating it with a spoon!
Can you have cocoa on keto
A quick sidestep into science here. Cocoa powder is high in polyphenols, which is an antioxidant, and has numerous health benefits. 1 tablespoon of cocoa powder contains 1.1 grams of net carbs (source: USDA), which makes it perfectly suitable for keto diets. Of course, you have to make sure you're using unsweetened sugar free cocoa powder and not a box mix!
I'm pleased to say that this sugar free hot chocolate is the perfect low carb version of the sugary hot chocolate I used to enjoy so much. It has a deep chocolate flavor and is wonderfully creamy and totally delicious.
Cream or dairy free?
When you google "keto hot chocolate", you're inundated with recipes that suggest to basically heat a bucket of heavy cream and add plenty of low carb sweetener. That may be keto and low in carbs, but it's just not my idea of yum. I don't want to drink pure cream, with or without chocolate. Too much dairy is not good for my tummy or my waistline!
How to make sugar free hot chocolate
We've got 7 ingredients for this recipe, but absolutely essential are only 3 of them: almond milk, cocoa powder and collagen peptides. Let me explain a little:
Almond milk
Since switching to a low carb diet, I have replaced whole milk with almond milk because it's much lower in carbs. I like Plenish Unsweetened Almond milk. It contains 6% almonds per 100 ml, which is a little higher than most other brands. It means you can froth it and it does not taste watery.
Cocoa powder
Unsweetened, please. Both cacao and cocoa work here. The difference between the two? Cacao powder is raw and cocoa powder is roasted. Cacao has more nutritional benefits and cocoa has the more intense, deep taste. Your choice!
Collagen peptides
This is my secret sauce to make the keto hot chocolate thick and creamy WITHOUT having to resort to cream. I'm crazy about collagen powder at the moment and take some every day.
Collagen is the most common protein in our body. But of course, collagen stores decrease as we age. Collagen supplements may help reduce wrinkles and skin dryness plus it's great for your joints and gut health. Read more about the benefits of collagen here!
Brands I have tried so fat are Vital Proteins and Hunter & Gather. They are neutral in taste and thicken the hot chocolate together with the cocoa powder.
Other ingredients
The other ingredients are optional - apart from the salt, which I think really improves the taste. Vanilla extract tastes great in pretty much anything and the MCT oil adds more creaminess. I don't feel the need to add sweetener myself, but I know many people prefer a little sweetness.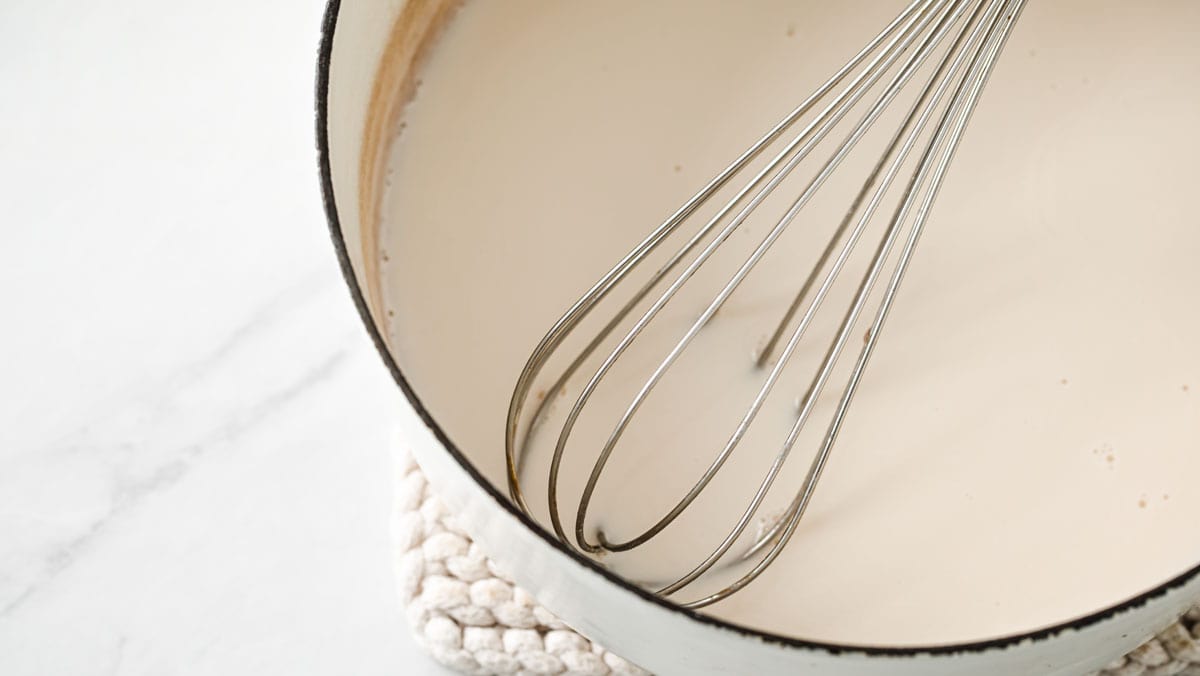 As for the recipe method, there's not much to it! You start by heating the almond milk in a saucepan. Stir so it does not burn. Alternatively, heat it in the microwave for 90 seconds on high.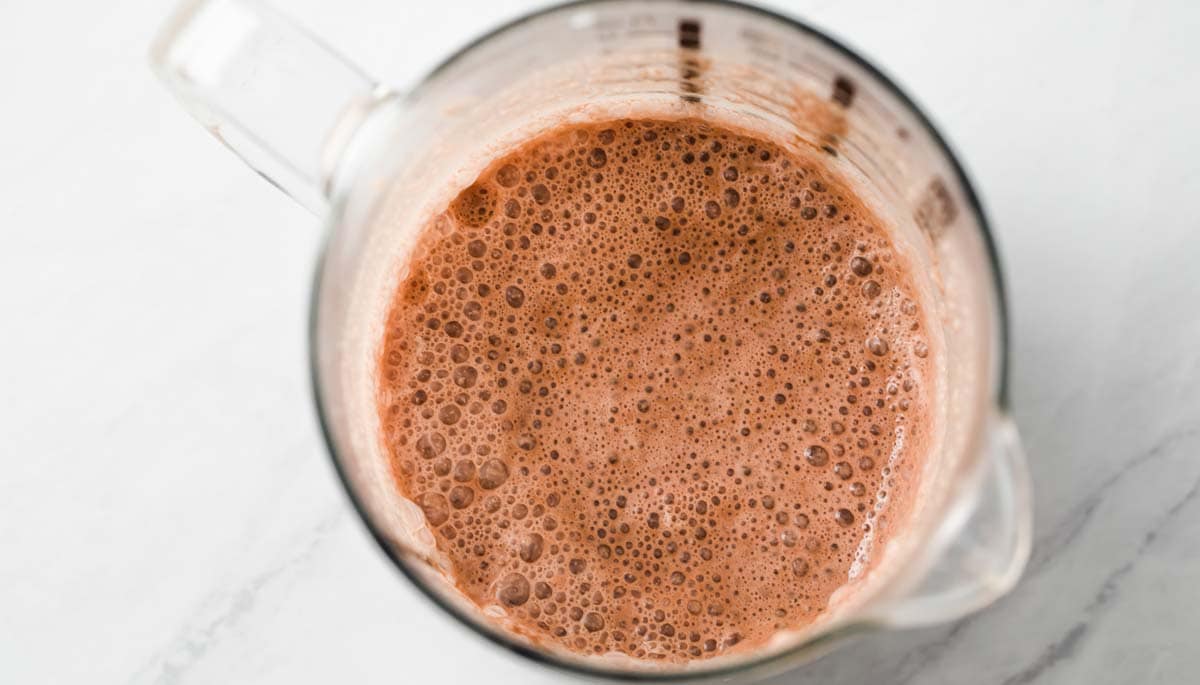 Then, pour the milk into a jug with high sides and add the other ingredients. Blend with an immersion blender until frothy. (Don't blend in the pan - it will squirt everywhere and burn you.) Alternatively, use a high speed blender.
Keto hot chocolate toppings
When I make this keto cocoa recipe, I normally omit toppings - unless I want to impress someone. But of course, feel free to add a dollop of either keto whipped cream or whipped coconut cream.
My husband is also partial to a square of dark chocolate with his hot chocolate (we use 90% Lindt, but any chocolate with a minimum of 85% cocoa solids is fine - or use my sugar free chocolate).
Recipe variations
Collagen peptides aren't cheap. If you'd rather not invest, there are other ways to thicken a dairy free hot chocolate:
2 tsp ground chia seeds
1-2 tbsp protein powder
⅛ tsp konjak root powder
⅛ tsp xanthan gum (don't use more or the hot chocolate will taste slimy).
For a caramel flavour, add 1 tbsp of maca powder.
For a keto Mexican hot chocolate, use a pinch of chili powder and cinnamon.
You can replace the almond milk with coconut milk or any other nut milk.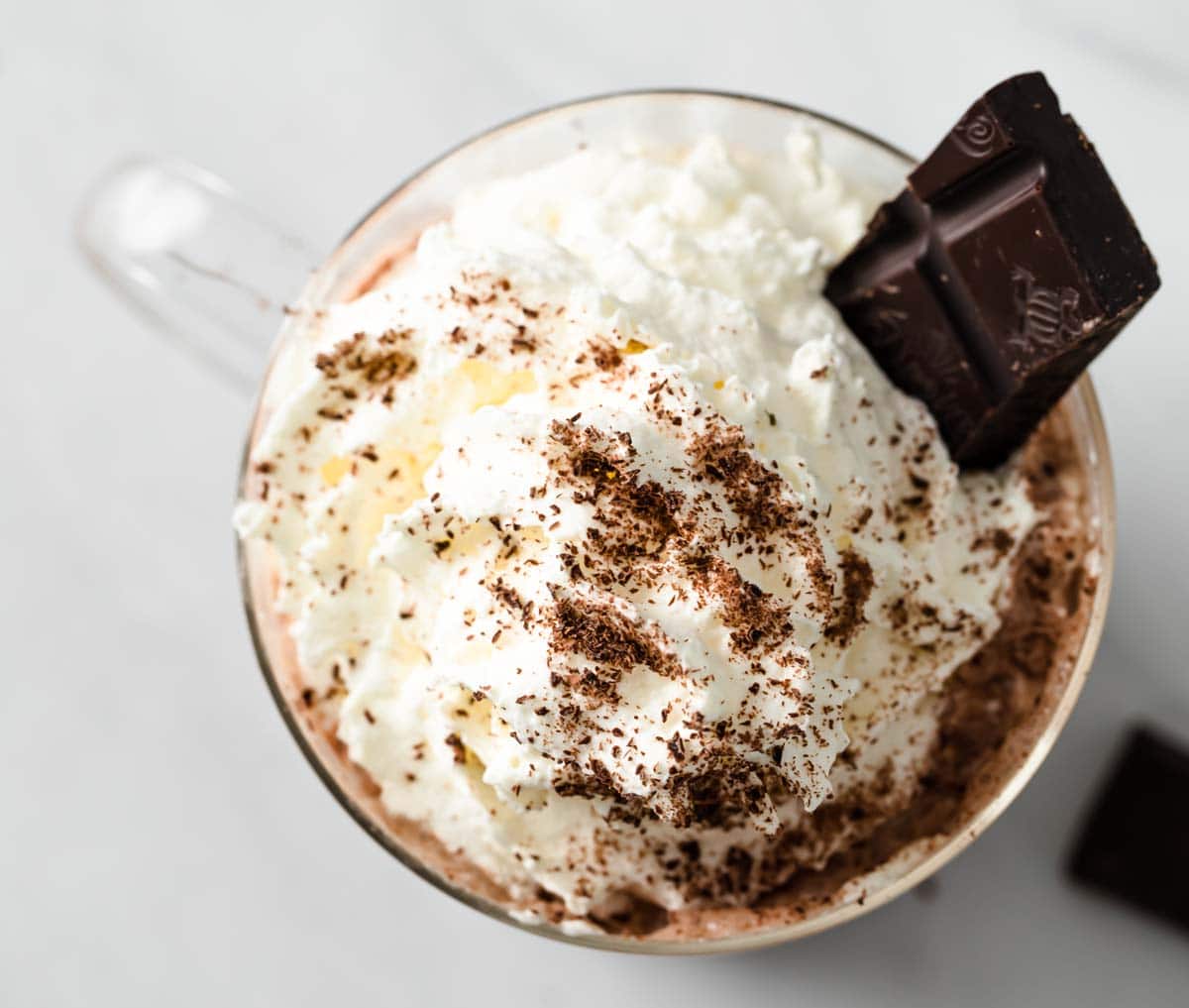 Sugar free sweeteners
If you decide to use a sweetener, I recommend that you use either powdered erythritol (not granular) or allulose. A monk fruit erythritol mix such as by So Nourished or Lakanto has literally none of the cooling aftertaste of pure erythritol.
Allulose is great because it has literally no aftertaste and it also melts just like sugar. It's readily available in the US. In the UK and Europe, you can get it on mydiet-shop.co.uk.
Can you store low carb hot chocolate?
I've given you a single portion for this cocoa because I prefer it fresh 'n' frothy. But should you decide to make larger amount, store any leftovers in the fridge. Whisk once you have re-heated it so it's frothy.
More keto chocolate recipes
Keto Chocolate Lava Cake - a gooey cake with only 5 ingredients
Low Carb Keto Chocolate Ice Cream - creamy cocoa goodness
Keto Chocolate Truffles - for a healthy sugar free treat
The Ultimate Keto Chocolate Chip Cookies - great for dunking!
Tried this recipe? Give it a star rating below!
★ STAY IN TOUCH on FACEBOOK, PINTEREST and INSTAGRAM for more great food and join my NEWSLETTER for the latest updates and a FREE EBOOK.★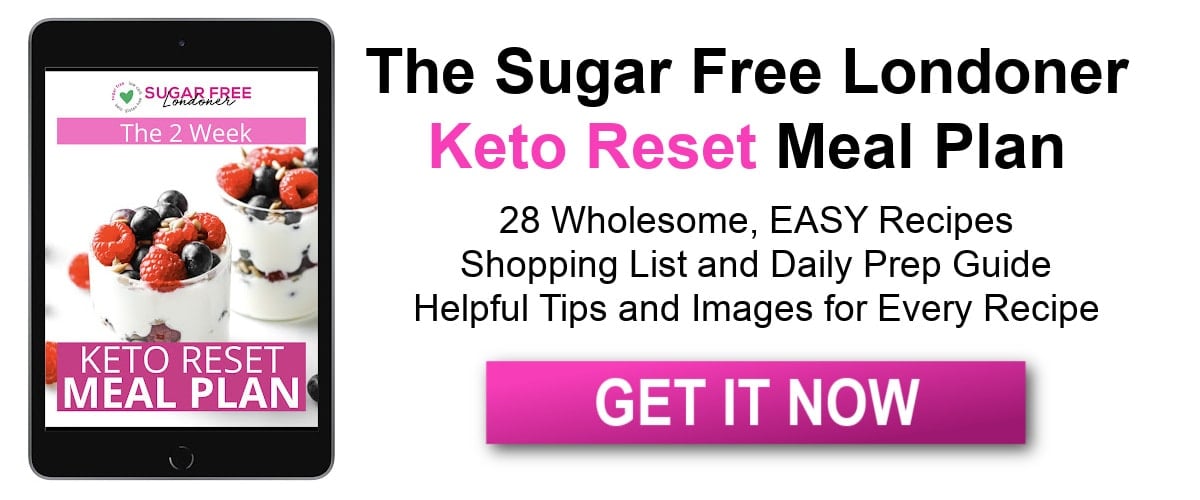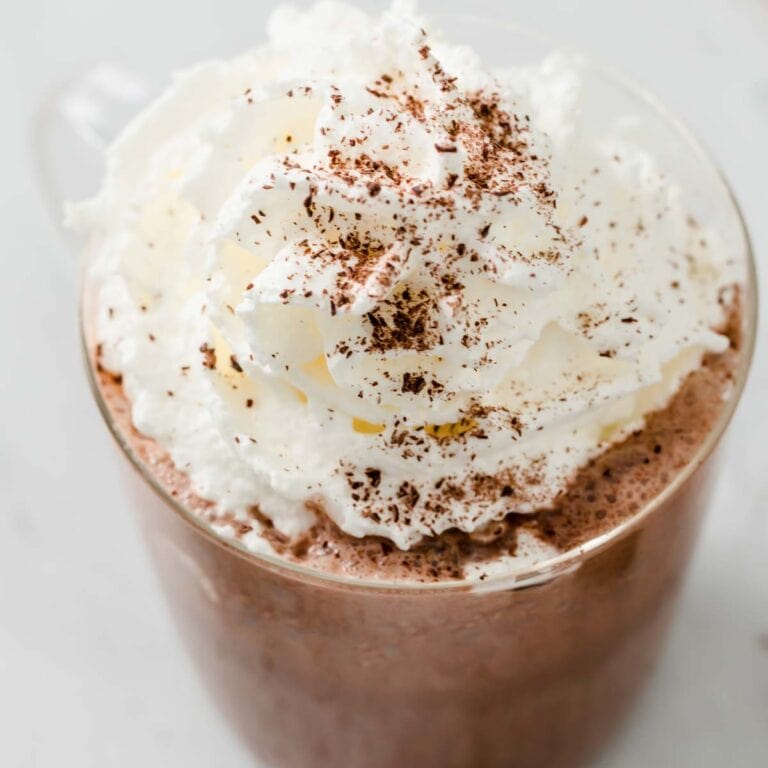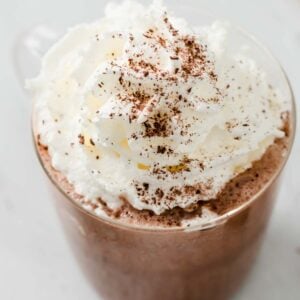 Keto Sugar Free Hot Chocolate Recipe
from
Sugar Free Londoner
Like a hug in a mug: whisk up this creamy, frothy sugar free hot chocolate and enjoy cocoa without the carb load. Learn my hack how to make thick and satisfying hot cocoa that is ultra healthy and good for you at the same time. Hint - I'm not loading you up with cream!!
Note: The servings slider only changes the first amount in each line and not any subsequent amounts. Please make your own calculations where necessary. ***As an Amazon Associate I earn from qualifying purchases.
Ingredients
To serve
optional whipped cream or coconut cream

square of dark chocolate or chocolate shavings

85% cocoa solids minimum
Instructions
Heat the almond milk in a saucepan or in the microwave (90 seconds on high).

Pour into a jug, add the collagen peptides, cocoa powder, salt (plus vanilla extract / mct oil / sweetener, if using). Blend with an immersion blender until frothy. Alternatively, blend in a high speed blender.
Notes
Makes 1 serving of thick, creamy hot chocolate. Use a 250 ml cup to accommodate the froth. 
Nutrition: 2.5g net carbs, calculated without cream topping.  
I don't add sweetener, but add 1 tsp or more of powdered sweetener if you prefer. 
For a more traditional hot chocolate, replace 2 tbsp of almond milk with double / heavy cream or coconut cream and omit the mct oil. (changes the nutrition to 2.8g net carbs per serving)
Nutrition
Calories:
196
kcal
Total Carbohydrates:
6.9
g
Protein:
22.2
g
Fat:
11.8
g
Saturated Fat:
5.6
g
Fiber:
4.4
g
Sugar:
0.5
g
This post contains affiliate links. If you click on one of these links and purchase a product, I may earn a small commission, at no extra cost to you. Thank you for supporting Sugar Free Londoner.