This keto blueberry smoothie is great for a quick low carb breakfast. Being dairy free and so refreshing, it would also make a perfect keto smoothie for that post workout snack!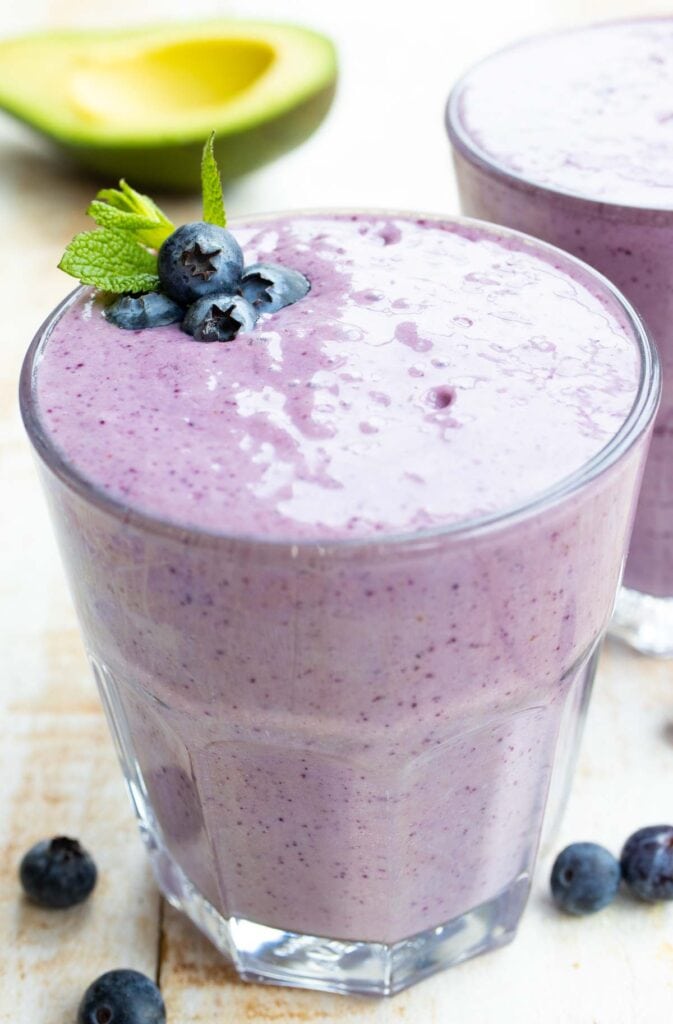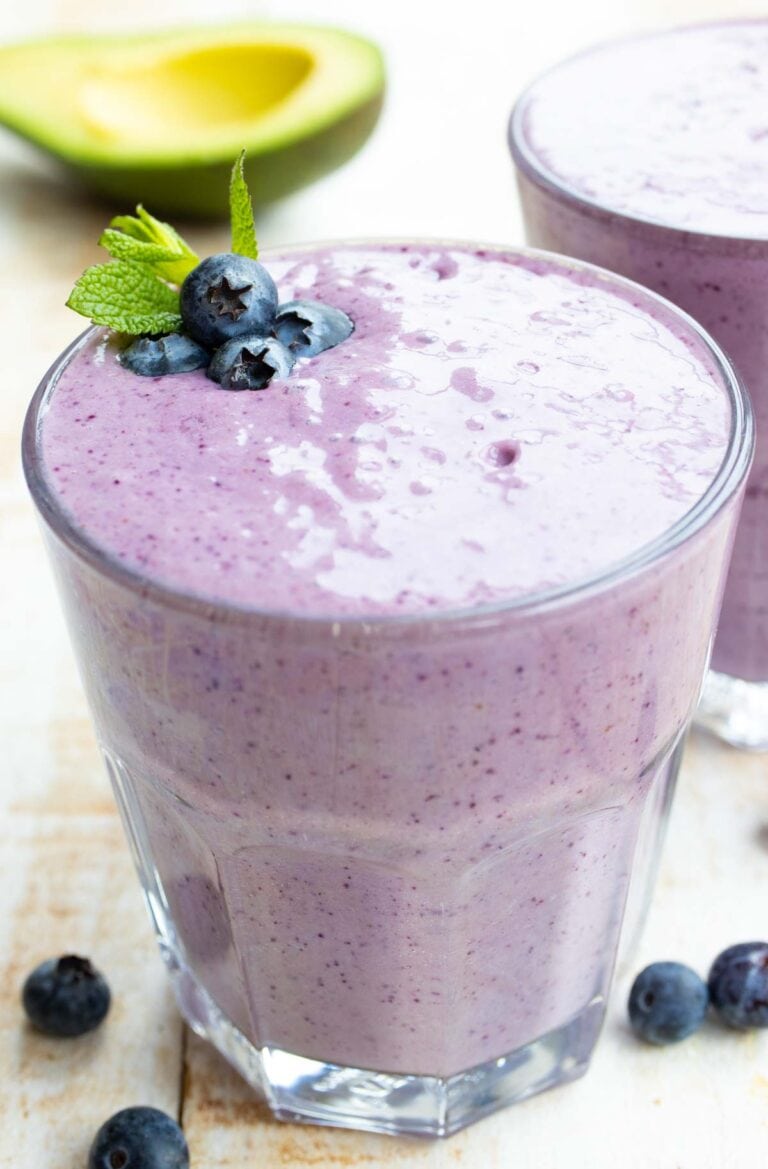 I used to drink plenty of smoothies before I started eating a low carb diet. I'd add plenty of fruit and ALWAYS a banana to thicken it. Which tasted great, but essentially I was drinking a huge glass of sugar.
The good news is that there is no need to give up fruity smoothies on low carb or on a gluten free keto diet. Of course, you can ditch the fruit altogether and make a green keto smoothie with just vegetables (delicious, by the way!).
Or, just have to be mindful of WHICH fruit you put in and HOW MUCH of it.
Carbs in Blueberries
Berries such as blueberries, raspberries, blackberries or strawberries are perfect for keto smoothies. They are amongst the fruit that are lowest in carbs. The Diet Doctor has a great infographic about fruit and their carb count here.
This keto blueberry smoothie uses ¼ cup (35 grams) of blueberries, which keeps the entire drink at 4.8 grams of net carbs per portion.
Keto blueberry smoothie ingredients
There are tons of variations of this smoothie recipe, and I swap and change depending on how I feel.
This time I wanted to make a really simple, really clean version, without powders or fancy ingredients. Let's take a look at the ingredients:
Blueberries
Blueberries are actually the highest in carbs of all the berries. So, if you swap out the blueberries for raspberries or strawberries - which is totally possible - you'll make this smoothie even lower in carbs.
I'm using frozen berries, which helps thicken the smoothie. If you want to use fresh berries, be sure to add an ice cube or two to make it thick and frothy.
Unsweetened almond milk
We avoid dairy milk (but not cream) on the keto diet because it's high in sugars. I like a keto berry smoothie with almond milk best, but any nut milk will work, or unsweetened coconut milk.
Avocado
Now we get to the fun part: how to thicken your low carb blueberry smoothie? I'm using avocado!
I added 30 grams, which is about ¼ small avocado. This makes the smoothie super thick and creamy. Avocado is incredibly nutrient-rich - it contains nearly 20 vitamins and minerals, plus healthy fats.
Vanilla extract
Unless you add some powdered sweetener, the smoothie is not particularly sweet. To give it a more mellow, warm flavour, I always put in a little vanilla extract. Blueberry and vanilla are always a dream team!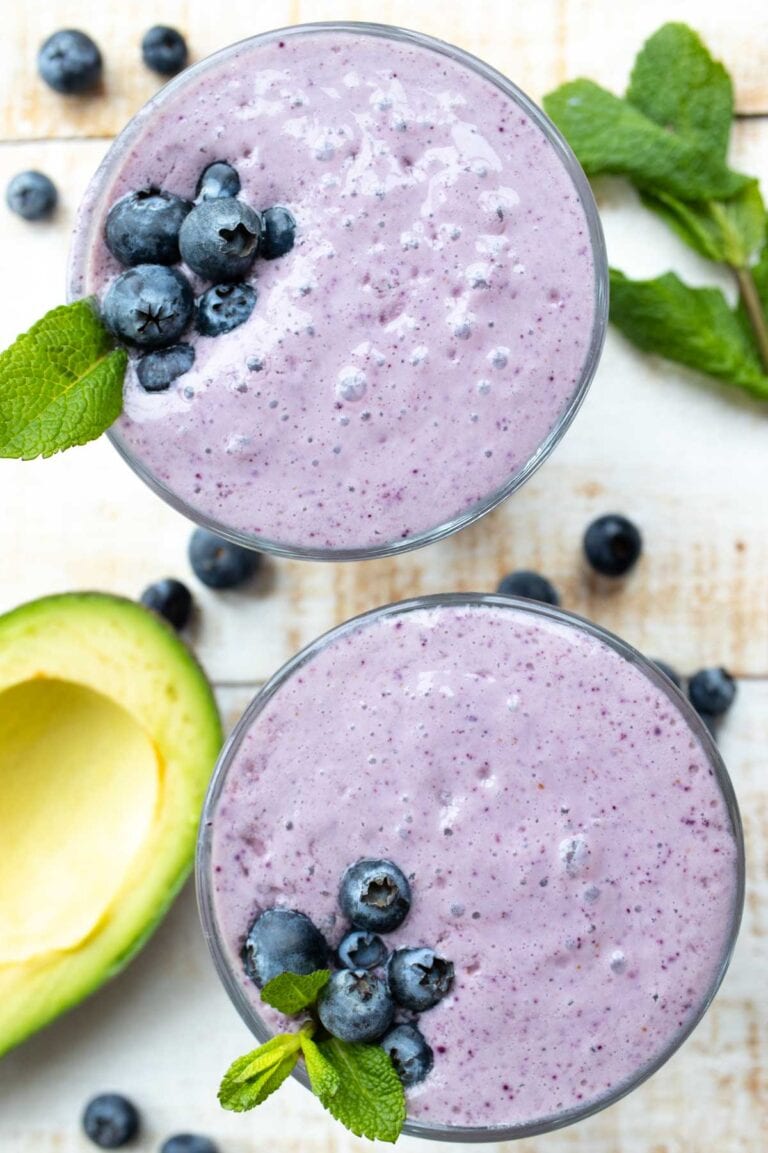 Low carb blueberry smoothie recipe variations
Greek yogurt: I do like the fact that this smoothie is without yogurt, but of course you can swap out ¼ of the almond milk with greek yogurt or coconut yogurt for a tangy twist.
Coconut cream: Adding coconut cream would make this smoothie very filling - perfect if you're after a more substantial drink.
Another way to up your fats intake is to add a tablespoon of MCT oil!
Don't like the idea of avocado? You can get the same creamy thickness by using collagen powder (aff link). I love adding collagen peptides to my diet because it's great for gut health, skin elasticity pus healthy hair and nails.
Protein powder will also thicken it nicely, with the benefit of adding a protein boost.
For both powders, I'd go with 2 tbsp.
Heavy whipping cream and cream cheese - both can be added to a keto blueberry smoothie and would definitely taste good. But I'll be honest with you - this would make it less of a healthy smoothie and more of a dessert. A keto dessert, for sure. Just not my kind of keto meal for breakfast.
Flavour variations
I've mentioned it earlier in the post, but you can vary the berries and use strawberries, raspberries or blackberries instead of the blueberries - or a mix of all.
As an alternative to the vanilla extract, try using a squeeze of lemon or lime! It also tastes delicious. If you choose to try this, you will most probably want to add 1 teaspoon of powdered sweetener as well :).
Last but not least, I sometimes also add a small handful of spinach leaves to my blueberry keto smoothie. NOTE: This will change the colour and make it a bit more grey-ish.
Note - I love to pack in the veggies and it does taste great (in my opinion!). But if you're planning to serve this to the kids, you may need to go easy on the spinach and also add a few more berries (raspberries are better for an intense colour than blueberries!)
Can you make this keto smoothie ahead
Absolutely not! You must drink this smoothie fresh, while it is still frothy from the blender and has a vibrant blue colour.
More keto drinks recipes
Low Carb Keto Strawberry Smoothie - Only 4 ingredients! A refreshing fruity smoothie to start the day.
Detox Green Keto Smoothie - Packed with green veggies and super zingy.
Keto Chocolate Milkshake - Thick and satisfying, for those days when only chocolate will do.
Tried this recipe? Give it a star rating below!
★ STAY IN TOUCH on FACEBOOK, PINTEREST and INSTAGRAM for more great food and join my NEWSLETTER for the latest updates and a FREE EBOOK.★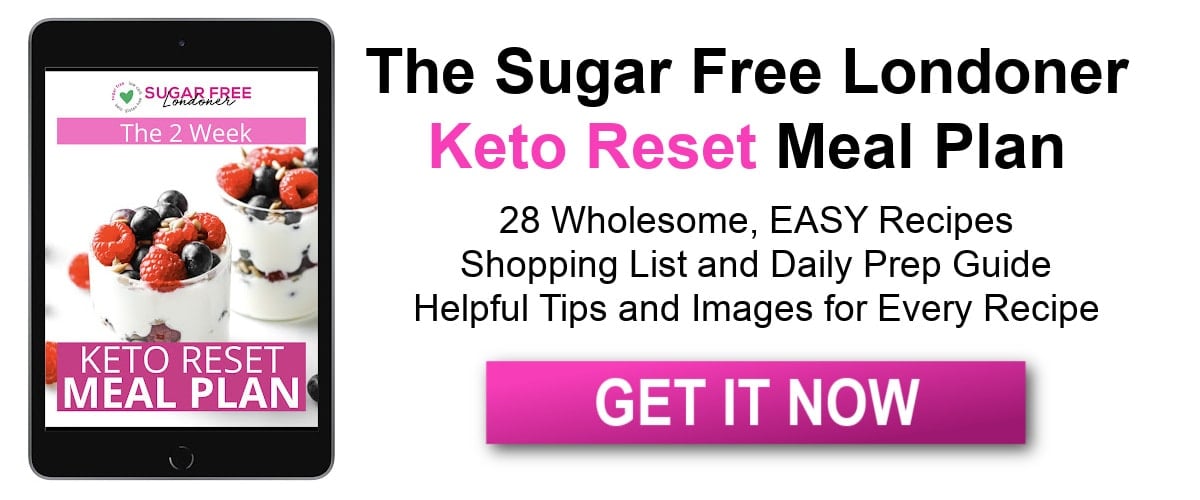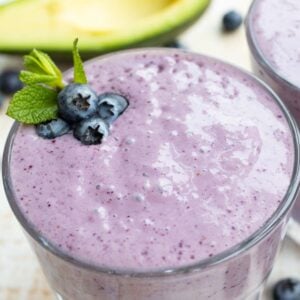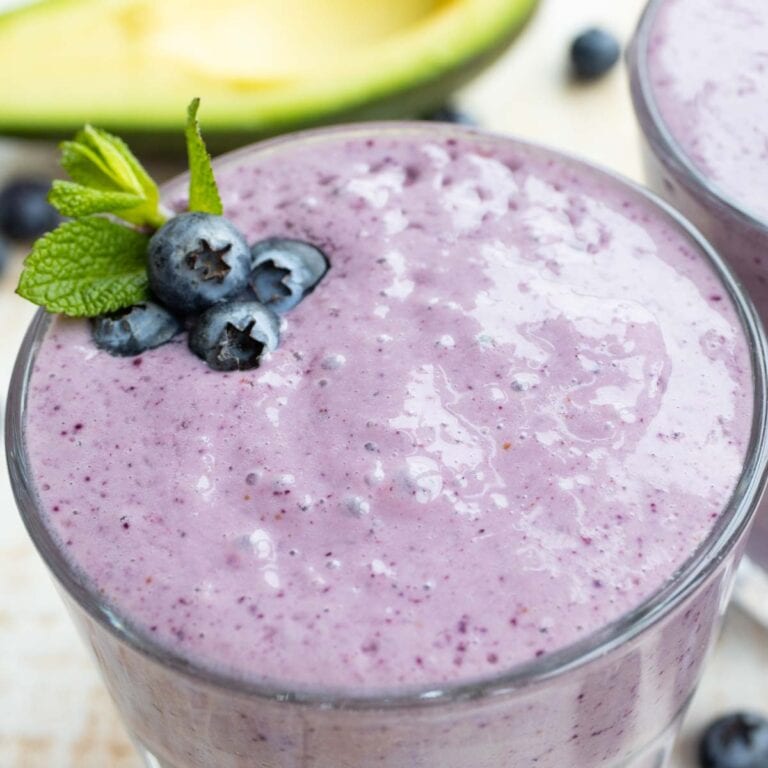 Perfect Keto Blueberry Smoothie
from Sugar Free Londoner
Perfectly creamy and fruity, this blueberry keto smoothie contains avocado to make it extra thick and super satisfying. No powders or fancy ingredients, just simple plant based goodness.
Note: The servings slider only changes the first amount in each line and not any subsequent amounts. Please make your own calculations where necessary. ***As an Amazon Associate I earn from qualifying purchases.
Instructions
Place all ingredients in a blender and blend until smooth.

Taste and add optional sweetener if required.
Notes
Makes 300 ml / 10 fl oz smoothie. Net carbs: 4.8g
You can swap the vanilla extract for a squeeze of lemon or lime juice for a zingy smoothie. 
Add a tablespoon of MCT oil for additional fat. 
You can replace the almond milk with coconut milk or any nut or seed milk of choice. Dairy milk contains more carbs, so be aware that using dairy will increase the net carb count. 
Nutrition
Serving:
300
ml
Calories:
101
kcal
Total Carbohydrates:
8.3
g
Protein:
2.1
g
Fat:
7.3
g
Fiber:
3.5
g
Sugar:
0.4
g
This post contains affiliate links. If you click on one of these links and purchase a product, I may earn a small commission, at no extra cost to you. Thank you for supporting Sugar Free Londoner.