This really easy and decadently creamy sugar free chocolate tart is assembled in minutes. It is gluten free and keto.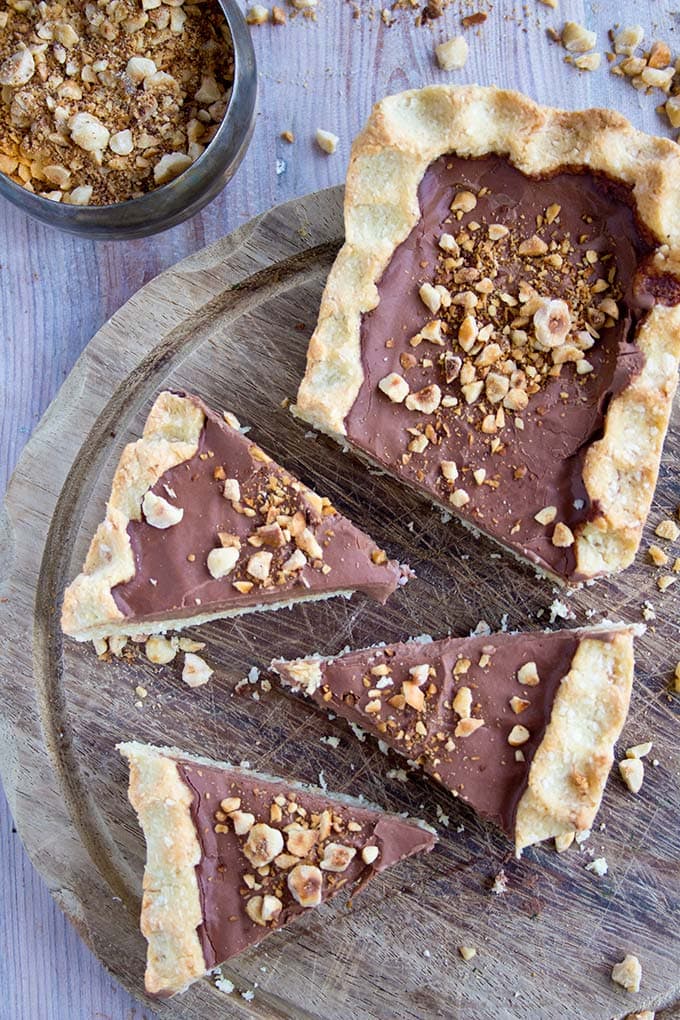 In my opinion, the coconut deserves a medal for awesomeness. Coconuts contain super-healthy medium-chain fatty acids that help you burn fat, reduce cholesterol levels and boost brain function. They are rich in proteins and fibre and above all, they taste deliciously... coconutty.
I have desiccated coconut on weekly repeat order from the supermarket (it's irresistible with plain yoghurt), but frankly, I'm in love with the entire coconut clan. Here they are:
Coconut oil! It's fantastic for frying and I used it in these Coconut Tahini Bliss Balls
Coconut butter! You can spread it on bread or make a cookie/cake glaze like in this keto lemon cake recipe. I sometimes eat a spoonful straight from the jar - it's on a par with (homemade) Nutella.
Coconut flakes and shredded coconut - stir into yoghurts, add a spoonful to your smoothie, use it in granolas (check out this Peanut Butter Granola)
Coconut milk and coconut cream! Perfect for desserts like my keto strawberry mousse and so good for indulgent make-ahead breakfast recipes like this coffee chia pudding.
Coconut flour! It basically is a one stop - grain free, low carb and so easy to use once you've got the hang of its extremely absorbent properties (you need to use a lot less of it in comparison to wheat flour). You can make awesome sweet and savoury dishes with coconut flour. On my blog I've published recipes for low carb waffles, chocolate muffins, coconut blondies and these very popular cheese thyme crackers. Friends, I've barely scratched the surface.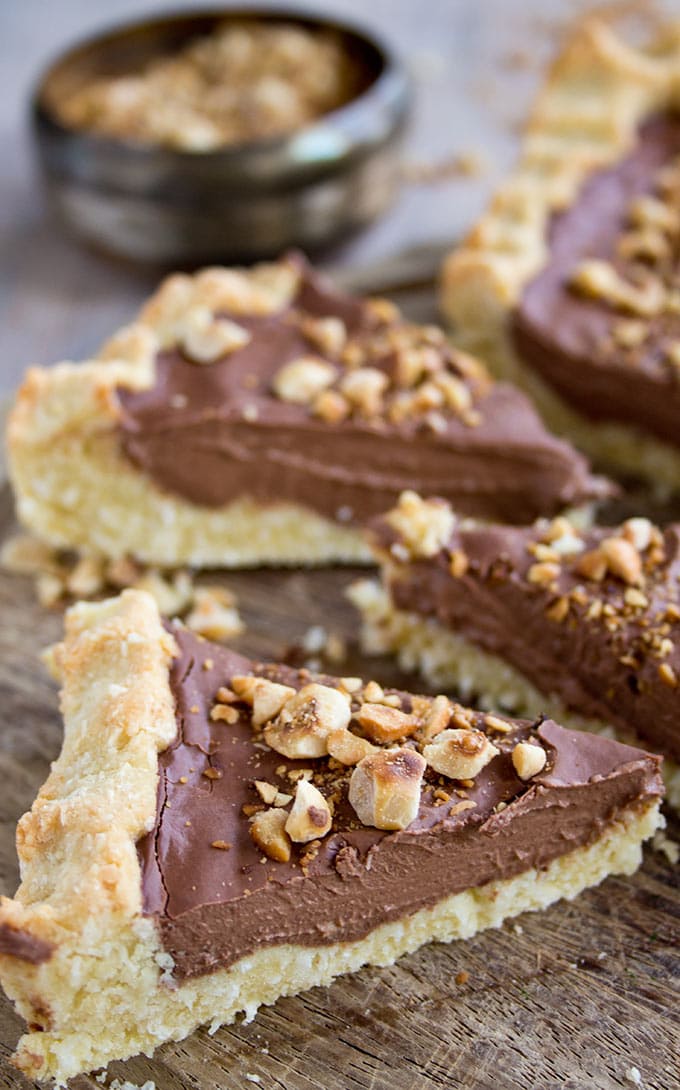 So here's the latest addition to my coconut recipe collection: the really simple sugar free chocolate tart. It is, as the name suggests, really simple and really so good.
I got the idea for this tart from a recipe in a magazine I leafed through in my local Planet Organic, which I tweaked and made sugar free. The base is a mix of almond flour (straight up ground almonds work well here too) and shredded coconut plus one egg. I have experimented by adding vanilla extract to this, cinnamon and also a bit of sweetener. All work fine, but are not necessary. The subtly sweet taste of coconut is quite enough.
The coconut filling is dreamy-creamy, silky and extremely chocolatey. If you wanted, you could even add a teaspoon of Brandy to make it adult only. In terms of topping, any dry-roasted nuts would work, as would toasted coconut flakes, come to think of it. It retains its crunchy bite in the fridge for a few days.
★ Tried this recipe? Give it a star rating below!★
★ STAY IN TOUCH on FACEBOOK, PINTEREST and INSTAGRAM for more great food and join my NEWSLETTER for the latest updates and a FREE EBOOK.★
Recipe
Really Simple Low Carb Chocolate Tart (sugar free)
from Sugar Free Londoner
This really simple and decadently creamy low carb chocolate tart is assembled in minutes. It is gluten free, keto and sugar free.
Note: The servings slider only changes the first amount in each line and not any subsequent amounts. Please make your own calculations where necessary.
Ingredients
120

g / 1 ¼ cup

almond flour

(to my UK readers - ground almonds work fine here)

70

g / ¾ cup

unsweetened shredded coconut

1

medium egg

200

ml

¾ cup coconut cream

50

ml / ¼ cup

coconut oil

melted

10

drops

stevia

or more, depending on your sweet tooth

2

tbsp and 1 tsp

cacao powder

unsweetened

1

teaspoon

vanilla extract

pinch

of salt

small handful of chopped hazelnuts to garnish
Instructions
Preheat the oven to 180 Celsius.

Mix the shredded coconut, almond flour and the egg with a stick blender or in a food processor until it forms a doughy ball.

Press the dough into a loaf tin lined with baking paper (do not omit the baking paper - it makes life so much easier). It should be ca 2 fingers high on the sides. If you wish, pinch the edge with your fingers to make it look pretty.

Bake the tart base for ca 20 minutes or until lightly browned. Remove from the oven and let cool.

Now make the chocolate ganache. Melt the coconut oil, then stir in the coconut cream, cacao powder, vanilla essence, pinch of salt and the stevia or powdered erythritol. Taste and adjust the sweetener if necessary.

Pour into the cooled tart base and place in the fridge until fully set (ca 1 ½ hours).

Before serving, dry-roast some chopped hazelnuts in a pan on medium heat until golden. Sprinkle over the tart and enjoy.
Notes
You could even a teaspoon of Brandy to the filling to make it adult only.
In terms of topping, any dry-roasted nuts would work, as would toasted coconut flakes, come to think of it.
The tart crust retains its crunchy bite in the fridge for a few days.
Nutrition
Calories:
314
kcal
Total Carbohydrates:
4.8
g
Protein:
7.5
g
Fat:
26.3
g
Saturated Fat:
14.9
g
Cholesterol:
48
mg
Sodium:
20
mg
Potassium:
31.8
mg
Fiber:
3.3
g
Sugar:
1.4
g