Fudgy and dense Pumpkin Brownies! This chocolatey, deliciously spiced treat is sugar free, grain free and low carb.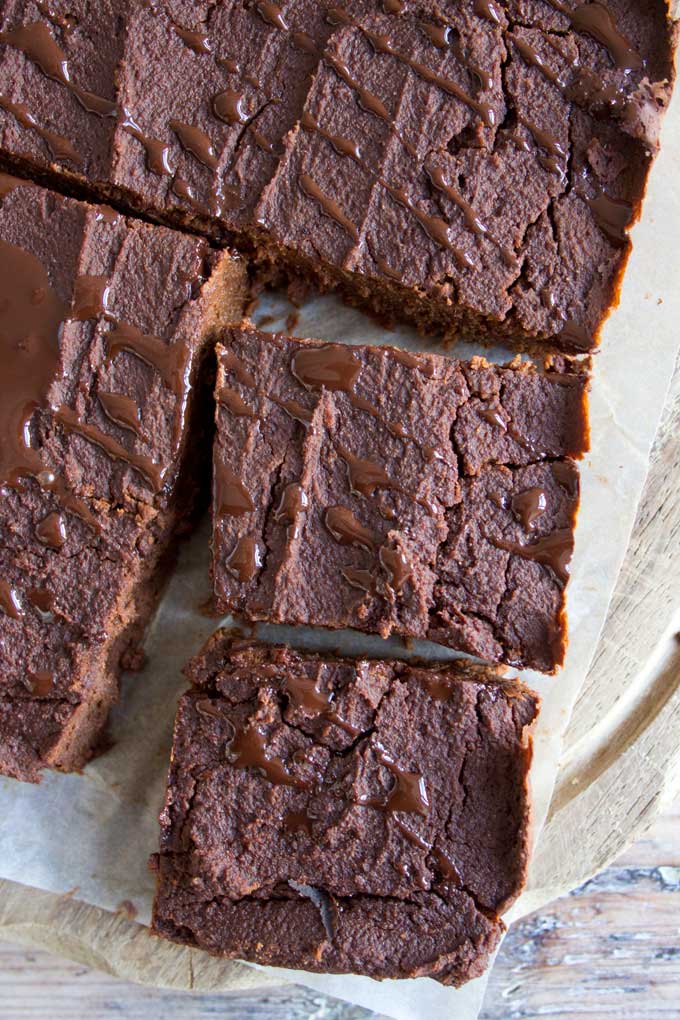 Find the recipe card with ingredients and instructions at the bottom of the page. But don't miss the extra tips in the post! 
Friends, there is no way around it any more. Summer is over. Real life is back.
We're knee-deep into Sensible September.
There's no more sleeping in, floating about in tie-dyed dresses and cracking open chilled bottles of white at wine o'Clock (a time that can be surprisingly early in the day).
Remember the day you booked that summer holiday? Followed by all those weeks you spent looking forward to finally getting away? I love the build-up of excitement almost as much as the main event. And then the moment you finally arrive at your destination – away from the normal, sensible, adult "you".
Holidays are all about awakening our inner hedonist. For some of us that means feeling totally justified in getting a pedicure or enjoying meals out night after night. For others it's dancing the night away even though you're middle-aged or finally having the time and energy to play with your kids.
Oh yes. Holidays rock.
And now? Do we really have to wait until next March until the countdown to the summer hols begins with that first trip to the gym/leg wax (no point of that in February, right?)/checking of possible destinations?
Here's the good news. Real life does not need to be devoid of holiday spirit.
Yes, you might have no choice but to get up at 6.30 and get stuck into work. The kids need to go to school on time and wine o'Clock clearly has to move to a realistic hour.
The rest, friends, is up to us. Why not carry some light-heartedness into the everyday? Let's have some fun, let's treat ourselves, let's create little special moments of joy that make us smile.
You know what made me smile today? These pumpkin brownies.
I've been wanting to make a healthy brownie recipe for a while now. For many years, my go-to used to be a recipe containing sweet potatoes and dates. I liked it so much that it actually was one of the first recipes I posted when I started the blog.
Dates do have benefits over table sugar – they are packed with nutrients and have a high fibre content, which slows the absorption of sugar into the bloodstream. However, are still high in sugar and after all, this blog is called Sugar Free Londoner. After I discovered the magic of natural sugar alternatives and got into the low carb way of eating, not a date has passed the threshold of this house – and the sweet potato brownie recipe has been archived.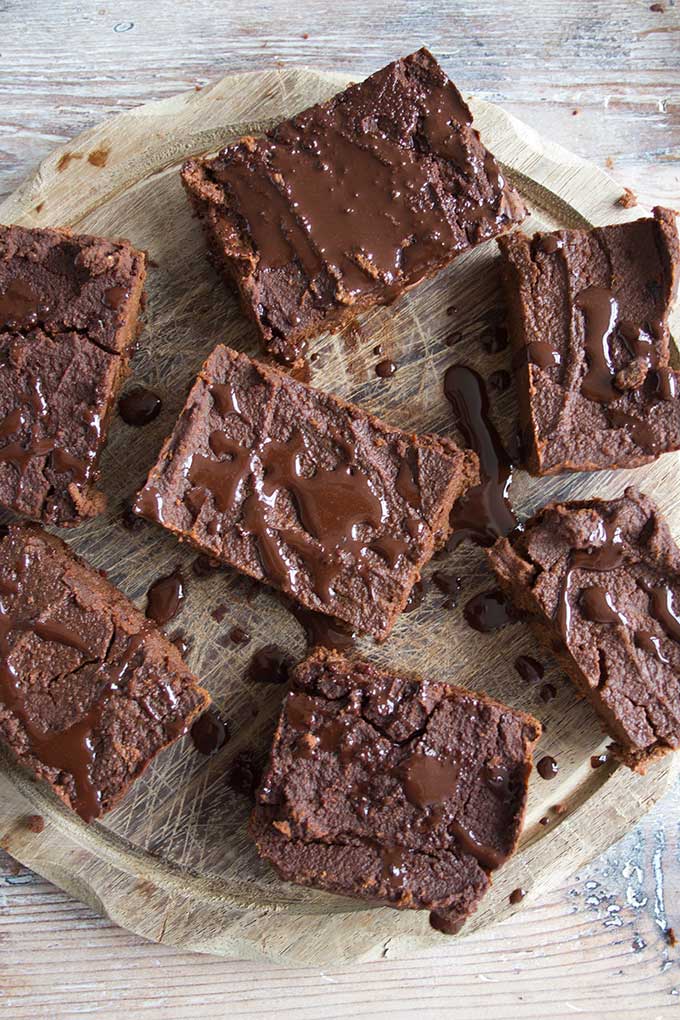 I was thinking about how to re-create the taste and texture of my sweet potato brownies without having to use dates (easy – I replaced them with erythritol) or sweet potatoes.
It was so obvious. Pumpkin!
I'm friends with a bunch of lovely US-based bloggers via Facebook and they are going ABSOLUTELY BONKERS over pumpkin of late. Pumpkin appears to be an annual national obsession that sparks off at the beginning of September, climaxes around Halloween and fizzles out around Thanksgiving.
Here in the UK we will carve one for Halloween and we do like a bit of butternut squash. On a scale of 1 to 10 though, I'd say pumpkin-mania stands at a meek 2.
You can order pumpkin puree online from Tesco, Morrisons and Waitrose (1 brand each), but you'd have a hard time finding it in their regular size outlets. Sainsbury's do not even stock it.
I do realise you can make homemade pumpkin puree quite easily. But I was rather chuffed when I found a can (US import) in my local independent supermarket, which caters to the Expat US moms that live in my North London area.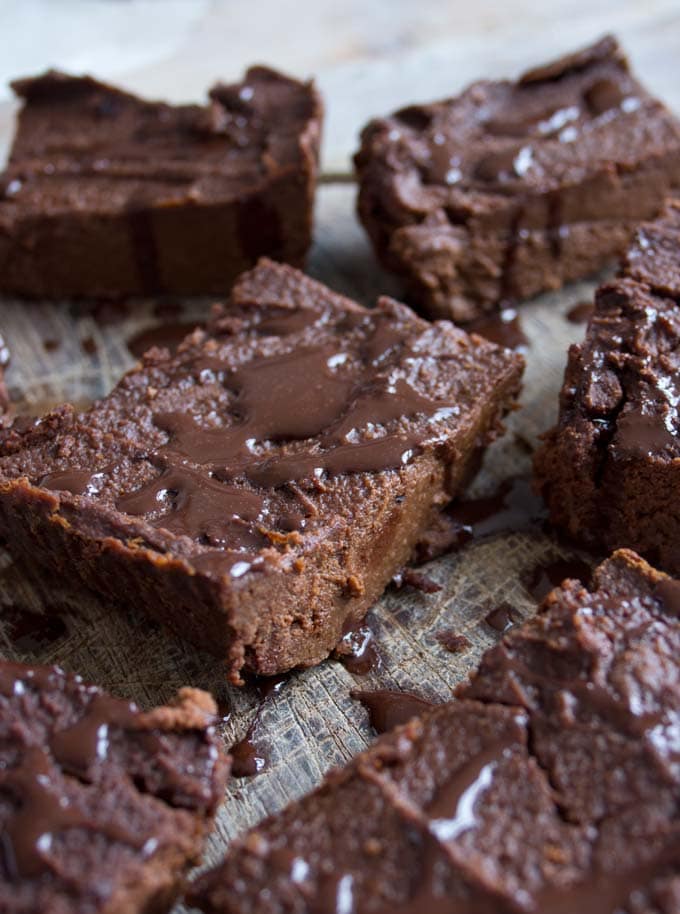 These sugar free Pumpkin Brownies have the same lovely fudgy texture of sweet potato brownies, only without the carb load.
If you cannot source pumpkin puree and feel you cannot spend valuable fun time roasting and pureeing pumpkin, by all means, replace the pumpkin in the recipe with sweet potato. You might want to reduce the almond flour a tad in this case as sweet potato has a firmer texture than pumpkin. Your brownies will be more filling and contain more carbs – if you require it, do re-calculate the nutritional info.
These brownies are VERY FUDGY. If you prefer a more cake-like texture, increase the amount of almond flour to 125g / 1 1/4cup. Alternatively,  add 3 tbsp of coconut flour.
I think that Pumpkin brownies taste of all the best things autumn has to offer. I added 1 tsp of mixed spice (I believe that's pumpkin spice in the US), which, together with the pumpkin itself, lent lovely warm notes. Plus they are soooo chocolatey. And we all know what chocolate does to us humans: it makes us happy!
Definitely one way of injecting a bit of holiday spirit into Sensible September.
For other autumn-inspired flavours check out my butternut squash crisps or these Halloween Bat Cookies!
This post contains Amazon Affiliate links. Thank you for supporting Sugar Free Londoner.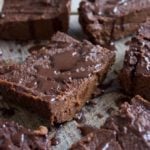 Pumpkin Brownies – Sugar Free, Low Carb
Fudgy and dense Pumpkin Brownies! This chocolatey, deliciously spiced treat is sugar free, grain free and low carb.
Servings
8
decent sized brownies
Ingredients
250

g

pumpkin puree

(1 cup)

100

g

almond flour

(1 cup)

2

large eggs

60

g

Sukrin Gold

or granulated sweetener of choice (1/3 cup)

45

g

cacao powder, unsweetened

(1/3 cup plus 3 tbsp)

50

g

coconut oil

or melted butter (1/4 cup)

1

tsp

baking powder

1

tsp

mixed spice/pumpkin spice

optional

for the glaze: dark chocolate

sugar free or at least 85% cocoa solids, melted (optional)
Instructions
Pre-heat oven to 180 Celsius/350 Fahrenheit.

Combine all dry ingredients in a bowl.

Add all wet ingredients. You can mix with a blender or even with a fork.

Check the sweetness and add more sweetener if required.

Line a baking tin with baking paper (mine was 15x20 cm) and fill with the mixture.

Bake for ca 25-30 minutes or until a knife comes out clean. The brownies will be very soft in the beginning, but they firm up once cool.

If desired, melt 2 squares of dark or sugar free chocolate plus 1 tsp of butter/coconut oil and drizzle over the brownies.

Store in an air tight container in the fridge.
Recipe Notes
I made one batch with ground almonds and one with almond flour. Both work well.
If you prefer a more cake-like texture, add an extra 25g/1/4 cup almond flour or ca 3 tbsp coconut flour.
If you do not have mixed spice aka pumpkin spice to hand, you can sub with cinnamon.
I used cacao as opposed to cocoa powder in this recipe. Cacao is less processed, while cocoa is roasted and has a stronger taste. If you use unsweetened cocoa you might want to reduce the amount and take things from there. Start with 30g/1/3 cup and see if your mixture is chocolatey enough.
Nutrition Facts
Pumpkin Brownies – Sugar Free, Low Carb
Amount Per Serving
Calories 166
Calories from Fat 127
% Daily Value*
Total Fat 14.1g 22%
Cholesterol 60mg 20%
Sodium 21mg 1%
Potassium 167mg 5%
Total Carbohydrates 8.6g 3%
Protein 6.1g 12%
* Percent Daily Values are based on a 2000 calorie diet.