Pliable, easy low carb tortillas with only 4 ingredients! This recipe does NOT TASTE EGGY and is extremely versatile. Use it to make burritos, quesadillas, enchiladas or taco cups. Or, simply use them as keto wraps for a delicious, quick lunch.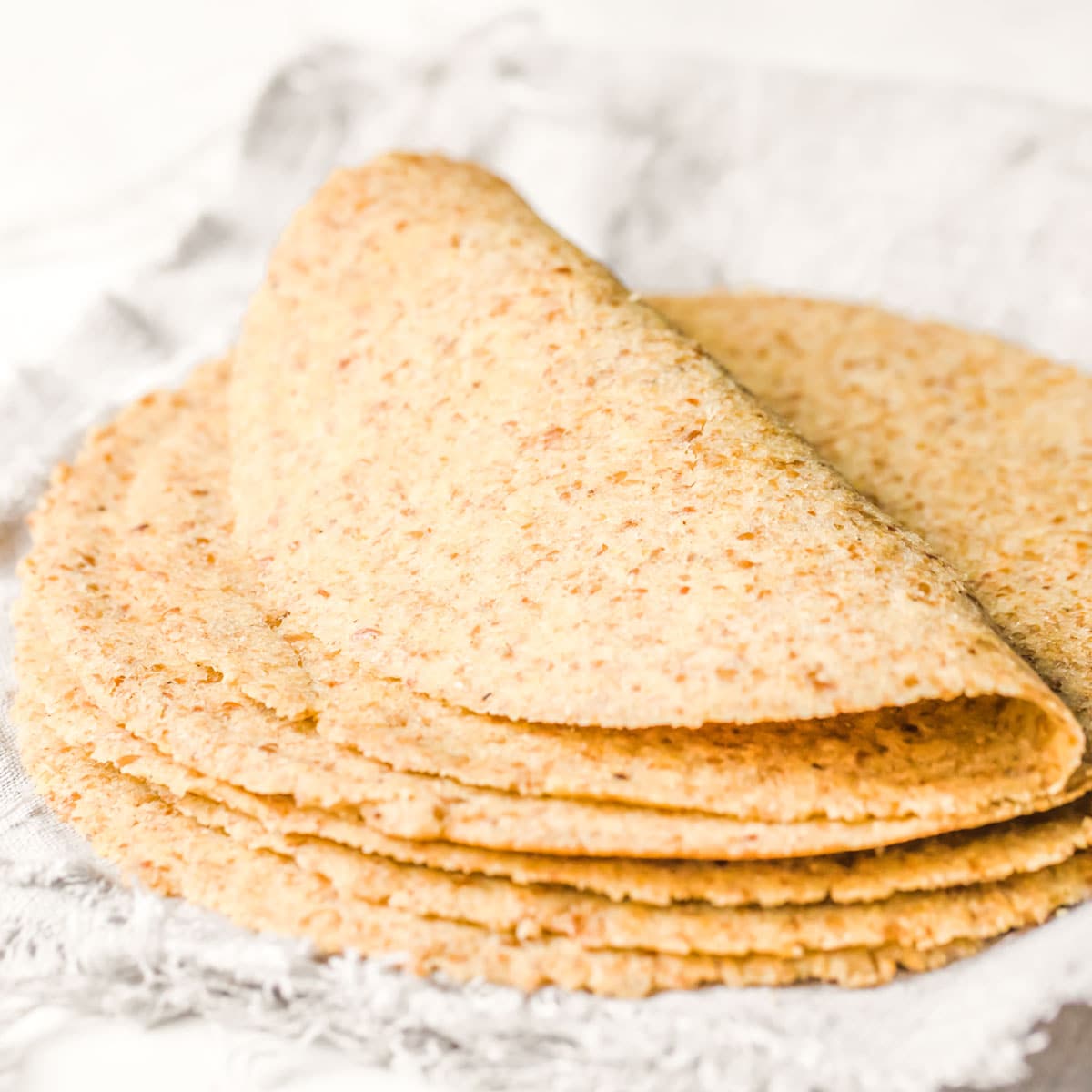 There are a lot of keto tortilla recipes that are either a glorified omelette or that use plenty of cheese. I've tried quite a few and I've done a fair bit of experimenting. However, I never ended up with anything truly spectacular.
I wanted to create a tortilla that does not use loads of eggs. Also, whilst I love cheese (I have a great flaxseed wrap recipe that uses mozzarella), I felt like creating a low carb tortilla recipe that works in both Mexican recipes AND as a good everyday lunch wrap.
Traditional corn tortillas are high in carbohydrates, which causes blood sugar to spike. They're not a good idea when you're trying to keep your insulin in check.
Equally bad are versions made from wheat, whole wheat or other grains.
Think of this almond flour tortilla recipe as a heartier, more rustic version of corn tortillas.
My low carb tortillas are gluten-free, dairy free, high in fiber and protein. They contain just 2.6 grams of net carbs per portion.
Jump to:
Ingredients
This recipe is so simple - only 4 basic ingredients (plus water and salt)!
Almond flour - I used ground almonds, which are equivalent to regular almond flour in the US. If you are using super-fine almond flour, reduce it by 2 tablespoons.
Flax meal - The colour of flax you use will dictate the colour or your wrap. I used golden flax. It has a milder taste and lighter colour. Brown flax would works as well.
Psyllium Husk - The psyllium is essential. It helps with the texture and elasticity of the tortillas.
Egg - I used a large egg.
Instructions
This section contains step-by-step instructions and photos that show how to make this recipe. See the recipe card for full information on ingredients and quantities.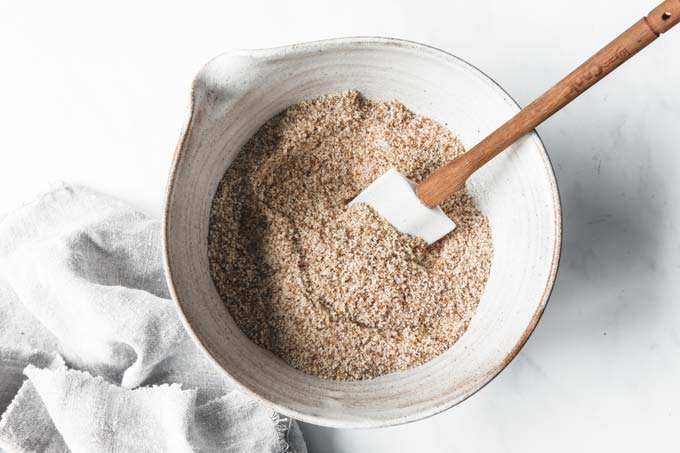 Step 1: Place all the dry ingredients in a mixing bowl. Mix well to combine.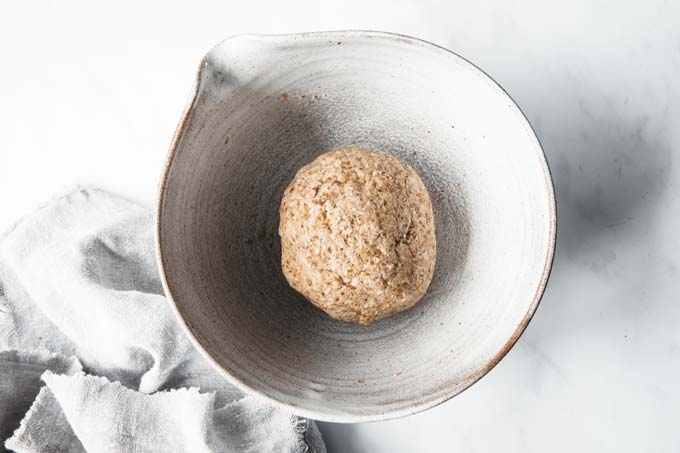 Step 2: Add the egg and mix with a fork. Slowly add the water a few tablespoons at a time. Mix until a dough forms. Use your hands to massage and roll the tortilla dough into a ball.
Step 3: Cover the ball with plastic wrap and place it in the fridge to chill for about 30 minutes.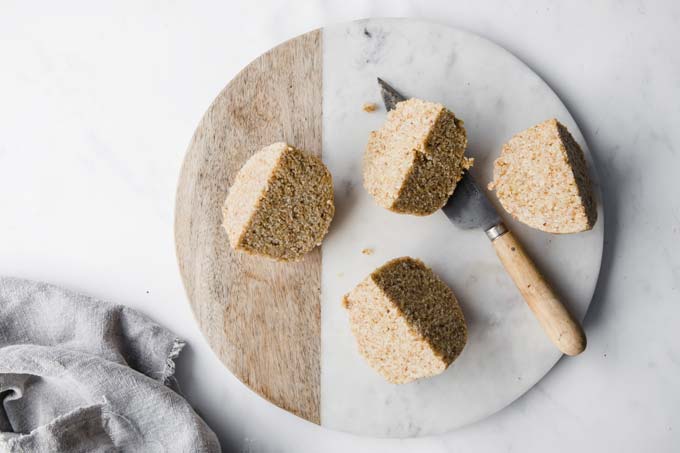 Step 4: Cut the dough ball into 4 portions.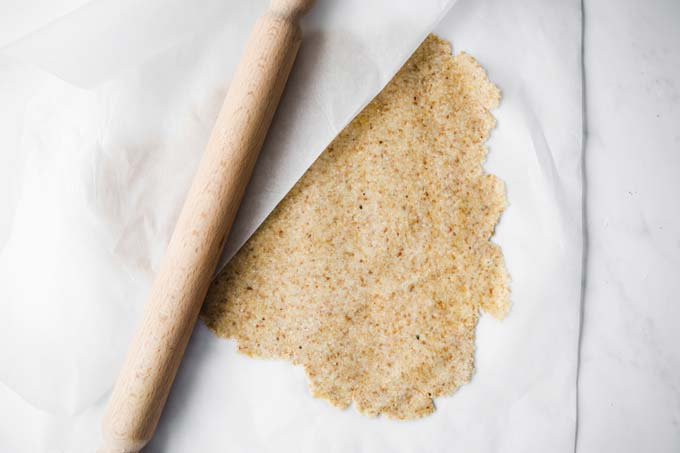 Step 5: Roll the dough thinly between two sheets of parchment paper using a rolling pin.
If you loooove tortillas, consider getting a tortilla press to save time!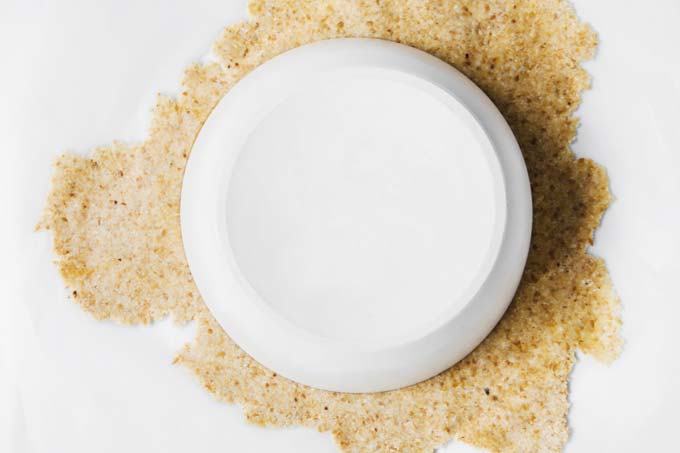 Step 6: Place a bowl or saucepan lid over the dough as a template and cut out a circle with a sharp knife. Use the cut-offs from each tortilla to make the 5th and 6th tortilla.
If you have leftover dough scraps, chop them up and toast as nachos!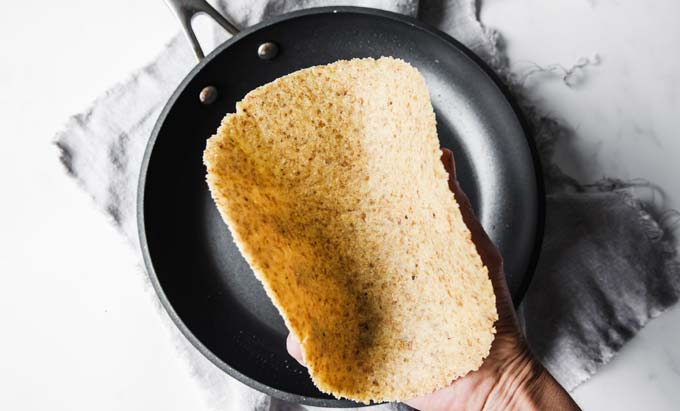 Step 7: Heat a large skillet or non stick pan with oil. Fry each tortilla for 1 minute on one side and up to 40 seconds on the other.
Recipe Tips
Roll the dough out thinly. If the tortillas are too thick they will break when you fold or roll them.
Work with fridge cold dough. You can only roll out the dough thinly if it's cold. If it is room temperature it will be more fragile and may tear.
Don't overcook. Be careful not to overcook the tortillas to prevent stiffening. You can see in the images that my tortillas don't have the signature browned spots we know from corn tortillas. This is because I have found that they lose their flexibility if you fry them too long or at a high heat.
Serving suggestion
These low carb wraps a great match with my low carb Chili or this classic Keto Chili con carne and guacamole or salsa.
My kids have used the dough as a base for mini pizzas with homemade keto pizza sauce, ham and cheese.
The wrap you see in the images is stuffed with a quick healthy slaw, avocado and some roast chicken. Of course, any filling of your choice works.
FAQ
How do I make them nut free?
Substitute the almond flour with sunflower seed flower 1:1. You can make your own sunflower seed flour by blitzing sunflower seeds in a food processor.
What can I use instead of psyllium husk?
A good substitution for psyllium husk is xanthan gum. Use 2 teaspoon in this recipe.
How do I make them egg free?
Here is my recipe for vegan, egg free tortillas:
1 2⁄3 cup / 160g almond flour
1⁄4 cup / 30g golden flax meal
2 tablespoon / 10g whole psyllium husks
1⁄2 teaspoon baking powder
1⁄2 teaspoon xanthan gum
2 tablespoon olive oil
3⁄4 cup / 180 ml warm water
salt, to taste
Variations
Low carb taco shells: Use a saucepan lid or bowl with a diameter of 5-6 inch/12-15 cm to cut out thin, small circles. Fry the dough over a high heat until lightly browned.
While the taco is still very hot, lay it over the rim of a large pan or bowl. Let it cool into a firm taco shape.
I have a great recipe for coconut flour keto taco shells - there's an image of how I cool them. It's the same principle.
Keto tortilla chips: Roll out the dough between 2 sheets of parchment paper into one large rectangle. Remove the top paper and, using a pizza cutter or knife, cut into triangles. I have a recipe for low carb tortilla chips where you can check out how I cut the dough.
Bake in the oven @ 180 Celsius / 350 Fahrenheit for about 12-15 minutes or until lightly browned on top.
More flavor combinations
Try these spices to jazz up these low carb tortillas:
Garlicky - add garlic powder and onion powder
Mediterranean - dried basil, 1 tablespoon tomato puree or sun-dried tomato paste and 2 tablespoons nutritional yeast or parmesan
Mexican - smoked paprika, cumin and a pinch of chili
Storage
Store in the refrigerator for up to 5 days or in the freezer for up to 3 months.
Layer the tortillas between sheets of parchment paper when you freeze them. This way, they don't stick together.
Related recipes
Tried this recipe? Give it a star rating below!
★ STAY IN TOUCH on FACEBOOK, PINTEREST and INSTAGRAM  for more great food and join my NEWSLETTER for the latest updates and a FREE EBOOK.★ 
Recipe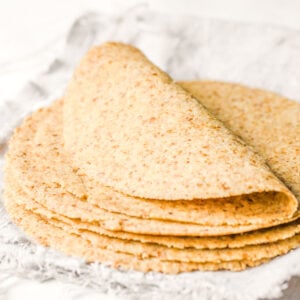 4 Ingredient Low Carb Tortillas
from Sugar Free Londoner
Use these low carb tortillas as a lunch wrap with your favourite low carb fillings or in Mexican dishes. Find out how to turn this recipe into tortilla chips and taco shells!
Note: The servings slider only changes the first amount in each line and not any subsequent amounts. Please make your own calculations where necessary.
Ingredients
1 ½

cup

almond flour

150g (reduce by 2 tablespoons if you're using super-fine almond flour)

⅔

cup

flax meal

80g

2

tablespoon

whole psyllium husks

8g (or 1 tablespoon psyllium husk powder)

1

large egg

whisked lightly with a fork

10

tablespoon

lukewarm water

¾

teaspoon

sea salt

optional
Instructions
Place all the dry ingredients in a mixing bowl (almond flour, flax meal, psyllium husk and salt). Mix well to combine.

Add the egg and mix. Slowly add the water a few tablespoons at a time and mix to combine. Use your hands to massage and roll into a ball. Place in the fridge to chill for about 30 minutes.

Remove from the fridge and cut into 4 portions. Roll the dough between two sheets of grease-proof paper or a silicone mat and 1 sheet of greaseproof.

Use a bowl as a template and cut around using a sharp knife to form tortillas. Use the cutoffs to make the 5th and 6th tortilla.

Heat a non stick frying pan or cast iron skillet with a little ghee, coconut oil, butter or olive oil. Gently warm each tortilla for about 1 minute on one side and up to 40 seconds on the other. Careful not to overcook the tortillas to prevent stiffening. Re-grease the pan for each tortilla and repeat until all the tortillas are cooked.
Notes
Makes 6 large tortillas at 18 cm / 7 inch diameter or 8 small tortillas @ 15 cm / 6 inch. Nutrition is calculated for 6 large tortillas. 
1 large tortilla with a sufficient filling makes for a good lunch. Thanks to the almond flour and the flax, they are quite filling.
Net Carbs: 2.6g per serve.
Store in the fridge in a Tupperware for up to 5 days or in the freezer for up to 3 months.
Make sure you know the type of psyllium you're using: WHOLE psyllium husks may appear to be powder at first glance, but if you look closely, they look like little sticks. Psyllium husk powder is a proper powder and you'll only need 1 tbsp.
Nutrition
Calories:
231
kcal
Total Carbohydrates:
9.7
g
Protein:
8.9
g
Fat:
19.6
g
Saturated Fat:
1.7
g
Fiber:
7.1
g
Sugar:
1.4
g