These moist, chewy Keto blondies are easy to make and perfect for coconut lovers! They contain coconut flour, coconut oil, desiccated coconut AND coconut cream. The recipe is low carb, gluten free and sugar free.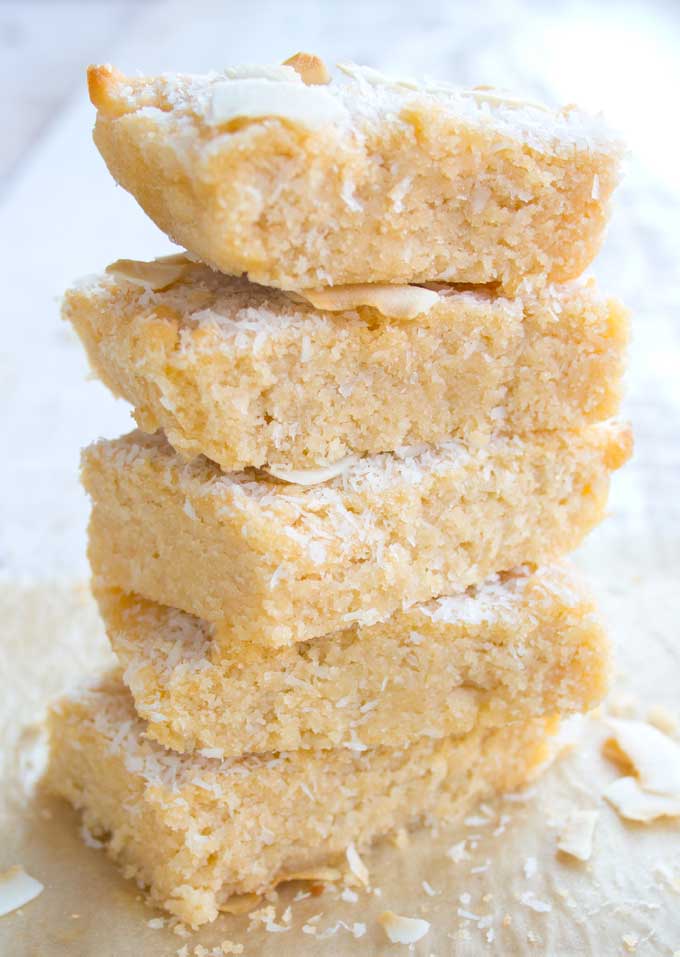 Coconut flour rocks. Why?
First of all, you can make coconut blondies with it.
Five minutes prep, 20 minutes oven, bingo. Sweet heavens, let me be totally un-modest here - they are divine.
But there is more. These Keto blondies are also seriously nutritious.
Here's a quick coconut flour overview:
one of the healthiest flours on the market. Grain flours contain gluten which some people find difficult to digest. Because coconut flour is not a grain-based flour, it is non-inflammatory and low in carbs.
aids the metabolism. Coconut flour contains high levels of healthy saturated fats. These improve the metabolism and are used for energy as opposed to being stored in fat tissue.
high in fibre. The 61% dietary fibre that coconut contains makes it very satiating and good for digestion.
helps with maintaining a stable blood sugar level. Coconut flour is low in carbs and has a low GI.
A little goes a long way. Coconut flour looks pricey at first glance, but you only need a small amount as it is super absorbent.
These Keto blondies are the fair counterpart to my fudgy Keto brownies.
Anything chocolate is wonderful. But when you feel like something lighter, this sugar free blondie recipe fits the bill. They are fluffy yet moist, with a hint of vanilla.
How to make Keto blondies - step by step: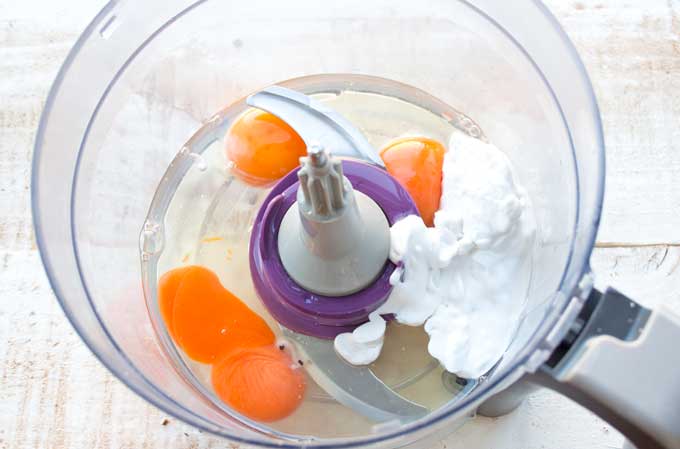 1.) Combine your wet ingredients - eggs, melted coconut oil, coconut cream and vanilla. Blend in a food processor or with an electric blender until well-combined.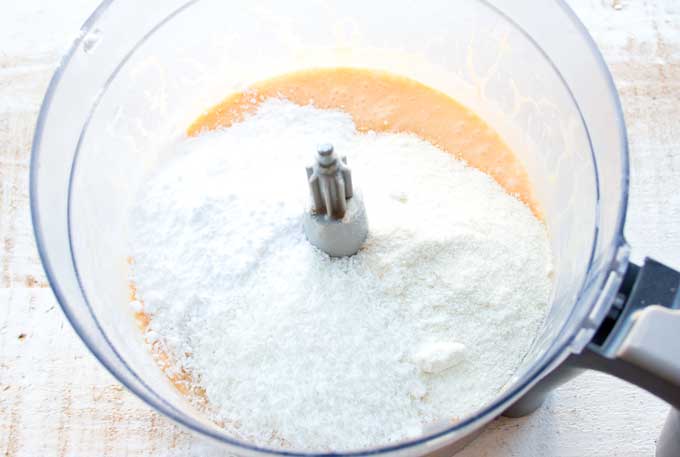 2.) Add your dry ingredients - coconut flour, desiccated coconut, sweetener and baking powder.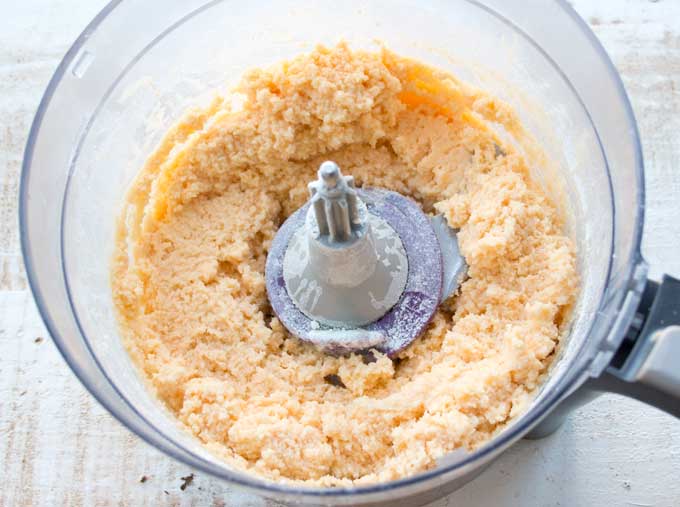 3.) Blend. Your dough/batter will be fairly firm, but spreadable.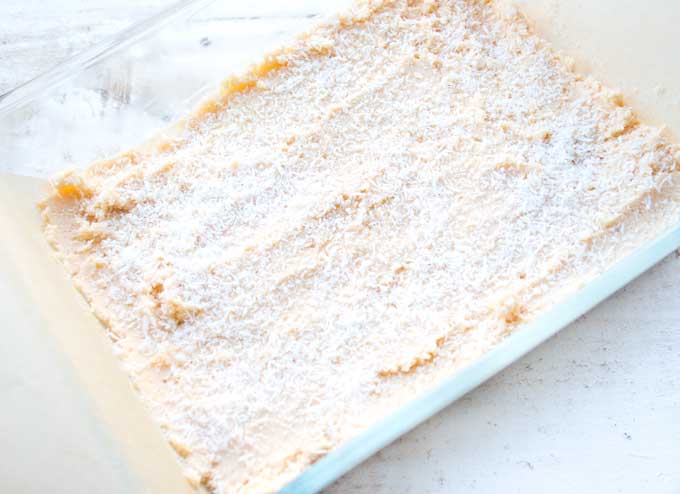 4.) Line a baking pan with parchment paper and fill in the dough. Sprinkle with more desiccated coconut or coconut flakes.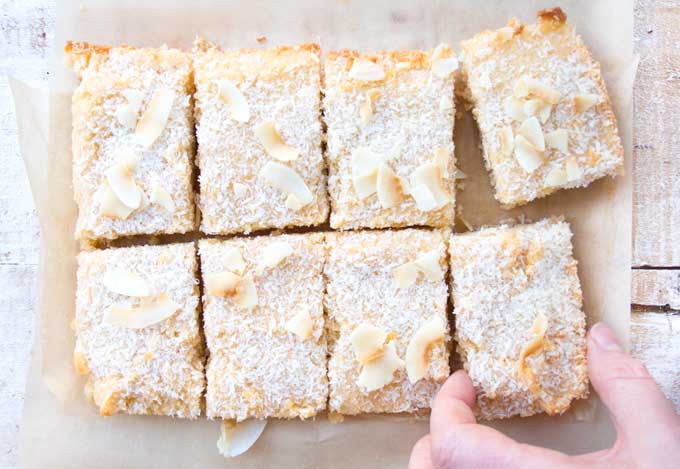 5.) Bake at 175 Celsius / 350 Fahrenheit until lightly browned. The blondies will still feel soft, but they firm up once cool.
Tips and tricks to make the perfect Keto blondies
A 7 x 7 inch baking pan would be ideal for this recipe. Don't worry if your pan has a different size - mine did, too. I spread the dough into a 6 x 9 inch pan, only using a space of 6 x 8 inch (15 x 20 cm). Coconut flour dough is quite firm and does not spread. I stuffed the unused part of the pan with some additional baking paper.
Make sure you coconut oil is liquid, but not scalding hot. You don't want to cook your eggs before they're in the oven!
I once made this recipe with almond extract instead of vanilla extract. Also very nice!
If you're using coconut cream from a can of coconut milk, only take the firm part. You can use the liquid part and any leftovers for a curry later.
Let's talk sugar free sweetener: I wanted my blondies to be light blond, that's why I used powdered erythritol. For a honey blond finish, you could also use a brown sugar alternative such as this one.
Feel free to add sugar free chocolate chips, cocoa nibs or chopped dark chocolate (use a variety with at least 85% cocoa solids) to the dough.
Here are more great coconut recipes: 
Tried this recipe? Give it a star rating below!
★ STAY IN TOUCH on FACEBOOK, PINTEREST and INSTAGRAM  for more great food and join my NEWSLETTER for the latest updates and a FREE EBOOK.★ 
Recipe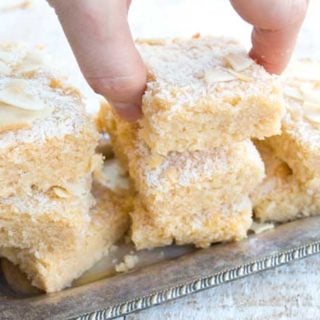 Keto Coconut Blondies
from Sugar Free Londoner
These Keto blondies are an absolute favourite in my house! The recipe is sugar free, gluten free and low carb and only needs 5 minutes prep plus 20 minutes oven time.
Note: The servings slider only changes the first amount in each line and not any subsequent amounts. Please make your own calculations where necessary.
Instructions
Preheat the oven to 175 Celsius / 350 Fahrenheit. Line a 7 x7 / small baking tin with parchment paper.

In a large bowl or in a food processor, blend the melted coconut oil, vanilla extract, eggs and coconut cream.

Add the dry ingredients - coconut flour, desiccated coconut, baking powder and sweetener. Mix until just combined and the batter is smooth. Check the sweetness and add more sweetener if needed.

Fill into your baking pan and sprinkle with shredded coconut.

Bake for 20 minutes or until edges are golden brown.

Let the blondies cool completely before cutting.
Notes
The blondies will seem soft when they're still hot. They firm up as they cool. 
This recipe is only gently sweet. Do adjust the sweetness by adding an additional 1-2 tablespoon of erythritol if you wish. 
Nutrition is calculated per blondie assuming 8 generous and filling slices. 
Nutrition
Calories:
167
kcal
Total Carbohydrates:
5.5
g
Protein:
3.6
g
Fat:
14
g
Saturated Fat:
8.7
g
Cholesterol:
69.8
mg
Sodium:
26.6
mg
Potassium:
25.9
mg
Fiber:
3.3
g
Sugar:
0.3
g
This post was first published in July 2016. It was updated in February 2019 with new photos and a recipe change to reflect how we make these Keto blondies now. 
This post contains affiliate links. If you click on one of these links and purchase a product, I may earn a small commission, at no extra cost to you. Thank you for supporting Sugar Free Londoner.