Are you ready for sugar free popsicle heaven? These Mexican chocolate fudgesicles are so insanely chocolatey and deliciously rich you'll want to keep them all for yourself. They are low carb, dairy free and have a prep time of only 20 minutes.
Hands up who else couldn't live without ice cream?
I could eat it all year round, especially if it contains chocolate in any shape or form, such as this sugar free chocolate avocado ice cream. Incidentally I married someone who feels about ice cream the same way (though he goes bananas for salted caramel). That we have children who would literally do any chore if ice cream is promised surely does not surprise you. It's in their genes.
These chocolate fudgesicles have been created by my blogger friend Martina from the Keto Diet App Blog and they have made this whole family very, very happy. They are featured in Martina's new book "The Beginner's KetoDiet Cookbook", which is packed with useful advice, such as how to remedy "Keto-flu", and over 100 recipes - from appetisers to lunchbox dishes, soups, salads, main courses and desserts.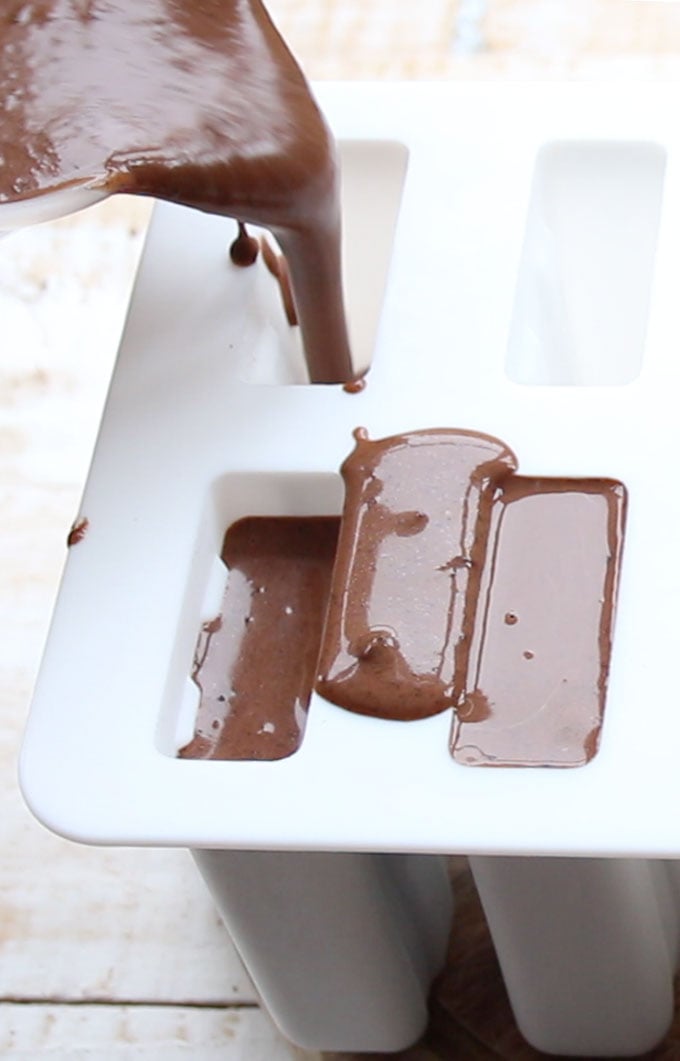 There are only a handful of dessert recipes in the book. Which is fair enough, because nobody needs to eat dessert on a daily basis, even if it's sugar free and low carb. I know that my blog is filled with rather delicious sweet treats, which might convey the wrong idea. The amount of salads (and eggs!!!) consumed in this house is astonishing. My spiralizer never leaves the kitchen counter - true story.
But we all deserve a treat once in a while, and a nice long bath does not deliver the same kind of pleasure a rich, chocolatey, sugar free popsicle does, even if you have scented candles.
Let's do a quick deep dive on our Mexican chocolate fudgesicles.
Coconut Milk. We're talking the full fat coconut milk from a can, which has around 18g fat per 100g. It's often part creamy/firm, part liquid.
Chocolate. Try to source a good quality chocolate - you'll taste the difference. I used unsweetened, but 90% cocoa solids would work, too. Both cacao or cocoa powder word fine. Again, make sure it's unsweetened.
Sweetener. Powdered is best, because you don't want the erythritol granules to sink to the bottom of your mix. If you don't have powdered sweetener, try grinding your granulated sweetener before using. If you like your treats fairly sweet, use the amount of sweetener specified in the recipe card. If you prefer less sweet, try using ½ cup / 80g granulated erythritol and 8 drops stevia.
Spices. Martina's recipe suggests adding ¼ teaspoon salt and ⅛ teaspoon cayenne pepper. I didn't add the salt because we had run out, and I didn't add the cayenne because of the kids. If you've got salt in the house, go right ahead, and if you like a bit of fire, cayenne would add an awesome kick. Let me know if you do!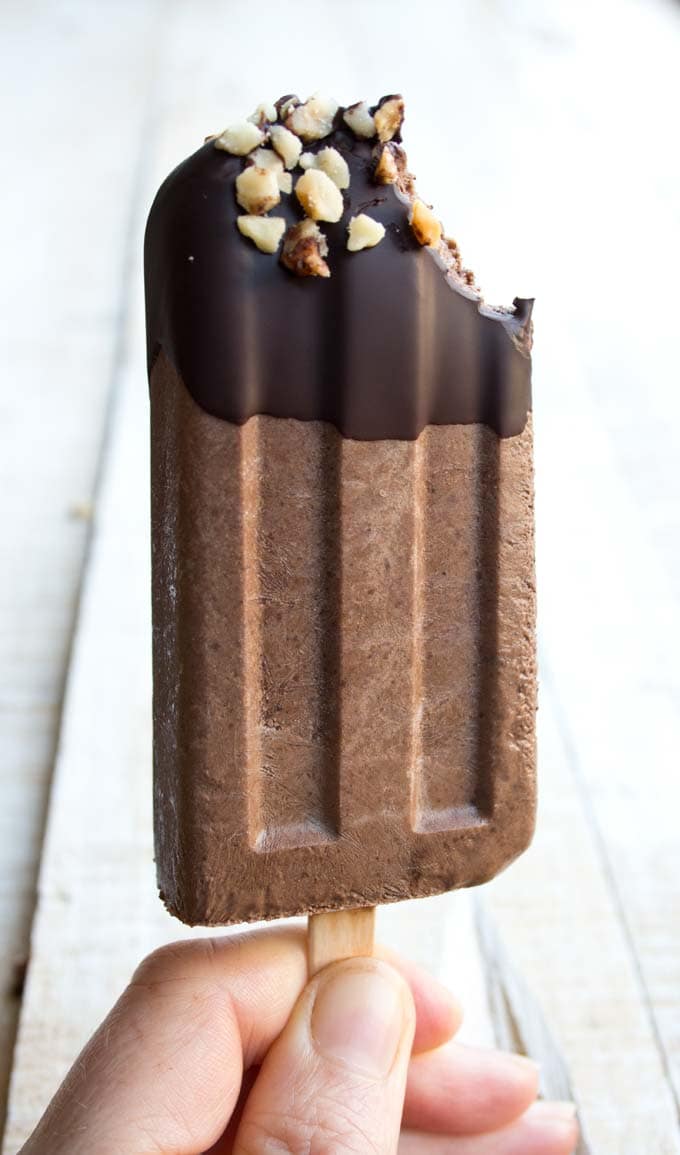 ★ Made this recipe? Give it a star rating below!★ STAY IN TOUCH on FACEBOOK, PINTEREST and INSTAGRAM for more great food and join my NEWSLETTER for the latest updates.★ 
Recipe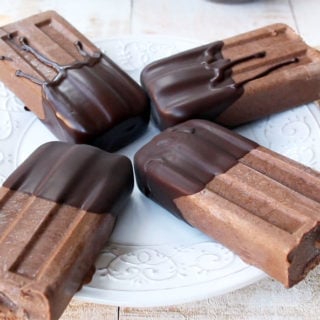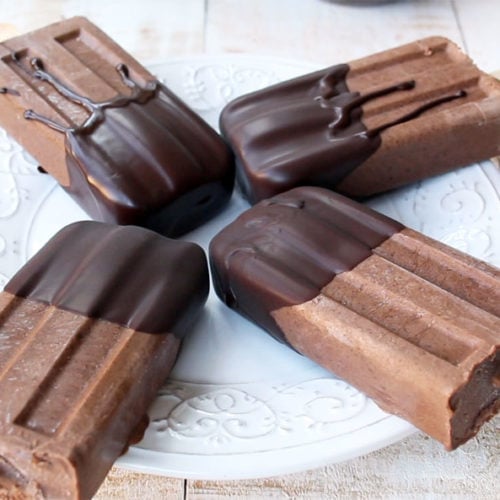 Mexican Chocolate Fudgesicles
from Sugar Free Londoner
These Mexican chocolate fudgesicles are so insanely chocolatey and deliciously rich you'll want to keep them all for yourself. Low carb and dairy free.
Note: The servings slider only changes the first amount in each line and not any subsequent amounts. Please make your own calculations where necessary.
Ingredients
For the Chocolate Coating
Instructions
Heat the coconut milk in a saucepan until it bubbles.

Take off the heat and add the chocolate, cocoa powder, powdered erythritol, vanilla extract, cinnamon and nutmeg. Stir until the chocolate is dissolved and the mix is well-combined.

Let the mix cool and taste. Add liquid stevia if you prefer more sweetness.

Pour into popsicle moulds (about ⅓ cup / 80 ml each). I love these silicone moulds! Add sticks and freeze around 4 hours.

To make the coating, melt the chocolate and coconut oil in a waterbath. For this, you place a bowl int a larger bowl which you have filled with boiling water. The water heats the smaller bowl from the outside, which causes the chocolate and coconut oil to melt.

Remove the fudgesicles from the moulds by running some hot water over them. Dunk popsicles into the chocolate or drizzle it over and sprinkle with topping, if using.
Notes
The nutrition facts have been calculated on the basis of 10 fudgesicles. My moulds were a little larger than Martina's, so I ended up with 8 fudgesicles. They were a GENEROUS portion though, so I think next time I'll pour in a little less so I'll end up with 10 as well.
If you want an extra nutritious fudgesicle, replace 1 large avocado (200g) for ½ can (200 ml / 6.7 oz) of coconut milk and blend it with the mix just before pouring into the moulds. 
You can reuse the wooden sticks! Just pop them in the dishwasher 🙂
Nutrition
Serving:
80
g
Calories:
273
kcal
Total Carbohydrates:
7.8
g
Protein:
3.8
g
Fat:
27.3
g
Fiber:
2.6
g
This post contains Amazon affiliate links. If you click on one to these links, I may earn a small commission, at no extra cost to you. Thank you for supporting Sugar Free Londoner. I'm not getting paid for reviewing the book.