There is nothing quite as refreshing as a tall glass of keto iced coffee. It's so easy to make a low carb version of the coffee shop favorite. If you are missing Starbucks iced coffee, this recipe is for you!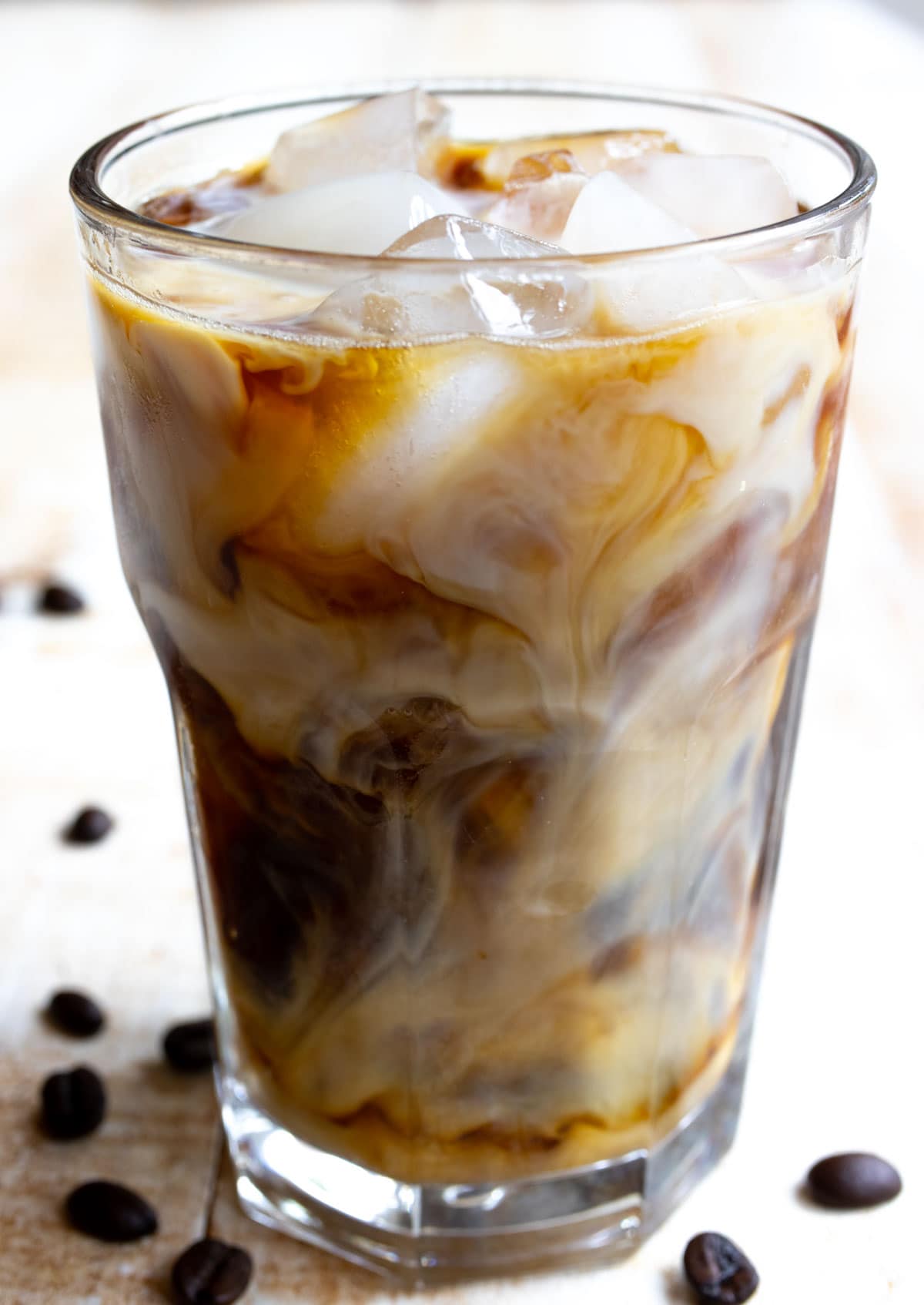 I used to be one of Starbucks best customers. Most of the year I'd order hot coffee, but during summer I would always go for their iced coffee. Let me tell you, in hindsight it was quite an expensive habit!
While I still love drinking coffee in coffee shops (although today I choose independent cafes over the big chains), I also enjoy making really good coffee at home.
At this time of the year I like a good low carb iced coffee. It is refreshing and energising at the same time. Plus, I can prepare it in advance and there is less to do in the morning.
Jump to:
Basic keto iced coffee recipe
Regular iced coffee is made with brewed and cooled coffee plus milk. Often, it is also sweetened with a flavored syrup.
The good news is that not all iced coffee drinks have to be high in sugar!
Here are the ingredients for a delicious keto iced coffee:
Strong black coffee. I recommend that you brew the coffee stronger than you normally would. This way it won't weaken when it gets diluted by the ice cubes.
Heavy cream. I like to use heavy whipping cream - double cream here in the UK - instead of the dairy milk. It makes the coffee creamier and richer. It is also lower in sugar than dairy milk. You can find suggestions for dairy-free cream alternatives further down in the post.
Vanilla extract: This is optional, but I love the warm taste of the vanilla in coffee.
Sugar-free syrup. Also optional. Personally, I don't like sweetened coffee any more. But we are all different. Add as much as you like!
Instructions
First, brew a strong coffee of your choice and let it cool to room temperature. This can be a filter coffee, cold brew, made in a Nespresso machine or French press. It could even be instant coffee granules.
Pour the coffee into a tall glass or cup filled with ice cubes.
Add the cream, vanilla and optional sweetener and stir. Enjoy and caffeinate!
Note: You can use cold coffee from the day before.
What to serve with iced coffee
In the morning I recommend to try it with a portion of my Keto Scrambled Eggs or with my egg white wraps.
In the afternoon it gets even more fun:
Affogato. Add a scoop of my Sugar Free Ice Cream.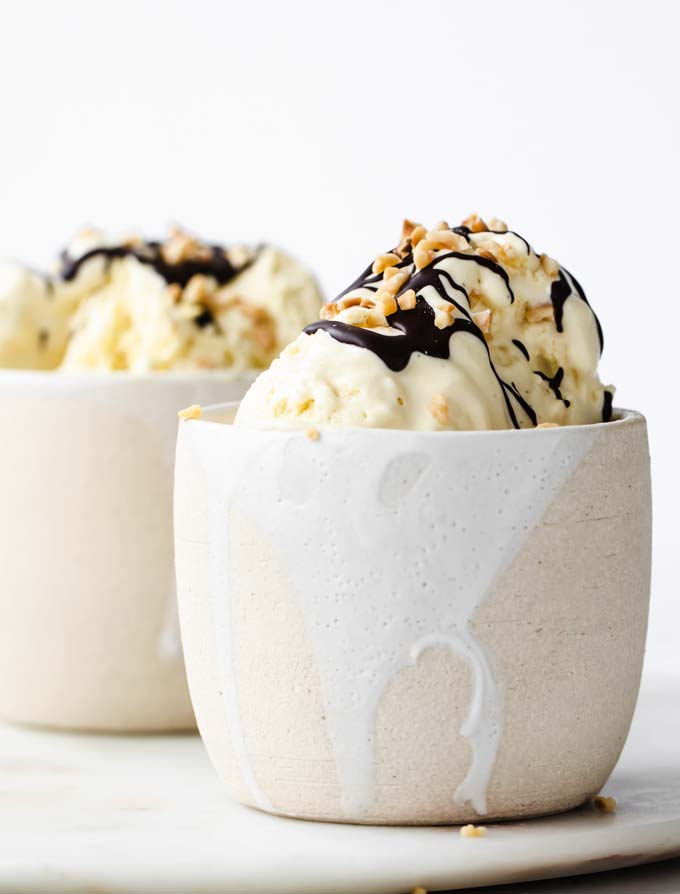 Cookies. How about my Keto Peanut Butter Cookies or my super soft Keto Coconut Flour Cookies.
Donuts! I've got 2 options: Sugar Free Keto Donuts (these are only 1g net carbs) or these chocolatey Keto Donuts.
And of course, brownies. I suggest a square of sugar free brownies. This is the combo I have just enjoyed before writing this post.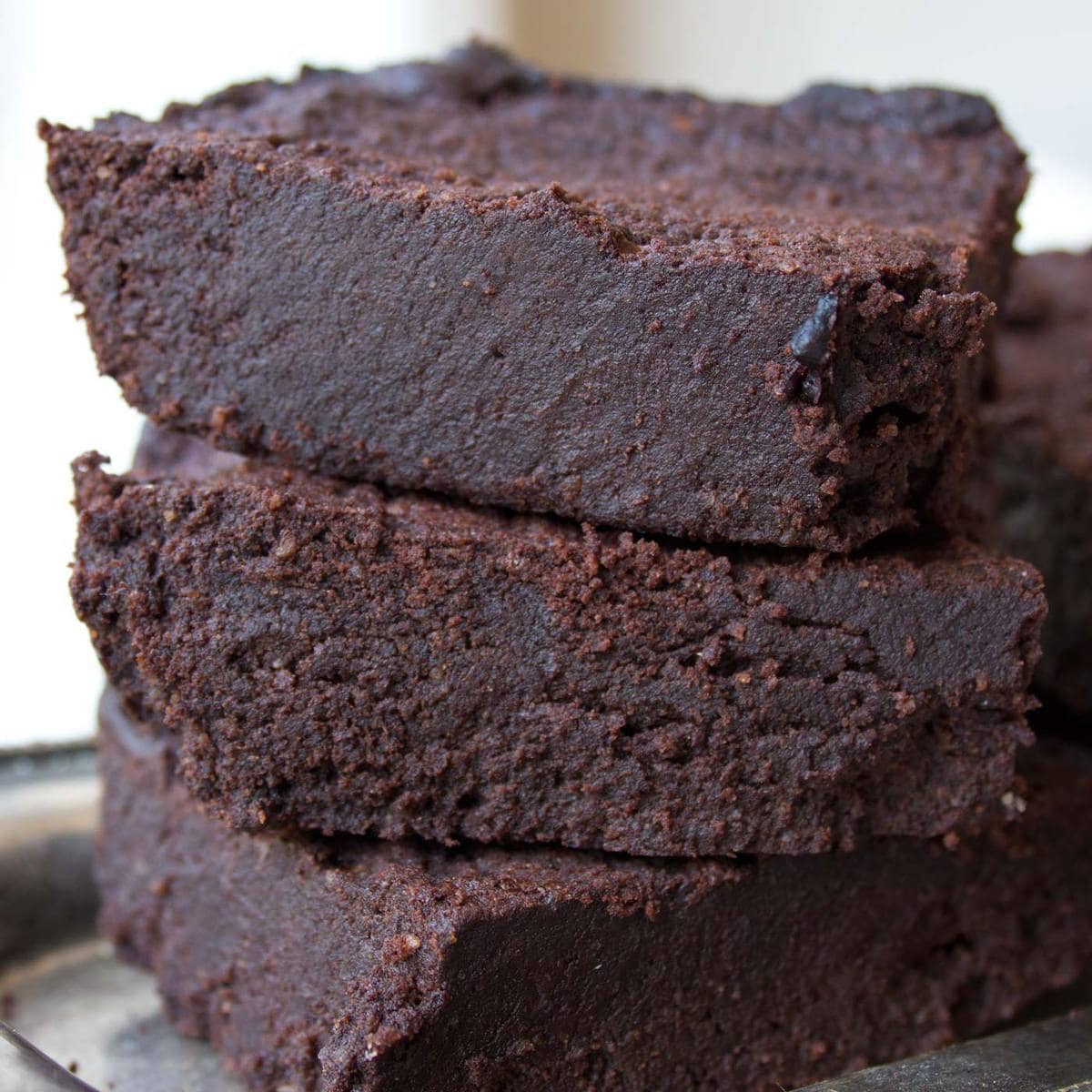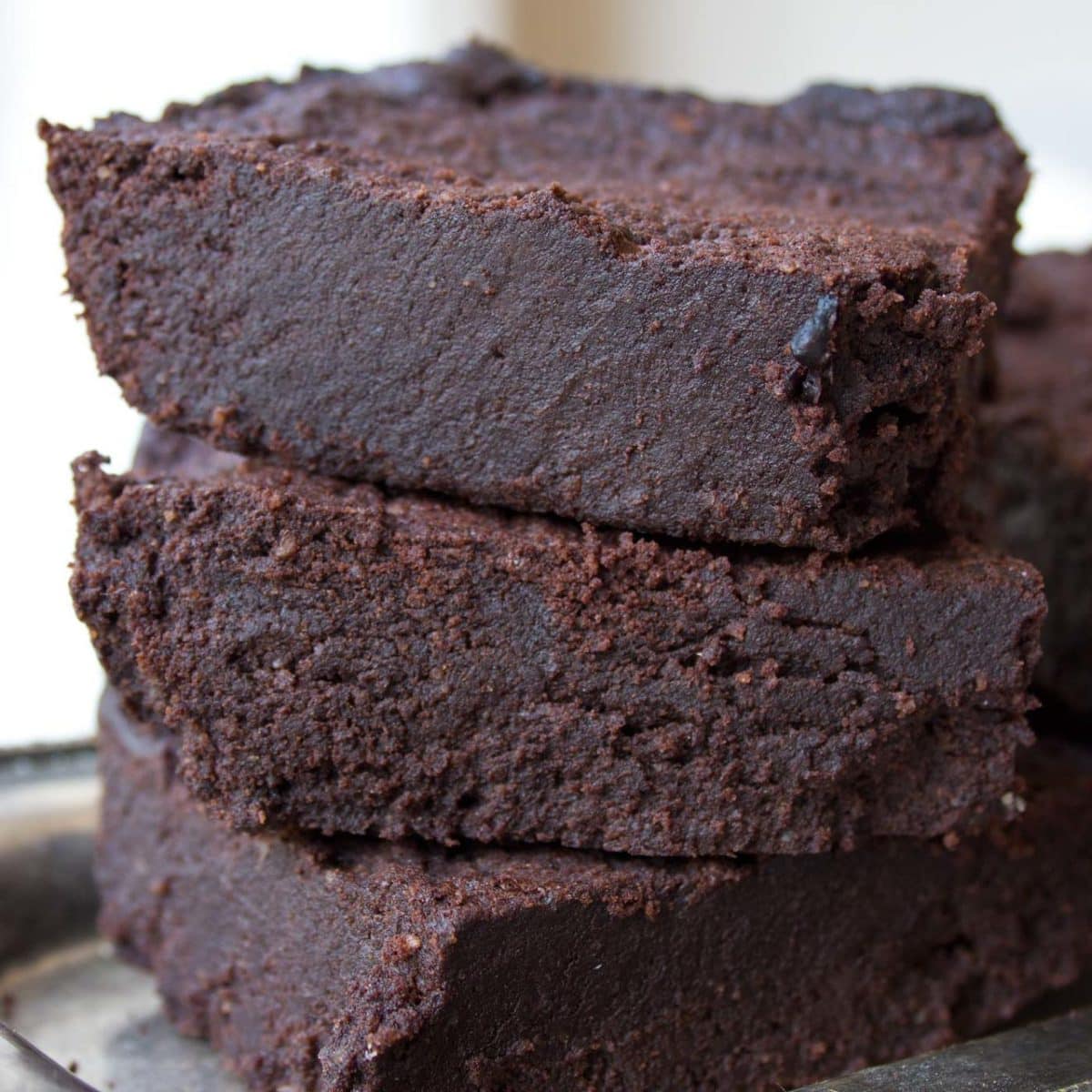 Dairy-free variations
I like to change up my routine and will often got for dairy-free alternatives. Here are more ways you can make this keto iced coffee without dairy cream.
I have added how the the net carbs change (always sticking to 2 tablespoons milk) so you can decide on the best option for you.
Keto cold coffee with coconut cream: This is the firm part from a can of coconut milk. 1.3g net carbs.
Vietnamese iced coffee. Add 2 tablespoons of my dairy-free Sugar Free Condensed Milk. 1.4g net carbs.
Iced coffee with almond milk. Choose an unsweetened almond milk. This is not my first choice for coffee, but I know some people like it. I would probably double the amount of almond milk as it's quite watery. 0.1g net carbs.
Add-ins
Iced coffee tastes delicious all on its own. However, here are some ideas how you can add more flavors to this recipe.
Nut butter: Add 1 tablespoon peanut butter or almond butter.
Mocha: Whisk ½ tablespoon unsweetened cocoa powder into the coffee. 1 teaspoon of cinnamon also works well here!
Protein boost: Add 1 tablespoon of whey protein powder and blend with the filtered coffee until smooth. This also makes the drink thicker and creamier.
Whipped cream: Top with a dollop of my Sugar Free Whipped Cream.
Caramel: Instead of a sugar free syrup, stir in 1-2 tablespoons of my Sugar Free Caramel Sauce.
FAQ
What is the best sweetener for iced coffee?

You can go for a sugar-free syrup such as the Lakanto maple syrup, liquid allulose or a fiber syrup. There are many sugar-free liquid sweeteners to choose from, including flavoured ones such as sugar-free vanilla syrup.
It is also possible to add liquid stevia drops or a powdered sweetener. In terms of powdered sweeteners, I would go for a monk fruit sweetener, allulose or Bocha Sweet.
How to order keto iced coffee in a coffee shop?
When you are in a coffee shop, simply ask for cream or unsweetened almond milk instead of dairy. Both options contain very little natural sugars - a lot less than dairy milk.
If you want a syrup, do ask if there are sugar-free options. As far as I remember, Starbucks used to have a sugar-free vanilla syrup and a sugar-free cinnamon dolce syrup
Is this an iced bulletproof coffee?
Not quite. Bulletproof coffee is a low-carb coffee that is blended with unsalted butter and MCT oil. Sometimes, people also add coconut oil or ghee. It is a high fat, filling breakfast replacement and tastes like a creamy keto-friendly latte.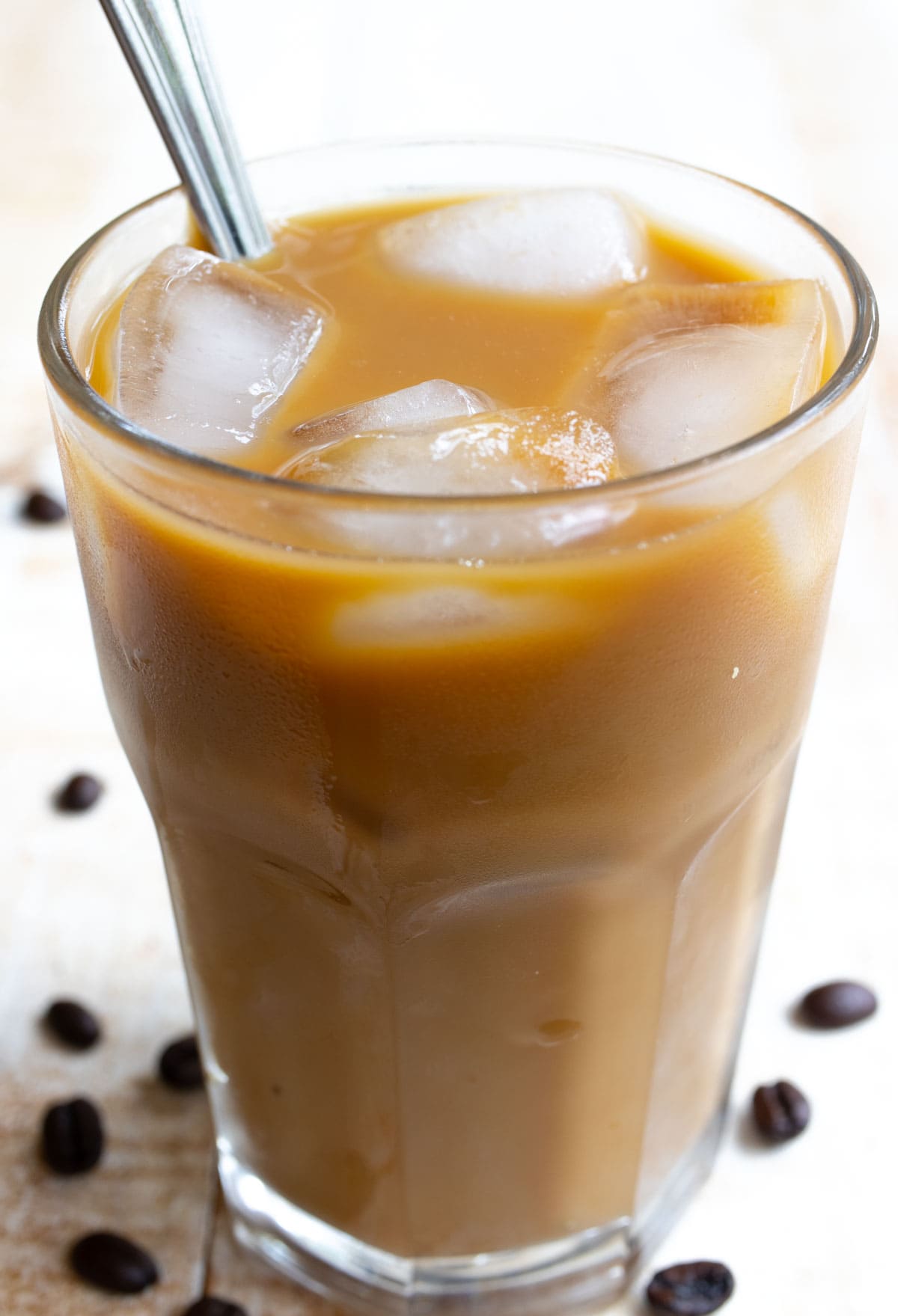 Storage
Fridge: To save time in the morning, prepare the coffee in advance and keep in the fridge overnight. You can even add the cream and your sweetener of choice already and store the mixture in the fridge for up to 3 days.
When you are ready to drink, pour the mix over ice cubes and enjoy straight away.
Freezer: Another idea is to freeze the coffee mix in ice cube trays for up to 3 months. Whizz in a high speed blender and you have a frappuccino or coffee slushie. No additional ice cubes necessary!
Related recipes
Here are more creamy keto shakes and smoothies you should try:
Tried this recipe? Give it a star rating below!
★ STAY IN TOUCH on FACEBOOK, PINTEREST and INSTAGRAM  for more great food and join my NEWSLETTER for the latest updates and a FREE EBOOK.★ 
Recipe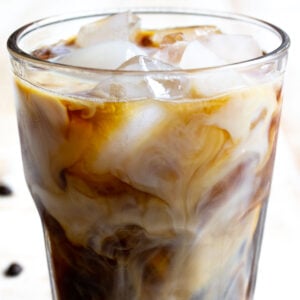 Keto Iced Coffee (Starbucks Copycat)
from Sugar Free Londoner
This is how you make keto iced coffee with just 3 ingredients! Refresh and energise without the carbs. Dairy-free option!
Note: The servings slider only changes the first amount in each line and not any subsequent amounts. Please make your own calculations where necessary.
Ingredients
¾

cup

strong coffee

cooled, 180 ml

2

tablespoon

heavy cream / double cream

dairy cream or coconut cream for a dairy-free version, 30 ml

½

teaspoon

vanilla extract

optional

1

tsp-1 tbsp

sugar-free syrup

optional, to taste

ice cubes
Instructions
Brew a strong coffee of your choice and let it cool to room temperature.

Pour the coffee into a tall glass or cup filled with ice cubes.

Add the cream, vanilla and optional sweetener and stir.
Notes
0.8g net carbs per serving of 1 cup. Makes 1 serving. 
You can use cold coffee from the day before.
Dairy-free variations (using 2 tablespoons each):
coconut cream: 1.3g net carbs / serving
coconut milk: 0.8g net carbs
unsweetened almond milk: 0.1g net carbs
Vietnamese coffee: 1.4g net carbs
Nutrition
Calories:
112
kcal
Total Carbohydrates:
0.8
g
Protein:
0.8
g
Fat:
11.4
g
Saturated Fat:
7.3
g
Sugar:
0.8
g