This smooth and thick low carb keto avocado smoothie is a satisfying breakfast and makes a great post-workout snack. It is packed with nutrients, high in good fats and perfect for anyone on a dairy free, low carb diet. Only 5 simple ingredients!
Are you often short on time in the mornings? It's the story of my life! Which is where this low carb avocado smoothie recipe comes in. I love the fact that I can whip up a delicious, crazy healthy drinkable breakfast in minutes. It means more time in bed (my happy place) and no missing out on those much-needed antioxidants.
It's worth mentioning that my smoothie recipe is not sweet. It tastes fresh and zingy. You can taste a hint of avocado and the mellow sweetness of coconut. This is a departure from regular smoothies, which often have either apple juice or banana as a base.
I admit freely that I am a huge fan of green detox smoothies. I already have this keto green smoothie on the blog. It contains avocado plus bunch of green vegetables. One of my readers called it "green delicious goodness", which pretty much sums it up.
This time, I wanted to make an equally yummy smoothie that's SUPER easy and pared-down.
Yes, I have narrowed it down to 5 essential ingredients!
Ingredients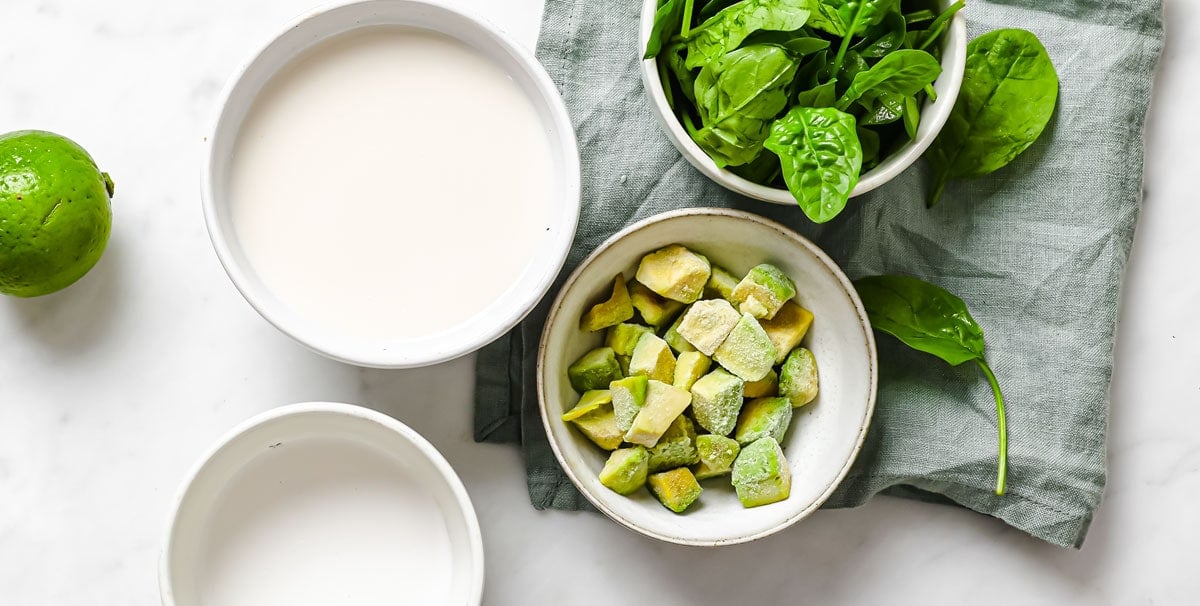 Avocado - for convenience, I chose chopped frozen avocados. You can buy these ready-made (which I did), or freeze them yourself. Avocado is a keto diet lover's dream. It is loaded with heart-healthy fatty acids and high in fiber. Read more about the benefits of avocado here.
Coconut milk - From a can. If the cream and the liquid are separated, stir the coconut milk prior to measuring.
Unsweetened almond milk - My favourite brand here in the UK is Plenish. It contains just almonds, water and sea salt.
Spinach - Both fresh spinach leaves or frozen spinach work. This also adds extra nutrients and fibre!
Lime (or lemon) - For a zingy finish and a boost of vitamin C.
How to make a keto avocado smoothie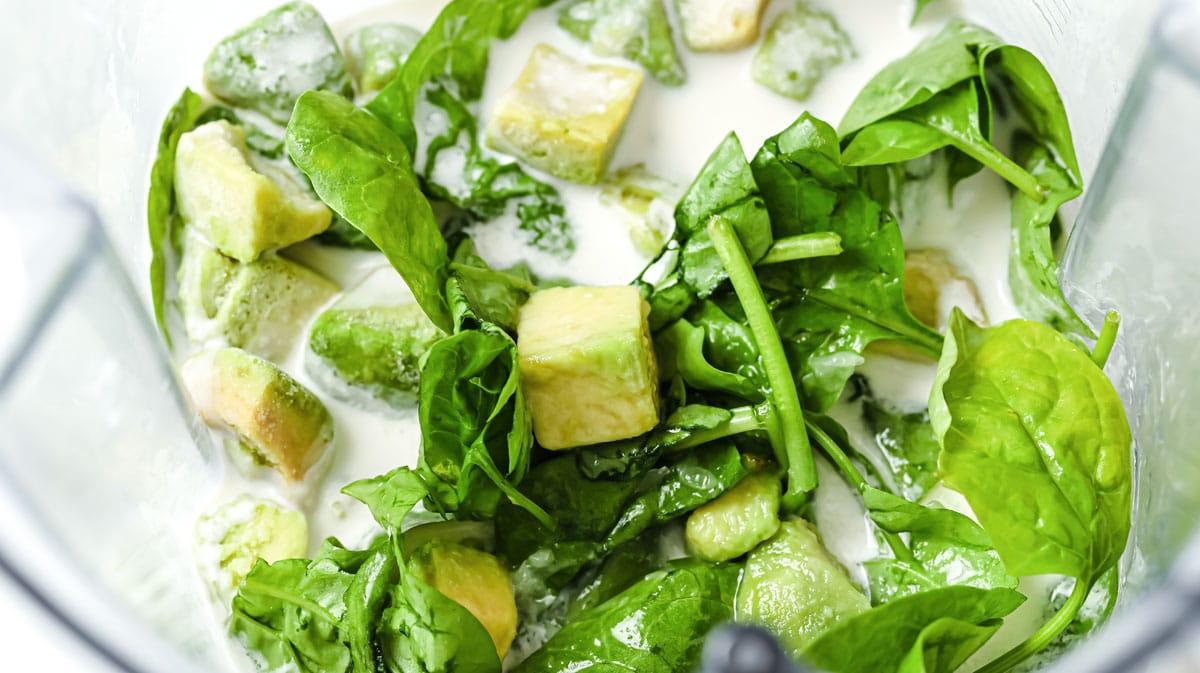 You guessed it - simply put the lot in a high speed blender and blend until smooth!
This low carb smoothie is pretty thick, which is how I like it best. You can thin it out with more almond milk if you prefer.
It's also possible to use fresh avocado. In this case, I'd add either frozen spinach instead of fresh or simply add a few ice cubes to cool it down.
Note: You will get the creamiest results with a high speed blender. I use a Vitamix. It's an investment, but I've had it for years and literally use it every day.
Low carb smoothie variations
This avocado smoothie can be the base for many wonderful taste variations. Here are a few ideas:
Make it fruity: add fresh blueberries, raspberries or strawberries.
Add nut butter: add 1 tablespoon peanut butter or almond butter. I would also leave out the lemon juice and replace it with ½ teaspoon vanilla extract.
Keto chocolate smoothie: Instead of the lemon, use 1 tablespoon cocoa powder and ½ tablespoon powdered sweetener
More protein: add 1 tablespoon protein powder. Or add collagen peptides, like I did in my keto coffee smoothie!
The "detox pro": add 1 teaspoon freshly grated ginger and ½ teaspoon turmeric.
Mellow it down: Omit the citrus and enjoy the creamy green-ness solo. Option to add ½ teaspoon of vanilla extract for a hint of sweetness.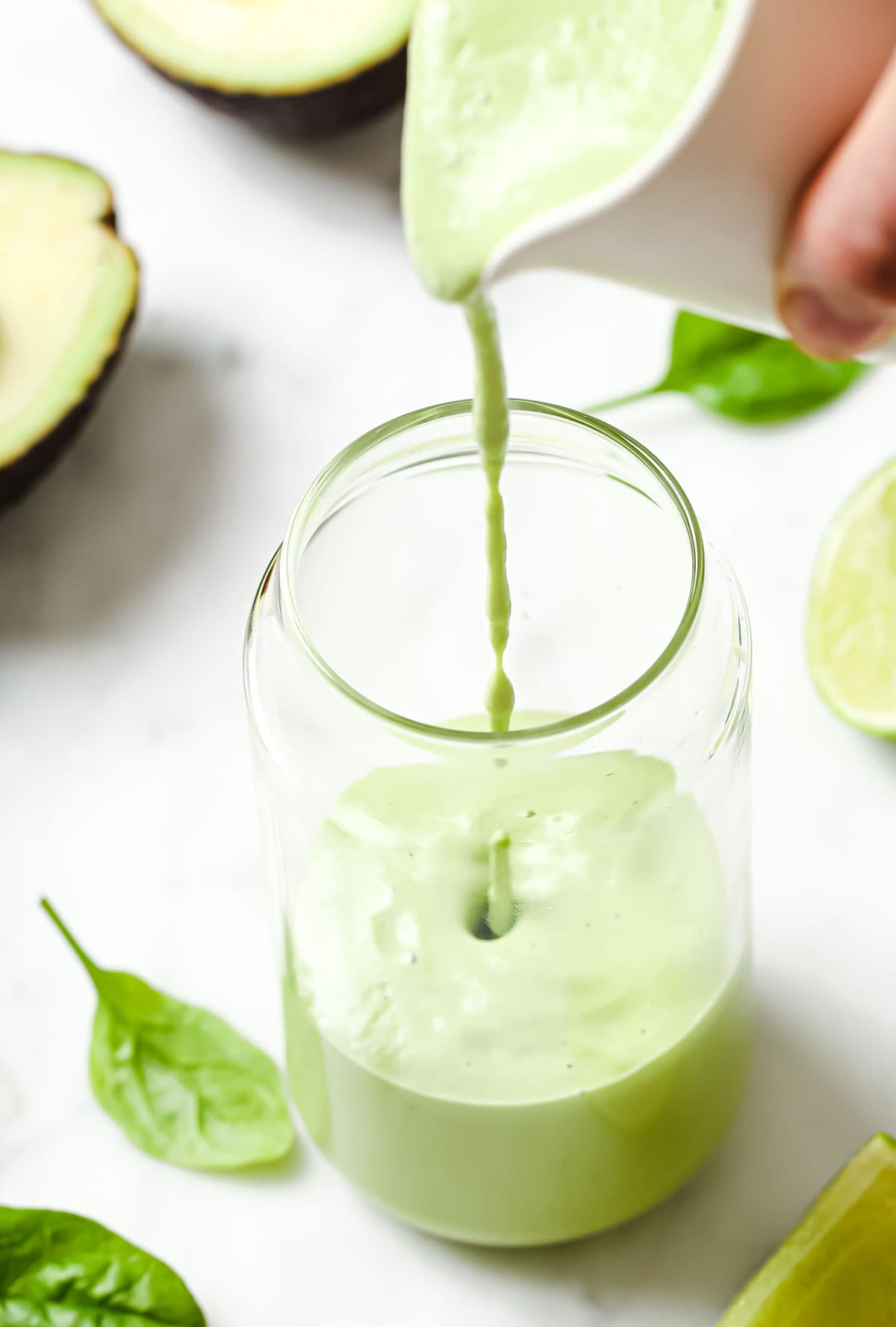 Storage
It's always best to enjoy smoothies fresh. You could store it in the fridge for a day though - simply give it a stir before drinking in case the ingredients separate a little.
I recently discovered that you can actually freeze smoothies. Pop it into an ice cube container and freeze for up to 3 months. When you want to drink it, just release the smoothie cubes into your high speed blender and process until it's got the desired consistency.
More keto smoothie recipes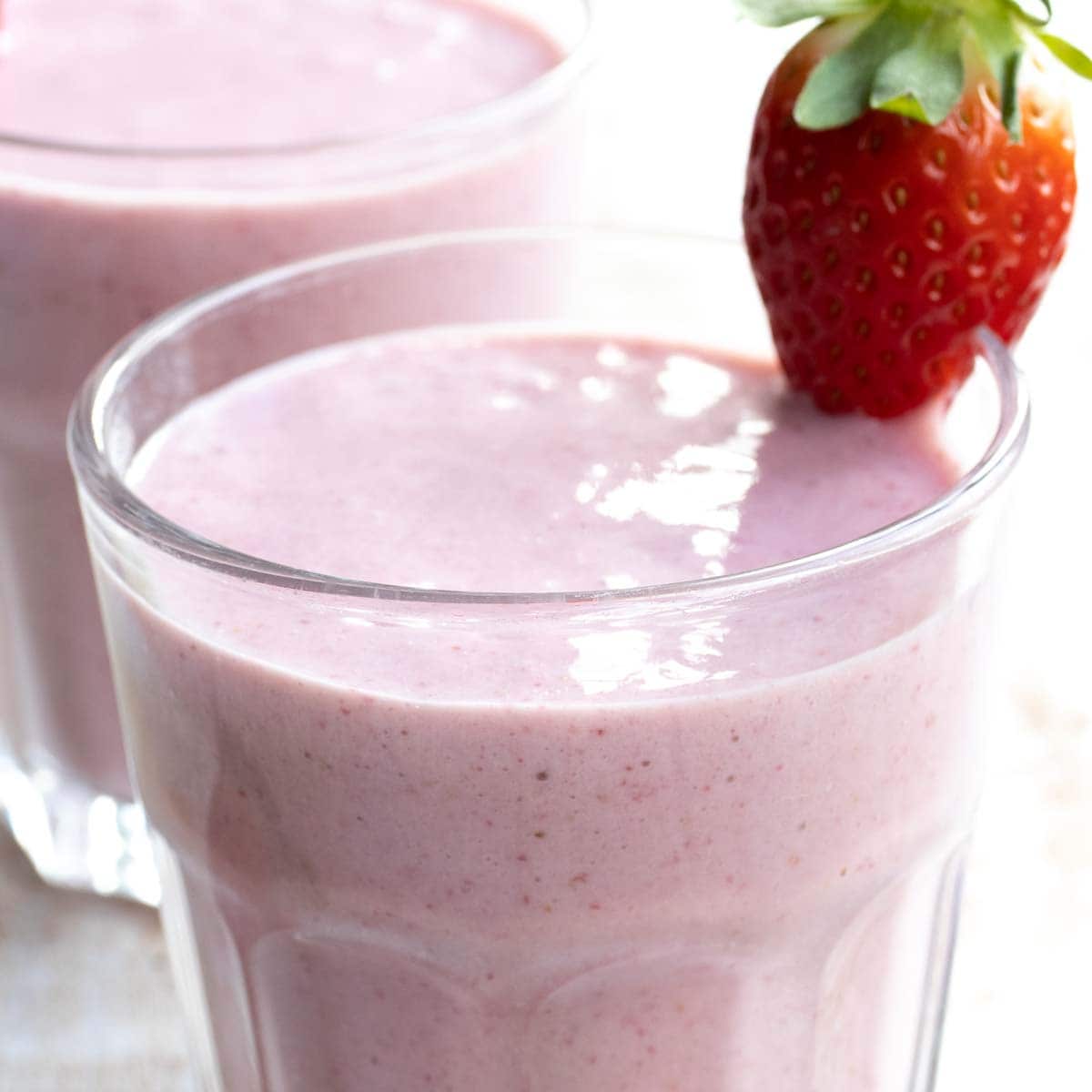 A dairy free keto strawberry smoothie with only 4 ingredients.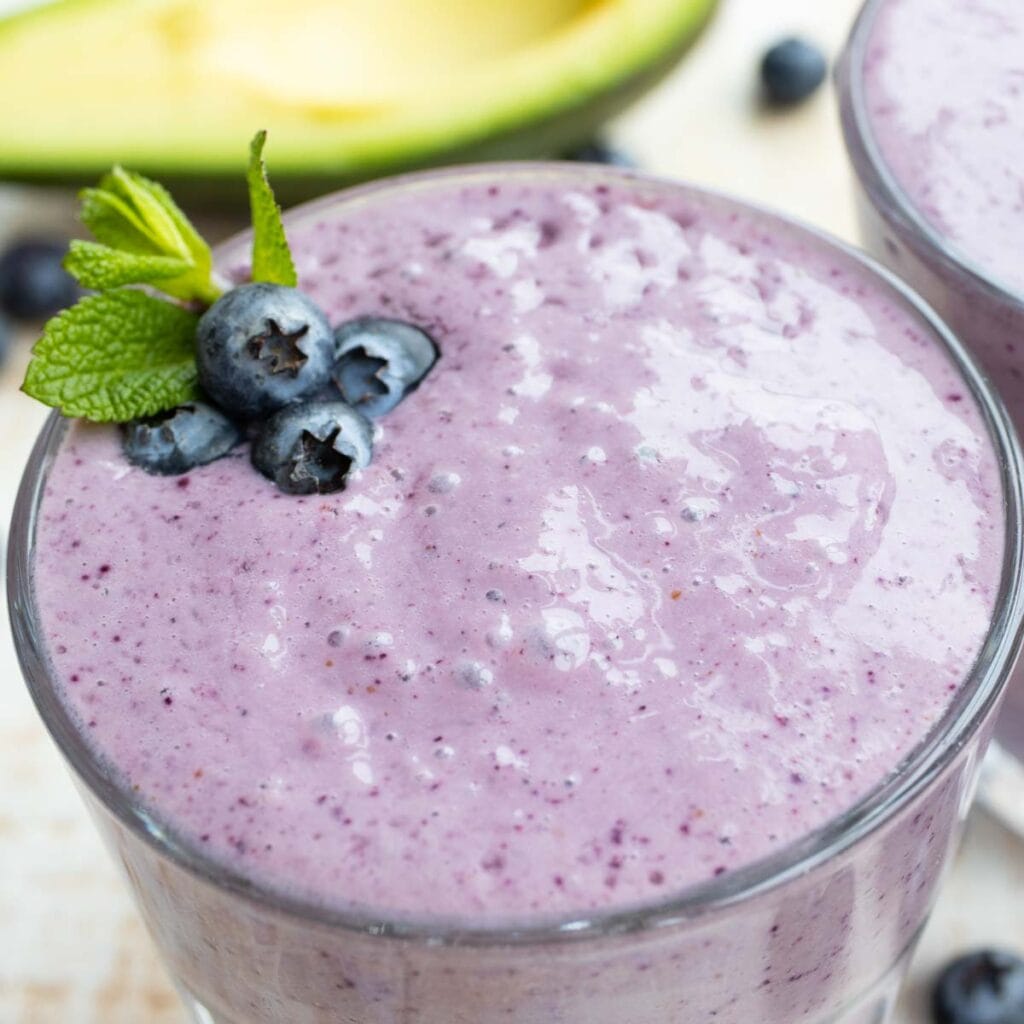 We think this is the perfect keto blueberry smoothie!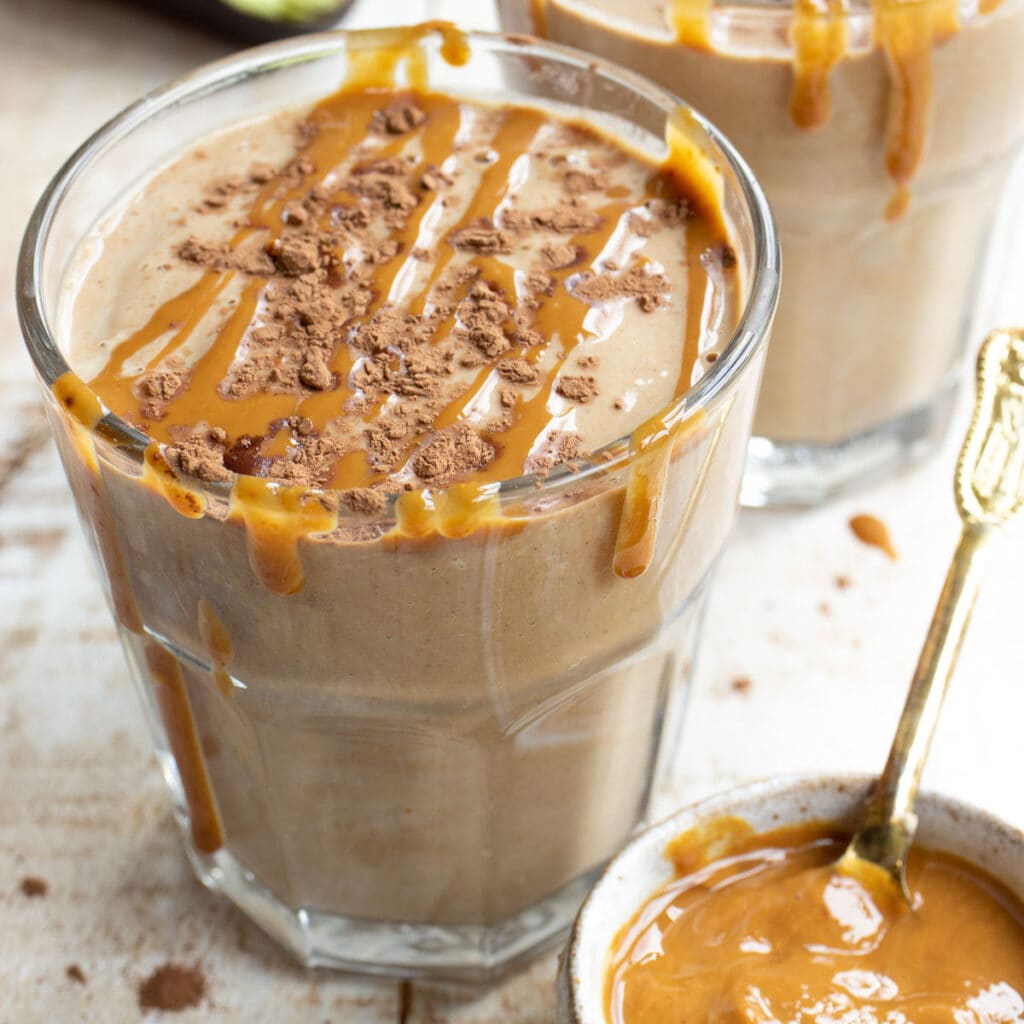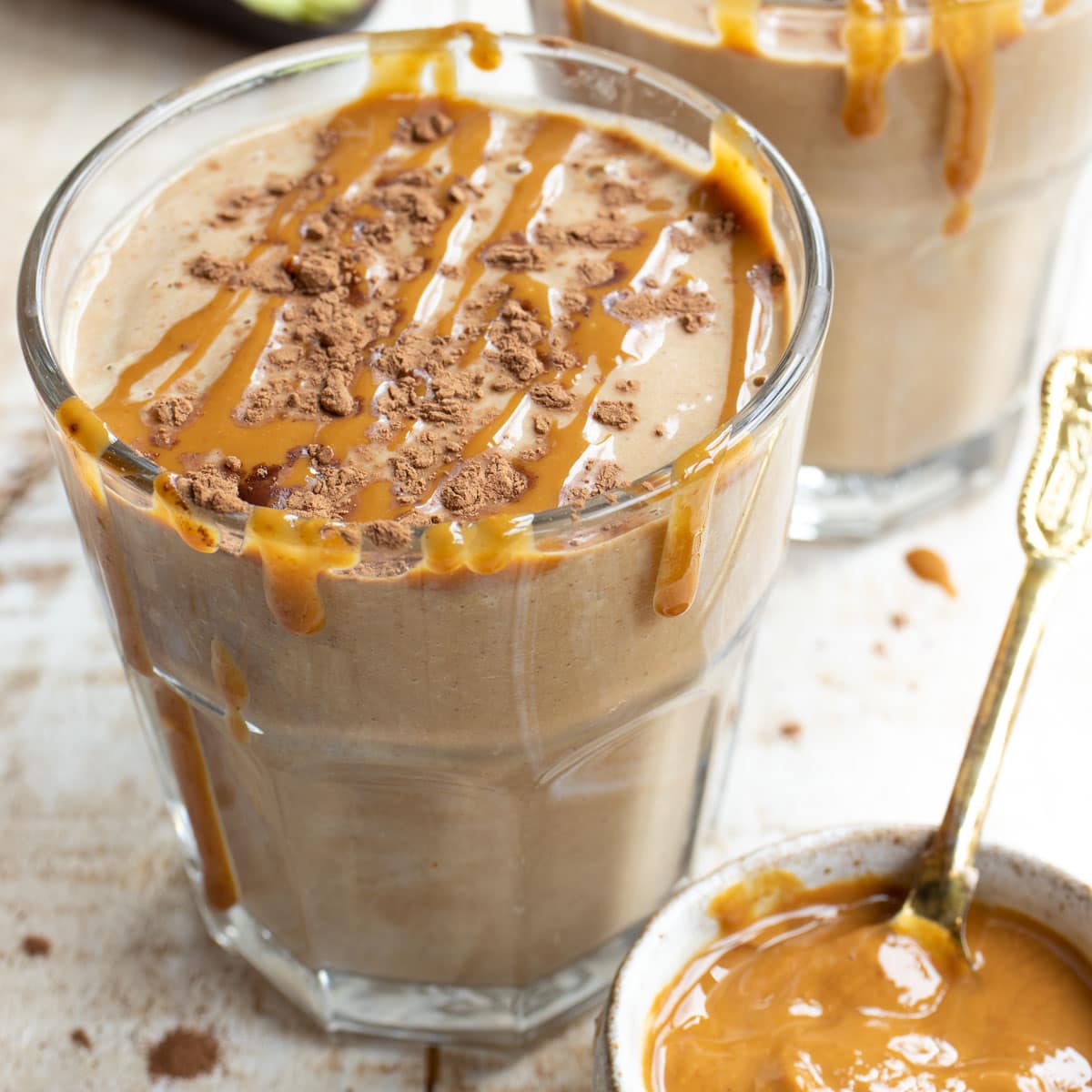 Avocado makes another appearance in this keto peanut butter smoothie.
Tried this recipe? Give it a star rating below!
★ STAY IN TOUCH on FACEBOOK, PINTEREST and INSTAGRAM for more great food and join my NEWSLETTER for the latest updates and a FREE EBOOK.★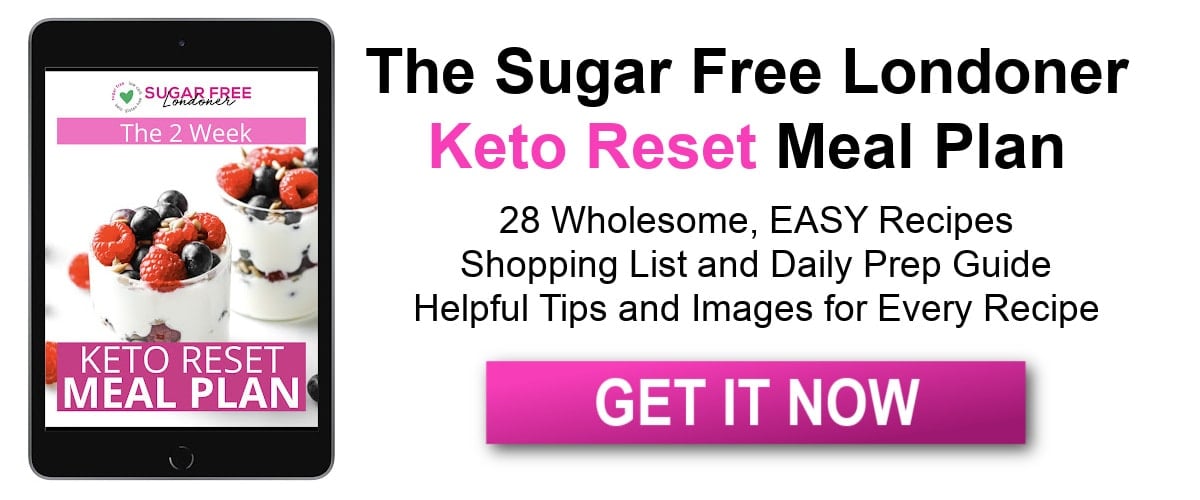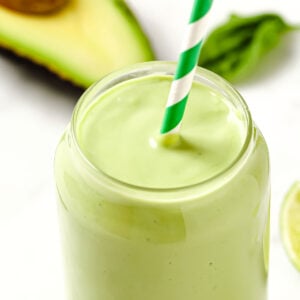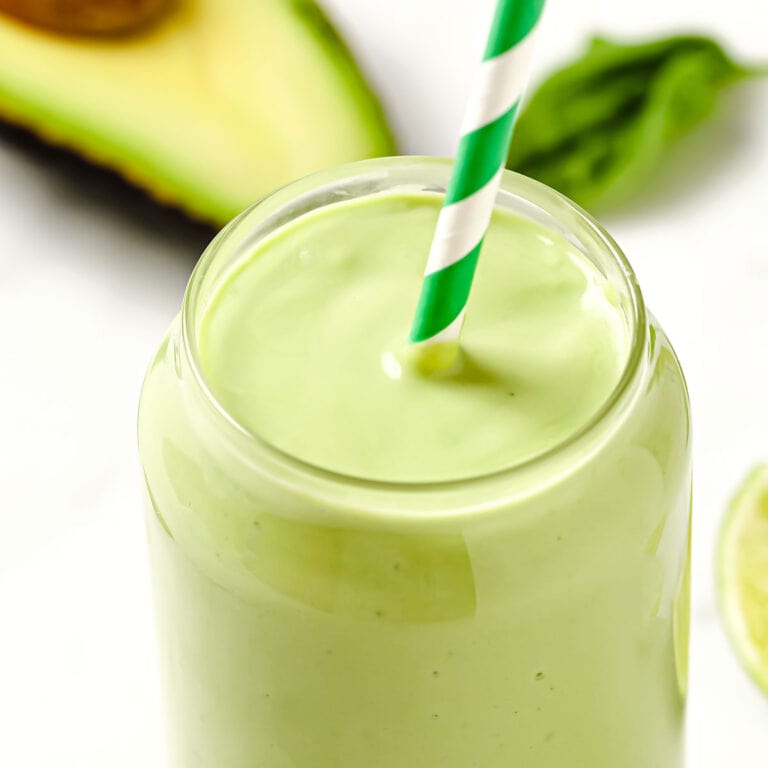 Low Carb Keto Avocado Smoothie
from Sugar Free Londoner
Avocado is the star of the show in this refreshing and filling keto smoothie. You only need 5 simple ingredients. There's lots of ideas how to customise the recipe in the post!
Note: The servings slider only changes the first amount in each line and not any subsequent amounts. Please make your own calculations where necessary. ***As an Amazon Associate I earn from qualifying purchases.
Ingredients
2.1

oz / 60g

chopped frozen avocado

½ cup

¼

cup / 55ml

coconut milk

from a can

¾

cup / 180ml

unsweetened almond milk

0.9

oz / 25g

fresh spinach

½

lime (or lemon)

22 ml
Instructions
Put all ingredients in a high speed blender and blend until smooth.

The thickness will depend on how long you blend and how thick your coconut milk is. If you prefer a thinner smoothie, add a little water or more almond milk. 
Notes
5.6g net carbs. Makes 1 large smoothie. 
This smoothie is a filling breakfast or snack.  
You can use either lime or lemon, which gives it a nice zing. It's also lovely if you leave out the citrus altogether (which would reduce the net carbs by 1.8g)
It's possible to use fresh avocado instead of frozen. Simply add a few ice cubes to cool the smoothie.  
Nutrition
Serving:
300
ml
Calories:
235
kcal
Total Carbohydrates:
10.2
g
Protein:
3.9
g
Fat:
22.4
g
Saturated Fat:
12.1
g
Fiber:
4.8
g
Sugar:
1
g
This post contains affiliate links. If you click on one of these links and purchase a product, I may earn a small commission, at no extra cost to you. Thank you for supporting Sugar Free Londoner.