Avocado milk is a creamy, nutritious drink that you can make with 3 ingredients in just 2 minutes. It is sugar-free, dairy-free and vegan. A light yet filling breakfast.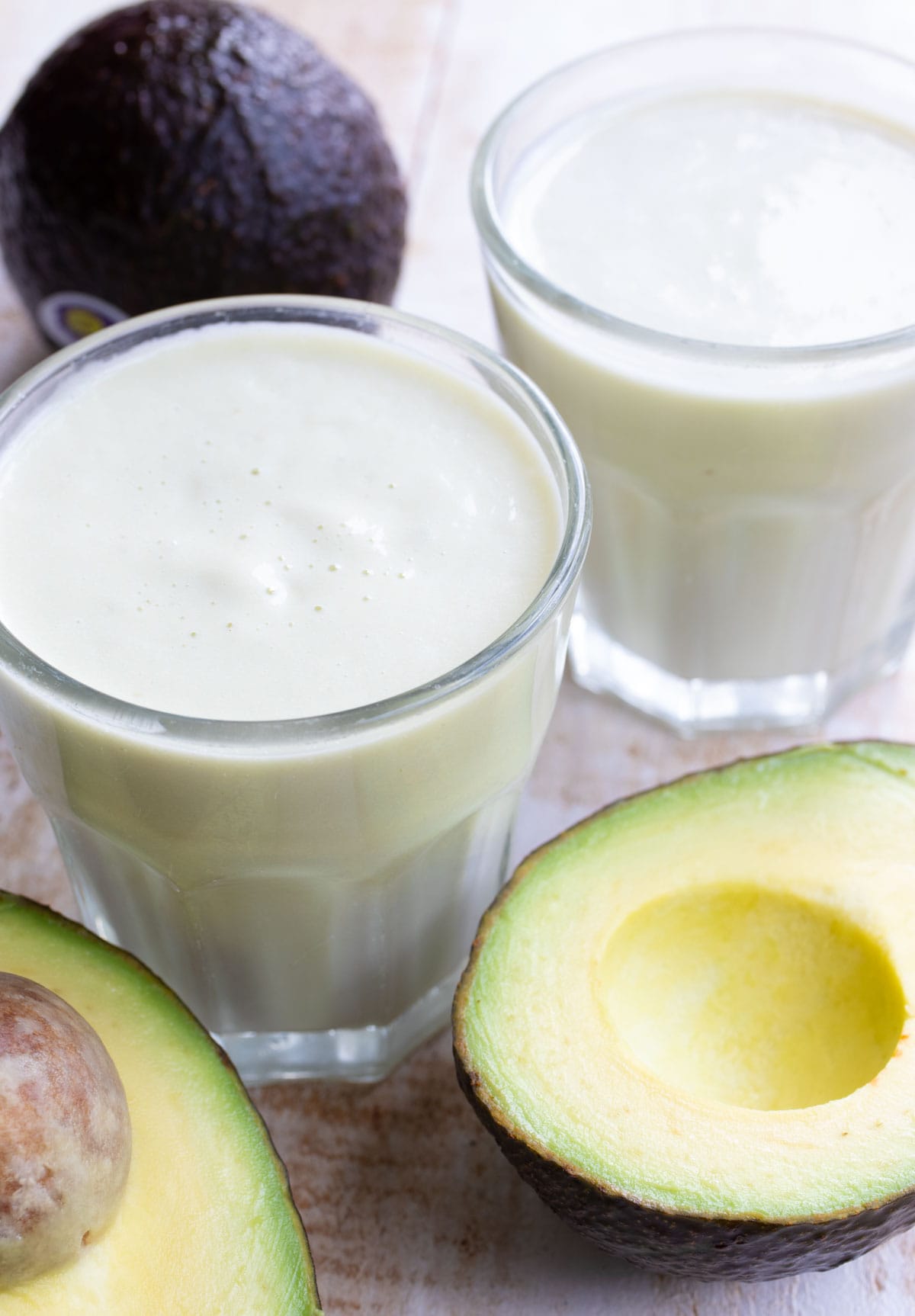 Avocado is one of my favourite fruits and I eat it almost every day. It is wonderful in salads, on 90 second keto bread and even in sweets like these extra fudgy chocolate avocado cookies.
The true magic of avocado though is its ability to make smoothies and milkshakes deliciously creamy.
I use it to thicken shakes such as this avocado strawberry smoothie or this keto peanut butter smoothie.
And last but not least, I have a go-to avocado smoothie recipe where the avocado is the superstar.
Here's a question that I had ben pondering over for a while: Can you drink milk with avocado?
I love almond milk and suspected that by adding avocado, it would be more fragrant, fresh and filling - like a milkshake, just lighter.
I decided to give it a go. And after a few minutes I knew I had to share this recipe with you. Because avocado milk, my friends, is delicious.
Jump to:
🌟 Why You'll Love This Recipe
Creamy texture
Gentle, fresh avocado flavor with a hint of sweet vanilla
Naturally dairy-free, vegan and allergy-friendly
Contains healthy fats and vitamins
Sugar-free and keto-friendly: only 2.7g net carbs
A light yet filling breakfast or satisfying snack
Ingredients
I am using only 3 ingredients - ½ avocado, unsweetened almond milk and vanilla extract. To be honest, even the vanilla is optional.
It is important that the avocado is ripe and the flesh is soft and without any brown spots.
Frozen avocado cubes can also be used. These would make the avocado milk thicker.
Instructions
As you may have guessed, this is a very simple recipe.
Step 1: Put the avocado flesh, milk and vanilla into a high speed blender and blend until creamy and smooth.
Step 2: Then, fill the avocado milk into 2 glasses and enjoy it straight away.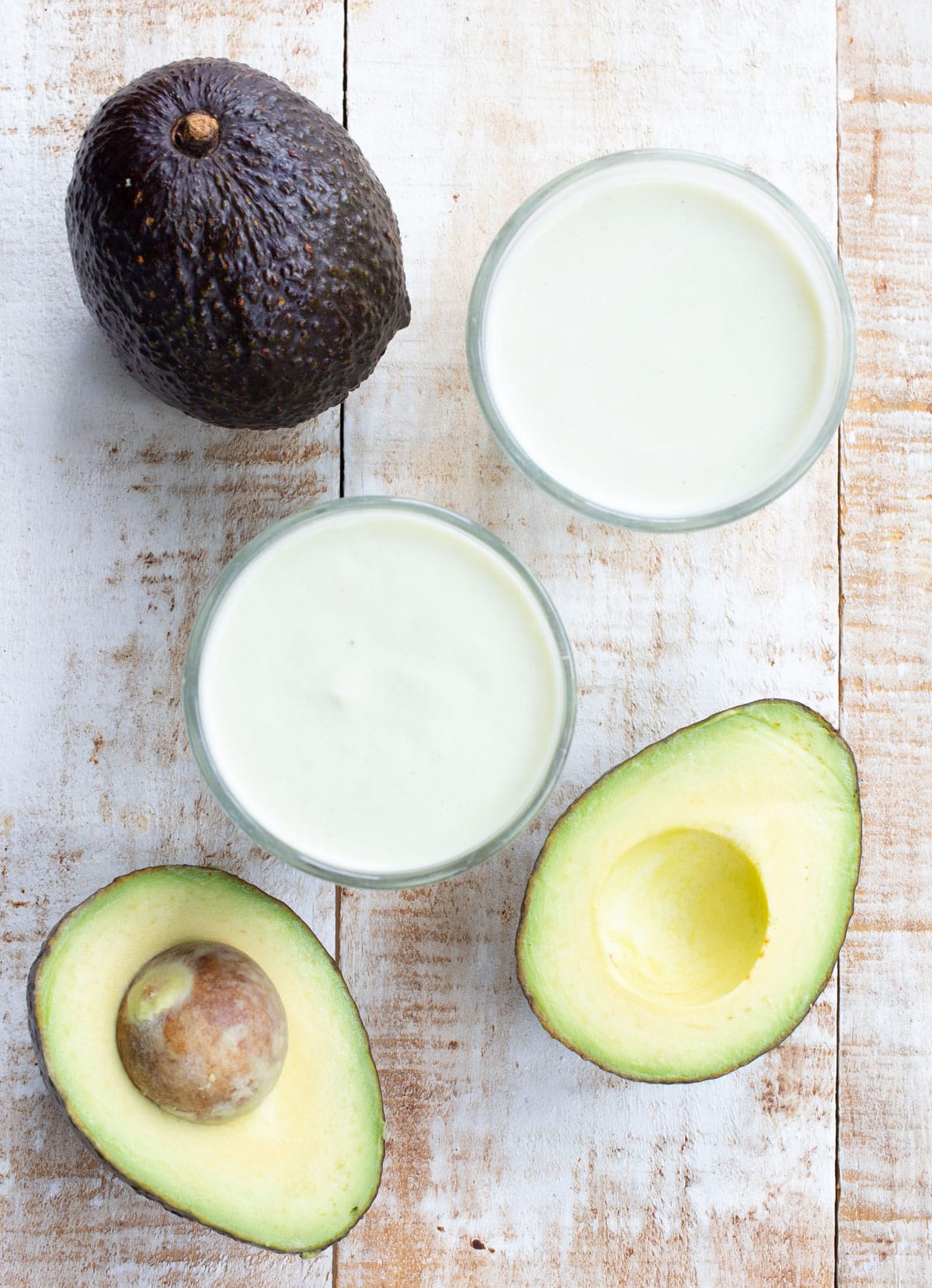 Variations
You need to be aware that this is not a sweet drink. The vanilla adds a warm note and that's exactly the suggestion of sweetness that I like.
Below are a few ideas for variations:
Sweetener: Add 1-2 teaspoons of powdered allulose, Bocha Sweet or a few drops stevia. For paleo or Whole30, honey or coconut sugar are also good options.
Matcha: A teaspoon of matcha green tea powder turns the drink a vibrant green. I recommend it in the mornings!
Banana: The classic smoothie add-in. Be aware that banana is high in natural sugar. In my opinion, ¼ banana is enough to add sweetness and flavor.
Chocolate avocado milk - I recommend making this chocolate avocado smoothie. Feel free to thin it with a little more almond milk to get that milky texture.
Ice cubes: Optional, to chill the milk.
Recipe FAQs
Is avocado milk healthy?
Yes! Avocado milk is high in fiber and healthy fats. Avocados are an excellent source of potassium and vitamin E. They may support heart health, lower cholesterol and regulate appetite.
What does avocado milk taste like?
It has a fragrant, fresh and delicate avocado flavor, which is complemented by the sweet, mellow addition of vanilla.
Which avocado to buy?
It is important to buy ripe, ready-to-eat avocados. You can test for ripeness by pressing on the skin and see if the flesh gives a little. The flesh should be soft, light green and without dark spots. I used ½ small avocado in the recipe.
How to ripen avocado at home?
Put the avocado in a paper bag or a cloth bag and store it in a warm place. Avocados release ethylene gas, and surrounding it with ethylene-rich air will speed up the ripening process. This way, they will take 3-4 days to become soft.
Can I use frozen avocado?
Yes, frozen avocado works well in the recipe. It will make the drink thicker. Please thin it to your liking.
Can I use a different milk?
Of course. Regular milk, oat milk, soy milk and coconut milk are all options. I like to use almond milk because it has the lowest net carbs.
Can I make avocado milk ahead?
You can prepare avocado milk it up to 1 day ahead and store it in the fridge. Stir before drinking. However, it tastes best when it is fresh and frothy, straight from the blender.
Related recipes
Here are more avocado recipes to try:
Tried this recipe? Give it a star rating below!
★ STAY IN TOUCH on FACEBOOK, PINTEREST and INSTAGRAM  for more great food and join my NEWSLETTER for the latest updates and a FREE EBOOK.★ 
Recipe
Avocado Milk
from Sugar Free Londoner
Avocado milk is deliciously creamy! It is a refreshing and nourishing drink that's dairy-free, sugar-free and vegan. Great for breakfast or as a pick-me-up during the day.
Note: The servings slider only changes the first amount in each line and not any subsequent amounts. Please make your own calculations where necessary.
Instructions
Put all ingredients in a blender and blend until smooth.

Taste and add optional powdered sweetener if desired.
Notes
2.7g net carbs per portion. Makes 2 servings @ 200ml.
Use frozen avocado for a thicker shake. 
Best enjoyed fresh. Leftovers can be stored in the fridge for 1 day. 
Optional add-ins:
1-2 teaspoon spowdered sweetener of choice 
banana
1 teaspoon matcha tea powder
2 teaspoon peanut butter or almond butter
cocoa powder
Nutrition
Serving:
200
ml
Calories:
162
kcal
Total Carbohydrates:
8.5
g
Protein:
3.2
g
Fat:
14.6
g
Fiber:
5.8
g
Sugar:
0.8
g