A simple homemade sugar free condensed milk that works wonders in low carb and Keto dessert recipes. Only 3 ingredients and one tenth of the carbs in regular sweetened condensed milk!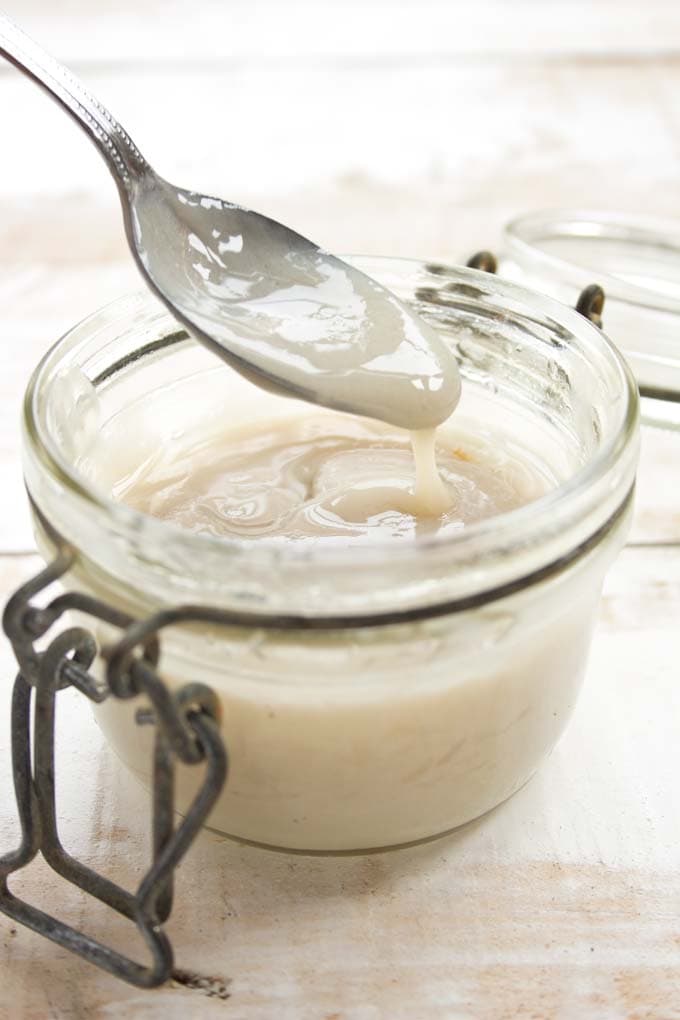 Sweetened condensed milk... the memories! As a kid, I used to eat it by the spoonful, straight out of the can. To me, it was right up there with gummy bears and the edible paper (yes, that was a THING in 70's Germany). I loved its dreamy creaminess - just like rice pudding, but without the rice. Heavenly indulgence.
Well, that was then. From an adult perspective, sweetened condensed milk does not look so dreamy any more. Essentially it's milk from which 60% of water has been removed and LOADS of sugar has been added. A tablespoon of regular condensed milk contains 10g carbs, all of which are sugars.
Luckily, we can do a lot better than that!
To avoid unnecessary sugars in low carb cooking, milk is often replaced with double or heavy cream as it has a lower lactose (milk sugar) content. Therefore, one way to make low carb condensed milk would be to use cream and even some butter combined with sweetener. If you can stomach really, really rich foods, this is certainly a delicious option. Personally, I'm not good with large amounts of double cream, so I wanted to find a lighter alternative.
I took inspiration from my sugar free caramel sauce, which uses canned coconut milk as a base. The caramel sauce is made by boiling down coconut milk with the brown Sukrin Fibre syrup, which creates a luscious golden syrup, perfect for candy or desserts, such as my Low Carb Gluten Free Twix Bars. Coconut milk has a fat content of 18g per 100g as opposed to the punchy 47 grams per 100g in double (heavy) cream.
For this condensed milk recipe, I swapped the Sukrin Fibre Syrup with powdered erythritol and some vanilla extract. Throw in 30 minutes of bubbling away on the stove and a bit of stirring, and Bob's your uncle.
It's so easy, I'm feeling a bit cheeky to call it a recipe.
BUT.
Just imagine the wonderful things you can do with this sugar free condensed milk.
Sugar Free ice cream, for all of us who do not have an ice cream maker. (This is actually the reason why this condensed milk happened in my kitchen today - I've been working on a creamy ice cream recipe without high tech equipment).
Then there's Key lime pie. Definitely also on my list.
Or fudgesicles. Fudgesicles!
And not to forget low carb Dulce de Leche.
I'm going to stop here, because my mouth is starting to water woo much! You get the picture, anyway. ENDLESS possibilities. LOTS of pleasure. And yes, you could even put it in your coffee.
I do recommend using powdered sweetener over granulated sweetener, because your result will be smoother. Erythritol does not dissolve as readily as sugar and can re-crystallise. If you only have granulated sweetener at home, try grinding it to a powder before using. Stevia could be an option, too.
At the end of cooking, my sugar free condensed milk had reduced to almost ⅓ of the original amount.
Interested in dairy free sweets and desserts? Check out my Dairy Free Sugar Free Custard (Keto) or this extra-creamy Keto Creme Brulee.
★ Tried this recipe? Give it a star rating below!★
★ STAY IN TOUCH on FACEBOOK, PINTEREST and INSTAGRAM  for more great food and join my NEWSLETTER for the latest updates and a FREE EBOOK.★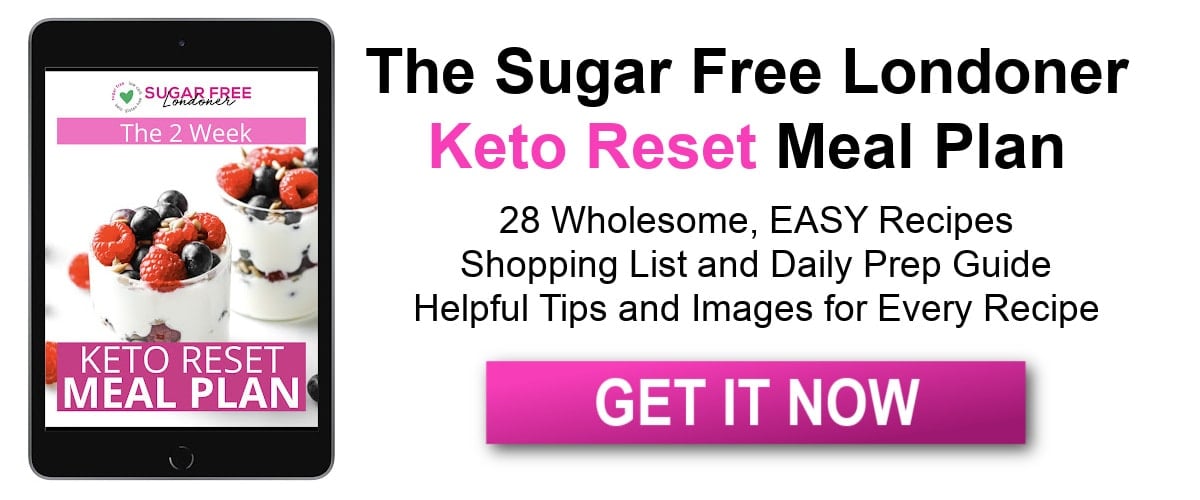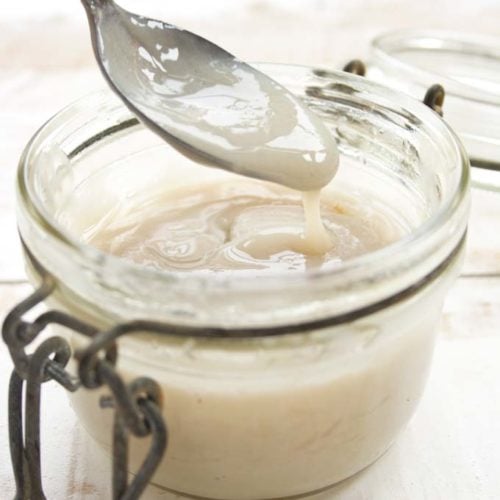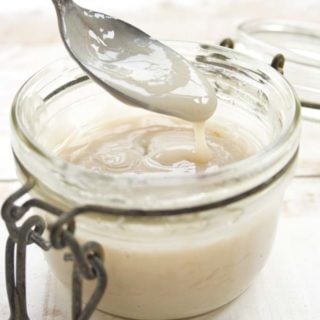 Sugar Free Sweetened Condensed Milk
from sugarfreelondoner.com
A simple 3 ingredient homemade sugar free condensed milk that works wonders in sugar free, low carb and Keto dessert recipes.
Note: The servings slider only changes the first amount in each line and not any subsequent amounts. Please make your own calculations where necessary. ***As an Amazon Associate I earn from qualifying purchases.
Instructions
Pour all ingredients in a pot and bring to the boil.

Turn the heat down to medium and let it bubble away until the mix has reduced to almost ⅓ of the original amount, stirring regularly. The condensed milk is ready when it coats the back of a spoon and its colour begins to darken slightly.

Fill into an airtight container and cool down.
Notes
As coconut milk contain natural sweetness, 2 tbsp of erythritol was enough for me. However, if you feel you want a sweeter condensed milk, do add more sweetener. 
The vanilla extract is optional, but I think it works well in the recipe and masks the coconut taste.
You'll be left with about 1 ½ cups of condensed milk.    
Nutrition
Serving:
1
tbsp
Calories:
80
kcal
Total Carbohydrates:
1.5
g
Fat:
8
g
Fiber:
0.4
g
Sugar:
0.8
g
This post contains affiliate links. If you click on one of these links and purchase a product as a result, I may earn a small commission. This money helps me with the running costs of the website. Thank you for supporting Sugar Free Londoner.