The fudgiest, most chocolatey Keto brownies ever. This simple low carb and sugar free recipe makes perfect brownies time after time. Gluten free and diabetic-friendly.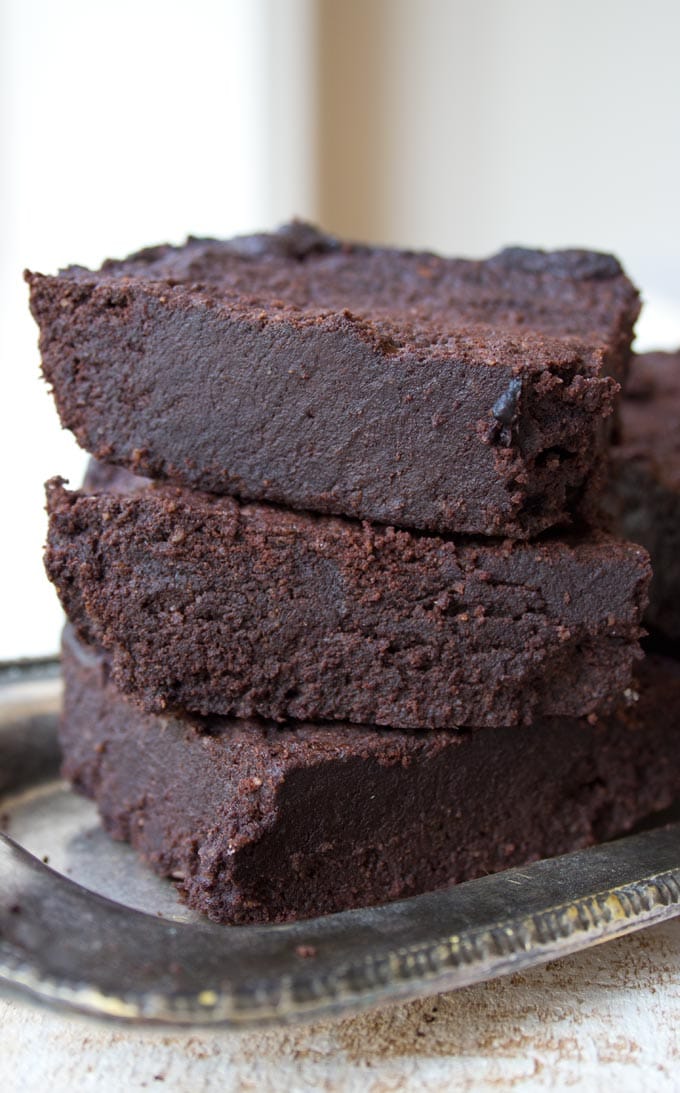 Do you know a person who'd say "Brownies? Nah, can't stand them. Too chocolatey. Too happiness-inducing. Not for me, mate."
This kind of person, as you know well yourself, does not exist. Why?
Because brownies are one of the most delicious, universally liked desserts ever invented.
Time to make a sugar free version. Hello, Keto brownies!
I've been experimenting with avocado in brownies last week – and I've got to say, whilst I LOVE my chocolate avocado ice cream, avocado brownies and I did not fall in love.
I went back to the drawing board – and back to to my favourite brownie recipe of old, which I adapted and made it keto & sugar free.
Regular brownies are a feast of chocolate, butter and indulgent sweetness. It's the same with these low carb brownies – the only difference being that instead of sugar I used powdered erythritol and instead of flour my brownies contain almond flour.
This way, they're not only sugar free, low carb and diabetic-friendly (they're 3.2g net carbs per portion), but also grain and gluten free.
Friends, these Keto brownies are the bomb. I really hope you'll try them – I could seriously eat them every day.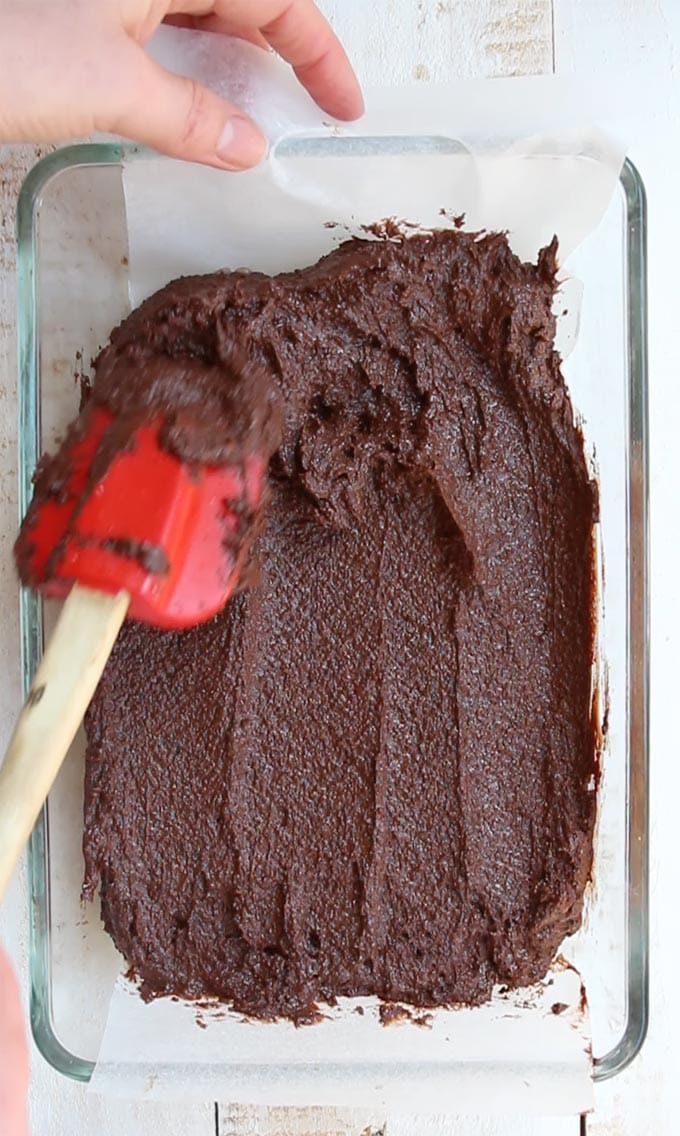 (I'm saying this because I have, obviously – everyone is nibbling away at the stash in the freezer day after day!)
Time for a Keto brownie recipe deep dive.
The chocolate. Use the best quality you can get hold of. There's a LOT of chocolate in this recipe – almost 2 bars – so you'll be able to taste it. In the UK, Lindt is a popular quality brand and I went for their 90% dark chocolate. It contains only 7 grams of sugar per 100g, which is very low, and it's widely available.
You could use unsweetened chocolate as well (in the UK there's a brand called Montezuma which Sainsbury's stocks, in the US Baker's chocolate is a good option). In this case, you may want to increase the amount sweetener.
If you decide to use sugar free chocolate such as Lily's in the US or Balance in the UK, simply reduce the amount of sweetener you use.
The sweetener. I have made these low carb brownies twice – once with granulated erythritol and once with powdered erythritol.
The texture is smoother with the powdered erythritol and I preferred it. If you only have granulated sweetener, try grinding it down to a powder before you use it. Erythritol does not melt like sugar does and it can re-crystallise when it cools down.
In regular cake recipes granulated erythritol works absolutely fine. In dishes with a soft or fudgy texture, however, it's better if you use powdered sweetener.
The flour. I've tried it – both fine almond flour and ground almonds work. I first used 100g / 1 cup and the second time reduced the amount to 80g / 3/4 cup, which made the brownies even softer and more fudgy.
The fat. As you might have guessed even before checking the nutrition facts, Keto brownies are a high fat dessert. They are filling! That's why one batch makes 16 very satisfying portions.
If you prefer, you can swap out the butter for coconut oil. If you do, make sure you use an extra virgin coconut oil – it's unrefined and you'll taste the difference.
Make sure you also check out the other healthy brownie recipes on my site.
I adore these pumpkin brownies – the recipe is just as simple, but they're much lighter in texture. And when I first started Sugar Free Londoner, I created these sweet potato brownies. At the time I was concentrating on lowering my sugar intake only.
Even though this recipe is not particularly low in carbohydrates due to the sweet potatoes, it's still a MUCH healthier option than your regular sugary brownie recipes. One day I want to rework it to lower the carb content.
And last but not least – as a chocolate lover don't miss this super indulgent chocolate lava cake!!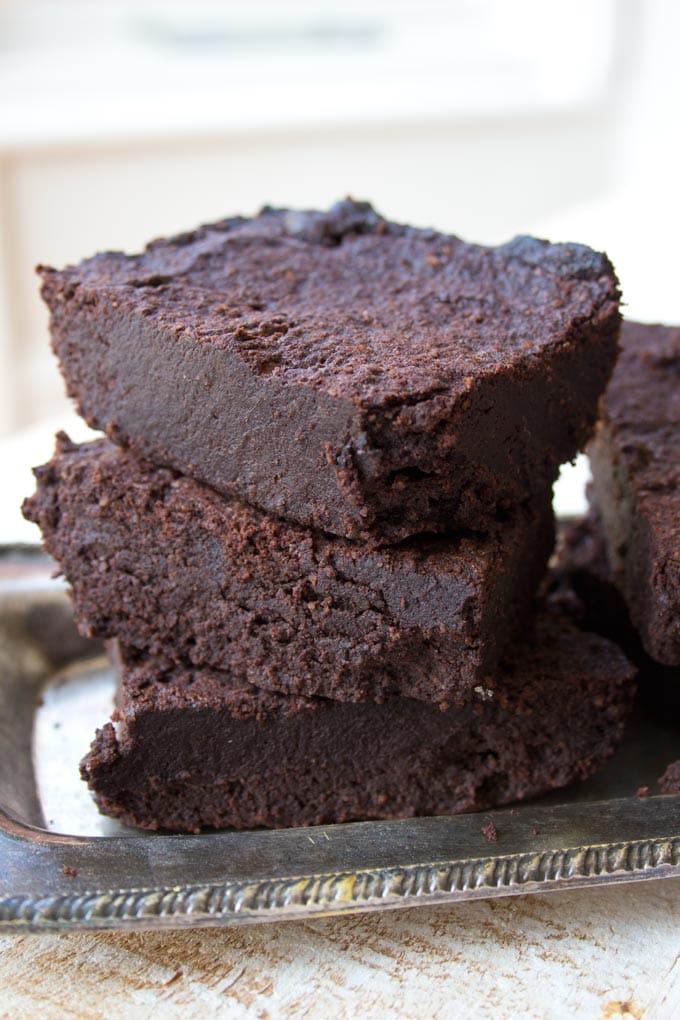 Made these Keto brownies? Give them a star rating below!
★ STAY IN TOUCH on FACEBOOK, PINTEREST and INSTAGRAM for more great food and join my NEWSLETTER for the latest updates and a FREE EBOOK.★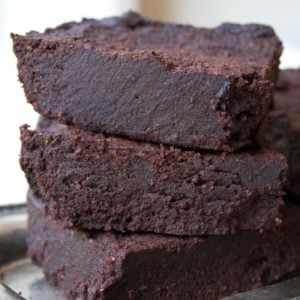 Fabulously Fudgy Keto Brownies
The fudgiest, most chocolatey Keto brownies ever. This simple low carb and sugar free recipe makes perfect brownies time after time. Gluten free and diabetic-friendly.
Print
Pin
Rate
As an Amazon Associate I earn from qualifying purchases.
Instructions
Preheat your oven to 180 Celsius / 356 Fahrenheit

Melt the chocolate: Break the chocolate into squares and place in a small bowl. Place this bowl inside a larger bowl which you have filled with boiling water. The water will heat the walls of the small bowl and melt the chocolate. (see notes)

Blend the VERY soft (or melted) butter, powdered sweetener, eggs and cocoa with a blender or in a food processor.

Add the melted chocolate and almond flour and mix until you have a thick, smooth batter.

Line a rectangular baking tin or small casserole dish with baking / parchment paper. Cut the paper to size so that it covers the bottom and two sides of the dish. Grease the two remaining sides.

Fill the batter into the dish and smoothen the top. Bake 25 minutes or until the top is firm.

Let the brownies cool before you remove them from the baking tin. They will be VERY soft when warm, but firm up as they cool down.
Notes
DON'T OVERHEAT your chocolate!!!!! Using a water bath is a fool-proof way of melting chocolate because it will never curdle or get hard. If you melt chocolate in the microwave, make sure you choose a low intensity and keep on checking you're not heating it up too much. 
I used Lindt 90% chocolate. You can also use sugar free chocolate such as Lily's or unsweetened baker's chocolate. Adjust the amount of powdered sweetener accordingly.  
If you want to add an icing try the one my friend Lisa from Low Carb Yum used for her chocolate iced coconut donuts. It's delicious. 
I used a 5x9 inch loaf pan for this recipe.
Nutrition
Calories:
192
kcal
|
Carbohydrates:
4.1
g
|
Protein:
2.9
g
|
Fat:
18.8
g
|
Fiber:
1.4
g
|
Sugar:
1
g
Starting out on low carb? Find out all about my top 10 essential low carb kitchen gadgets!
This post contains affiliate links. If you click on one of these links and purchase a product, I may make a small commission. This money goes towards the running costs of the website. Thank you for supporting Sugar Free Londoner.