Light and fluffy pancakes that are low carb, gluten free and so easy to make: These Almond Cream Cheese Pancakes are a healthy sugar free breakfast choice.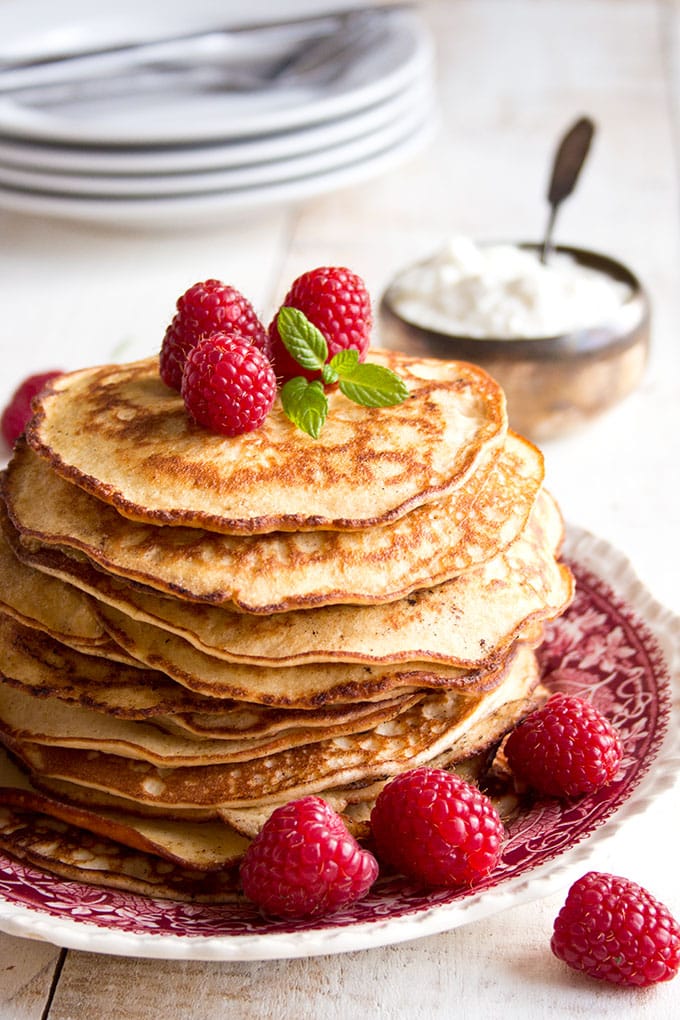 Find the recipe card with ingredients and instructions at the bottom of the page. Don't miss the extra tips in the post! 
I will be totally honest with you here: Apart from Christmas Day and New Year's Eve I have spent most of the last two weeks in my pyjamas. Which has been utterly fantastic. For me the Christmas period is all about chilling out, eating and lounging about with bed hair.
In terms of relaxation it beats the summer holidays by miles. I have caught up with some essential box sets on Netflix and managed to read ALL the books stacked next to my bed. I treated myself to a pedicure that made my feet look 20 years younger and slept so much it'll last me until April. 2017, I am ready for you.
Shall I tell you my New Year's resolution? I want to eat these almond cream cheese pancakes ALL THE TIME.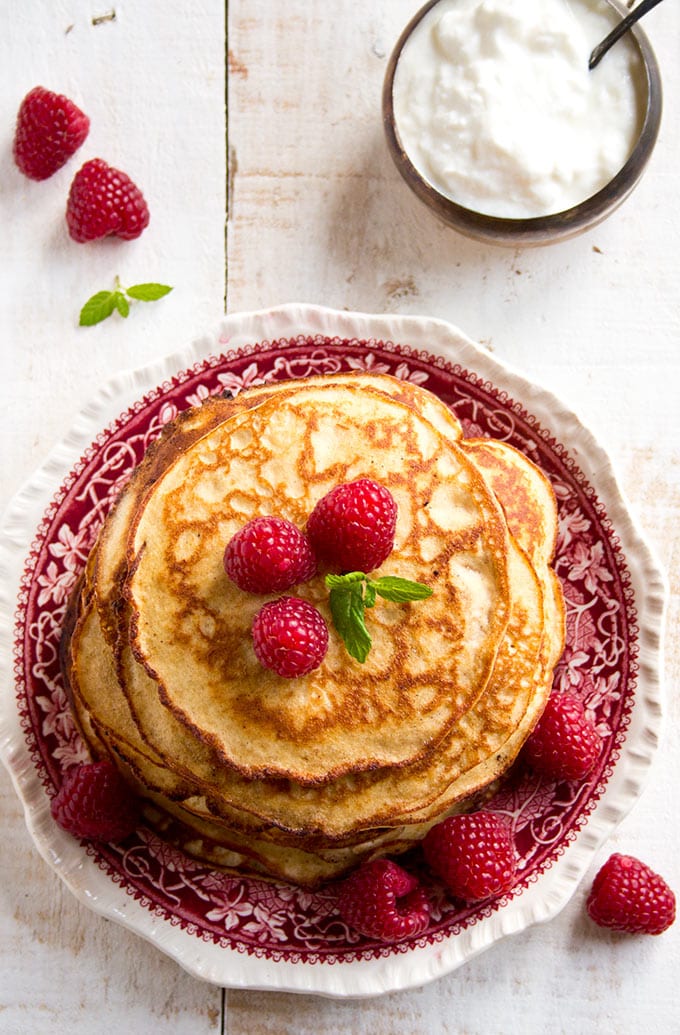 We all love pancakes in this house, and these gluten free wonders are my new favourite recipe. There are many delicious variations of cream cheese pancakes out there. Some keto recipes contain only eggs and cream cheese,  which works well, but tastes a little on the eggy side. Others add in coconut or almond flour or both – these two always work well together.
I recently tried a nice coconut and almond flour cream cheese pancake recipe from Vickie de Beer's brilliant Type 1 and Type 2 Diabetes Cookbook. My version is a little more pared down. It uses only almond flour, because I find in the mornings it's best to keep things simple.
Almond flour is not the same as ground almonds or almond meal. It is a much more finely ground flour made from blanched almonds, which gives a texture that resembles wheat flour. The almonds in almond meal, in contrast, are almost always ground with their skins still on.
The almond flour I use, by Sukrin, has also been cold-pressed, so 80% of the fat is removed. It makes the pancakes light and fluffy, just like we enjoyed them in the good old days before we realised that wheat is really not a healthy thing to eat.
By using almond flour you are ensuring your pancakes are seriously nutrient dense. They will provide you with a steady supply of energy that won't send you blood sugar sky-high and will keep you satiated until lunch.
These almond cream cheese pancakes are so moreish they will make you as happy as a hug from a lovely friend.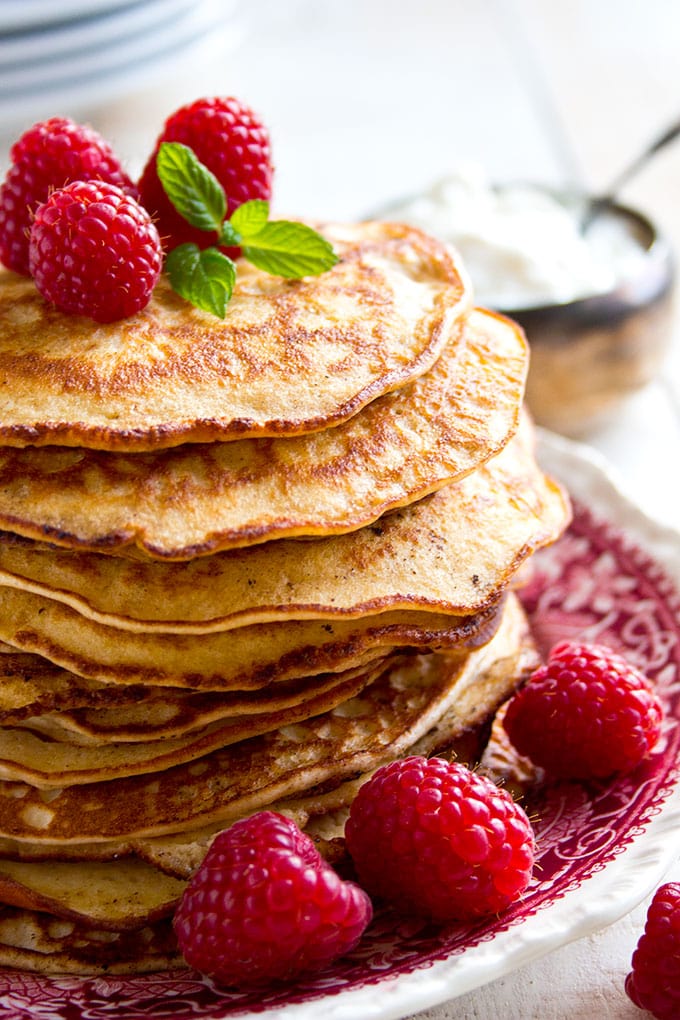 On top of that, they are super quick to put together. You can almost do it while you're waiting for the kettle to boil. The one thing I'd recommend is to keep the pancakes on the small side to avoid them falling apart.
We ate them with yoghurt and raspberries, but here you can obviously be creative. Sour cream would also be nice instead of yoghurt, and if you leave out the sweetener in the recipe they're great with bacon.
You could even turn them into a decadent dessert with a dark chocolate sauce!
For other great gluten free breakfast ideas check out my grab and go low carb muffins, chocolate banana muffins (they use only one banana for the full recipe, so you get the taste but very few carbs) or the rich and satisfying almond butter waffles. I used coconut flour in these low carb waffles. You can easily make them into pancakes if you do not have a waffle maker.
Wishing  you all a happy and healthy 2017!
Sugar Free Londoner
Yields 8 pancakes - 4 portions
Almond Cream Cheese Pancakes
Light and fluffy pancakes that are low carb, gluten free and so easy to make: These Almond Cream Cheese Pancakes are a healthy sugar free breakfast choice.
3 minPrep Time
2 minCook Time
5 minTotal Time
4.8 based on 40 review(s)
Ingredients
60 g (1/2 cup plus 1 tbsp) almond flour
125 g (1/2 cup) full fat cream cheese
4 eggs
1/2 tsp cinnamon
1 tsp erythritol (optional)
butter, for frying
Instructions
Mix all ingredients in a blender.
Fry pancakes in melted butter in a non-stick pan. Turn over once the centre begins to bubble. The pancakes should be smallish, ca 10-12 cm in diameter. About the right size to fit them in the toaster the next day should you be so lucky to have any leftovers.
Notes
I have not added the butter to the nutritional info - how much butter you need will depend on the type of pan you use
7.6.6
303
https://sugarfreelondoner.com/almond-cream-cheese-pancakes/