The best things in life are simple - like this 2 ingredient sugar free caramel sauce. Vegan and delicious, it can be used in candy or as a topping for ice cream, cakes, pancakes or waffles.
Jump to:
Aaaah, simplicity.
There is beauty in simplicity. Think of the clean lines in Scandinavian design. There's no fluff, no frills, no sofa cushions with an attitude larger than yours. The Scandis are the masters of creating an atmosphere that's grown-up and hygge (the infamous Danish trend word that describes anything cosy, charming or special) at the same time. Theirs is a simplicity that oozes friendliness and warmth.
There is calmness and infinite style in simplicity. Take the Japanese tea ceremony, a celebration of the sacred in everyday life. Every movement is deliberate, thoughtful, meaningful, perfection, like a graceful dance. If you have ever had the pleasure of experiencing a tea ceremony, you'll know it's as calming as meditation. Unless you're a child maybe, in which case it's probably more like... I'll let you finish that sentence.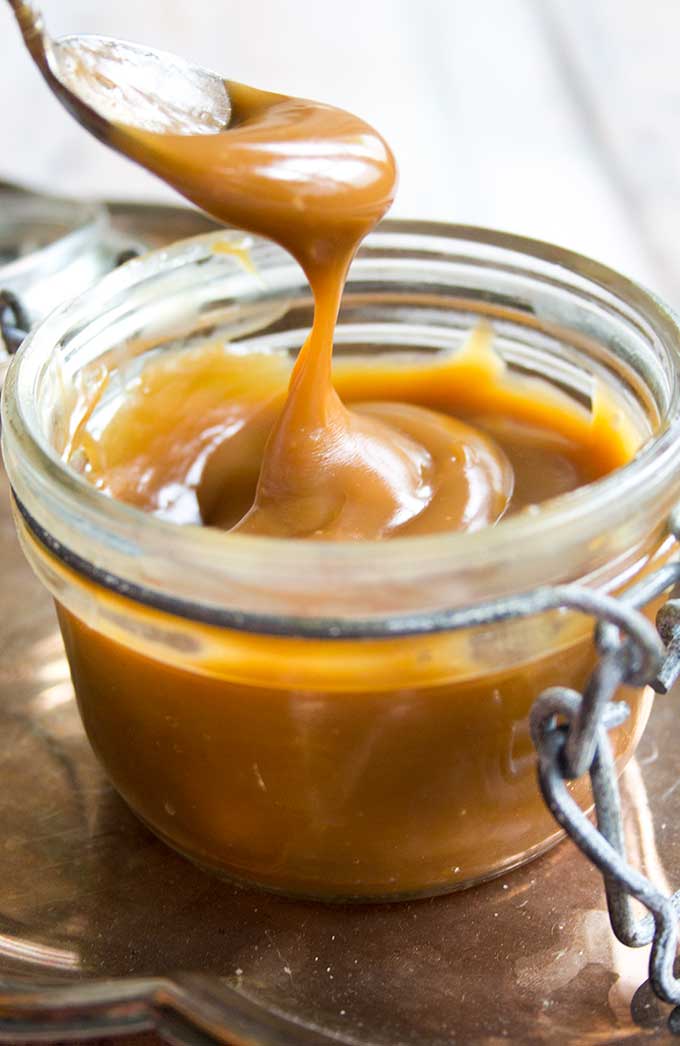 And last but not least, simplicity is all about easy. I love easy. Who doesn't?
Easy means no struggle. No hassle. No annoyances. Easy is fun! It's gratification without having to fight for it. How wonderful is that?
Now, I do see there's an argument for how much more proud/happy/on top of the world you feel when you've worked hard for something and succeeded. That you truly DESERVED whatever it was that you strived for and you EARNED it. That's what my parents told me and that's what I tell my own children.
Here's the secret no parent will ever tell you.
When something is easy, it feels just as good. Because at the heart of easiness lies being CLEVER.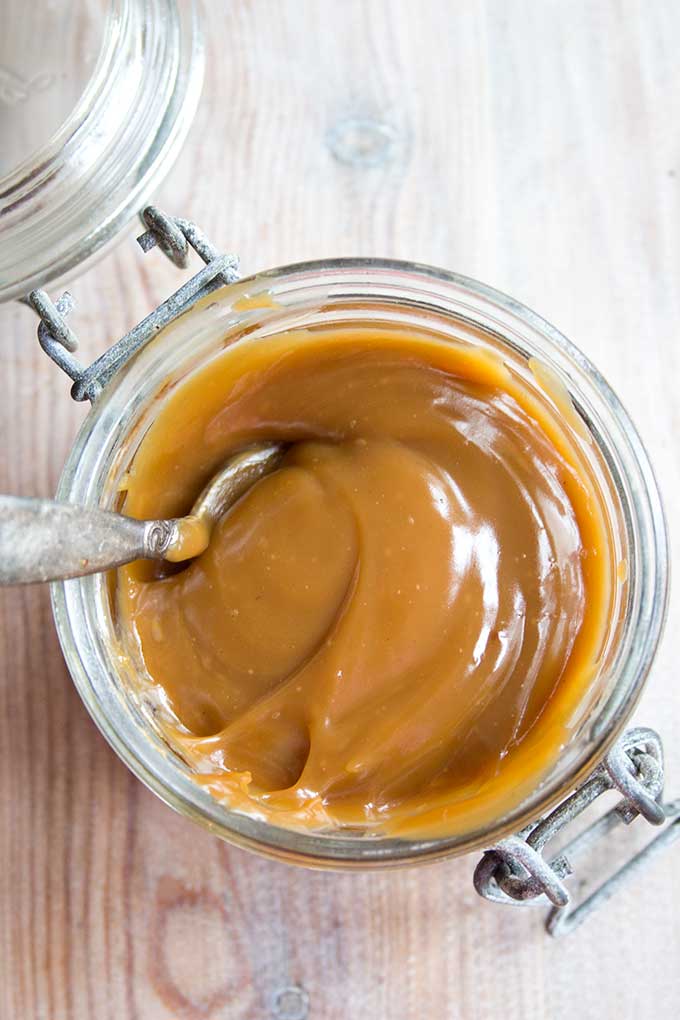 Why This Recipe Works
This sugar free caramel sauce recipe is beauty, perfection and EASY rolled into one. That's pure joy.
2 ingredients, friends! If a recipe contains only one ingredient, I'm not sure you can call it cooking. Unless it's an egg maybe.
Let's dive into the nitty-gritty details here. Classic caramel sauce is made with butter, cream and sugar. There are many good low carb versions of caramel sauce online which just replace the sugar with natural sweeteners such as erythritol, xylitol or stevia.
My interest got piqued when I heard from a vegan friend of mine that you can make caramel with coconut milk and agave or maple syrup.
The Key Ingredient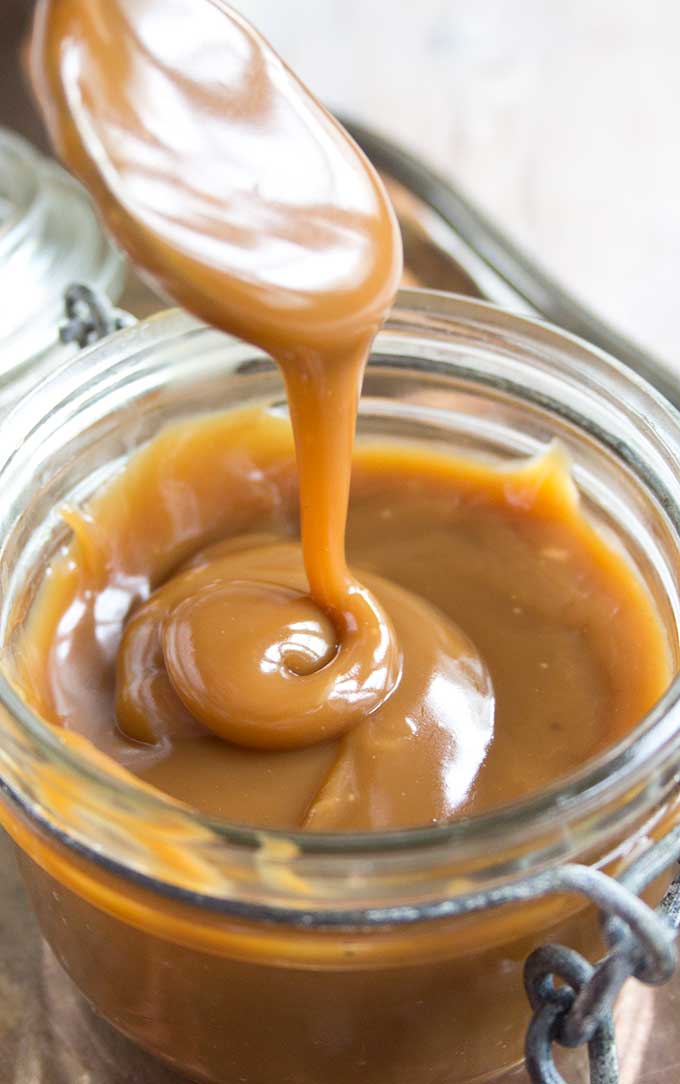 I have been playing around with a new product by Sukrin (at least new in the UK) - their fibre syrup. I normally do not go on about a specific product, but this syrup tastes good and has been approved by my daughter, who can sniff out "diet foods" like nobody else I know. It is made with a beneficial prebiotic plant fibre called isomalto-oligosaccharide.
Instructions
To make the caramel sauce, all you need to do is grab yourself a can of good quality coconut milk (not the milk you can buy in the 1 litre tetra packs - it's got to be a can so you get a higher fat content) and add 4 tablespoon of syrup per 1 US measuring cup of coconut milk. I used a 400ml can, to which I added 7 tablespoon of syrup.
Then you let it bubble away happily on the stove until it has reduced by half and turned into a wonderfully sticky, thick caramel sauce. That's it!
Uses
You can make homemade candy (watch that space, coming right at ya next week)
pour it over cakes
spoon over pancakes such as these almond cream cheese pancakes
enjoy with waffles
add some pumpkin spice and boom, it's a Christmas sauce.
In terms of simplicity, this sauce is a total winner. No, hang on. You're the winner. Because you get low carb and sugar free (which equals clever), delicious and EASY in one spoon of happiness. Perfection.
Disclaimer
Update October 2019: if you are diabetic, use the Sukrin fibre syrup with caution. Since posting this recipe in 2017, Sukrin have updated their website with the following statement:
"Experience has shown that Fibre Syrup can be digested differently from person to person. For many people, the majority of Fibre Syrup acts like fibre in the body, while for some people it appears that a portion of the fibre can cause the blood sugar to rise. We therefore recommend people with diabetes to be careful when using Fibre Syrup, and expect an impact on blood sugar levels. The blood sugar rise should be lower than for regular syrup and sugar, but may be higher than what one would expect from a product with such a low sugar and high fibre content. Unfortunately, we don't have sufficient documentation to give an exact GI value yet."
I will experiment with different low carb syrups based on erythritol and report back to you once I've come up with a good alternative that is 100% safe for diabetics.
More Sugar Free Sauces
★Tried this recipe? Give it a star rating below!
★ STAY IN TOUCH on FACEBOOK, PINTEREST and INSTAGRAM for more great food and join my NEWSLETTER for the latest updates and a FREE EBOOK.★ 
Recipe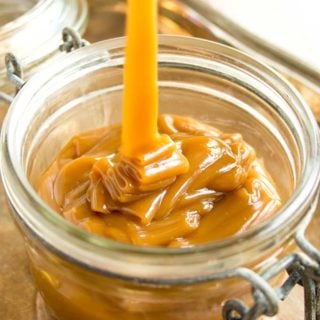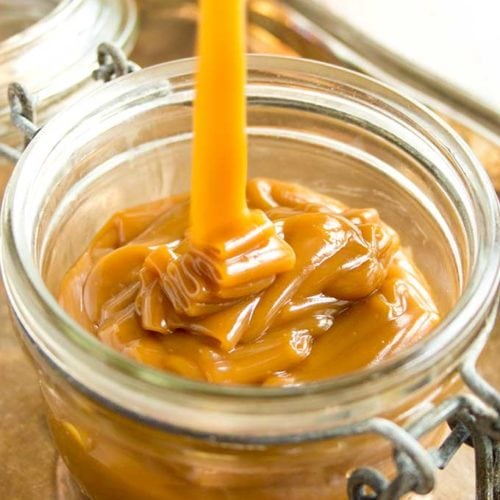 2 Ingredient Sugar Free Caramel Sauce (Low Carb, Vegan)
from Sugar Free Londoner
The best things in life are simple - like this 2 ingredient sugar free caramel sauce. Vegan and delicious, it can be used in candy or as a topping for ice cream, cakes, pancakes or waffles.
Note: The servings slider only changes the first amount in each line and not any subsequent amounts. Please make your own calculations where necessary.
Instructions
Put coconut milk and fibre syrup into a small non stick pan and bring to the boil.

Reduce the heat and let it reduce to half the amount, stirring frequently. This takes around 20-30 minutes.

Pour your thickened syrup into an airtight container and let it cool down.
Notes
I calculated 1 serving as 1 tbsp
To my readers in the US, use 4 tablespoon of syrup per 1 cup of coconut milk
UPDATE October 2019: The fibre syrup may NOT be suitable for diabetics as it can raise blood sugars in some people. Please see the statement from the Sukrin website in my post. 
Nutrition
Calories:
56.9
kcal
Total Carbohydrates:
5.6
g
Protein:
0.3
g
Fat:
4.7
g
Saturated Fat:
4
g
Fiber:
4.1
g
Sugar:
0.7
g