Learn how to make delicious and healthy sugar free whipped cream in just 2 minutes! This homemade whipping cream recipe requires only 3 ingredients. You won't believe how much better it tastes than the ready-made stuff.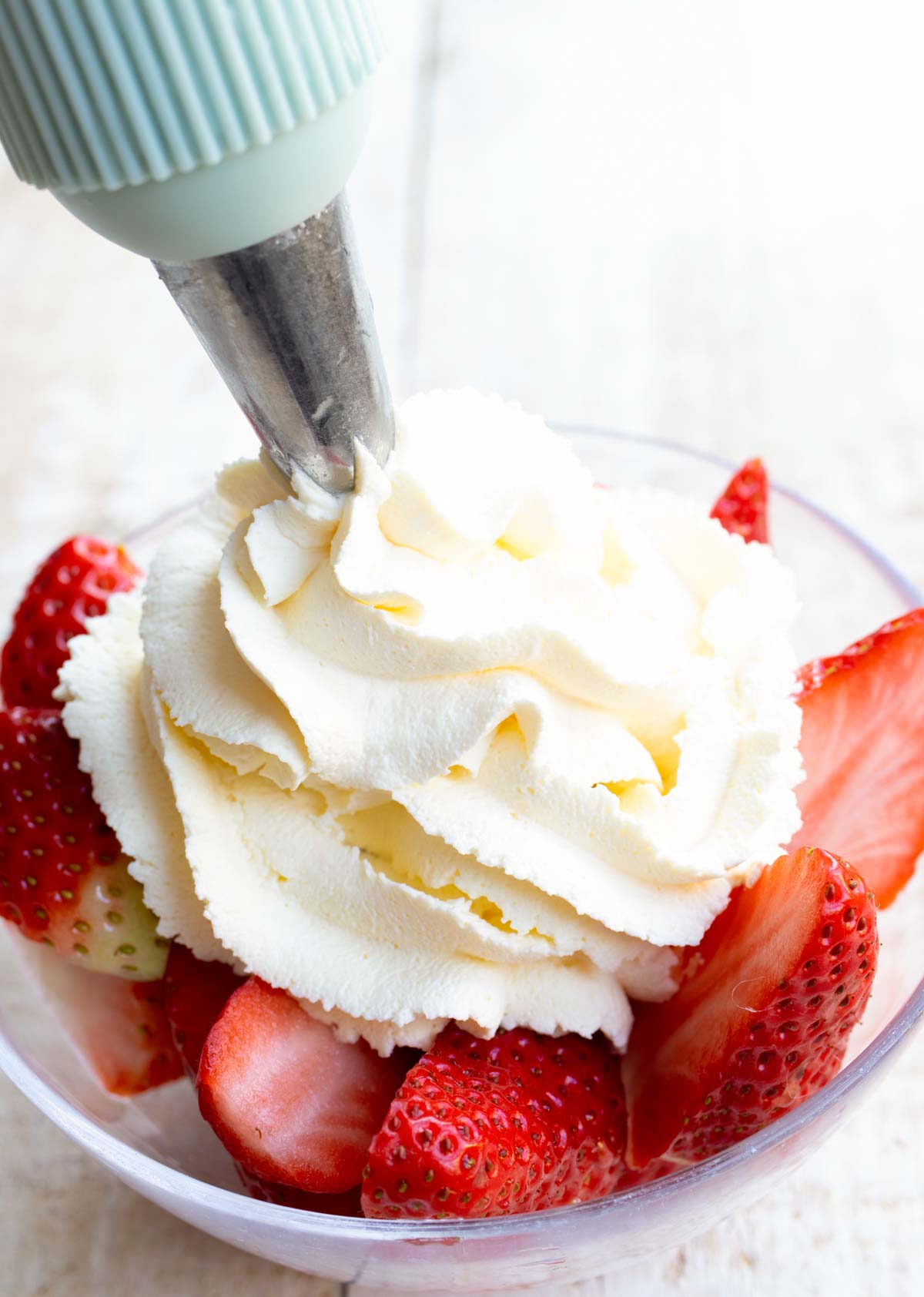 I used to buy ready-made whipping cream cans, but once I started a sugar free diet and began reading labels I stopped.
Store-bought whipped cream is very high in sugar and preservatives. And if you do find a ready-made no sugar version, you bet it'll contain artificial sweeteners.
There really is no reason NOT to make your own no sugar whipped cream.
It is not much different from making regular whipped cream. You just have to swap out the sugar for a low carb sweetener!
Jump to:
🌟 Why You'll Love This Recipe
Easy - 3 ingredients, 2 steps
Quick - ready in 2 minutes
Sugar free
Keto friendly - 0.4 grams of net carbs per serving
Creamy, light and fluffy texture
Gluten-free, no artificial flavor
Ingredients
Here are the three ingredients you need:
#1: Heavy cream - should be fridge cold. Always use heavy (double) cream rather than light cream. It tastes better because it is creamier and it stays firm for longer.
#2: Powdered sweetener - The best sweetener for sugar free whipped cream is allulose, because it dissolves like sugar and does not recrystallize.
However, you can also use powdered erythritol, monk fruit sweeteners or xylitol. All sweeteners must be powdered.
#3: Vanilla extract - optional, but recommended.
Recipe Variations
Here are a few ideas how you can change the flavor of this recipe:
Chocolate whipped cream: Add 2 tablespoons of unsweetened cocoa powder, plus 1-2 additional tablespoons of powdered sweetener. It's fantastic on this keto chocolate cake.
Lemon: Add a little lemon zest and a squeeze of lemon. This works a treat for any fruity desserts.
Cinnamon: Sprinkle cinnamon into the cream while you are whisking it.
Coconut: Use coconut extract instead of vanilla.
Instructions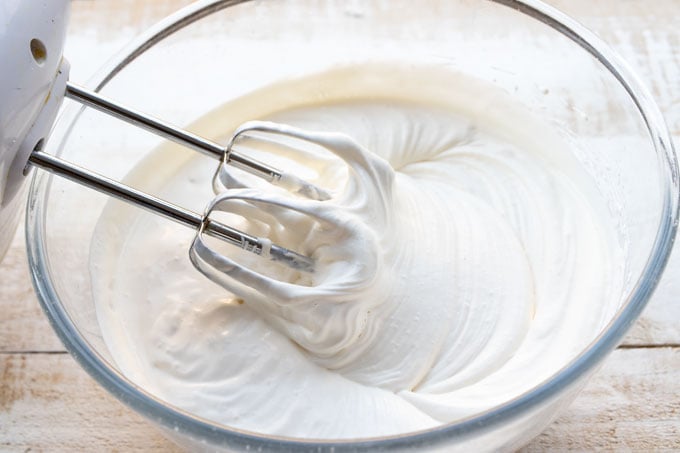 There are only 2 simple steps:
Step 1: Put the heavy whipping cream, powdered sweetener and vanilla extract in a large mixing bowl.
Step 2: Beat with a hand mixer or a stand mixer for about 2 minutes until soft peaks form.
Expert Tips
Making sugar free whipped cream is very simple. However, here are a few important tips to get best results:
Tip #1: Chill everything. The cream should be fridge cold.
Also, put the mixing bowl as well as the beaters or whisk attachment into the freezer for 20 minutes before using.
This way, the whipped cream does not overheat and you can incorporate as much air as possible.
Tip#2: Move the mixer while beating. This way, all the cream gets mixed and you avoid having pockets of liquid cream at the end.
Tip #3: Don't overmix. Heavy whipping cream goes from soft peaks to stiff peaks to ruined very quickly.
Don't blend too long or you will end up with butter.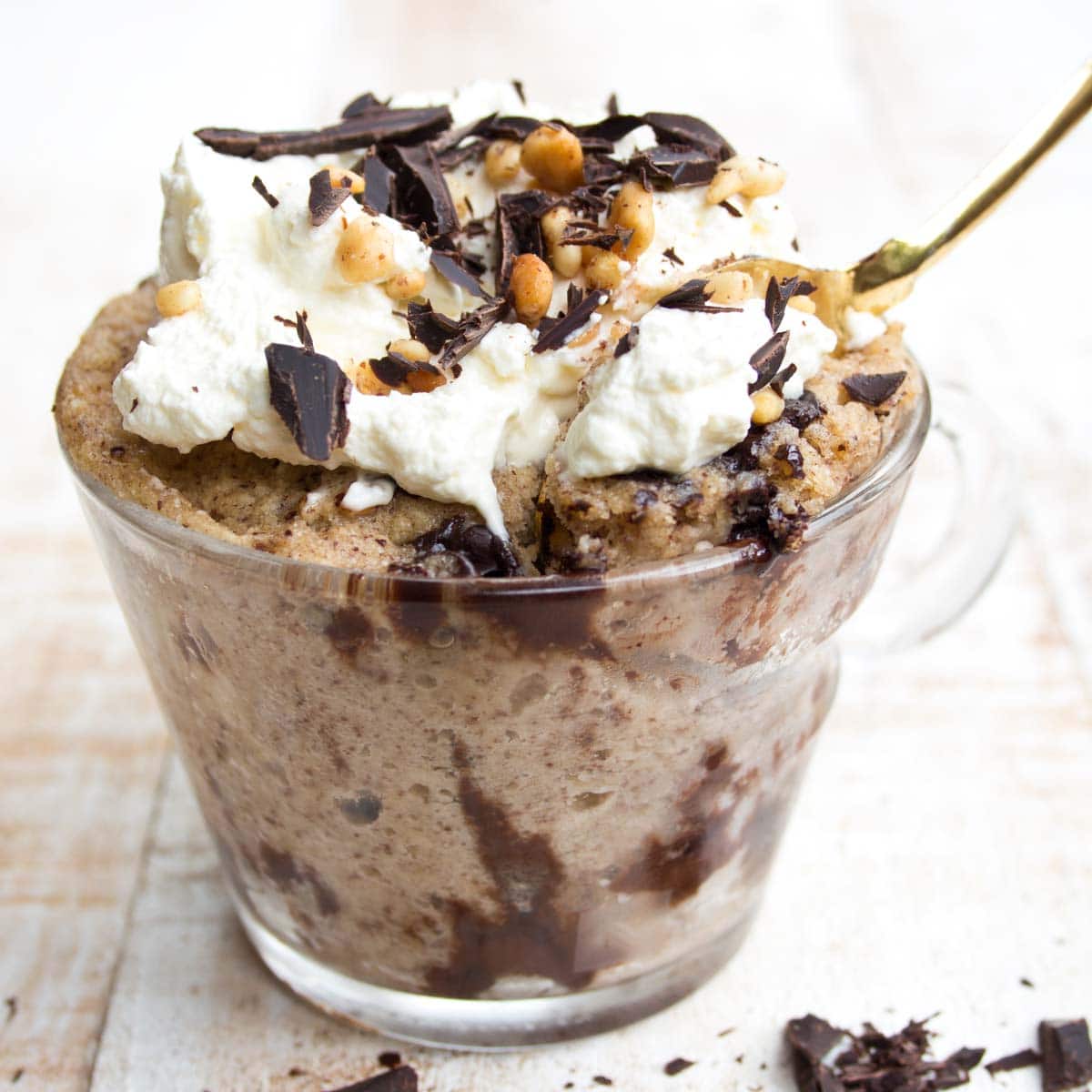 Recipe FAQs
Is whipped cream keto friendly?
Yes it is - if you make your own. Regular whipped cream recipes will nearly always call for several teaspoons of table sugar. This adds unnecessary carbs.
By swapping the sugar for sweetener, you are making keto whipped cream.
Do I have to add the sweetener?
Not at all. You can make whipped cream without any sugar-free sweeteners or vanilla. Just use the cream!
How many carbs does whipped cream have?
Heavy whipping cream is naturally low in carbohydrates. One portion of this sugar free whipped cream is only 0.4 net carbs.
Can I use stevia?
Yes, it is possible to use 8-10 drops of stevia glycerite to sweeten whipped cream.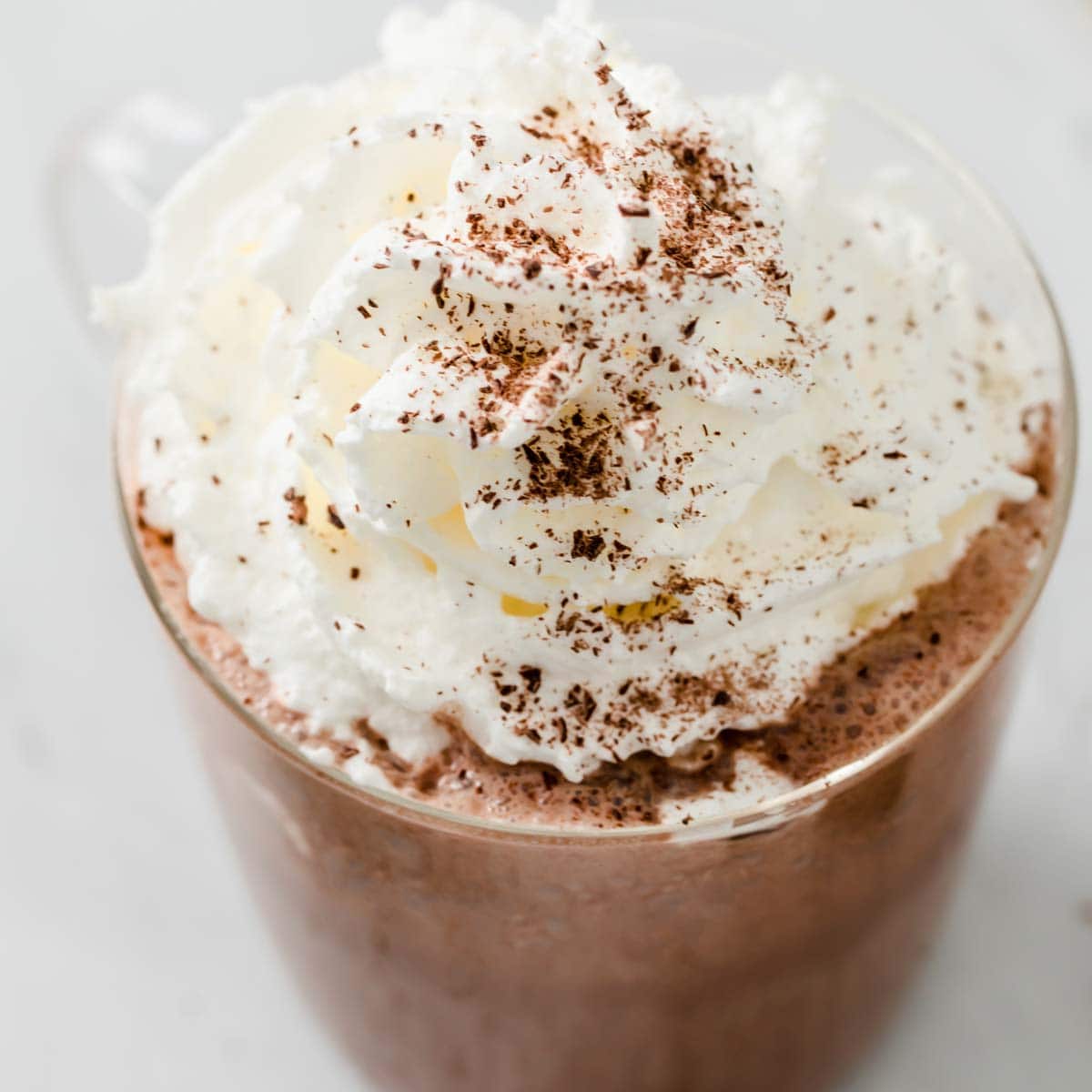 Serve on
Here are some sugar free desserts that are even better with a whipped cream topping:
Strawberries or any other berries
Storage
Refrigerator: Store sugar free whipped cream in an airtight container in the fridge for up to 4 days. Whisk it again briefly before serving.
Freezer: Dollop portions of the cream on a sheet of parchment paper and freeze. Once frozen, transfer into a freezer bag. Freeze for up to 3 months.
This way, you can use single portions of whipped cream on desserts or in sugar free hot chocolate.
Tried this recipe? Give it a star rating below!
★ STAY IN TOUCH on FACEBOOK, PINTEREST and INSTAGRAM  for more great food and join my NEWSLETTER for the latest updates and a FREE EBOOK.★ 
Recipe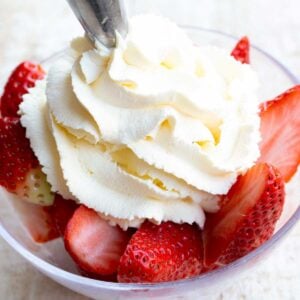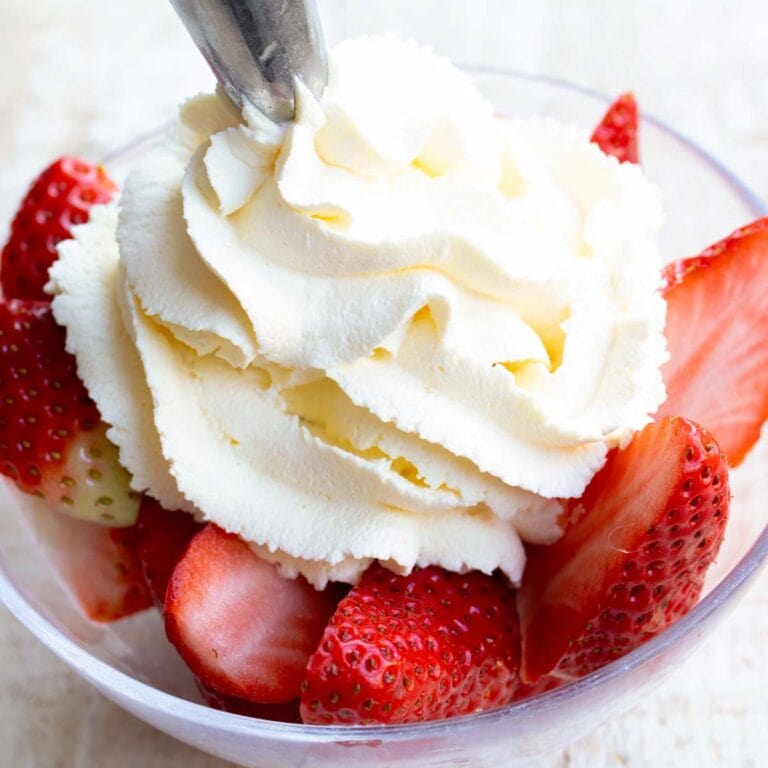 Sugar Free Whipped Cream
from Sugar Free Londoner
It's so simple to make sugar free whipped cream at home! It only takes 2 minutes and three ingredients. Learn in the post which sugar free sweetener works best and check out my top tips on how to get the perfect soft peaks.
Note: The servings slider only changes the first amount in each line and not any subsequent amounts. Please make your own calculations where necessary.
Instructions
Combine all ingredients in a bowl.

Mix with an electric mixer for about 2 minutes until soft peaks form. For best results, use a chilled bowl.
Notes
Makes 2 cups of whipped cream
0.4g net carbs per serving. (1 serving is 2 tablespoons).  
The sweetener is optional. You can use more for a sweeter cream, or leave it out altogether. The vanilla extract will still give it a lovely flavour.
Don't over-whip the cream! Stop once you have reached the stage of soft peaks. If you blend too long, the cream turns very hard. 
Nutrition
Serving:
16
g
Calories:
56
kcal
Total Carbohydrates:
0.4
g
Protein:
0.3
g
Fat:
5.7
g
Saturated Fat:
3.6
g
Sugar:
0.4
g