These keto donuts taste just like the real thing, just without all the sugar and carbs! They are deliciously moist and pillowy-soft, with a hint of vanilla and rolled in granulated sweetener. Healthy sugar free donuts, friends. I'm lovin' it!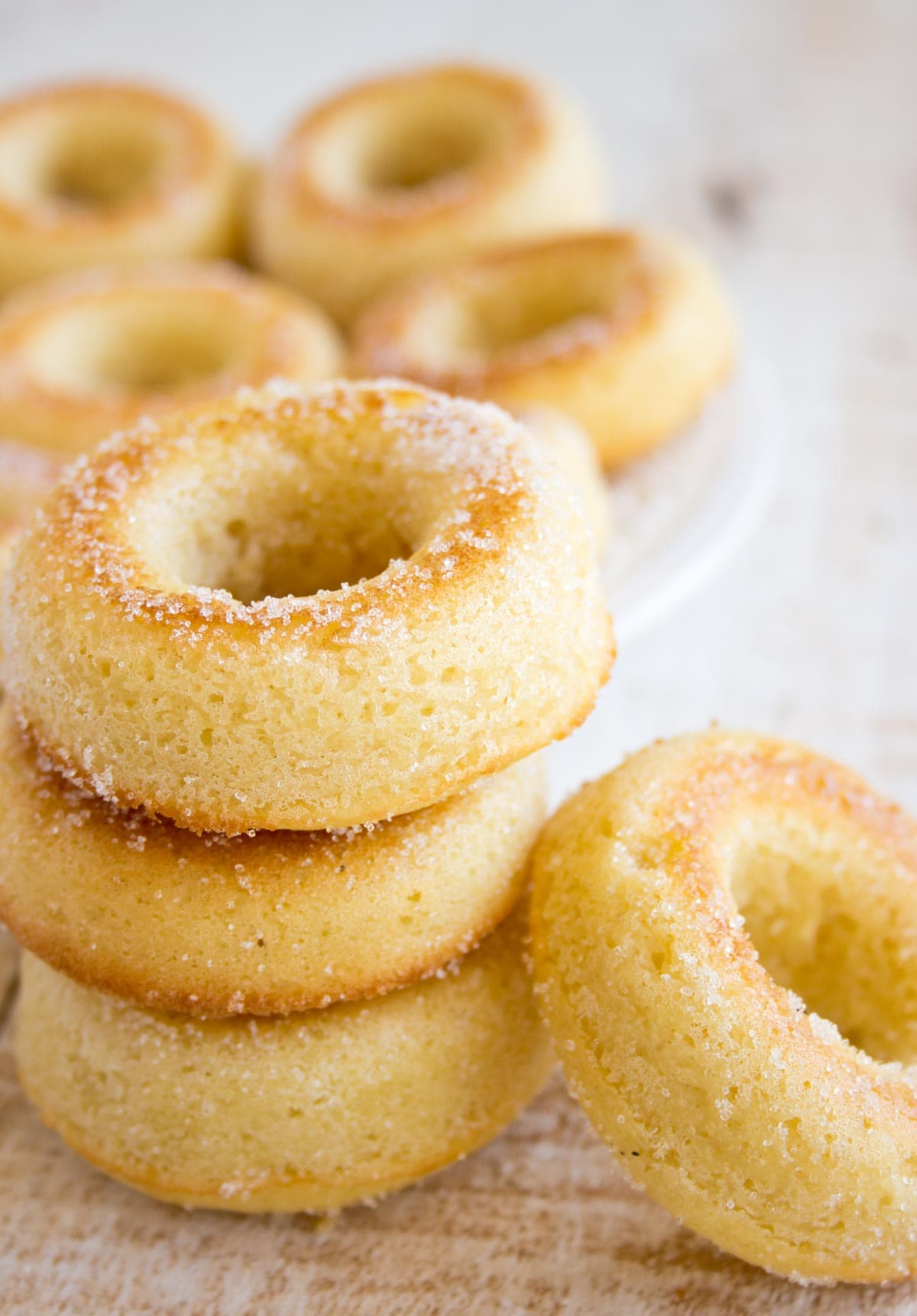 On a scale of one to ten, donuts score at least a 14. You put a plate of these beauties on a table, and within minutes it'll be empty, guaranteed.
I've never been a fan of Krispy Kreme - they are just too sweet and fake-tasting. But before I started my low carb diet, I did love a proper bakery donut. Especially when they were fresh out of the oven, still warm and deliciously soft.
There is a 24-hour bakery in London where we used to go to after a long night out. We'd stock up on bagels for breakfast and munch on a donut or two on the way home. Saturday night wouldn't have been the same without it!
These days, I'm more likely to be found on my sofa than partying, and in bed before midnight. A good night's sleep is sacred in midlife. But donuts. I missed them!
It was time for a healthy sugar free donuts recipe.
I used my sugar free lemon mug cake recipe as a starting point. This cake is ultra moist, which I absolutely love. It uses almond flour, which has a gently sweet taste and mimics the texture of wheat flour very well. Regular readers of my blog will know that it is my favourite gluten free, low carb flour.
I increased the amount of butter in the recipe to make my low carb donuts pillowy-soft and rich at the same time, just like real donuts should be. Seriously, they are so good, it's hard to believe they're only 1g net carbs a piece!
Shall I show you how easy the recipe is?
How to make keto donuts - step by step: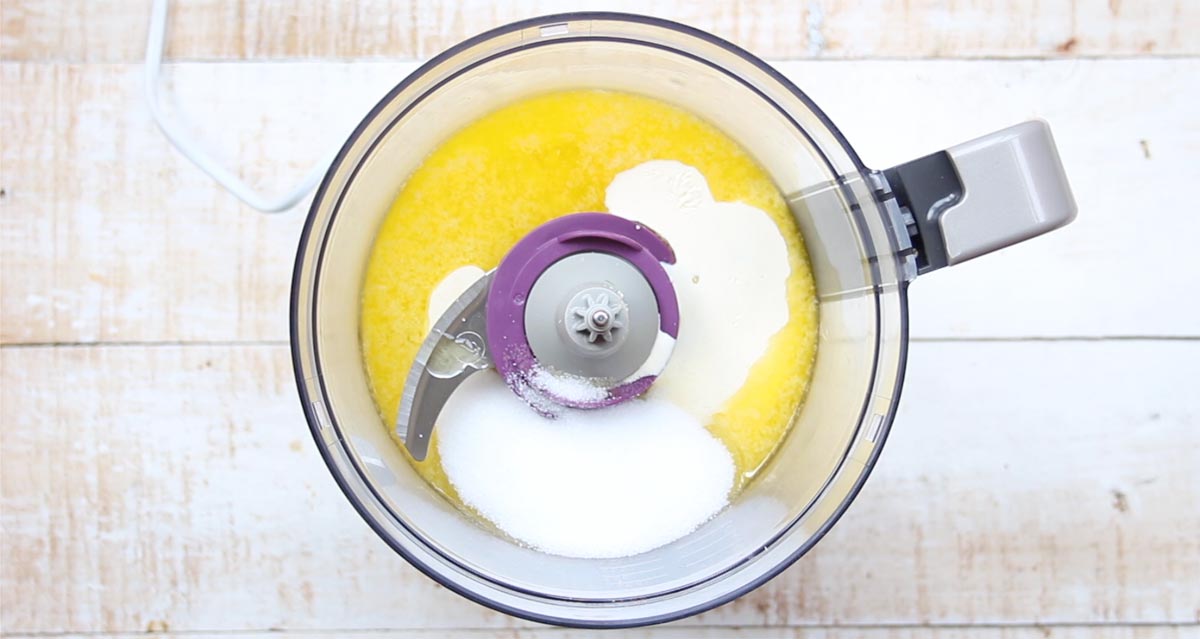 1.) Melt the butter in the microwave or on the stove.
In a bowl using an electric mixer or with a food processor, blend the butter, double / heavy cream and granulated sweetener until smooth.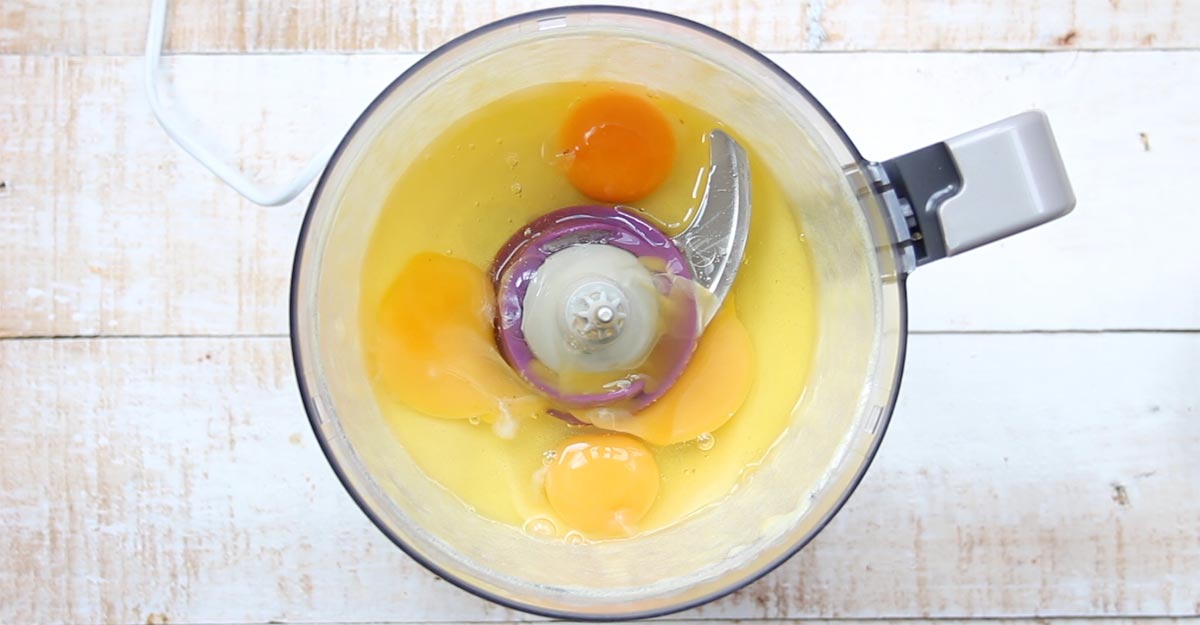 2.) Add the eggs and vanilla extract to the mix and blend until combined.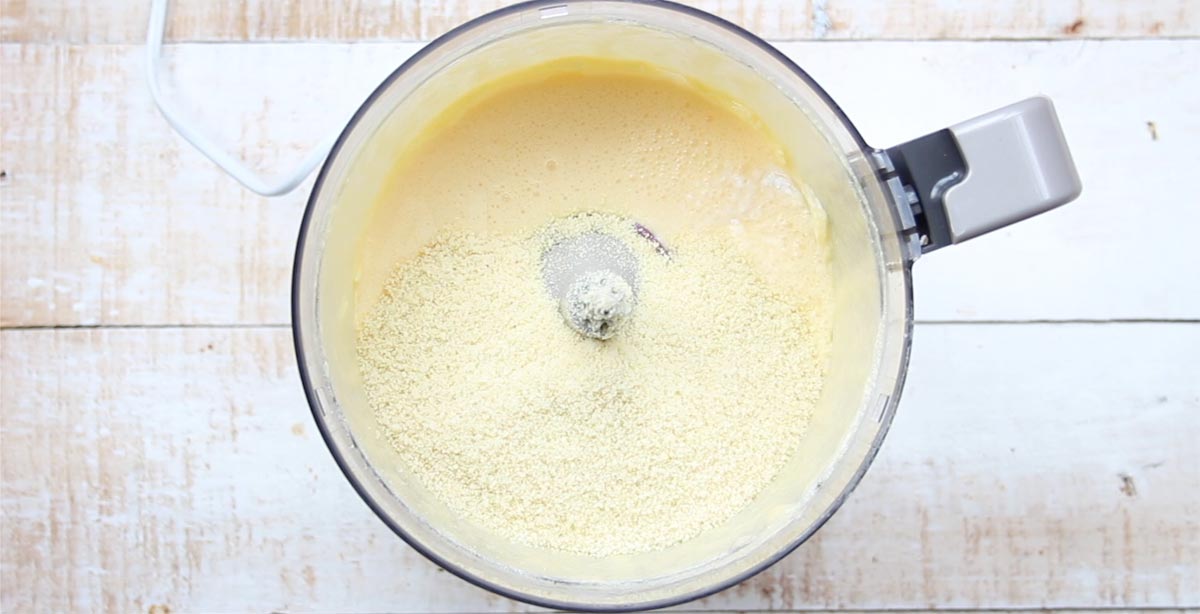 3.) Then add the almond flour and baking powder and blend until you have a smooth batter.
Tip: Check that your baking powder is fresh. The main reason why some baked goods don't rise is out-of date baking powder. You can check whether it's active by putting some in water. If it bubbles up, you're good to to!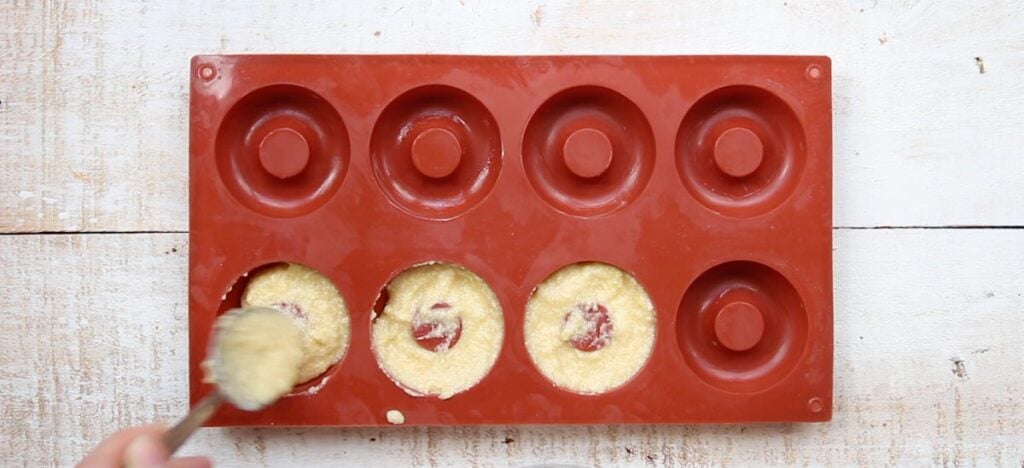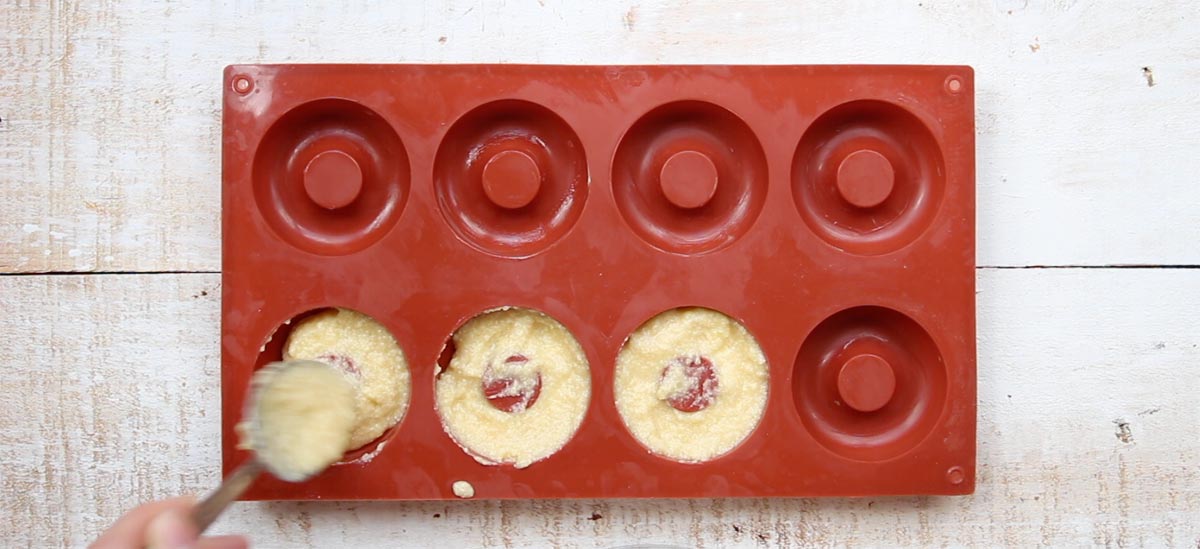 4.) Spoon the batter into a well-greased donut pan. I greased mine with melted butter.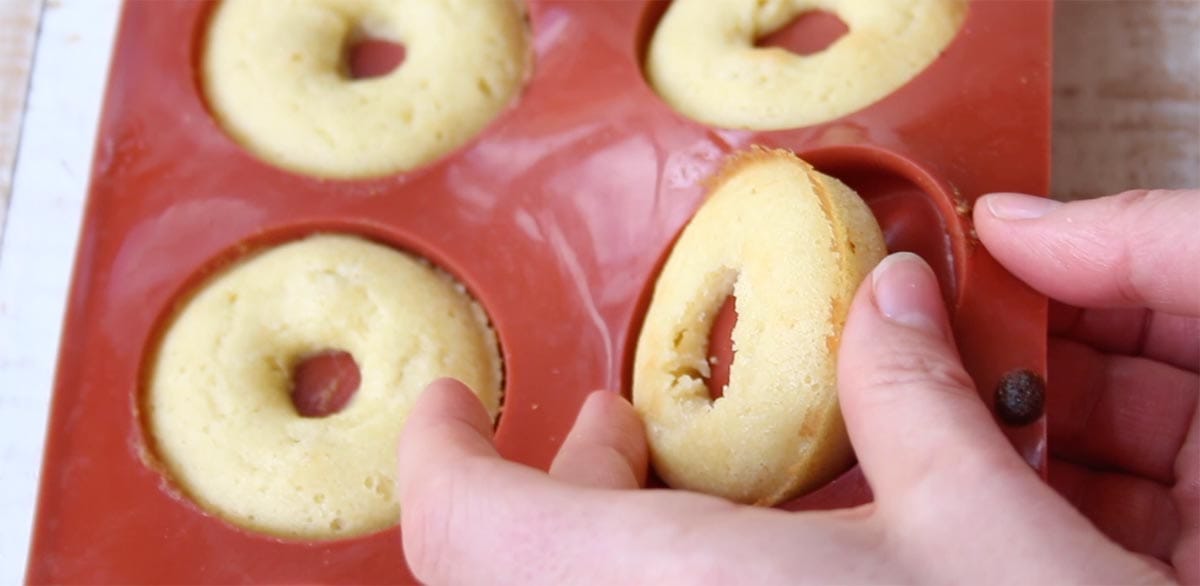 5.) Bake you keto donuts for circa 15 minutes or until lightly browned on top. Then remove from oven and let cool fully.
Once they are room temperature, carefully remove them from the pan.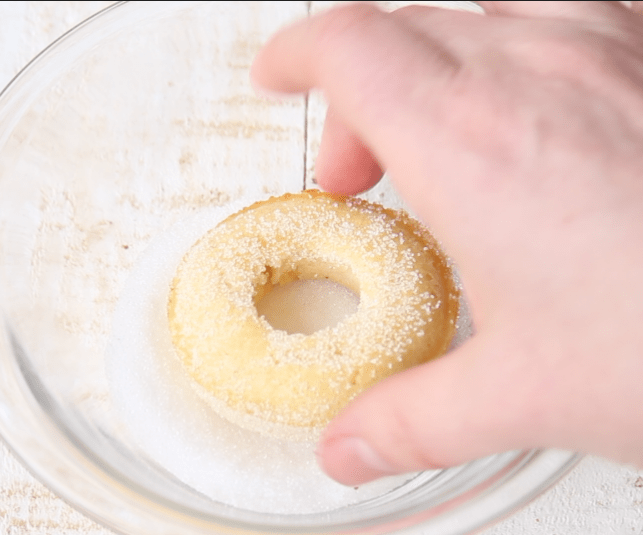 6.) Roll in a bowl with granulated sweetener and enjoy!
Which sweetener should I choose?
I like to use either pure erythritol or an erythritol blend with either monkfruit or stevia. Lakanto is a good brand to check out in the US. You can get 15% off with my code SUGARFREE.
You could also use xylitol - some people find it has less of a cooling taste than erythritol. Xylitol is higher in carbs, so do take this into consideration if you need to. Also, when purchasing xylitol, look for a brand that extracts it from birch trees and not from GMO corn.
A third option is allulose, which is the new zero carb sweetener on the block. It tastes surprisingly similar to sugar. It's available on on Amazon in the US. In Europe, the UK and elsewhere you can get allulose from iherb.
Use a mini donut pan
As I find almond flour is rather filling - this is because it's actually got nutritional value and contains plenty of healthy fats, I decided to use a silicone mini donut pan as opposed to a regular size pan.
Silicone pans are a godsend for low carb bakers, because they are pliable and you can release your baked goods much easier. Grain free flours such as almond flour or coconut flour do not contain gluten, which gives regular baked goods their strong crumb structure.
Whether you are using a silicone or a non-stick pan - make sure you grease it REALLY WELL. I used butter, but you could use another oil such as coconut oil. Don't miss this step!
You can use a larger mould if that's what you have at home and make 6-7 full size keto donuts. Simply increase the oven time by 5-8 minutes. Cover the top with aluminium foil if they start browning too much.
Don't have a donut pan? You can use a regular muffin pan as well! Fill it only half way and bake 15 minutes.
One of my readers even used this sugar free donuts recipe to make waffles. It's that versatile!!
Don't overfill the batter
In my first attempt, some of my donuts did not have a hole in the middle because I overfilled the mould. I ran a knife around the centre to get my hole "back".
If you DO end up with hole-less donuts, why not make the best of it. Simply fill the inside of the donut with sugar free raspberry jam or lemon curd. 🙂
To achieve donuts WITH a hole, check out how much I filled my pan in the video and on the step-by-step image.
How many eggs
I used 4 medium eggs in my recipe. If your eggs are large, 3 should be enough.
Check the consistency of your batter and compare it to mine in the video. As a rule of thumb, if your batter is too runny, just add another 1-2 tablespoon of almond flour.
See the picture below how lovely and moist they are on the inside!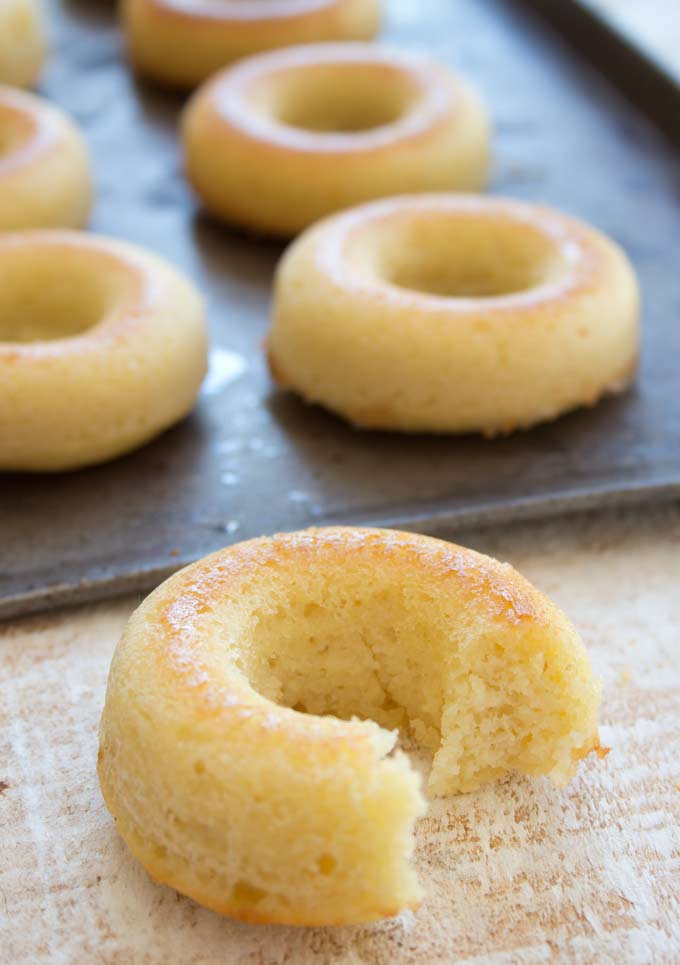 Dairy free low carb donuts
It's possible to make this recipe dairy free by replacing the butter with coconut oil and the double / heavy cream with coconut cream.
Coating ideas
I decided to go for a "sugar donut", because that's my favourite type. Obviously, I did not use real sugar, but granulated erythritol.
A golden erythritol would also be lovely here. Or, add ½ teaspoon of cinnamon to the bowl to make cinnamon "sugar".
If you prefer a glaze, mix 2 tablespoon melted butter, 1 tablespoon double/heavy cream and 2 tablespoon powdered sweetener with a couple of drops of vanilla extract. Let the mix cool until it starts to firm up, then pour over.
You can also melt dark sugar free chocolate with 1 teaspoon of coconut oil for a chocolate glaze! If using dark chocolate, go for a variety with a minimum of 85% cocoa solids.
Healthy donuts variations
How about adding 1 teaspoon cinnamon to the batter and make cinnamon donuts?
Or add 1 tablespoon lemon juice and the zest of 1 lemon to make lemon donuts.
Storage
Store these donuts in an airtight container in the fridge for 5-6 days or freeze for up to 3 months.
More sugar free donut recipes
These keto chocolate donuts always go down a treat!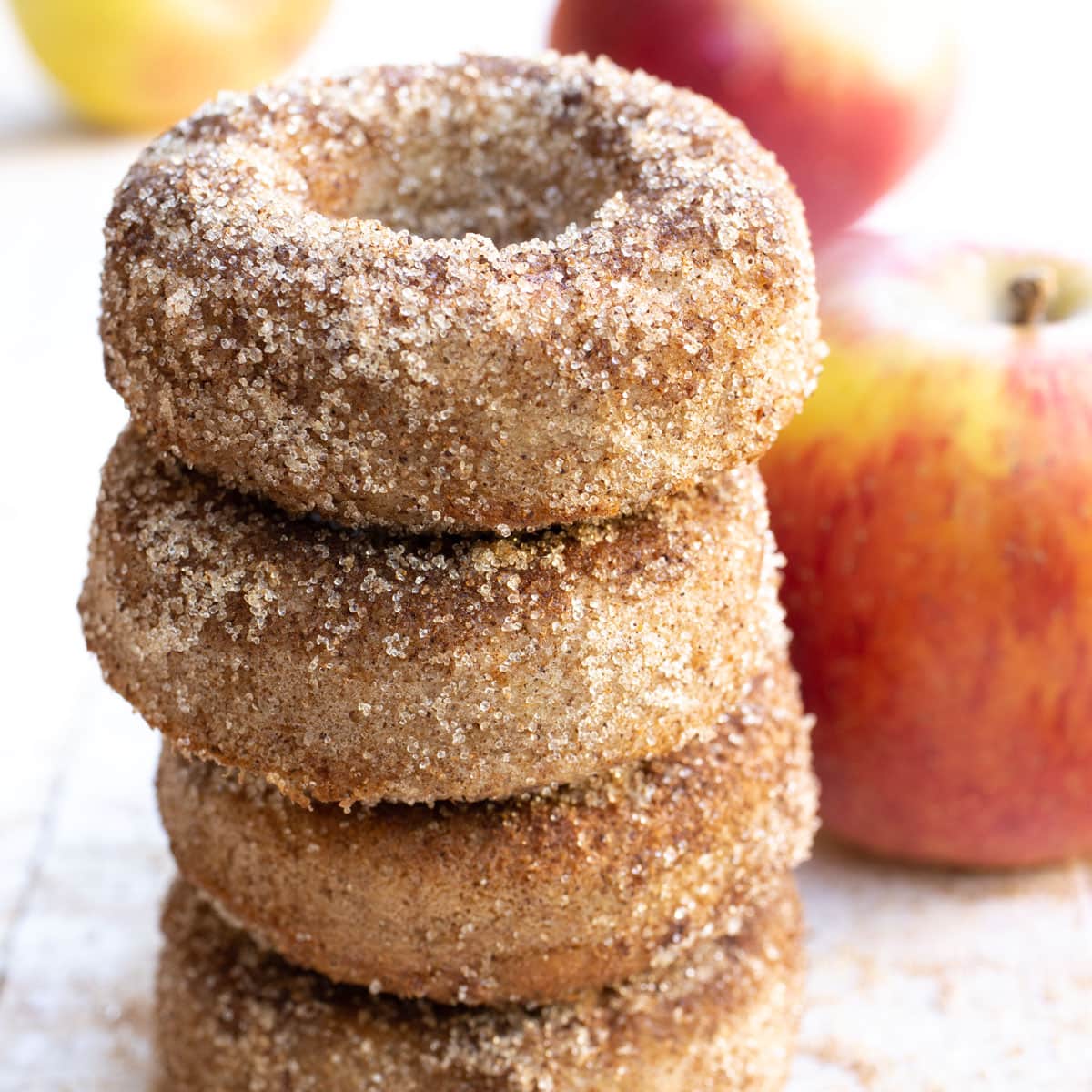 Apple cider donuts with real apple - and still extra low in carbs.
Tried this recipe? Give it a star rating below!
★ STAY IN TOUCH on FACEBOOK, PINTEREST and INSTAGRAM for more great food and join my NEWSLETTER for the latest updates.★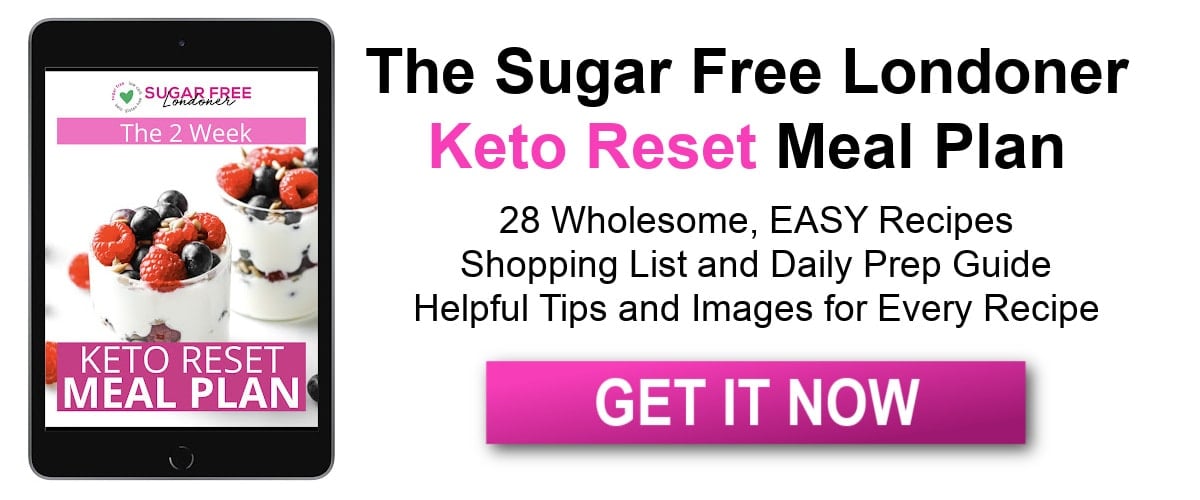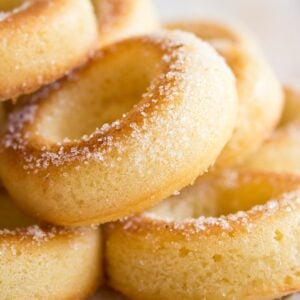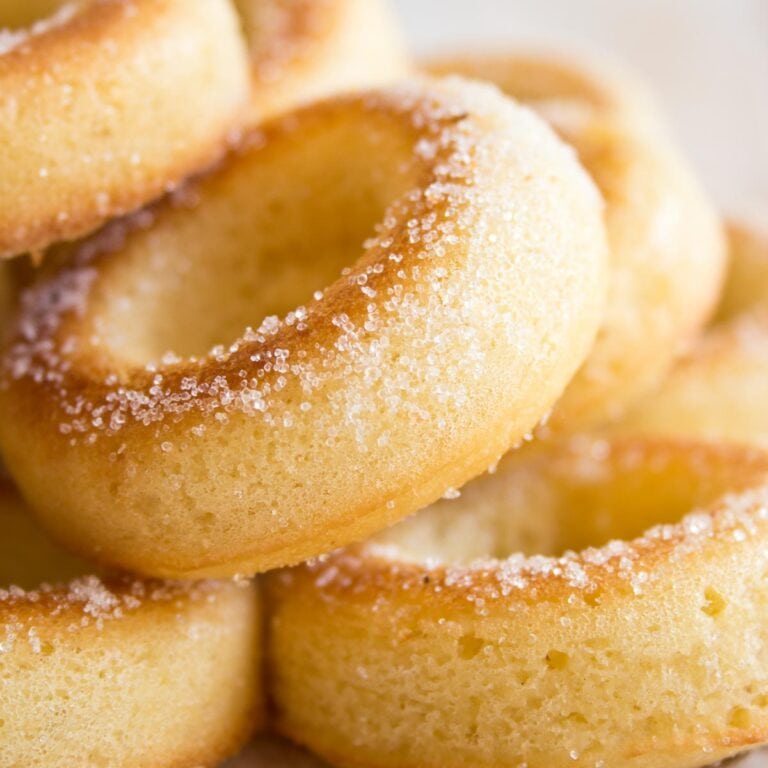 Sugar Free Keto Donuts
from Sugar Free Londoner
You only need 7 ingredients and 20 minutes of your time to make these easy keto donuts! Simply roll them in sweetener, or make a quick glaze. You'll be amazed how much they taste like regular donuts. A perfectly formed low carb dessert.
Note: The servings slider only changes the first amount in each line and not any subsequent amounts. Please make your own calculations where necessary. ***As an Amazon Associate I earn from qualifying purchases.
Instructions
Preheat your oven to 175 Celsius / 350 Fahrenheit.

Melt the butter. In a bowl or with a food processor, blend the butter, cream and sweetener until smooth. 

Add the eggs and vanilla extract and blend until combined. Then add the almond flour and baking powder and mix. 

Bake ca 15 minutes or until lightly browned. Remove from oven and let cool completely before removing from the pan.

Roll in granulated sweetener.
Notes
1g net carbs per donut. Makes 14 mini donuts. 
My donuts had a diameter of 6 cm and weighed between 20-24g each.
If you prefer a glaze, mix 2 tablespoon butter, 1 tablespoon double/heavy cream and 2 tablespoon powdered sweetener with a couple of drops vanilla extract.
If you have a large donut pan, you should be able to make 6-7 donuts, depending on size. Increase the oven time by around 5 minutes.
Make sure you let the donuts cool COMPLETELY before removing them from the pan. They firm up as they cool down.  
Nutrition
Calories:
111
kcal
Total Carbohydrates:
1.9
g
Protein:
3.6
g
Fat:
10.4
g
Fiber:
0.9
g
Sugar:
0.3
g
This keto donuts recipe was first posted in May 2018. I updated it with more recipe tips in June 2020.
This post contains affiliate links. If you click on one of these links and purchase a product as a result, I may make a small commission, at no extra cost to you. This money helps me with the running costs of the website. Thank you for supporting Sugar free Londoner.