These low carb donuts taste just like the real thing, just without all the sugar and carbs! They are deliciously moist and spongy, with a hint of vanilla and rolled in granulated sweetener. Perfect for Keto, sugar free and gluten free diets. Healthy donuts, friends. I'm lovin' it!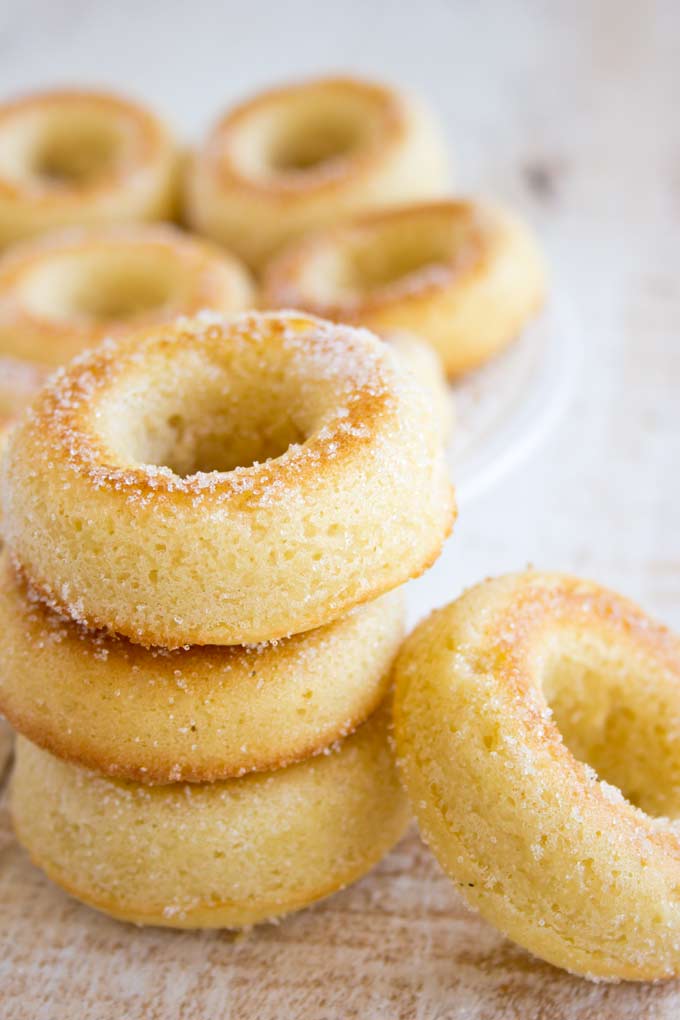 On a scale of one to ten, donuts score at least a 14. You put a plate of donuts on a table, and within minutes it'll be empty, guaranteed.
I've never been a fan of Krispy Kreme and the like – just too fake-tasting – but I do salivate over a proper bakery donut, especially when they're fresh out of the oven, still warm and deliciously soft. And if you were to hold one within reach right now I'd probably tackle you, grab it and gobble it up.
There is a 24-hour bakery on Brick Lane in London where we used to go to after a long night out. We'd join the queue of bleary-eyed party-goers, stock up on bagels for breakfast and munch on a donut or two on the way home. Saturday night wouldn't have been the same without it!
These days, I'm more likely to be found on my sofa than partying (ok, full disclosure – on the sofa until 10pm, then in bed). But donuts. I miss them.
Friends, it was time for a healthy low carb donuts recipe.
I used my sugar free lemon mug cake recipe as a starting point. This cake is ultra moist, which I absolutely love. It also uses almond flour, which mimics the texture of wheat flour very well. I increased the amount of butter in the recipe to make the donuts spongy and rich at the same tome, just like real donuts should be. Using almond flour also means the recipe is gluten free.
These sugar free donuts come in at exactly 1 net carb per donut, which makes them perfect not only for anyone who's diabetic, living low carb or watching their sugar intake, but also for peeps on Keto. I sweetened them with granulated erythritol, which is a brilliant natural sugar alternative.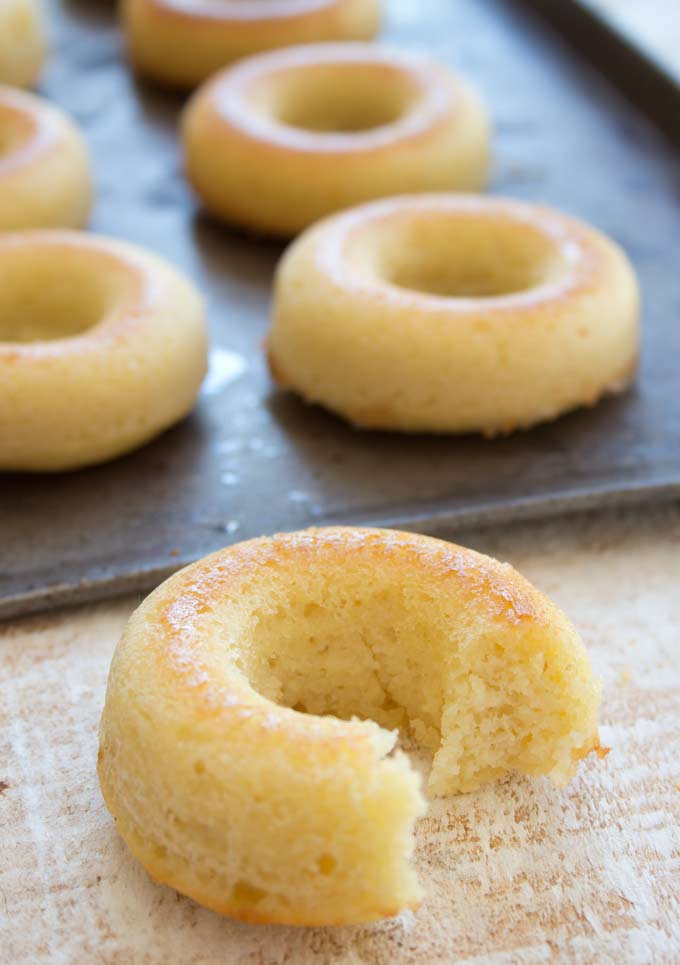 You could also use xylitol – some people find it has less of a cooling taste than erythritol. Xylitol is higher in carbs, so do take this into consideration if you need to. Also, when purchasing xylitol, look for a brand that extracts it from birch trees and not from GMO corn. This one is a good option.
As I find almond flour is rather filling – this is because it's actually got nutritional value and contains plenty of healthy fats – , I decided to use a mini silicone donut pan as opposed to a regular size pan. You can use a larger mould if that's what you have at home – simply increase the oven time by 5 minutes if they're not done after 15 minutes.
Regular readers of this blog know that I adore silicone moulds. Read all about my 10  essential low carb kitchen gadgets here.
For this Keto donuts recipe, the silicone mould really was perfect. I had no problem at all prising the donuts out of the mould. Check it out in the video below!
I decided to go for a "sugar donut", because that's my favourite type (obviously I did not use real sugar, but erythritol). If you like, you could add 1/2 tsp of cinnamon to the bowl to make cinnamon "sugar".
If you prefer donuts with a glaze, simply mix powdered erythritol with some double cream. Add a drop of vanilla for extra flavour.
One last idea – some of my donuts did not have a hole in the middle because I overfilled the mould. I ran a knife around the centre to get my hole "back". But if you wanted, you could also leave it and fill the inside of the donut with sugar free raspberry jam. I'll definitely try that next time.
★ Tried this recipe? Give it a star rating below!★
★ STAY IN TOUCH on FACEBOOK, PINTEREST and INSTAGRAM for more great food and join my NEWSLETTER for the latest updates.★ 
Sugar Free Low Carb Donuts
These low carb donuts taste just like the real thing, just without all the sugar and carbs! They are deliciously moist and spongy, with a hint of vanilla flavour. Perfect for Keto, sugar free and gluten free diets.
Print
Pin
Rate
As an Amazon Associate I earn from qualifying purchases.
Instructions
Preheat your oven to 175 Celsius / 350 Fahrenheit.

Melt the butter. In a bowl or with a food processor, blend the butter, cream and sweetener until smooth.

Add the eggs and vanilla extract and blend until combined. Then add the almond flour and baking powder and mix.

Bake ca 15 minutes or until lightly browned. Remove from oven and let cool.

Roll in granulated sweetener. I used erythritol, but xylitol would work too.
Notes
My donuts had a diameter of 6 cm and weighed between 20-24g each.
If you prefer a glaze, mix 2 tbsp butter, 2 tbsp double/heavy cream and 2 tbsp powdered sweetener with a couple of drops vanilla extract.
The nutrition is calculated per donut.
If you have a large donut pan, you should be able to make 6-7 donuts, depending on size. Increase the oven time if necessary by up to 5 minutes.
Nutrition
Calories:
111
kcal
|
Carbohydrates:
1.9
g
|
Protein:
3.6
g
|
Fat:
10.4
g
|
Fiber:
0.9
g
|
Sugar:
0.3
g
This post contains affiliate links. If you click on one of these links and purchase a product as a result, I may make a small commission, at no extra cost to you. This money helps me with the running costs of the website. Thank you for supporting Sugar free Londoner.