Need a detox? Start the day right with this green keto smoothie and give yourself a super-sized antioxidant boost!
Want to fit into your favourite jeans again? Feel like you could do with a few extra vitamins? Need more energy, more spring in your step, to to back to that GREAT you?
Well, today is the first Monday of the year and I want ALL of the above. December tends to be the "why not, give me another one" month when it comes to food. It's always a lot of fun.
But I'm actually relieved the party season is over now. I'm looking forward to cooking and eating sensible (AND yummy) food at home for a while.
Whether you're reading this in January or at any other time of the year...
...if you're looking for a mini detox, this green keto smoothie is your best friend.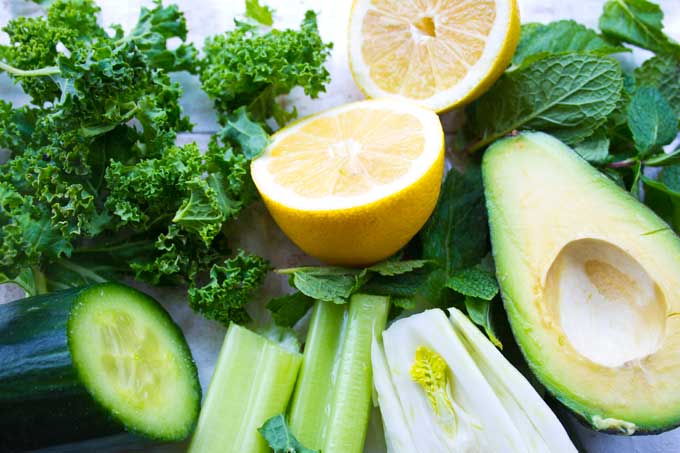 Let's take a quick look at regular smoothies, which are generally not keto friendly.
Apart from fruit, smoothies often contain oats as well as dairy milk, yogurt or ice cream. They are sweetened with banana, honey, dates and sometimes even sugar.
Berries and yogurt are perfectly fine on both the low carb diet and the keto diet, in moderation. But most of the ingredients in regular smoothies are high in carbs and sugar.
So. Are smoothies ok on Keto?
They absolutely are, with a few adjustments.
When you make a Keto smoothie recipe you choose unsweetened almond milk or coconut milk over dairy. This lowers the carb count significantly.
Like fruit? Raspberries, strawberries and blueberries are great choices for a low carb smoothie as they are low in carbs. I always have a bag of frozen strawberries in the freezer because I love my strawberry smoothies (I'll post the recipe soon!).
In the meantime, I do have a delicious keto blueberry smoothie on my website if you'd like to check it out!
Nut butter is another favourite in Keto smoothies. Peanut butter or almond butter add natural sweetness and are a source of healthy fat.
You can also use avocados to increase the creaminess. Or add coconut oil, coconut butter or even mct oil.
If you want to increase creaminess, simply add avocado.
My personal favourite are GREEN SMOOTHIES like this one. I've skipped the fruit (not counting a squeeze of lemon and the avocado, which technically is also a fruit) and am loading up on green vegetables instead. Cucumber, fennel, kale, celery - yes please, bring it on!!!!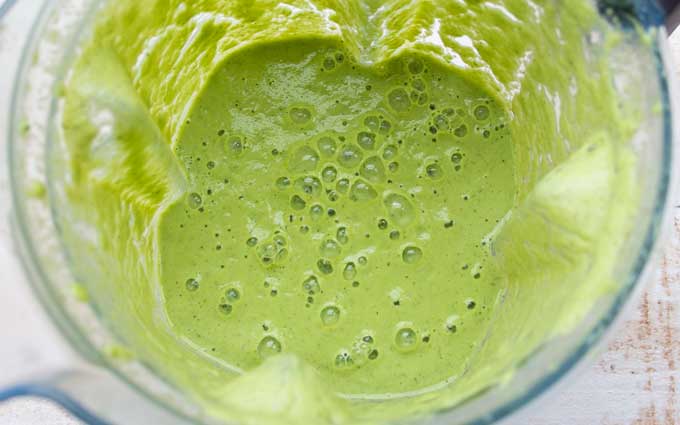 How do you to make a Keto smoothie taste DELICIOUS?
First of all, you need a high speed blender.  Unfortunately, it's virtually impossible to blend fibrous vegetables such as celery or kale into a smooth drink if you don't have a blender. This is not a recipe where crunchy bits are adding to the end result! The smoother, the more wow.
And here is my personal secret weapon for green smoothie deliciousness: fresh herbs! I've used mint leaves in this particular low carb smoothie recipe. They make the smoothie taste fragrant and they make me think of summer (my favourite season!!).
I've also experimented with parsley, which is great with cucumber. And I have tried smoothies with coriander or cilantro. It goes especially well with celery.
I decided to add a scoop of whey protein powder to turn my smoothie into a balanced breakfast and have all my macros covered in one glass.
If you decide to use protein powder, make sure you source an unsweetened brand. The protein powder does not add to the taste. It increases the thickness of the drink though.
SPOILER ALERT: This Keto green smoothie is NOT SWEET! It is zingy, minty, refreshing creamy and it has mellow semi-sweet undertones thanks to the almond butter and almond milk. I think it tastes AWESOME.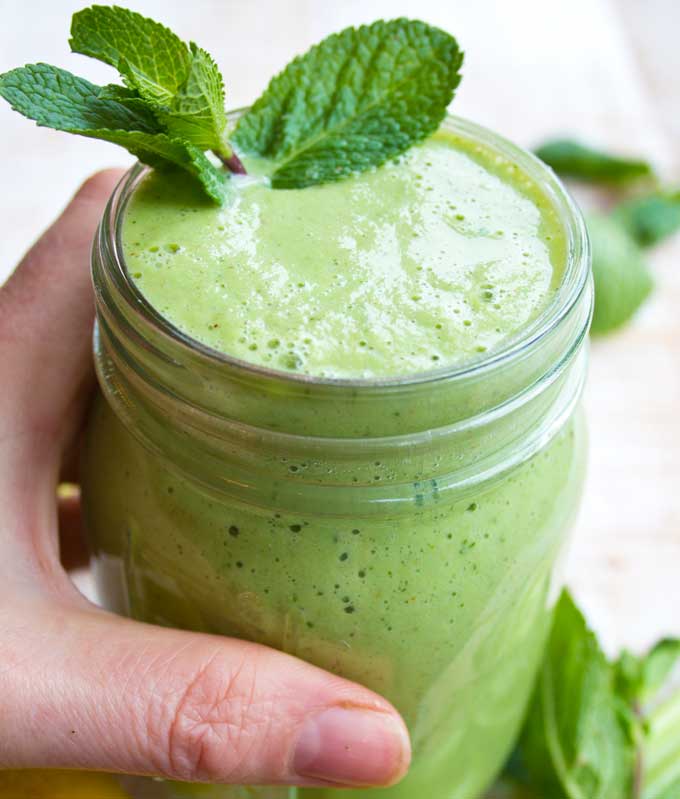 Recipe tip: If you like your smoothie liquid rather than thick, thin it out with a little more almond milk.
This recipe makes one very large green smoothie - a generous 1 pint - which IS breakfast.
If you prefer a smaller portion, the recipe makes 2 cups, which could be enjoyed alongside your regular breakfast. To keep things simple I have calculated the nutrition per cup (=assuming 2 servings). You're looking at 3 g net carbs per cup.
Want to go even more refreshing? Try my sugar free homemade ginger ale!
More keto smoothie recipes: 
Low Carb Keto Strawberry Smoothie - with only 4 ingredients!
Perfect Low Carb Keto Blueberry Smoothie - super fruity and simply delicious.
Tried this recipe? Give it a star rating below!
★ STAY IN TOUCH on FACEBOOK, PINTEREST and INSTAGRAM  for more great food and join my NEWSLETTER for the latest updates and a FREE EBOOK.★ 
Recipe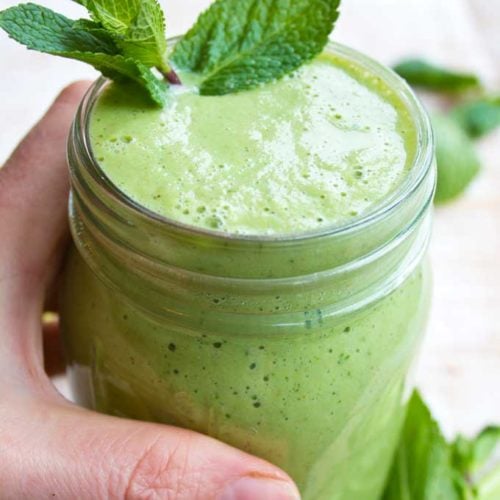 Green Detox Keto Smoothie
from Sugar Free Londoner
This creamy Keto smoothie is zingy, fragrant and super refreshing. The recipe includes healthy fats from avocado and almond butter and an optional scoop of protein powder for a balanced Keto breakfast.  
Note: The servings slider only changes the first amount in each line and not any subsequent amounts. Please make your own calculations where necessary.
Ingredients
handful

/ 15g

kale

handful

/ 10g

fresh mint leaves, picked

½

avocado

¼

/ 50g

fennel

or 1 celery stick

¼

small

cucumber (100g)

1

tablespoon

protein powder

unsweetened

1

cup / 240 ml

almond milk

unsweetened

1

tablespoon

almond butter

½

lemon, juiced
Instructions
Scoop the avocado flesh out and place all ingredients into a high speed blender. Blend until smooth.

Adjust thickness by adding more almond milk if desired.
Notes
Protein powder is optional. 
You can replace the almond milk with coconut milk if you prefer. 
For a fruitier smoothie, add a handful of berries such as blueberries, strawberries or raspberries (plus 1 teaspoon or erythritol if you've got a sweet tooth). This will increase the carb count.
Nutrition
Calories:
137
kcal
Total Carbohydrates:
7.7
g
Protein:
5.6
g
Fat:
10
g
Fiber:
4.7
g
Sugar:
1.7
g
This post contains affiliate links. If you click on one of these links and purchase a product, I may earn a small commission, at no extra cost to you. Thank you for supporting Sugar Free Londoner.