This fluffy cottage cheese omelette is an easy and high-protein breakfast. It is a tasty, satisfying meal that's going to keep you energised all morning!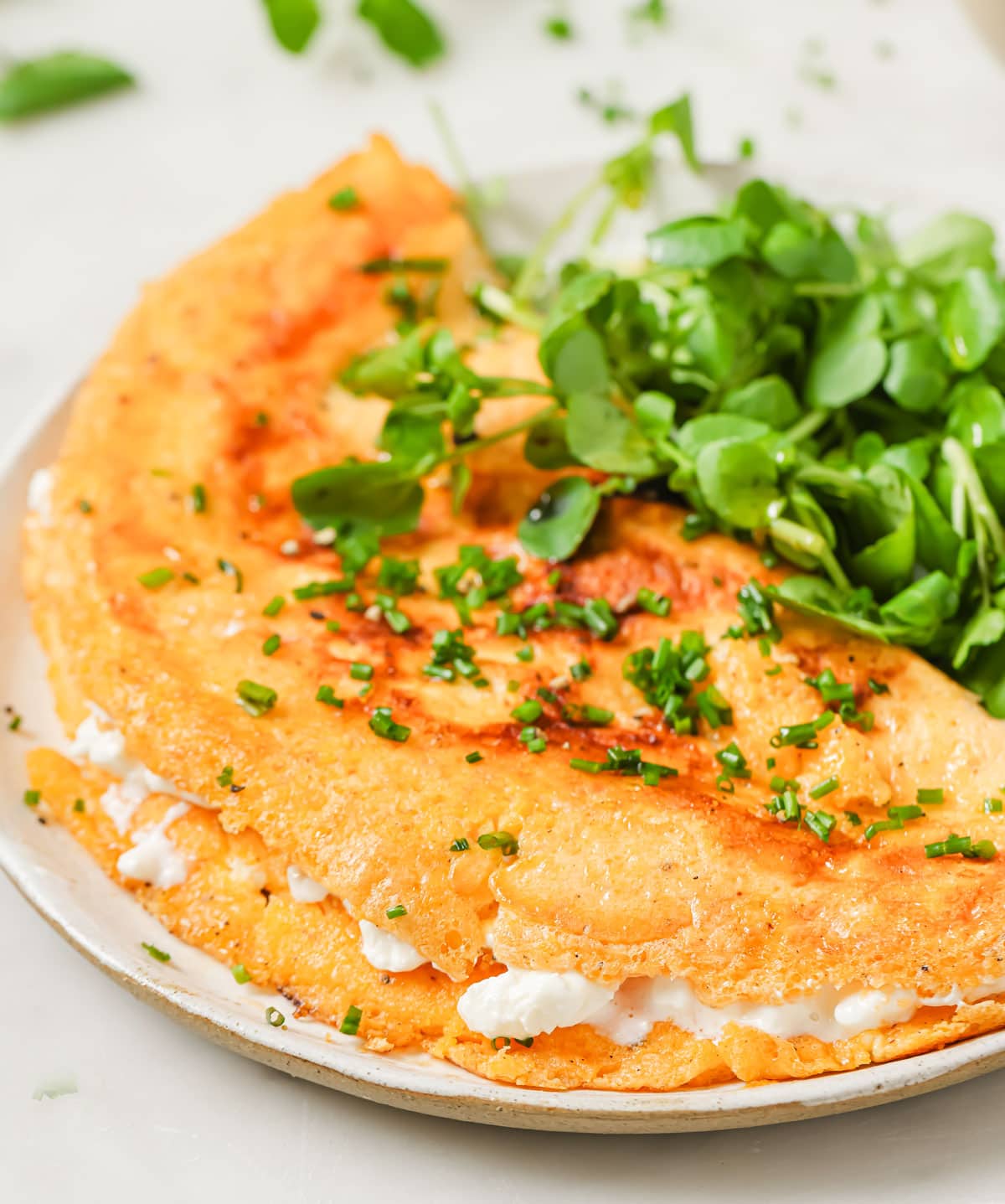 Many people make scrambled eggs rather than omelettes because they think that omelettes are difficult. But that's just not true! We are self-taught home cooks and make omelettes all the time. They are simple, and I am going to show you how to whip up this cottage cheese omelette in just 10 minutes. It's my current favorite!
Jump to:
Why This Recipe Works
Big on flavor. I mix the cottage cheese into the omelette itself, which makes it taste rich and creamy. And then I fill it with cottage cheese as well. The cheese curds melt inside the hot omelette and taste a little like ricotta. It's just irresistible.
Protein-rich. The second thing that I love about this omelette recipe is that it contains more than 30 grams of protein! This is because cottage cheese is high in protein (and of course, so are eggs). I have been increasing the amount of protein in my diet and I have been feeling so energised. Here are reasons why eating more protein is a good idea.
Low in carbs. Last but not least, this recipe is naturally keto with only 4.3g net carbs per portion.
Ingredients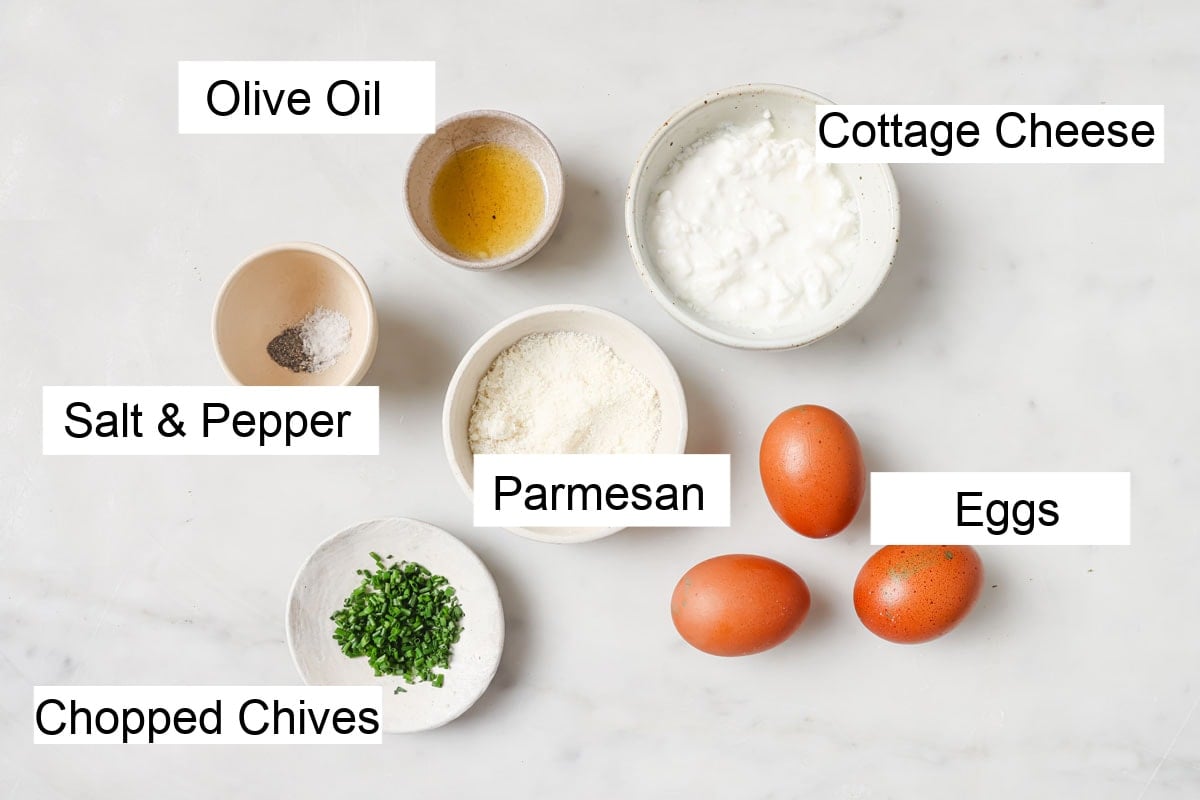 Eggs - I used large eggs.
Cottage cheese - I prefer the mild taste of full-fat cottage cheese. A low-fat cottage cheese will work just as well if you want a lower calorie count.
Parmesan - This is not an essential ingredient, but it adds a lovely flavor to the omelette.
Salt, pepper and chopped chives plus olive oil for frying
See the recipe card for full information on ingredients and quantities.
Instructions
Let's make a cottage cheese omelet! Here are the basic steps.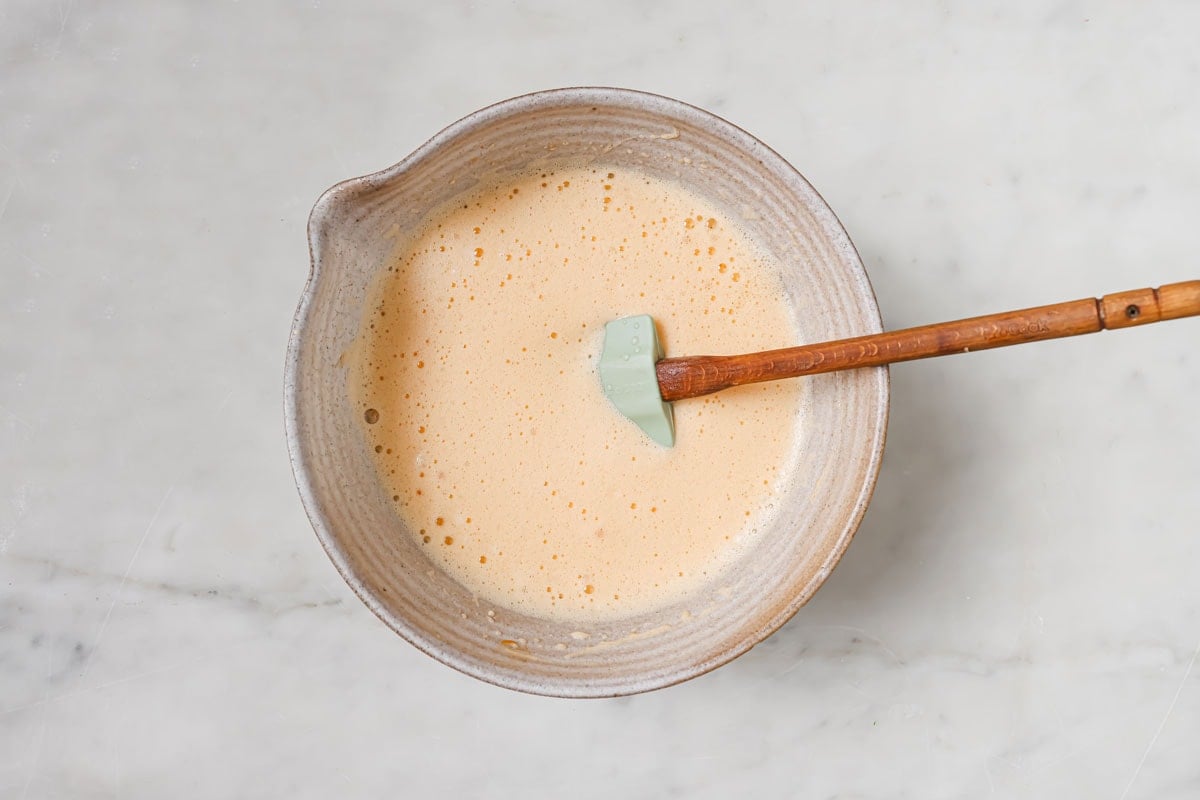 STEP 1: Blend the eggs, 2 tablespoons of cottage cheese and all the parmesan, salt and pepper until fluffy and smooth.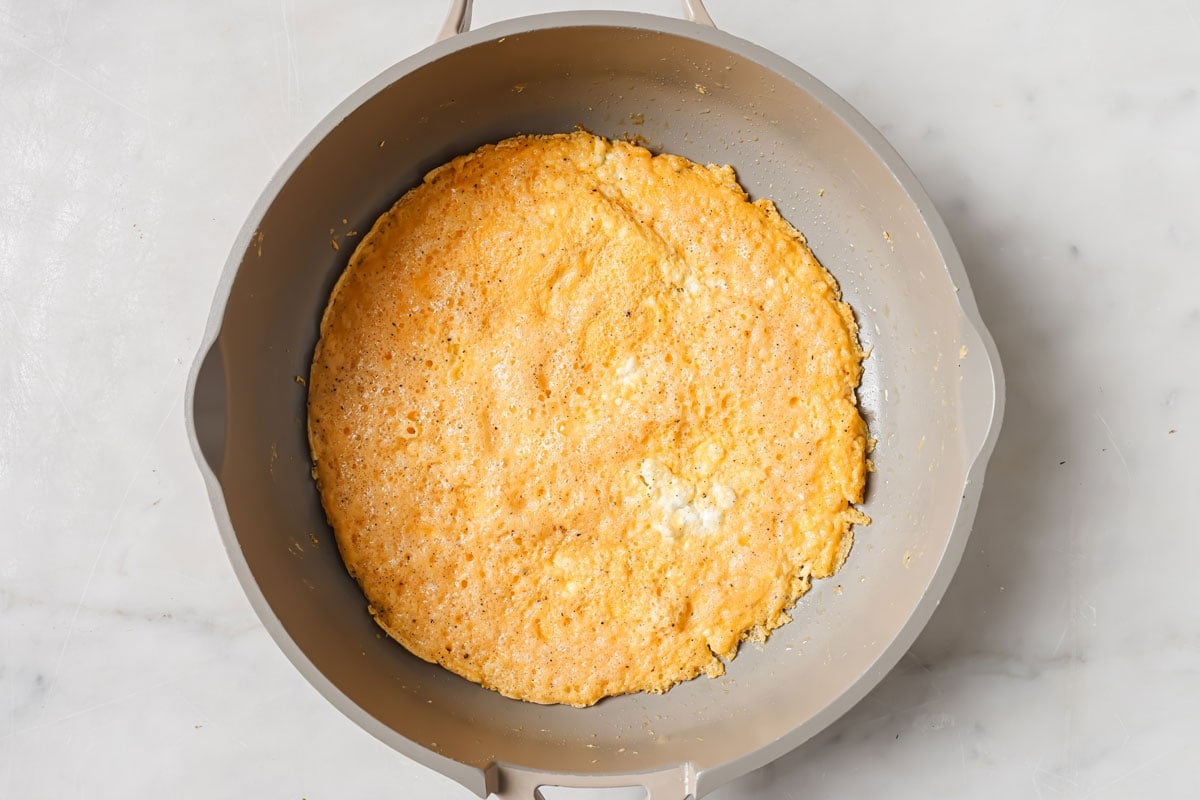 STEP 2: Cook the egg mixture until it is set around the edges but still soft on the top. You can tilt the pan and lift the edges to let the uncooked egg run to the bottom to speed up the process.
Chef Katrin Recommends
When you make this recipe for the first time, cook it over low heat rather than medium. This does increase the cooking duration by up to 5 minutes, but it will ensure that the omelette does not over-brown. Low and slow is always safer.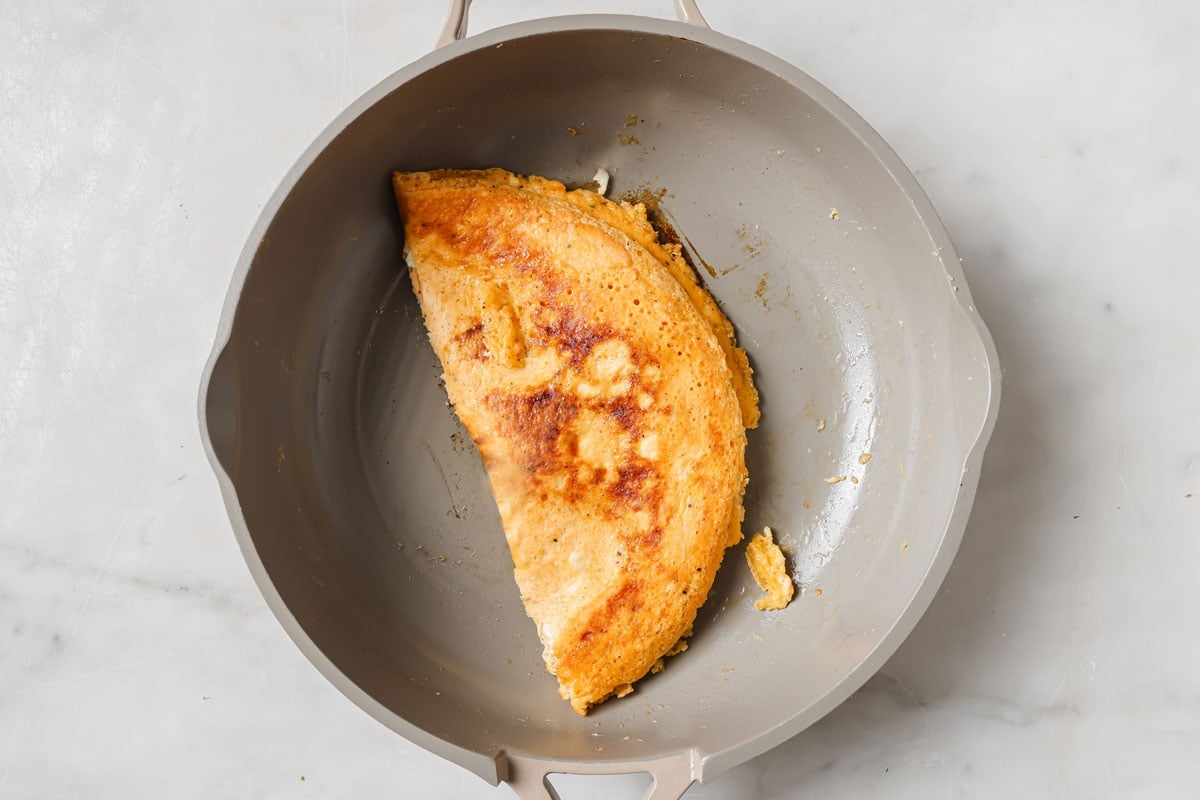 STEP 3: Last, spoon the remaining cottage cheese onto one half of the omelette and fold it over.
Slide it onto a plate, top with chopped chives (spring onions are also lovely) and enjoy.
Recipe Notes
#1 The secret to a great omelette is a quality non-stick pan. Invest in a good one - it will make you happy for years.
#2 I did not cover the pan with a lid while I was cooking the omelette. Be aware that if you do cook the egg mixture with the lid on, it will cook faster.
#3 I like my omelettes best when the egg is soft on top. To cook an omelette fully, flip it before folding.
Add-Ins
This cottage cheese omelette is perfect in its simplicity. See it as a starting point for your flavor experiments. Here are a few ideas:
Spinach. This is the most popular classic omelet filling. Saute fresh spinach leaves with chopped garlic in a separate pan until they wilt and the water evaporates. Then, add it on top of the cottage cheese right before serving.
Mushroom. Fry the sliced mushrooms with garlic and chopped scallions.
Ham and cheese. I recommend grated cheddar cheese and chopped ham (or bacon).
Note: All fillings can also be added directly to the omelette mixture, like in this egg white omelette. Just be sure to fry any vegetables first until they have released their liquid and won't make the omelette soggy.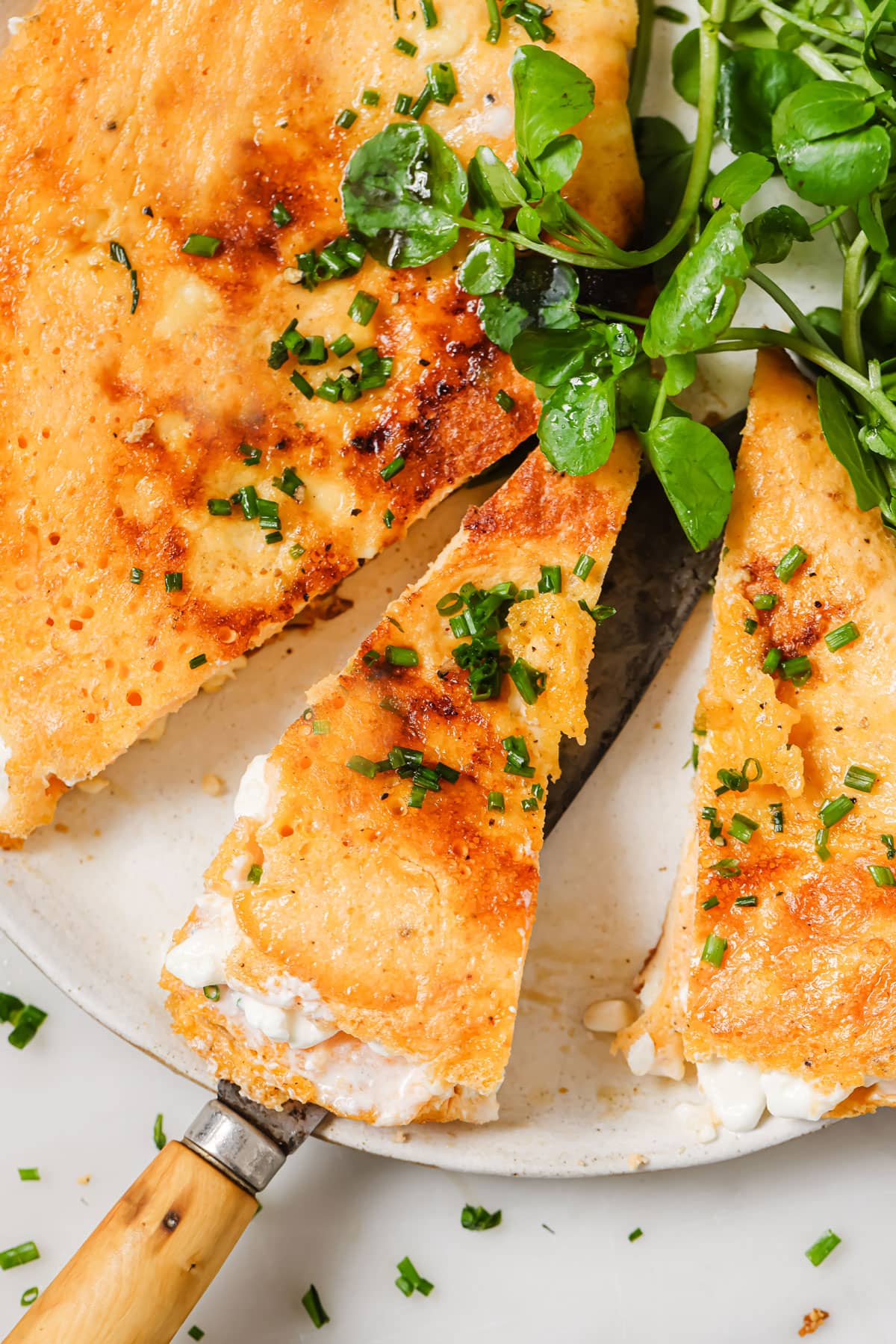 Serving Suggestion
Green leaves. A handful of rocket salad or lettuce looks pretty and is a classic side for omelettes.
Sauces. My avocado spread will add restaurant quality. For a fiery kick, add a splash of hot sauce.
Toast. I have a 90 second keto toast that's the perfect recipe if you just want a single slice. If carbs are not a concern, sourdough bread is the way forward.
Want even more protein? Pair it with my cottage cheese smoothie!
Storage
This cottage cheese omelette is best enjoyed straight away. However, I recently ate mine cold (it's a long story). I thought it still tasted great - just like you can eat a quiche hot and cold.
Store leftovers in the fridge for up to 3 days. Don't reheat the omelette because this would dry out the eggs and make them taste rubbery.
More High Protein Egg Recipes
Tried this recipe? Give it a star rating below!
★ STAY IN TOUCH on FACEBOOK, PINTEREST and INSTAGRAM  for more great food and join my NEWSLETTER for the latest updates and a FREE EBOOK.★ 
Recipe
Cottage Cheese Omelette (Easy, High Protein)
from Sugar Free Londoner
Want a high-protein breakfast that's big on flavor? Make this cottage cheese omelette! Simple, tasty and ready in just 10 minutes.
Note: The servings slider only changes the first amount in each line and not any subsequent amounts. Please make your own calculations where necessary.
Equipment
1 non-stick frying pan (9 inch)
Ingredients
3

large eggs

⅓

cup

cottage cheese

100g, divided

2

tablespoon

parmesan

20g, grated

⅛

teaspoon

sea salt

¼

teaspoon

black pepper

2

teaspoon

olive oil

2

teaspoon

chives

finely chopped
Instructions
Crack the eggs into a large mixing bowl. Add 2 tablespoons of cottage cheese and all the parmesan, salt and pepper. Whisk with an electric mixer until smooth.

Heat the oil in a 9-inch non-stick frying pan. Reduce the heat to medium/low. Pour the egg mixture into the pan and swirl the pan around to coat the bottom. Cook for 7-8 minutes or until the egg is mostly set. **see notes

Spoon the remaining cottage cheese onto one half of the omelette. Fold the omelette and keep it in the pan for another minute until the cottage cheese is lukewarm.

Slide the omelette onto a plate. Top with chopped chives and serve straight away.
Notes
Makes 1 omelette. Net Carbs 4.3g
For a smaller omelette, reduce to 2 eggs, 1 tablespoon of parmesan and 1 tablespoon of cottage cheese in the egg mixture. 
** To help the omelette cook faster, lift the edges of the omelette while tilting the pan to let the liquid egg mixture on top flow underneath.
Option to add sauteed spinach, mushrooms or ham and cheese on top of the cottage cheese filling. 
Nutrition
Calories:
406
kcal
Total Carbohydrates:
4.3
g
Protein:
32.5
g
Fat:
25.9
g
Saturated Fat:
9.1
g
Sugar:
2.7
g