Possibly the most refreshing drink ever: Sugar Free Homemade Ginger Ale will make your taste buds do the happy dance. An easy and quick low carb recipe that uses fresh ginger!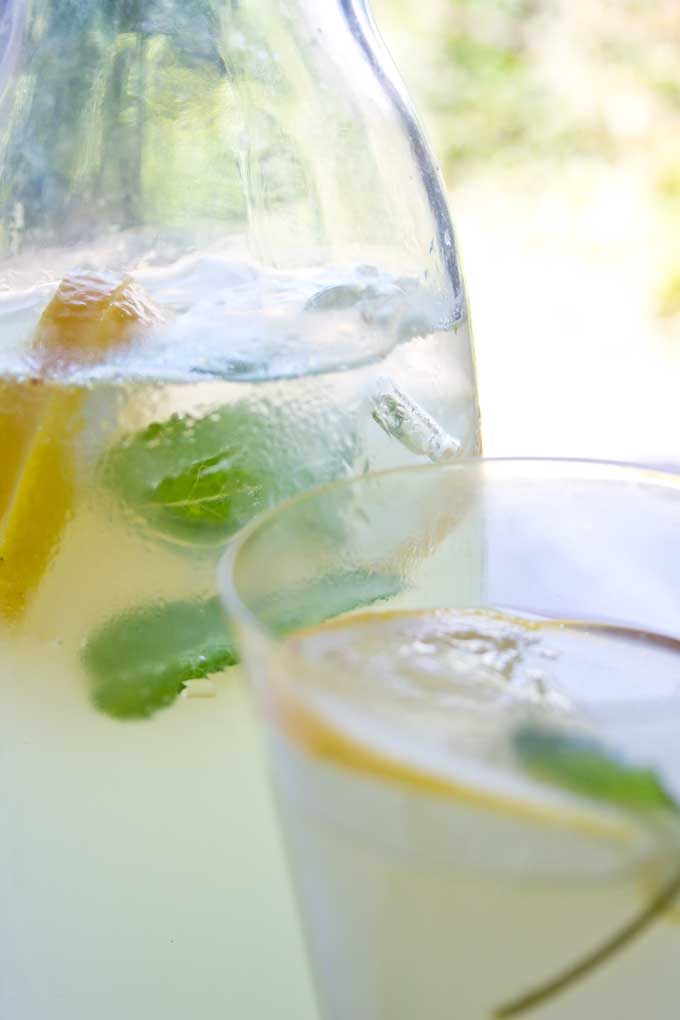 Summer is my favourite season. It is expansive, generous, about enjoying life to the full (and finally not having to wake up early to do the school run).
Let me list a few more great things about summer:
Holidays!
That feeling of cooling down when you jump into a pool
Running through a water sprinkler and feeling like a kid
Sitting outside in the evening in a T-shirt (happened last night - in London!)
Somehow needing less sleep
Driving with the windows down
It's BBQ season (always in my fridge: this sugar free bbq sauce!
Having a legit need for a pedicure
Eating fresh food al fresco (like superb salmon ceviche)
Drinking sugar free homemade ginger ale!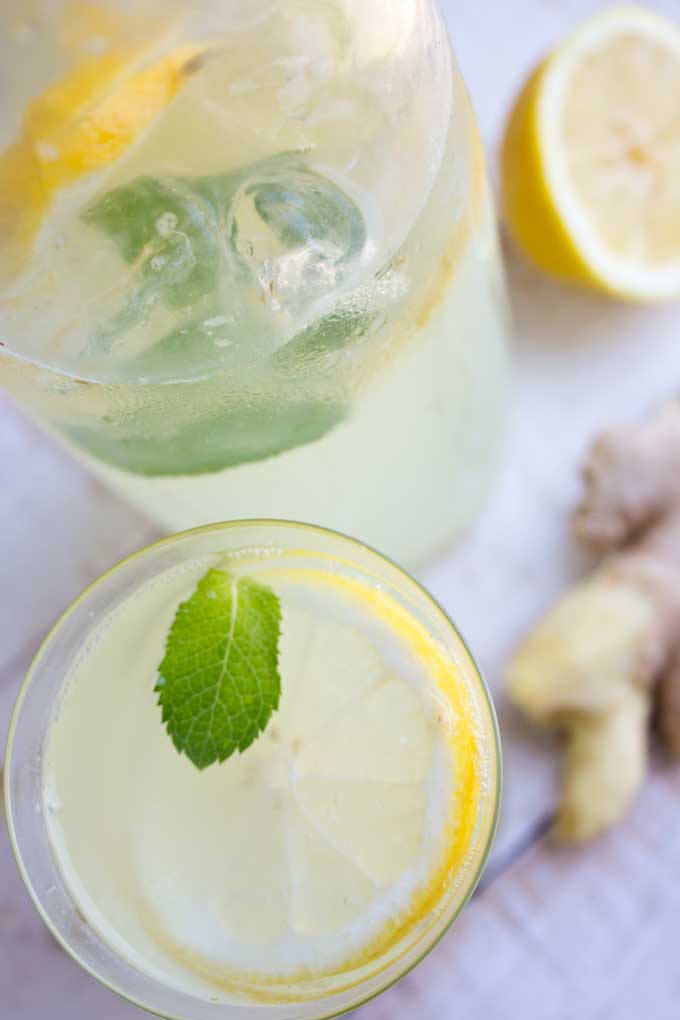 That first sip of homemade ginger ale will knock your socks off. Metaphorically speaking, obviously. You will be in sandals, after all.
Homemade ginger ale is simply a million miles better than the overly sweet shop-bought ginger ale drinks we're used to.
It is zingy, energising and revitalising and has that delightful sharp edge only fresh ginger can lend.
And don't even get me started about the health benefits. An extra dose of vitamin C is always welcome and ginger has so many powerful benefits for body and brain (it is antioxidant and anti-inflammatory, amongst others), we should basically be chewing it all day.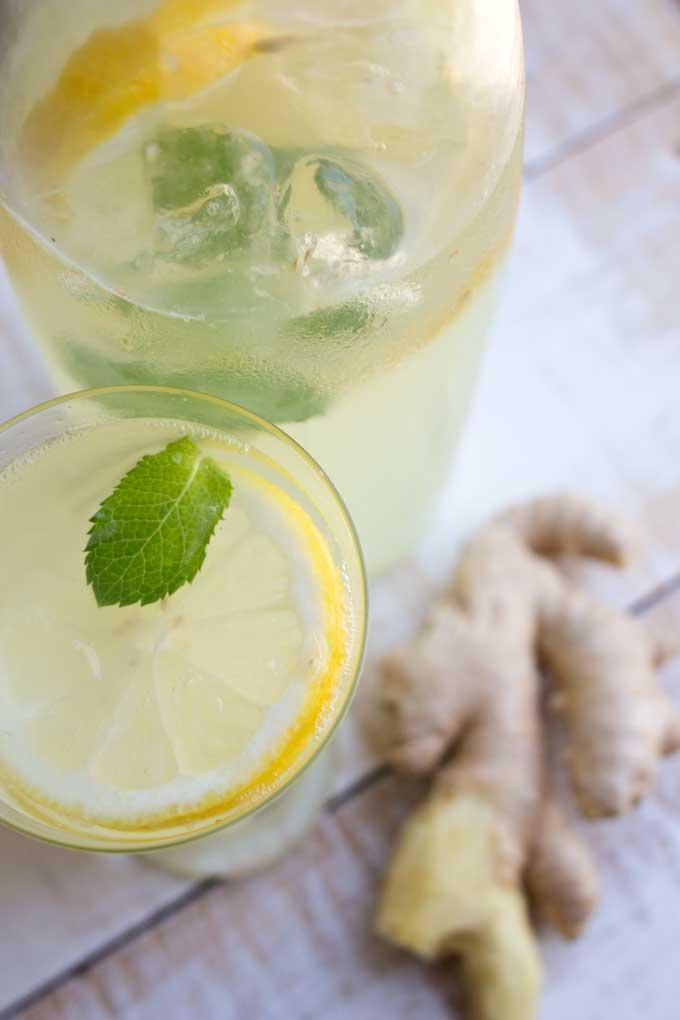 Traditionally, homemade ginger ale is made by cooking ginger with sugar and water to make syrup. I prefer using the ginger raw - this way you get the full plant power benefits and it's much quicker.
I have added powdered erythritol, but you can replace it with your preferred sweetener such as allulose syrup, stevia or xylitol - and, as always, add more if necessary until it has the right kind of sweetness for you. As this recipe calls for mostly carbonated water, I have not calculated the nutritional info. If you'd like me to add it, let me know!
★ Tried this recipe? Give it a star rating below!★
★ STAY IN TOUCH on FACEBOOK, PINTEREST and INSTAGRAM  for more great food and join my NEWSLETTER for the latest updates and a FREE EBOOK.★ 
Recipe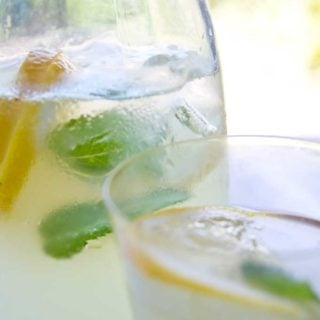 Sugar Free Homemade Ginger Ale
from Sugar Free Londoner
Sugar Free Homemade Ginger Ale will make your taste buds do the happy dance. An easy and quick low carb recipe that uses fresh ginger!
Note: The servings slider only changes the first amount in each line and not any subsequent amounts. Please make your own calculations where necessary.
Ingredients
6

cm

ginger root

peeled and grated

juice of ½ lemon

1

tablespoon

powdered sweetener

or more, if you prefer

500

ml / 2 cups

carbonated water

ice cubes and mint leaves to decorate
Instructions
Peel and grate the ginger. Place it in a muslin or cheese cloth and squeeze until you have around 1 tablespoon of liquid ginger juice.

In a jug, mix ginger juice, lemon juice and carbonated water.

Stir in sweetener to taste, add ice cubes and mint and serve immediately.
Notes
If you leave out the ginger you can turn this recipe into a homemade sugar free lemonade!
Nutrition
Calories:
0.8
kcal
Total Carbohydrates:
0.2
g
Potassium:
4.2
mg
This post contains affiliate links. If you click on one of these links and purchase a product, I may earn a small commission, at no extra cost to you. Thank you for supporting Sugar Free Londoner.