Nourish your body and soul
Low Carb Detox Meal Plan
Embark on a delicious 10 day journey to a healthier you. Boost energy levels, reduce inflammation, lose weight, find balance.
Look and feel your best.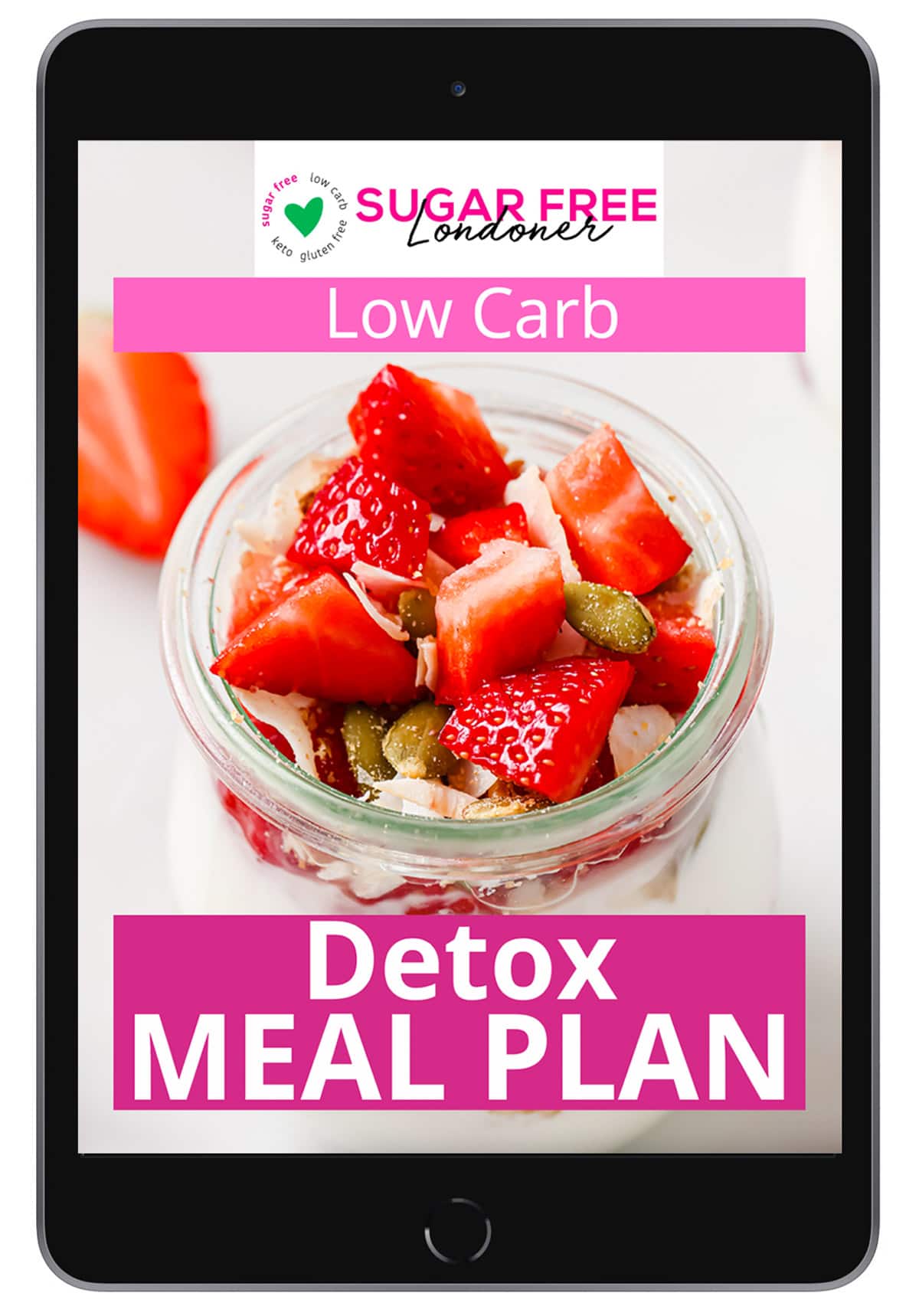 Average of

26 net carbs

per day

Dairy-free, gluten-free, low carb, high fibre, sugar-free and sweetener free
Recipe overview grid to check meals, carbs and calories at a glance
Weekly shopping list
Daily prep guide to help you get organised and save time
List of optional snacks and desserts
Substitutions guide: Egg free, nut free and coconut free alternatives
21 Detox Recipes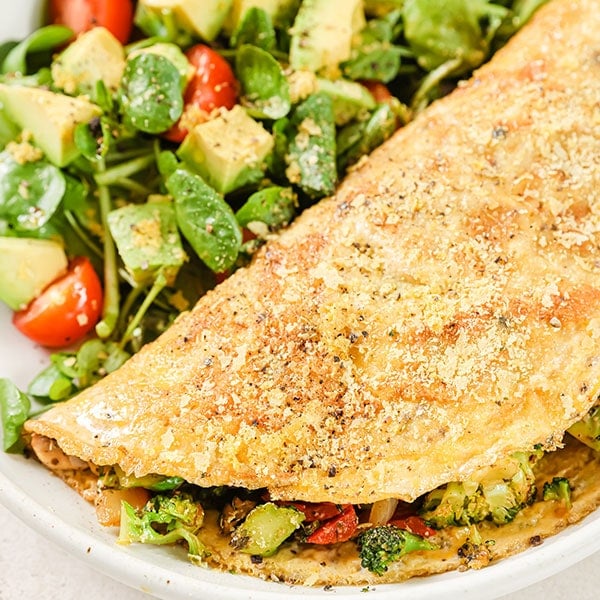 Veggie Omelette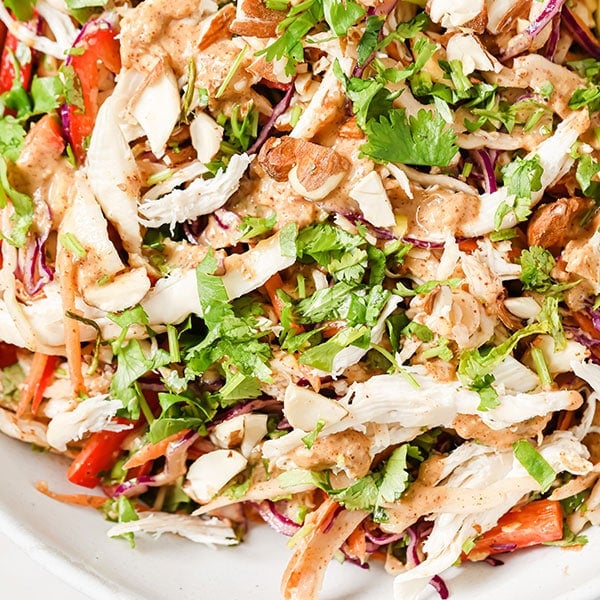 Shredded Chicken Salad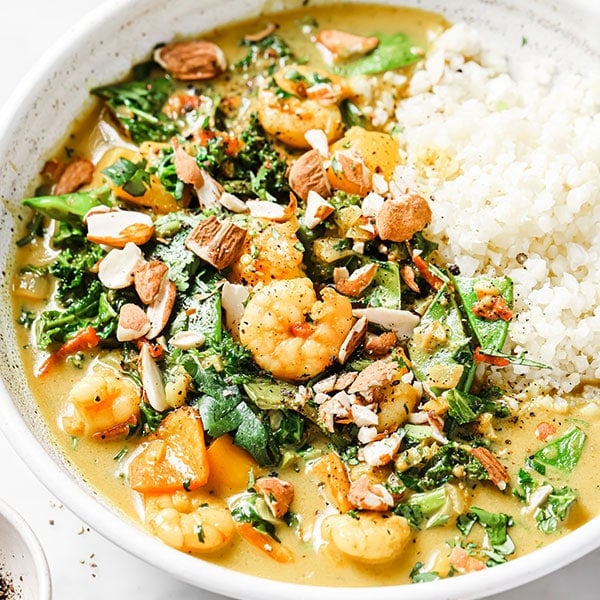 Prawn Coconut Curry
18 easy detox recipes for breakfast, lunch and dinner
Eat the rainbow! Large variety of vegetables each day
3 optional dessert recipes plus simple and quick snack ideas
Ingredient amounts in US cups and metric
Easy to understand, detailed instructions
Full nutritional breakdown calculated per portion
Meal plan designed for 1 person
Low Carb Oats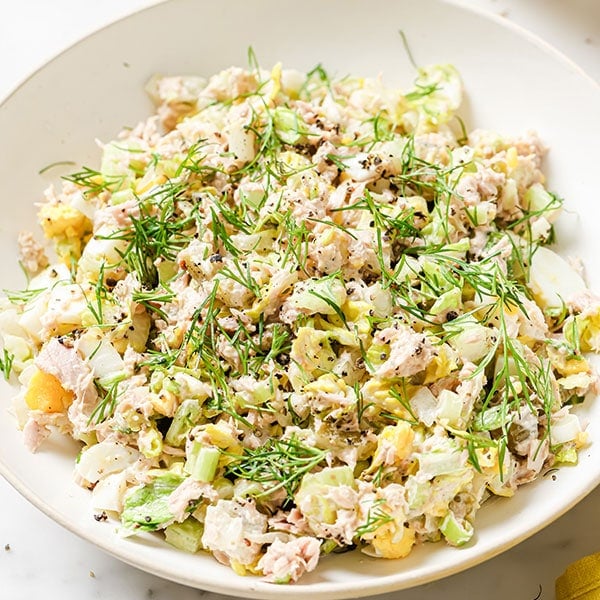 Easy Tuna Mayo Salad
Stuffed Eggplant
Kickstart Your Health Journey
What Others Are Saying
"This is a great way to start into Spring and Summer. The variety of meals is incredible - I never feel like I am missing out on anything. Every recipe is so delicious that I forget I am eating healthy food." (Jane, USA)
"I was so excited to try this meal plan Katrin. I've been suffering with bloating for years. These recipes gave me the foundation to kickstart a new way of eating. I enjoyed every single one. The Mini Pepper Tuna Boats and Parfaits were my favourites and I loved the fact that the treats didn't have any sweeteners or sugar. I think I'm going to do it again back to back!" (Gloria, UK)
"As a man, I'm always slightly worried to follow a meal plan, as I have a good appetite, am active and I don't want to feel hungry. This meal plan ticked all the boxes - it was easy to follow (I won't lie, I'm not the world's best cook!), super tasty food and filling. My digestion is better, I've lost a few pounds and not once was I hungry. Thanks so much for the shopping list and planner too, really helpful as I knew exactly what I had to buy and cook on which days." (Rob, UK)
"I have just finished the 10 day plan and I feel so good. My skin looks better and I have definitely lost weight around the waist because my jeans are not tight anymore. I will continue to use these recipes on a regular basis." (Maggie, Canada)
"I would highly recommend this detox meal plan to anyone looking to improve their health and well-being. It has truly been a game-changer for me. I have so much more energy. Thank you Katrin for including substitutions for us people with food sensitivities. I used the recommendations for a nut free plan." (Selina, France)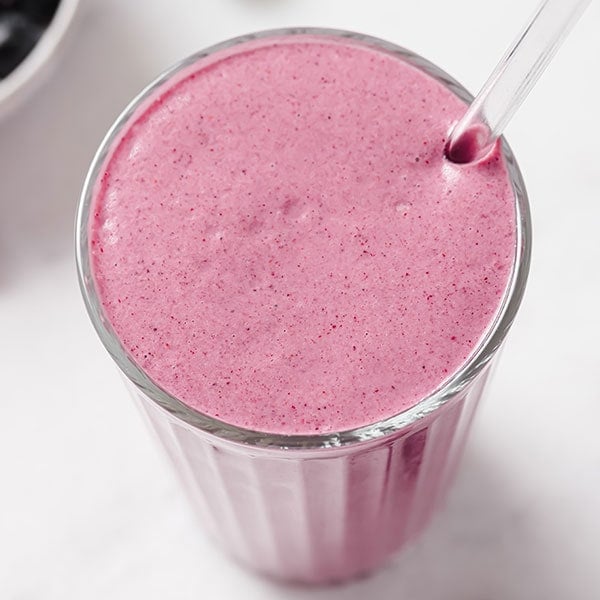 Berry Smoothie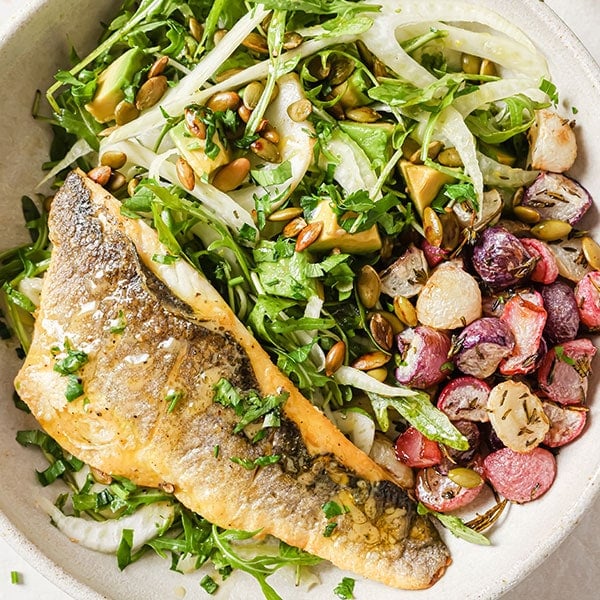 Pan-Fried Sea Bass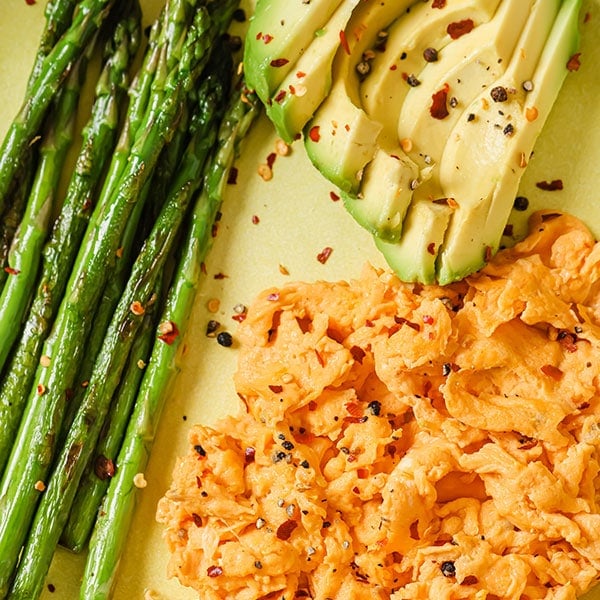 Scrambled Egg & Asparagus
What's inside the Meal Plan
TABLE OF CONTENTS
WEEKLY OVERVIEW: A grid where you can see at a glance what you are eating for breakfast, lunch and dinner. It also tells you how many carbs and calories you'll consume each day.
MEAL PREP GUIDE: This guide explains exactly what you need to do each day. We have done all the thinking for you! You will know what to meal prep ahead and what to freeze for later. No more rushed cooking.
FULL WEEKLY SHOPPING LISTS: All ingredients are listed in convenient units so you know exactly how much to buy. Print this list and take it along to the store.
SUBSTITUTIONS LIST: Instructions how to change the meal plan to fit a nut-free, coconut free and egg free diet.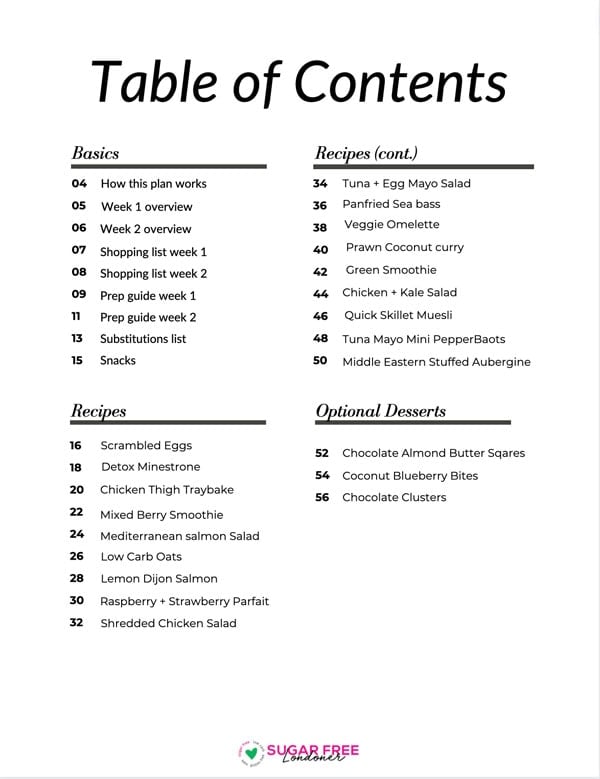 SNACK LIST: These are quick and easy optional snacks that don't require cooking.
DETAILED RECIPES: All recipes are tried and tested many times and have been created with great attention to detail. There is an ingredient list and an easy to follow step by step method so nothing can go wrong. All recipes are exclusive to the meal plan and you won't find them anywhere else.
There is a full page image and a nutrition panel for each recipe.
Strawberry Parfait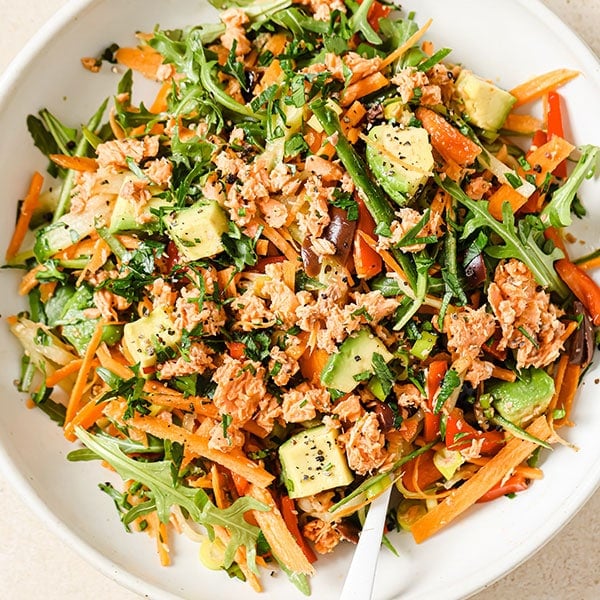 Rainbow Salad With Salmon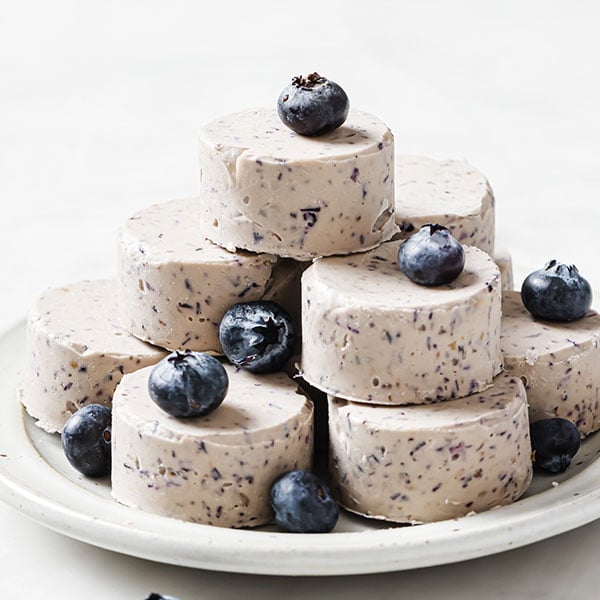 Blueberry Coconut Delight
Detox Meal Plan FAQs
What kind of recipes are in the detox meal plan?
All recipes in the low carb detox meal plan are designed to detoxify your system. The focus is on fresh food with plenty of vegetables. All recipes are dairy-free and high in fibre. Protein options include eggs, fish, chicken and seafood.
Is the plan keto-friendly?
The plan is low carb and averages 26g net carbs per day. This is slightly higher than recommended macros for keto diet plans. By allowing up to 30g net carbs daily, we are able to eat more vegetables, which are so important for a proper detox.
Will I feel like I'm on a diet?
No. You won't feel like you're on a diet and you won't feel hungry. You decide if you want to add a snack from the snack list or even have dessert.
Are the ingredients expensive?
No. The ingredients are a mix of low carb cupboard staples and fresh food you can buy in the supermarket.
I am nut free, egg free or coconut free. Can I use this meal plan?
Yes! I am giving you alternatives so the plan fits into a nut free, egg free and coconut free diet.
What format does the low carb meal plan come in?
The meal plan is delivered as a digital PDF file via email immediately after purchase. Nothing is shipped. It can be viewed on a laptop, tablet or mobile phone. You can print the full meal plan or choose to print single pages such as the Shopping List or the Weekly Overview. I've kept the images on separate pages, which means you can exclude them and save ink.
What currency will I pay in?
The meal plan is priced in US dollars. You will see exactly how much you are paying in your local currency at the end of the checkout process. Payment is taken via Stripe (credit card) or Paypal.
DISCLAIMER: I am not a nutritionist or medical professional. The information in this meal plan should not be considered a substitute for professional medical expertise or treatment. It simply is food that helps me detox and feel great and that I enjoy sharing with you.
© 2023 | Katrin Nürnberger, Sugar Free Londoner | All Rights Reserved | Home | Privacy Policy | Terms of Use