Baking keto Christmas cookies is one of the best things about December! I have assembled a collection of my favourite festive sugar-free cookies. All of these cookie recipes are simple to make, have plenty of 5 star reviews and taste delicious. Plus, they are low in net carbs, so you can enjoy a holiday treat without busting your macros.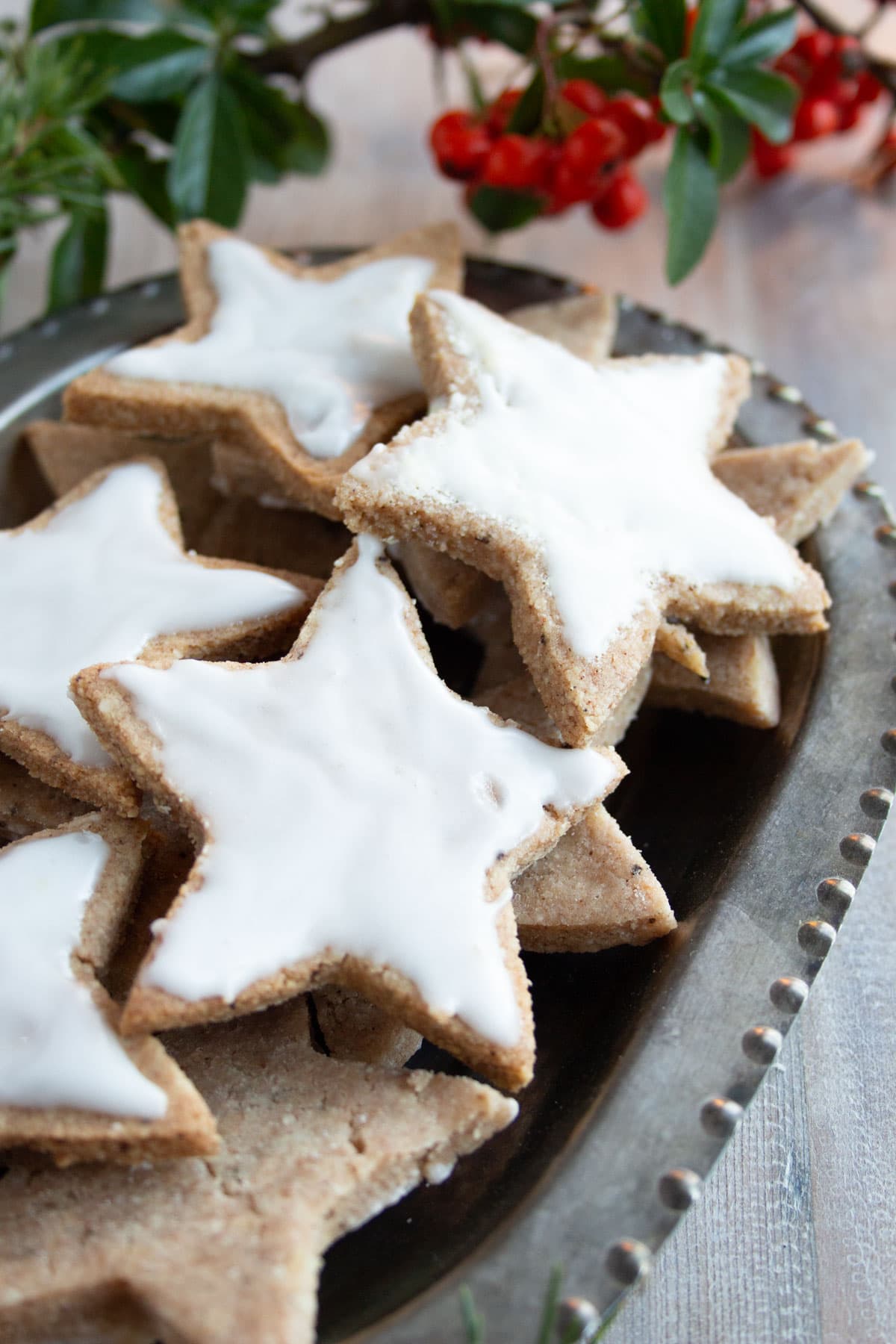 I love baking and I love baking cookies! In fact, I love it so much that I have written an entire book about it - the keto cookies cookbook.
The holiday season is the perfect time to spend a leisurely afternoon in the kitchen making a batch of low carb Christmas cookies - with or without kids.
There is something meditative about rolling out dough, decorating cookies and the pleasure of spending time in a kitchen that smells of spice and all things nice.
While desserts such as keto cakes require more attention, cookies are simple and forgiving. If you leave a cookie in the oven a little longer, it'll crisp up more - and still taste good.
Jump to:
Equipment
Here are items you'll need to bake keto friendly cookies:
Mixing bowl. I always use a large mixing bowl. Sometimes you'll also need a microwave-safe bowl.
Fork or electric mixer. Most cookie dough can be mixed with a fork.
Cookie scoop or cookie cutters. To portion cookies.
Baking sheet. A flat cookie sheet so cookies brown evenly.
Parchment paper. You need to put cookies on parchment so they don't stick to the cookie sheet. It's also useful when rolling out dough.
Rolling pin. For cut-out cookies.
Plastic wrap. You need this for chilling the dough in the fridge or freezer before rolling it out.
Ingredients
Keto Christmas cookies require the same basic ingredients you'd use in regular cookies:
Low carb flours such as almond flour, coconut flour or hazelnut flour. All low carb flours are naturally gluten-free.
Butter and / or egg. A dairy-free alternative to butter is coconut oil.
Flavor. This could be vanilla extract or almond extract, spices such as cinnamon, ginger or nutmeg, a pinch of sea salt or even sitar-free chocolate chips.
Sweetener. For crispy cookies, it is best to use erythritol. Soft cookies work with allulose or xylitol as well.
When you are after caramel notes, choose a brown sugar substitute. Lakanto Gold is a good option. This is a monk fruit sweetener blend.
Swerve is another popular option, as is Pyure. However, when you use Pyure, be aware that it is twice as sweet as sugar. Therefore, you have to halve the amount.
Depending on the recipe, you'll need to use powdered sweetener or granulated sweetener. To make your own powdered sweetener, simply blend a granulated in a high speed blender.
Storage
Most keto holiday cookies can be stored at room temperature in an airtight container. They stay fresh for up to 2 weeks.
Recipes