A low carb and entirely sugar free take on classic shortbread biscuits. Keto Shortbread Cookies are light, buttery and crumbly with a deliciously rich coconut butter glaze. Perfect for diabetics, gluten free and ketogenic diets.
It's autumn and I'm in the mood for cookies. Crumbly, buttery cookies that melt in the mouth and go perfectly with a strong cup of coffee. Shortbread cookies!
There is something comforting about a homemade cookie that kind of makes up for all the rain, clouds and below-acceptable temperatures that the next six months will bring. You can eat all the salads, naked burgers and cauliflower rice in the world (and enjoy it). But when you sit down with a steamy hot drink and look at the falling leaves outside, a cookie just hits the spot.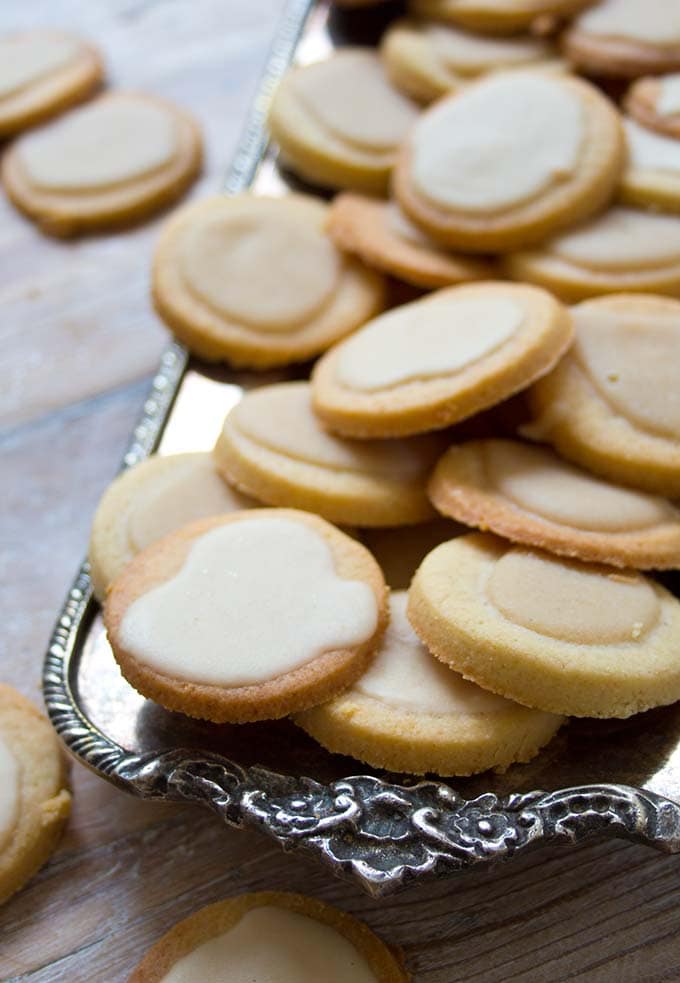 Here's the thing. Regular cookies have a serious shortfall in the health department. They are loaded with the two things we should all firmly remove from our shopping list: Wheat flour and sugar. Both provide empty calories and have zero nutritional value.
If you base your diet on refined carbs and quick sugar fixes, you'll grow your waistline and still leave your body starving because you don't provide it with the nutrition it actually needs to function properly. If you take it to the extreme, you may even risk becoming insulin resistant, which can ultimately lead to type 2 diabetes.
I don't think that dessert or sweets should or need to be part of our everyday diet. Getting into a savoury frame of mind is definitely a common sense-decision that leaves you with many delicious foods to choose from. But. We all want a sweet now and then.
And how sweet is a treat when it's actually good for you!
These Keto Shortbread Cookies have a wonderfully crumbly texture and the rich buttery flavour of traditional shortbread or sugar cookies - with the added twist of a coconut glaze. At the same time, they are sugar free, gluten free and low carb.
These cookies are a little lighter and more tender as nut flours lack the binding function of the gluten in wheat. They are fragile straight out of the oven, but firm up nicely when they cool down. To increase the stability of the cookies, you could add ¼ teaspoon of xanthan gum, which is hailed as the gluten free baker's secret weapon.
I tweaked the recipe for my Sugar Free Cut Out Cookies to make these Low Carb Coconut Shortbread Cookies. And because my cookie cutters are still in one of the many boxes labelled "winter" hidden in the attic, I used an egg holder to cut out round shapes. You don't have egg cups? No worries. A shot glass works equally well. Or indeed, cookie cutters of any shape.
I love everything about coconut butter, which is made from pureed coconut flesh. I love the taste, the texture, even the smell. It's so moreish I could literally eat it by the spoonful (and sometimes I do).
The coconut butter I used for the glaze is this one, which I found at an amazing price at Ocado. Whichever one you choose, just make sure it has no added sugar. And do not swap it for coconut oil, which is not hard enough at room temperature to be suitable for a glaze.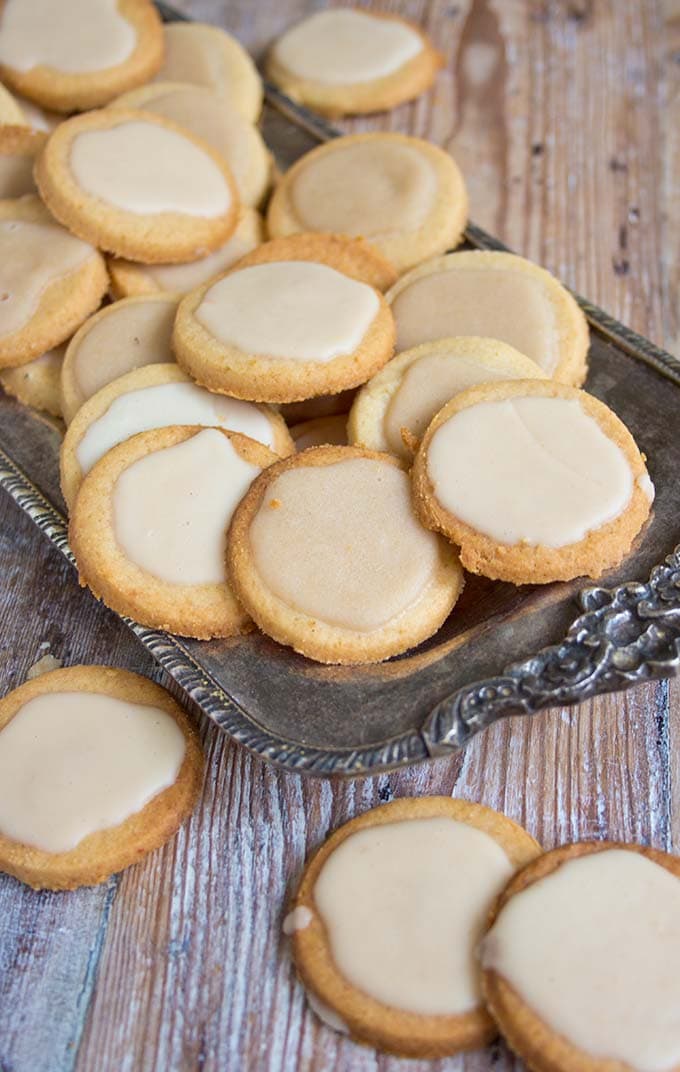 Using coconut butter means your glaze will become hard, but not rock hard. I experimented with both stevia drops and the Sukrin Fibre Syrup as a sweetener. Both worked well - I noticed that the brown colour of my fibre syrup made the coconut glaze a little darker than the stevia-flavoured version. Using powdered erythritol might make the glaze even firmer.
If you are after a more traditional sugar cookie glaze, simply mix some powdered erythritol with water and maybe add some vanilla flavouring. This mix will harden completely.
I hope you'll enjoy these Low Carb Keto Shortbread Cookies as much as we did. I just went back to the kitchen to get myself one. And found, to my disappointment, that they had been gobbled up. Clearly should have hidden them better.
If you are a cookie monster like me, you could also try these chocolate chip cookies or these super-nutty sugar free keto pecan cookies or my popular (and super easy) Keto Sugar Cookies.
Bring on the bad weather!
Tried this recipe? Give it a star rating below!
★ STAY IN TOUCH on FACEBOOK, PINTEREST and INSTAGRAM for more great food and join my NEWSLETTER for the latest updates and a FREE EBOOK.★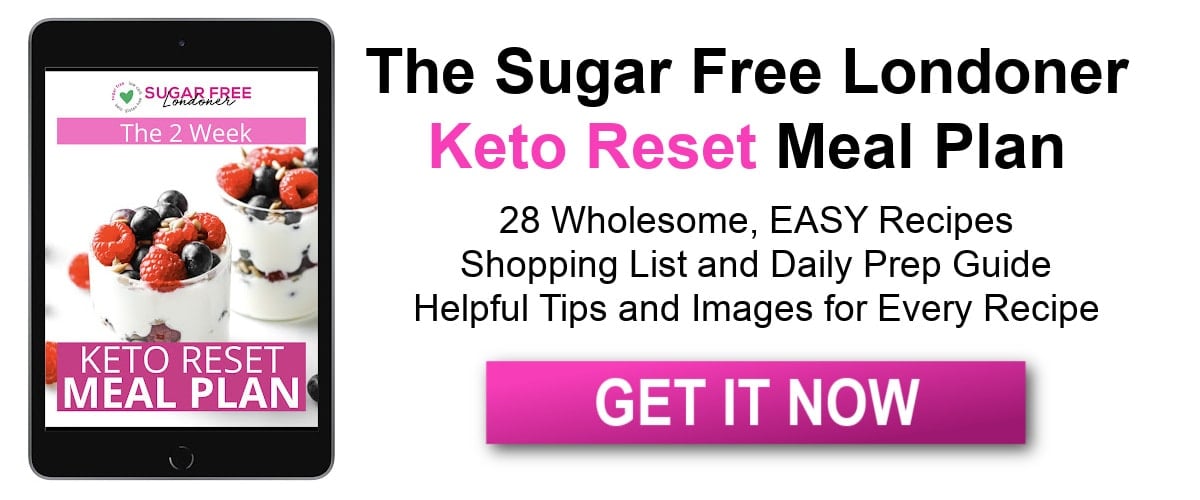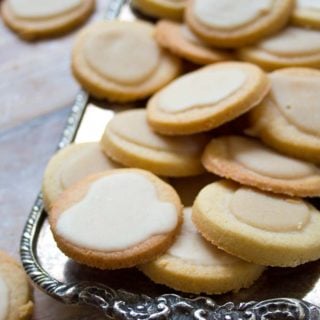 Low Carb Keto Shortbread Cookies
from Sugar Free Londoner
A low carb and entirely sugar free take on classic shortbread. Low Carb Keto Shortbread Cookies are light, buttery and crumbly with a deliciously rich coconut butter glaze.
Note: The servings slider only changes the first amount in each line and not any subsequent amounts. Please make your own calculations where necessary. ***As an Amazon Associate I earn from qualifying purchases.
Instructions
Preheat the oven to 180 Celsius / 356 Fahrenheit.

Mix your dry ingredients.

Add the softened butter, vanilla/almond extract and stevia and mix until you have a smooth dough.

Divide the dough into 2 balls and roll out between 2 sheets of baking paper.

Place the dough in the fridge for 10 minutes. This will make the dough easier to work with.

Using a small glass, a cookie cutter (or like me, an egg holder), cut your cookies.

Place cookies on a baking sheet lined with parchment paper and bake for 6 minutes or until the edges begin to brown.

Let the cookies cool completely before adding the glaze.

Warm the coconut butter in a pot or in the microwave and stir in the sweetener. You can use stevia or powdered erythritol for this.

Spoon over the cooled cookies and wait for the glaze to set before 1) eating or 2) storing in an airtight container.
Notes
Do let the cookies cool completely before handling them. They are very soft and brittle when warm, but firm up and gain a lovely crunch when they are cold.
I used almond extract to flavour the cookies, because I love the taste. Vanilla extract would work equally well. If you don't have either, don't worry. You'll still get the mild coconut taste from the coconut flour and the brown sugar taste from the Sukrin Gold, if using. You could also use flavoured liquid stevia - I love either caramel or vanilla flavour. I experimented with both caramel-flavoured stevia drops and Sukrin Fibre Syrup for the coconut butter glaze. Both worked well.
The coconut glaze does not become rock hard. I love the gentle coconut taste, but if you prefer, you can also mix powdered erythritol with a bit of water and a splash of vanilla. This makes a glaze that hardens a lot more.
I made 40+ small cookies that weighed around 6g each (the glaze came in at around 1g per cookie).
I'm calculating the nutrition info based on 1 small cookie. You decide what your portion size should be 🙂
Nutrition
Calories:
55
kcal
Total Carbohydrates:
1.7
g
Protein:
0.9
g
Fat:
5.3
g
Saturated Fat:
3.3
g
Polyunsaturated Fat:
0.2
g
Monounsaturated Fat:
0.7
g
Cholesterol:
6.6
mg
Sodium:
2.4
mg
Potassium:
0.8
mg
Fiber:
1.1
g
Sugar:
0.3
g
This post contains Amazon Affiliate links. Thank you for supporting Sugar Free Londoner.