Sugar free, low carb and gluten free cookie heaven: These walnut cookies are a super healthy take on the Italian classic Dolci di Noci.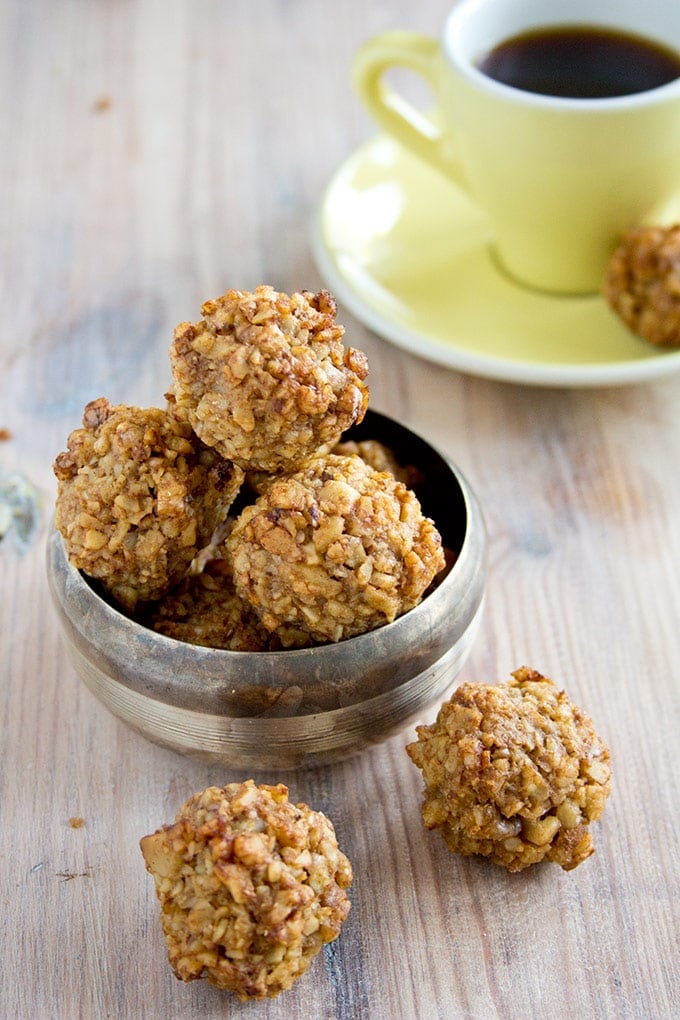 Holidays are a fab time to get inspiration for new recipes. One leg of our Grand Tour of Europe we've just returned from - who would have thought our little car could drive through five countries without breaking down?! - took us to Italy. It is the cradle of food porn, to put it in Instagram speak.
Naturally, good sugar free intentions had to be put on hold quite  bit. Tiramisu - of course. Gelato - it would have been rude to say no. You cannot travel 1000 miles and eat like you do at home.
And then there were some particularly wonderful walnut cookies called Dolci di Noci - little balls of nutty awesomeness, which we sampled with a perfect espresso, wearing dark shades. The Italians are stylissimo, so you've got to keep up!
Friends, now that I'm back to real life, may I present to you with my take on Dolci di Noci cookies. These sugar free walnut cookies have only 4 ingredients and are
super easy to make
ready in 15 minutes
gluten free
low carb
delicious
crunchy
nutty
satisfyingly sweet!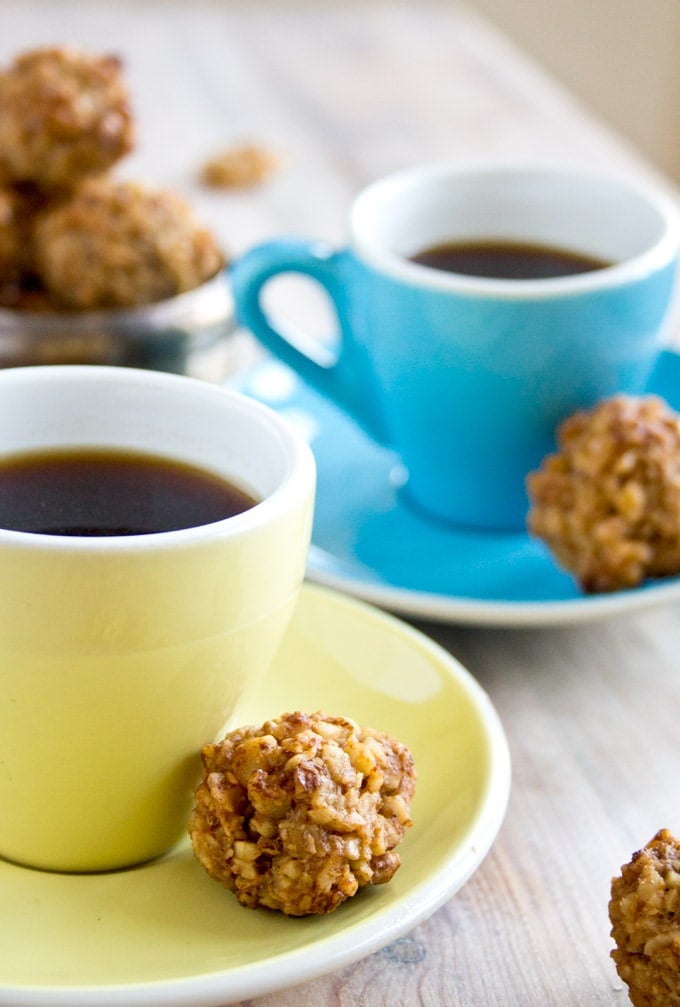 How to make sugar free walnut cookies: 
1.) You beat an egg with powdered sweetener and cinnamon. If you want, you could also use granulated sweetener - I have used both with success. This brown sugar alternative by Sukrin works well too.
2.) Grind walnuts in a food processor or with a stick blender. How crunchy you want them is up to you. I like to leave some larger chunks, so I make sure I don't grind them too long. You don't want to end up with walnut flour!
3.) Add the walnut pieces to the egg/sweetener mix and stir until you have a cookie batter.
4.) Form little walnut cookie balls (see the image above for the size I made them) and place on a baking sheet lined with parchment paper. (I had run out so had to spray my baking tray with walnut oil.
5. ) Bake and enjoy!
Recipe Tips and Variations:
I have tried this walnut cookie recipe with coarsely ground and more finely ground walnuts. Both versions taste great.
I imagine you could also use almonds, pecans or hazelnuts.
If you are a chocolate lover, you could also add some homemade sugar free chocolate chips!
Update October 2018: I have since made this recipe with 1 large egg white minus the egg yolk and found this way the walnut cookies turn out even crunchier.
Before you go... take a look at my other cookie recipes!
Low Carb Chocolate Chip Cookies
Sugar Free Raspberry Thumbprint Cookies
Low Carb Peanut Butter Cookies
Low Carb Coconut Shortbread Cookies
★ Tried this recipe? Give it a star rating below!★
★ STAY IN TOUCH on FACEBOOK, PINTEREST and INSTAGRAM  for more great food and join my NEWSLETTER for the latest updates and a FREE EBOOK.★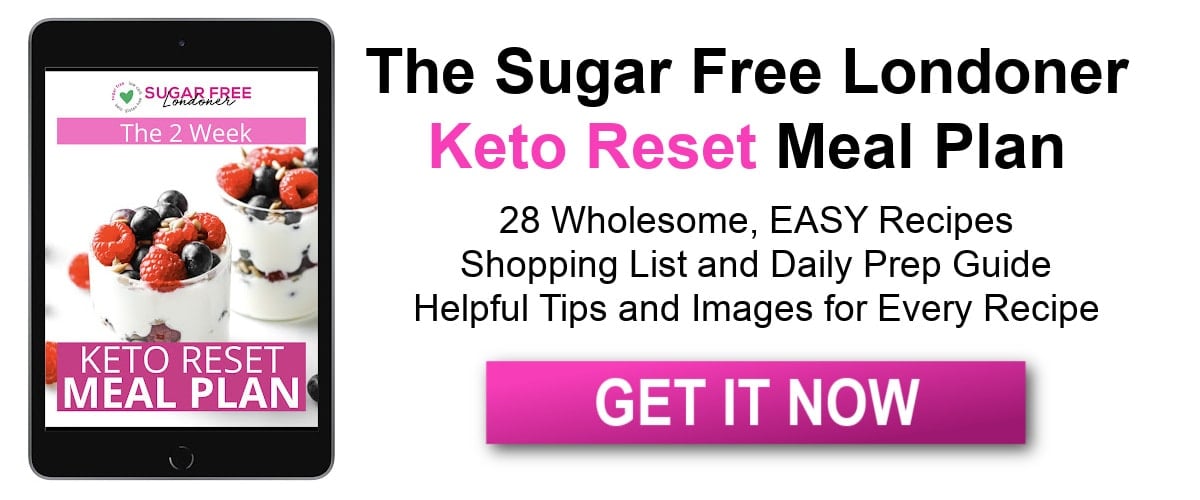 Sugar Free Walnut Cookies
from
Sugar Free Londoner
Sugar free, low carb and gluten free cookie heaven: These Italian Walnut Cookies are a super healthy take on the Italian classic Dolci di Noci.
Note: The servings slider only changes the first amount in each line and not any subsequent amounts. Please make your own calculations where necessary. ***As an Amazon Associate I earn from qualifying purchases.
Ingredients
175

g / a generous 1 ½ cups

coarsely ground walnuts

1

medium egg

25

g / 2 heaped tablespoons

powdered sweetener

1

tsp

cinnamon
Instructions
Preheat your oven to 180 Celsius

Beat the egg with the sweetener and cinnamon

Add the ground walnuts

Have a little taste! If you have a sweet tooth, you may want to add another teaspoon of sweetener.

Form little balls and place on a baking sheet (I greased mine with walnut oil - I would have used baking paper had I not run out)

Bake for 10 minutes or until nicely browned
Notes
You could experiment with other spices - I think cardamom or mixed spice / pumpkin spice would work well with this recipe.
Nutrition
Serving:
14
g
Calories:
72
kcal
Total Carbohydrates:
1.1
g
Protein:
3
g
Fat:
6.7
g
Cholesterol:
10
mg
Sodium:
4
mg
Potassium:
61
mg
Fiber:
0.7
g
 This post contains affiliate links. If you click on one of these links and purchase a product, I may earn a small commission, at no extra cost to you. Thank you for supporting Sugar Free Londoner.