These Keto macaroons taste just like the real deal - minus all the carbs and sugar! Made with shredded coconut and dipped in sugar free chocolate, this low carb treat is crispy, chewy and utterly delicious.
I've always loved coconut macaroons. The combination of crispy outside and chewy inside is just irresistible, and if it's also dipped in chocolate - drool. I've been on a mission to adapt all my favourite recipes and make them sugar free. I can tell you this much - we'll be having sugar free macaroons on a regular basis from now on!
Once you take away all the sugar and replace it with erythritol, coconut macaroons are the perfect Keto sweet treat. Why? Macaroons are naturally gluten free. They contain mainly egg whites, which are a great source of protein, and coconut, which high in good fats!
Shredded or desiccated coconut is a nutritional powerhouse.
It's rich in fibre and packed with essential nutrients such as manganese, copper and selenium (source).
There are many coconut macaroon recipes out there that use condensed milk. Whilst I have successfully made Sugar Free Condensed Milk (which I WILL make sugar free macaroons with soon - watch this space), this time I wanted to make classic macaroons with beaten egg whites. To increase the chewiness of the macaroons and make them even MORE DELICIOUS, I added some coconut butter.
By the way, macaroons are often confused with French macarons. What's the difference? Both start with beaten egg whites and sugar (or sweetener). But whilst macarons are made with almond flour, macaroons are ALWAYS made by folding coconut into the meringue.
How to make Keto macaroons - step by step: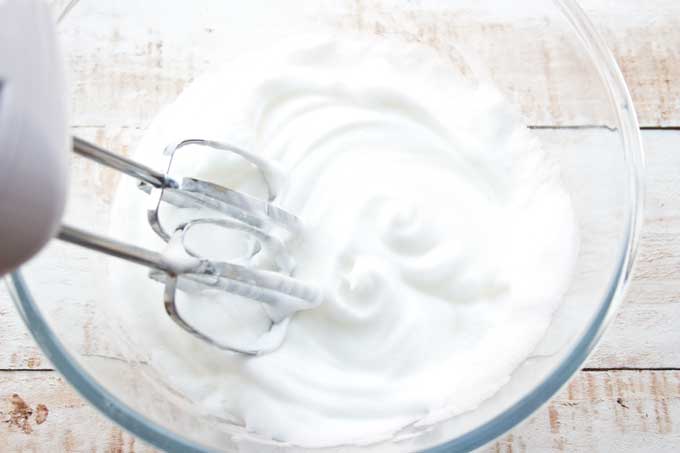 1.) Whisk the egg whites with an electric mixer until they form stiff peaks. Use a clean and dry glass or porcelain bowl for best results.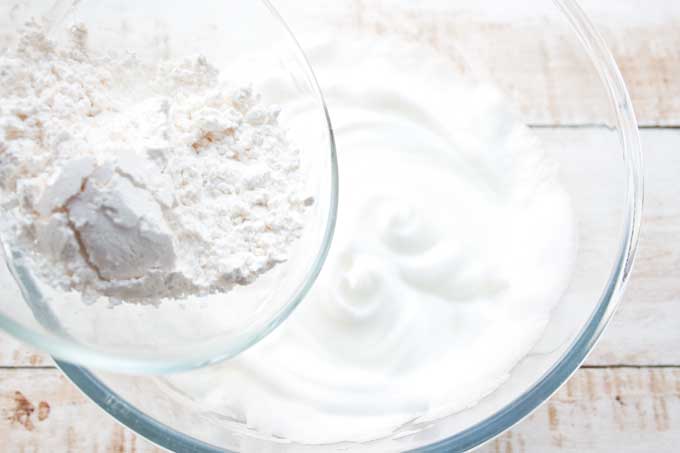 2.) Add powdered sweetener to the egg whites and mix until combined.
Tip: If you don't have powdered sweetener, you can also use granulated sweetener. I've tried both and both work.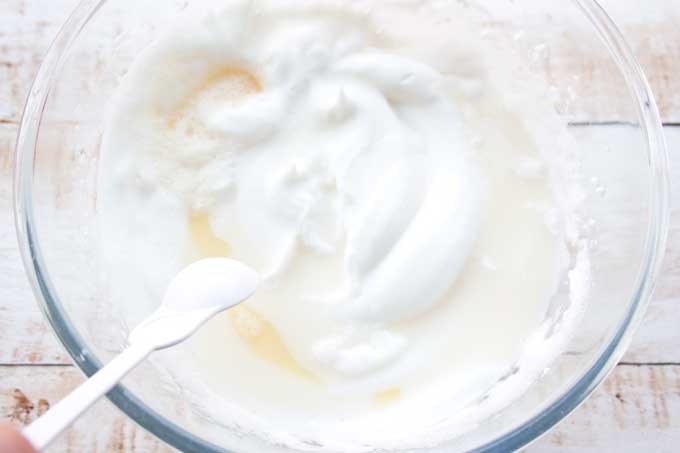 3.) Add the melted coconut butter (make sure it contains both the coconut oil and the coconut meat) and vanilla and mix.
4.) Pour in the desiccated coconut and stir with a spoon or spatula until well-combined.
Tip: I blitzed the coconut shreds in the food processor to make them finer. This way it was easier to form the macaroon shapes.
5.) Mix well, but try to keep a little bit of air inside the mix!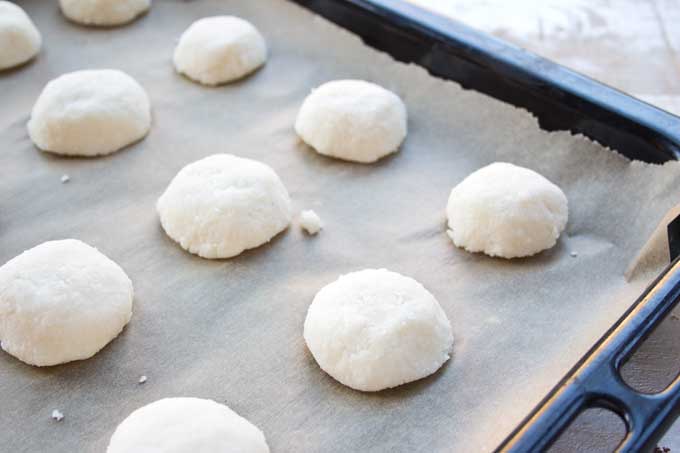 6.) Form round shapes with a flat bottom and place on a baking tray lined with parchment paper.
My keto macaroons weighed 25-30g each and the mix made 14 macaroons.
7.) Bake for 15-18 minutes or until lightly browned on the top. Remove from the oven and let the macaroons cool.
8.) Melt 50g of chocolate. You have some options here:
....aaaaaand dip!! Return the sugar free macaroons to the parchment paper and place in the fridge until the chocolate is set. Then store in an air-tight container.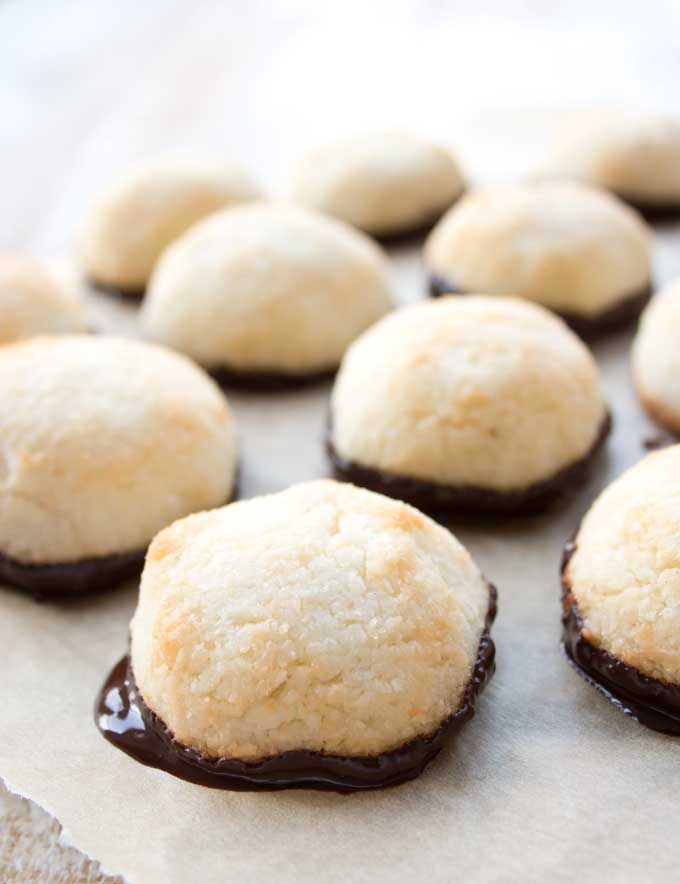 Recipe tips and variations: 
You can substitute the coconut butter for coconut cream. This will result in a lighter coconut macaroon texture that resembles a moist cookie.
I have NOT tried this yet, but I think it would also be possible to use coconut oil in place of the coconut butter - for a sticky, rich texture that's like a Keto fat bomb. 
For an extra-rich coconut taste and all-over golden colour, toast the desiccated coconut before using.
For some other keto cookie recipes, check out these Keto Sugar Cookies and my popular Keto Almond Butter Brownie Cookies.
Love coconut? Take a look at my other coconut-ty sweet treats: 
Tried this recipe? Give it a star rating below!
★ STAY IN TOUCH on FACEBOOK, PINTEREST and INSTAGRAM  for more great food and join my NEWSLETTER for the latest updates and a FREE EBOOK.★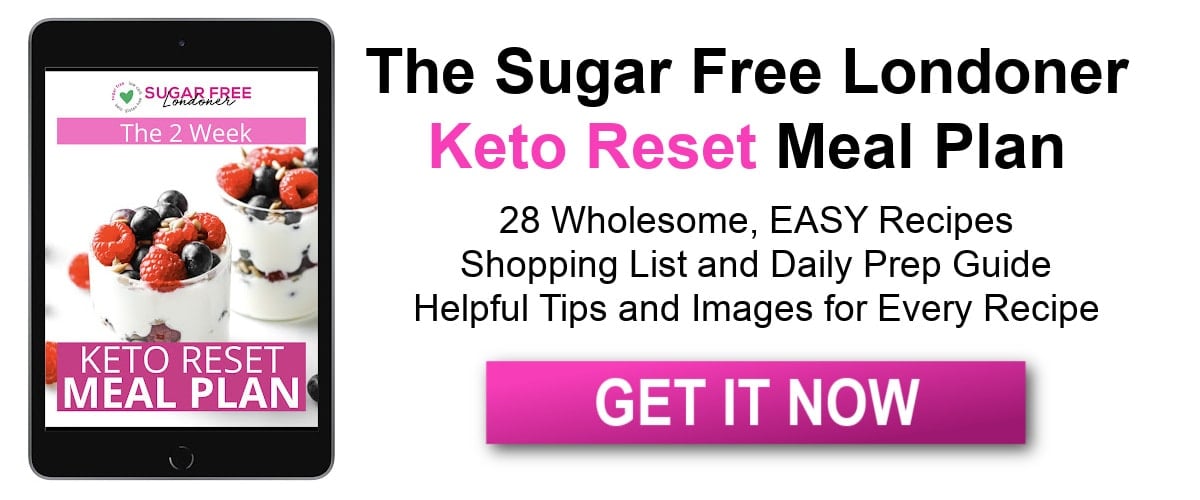 Kato Macaroons
from Sugar Free Londoner
Coconut lovers will adore these deliciously chewy keto macaroons dipped in sugar free chocolate. The recipe is low carb and suitable for diabetics.
Note: The servings slider only changes the first amount in each line and not any subsequent amounts. Please make your own calculations where necessary. ***As an Amazon Associate I earn from qualifying purchases.
Instructions
Preheat the oven to 175 Celsius / 350 Fahrenheit.

Whisk the egg whites in a dry and grease-free glass or ceramic bowl with an electric mixer until stiff peaks form.

Add the powdered sweetener and whisk until fully incorporated.

Add the melted coconut butter and vanilla extract and mix.

Now stir in the desiccated coconut.

Form balls with a flat surface and place on a baking tray lined with parchment paper.

Bake for 15-18 minutes or until lightly browned on top. Remove from the oven and let cool.

Melt unsweetened chocolate in the microwave (in 30 second bursts) or in a double boiler. Stir in 2 tablespoon powdered sweetener and dip the macaroons into the chocolate. Place back onto the parchment paper and cool in the fridge until the chocolate is set.
Notes
Net carbs: 1.7g per macaroon.
Don't have unsweetened chocolate? Here are some other options: 
make your own sugar free chocolate - it's really easy and tastes DELICIOUS
use 90% dark chocolate such as Lindt - it has a very low sugar content 
Coconut macaroons are filling - one macaroon at a time was fine for me. 
Nutrition
Serving:
25
g
Calories:
76
kcal
Total Carbohydrates:
4.6
g
Protein:
3.6
g
Fat:
5
g
Saturated Fat:
3.8
g
Fiber:
2.9
g
Sugar:
1
g
This post contains affiliate links. If you click on one of these links and purchase a product, I may earn a small commission, at no extra cost to you. Thank you for supporting Sugar Free Londoner.