These keto macaroons taste just like the real deal - minus all the carbs and sugar. Made with shredded coconut and dipped in sugar free chocolate, this is a crispy, chewy and utterly delicious treat.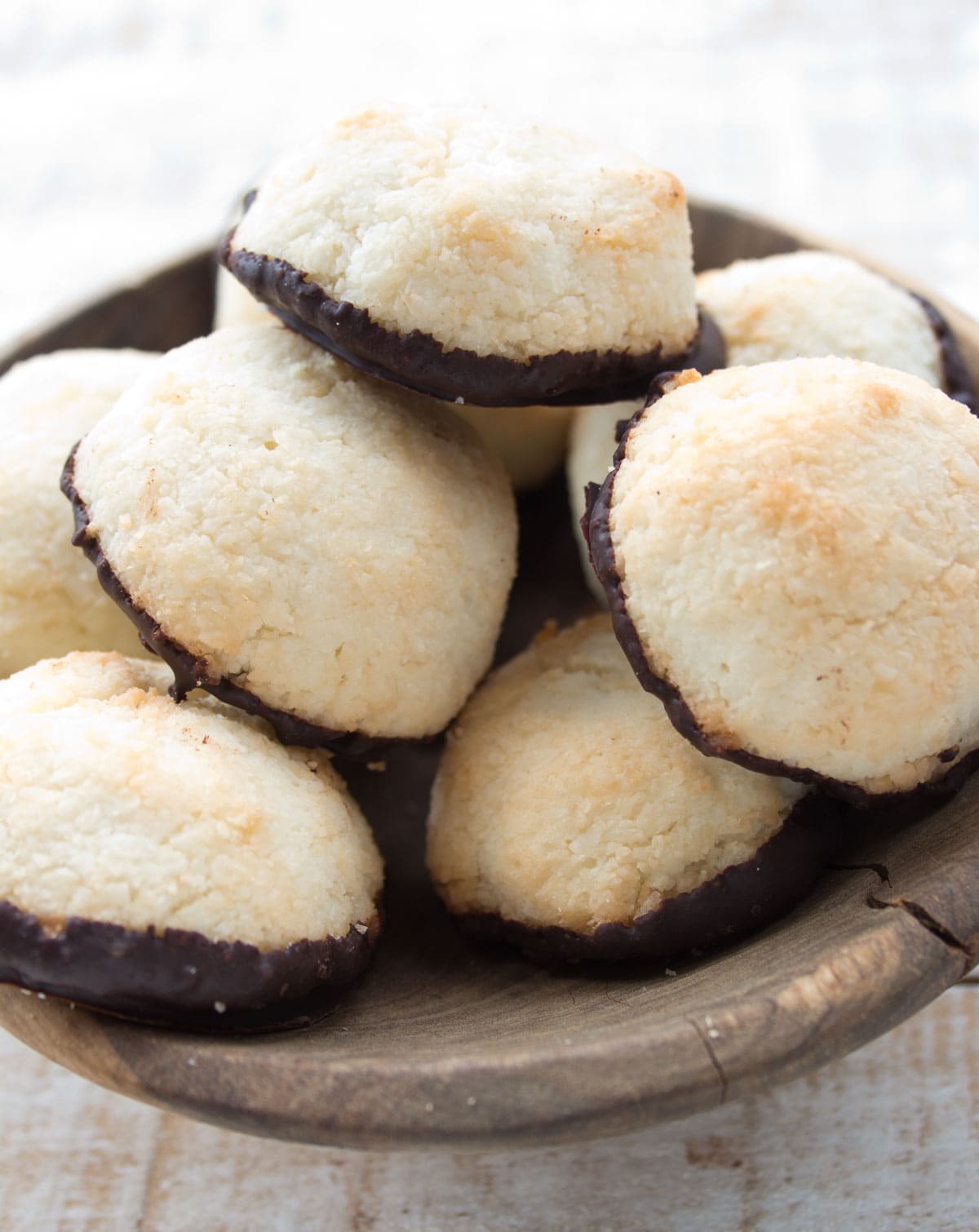 I love coconut desserts and I have a bunch of keto coconut treats on my website. There are coconut haystacks, these coconut almond butter bars, and of course my sugar-free bounty bar bark.
The great thing about coconut recipes - apart from the delicious coconut flavor - is that they always seem to be very simple and require only a few ingredients.
Just like these sugar-free macaroons!
We make them regularly, because they are such an easy treat.
Jump to:
🌟 Why You'll Love This Recipe
Easy recipe - only 4 main ingredients
Quick - ready in 20 minutes
So much flavor - Coconut heaven, with hints of vanilla and dipped in sugar-free chocolate
Light, airy and fluffy texture
Dairy-free, gluten-free, low carb and keto friendly - just 1.7g net carbs per macaroon
Regular macaroons are made with flaked coconut, egg whites and condensed milk. Obviously, condensed milk is very high in sugar and not keto friendly at all.
I always try to stay as close to the original when making a sugar-free version of a recipe.
However, I did not want to add the additional step of making sugar-free condensed milk. That's why I decided to use main 4 ingredients for my recipe: coconut, egg whites, powdered sweetener and coconut butter.
Ingredients
Egg whites - from large eggs. Make sure the eggs are very fresh for best results.
Powdered sweetener - I recommend powdered erythritol, an erythritol based monk fruit sweetener or Swerve. Don't use xylitol or allulose, they make the egg whites soft.
Desiccated coconut - that's shredded coconut in the US. When buying it make sure it is unsweetened. I blended the coconut shreds in the food processor first to make them finer and smaller. This is optional, but made it easier to form the macaroon shapes.
Coconut butter - this contains contains both the coconut oil and the coconut meat. You can omit it, but we enjoy the buttery dimension it adds.
Vanilla extract - optional, but recommended
Unsweetened or sugar free chocolate, for dipping (also optional)
Instructions
This section contains step-by-step instructions and photos that show how to make this recipe. See the recipe card for full information on ingredients and quantities
Step 1: In a large mixing bowl, whisk the egg whites with an electric mixer until they form stiff peaks.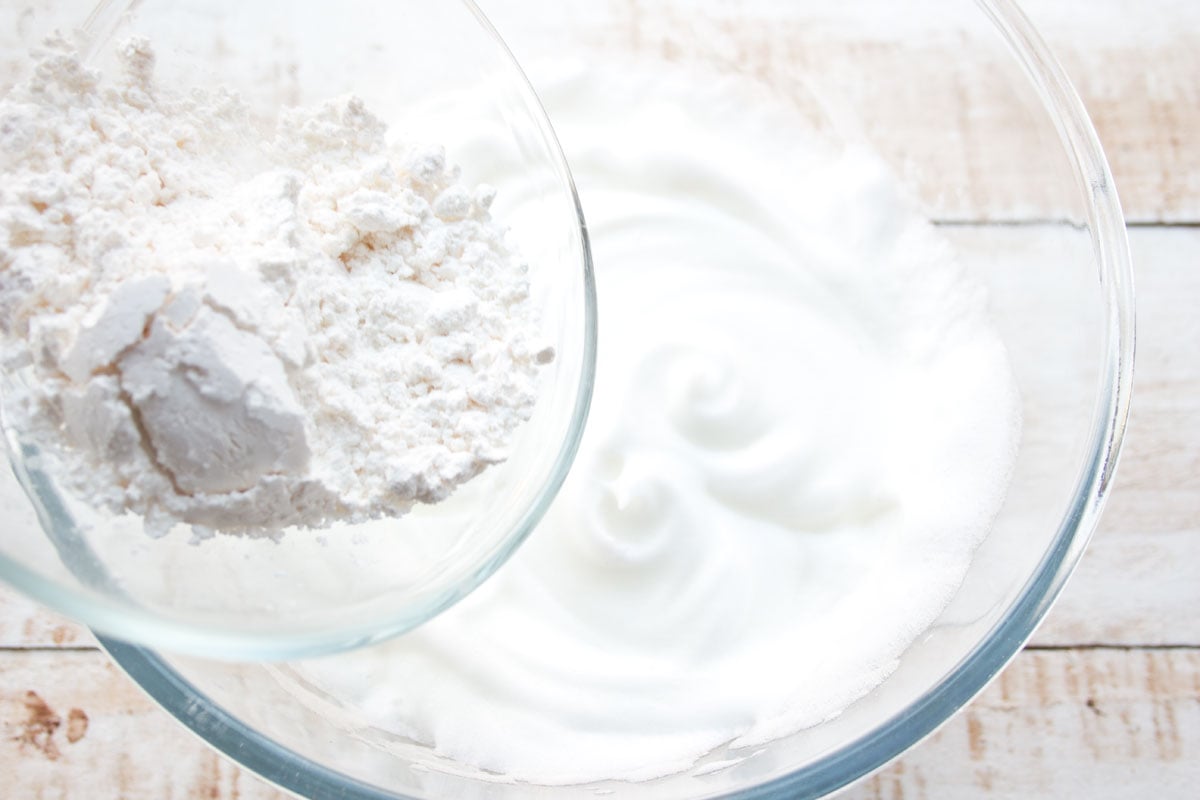 Step 2: Add powdered sweetener to the egg whites and mix until combined.
Step 3: Add the melted coconut butter and vanilla. Blend until combined.
Step 4: Fold in the unsweetened shredded coconut with a wooden spoon or spatula until just combined. Try to keep some air inside the mix!
Step 5: Using a cookie scoop or your hands, form round shapes with a flat bottom. Place them on a baking sheet lined with parchment paper. Bake in the oven until lightly browned on the top.
Step 6: Once the macaroons are fully cooled, melt the chocolate. Dip the bottoms of the macaroons into the chocolate and place back onto the parchment paper.
Then, cool them in the fridge until set.
Top tip
The key for fluffy keto coconut macaroons are egg whites that are whipped to stiff peaks.
Always use fresh eggs for this, and check that your bowl is clean and dry. Even a little water, fat or egg yolk can prevent the whites from becoming stiff.
I achieve best results with a glass or porcelain mixing bowl and a handheld electric mixer like the one shown in the top image.
FAQ
Is desiccated shredded coconut keto friendly?
Yes. It contains just 5.5 grams of net carbs and 13.1 g fat per 1 cup or 75g, making it a great food of anyone on the keto diet. It is also rich in fibre and packed with nutrients such as manganese, copper and selenium (source).
What is the difference between macaroons and macarons?
Macaroons are often confused with French macarons. What is the difference? Both start with beaten egg whites and sugar (or sweetener). But whilst macarons are made with almond flour, macaroons are made by folding shredded coconut into the meringue. In essence, we are making keto coconut cookies!
Which chocolate is best?
I used 100% unsweetened chocolate and added powdered sweetener. You can also make your own sugar free chocolate or use store-bought sugar-free chocolate chips. Another alternative is a 90% dark chocolate such as Lindt - it has a very low sugar content.
Why are my macaroons falling apart?
Either your egg whites were not stiff or the shredded coconut pieces were too large. I blended my coconut to finer shreds before I added it. If you want to use the shredded coconut without blending it first, you must use a cookie scoop and pack the mix tightly. If it is too sticky, add more coconut shreds.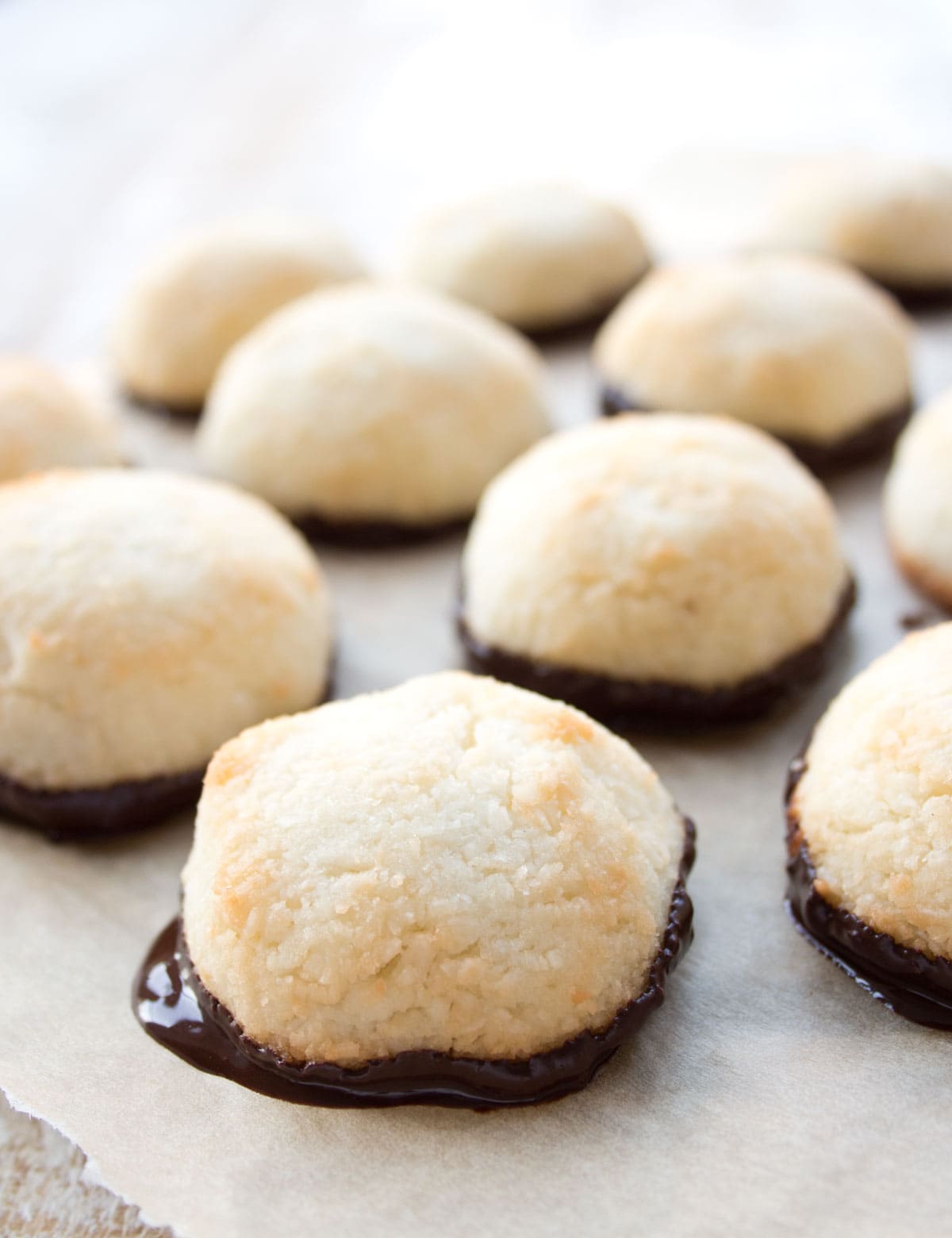 Variations
Substitute: You can substitute the coconut butter for coconut cream. This will result in a lighter coconut macaroon texture that resembles a moist cookie.
Add: Add a pinch of salt to bring out the flavors even more.
Omit: It's also possible to omit the coconut butter altogether. This will reduce the amount of net carbs and give an even lighter texture.
Toast: For an extra-rich coconut taste and all-over golden colour, toast the desiccated coconut before using. Simply put it in a dry frying pan and heat until golden.
Drizzle: Option to drizzle the melted sugar-free chocolate over the macaroons as well.
Storage
Refrigerator: Sugar-free macaroons can be stored in an airtight container at room temperature or in the fridge for up to 2 weeks.
Freezer: You can also freeze them for up to 3 months. Freeze in a single layer so they don't stick together. Let them defrost on the counter.
Related recipes
Tried this recipe? Give it a star rating below!
★ STAY IN TOUCH on FACEBOOK, PINTEREST and INSTAGRAM for more great food and join my NEWSLETTER for the latest updates and a FREE EBOOK.★
Recipe
Kato Macaroons
from Sugar Free Londoner
Coconut lovers will adore these deliciously chewy keto macaroons dipped in sugar free chocolate. The recipe is low carb and suitable for diabetics.
Note: The servings slider only changes the first amount in each line and not any subsequent amounts. Please make your own calculations where necessary.
Instructions
Preheat the oven to 180 Celsius / 350 Fahrenheit (electric) or 160C / 320F fan.

Whisk the egg whites in a dry and grease-free glass or ceramic bowl with an electric mixer until stiff peaks form.

Add the powdered sweetener and whisk until fully incorporated.

Add the melted coconut butter and vanilla extract and mix.

Now stir in the desiccated coconut.

Use a cookie scoop or form balls with a flat surface and place on a baking tray lined with parchment paper. 

Bake for 15-18 minutes or until lightly browned on top. Remove from the oven and let cool.

Melt unsweetened chocolate in the microwave (in 30 second bursts) or in a double boiler. Stir in 2 tablespoon powdered sweetener and dip the macaroons into the chocolate. Place back onto the parchment paper and cool in the fridge until the chocolate is set.
Notes
Net carbs: 1.7g per macaroon.
Coconut macaroons are filling - one macaroon at a time was fine for me.  
If the batter is too loose: add more shredded coconut.
If the batter is too dry: add more egg white. 
Store in an airtight container for up to 1 week or freeze for up to 3 months. 
Nutrition
Serving:
25
g
Calories:
76
kcal
Total Carbohydrates:
4.6
g
Protein:
3.6
g
Fat:
5
g
Saturated Fat:
3.8
g
Fiber:
2.9
g
Sugar:
1
g
This post contains affiliate links. If you click on one of these links and purchase a product, I may earn a small commission, at no extra cost to you. Thank you for supporting Sugar Free Londoner.