Soft, chewy and ultra chocolatey - make these easy keto chocolate cookies in less than 20 minutes! These thick and soul-satisfying cookies are sugar free, low carb and gluten free. Only 1.9g net carbs per GENEROUSLY sized cookie.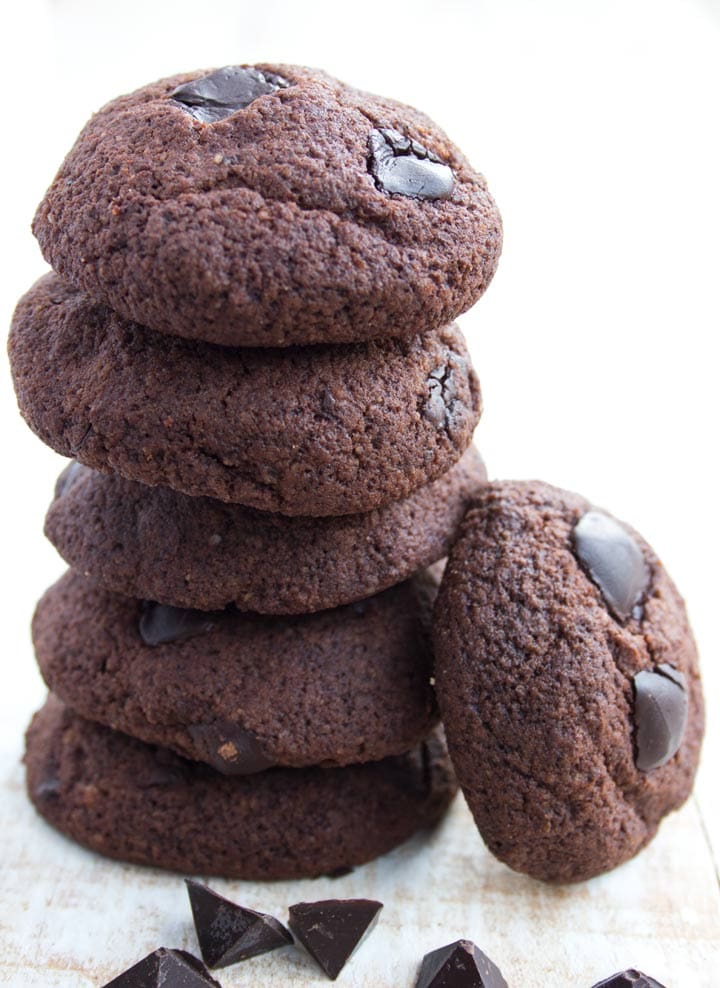 Everybody needs a truly great chocolate cookie recipe in their repertoire and this is mine.
Because, like, who doesn't like a simple, honest chocolate cookie, ESPECIALLY when it's TOTALLY GUILT FREE? Come to mama!
I used my low carb keto chocolate chip cookies as a starting point for this recipe - they also have an almond flour base and are soooo good.
This time, I wanted my cookies to be thick and soft, so I made them quite large. You need about 4-5 bites to eat these puppies, which means they are a rather generous treat.
Feel free to turn them into smaller (or flatter) cookies to make them crispier if that's your thing. You're the boss! (Want to know EVERYTHING about sugar free cookie baking? Check out my Ultimate Guide to Sugar Free Cookies!)
How to make Keto chocolate cookies - step by step:
1.) Mix the dry ingredients in a bowl - regular almond flour or ground almonds, granulated eryhritol, cocoa powder and baking powder.
Option: You can also use powdered erythritol here or another low carb sweetener - the choice is yours.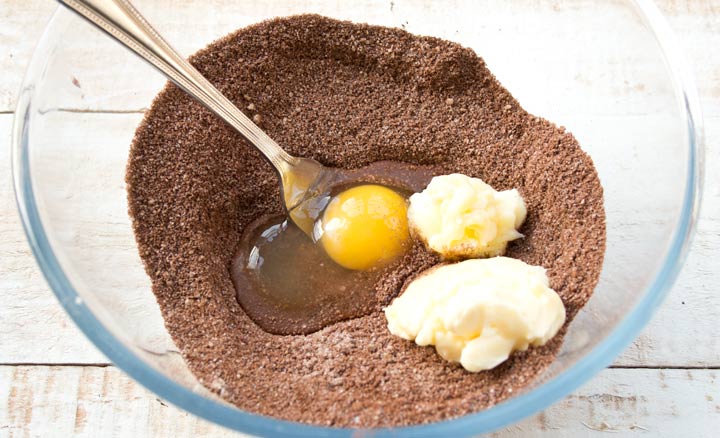 2.) Add the wet ingredients: 1 medium egg and VERY soft butter.
If your butter is super-soft, you can easily mix with a fork. Less to clean than if you would use an electric mixer!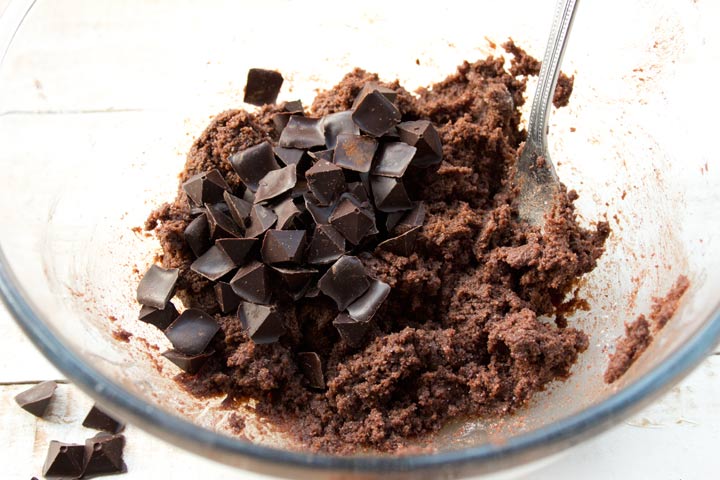 3.) Now fold through the chocolate chips (get the full low-down on this in the recipe tips below).
Optional: Keep a few back so you can place them on top of the cookies before baking.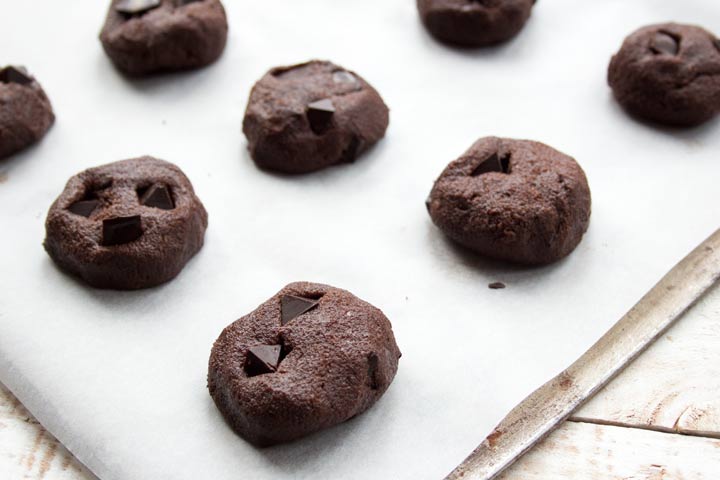 4.) Roll the dough into 9 large cookies and place on a baking tray lined with parchment paper.
Flatten them slightly. They will spread a little during baking, but not significantly.
Bake for around 12 minutes. Let cool completely before handling.
Which chocolate chips can I use?
You've got choices here.
If you are in the US, get yourself a bag of Lily's dark chocolate chips. They are sugar free and sweetened with stevia.
Another very simple option is to chop a bar of 90% chocolate into small pieces (I like Lindt or Vivani). Chocolate this dark is very low in sugar with 7 grams per entire 100g bar. In this recipe, we're using less than ⅓ of a bar or 30 grams.
Awesome kitchen hack: Turn your chocolate into PROPER chocolate chips! Simply melt and pour it into this silicone pyramid baking mat. This is what I did in this recipe. (Amazon aff links)
The last (and surprisingly EASY) way is to make your own sugar free chocolate chips with only 3 ingredients! You can store these for weeks, so you never run out of REAL Keto chocolate chips.
Which low carb flour works best?
I used ground almonds in this recipe. This is equivalent to regular almond flour in the US.
If you want to make these cookies with super-fine almond flour, reduce the amount to ¾ cup / 75 grams. Super-fine almond flour absorbs more liquid and you don't want dry cookies!
If you want to try this recipe with coconut flour instead, use ⅓ cup / 35g. Leave the dough to stand for a couple of minutes to let the coconut flour soak up the wet ingredients. Add an additional 1 tbsp if the dough is still too soft.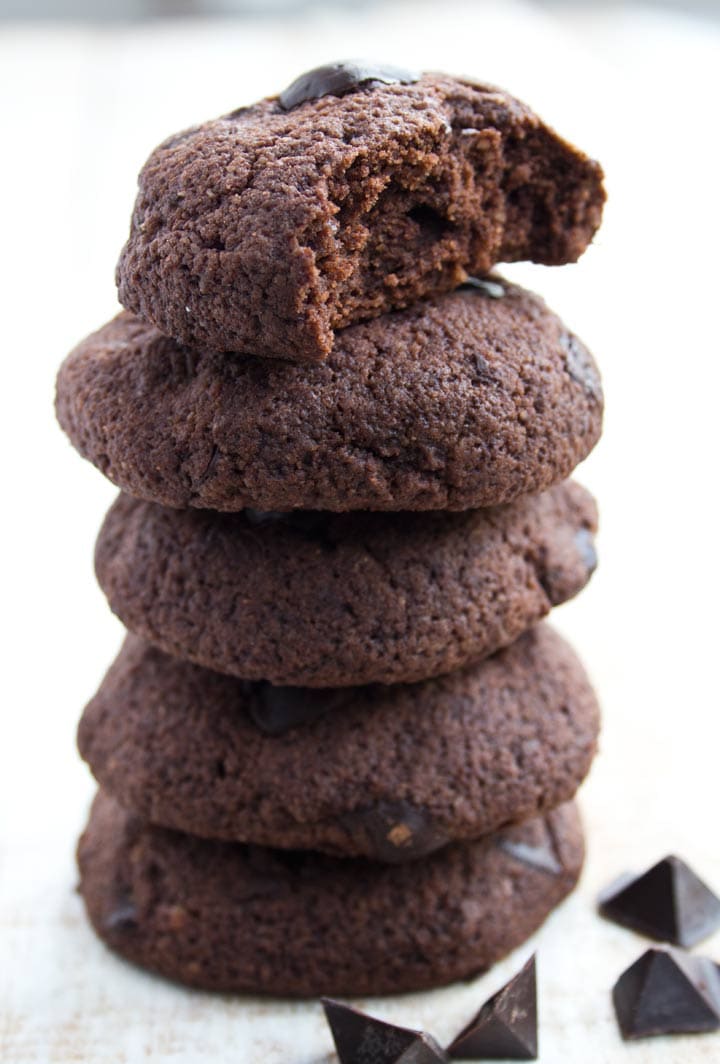 Dairy free / egg free low carb chocolate cookies
For a dairy-free cookies, replace the butter with coconut oil.
It is possible to make these cookies WITHOUT the egg (yes, I left it out by mistake one time!). They will be more fragile though - so definitely don't handle before they are COMPLETELY cooled.
For sturdier egg free keto chocolate cookies, you can stir 1 tsp ground chia mixed with 3 tsp water into your dough. Also consider adding ½ tsp of xanthan gum for a stronger crumb structure.
Storage
Store these cookies in an airtight cookie jar for up to one week.
And yes, it is possible to freeze them, too!
More great keto cookies: 
Tried this recipe? Give it a star rating below!
★ STAY IN TOUCH on FACEBOOK, PINTEREST and INSTAGRAM  for more great food and join my NEWSLETTER for the latest updates.★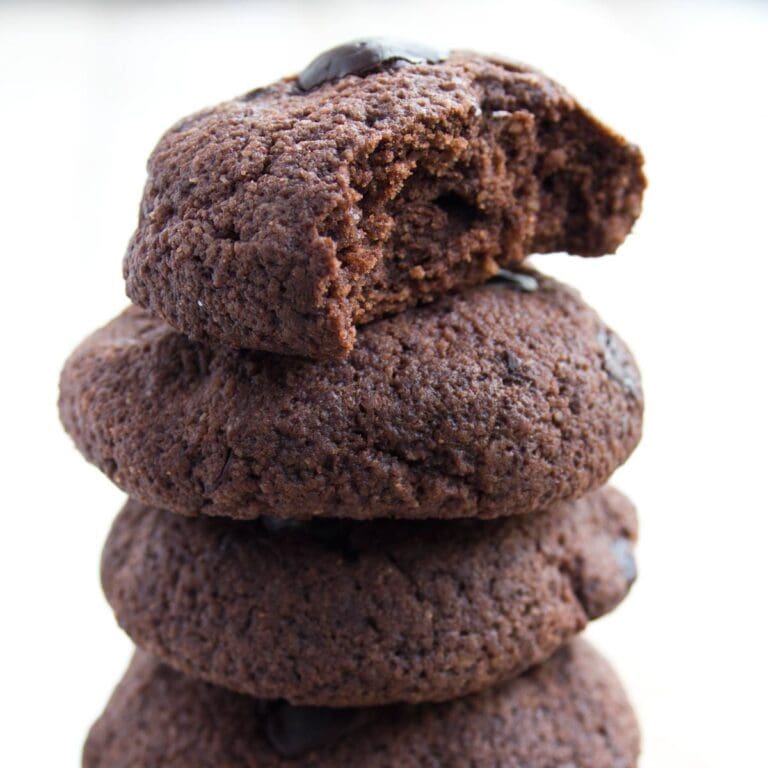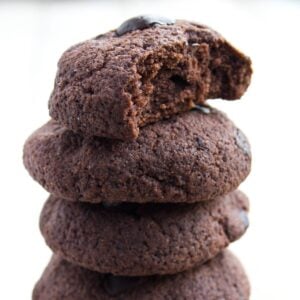 Soul-Satisfying Keto Chocolate Cookies
from sugarfreelondoner.com
When you get that need for a truly great keto chocolate cookie, let me come to your rescue! This low carb and sugar free recipe is so simple that you can stir it together with a fork. Sink your teeth into these soft, chewy chocolatey cookies and enjoy!
Note: The servings slider only changes the first amount in each line and not any subsequent amounts. Please make your own calculations where necessary. ***As an Amazon Associate I earn from qualifying purchases.
Instructions
Preheat the oven to 175 Celsius / 350 Fahrenheit (conventional oven).

Mix the dry ingredients in a bowl - almond flour, baking powder, cocoa powder and granulated erythritol.

Add the egg and the softened butter and mix with a fork until you have a smooth dough.

Add the chocolate chips and mix, keeping a few back to put on top of the cookies.

Form 9 cookies and place on a baking sheet lined with parchment paper. They will spread a little, but not much - so shape them into the form you want them to have.

Bake for circa 12 minutes. Let cool COMPLETELY before handling.
Notes
1.9 g net carbs per cookie (average weight: 35 grams).
The cookies are very fragile when hot. They firm up once cooled. 
For a fudgier cookie, reduce the baking time to 10 minutes. For a crispy cookie, flatten and bake for up to 14 minutes.  
Add a pinch of salt for some extra WOW.
**If using super-fine almond flour, reduce the amount to ¾ cup / 75g. 
Nutrition
Serving:
35
g
Calories:
141
kcal
Total Carbohydrates:
3.9
g
Protein:
3.7
g
Fat:
13.6
g
Saturated Fat:
4.9
g
Fiber:
2
g
Sugar:
0.8
g
This post contains affiliate links. If you click on one of these links and purchase a product, I may earn a small commission, at no extra cost to you. Thank you for supporting Sugar Free Londoner.