These deliciously chewy sugar-free oatmeal cookies have a lovely crunch on the outside and a soft centre. Even better, they are ready in just 25 minutes. Find out in the post which substitution I'm using to make this classic recipe low carb - into proper keto oatmeal cookies!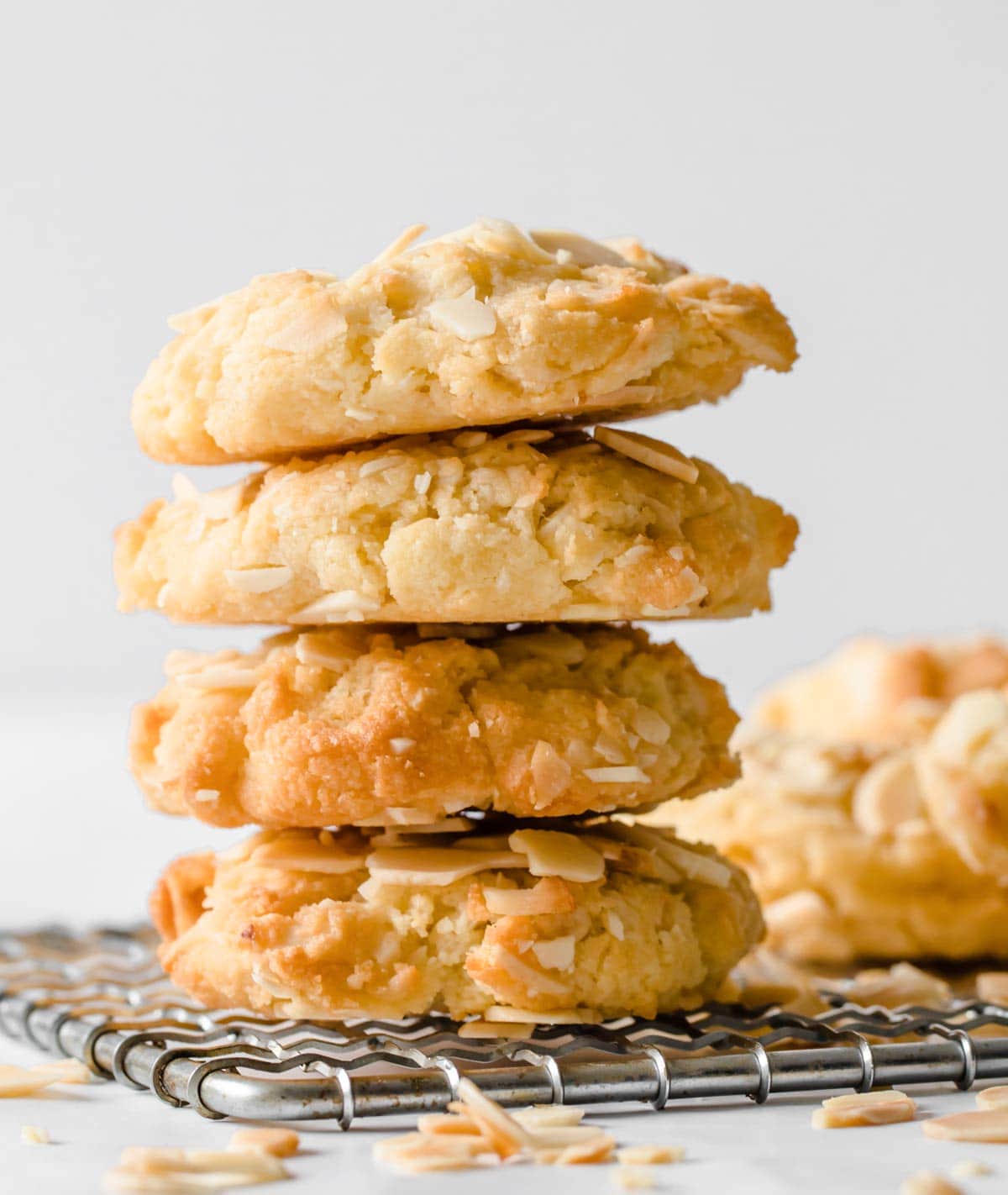 Oatmeal raisin cookies used to be one of my favourite cookies as a kid, and as we all know, some things never change.
There's comfort in a simple cookie that just hits the spot, whether you have it with a glass of milk after school or with a cup of tea taking a break from work. My mum had a secret sugar oatmeal cookies recipe, as probably your mum or gran did, and your friend's or neighbour's mum or gran. And if you're lucky, they'll pass it on to you!
Of course, going on a low carb diet changes a few things. First of all, the raisins had to go. But what about the oats?
Is oatmeal keto friendly?
The answer is no.
Oats are whole grains and therefore high in carbs. One portion of cooked oats provide 12g of carbs, according to the USDA (portion size 100g, oats cooked in water). 100g (roughly ⅔ cup) of uncooked rolled oats come in at a whopping 55 net carbs.
You can do the maths. If you want to keep your net carbs anywhere between 20 and 40 per day and your blood sugar levels stable, then oats, or oatmeal, are not a good choice.
My secret for keto oatmeal cookies
If you're on the keto diet, you'll know that (almost) anything is possible with clever substitutions. We can make cakes, pizza, bread and yes, even oatmeal or overnight oats that taste as good as the "real" thing. And dare I say it, sometimes it'll taste even better :).
Let's straighten something out. I just don't want to start calling these cookies "noatmeal cookies" or "no-oatmeal oatmeal cookies", only because I'm not ACTUALLY using oats. I like to keep things simple. Since my cookies TASTE like oatmeal cookies, that's what they are to me. Gluten free, keto oatmeal cookies!
Seriously, you're going to love their flavor.
I'm using a combination of almond flakes and coconut flakes to mimic the chew of oats. Somehow, they have a similar melt-in-the mouth quality. Mixed into a buttery almond flour cookie batter, they add that texture we all love about oatmeal cookies.
I've had these cookies both as a snack and for breakfast and can confirm either is a great choice!
How to make sugar free oatmeal cookies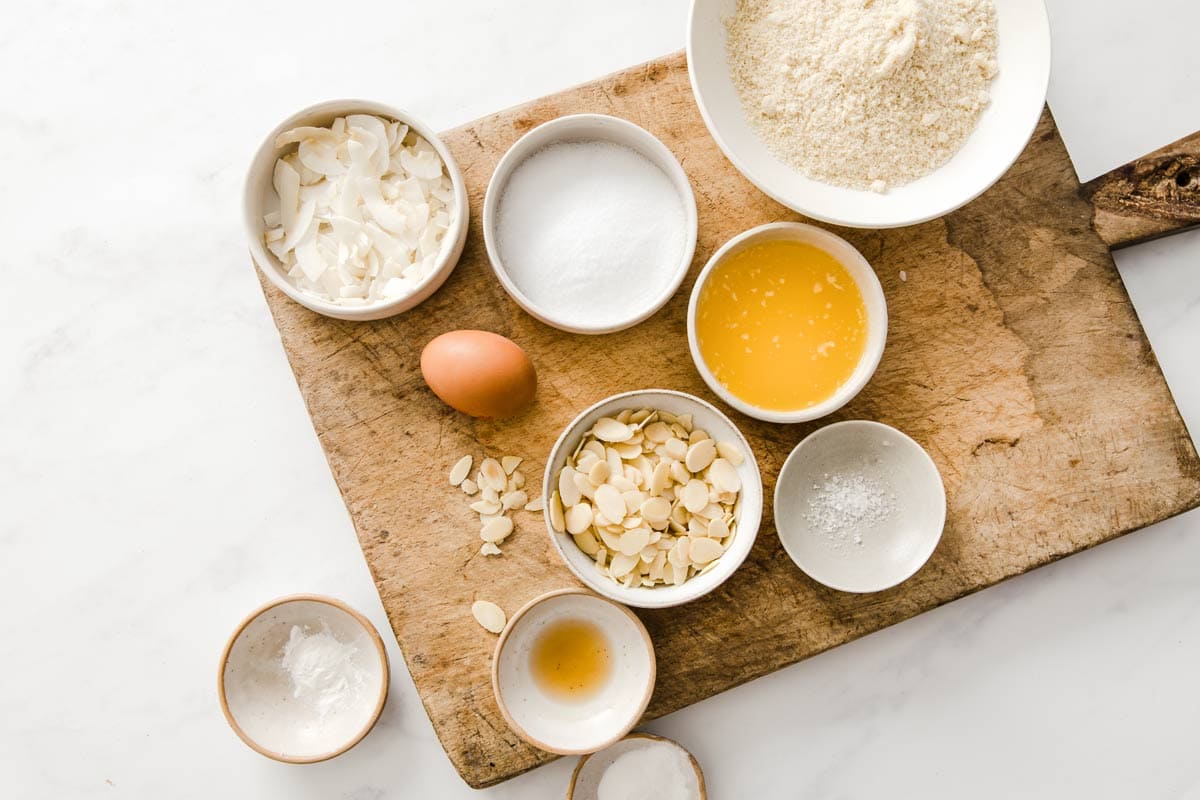 First, let's take a look at the ingredients. You'll need almond flour or ground almonds, coconut flakes and almond flakes, melted butter, a granulated sweetener such as erythritol, one large egg, baking powder and vanilla extract.
I'm also using a pinch of salt and xanthan gum. Neither is strictly necessary. I'd say though that the salt improves the taste and the xanthan gum gives a stronger crumb structure.
If you omit the xanthan gum, your cookies will be a little flakier, but the recipe still works well.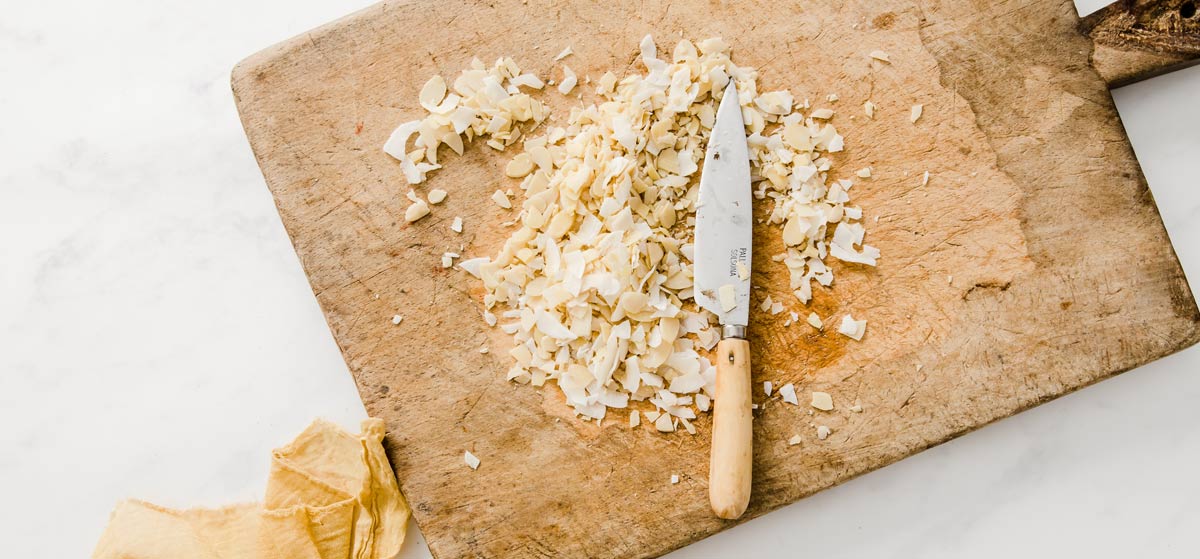 1.) Using a sharp knife, chop ½ cup (50g) of sliced almonds and the coconut flakes to resemble the size of oats.
If you prefer, you can also pulse them in a food processor.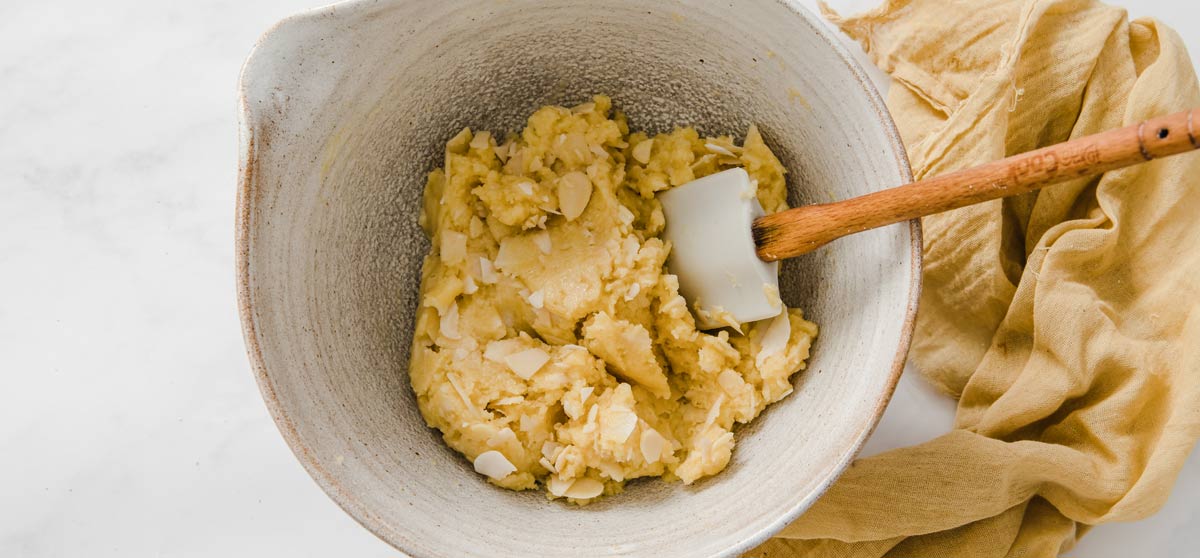 2.) Mix all the dry ingredients together in a large mixing bowl (almond flour, erythritol, xanthan gum, baking powder, salt, chopped flaked almonds and coconut). Stir to combine.
Then, add the melted butter and egg and mix to form a cookie dough.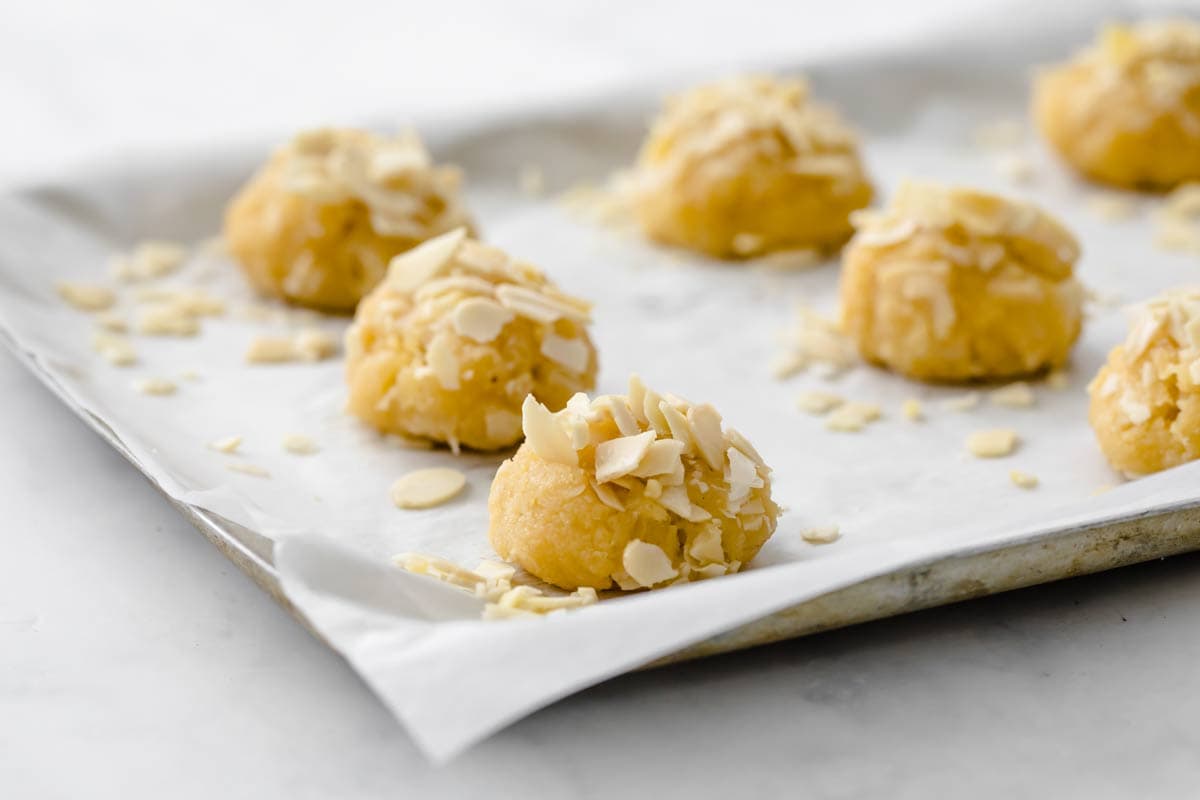 Roll the mix into 9 balls and place on a cookie sheet lined with parchment paper. Alternatively, use a medium cookie scoop and scoop the dough onto the baking sheet.
Chop the remaining ¼ cup (25g) almonds and press them into the top.
Now, flatten the cookies to about ¾ inch thickness and shape the edges with your figures to remove cracks.
Bake for 12-15 minutes until slightly golden. As with all low carb cookies, be sure to let them COOL COMPLETELY on a cooling rack before handling. Almond flour baked goods are fragile when hot and will firm up as they cool down.
Almond flour vs coconut flour
The one question I always get when I post a low carb baking recipe is about flour substitutions.
Normally, you can substitute almond flour for coconut flour using ⅓ of the amount stated for almond flour (sometimes a little more). Coconut flour is more brittle than almond flour, so you'll definitely have to use the xanthan gum for a stronger texture.
Note though that I have not tried this myself yet. Also, you will change the taste of the cookies considerably and my guess is they will definitely NOT taste of oatmeal cookies any more. The great thing about almond flour is that it is very neutral in taste.
Which low carb sweetener can I use?
You've got options! Use either pure granulated erythritol or an erythritol blend with either stevia or monk fruit. A brown sugar substitute such as Lakanto Golden or Sukrin Gold would work well, too.
Xylitol or allulose are also a possibility, although allulose will result in a much softer cookie.
You can also use Splenda. Note that Splenda MUST be measured using US cup measurements. It's lighter in weight than erythritol.
If you're using a granulated stevia sweetener, check on the pack that it's a 1:1 sugar substitute. The ones I have tried are often twice as sweet as sugar.
If you have a sweet tooth...
...consider adding a little more sweetness. Low carb palates are all over the place, and I know people who love their cookies without ANY sweetener (true story!).
I'd say this recipe is not VERY sweet - just right for me. Always, always taste the dough and add a little more if you think it's necessary!
Flat vs thick cookies
My sugar free cookies did not spread much because I used a cold egg and I made sure I only JUST melted the butter so it was not hot. If you used a room temperature egg and your butter was very hot, the cookies would spread more.
If your cookie batter is too soft, simply let it rest in the fridge for 20 minutes before baking.
To achieve crunchier cookies, flatten them more and leave them in the oven longer. The rule of thumb is here: the flatter, the browner, the crispier.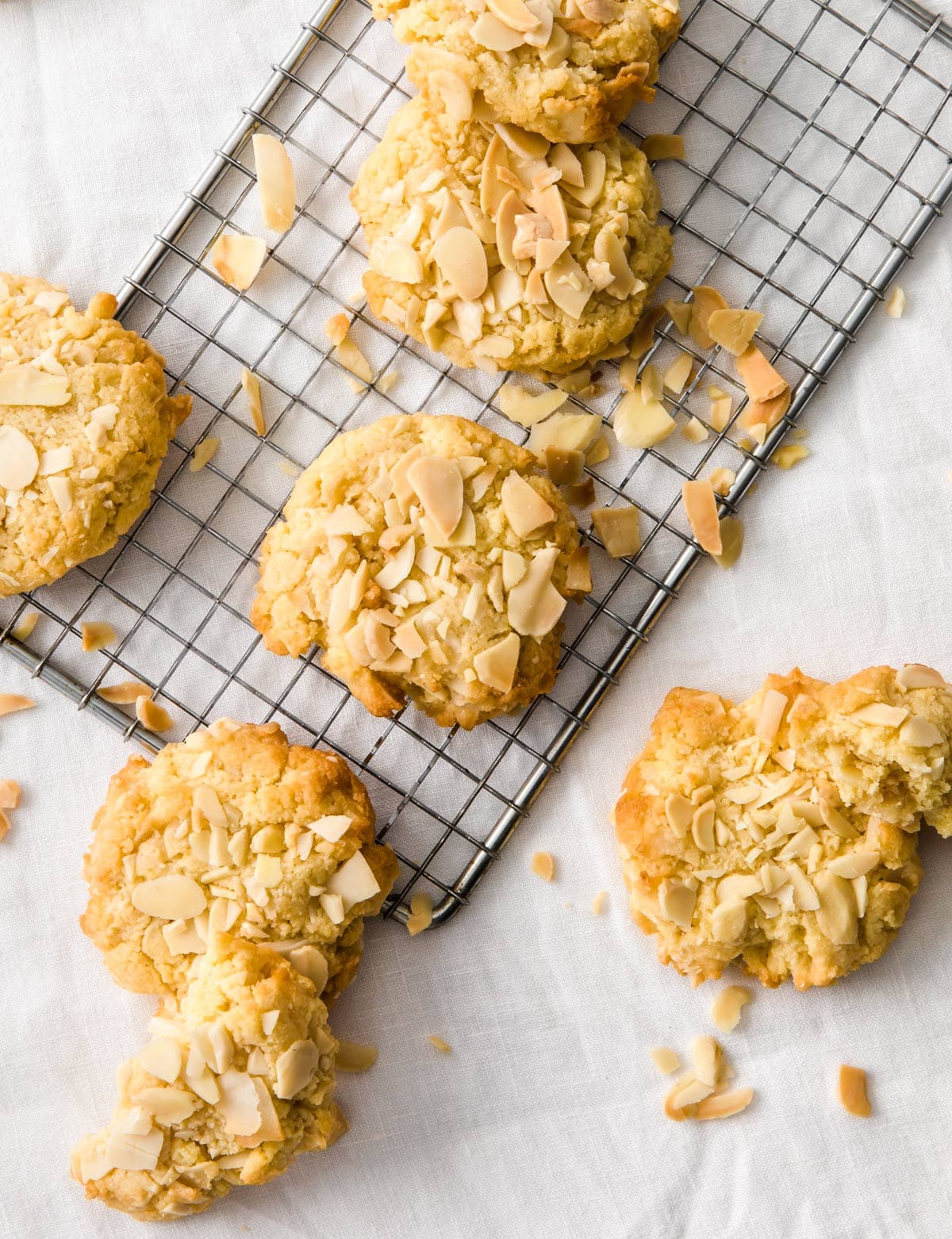 Add-ins
Sugar free dried cranberries: Regular oatmeal cookies often contain raisins, which are very high in natural sugars. Sugar free dried cranberries are a brilliant substitution, because they have the same chewy texture. They are really easy to make at home! You could also add either dried unsweetened cranberries or dried unsweetened blueberries.
Low carb oatmeal chocolate chip cookies: Add ¼ cup of sugar free chocolate chips. I have a recipe for sugar free chocolate chips on my website, it's really simple and very useful for all kinds of low carb recipes! Alternatively, go for a stevia sweetened chocolate such as Lily's.
Make them nutty: Chopped walnuts or pecans would work well. I'd also add 1 teaspoon of cinnamon and 1 tablespoon peanut butter for a more mellow flavor.
Add sugar free icing: Mix ¼ cup (4 tablespoons) powdered sweetener with 1 tablespoon cream. Drizzle over the cooled cookies.
Make them vegan: Use coconut oil or a nut butter instead of the butter. Replace the egg with a flax egg. If you don't mind adding some carbs, you can also sub in banana or apple sauce. The cookies won't be keto friendly any more, but still sugar-free!
Low carb oatmeal cookies WITH oats
My friends, because I love you I have actually calculated the net carbs if you used ACTUAL oats instead of my sliced almonds and coconut flakes!
If you added ⅔ cup or 100 grams of oats, your net carbs would be 7.6g per cookie. It's the combination with the almond flour that keeps the carb count in check.
My sugar free keto oatmeal cookies come in at less than a third - 2.1g net carbs per cookie.
Storage
Store these almond flour oatmeal cookies in an airtight container at room temperature for up to 5 days. You can also freeze them for up to 3 months.
Note: My keto oatmeal cookies are on the large side. One makes for a very satisfying snack (or small breakfast!). But of course, you can make these as small as you like. Keep in mind you may need to reduce the baking time by a little too!
More simple keto cookie recipes
Tried this recipe? Give it a star rating below!
★ STAY IN TOUCH on FACEBOOK, PINTEREST and INSTAGRAM for more great food and join my NEWSLETTER for the latest updates and a FREE EBOOK.★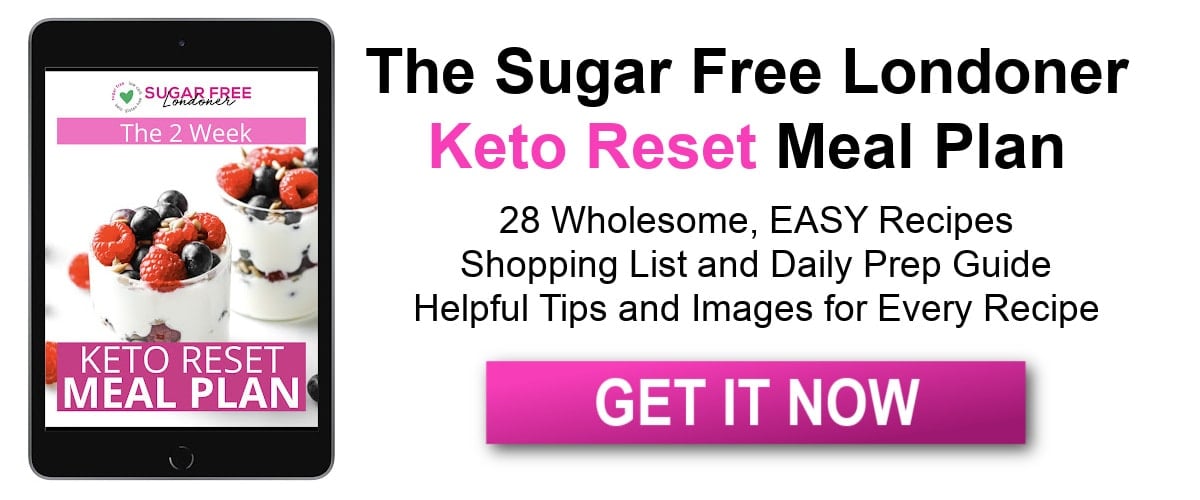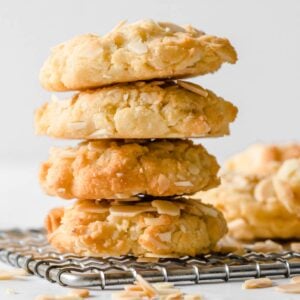 Keto Sugar Free Oatmeal Cookies
from Sugar Free Londoner
Slightly soft and chewy but with texture and crunch: these sugar free oatmeal cookies are my keto take on the real deal. Naturally, they don't actually contain oats, but some clever substitutions. Only 2.1g net carbs per cookie!
Note: The servings slider only changes the first amount in each line and not any subsequent amounts. Please make your own calculations where necessary. ***As an Amazon Associate I earn from qualifying purchases.
Instructions
Preheat the oven to 350F / 180C electric or 320F / 160C fan and line a baking tray with greaseproof paper.

Using a sharp knife, chop ½ cup / 50g sliced almonds and the coconut flakes to resemble the size of oats. Option to use a food processor and pulse if you prefer.

Mix all the dry ingredients together in a mixing bowl (almond flour, erythritol, xanthan gum, baking powder, salt, chopped flaked almonds and coconut. Stir to combine.

Add the melted butter, vanilla and egg and mix to form a dough.

Roll the mix into 9 balls.

Chop the remaining ¼ cup of almonds.

Place the balls on a baking tray and press crushed almonds into the top.

Flatten the cookies and  shape the edges with your fingers to remove cracks. Bake for 12-15 minutes until slightly golden.
Notes
Net Carbs: 2.1g per cookie.
Makes 9 cookies (circa 3 inches diameter and ¾ inch thick). 
Let the cookies cool completely before handling. They firm up as they cool.
Store these keto oatmeal cookies in an airtight container at room temperature for up to 5 days. You can also freeze them for up to 3 months.
Nutrition
Calories:
234
kcal
Total Carbohydrates:
4.6
g
Protein:
5.3
g
Fat:
22.8
g
Fiber:
2.5
g
Sugar:
1.1
g
This post contains affiliate links. If you click on one of these links and purchase a product, I may earn a small commission, at no extra cost to you. Thank you for supporting Sugar Free Londoner.
First published in July 2020. Recipe last updated in June 2022.