These deliciously chewy sugar-free oatmeal cookies have a lovely crunch on the outside and a soft centre. Even better, they are ready in just 25 minutes. Find out in the post which substitution I'm using to make this classic recipe low carb - into proper keto oatmeal cookies!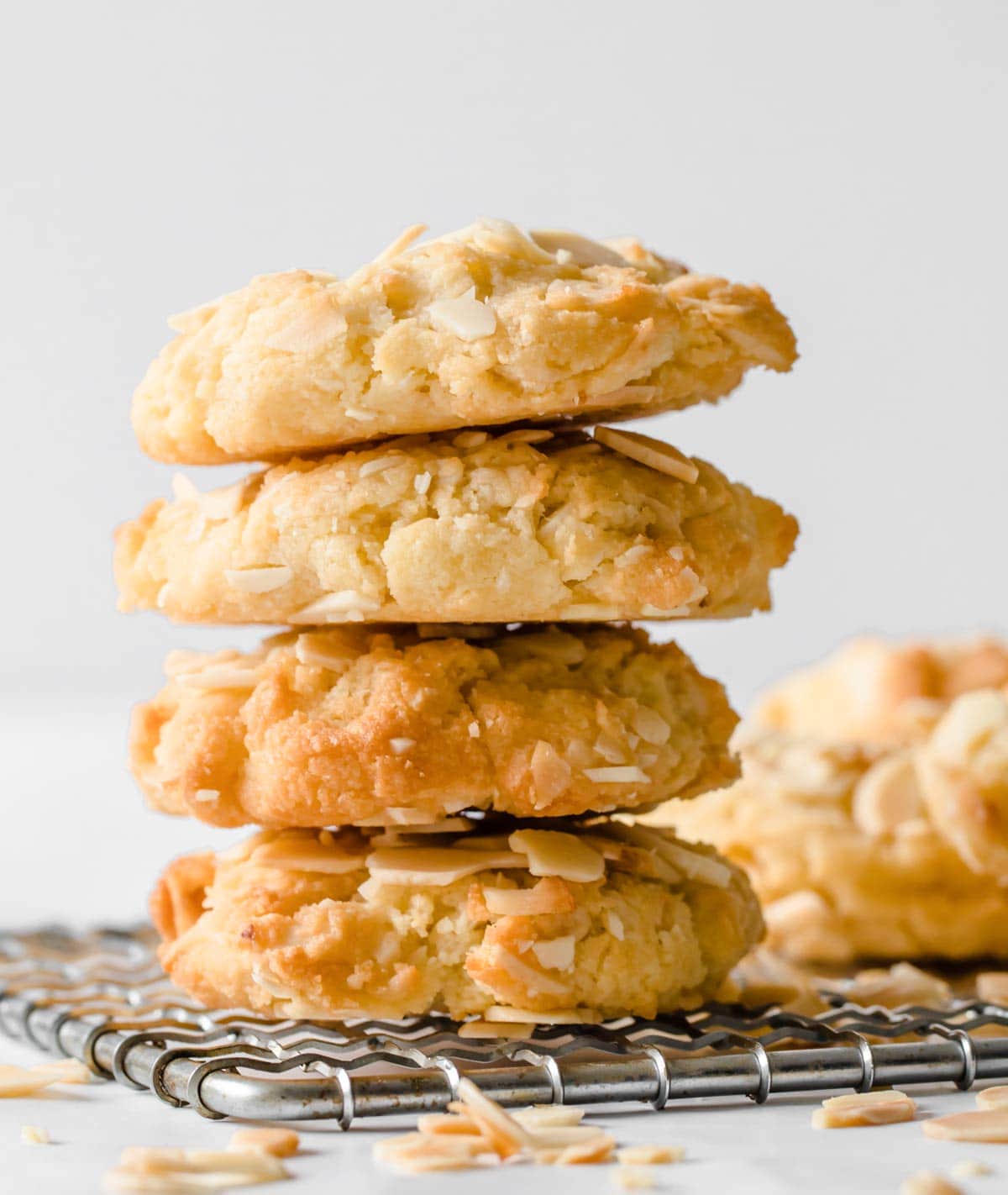 Oatmeal raisin cookies used to be one of my favourite cookies as a kid, and as we all know, some things never change.
There's comfort in a simple cookie that just hits the spot, whether you have it with a glass of milk after school or with a cup of tea taking a break from work. My mum had a secret oatmeal cookies recipe, as probably your mum or gran did. And if you're lucky, they'll pass it on to you.
Well, I have taken my mum's recipe and made it keto friendly!
For these keto oatmeal cookies, I'm using a combination of almond flakes and coconut flakes to mimic the chew of oats. Mixed into a buttery almond flour cookie batter, they add that texture we all love about oatmeal cookies.
I've had these cookies both as a snack and for breakfast and can confirm either is a great choice. I'm adding it to my "noatmeal" collection, alongside this low carb porridge and my keto overnight oats.
Jump to:
Ingredients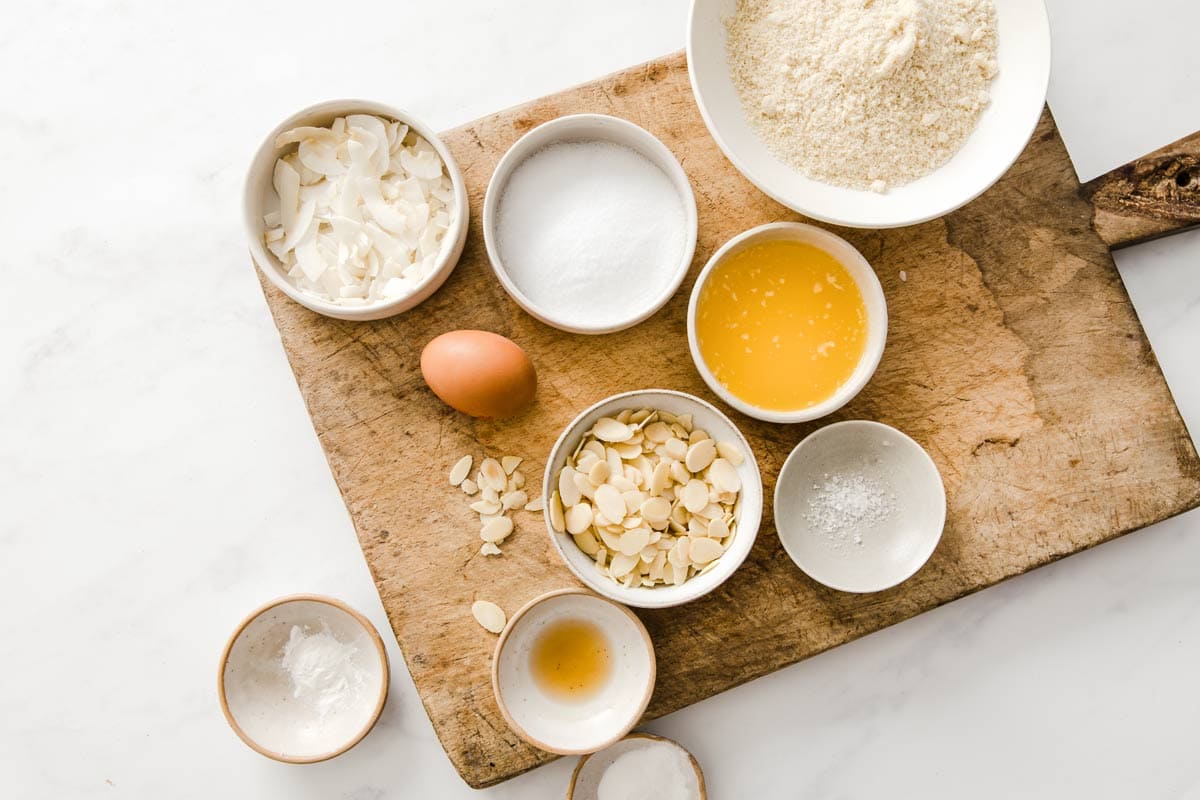 Here are the ingredients we need for low carb oatmeal cookies.
Almond flour, Coconut flakes, Almond flakes: As you can see in the image, I am not using actual oatmeal or oats. Instead, we need almond and coconut flakes. They have the same chewy texture as oats, without the carb count.
Butter - melted and then cooled
Granulated sweetener - any sugar substitute works here. I used an erythritol monk fruit sweetener blend.
Egg - mine was large and fridge cold
Baking powder
Vanilla extract.
I'm also using a pinch of salt and xanthan gum. Neither is strictly necessary. Sea salt improves the taste and the xanthan gum gives a stronger crumb structure.
If you omit the xanthan gum, your cookies will be a little flakier, but the recipe still works well.
See the recipe card for full information on ingredients and quantities.
Instructions
Let's make keto oatmeal cookies in five simple steps!!
This section contains step-by-step instructions and photos that show how to make this recipe. See the recipe card for full information on ingredients and quantities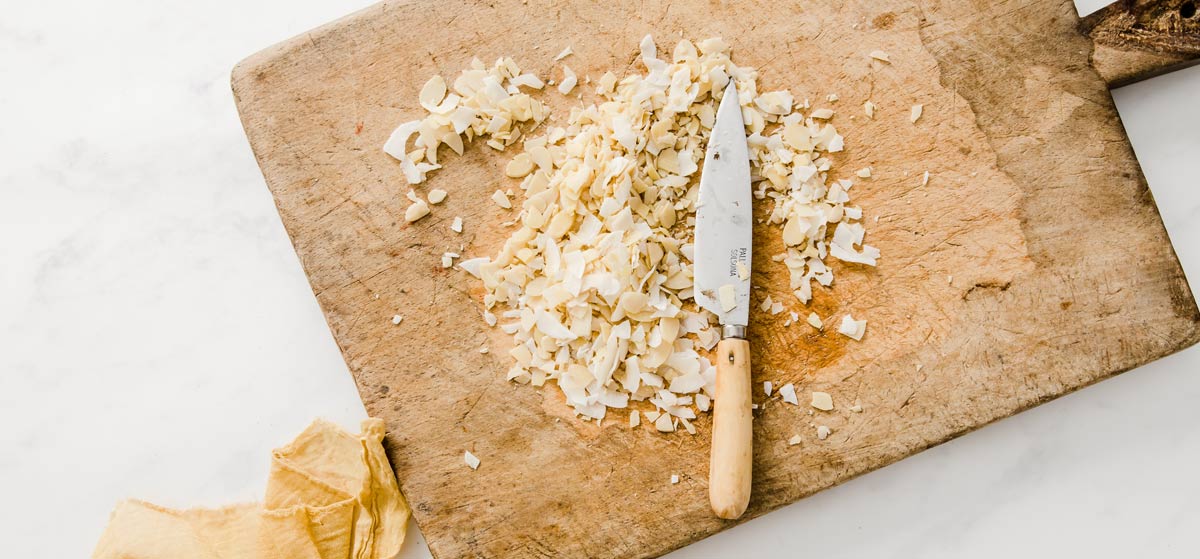 STEP 1
Chop the sliced almonds and the coconut flakes to resemble the size of oats.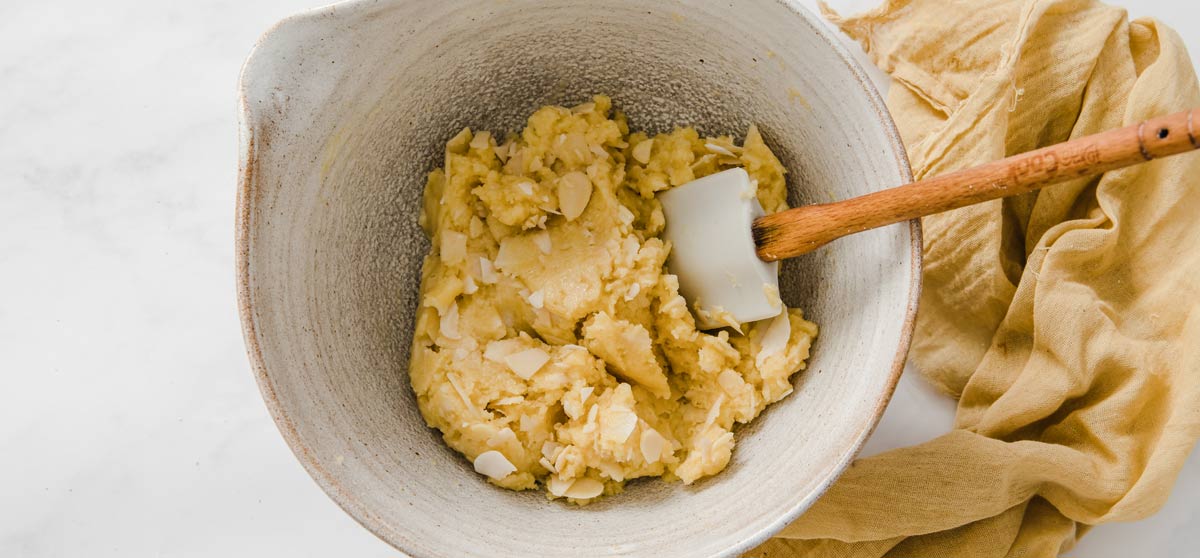 STEP 2
Mix all dry ingredients in a large mixing bowl. Then, add the melted butter and egg and mix to form a cookie dough.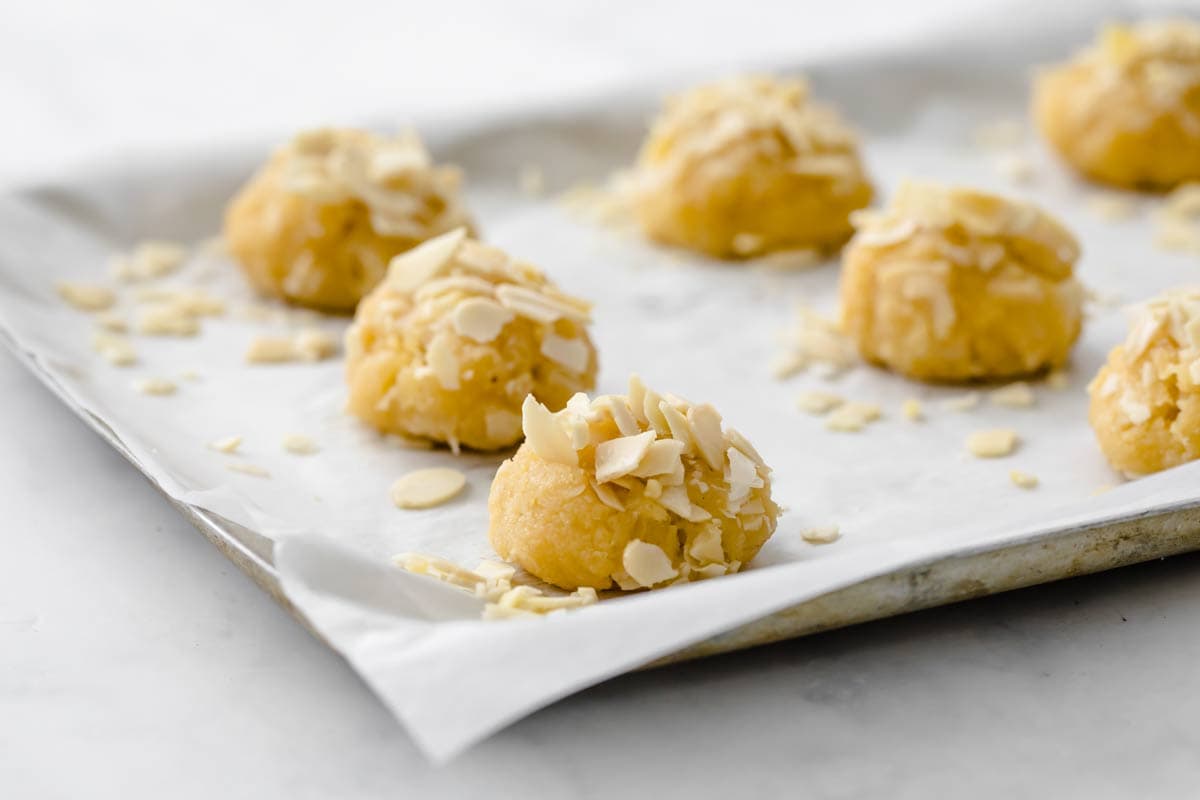 STEP 3
Roll the mix into 9 balls and place on a cookie sheet lined with parchment paper. Alternatively, use a medium cookie scoop and scoop the dough onto the baking sheet.
STEP 4
Press some almond flakes into the top, flatten the cookies and shape the edges with your figures to remove cracks.
STEP 5
Bake in the preheated oven until golden.
Expert Tips
Taste the cookie dough. If you have a sweet tooth, feel free to add a little more sweetener to taste. I don't like my cookies too sweet.
Use a cold egg. My sugar-free cookies did not spread much because I used a cold egg and I made sure I only JUST melted the butter. With room temperature egg and hot butter, the cookies spread more.
Let the cookies cool fully. Low carb cookies need to come to room temperature on a cooling rack before handling. They are fragile when hot and firm up as they cool.
Substitutions
Nut Free
You can use only coconut flakes and substitute almond flour for ⅓ cup coconut flour. Coconut flour is more brittle than almond flour, so you'll have to use the xanthan gum for a stronger texture. You may also need to add one additional egg.
However, this will change the taste of the cookies considerably and they will definitely NOT taste of oatmeal cookies any more. The great thing about almond flour is that it is very neutral in taste.
Dairy Free
Use coconut oil or a nut butter instead of the butter.
Egg Free
Replace the egg with a flax egg. If you don't mind adding some carbs, you can also sub in banana or apple sauce. The cookies won't be keto friendly any more, but still sugar-free!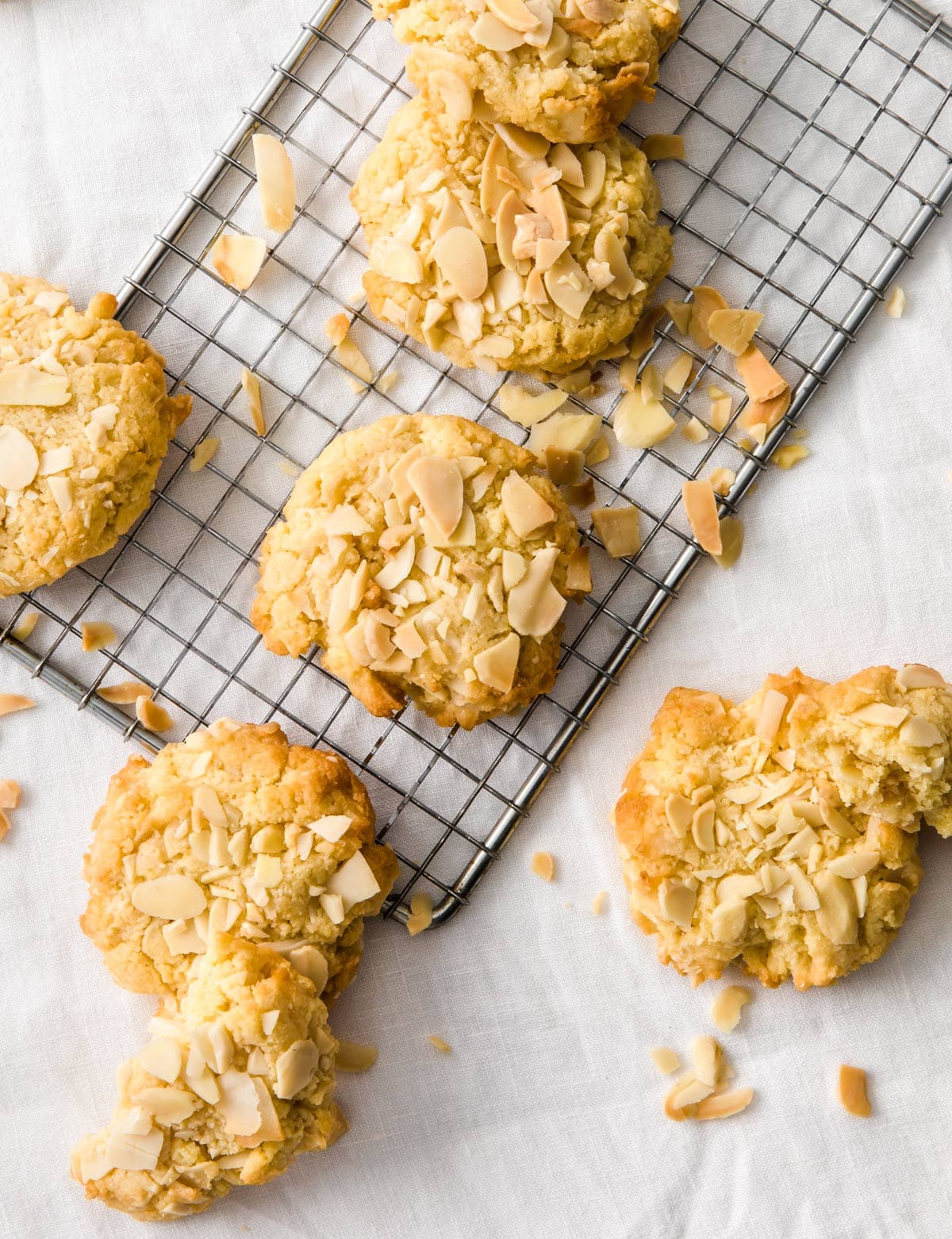 Add-ins
Sugar free dried cranberries: Regular oatmeal cookies often contain raisins, which are very high in natural sugars. Sugar free dried cranberries are a brilliant substitution, because they have the same chewy texture. You could also add either dried unsweetened cranberries or dried blueberries.
Low carb oatmeal chocolate chip cookies: Add ¼ cup of sugar free chocolate chips.
Make them nutty: Chopped walnuts or pecans would work well. I'd also add 1 teaspoon of cinnamon and 1 tablespoon peanut butter for more flavor.
Add sugar free icing: Mix ¼ cup (4 tablespoons) powdered sweetener with 1 tablespoon cream. Drizzle over the cooled cookies.
FAQs
Are oats keto friendly?
No. Oats are whole grains and therefore high in carbs. 100g (roughly ⅔ cup) of uncooked rolled oats come in at a whopping 55 net carbs. If you want to keep your net carbs anywhere between 20 and 40 per day and your blood sugar levels stable, then oats, or oatmeal, are not a good choice.
Can I make low carb oatmeal cookies WITH oats?
It is possible! If you replaced the almond flour with ⅔ cup or 100 grams of oats, the net carbs are 7.6g per cookie. By comparison, my keto oatmeal cookies come in at less than a third - 2.1g net carbs per cookie.
Help! My batter is too soft.
If your cookie batter is too soft to handle, let it rest in the fridge for 20 minutes.
How do I make my cookies crunchy?
To achieve crunchier cookies, flatten them more and leave them in the oven longer.
Can I make smaller cookies with this recipe?
Of course! Instead of 9 large cookies, you can make 18 small ones. Keep in mind you may need to reduce the baking time.
Which sweetener can I use?
Use pure granulated erythritol or an erythritol blend with stevia or monk fruit. Xylitol or allulose are a possibility, although allulose will result in a softer cookie. If you use Splenda, measure in US cups only. It's lighter in weight than erythritol. If you're using a granulated stevia sweetener, check that is a 1:1 sugar substitute. They are often twice as sweet as sugar.
Storage
Room temperature: Store these almond flour oatmeal cookies in an airtight container at room temperature for up to 5 days. There is no need to store them in the fridge.
Freezer: You can also freeze them for up to 3 months.
More Keto Cookie Recipes
Tried this recipe? Give it a star rating below!
★ STAY IN TOUCH on FACEBOOK, PINTEREST and INSTAGRAM  for more great food and join my NEWSLETTER for the latest updates and a FREE EBOOK.★ 
Recipe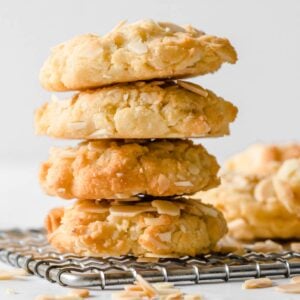 Keto Sugar Free Oatmeal Cookies
from Sugar Free Londoner
Slightly soft and chewy but with texture and crunch: these sugar free oatmeal cookies are my keto take on the real deal. Naturally, they don't actually contain oats, but some clever substitutions. Only 2.1g net carbs per cookie!
Note: The servings slider only changes the first amount in each line and not any subsequent amounts. Please make your own calculations where necessary.
Instructions
Preheat the oven to 350F / 180C electric or 320F / 160C fan and line a baking tray with greaseproof paper.

Using a sharp knife, chop ½ cup / 50g sliced almonds and the coconut flakes to resemble the size of oats. Option to use a food processor and pulse if you prefer.

Mix all the dry ingredients together in a mixing bowl (almond flour, erythritol, xanthan gum, baking powder, salt, chopped flaked almonds and coconut. Stir to combine.

Add the melted butter, vanilla and egg and mix to form a dough.

Roll the mix into 9 balls.

Chop the remaining ¼ cup of almonds.

Place the balls on a baking tray and press crushed almonds into the top.

Flatten the cookies and  shape the edges with your fingers to remove cracks. Bake for 12-15 minutes until slightly golden.
Notes
Net Carbs: 2.1g per cookie.
Makes 9 cookies (circa 3 inches diameter and ¾ inch thick). 
Let the cookies cool completely before handling. They firm up as they cool.
Store these keto oatmeal cookies in an airtight container at room temperature for up to 5 days. You can also freeze them for up to 3 months.
Nutrition
Calories:
234
kcal
Total Carbohydrates:
4.6
g
Protein:
5.3
g
Fat:
22.8
g
Fiber:
2.5
g
Sugar:
1.1
g